15 nail treatments to integrate into your beauty routine
To have healthy and beautiful nails, you absolutely need to take care of them. Here are 15 nail treatments to add to your beauty routine!
Having a nice manicure is very pleasant and has several advantages. Indeed, they make our hands look pretty, highlights our feminity as well as personalize our own individual style. However, it is vital to have healthy nails before going to a nail salon or before you apply some nail polish at home or else you risk damaging your nails even more. We have created a list of basic actions that you should absolutely integrate into your beauty routine. These nail treatments will make you look beautiful right to your fingertips!
1

Take the time to wash your hands
It is essential that you take the time to wash your hands but you also need to make sure your nails and the skin close to them are free of any dirt. Once you've washed your hands, remove your nail polish with the help of an acetone-free nail polish remover. Avoid all other products because they will dry out your skin. You can also try this hack by Doctor Ava Shamban, writer of Heal Your Skin. She suggests to her patients to put a little bit of soap on a toothbrush and to gently scrub the nail and skin region on your hands. This will help you avoid spending money on drying chemical products or expensive exfoliants.
---
2

Ge gentle with your nails
Be gentle with your nails. Consequently, use a brush made especially for cleaning and make sure you don't brush too hard. You don't want to develop an infection on your hands.
---
3

Cut your nails frequently
You often go to the hairdresser to cut your hair, no? According to Dr. Prystowsky, cutting your nails is as important as cutting your hair. It is thus essential that you cut your nails every two weeks, adjusting when you need to.
---
4

Say yes to a healthy nail length
A lot of women like having long nails. However, if you tend to have nail problems, Dr. Shamban recommends you keep them short. Indeed, the short style with rounded tips is easier to groom and looks cleaner.
---
5

Always keep a nail file close by
Does your work or daily life routine tend to rapidly break your nails? Why not leave a nail file in your purse or backpack? This way, you'll always be able to file the rougher sides. To make sure you file your nails properly, file them in the natural direction of your nail.
---
6

Be careful with your cuticles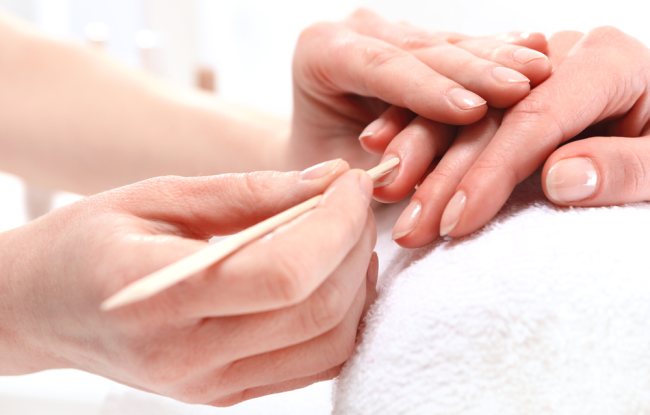 Avoid cutting your cuticles. In fact, they are much more important than you think: they exist because they seal the zone at the base of the nail. However, cutting or breaking your cuticles means you are breaking this protective seal, which can mean your nails can be more sensitive to bacteria that can turn into an infection. What you can do is delicately push back your cuticles once a week with an orange wood stick when you get out of the shower since your skin will be more malleable. You can, then massage your cuticles with a soothing cream.
---
7

Take care of your tools
To avoid getting infections, you should take the time to take care of your tools. It's no wonder estheticians in beauty salons do it too! Dr. Prytowski suggests you wash your metal tools with some water and soap and then wipe them with rubbing alcohol. You should also frequently replace your disposable tools, like your nail files.
---
8

The base coat is important!
Just because you think you don't have time to apply a base coat, it doesn't mean that you should skip applying one. According to Dr. Prystowsky, this step is extremely important since it protects your nail since it avoids your nails from getting stained by the colour of your nail polish. Also, it helps to add more depth to your colour. Indeed, the colour seems more saturated and opaque after only one coat.
---
When you buy nail polish, take the time to look at the label in the bottle and the ingredients written on it. Indeed, just like other beauty products, not every nail polish is good quality stuff. According to Dr. Debbie Palmer, you should avoid products that contain toxic chemical products. Ingredients like Dibutyl phthalate, formaldehyde and toluene. These products can damage your nails since it makes them more fragile and break them.
---
If you make yourself a homemade manicure, don't forget to apply a top coat. It is an important step, as important as a base coat since it helps seal the colour. According to Dr. Prystowsky, you can apply a top coat every three days. This way, you reduce the risk of chipping your nail polish.
---
11

Avoid overdoing gel or acrylic manicures
We grant you that gel and acrylic manicures create beautiful results that are durable and practical. However, that is very damaging to your nails, especially if you constantly get these kinds of manicures. But, if you really wish to have a gel or acrylic manicure, know that you can minimize damages. The biggest problem with gel manicures is the UV light exposure. Dr. Prystowsky suggests you apply some sunscreen (30 or 50 SPF) before getting your manicure to reduce skin cancer risks. You can also wear special gloves made to protect your hands.
---
Don't go overboard by wearing nail polish all the time. Take breaks between your manicures to let your nails recuperate and breathe. According to Dr. Shamban, if you don't take a break between two dark colours, your nails can dry out and become yellow. This bad habit can even weaken your nail!
---
13

Protect your nails and hands
When you clean your house with chemical products, or when your garden or you're doing the dishes, wear some rubber, vinyl, nitrile or plastic gloves with a cotton lining, if possible. Indeed, putting your hands in hot soapy water can considerably weaken your nails whereas gardening can require a lot of cleaning time that you probably would like to avoid. Also, when it gets colder outside, wear some gloves or mittens so you don't get dry hands.
---
Nails like your skin and sparkly hair is made from a protein called kératine. Know that it is possible to have more beautiful nails by simply changing your diet. Holly Falcone, nail artist and specialist, suggests you add vitamins and supplements to your diet (for example, biotin, vitamin E and fish oil). According to Dr. Palmer, you should eat foods rich in proteins like beans, fish or nuts. Once you have added enough protein in your diet, your nails will be stronger and bright.
---
15

Make sure to hydrate your nails
It is important to hydrate your skin but also hydrate your nails. Holly Falcone hydrates hers with a mix of almond and avocado oil. This way, her cuticles and nails stay hydrated while she sleeps. If you don't have these ingredients close at hand, you can use lip balm instead.
---
Cover photo credit: Marie Claire
---