The 10 nail trends for fall-winter 2018-2019
Short, long, neutral, daring, square or almond-shaped: The nail trends of the coming fall and winter seasons are as diverse as they are exciting.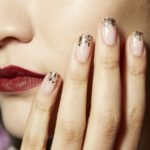 Those who have their nail technician's phone number on speed dial will be happy to know that nail art is here to stay, and is even making a strong comeback for the seasons to come, including spring-summer 2019. For those who prefer a simple and chic look, know that red, a timeless classic, especially in rich and bluish tones, is also trending. Conservative, discreet or extravagant, you will find the perfect fit among the many nail trends to complete your fall-winter 2018-2019 outfits. Here are 10 to test and adopt in the coming season.
Advertisement - Continue reading below
The revamped French manicure
Long neglected, the French manicure is back in style but not in its original version. Forget the white line on your natural nails; the French manicure is taking on colour for fall-winter 2018-2019. Metallics, textures, unusual arrangements and even three colours are used in the creation of this revamped traditional version this season.
Advertisement - Continue reading below
The dark and stormy
Let your darker side show this season: dark tones are among the nail trends of 2018-2019. Literally, dare to wear black or instead opt for bordeaux, burgundy, smoked navy, deep olive green, chocolate cherry, etc hues. These are sometimes even textured to give an even more intense gothic effect. And even though ultra shining shades dominate at the moment, matte nails are not out of fashion.
Advertisement - Continue reading below
The back to the future
Metallics dominate the current nail trends. Silver, gold, copper and chrome are gaining in popularity but also iridescent blue and green tones. Combine these colours with other trends or wear them alone on short and square or long and almond-shaped nails for a simple and chic look.
Advertisement - Continue reading below
The half moon
In vogue for a few seasons now, the half-moon manicure, also known as the inverted French manicure, remains one of the key trends for fall-winter 2018-2019, much to our delight. Adopt it boldly by matching bright colours on long or rather shorter and more discreet nails with light, dark or metallic neutral shades.
The minimalist
Short, rounded squares and in neutral tones, this is how the minimalist woman will wear her nails for the coming seasons. From white to taupe by way of cold shades of beige and pale grey to blush, these are the colours to choose for a simple and chic minimalist style or keep your nails neutral to draw attention to other elements of your look.
 The pop
Prints, bright colours, transparency and length. Wear streetwear on your fingertips with this 2018-2019 manicure trend. The most extravagant will want to wear animal prints, geometric shapes and even lettering, reminiscent of knuckle tattoos as seen in Vivienne Westwood's fashion show. All this on nails that are often very long, almond-shaped and multicoloured.
The celebration
After all, it's the season! Let yourself be carried away by the spirit of the holidays and use your fingertips as the ultimate accessory for your party-filled evenings. The jewel tones reflect the 2018-2019 manicure trends and are perfect for a festive look. These gem-like colours can be worn alone or combined, in a high gloss finish and even with a metallic touch.
The mismatched
The mismatching trend persists and, with it, the opportunity to let your imagination carry you away. Paint each nail, one or only a few, with a different colour. Wear a print on a fraction of your fingers or even dare to accentuate a single finger with nail art or ornaments. Let yourself be carried away by your desires; uniformity is not an option for the coming seasons.
The 3D
Manicurists can showcase their full potential this season. The extravagant designs appeared during the F/W18 shows and the most adventurous fashion lovers will be able to assume the most elaborate and eccentric manicures. Jewellery, studs, fishnets and decorations of all kinds decorate nails that are sometimes coloured, sometimes neutral and dark.
The glitter
Whether you are looking for a discreet and refined look or a bright and cheerful one, the glitter nail trend is for you. The latter can be worn in a delicate way and scattered in gold and silver tones or it can be worn in a bright and colourful way, even combining several gradient colours as shown at the Creatures of Comfort fashion show.
Extravagant or delicate, let yourself be inspired by the manicure trends of fall-winter 2018-2019. Treat yourself to a visit to the beauty salon or plan a cocooning session at home to try a new look and start the season off on a big note. Not sure what look you want to rock for the holiday season? Check out these pretty party makeup looks to help you decide on a nail trend.
---
Cover photo: thetrendynail/Instagram