The 10 nail trends for spring-summer 2019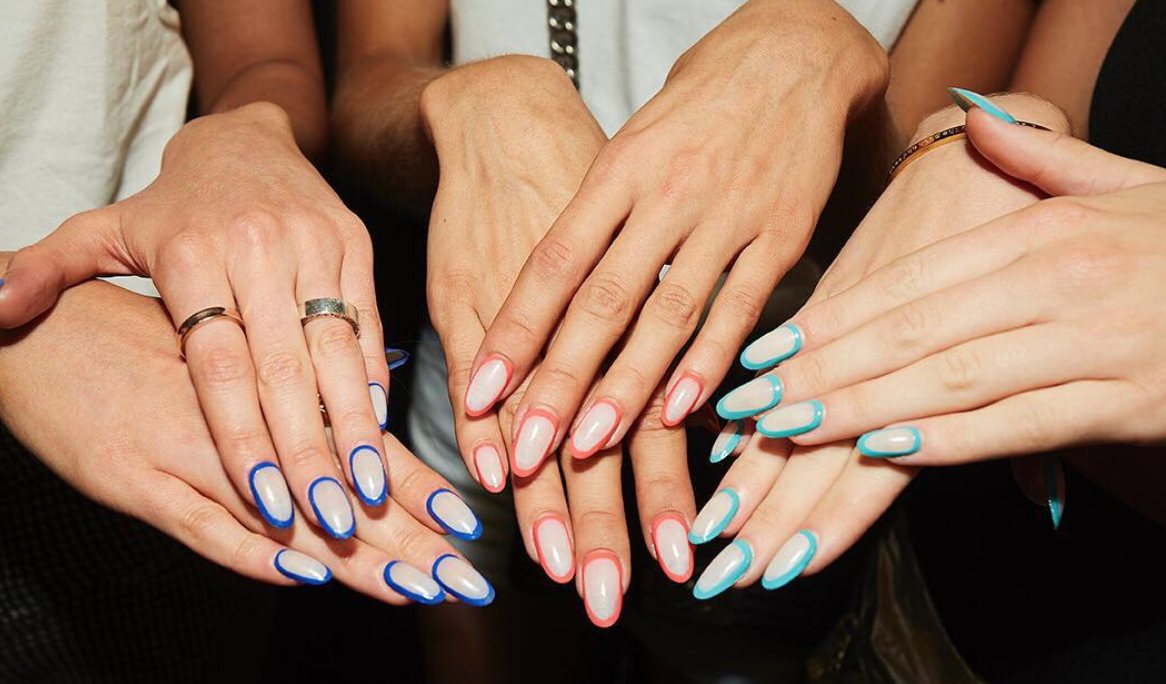 These nails trends for spring-summer 2019 will give you more than one reason to take your hands out of your pocket come springtime.
Springtime is coming fast, and while you should not worry about whether you are bikini ready or not -as long as you own a bathing suit, you are- you might want to give your favourite nail artist a call. Because ice cream cone season is the best time to lowkey show off your manicure game. And the nail trends for spring-summer 2019 are something to get excited about. Go-big-or-go-home people and minimalists alike will find their match among this season's highly diversified styles. So make your appointment and have a look at what's gone, what stays and what's new when it comes to doing fashion all the way to the tip of your fingers.
#9 according to our users
This spring, perfectly imperfect also applies to your nail polish. What is probably the most low maintenance manicure of all times presents itself in all shades, from neon to nudes. Achieve the look by dabbing some polish on the nail to give it a smudgy feel. But don't be mistaken: the chipped trend is more akin to the "no makeup" makeup look philosophy than an excuse to neglect your nails.
#10 according to our users
Last summer's clear PVC bags and see-through trend seem to have extended to nail art in 2019. Part futuristic part Pop Art, this manicure is an audacious yet somehow discreet passe-partout statement. Opt for the clear version for a more refined look or dare a translucent tone of red, green, pink and more for a pop of colour.
#3 according to our users
Fall-winter does not have a monopoly on metallic tones. For an edgy-shiny look this spring, wear silvery, rose-gold, chrome and even two-toned metallics in the warmest of weathers. And for an extra touch of feminine texture, go ahead and add some rhinestone appliqué à la Rodarte SS 2019.
#7 according to our users
For an extra dose of oomph, pair this trend with another more extravagant one or wear it on its own for a more subtle and feminine look. No matter how you go about it, this spring, sparkles are in. Go minimalist with a nude polish and a soft, uneven coat of glitter or go big with the addition of rhinestones to a bright or metallic colour on all or a single digit. Gems, pearls, studs, this season lets you go extra in the best possible way.
#8 according to our users
Contour is dead, long live contour! The hardly missed contouring look makes an unexpected and very welcome comeback, this time, in nail art form. Fun, versatile and arguably unprecedented, the framed trend is a not-so-subtle original touch to add to a simple two tones bright or shiny and au naturel mani or one more way to go over-the-top and go crazy with textures, prints and ornaments as seen on the Libertine runway.
#4 according to our users
Minimalist meets low maintenance in this nail trend for spring-summer 2019. This coming season, adherents to the less-is-more philosophy will be pleased with the elegant looks from the barely-there category. From slightly-overgrown neutral polish look featuring half moons of bare nails at the cuticle to shiny clear nails with a single white graphic on one or all fingers, these minimal looks are far from basic.