Short hair : Best colour trends 2018-2019
In need of a change? Get inspired by these 10 gorgeous short hair colour trends. Icy blondes, chocolate brunettes, rich auburns, you'll find something you love!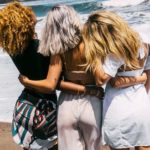 Bad break up? Mid-week crisis? Drunken bet? Or simply wanting a change? Cutting your hair short is always a good idea if you're looking for a change in your look. But after you've cut your hair you still think it's not enough? You're still not totally satisfied? Why not revamp or totally transform your hair by changing its colour? Whether you are looking for something edgy, natural, fun or chic, these 10 gorgeous short hair colour ideas that are trending right now will be perfect for the new you.
Advertisement - Continue reading below
Low-maintenance blonde
It is tough for a brunette to go blond. If you're a brunette and you want to take the plunge without damaging your hair too much, try Marion Cotillard's low-maintenance blond. This look is edgy but doesn't look tacky nor cheap. The best part? No need for salon touch-ups every 3 weeks since the blond effortlessly blends with the brown and will just look more and more natural as time goes by. You'll finally know if blondes do have more fun.
Advertisement - Continue reading below
Darkest shade of brown
Brown hair doesn't have to be boring. There's something avant-garde and sophisticated about dark, almost jet black hair. This is the perfect fall and winter hue and it looks great with a bob haircut. Make sure you do weekly hair masks to keep them shiny and healthy. Mermaid green eyeshadow optional.
Advertisement - Continue reading below
Platinum pixie
This platinum pixie is perfect for the woman who isn't scared of big changes. The combination of the pixie haircut and the white-blond platinum hair creates a modern and sophisticated look. Just make sure you use a hydrating shampoo to keep your hair hydrated and healthy since going platinum can really damage your hair.
Advertisement - Continue reading below
Blond with baby highlights
If you want an instant glow, baby blond highlights are the way to go. Perfect to fake a healthy glow, these light blond highlights will frame your face and act like a mini burst of sunshine. Blondes, redheads and brunettes can adapt these highlights to their colour to add a bit more life to their hair.
Sunny copper
Redheads will love this sunny copper shade for the summer months. This warm gingery hue looks amazing on Christina Hendricks, especially with her bombshell curls and side part.
Cinnamon brunette
Add some cinnamon highlights to your chocolate brown hair to spice things up. Bella Hadid's blunt bob looks lustrous and rich because her hair isn't just one shade of brown which adds dimension and texture to her hair.
Buttery blond with dark roots
Again, you can go blond without worrying about your dark roots… instead embrace them! This slick buttery blond looks edgy but still classy since her hair is short. We love the wet look and we also love that Dua Lipa kept her eyebrows dark instead of dyeing them blond. Blond or brunette, you can try this short hair colour and completely change your look.
Rich auburn
Not sure whether you prefer brown or red hair? Do both! Rihanna's auburn hair is unique and looks great on darker skin tones. This short hair colour is worthy of the most glamourous and regal woman.
White-grey blond
This white-grey blond is for the adventurous and fashion-forward woman. It takes a long time to get the perfect shade of greyish white, especially if you don't already have light blond hair. You'll have to apply hair masks every week to make sure your hair doesn't get too dry. Even if it's a lot of up-keep, this platinum shade is incredibly cool. Keep your eyebrows natural for a cool-girl contrast à la Cara Delevingne.
Dark strawberry blond
We are in love with Emma Stone's dark strawberry blond hair. Since it's a bit darker than a normal strawberry blond, this shade of red looks amazing on women with pale skin since it doesn't wash them out.
From platinum blond to the darkest shade of brown, you have so many options to transform your short hair. No matter which shade you choose, remember to keep your locks hydrated so your hair will stay healthy and shiny longer. Dyeing your short hair might not fix your mid-week crisis but at least you'll look cute!
---
Cover photo credit: @bumbleandbumble/Instagram