The best 2018 Christmas nail trends for this winter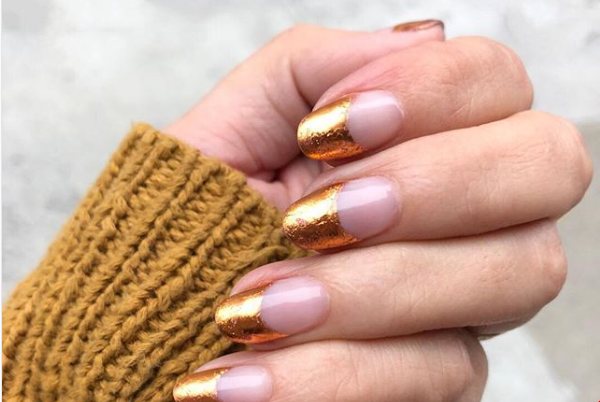 Make a splash whenever you take off your gloves with these 2018 Christmas nails trends to rock the Holidays from head to toenails.
Snowstorms have already hit the Northern regions, but thanks to online shopping, this hasn't stopped you from finding your Christmas party outfit. And while you've already been having fun with this season's fall-winter nail trends, you want something extra special for the holidays? Of course, you do! Winter definitely has its down sides but getting to dress up and celebrate is not one of them. In fact, it's almost worth the extra layers and the dreadful snow shovelling that comes with the coldest season of the year. Get fancy all the way to the tip of your fingers with the 10 best 2018 Christmas and winter 2019 nail trends to complement your chic attires.
#9 according to our users
Yes, this one is a classic, but what better time to rock classics than during the holidays! However, this version is far from boring. Forget about the long-dead white French tips and go extra Christmas-y with this glossy deep red. If you are getting your nails done at the salon, ask for a nice shading starting from the base of the nail for a more modern look. Classy, conservative and original, it's the perfect subtle touch for those who like to keep it simple and fancy.
#10 according to our users
A red French mani isn't flamboyant enough for you? Nail artist Park Eunkyung from Unistella has got you covered. This over-the-top sparkly manicure takes the transparent nail trend to a whole other level and we can't be mad about it. This crystal encrusted mani couldn't be more appropriate for Christmas time. It is the perfect choice for anyone looking to literally shine during the holidays.
#2 according to our users
Metallics are the colours of the season and nothing says winter celebrations like prismatic hues of copper and crimson with a hint of pink. Opt for a glossy finish, and while you're at it, why not treat yourself to some fancy nail polish such as this Chanel Le Vernis. The elegant shade number 917, justly named – you guessed it – Opulence, says feminine with an edge like no other. Combine it with almost any festive outfit for perfect Christmas style.
#6 according to our users
Forget about the snow with this gold flakes manicure. Simple, yet chic, this delicate nail trend is the perfect holidays passe-partout. The look goes from Christmas Eve party to morning-of petit pain au chocolat and egg nog breakfast with ease. It's the perfect excuse to have everyone close-up on your hands while unwrapping gifts and spare yourself the unflattering bedhead Christmas morning photos.
#4 according to our users
Gold was never your thing? How about champagne glitter? This glorious look unites most of this season's major nail trends into one perfect Christmas manicure. Metallics, revisited French tips, texture and shine, you'll not only be chic but also incredibly trendy. Bold, yet versatile, it will complement any type of ensemble. But you might want to opt for another look if you're worried about your nails stealing the show.
6

All The Way 'Till The New Year
#8 according to our users
Reminiscent of a starlit sky, this Jin Soon nail polish channels your dark side while screaming classy party animal. The glittery black vernis combines two big nail trends of 2018 in one perfect festive manicure. It is the ideal look to go from Christmas office party to New Year's eve out on the town with the snap of a sombre and sparkly finger.