The best all-you-can-eat sushi restaurants in New York
Find some quality food in these all-you-can-eat sushi restaurants in New York you should visit when starving. People with small appetites should refrain.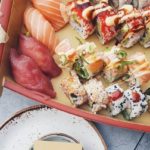 Of course, we're not talking about fine cuisine here. But, the whole concept of all-you-can-eat restaurants, especially when sushi is concerned, should never equal indigestion. Here are the best all-you-can-eat sushi restaurants in New York to enjoy all the maki rolls, nigiri and sashimi you want and satisfy your taste buds as well as your weekly budget.
Sushi Para 88
The low-cost all-you-can-eat formula of this bring your own wine institution in the west of Manhattan is quite a big contrast to the swanky and posh Chelsea restaurants nearby. Sushi Para 88 offers all-you-can-eat appetizers and sushi for $20 at lunch and $26 at dinner. However, be careful not to waste any food since anything you don't eat will be charged at a cost of $1 per piece. On the menu, American classics like California and Philadelphia rolls are mixed with eel, octopus and salmon skin.
Akino
This Elmhurst establishment in Queens is high-end all-you-can-eat sushi. For around $25, you can enjoy some yummy filled plates and choose from a wide variety of your favourite makis, sushi and sashimi until you have to unbutton the first button of your jeans. The fish is particularly fresh and the rolls are quite creative and well executed.
Kikoo Sushi
Kikoo is for all those who wish to celebrate in good company and those who don't shy away from or aren't embarrassed by coupons. The Groupon formula offered allows you to eat all-you-can-eat sushi, sashimi and teriyaki for two hours at this East Village address for $28. The fish is fresh and they have tons of dishes you can choose from the menu on the iPad.
Rakuzen Sushi
Spicy green mussels, yellowtail flounder jalapeno sashimi, sea urchins: Amateurs of Japanese specialties with never-ending appetites will be satisfied at this Brooklyn address. For about twenty dollars, it is possible to enjoy a large variety of all-you-can-eat appetizers, rolls and fresh sushi for a period of one hour and a half.
Bayridge Sushi
If you can get over the kitschy decor of the place, you can expect to have an excellent evening in this Brooklyn establishment. The quality of the fish really stands out from those of typical all-you-can-eat sushi restaurants in New York. The sushi selection is very interesting and sashimi amateurs will be extremely satisfied.
Kumo Sushi
Kumo is without a doubt a place to party. For $10 more, you can accompany the all-you-can-eat formula with unlimited alcohol. With some yummy rolls, beer and sake flowing freely, it is not surprising that this West Village restaurant attracts a high percentage of frat boys, especially the weekend. You have been warned.
Sake Sushi
This unpretentious Japanese restaurant in Brooklyn probably has the cheapest offer on the market in the Big Apple. For $14 at lunch and $19 at dinner, eat a large variety of sushi and fresh appetizers. Find many classics that are quite traditional on the menu, Americanized classics as well as their in-house specialties.
E sushi
Go to this hole in the wall Brooklyn restaurant on an empty stomach. The decor or the absence of any decoration could foreshadow neglected dishes but the plates at E Sushi showcase a considerable effort. The fish is fresh, the service is polite and quick, the bill affordable, and the rest are all worth a couple of minutes you'll wait outside at the door.
When you have a mega sushi craving, wanting to choose the all-you-can-eat formula to eat as many of them as you can at an affordable price is a great option. Even though the Big Apple is filled with sushi restaurants, some are (much) better than others. These all-you-can-eat sushi restaurants in New York will totally satisfy your cravings.
---
Cover photo: _pinkconfetti/Instagram