Photoshop fails: Here are the 30 funniest ones
Feel like having a laugh for a few minutes? Check out these 30 photoshop fails, perfect for your mid-afternoon entertainment break at work.
Whether you are for or against photoshop, you've probably used it at least once in your life to edit a picture to remove that unfortunate pimple or those permanent dark circles under your eyes you can't seem to get rid of. You might even have taken a photoshop class in university, where you learned to edit pictures in various ways. In this day and age, advertisers seem to abuse from this tool because we can often find noticeable (and we mean NOTICEABLE) photoshop fails in ads, promotional posters, photoshoots, etc. Take a break from your work day and enjoy looking through 30 of our favourite photoshop fails we can't believe actually saw the light of day.
1

148,000 reasons NOT to join this creepy army of identical twins
#29 according to our users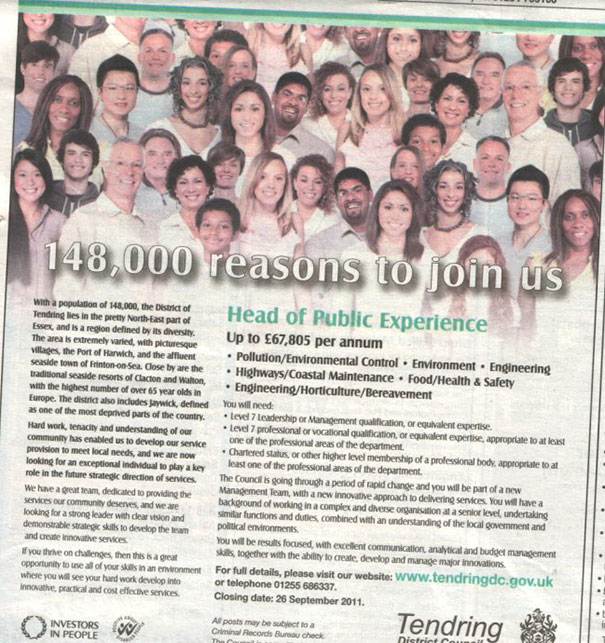 Oh look, twins! And again, twins… more twins… These advertisers probably had the lowest budget ever known to man to make this printed ad. We wonder if the people photographed know they all have a long lost sister or brother.
---
2

There's nothing like the open road
#21 according to our users

Not everyone can pay for a big budget ad campaign with a crazy location, some drone action and a professional driver but there are limits! This car is photoshopped in an extremely poor way on this road and we cannot believe Mazda would think we wouldn't notice!
---
3

She laughed so hard her jaw fell out
#11 according to our users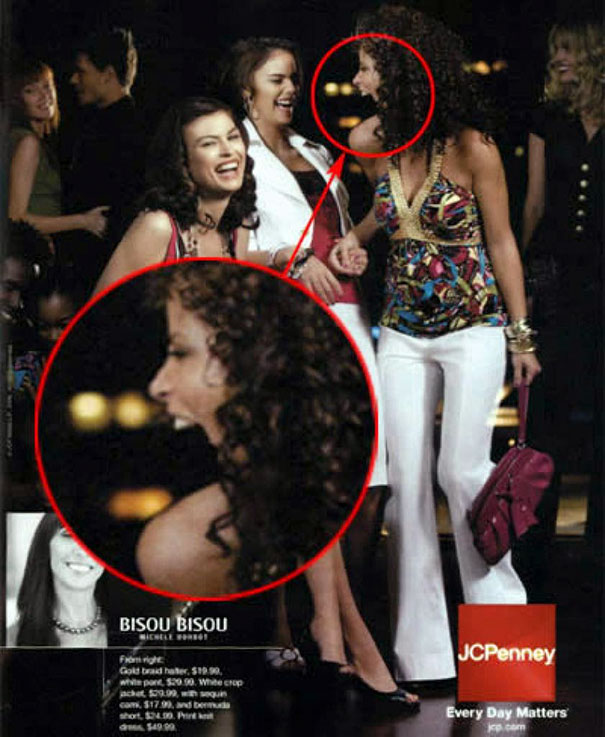 Where exactly did this poor woman's mouth go? Did she laugh so hard her mouth fell out or does she hold the world record for the person who can open their mouth the widest possible? Her friends don't look too alarmed so we will take a guess and say its option two.
---
4

That arm will take her straight to the Olympics
#10 according to our users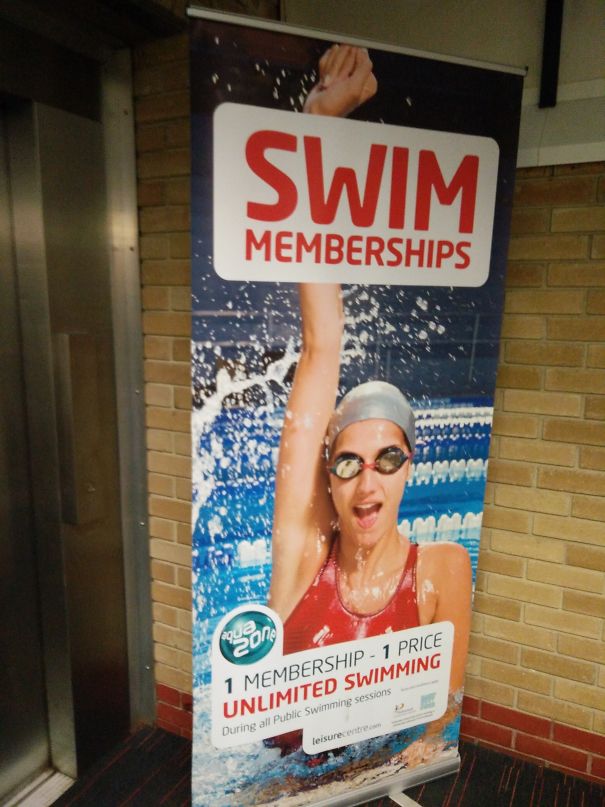 Excellent swimmers tend to have quite a long wingspan (Michael Phelp's, for example, is 6'7″ long) but let's not exaggerate either! Whoever thought to photoshop this girl's arm into a mutated limb clearly doesn't understand proportions.
---
#8 according to our users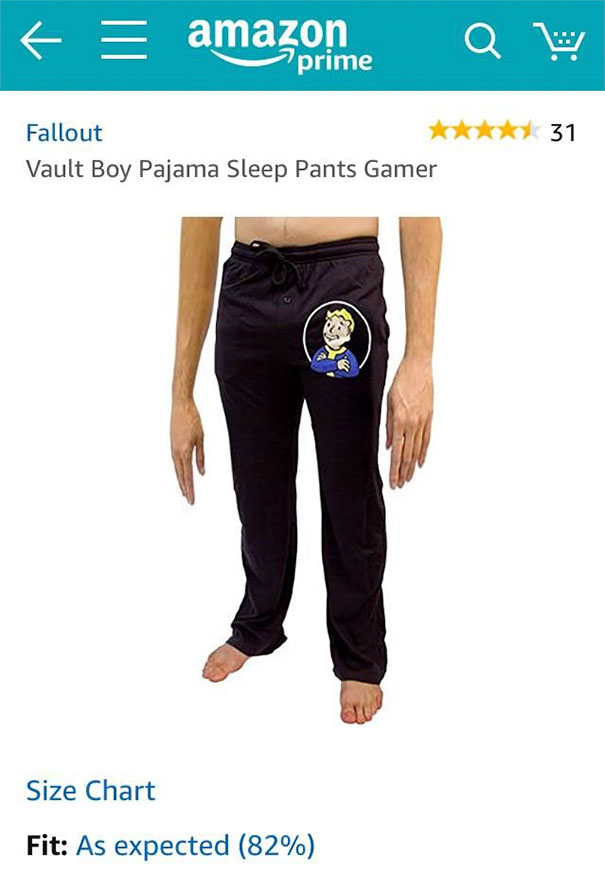 Again, stretched limbs are not the best way to sell or show off some clothes. The hands, especially the fingers have clearly been distorted and so has the arms. The poor man probably doesn't know how badly they distorted him.
---
6

This is why working out both arms is important
#4 according to our users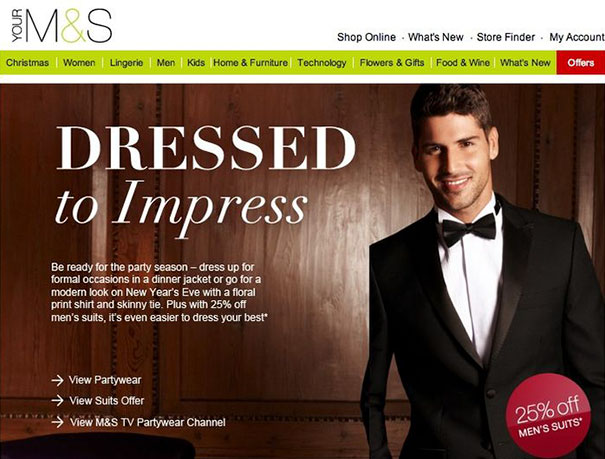 Marks & Spencer is a very well-known British brand that sells clothes, food, furniture and home decorations but that didn't stop them from royally messing up with their advertisement campaign photoshop fail. The model's arm seems to have narrowly escaped being totally erased forever.
---
7

Some women would kill for a long leg like that
#13 according to our users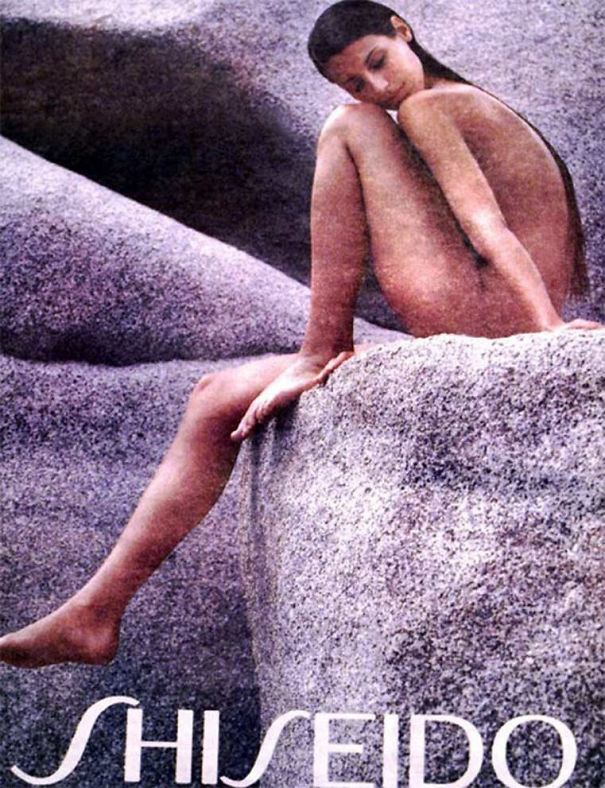 The fashion industry is already a world filled with unattainable body expectations women obsess over but it seems Shiseido, a Japanese beauty brand, went a bit overboard with the 'long leg concept'. This model's extended leg is entirely separate from her body. The photo editor seems to have photoshopped a random leg that does not fit with her body at all.
---
8

Never leave your child unattended in the bath…even if it means cutting off your arm
#24 according to our users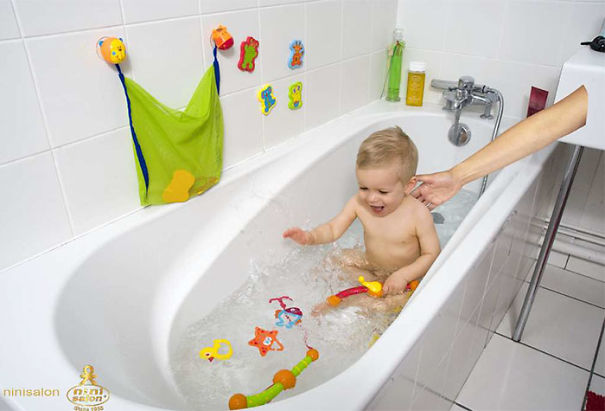 Leaving your young child in the bath unattended can easily turn into a nightmare quickly but, of course, leaving your young child in the bath unattended EXCEPT FOR YOUR FLOATING ARM is much safer.
---
#23 according to our users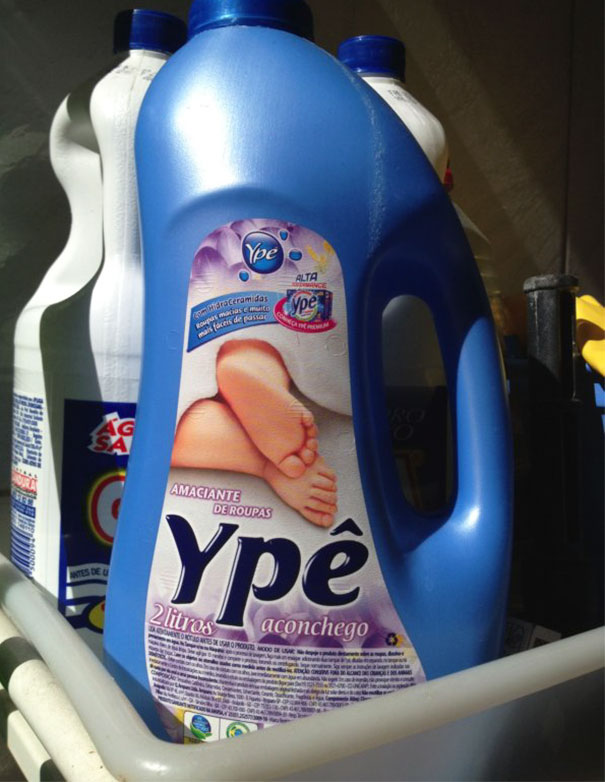 Your first thought when looking at the picture might be: "awwww, those are such cute baby feet!" but once you look a little longer, you might start realizing that this baby has two right feet and is a professional contortionist. You don't see those every day.
---
10

Attention! Testing new dog-llama breeds near you
#3 according to our users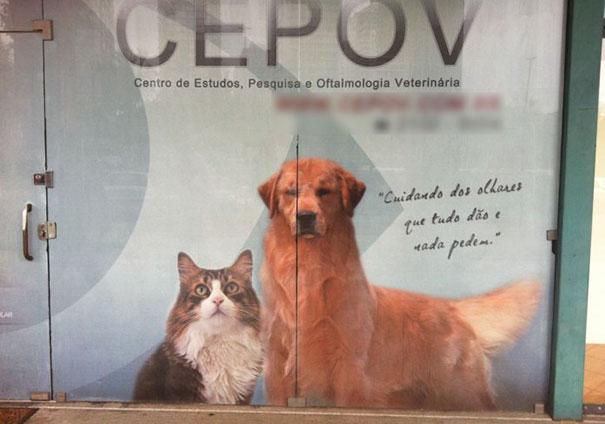 Male donkeys have been breeding female horses for centuries and have given us mules but now dogs are breeding with llamas and this is cold hard proof.
---
11

So that's where she keeps all of her recipes
#14 according to our users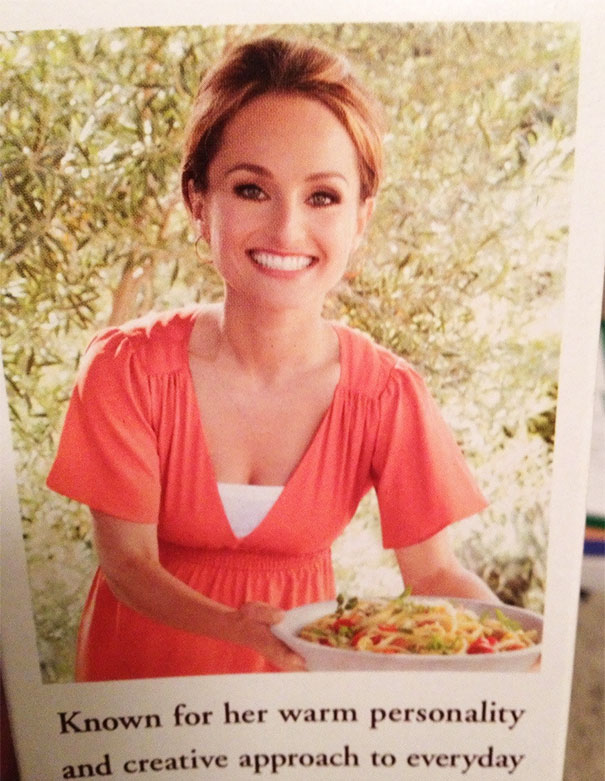 No, you don't have to check if you're wearing the right glasses, Giada De Laurentiis' head is extremely big in this picture. Is it the angle? Is it her tiny T-rex arms that make her head look bigger? Whoever edited this picture has hopefully been fired because this isn't a flattering look… for anyone.
---
#6 according to our users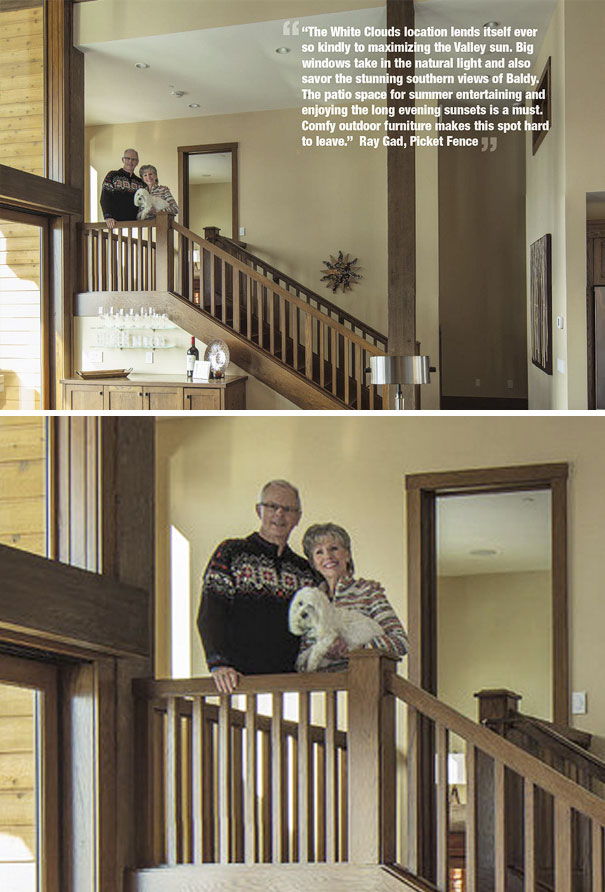 This picture looks totally normal until you look down and realize both these people do not have any legs! Even with no legs, they do look quite happy.
---
13

This giant is diving to his death
#22 according to our users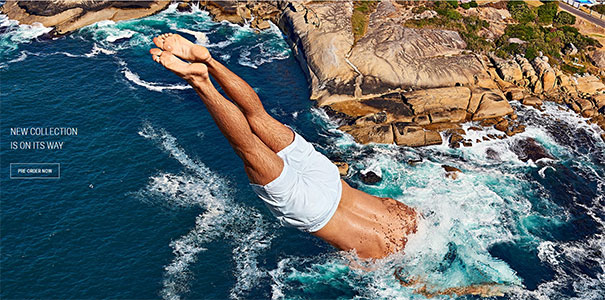 Proportions are everything in life. This man has dived to his death into this tiny sea. Just looking at this image hurts our head.
---
14

Who knew Zahara Pitt had an evil twin sister!
#30 according to our users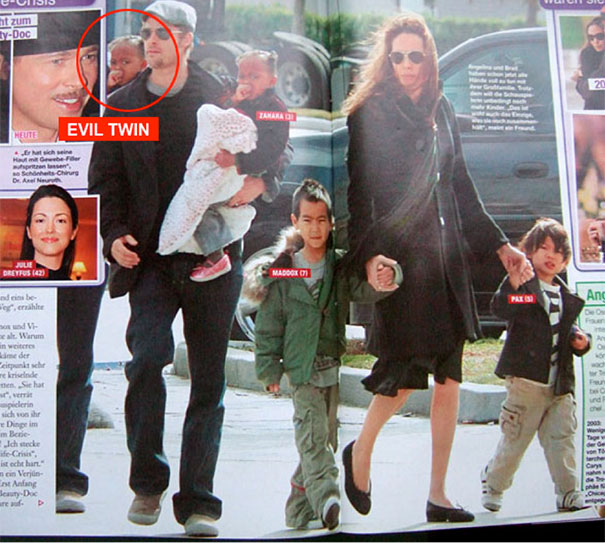 This celebrity gossip magazine shared a fake (but exclusive) scandal about the Jolie – Pitt family: Zahara Pitt has an evil twin sister no one knew about! We're not sure why this gossip magazine decided to photoshop this second Zahara but they must have sold a few extra copies of the issue.
---
15

Michelle Obama: Hiding her third hand since 1978
#9 according to our users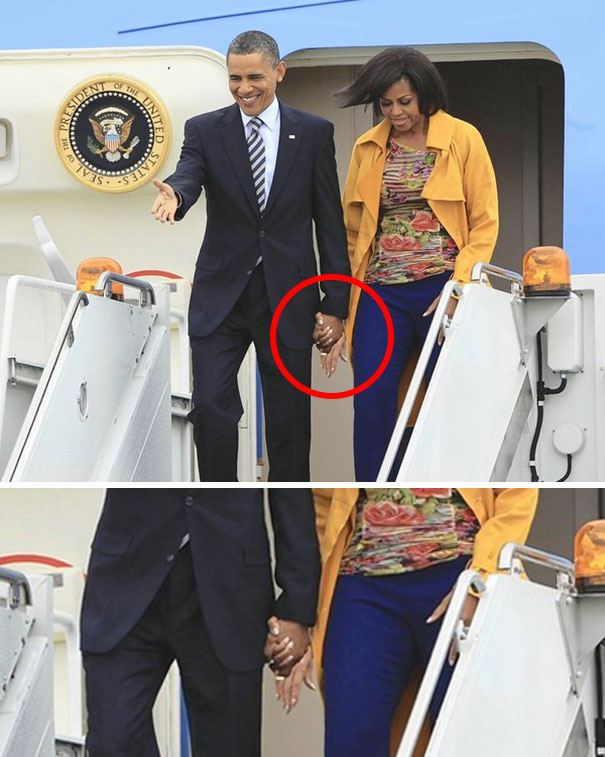 Sometimes, we've got to wonder why people would even photoshop certain photos. Why does Michelle Obama have a third hand? What was wrong with her two normal ones? Maybe it was a Republican photo editor who tried to sabotage the former president and first lady's relationship by photoshopping her not holding his hand? Whatever this is, it is a fail.
---
16

But where exactly does that jacket sleeve come from?
#20 according to our users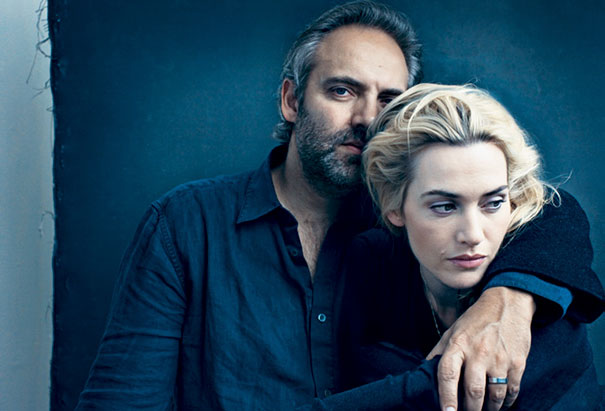 You don't see anything unusual? Look again. Closer. Still don't see anything odd or noteworthy? Check his sleeve. This blazer shirt is certainly original. Next time, the editing team should definitely decide whether to keep the blazer or not.
---
17

The very credible thigh gap
#2 according to our users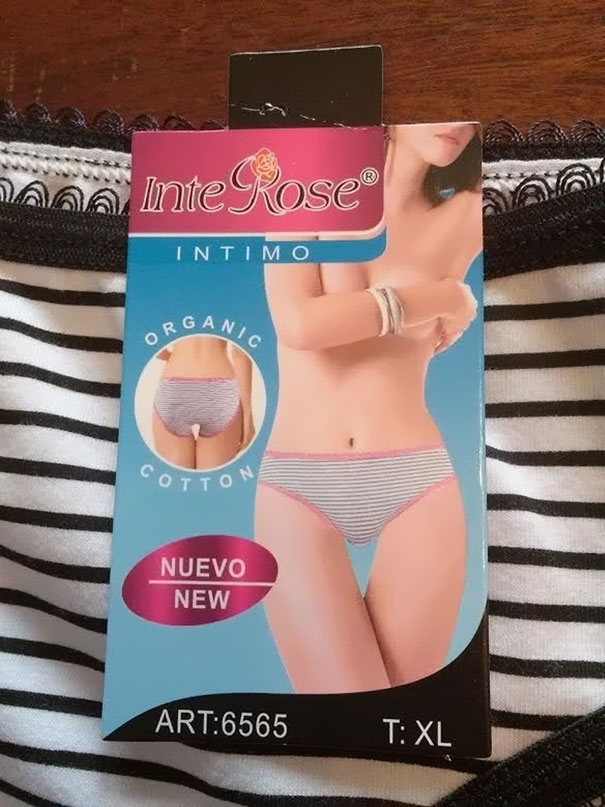 Thigh gap obsessions are a huge problem with pre-teens and young adults. Unfortunately, many women and men strive to have a space between their thighs so their thighs don't touch. This underwear company has gone overboard and exaggerated the thigh gap to a crazy extreme. Thank god it looks comical and ridiculous or else we'd have to call to make a complaint.
---
18

That one time photoshop was actually necessary but didn't happen
#27 according to our users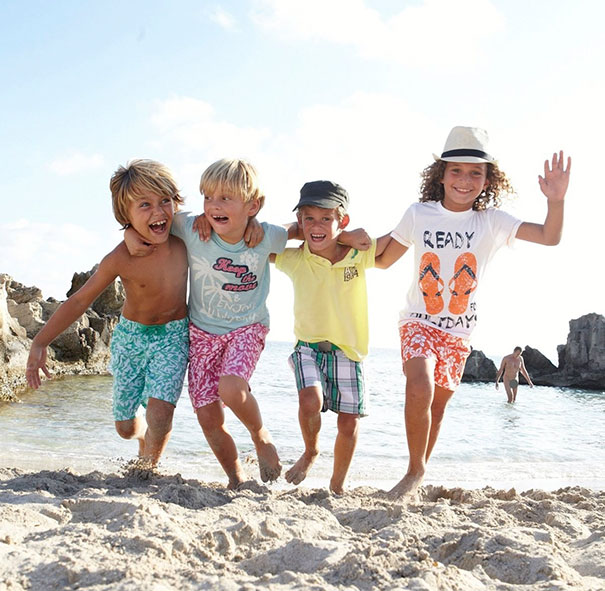 This is the only picture without a photoshop fail on this list. So, why is it included? Behind these cute, innocent and sun-soaked boys is a man… a naked man! This is the type of thing you should actually photoshop.
---
19

This woman has two right feet! Literally!
#5 according to our users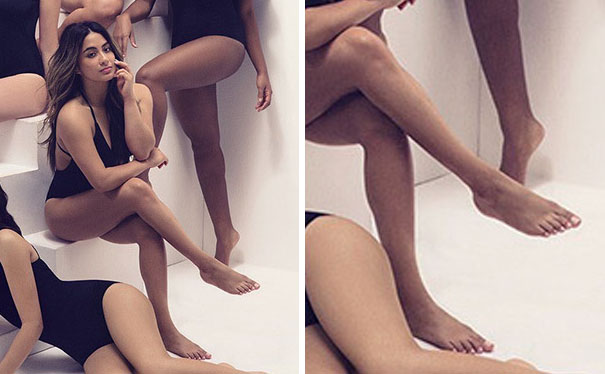 One's got to wonder why the photo editor would even think of photoshopping this woman's foot! What exactly was wrong with her left foot? Fortunately for her, most people won't even notice her two right feet.
---
20

The pug with the worst digestion problems ever
#1 according to our users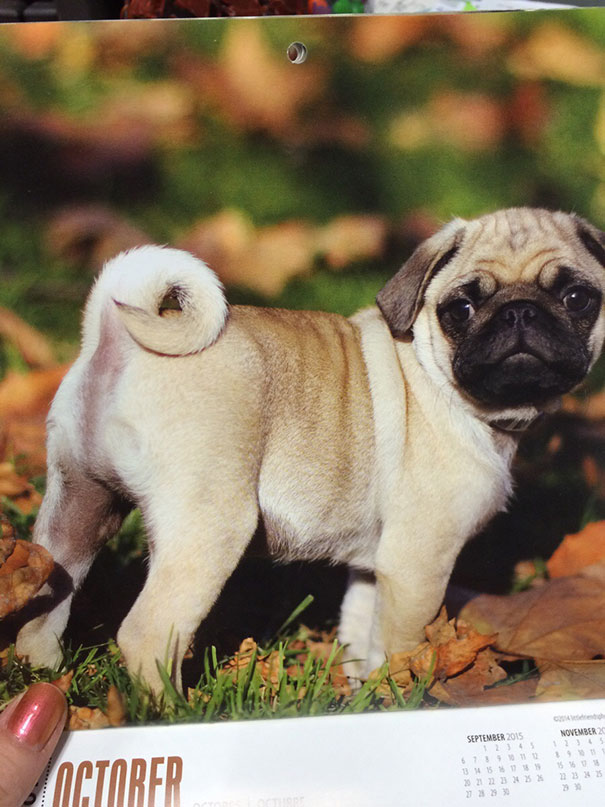 This poor calendar pug will never be able to go to the bathroom ever again! The photographer or photo editor in charge did not think this was a flattering angle for the pooch and decided to make this image PG by erasing his butt hole. Like we weren't going to notice.
---
21

You get more limbs, you get more limbs, YOU GET MORE LIMBS
#12 according to our users

You've probably already seen these now incredibly famous Vanity Fair pictures. The 2018 Hollywood issue was ridiculed for its weird addition of limbs. Reese Witherspoon has three legs in the first image and Oprah has three hands in the third image pictured above. One thing's for sure, this issue did not go unoticed.
---
#28 according to our users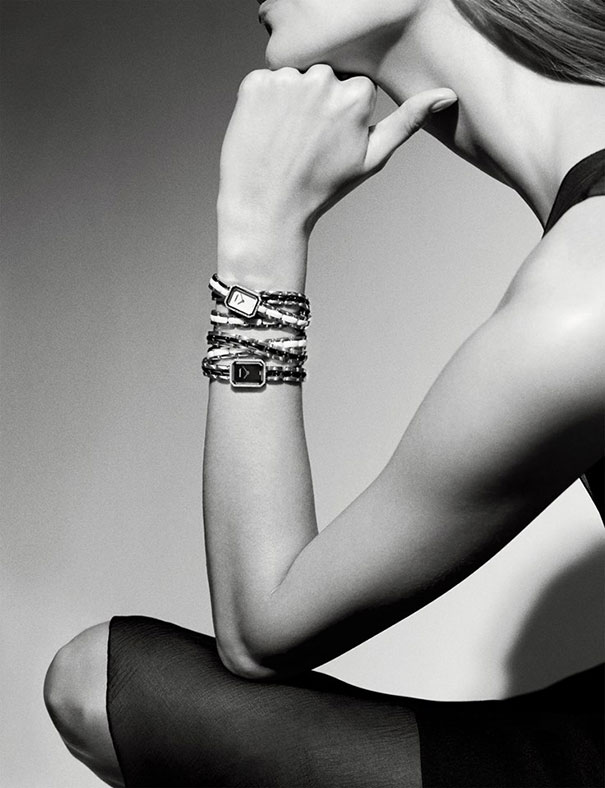 A long, elegant neck has often been a sign of a beautiful and graceful woman. The luxury brand Chanel turned the elegant and graceful model's neck into a freakishly long giraffe neck. It's hard to take this ad seriously since the neck is so incredibly long and fake looking.
---
23

Chrissy Teigen bares all…or does she?
#7 according to our users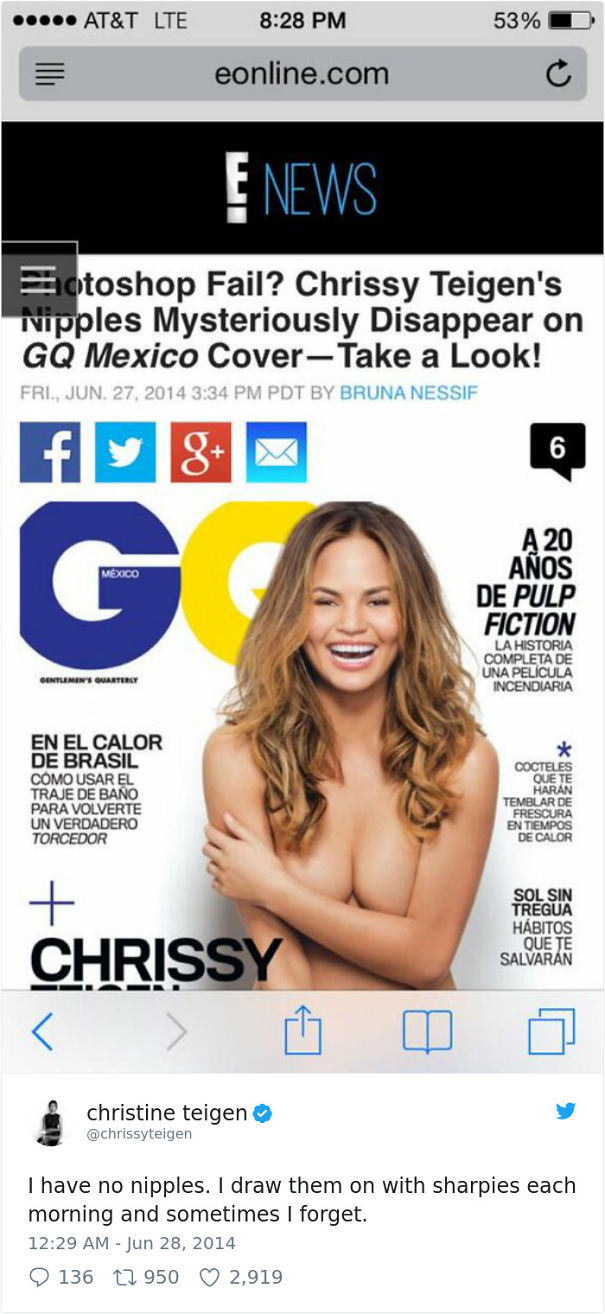 Chrissy Teigen is not afraid of baring it all. This Sports Illustrated model has often shot campaigns and editorials wearing almost nothing so this cover is no different except this photoshoot is different. Chrissy seems to have shown too much and GQ Mexico removed her nipple to keep the cover PG 13 but forgot that it might look completely ridiculous this way. We bet someone got fired the second the issue hit stands.
---
#25 according to our users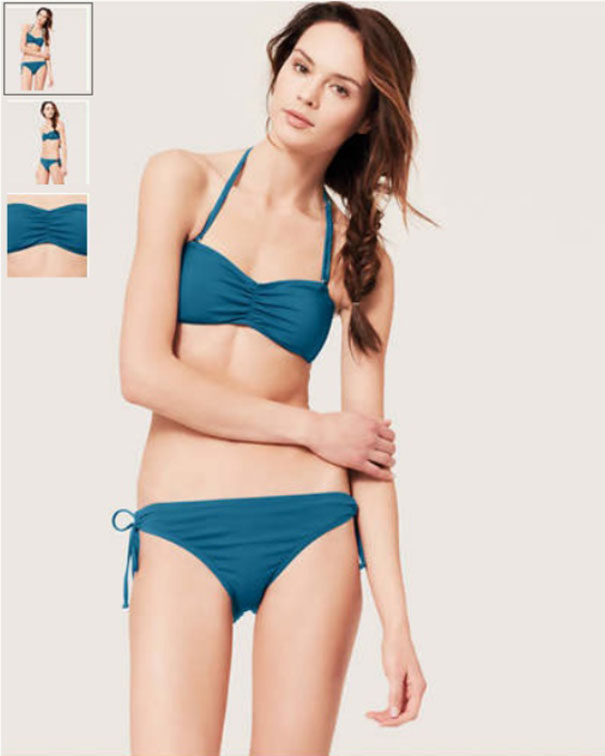 It's no secret brands, especially women's bathing suit and lingerie brands alter and photoshop images for their website. However, the photo editors should really learn how to do their job properly. Tip: If the waist is slimmed down, don't forget the hip!
---
25

Everyone holds their credit card this way
#15 according to our users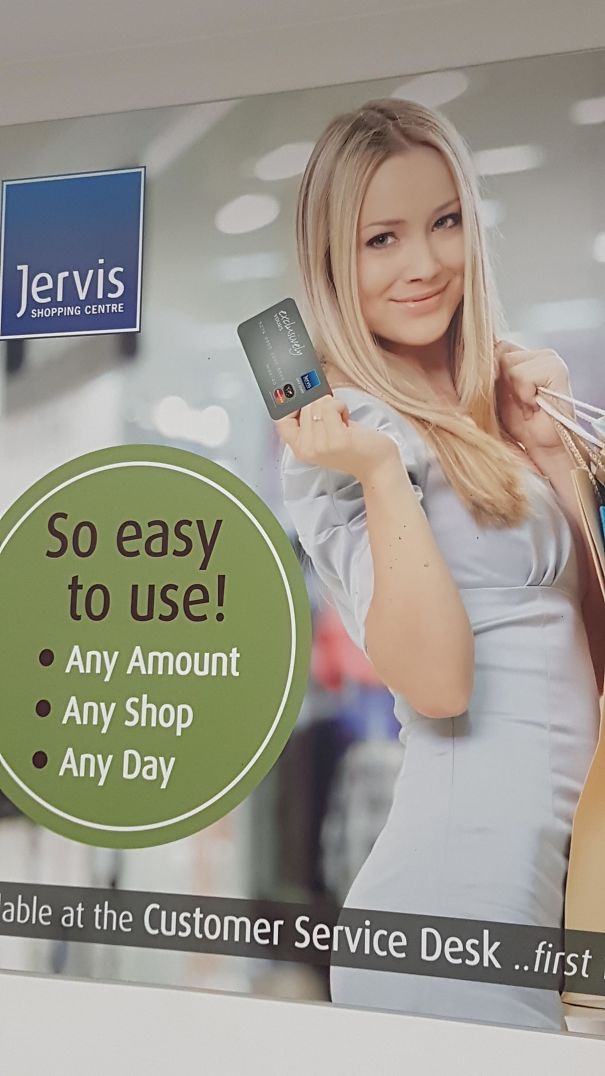 Photoshoot props can get quite expensive. Renting furniture, animals, large plants… but credit cards should not cost a cent to have on set. Whoever thought to add the credit card in the woman's hand in post-production was a good idea did not think of the potential end product.
---
26

A handsy businessman (like you haven't heard that one before)
#17 according to our users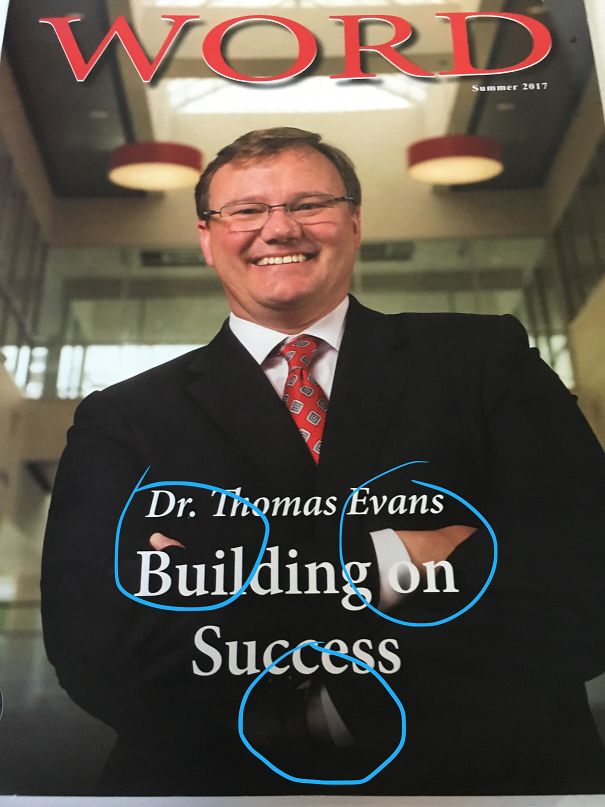 This photoshop fail is just so bad, there isn't much one can say about it. Humans have two hands, two arms. If three appear, there is a problem.
---
#18 according to our users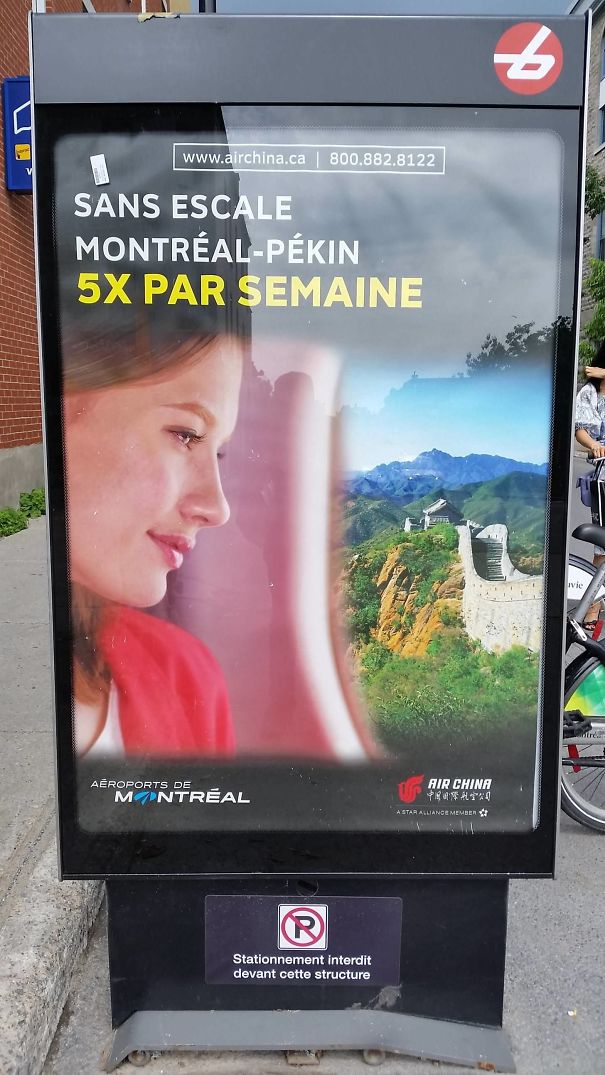 If the plane is this close to the Great Wall of China then your first priority is not to admire this marvel of the world but to pray to your respective god and hope the plane doesn't crash right in the wall! We get it, the advertisers want to show the plane is going to China but this doesn't make you feel fully confident about the pilot's abilities.
---
28

How to make a meal look more appetizing 101
#16 according to our users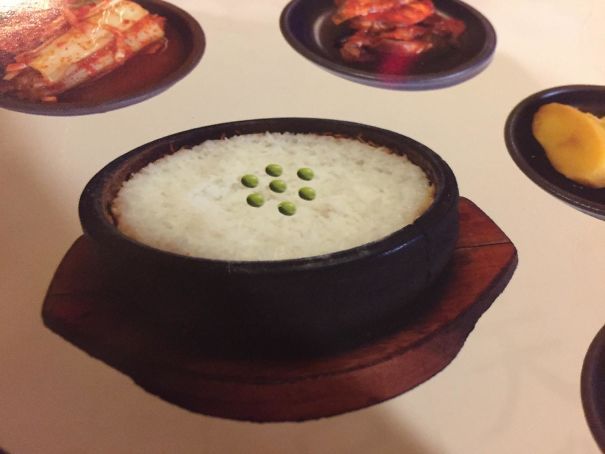 Do these fake photoshopped peas really add an extra and irresistible touch to this rice dish? We think not. If you enter a restaurant and this dish and photo is on the menu, run out and never come back.
---
29

I wouldn't want to buy pyjamas from this crazy looking family
#19 according to our users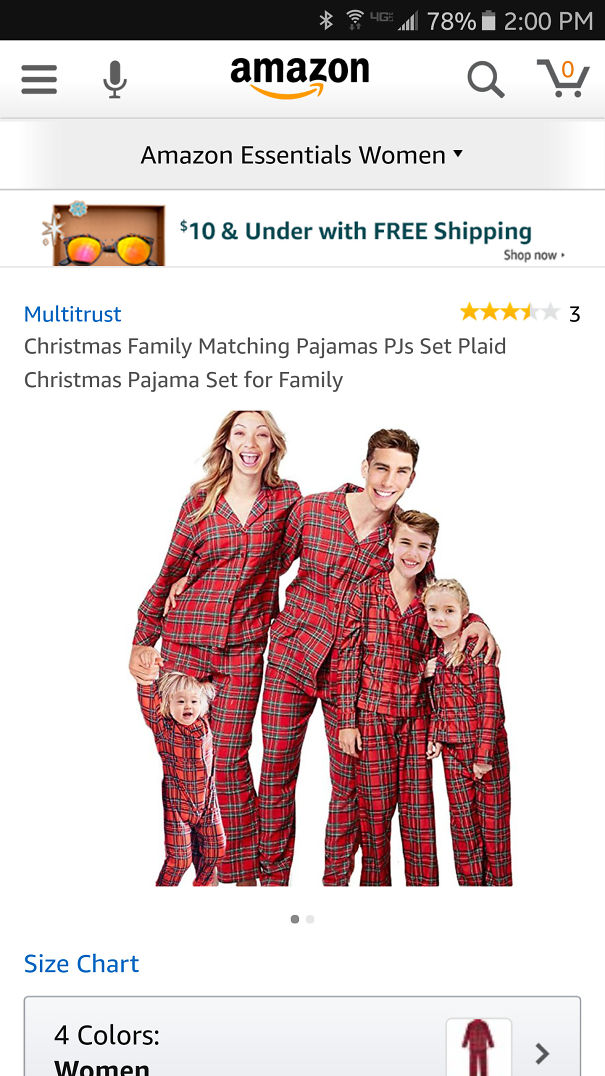 This is the creepiest 'happy family' we have ever seen. These masked individuals have obviously been photoshopped in the worst possible way. Part nightmare, part freak show, these two-dimensional faces won't convince anyone of buying those matchy-matchy pyjamas.
---
30

I also smile like that when I break my neck in the shower
#26 according to our users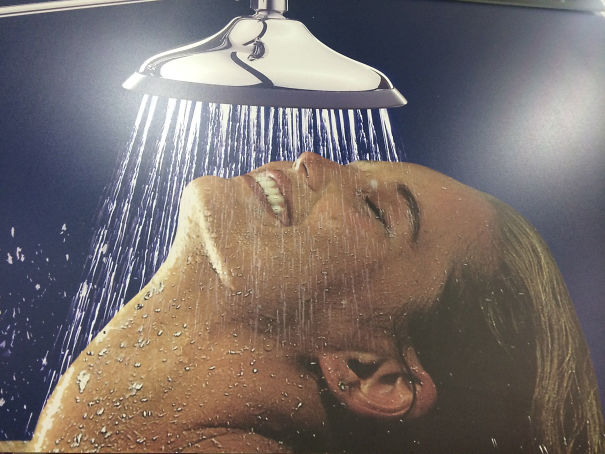 Earlier we had a giraffe neck, now it's time for the broken, flabby and unflattering neck photo. These men and women need to learn how to edit pictures properly.
These photoshop fails from local and world renown publications are on the one hand hilarious but are also quite frustrating. Hopefully, people learn from these terrible photo fails and decide to stop photoshopping images or learn how to do it properly!
---
Cover photo credit: thegloss.com
---