20 practical things you should absolutely know about WD-40
WD-40 is not just a lubricant. This product has tremendous potential. Discover its multiple uses to make your life easier.
A lot of people have WD-40 in their homes. That's perfectly normal! It is a product with many uses and immense potential. Indeed, this cleaning product, often used as a lubricant, can remove stains and wash many objects we use in our daily lives. You can also use it to protect your stuff from corrosion. If you have WD-40 at home, here are 20 practical things you should absolutely know about this product!
1

Prevent condensation from appearing on bathroom mirrors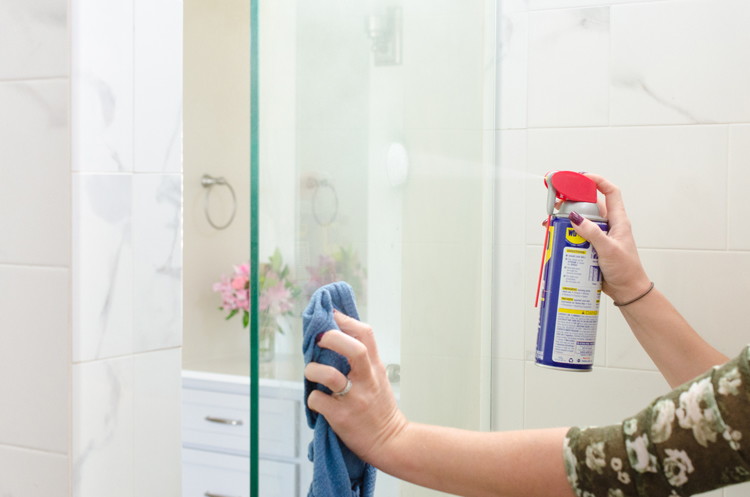 Spray it on the mirror and wipe off the excess. A film will remain on the mirror: this will prevent condensation from forming when you take your shower.
---
2

Make an old ballpoint pen work again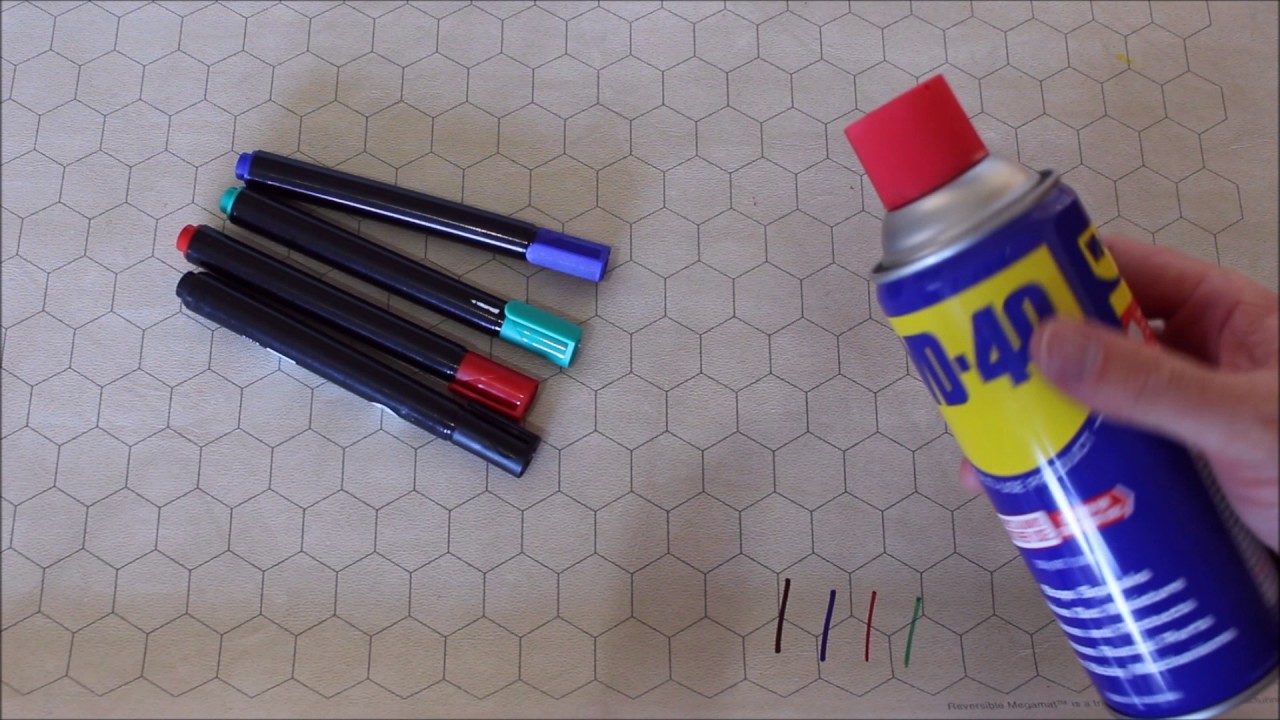 Spray WD-40 on the tip of the ballpoint to clean it. You can then make your old ballpoint pen work instead of getting rid of it.
---
3

Prevent your watch from getting caught in your wrist hairs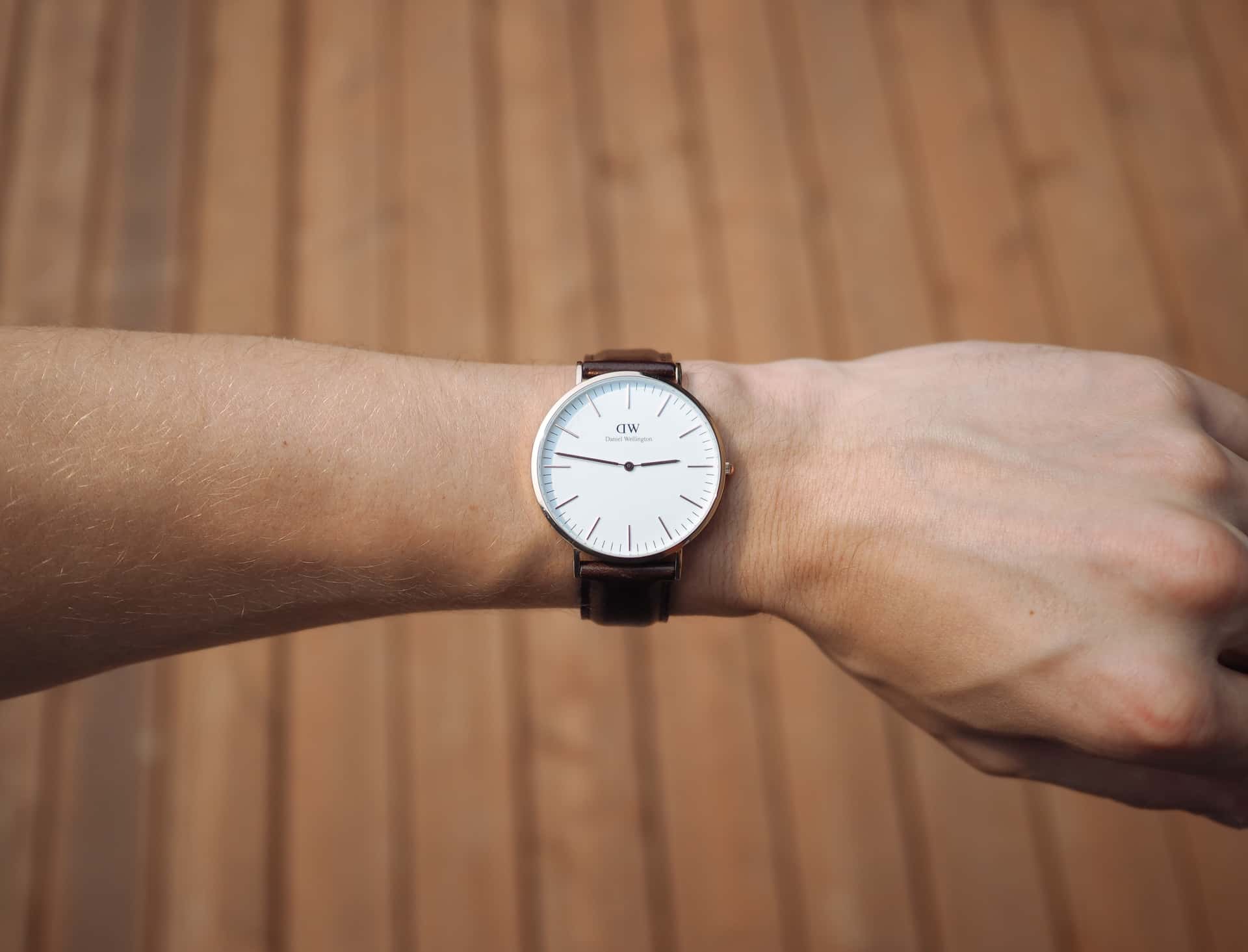 Spray a little bit of the product on the strap of your watch and wipe it dry. Your hair will never stick to your watch again, guaranteed.
---
4

Remove paint from your shoes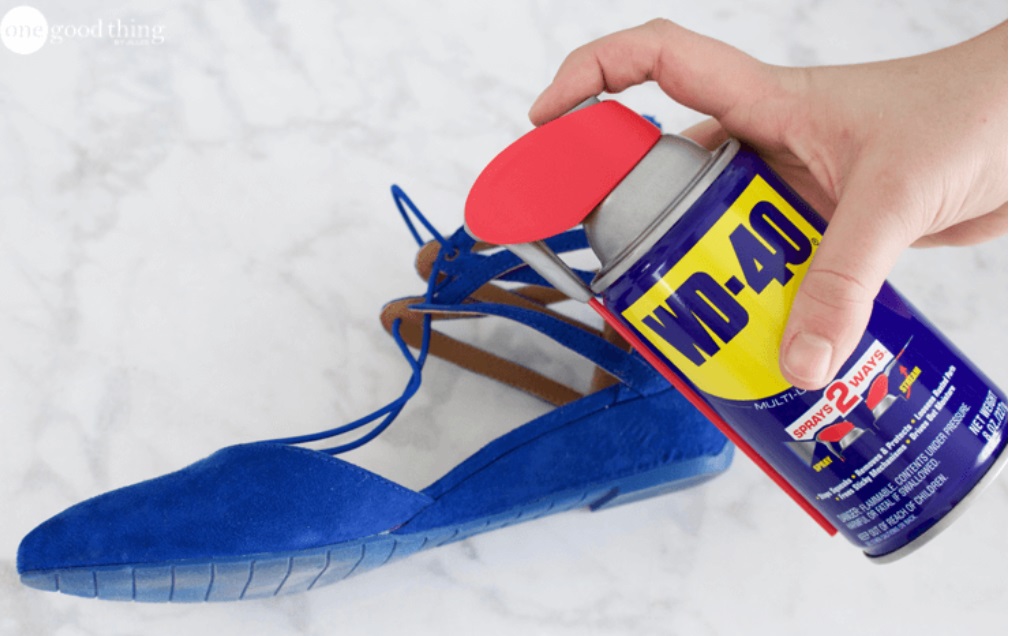 If you have spent the day repainting the walls of your home and have soiled your shoes, know that you can clean them by spraying a little WD-40 on them to remove stains.
---
5

Protect your silver jewellery against blackening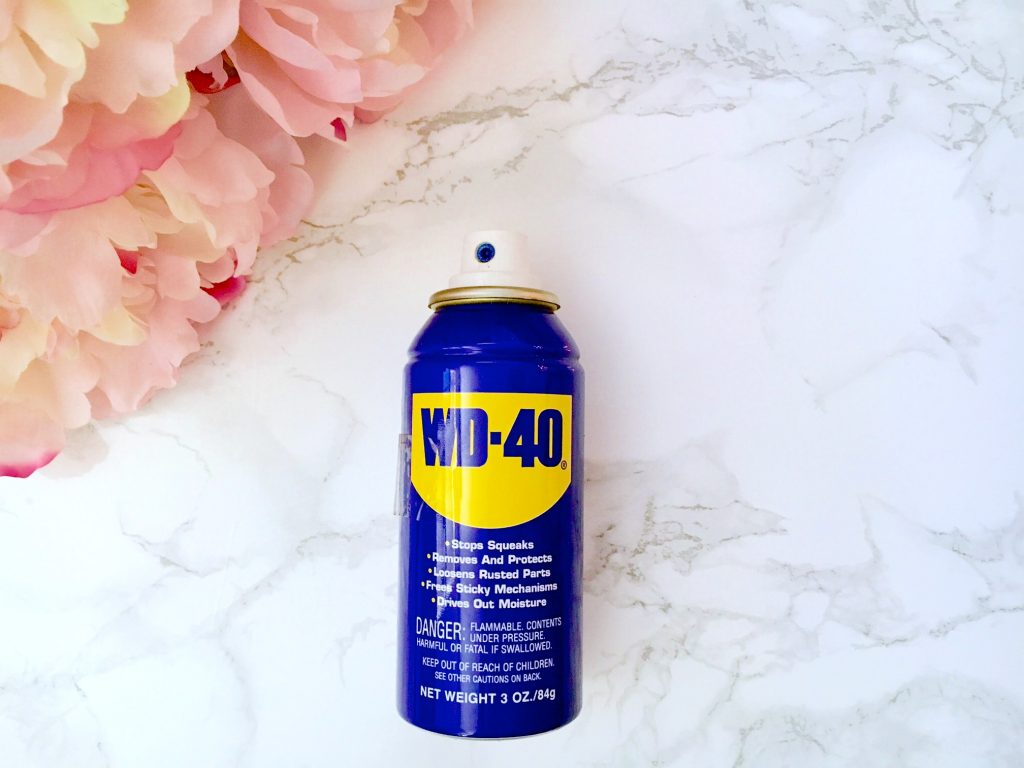 With a cloth, wipe your jewelry with it. They'll be sparkling and won't blacken anytime soon.
---
6

Clean your electronic components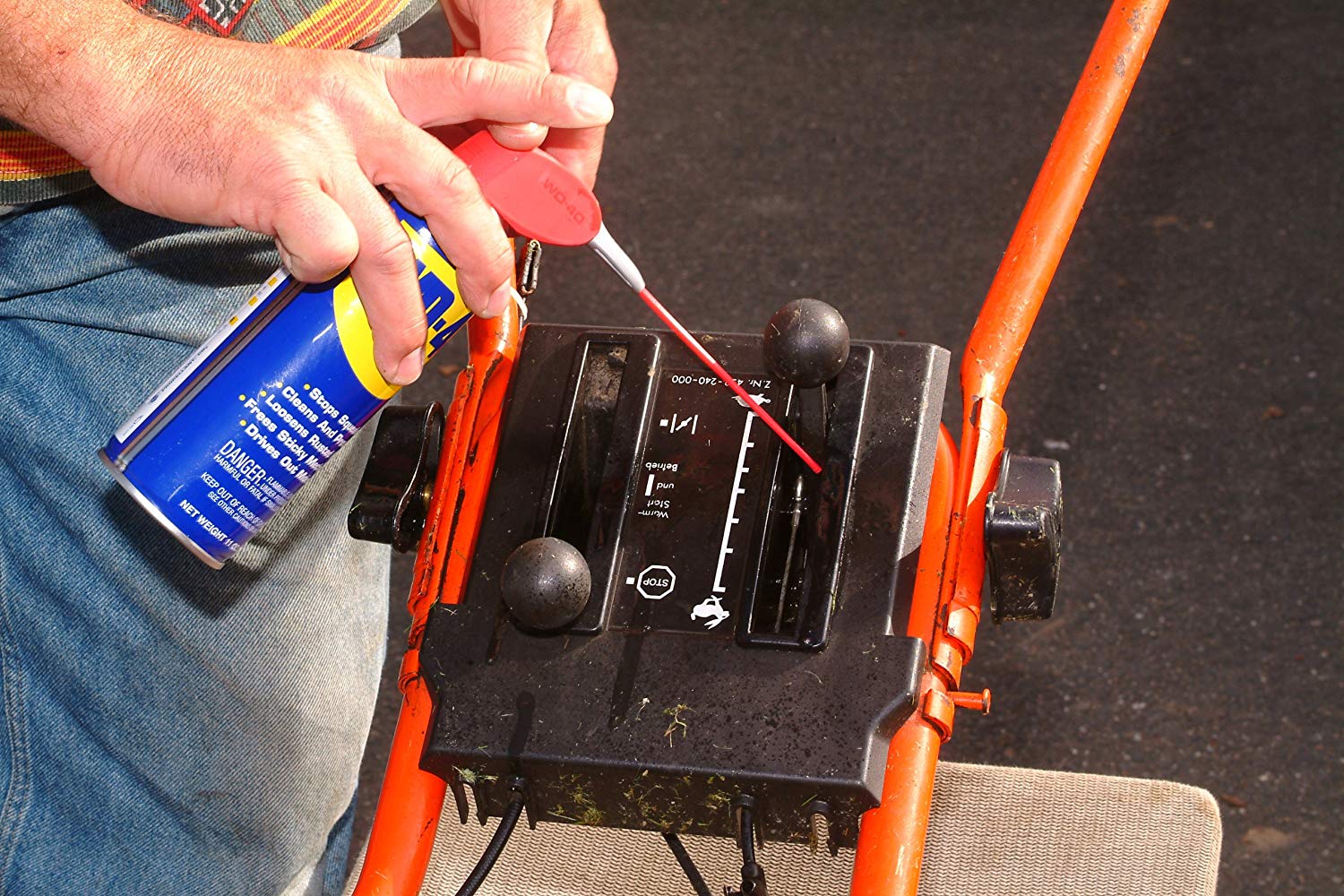 Spray some product, let it penetrate and clean your electronic components with a cloth.
---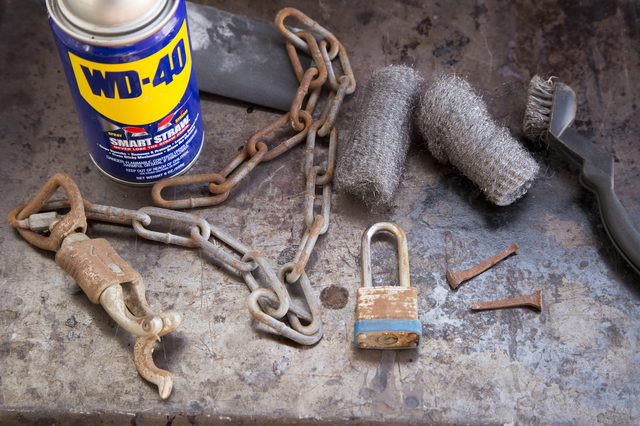 Spray the product and remove rust with a sanding paper
---
8

Remove grime from your telephone keys
Unplug your telephone and spray WD-40 on your device. Clean it with a clean cloth afterwards.
---
9

Separate glasses stuck together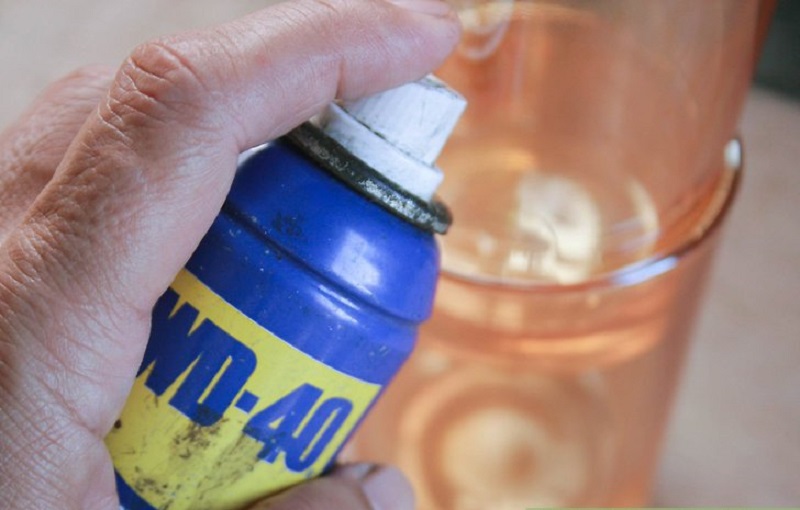 Do you have glasses that are stuck together, one on top of the other, and do not know what to do to unstick them? To avoid breaking them by trying to separate them, use WD-40. In fact, your glasses will separate easily if you inject a little bit of WD-40, wait a few seconds for the product to slip between the glasses, then gently pull on them. Remember to wash your glasses well before using them.
---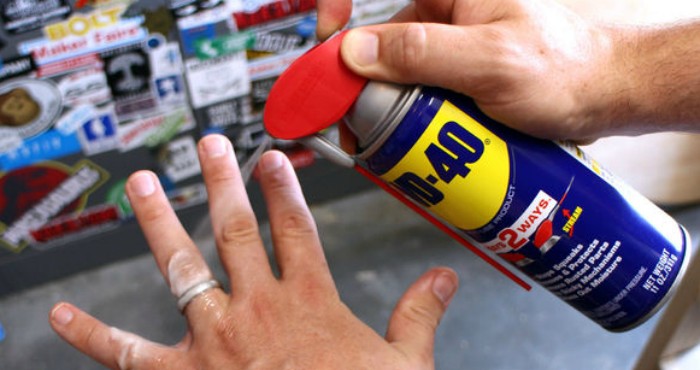 Can't get your ring off? Take WD-40 to remove it. Spray a little of this product on your finger to slide your ring, then wash your hands immediately afterwards.
---
11

Exterminate cockroaches and repel insects
Don't let cockroaches, insects or spiders take over your home. Try one of these WD-40 tricks instead. Keep a can of WD-40 handy, and when you see a cockroach, spray a small amount directly onto the insect to kill it instantly. To keep insects and spiders away from your home, spray WD-40 on window sills and frames, screens and door frames. Be careful not to inhale vapours when spraying WD-40.toil
Caution: Do not use this tip if you have babies or young children at home.
---
12

Remove gum from your hair or your shoes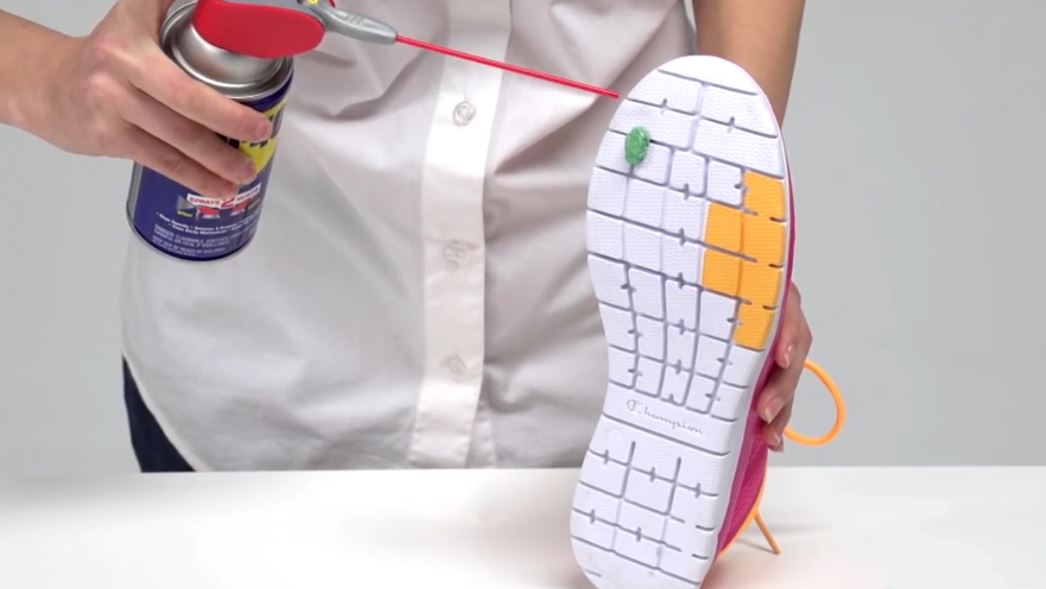 This is an adult's worst nightmare: a chewing gum tangled in a child's hair. You don't have to panic or look for a pair of scissors, because you only need WD-40. Simply spray the gummed hair with WD-40, and comb the hair. You will then be able to remove it without difficulty. However, be sure to be in a well-ventilated area when spraying the WD-40 and avoid contact with the child's eyes.
---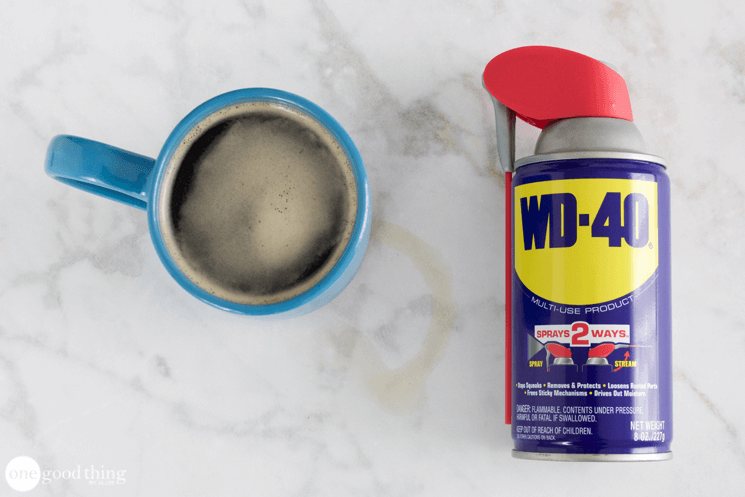 To remove tea stains from your counters, spray a little bit of WD-40 on a sponge or a humid cloth and wipe the stain clean.
---
14

Make your boots and shoes waterproof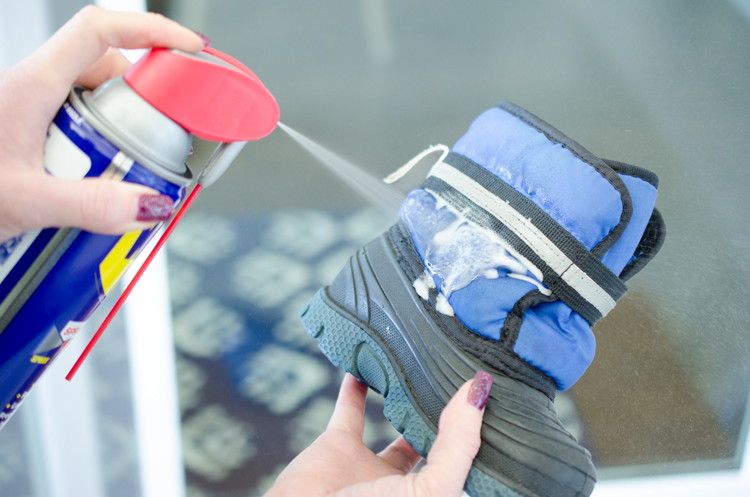 This is one of the great uses for WD-40 you may not have thought of. You can make your winter boots and shoes waterproof by spraying a coat of WD-40 on them. The product will act as a barrier so that water does not penetrate into your boots or shoes.
---
15

Protect your bird feeder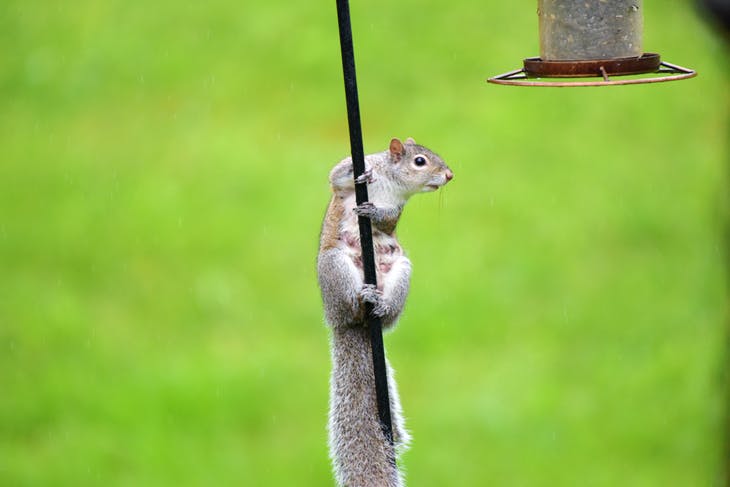 If you have a bird feeder in your yard, you probably know that squirrels are known to steal seeds. To keep these rodents away, spray the centre of the feeder with WD-40: squirrels will slide right away.
---
16

Remove crayon marks on walls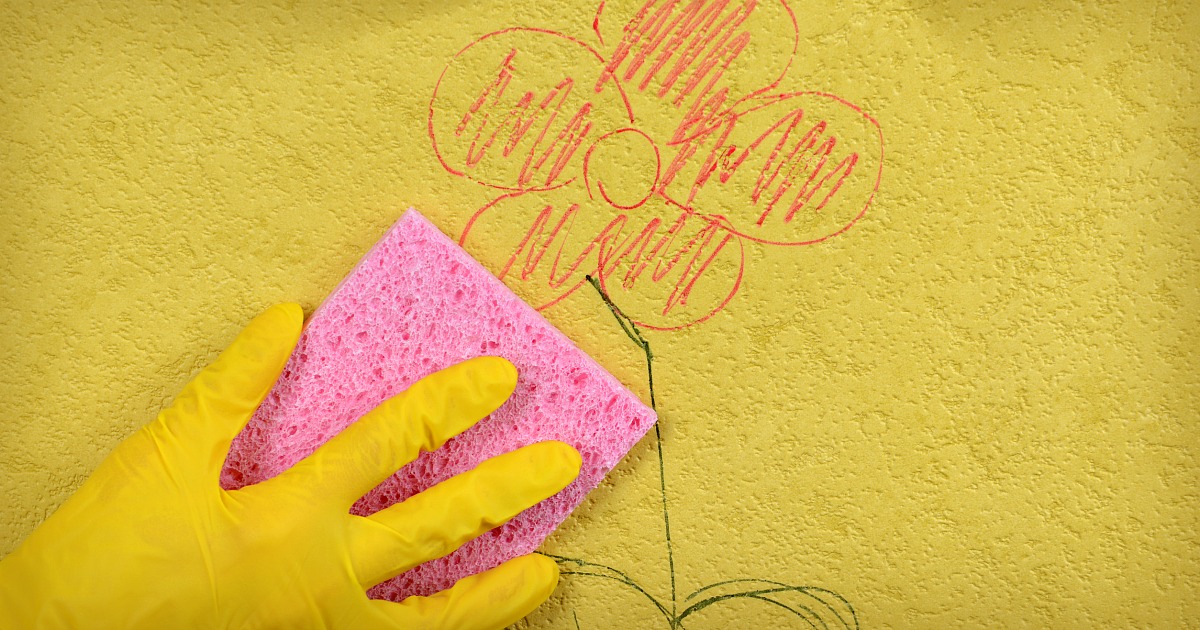 Do you have children who like to scribble on walls and even furniture? To remove these pencil marks, spray a small amount of WD-40 and rub immediately on the surface to be cleaned.
---
17

Defrost your windows
Whether you live in a cold climate all year round or you are preparing for the winter season, spray your windows with WD-40 and wipe off the excess. Believe it or not, it will keep the ice from sticking to your windows and save you time when you go to work in the morning.
---

If you use scissors in the kitchen or do crafts regularly, then you know how sticky they can get over time. To keep the viscosity at bay, polish them regularly with a good dose of WD-40 and they will stay perfect for the tasks you will have to accomplish!
---
19

Remove stickers and price tags

If you've ever tried to peel a sticker off a window in your car, you know it can be difficult. Using the WD-40 makes it child's play. Simply cover the sticker with this product and peel it off gently!
---
20

Have a sparkling clean toilet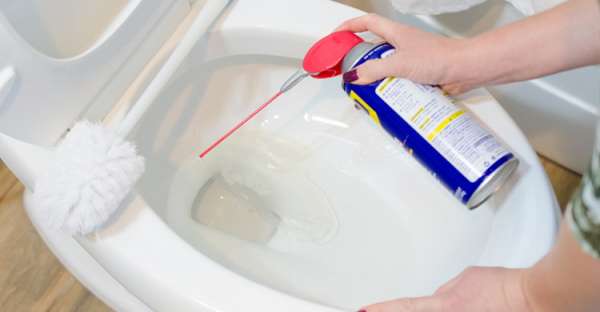 WD-40 is one of the best toilet cleaners because it can remove stains or lime build-up that may be on your toilet. All you have to do is spray the toilet bowl with the product and let it rest for a few seconds. Then rub your bowl with a toilet brush until any residue is removed.
---
Sources:
Shaving's moment
yakidee.org
Reader's digest
boredomtherapy.com
---