Greatest Aircraft Paints Jobs Of All Time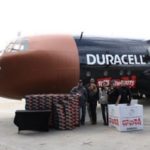 Advertisements
As you probably guessed, this C-130 Hercules plane serves as a flying billboard, if you will, for Duracell Inc. More importantly, it was used symbolically to launch Duracell's "Power a Smile" program, in which the company teamed up with Toys for Tots to collect batteries and toys for children in need. Their aim was to see as many as 1 million batteries donated to needy kids during the 2013 holiday season.
"As a father it's a joy to see my children's faces light up on Christmas morning as they unwrap their gifts," Jeff Jarrett, former Marketing Director for Duracell, said in a press release. "It's a memorable moment that shouldn't be spoiled because the toy is missing batteries. Through Duracell Power a Smile, we want to ensure every parent and child, no matter their circumstance, can experience that joy."
Advertisements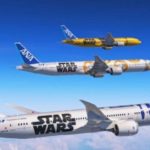 Advertisements
Japanese airline All Nippon Airways (ANA) launched its Star Wars Project in April 2015 after signing a five-year licensing contract with Disney. The result of that project was four themed jets, including three that are based on droids (R2-D2, BB-8, and C-3PO) from the Star Wars movies. The fourth, which the airline added to its fleet a little later, is the Millennium Falcon, the iconic starship in the Star Wars franchise. How awesome is that!
By the way, scheduled flights for the Star Wars jets include the U.S. cities of Los Angeles, San Francisco, Seattle, Houston, and Washington D.C. Other cities include Brussels, Frankfurt, Ho Chi Minh City, Haneda and Narita (which are in Japan), and Hanoi (which is in Vietnam).
Advertisements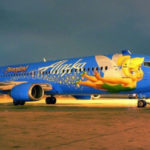 Advertisements
Alaska Airlines rolled out the "Magic of Disneyland" 737 back in 2005 to celebrate Disneyland's 50th anniversary. Tinker Bell appears on the side because she is the official hostess of the theme park.
"In the 1950s when Walt Disney shared his new theme park with television audiences across America, Tinker Bell often took the audience on aerial flights to Disneyland. Her pixie dust, filled with the power to make you fly, became the magic ingredient that could transport audiences anywhere," Claire Bilby, former senior vice president of Disneyland sales and distribution marketing, said in a press release.
Magic of Disneyland is the second Disneyland-themed airplane born out of a partnership between Seattle-based Alaska Airlines and Disneyland Resort. The first was dubbed the "Spirit of Disneyland" and featured the faces of Mickey Mouse, Minnie Mouse, Goofy, and Donald Duck. It debuted in December 2002.
Advertisements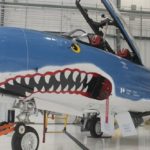 Advertisements
The T-33, also known as the T-Bird or the Silver Star, has a long history with the Canadian Forces. It is the world's first purpose-built jet trainer and evolved from America's first successful jet fighter, the Lockheed P-80 Shooting Star.
As for the mako shark that's painted on this bird, it's likely there to symbolize that this jet is super fast. The shortfin mako is the fastest known species of shark, reaching moving speeds of 31 mph, with bursts up to 46 mph. You definitely don't want to be in the water when this creature starts circling. There's no way you could get away in time.
Advertisements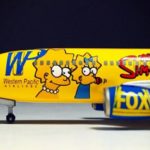 Advertisements
This Boeing 737 belonged to the now-defunct Western Pacific Airlines (WestPac). I don't know the story behind this livery, but it's pretty cool. Additionally, there are a number of websites where you can purchase a miniature model of this plane if you want to include it in your model plane collection.
FUN FACTS
In addition to The Simpsons, WestPac advertised other things on their planes as well, including casinos, hotel resorts, credit unions, and car rental companies.
WestPac operated a low-fare airline from its hub at the Colorado Springs Airport. It was formed in 1994 under the name Commercial Air. Its headquarters were in unincorporated El Paso County, Colorado, near Colorado Springs.
Advertisements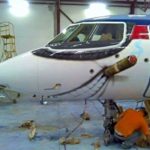 Advertisements
Unfortunately, I don't know anything about this plane. I don't know the official name of the livery, I don't know what airline it's a part of, or if it's even part of an airline's fleet at all. It could be a private charter plane. There are a number of possibilities. One thing's for sure, though, and that is that the artwork on it is pretty cool.
Okay, artists, help me out here. Is the "cigar" a part of the plane that's sticking off or is it 3D art that's made to look like it's protruding from the plane? I've seen lots of 3D images drawn on paper that looked like they were actually sticking up. Either way, the person who designed this was very creative.
Advertisements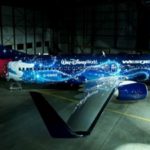 Advertisements
This Boeing Next-Generation 737-800 aircraft is Canadian airline WestJet's first Disney-themed plane. In 2013, the airline unveiled "Magic Plane." It features Mickey Mouse in his famous role, Sorcerer Mickey. It took 36 different paint colors to complete the paint job. The design was created by WestJet and Disney Parks & Resorts (Canada) to tell a story from tail to nose.
The interior used to feature special decals but has since been updated to reflect WestJet's new 2×2 seating and cabin reconfiguration.
The plane performed its inaugural flight from Calgary to Walt Disney World Resort in Florida and then began flying throughout WestJet's domestic, trans-border, and international network.
Advertisements
8

Aerogallo / Flying Rooster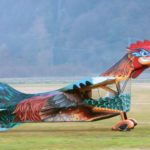 Advertisements
Whoever said that roosters can't fly high and for long distances has obviously never seen the Aerogallo, or Flying Rooster. Designed by Italian aircraft designer and builder Ottone Baggio, this plane features a rooster head and neck, and a unique design inside and out. For example, the control stick comes down from the cockpit's roof, and you have to pull it back to dive and push it forward to climb.
Aerogallo made its first flight on December 26, 2011, and has since made appearances at airshows in Italy.
FUN FACT
This plane is so beloved that it even has its own Facebook page.
Advertisements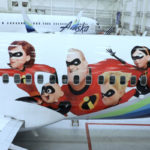 Advertisements
Alaska Airlines unveiled this special-edition airplane ahead of the release of Disney Pixar's Incredibles 2 in 2018. The livery, which was unveiled to a crowd of over 2,000 cheering students during Aviation Day at the airlines' Seattle hangar, is Alaska Airlines' first livery for a Disney Pixar film.
"These characters are among the most celebrated characters in the Pixar family," Incredibles 2 producers Nicole Grindle and John Walker said, according to an article published by WDW News Today. "After waiting 14 years to see them on the big screen again, fans will love seeing them on their Alaska Airlines plane, too."
Advertisements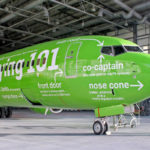 Advertisements
This one was just too funny to pass up. The "Flying 101" plane is part of the South African airline Kulula's fleet. It's covered with quirky messages labeling every part of the airplane.
The Flying 101 concept is part of a series of clever decals Kulula's in-house graphic design team has come up with. For example, another plane in the airline's fleet has a huge sign on the side of it that reads "THIS WAY UP," with giant arrows on either side pointing upward.
According to an article published by Daily Mail, the planes are popular with passengers. "Our customers are accustomed to flying on uniquely designed aircrafts. They love it," a spokesman for Kulula told Daily Mail. "Our aircraft livery is designed to make sure that every aircraft has its own unique Kulula personality," he added.
Advertisements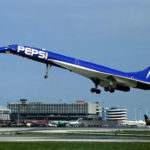 Advertisements
Pepsi paid Air France to repaint a Concorde in its corporate colors at a hangar in Paris back in 1996. It took over 2,000 hours and 200 liters of paint to complete the job.
The whole thing was kept quiet until the completed livery was formally unveiled in London during a PR event launching the new Pepsi brand. Afterward, the plane made a promotional tour of 10 European and Middle Eastern capital cities.
The plane was eventually retired and was sent to Le Bourget—the same airport that holds the Paris Air Show.
FUN FACT
The paint job made the plane unable to break the sound barrier for long periods. That's because light colors—specifically, the color white—radiate and reflect heat far more effectively than darker colors.
Advertisements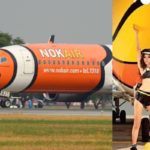 Advertisements
It's a bird. It's a plane. Well, actually, it's both. This airplane belongs to Nok Air, an airline based in Thailand.
This isn't the only bird plane in Nok Air's fleet. In fact, all of their planes have birds painted on them. What's more is that according to the airline's website, nok means 'birds' in Thai. "It is a symbol of freedom, air travel and friendliness," the airline wrote.
Unfortunately, none of us here in the U.S. can see these planes in real life because Nok Air only does flights around Asia. But if you ever fly to any of the Asian destinations on their list, you just might be able to catch a glimpse of one.
Advertisements
13

Lord Of The Rings Plane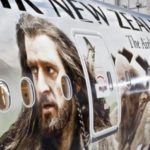 Advertisements
After debuting the Lord of the Rings livery on a Boeing 747 back in 2002, Air New Zealand dubbed itself "the official airline to Middle-earth." The livery is the result of a marketing campaign with the movie trilogy's producer, New Line Cinema.
The trilogy was filmed entirely in New Zealand, and the plane serves as a way for the country to capitalize off the movies' successes.
"We want to ensure New Zealand's identification with the film is carried to the broadest audience during this critical period," former Air New Zealand vice-president of marketing and alliances, Ed Sims, said, according to NZ Herald.
Advertisements
14

Menacing Embraer SA E190-E2 Aircraft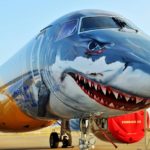 Advertisements
This Embraer SA E190-E2 passenger aircraft is actually a demo of this model that toured the world in 2018, stopping in Zhuhai, Guangdong Province of China on November 4 of the same year. After visiting the United States, Africa and Europe, it was on display just before the Airshow China 2018.
This aircraft was nicknamed "Profit Hunter". According to Embraer, a Brazilian company, this aircraft is "the world's quietest, cleanest and most efficient new generation single-aisle aircraft". Indeed, one of its particularity is that there is no middle seat inside. This model of plane would have been created to compete directly with the Airbus A220. This could explain why the plane looks so menacing on its promotional tour!
Advertisements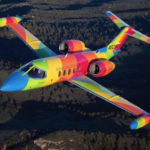 Advertisements
This brightly colored rainbow plane, officially known as Dream Chaser 5, is a Learjet model 35 that, once upon a time, would take children from the Make-A-Wish Foundation on thrilling flights over their respective towns. The company had been doing these flights on different planes since 1990. Unfortunately, Dream Chaser 5 took its last flight in May 2019 and is now retired from service.
The children who were on that flight got the chance to sit in the cockpit and talk to the pilots. They each received a commemorative hat and t-shirt, and they also got to sign their names on the side of the plane. Sounds like they all had an awesome day!
Advertisements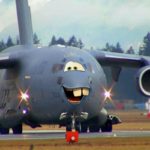 Advertisements
This next photo was just too funny to pass up! If you're familiar with the Disney movie Cars, you'll recognize the fella painted on the nose of this Galaxy C-5 aircraft. The Canadian forces performed a custom paint job that transformed the aircraft into non-other than the beloved character Mater.
Whoever came up with this idea was a total genius. The juxtaposition of a goofy animated truck painted onto a 2600-pound aircraft is an idea that will be hard to top. They just need to put Lightning McQueen on another aircraft so that Mater doesn't get lonely for his best friend.
Advertisements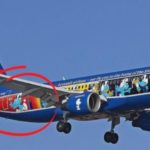 Advertisements
This has got to be a JetBlue plane, right? Nope! It actually belongs to Brussels Airlines.
The airline adorned this plane with one of its country's most iconic characters. That's right. The Smurfs is a Belgian comic franchise created by a cartoonist who went by the name Peyo.
The idea behind the design came from a contest submission and was created to celebrate The Smurfs' 60th anniversary in 2018. The design was done by Marta Mascellani and fine-tuned by Brussels Airlines' marketing department before going onto the Airbus A320.
There are 19 Smurf characters along the plane's fuselage, with Smurfette as the captain and Papa Smurf as the co-pilot.
Advertisements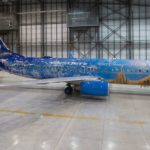 Advertisements
Canadian airline WestJet unveiled its Frozen-themed plane back in 2015. "This aircraft takes the relationship between WestJet and Disney to a completely new level of cool," WestJet Executive Vice-President Bob Cummings said in a press release. "It's a truly unique and unforgettable design that Disney Fans and WestJet guests alike will enjoy for years to come," said Marlie Morrison, managing director of the Walt Disney Company (Canada) Ltd., Parks & Resorts.
The custom paint job, which features Elsa, Anna and Olaf, took 21 days of round-the-clock work and over 170 gallons of paint to complete! There's even a Frozen theme on the inside of the airplane, too.
Advertisements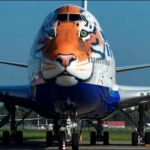 Advertisements
Russian carrier Transaero unveiled a special new livery that featured the face of an Amur tiger. The livery, which was painted on one of the airline's long-haul Boeing 747-400 planes, served to help raise awareness of the tiger's plight. As you probably guessed, it's an endangered species.
The plane also was painted to promote the conservation work of the Amur Tiger Centre.
According to The Siberian Times, Transaero said that their aim was to put the plane on its most popular routes both in Russia and abroad to maximize exposure about the tiger's plight. They had also made plans to show documentaries about the animal to passengers on board during their flight.
Advertisements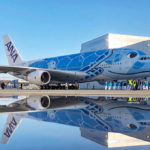 Advertisements
The "Flying Honu," an Airbus A380, was added to the Japanese airline All Nippon Airways (ANA) in May 2019, making ANA the 15th airline to operate the A380.
Designed to resemble a sea turtle, it took 16 different kinds of paint to complete the livery. Additionally, the plane's name bears the word honu, which is a term used for sea turtles in Hawaii, this airplane's destination. The plane marked the first time the first class was made available on ANA's Honolulu route.
Meanwhile, the airline unveiled two additional versions—an emerald green one and an orange one—of this sea turtle airplane later that same year.
Advertisements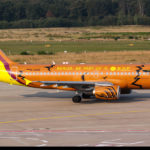 Advertisements
Bearbus is an Airbus A320 belonging to German low-cost airline Eurowings (formerly Germanwings). The design was created to celebrate the launch of the airline's operations out of Berlin's Schönefeld Airport.
So, why did the airline choose to decorate the plane with a bear? The answer is quite simple. The bear is the official animal of Berlin, the capital and chief urban center of Germany. In fact, the design was inspired by Berlin's coat of arms, which features a brown bear wearing a crown. And, if you look closely at the front of the plane, you can see a gold crown near the cockpit window.
Advertisements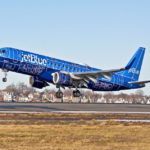 Advertisements
This paint scheme was designed to showcase the "bones" of JetBlue's 100-seat E190 fleet. According to the airline, it "draws on both the technical and fanciful aspects of air travel." In other words, there are the mechanical features, such as the engine and nose gear, in addition to the onboard features that draw upon the airline's travel experiences.
JetBlue even created fictional characters and compiled a list of items those characters might be traveling with. Those 50 items, which include things like a teddy bear, a piñata, a cactus and a French press, are hidden in the paint scheme, and onlookers are encouraged to find them.
Advertisements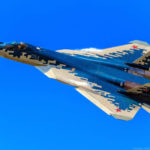 Advertisements
First revealed in 2010, Russia's Sukhoi Su-57 is a stealth fighter that looks like something from the 1980s video games Galaga and Bosconian. And I guess it makes sense, after all, since the objective of both games is to use a fighter jet to shoot down your enemies.
Given the codename "Felon" by NATO, this aircraft is what's known as a "fifth-generation fighter" because it mixes speed, stealth, and advanced weapons and sensors. It has a large twin engine and is in the same rough class as the U.S. Air Force's F-22 Raptor. Sukhoi Su-57 was the first Russian aircraft to use stealth technology.
Advertisements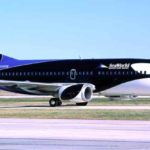 Advertisements
Did you know that, once upon a time, Southwest Airlines was a sponsor of SeaWorld? That likely explains why the airline unveiled this Shamu livery back in 1998. In fact, three planes in its fleet had the whale's image painted on them. The company had other SeaWorld-themed livery on its planes as well, but decided to retire them all in 2014.
Additionally, Southwest and SeaWorld decided not to renew their partnership at the end of 2014, which is when their contract expired. "The companies decided not to renew the contract based on shifting priorities. Southwest is spreading its wings with new international service and increased focus on local market efforts. With an increasing international visitor base, SeaWorld is looking to focus on new and growing markets in Latin America and Asia, among others," the companies said in a joint statement, according to a CNBC article.
Advertisements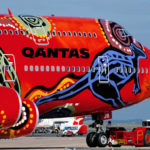 Advertisements
This colorful livery was commissioned by Australian airline Qantas in 1994 for the side of a Boeing 747. It's an aboriginal theme that was inspired by the Yanyuwa people from the Northern Territory's Gulf of Carpentaria and "by the natural colors of Australia, from the bright reds of Central Australia, to the purple-blues of desert mountain ranges, and the lush greens of Kakadu," according to the airline's website.
The livery was first digitalized on computer, then magnified 100 times to generate 2km of blotting paper. Then, 67 patterns, including 1,324 irregular dots, were traced onto the airplane.
FUN FACT
Wunala means "kangaroo" in the language of the Yanyuwa people.
Advertisements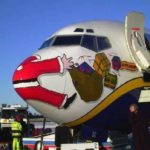 Advertisements
"Sorry Kids, Ryanair have killed Santa." That's how @OverheardDublin captioned a photo of this plane on Twitter. That is too funny.
But what's the story behind this livery? Well, according to AeroTime Hub, Irish airline Ryanair began a tradition of painting their 737s for the holiday season in 1997. It was in 2005 that the airline decided to give up the tradition altogether and decided to go out with a bang, as AeroTime Hub puts it. That's when they painted Santa Claus on the nose of a 737-800 to make it look as if he had been hit by a speeding plane.
Advertisements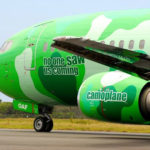 Advertisements
This airplane belongs to Kulula Airlines—a company known for painting quirky messages on the sides of its planes. And you have to admit that this one is quite clever. But it isn't just the paint jobs that are witty. The airline's staff is quite witty as well.
The Travel retold a story of how a Kulula Airlines flight attendant once handled a very awkward situation: "That was quite a bump, and I know what y'all are thinking. I'm here to tell you it wasn't the airline's fault; it wasn't the pilot's fault, it wasn't the flight attendant's fault; it was the asphalt!"
Advertisements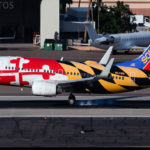 Advertisements
Southwest Airlines unveiled Maryland One in 2005, and those of you who are from Maryland already know why the airline gave it this name. The plane is emblazoned with an artist's rendering of the state's flag.
But why would a company whose headquarters are in Dallas, TX, want to put a Maryland state flag on one of its airplanes? Well, it actually has to do with the fact that Southwest Airlines bases a large portion of its East Coast operations out of Baltimore/Washington International Airport.
"We are thrilled to honor Maryland with this beautiful aircraft; it is truly a testament to the great relationship we have developed with our Baltimore/Washington Customers and a tribute to our Employees," former Southwest Airlines President Colleen Barrett said, according to a press release. "Our pride for Maryland will now fly high over the 60 cities Southwest serves."
Advertisements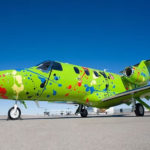 Advertisements
Citation M2 is owned by Duncan Aviation, the largest privately owned business jet service provider in the world. "This is a flying billboard for Duncan Aviation's paint department," Chairman Emeritus Robert Duncan said at the jet's unveiling, according to the company's website. To me, it looks more like something that would be found at Duncan's Toy Chest (my fellow Home Alone fans will know what I'm talking about).
Anyway, the story behind this one is simple. The Duncans wanted the jet's paint scheme to reflect the brush strokes of an abstract artist. "It's enjoyable to create a paint scheme that people don't readily expect to see on a plane. The wow factor gets people to react, contemplate and dream of what possibilities lay on the horizon," the paint scheme's designer Teri Nekuda said, according to Duncan Aviation.
Advertisements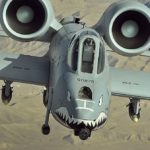 Advertisements
Believe it or not, this plane actually belongs to the U.S. Air Force! As for why they decided to give the warplane this specific paint job, well, Lt. Col. Matthew Shelly explained it all to Insider.
According to Shelly, it's only the 74th and 75th Fighter Squadrons of the 23rd Fighter Group and the 76th Fighter Squadron, once part of the 23rd but now part of a Reserve unit, at Moody Air Force Base that have shark's teeth painted on them. That's because the design is tied to their history and heritage as the original three "Flying Tigers" squadrons of the 23rd Fighter Group.
Advertisements
31

Gulfstream G150 (N777FL)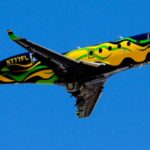 Advertisements
According to a post on Pinterest, this is a private Gulfstream G150 (N777FL). I'm not sure just who it belongs to, but there is another photo of it that was taken on September 5, 2014 in San Jose, CA, by Bruce Leibowitz of AirTeamImages.com.
Now, there is a story floating around on the internet that this plane actually belongs to a bridal shop in Ashland, Oregon. I don't know exactly how true that is. In fact, when I looked up the information about the bridal shop, I found out that it was in Pottstown, Pennsylvania. That's a long way from Oregon! And I didn't find any information about this shop owning an airplane. Anyway, no matter who the plane belongs to, you have to admit that its livery is pretty cool.
Advertisements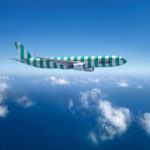 Advertisements
"Island" is a new paint job for German-based leisure airline Condor. The company announced back in April that its planes would be undergoing a massive makeover, taking them from drab to vibrant.
The planes, which were originally white with touches of orange and two shades of gray, were transformed to include bold vertical stripes. The stripes come in five different colors: green, yellow, red, blue, and beige. Each color represents a theme for a different type of vacation:
Green = Island
Yellow = Sunshine
Red = Passion
Blue = Sea
Beige = Beach
As of now, there are only six planes bearing the new livery. The airline hopes to have at least 80 percent of its fleet bearing the livery by 2024.
Advertisements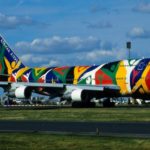 Advertisements
There's a good reason why this livery looks like something that would have been designed by a very artistic kid. That's because it was! According to the Smithsonian Institution, the design was chosen from a grade school competition.
The Boeing B747–312, which belongs to South African Airways, was named "Ndizani," which means "flying to new heights."
INTERESTING FACT
This plane was used to transport the South African team to the 1996 Olympics. It was in 1996 when the country's Truth and Reconciliation Commission first met. The commission was established by the new South African government in 1995 to help bring healing and reconciliation to the people of the country after suffering through years of apartheid.
Advertisements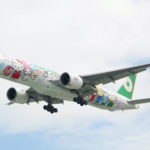 Advertisements
EVA Air flies several Sanrio-themed aircraft, and once flew this plane shown above, which features the Hello Kitty "Hand in Hand" livery. Unfortunately, it was retired in 2021. According to a tweet last April from EVA Air, the jet was set to be reinstated to standard livery on May 16, 2021.
The "Hand in Hand" livery was painted in 2013 and earned its name from its paint scheme, which shows Hello Kitty holding hands with other Sanrio characters. Additionally, the Hello Kitty theme carried over to the airline's boarding passes, onboard pillows, and even the toilet paper in the lavatory.
Advertisements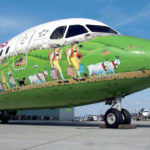 Advertisements
This Avro RJ100 plane belongs to Swiss International Air Lines. Its livery, which depicts farmers herding cows through a meadow, was unveiled in 2006. It also has the words "Shopping Paradise Zurich Airport" on the side. Unfortunately, Swiss International Air Lines removed their final Avro RJ100 from flight operations on August 15, 2017.
Now, I had to do a little digging to understand just what they meant by "Shopping Paradise Zurich Airport." What I discovered is this: Passengers on their return to Switzerland can purchase duty-free goods at Zurich Airport. FYI, duty-free stores sell merchandise that is exempt from duties and taxes. Popular duty-free items found in airport shops include chocolate, alcohol, and perfume.
Advertisements
36

Spirit Of Alaska Statehood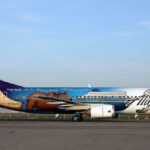 Advertisements
Alaska Airlines unveiled this livery back in 2009 in honor of the state's 50th anniversary. It was actually designed by a Sitka high school student. The then-16-year-old, named Hannah Hamberg, came up with a design that features a musher and sled dog, state ferry, Native Alaskan canoe, bear, and whale. Also included on the plane is the statement, "We're all pulling together."
"This was an amazing opportunity to share Alaska's unique heritage with people throughout the state and across the country," said Hamberg, according to Aero-News Network. "Growing up in a small town in Alaska, I've seen how Alaskans work together and help each other. This artwork is a tribute to our ancestors who helped shape Alaska over the past 50 years."
Advertisements
37

Salmon Thirty Salmon II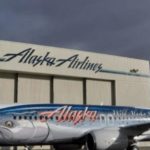 Advertisements
Salmon is an important part of Alaska's economy, so it makes sense the state's airline would paint one on an airplane.
The Salmon Thirty Salmon II livery, as it's called, is an image of a wild 129-foot-long Alaska king salmon, complete with scales on the winglets. Additionally, "Alaska" is written across the fuselage in salmon pink.
According to the airline's website, "the 2012 design is among the world's most intricately painted commercial airplanes and was produced in partnership with Alaska Seafood Marketing Institute, which promotes wild, natural and sustainable Alaska seafood."
FUN FACT
This isn't the airline's only sea-creature livery. It recently unveiled its new Boeing 737 MAX 9 livery featuring the orca whale.
Advertisements
38

Emirates United For Wildlife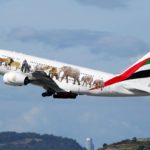 Advertisements
You have to appreciate when a large company makes moves for a good cause. In 2015, Emirates launched two A30 jets in support of United for Wildlife, a global collaboration that unites the efforts of the world's leading wildlife charities in the fight against the illegal wildlife trade.
One aircraft featured a decal of six endangered wild animals, while the other displayed jungle animals. Just look at those elephants walking tail to trunk. According to The Design Air, it took a team of 28 people 2.5 days to apply the decals on one A380, or approximately 900 man hours per aircraft.
Advertisements
39

The Wizarding World Of Harry Potter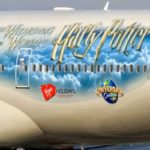 Advertisements
Harry Potter fans will love the next item on this list of amazing aircraft paint jobs. Virgin Atlantic Airways and Virgin Holidays got into the theme park spirit and teamed up with the Universal Orlando Resort to cover a Boeing 747 Jet with the official logo of The Wizarding World of Harry Potter.
The promotion coincided with the opening of The Wizarding World of Harry Potter attraction at Universal Orlando in 2010. They certainly drew attention with the words written on the side of the plane. The lucky passengers must have had a magical flight on that aircraft.
Advertisements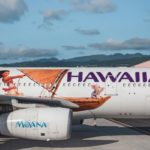 Advertisements
Much to the delight of Disney fans, Hawaiian Airlines teamed up with Disney to unveil Moana-themed planes in 2016. Peter Ingram, chief commercial officer for Hawaiian Airlines, issued a statement about the four aircraft that featured decals of characters from the film.
"At Hawaiian Airlines, we are modern navigators, carrying guests across vast oceans to experience the unparalleled beauty of our home and richness of our culture. In important ways, Moana's voyage of discovery parallels that of our guests' own travel adventures, and we're pleased to work with Disney to take this wonderful story to the skies," Ingram said.
Advertisements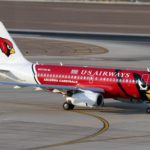 Advertisements
The Arizona Cardinals have their own Boeing 777-200ER aircraft complete with a custom decal on the body of the plane. The commercial airliner can carry over 280 passengers so the team can travel in comfort and it has quite an impressive and sleek design.
Michael Bidwill, the owner of the Cardinal, said in a statement, "It is a major undertaking every time we travel for a game. This aircraft will not only provide major convenience but also maximum comfort for our players when getting them to and from road games. Every NFL team is looking for advantages wherever possible, and we think this will certainly provide one."
Advertisements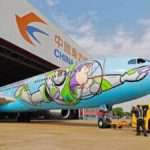 Advertisements
Shanghai Disney Resort teamed up with China Eastern Airlines to create this Toy Story-themed plane to celebrate the opening of Disney Pixar Toy Story Land at the resort.
But it isn't just the outside of the plane that has a Toy Story theme. On the inside, you will find Toy Story characters on just about everything, including the tray tables, seats, overhead bins, and even the ceiling!
The plane, which flies between Shanghai and Beijing, is the third collaboration between Disney and China Eastern Airlines. Previously, there was a Mickey Mouse-themed plane to celebrate the opening of Shanghai Disney Resort in 2016.
Advertisements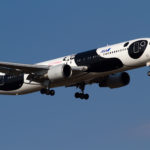 Advertisements
ANA released the Fly! Panda livery in July 2007 to mark the airline's 20 years of serving China, and to celebrate 35 years of diplomatic relations between Japan and China. The airline released a statement about that livery explaining the reasons behind it.
They said, "With its eye-catching exterior and panda-themed interior, meals, and cabin crew uniforms, we hope to capture the imagination of customers flying to China and make them as excited as we are about flying to our next-door neighbor. We are proud of our 20-year history of linking the peoples of our two countries and look forward to next year's Beijing Olympics as a high point in travel between Japan and China."
Advertisements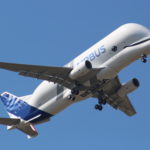 Advertisements
It's a bird! It's a plane! It's a Beluga Whale! The Airbus BelugaXL was built to transport oversize cargo, but it flies through the sky with a big smile. The company said the aircraft "features beluga whale-inspired eyes and an enthusiastic grin."
The Airbus took its first operational flight in 2020 and is used to fly airline parts between the company's plants in Europe. It was announced that the Airbus BelugaXL will be made available for other companies to rent in an effort to help move cargo. So don't be surprised if you see a whale flying in the sky!
Advertisements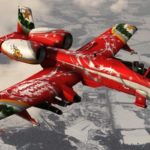 Advertisements
Who would have thought that Christmas and a subsonic attack aircraft would make such a delightful union? The Fairchild Republic A-10 Thunderbolt II is typically battle-gray, but this Warthog got a special paint job to celebrate the holidays and spread cheer to all.
This aircraft's body is loaded with Christmas imagery from Rudolph the Red-nosed Reindeer to silver ribbons on the wing. This would make quite the sleigh for Santa Claus and would cut down on his travel time as he delivers toys to boys and girls worldwide.
Advertisements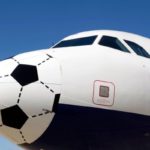 Advertisements
Soccer fans will get excited about this pic, or we should possibly say football fans, depending on where you're from. British Airways celebrated the 2010 FIFA World Cup in a very creative way. The company featured a soccer ball livery on the nose of select aircraft.
The airline flew over 70,000 footie fans to South Africa for the World Cup that year and they did it in style. We're sure that the fans enjoyed seeing the football painted on the nose of the plane. It was a great way to get travelers into the spirit of the game. That's smart marketing, if you ask us.
Advertisements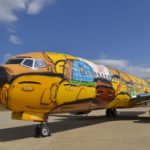 Advertisements
The soccer World Cup, in some countries, is serious business! This is the case in Brazil, where soccer is one of the most popular sports. It is therefore not surprising that the Brazilian national team, nicknamed Seleção Canarinho, wanted to create an aircraft in their image for the 2014 World Cup.
The Brazil National Team called upon the very popular Brazilian graffiti artist duo Os Gemeos, composed of identical twins Otavio and Gustavo Pandolfo, to design their Boeing 737. The plane, which is part of the fleet of the low-cost airline GOL, continue to fly with that design until 2016.
Advertisements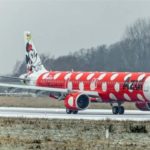 Advertisements
Azul Airlines created the "World's Most Magical Fleet" by featuring aircraft with Disney characters painted on the Fuselage of the plane. Our favorite of the fleet was the Minnie Mouse Airbus A321neo, complete with red polka dots to honor our favorite mouse.
Azul said in a statement, "The planes operate on domestic routes to nearly 50 Brazilian airports, bringing the magic of the Walt Disney World Resort parks to the entire country. With the three aircraft in operation, the company's attention turns to the fourth and final aircraft in the series, which will be announced soon."
Advertisements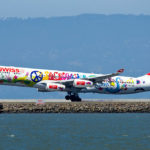 Advertisements
Swiss International Air Lines tapped into the spirit of the 60s with their Airbus A340-300 San Francisco livery. The groovy design first appeared in 2010 and featured bright colors and a blue peace sign painted on the body of the plane.
The Zurich-based airline found a creative way to make their flights to San Francisco seem even more special with the funky livery that covered over 300 square meters. That's one big foil wrap! We especially love the pink fingers throwing out the "V" sign for peace. Very cheeky!
Advertisements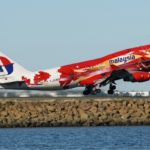 Advertisements
One of the most beautiful liveries to grace the side of an aircraft comes to us courtesy of Malaysia Airlines. The company unveiled two Boeing 747 featuring red hibiscus flowers in 2005 to honor the national flower of Malaysia. The addition of pink and gold ribbons was fabulous.
Unfortunately, the airline painted over the exotic flowers in 2008, but we'll forever have this photo of the red hibiscus plane in action. They returned to their make old boring scheme, which is too bad because this livery was a total stunner.
Advertisements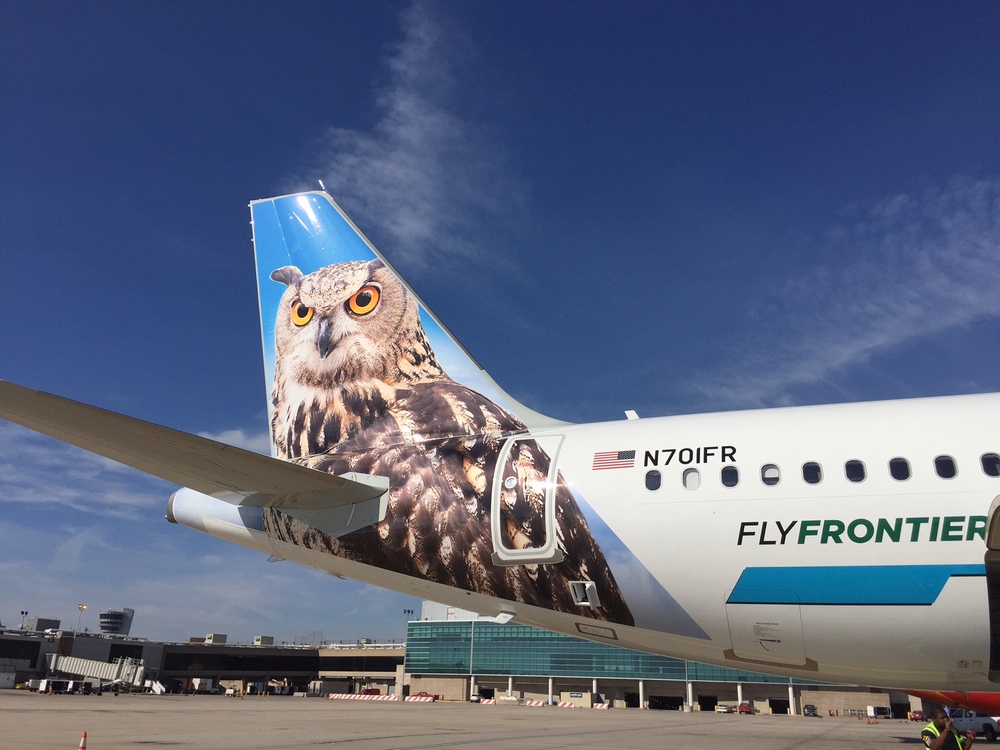 Advertisements
Frontier Airlines released a fleet of aircraft with different endangered animals painted on the tail. The Endangered Animals Initiative is designed to bring awareness to endangered animals within the continental U.S.A. and features creatures like otters and bears. Our favorite is the Airbus A231 which features Otto the Owl.
Per their website, "Synonymous with wisdom, owls are one of the most notorious nocturnal birds. Easily recognized by their large eyes and flat face, owls are the quietest bird of prey, making it easier for them to sneak up on their prey. Owls can turn their heads almost 270 degrees, allowing them to better see in all directions at night."
Advertisements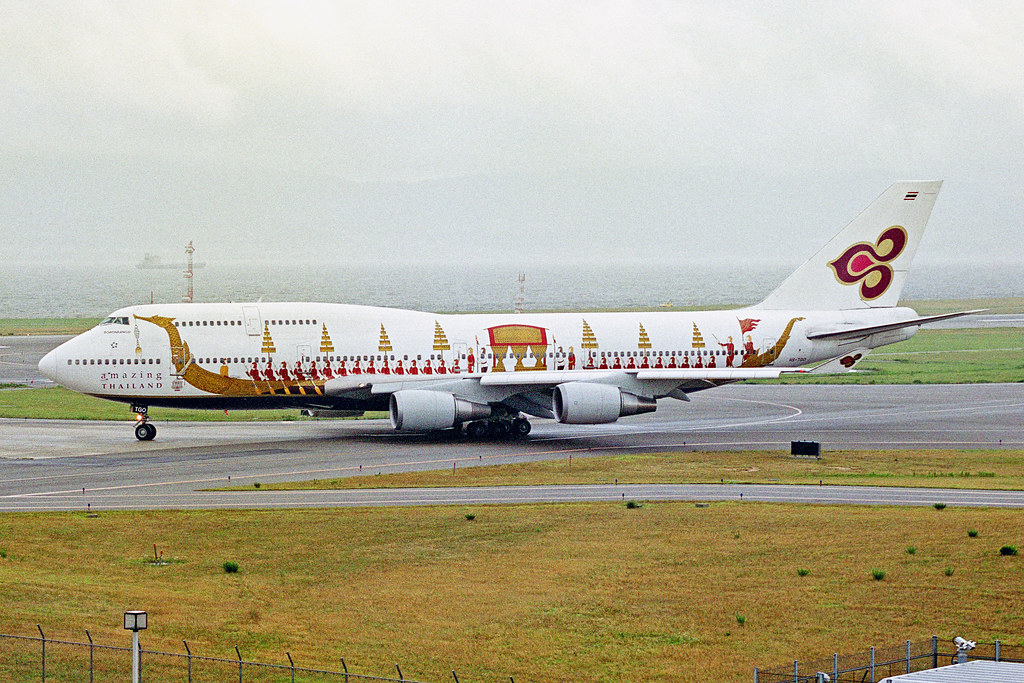 Advertisements
Thai Airways commemorated the coronation of Thailand's new king in 2019. The airline decorated a B777-300 aircraft in an ornate livery that was one of a kind. The design featured a whimsical barge used by Thais royals throughout the history of their country.
The livery is a decal because there are too many small details to paint on the plane. From the golden swan figurehead to the gold leaf on the barge, it's an exact replica. According to Business Traveller, the B777-300, named "Lahan Sai", will feature the livery until December 2022.
Advertisements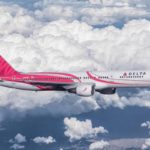 Advertisements
Delta's Boeing 767-400ER has featured a pink livery in honor of breast cancer awareness since 2005. The aircraft is designed to fly employees who are breast cancer survivors on the airline's annual Breast Cancer Survivors flight and features the pink ribbon logo on the tail of the plane.
The designer of livery, graphics specialist Joel Freeland in TechOps, said in a statement, "It's always nice to have the opportunity to be involved in something that has this much impact on someone's family that has been touched by [breast cancer]," he said.
Advertisements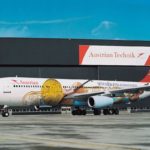 Advertisements
Austrian Airlines celebrated the Mozart Year of 2006 and Austria's presidency of the European Union by creating a Vienna Philharmonic-themed livery. The Airbus A340-300 featured the name of the orchestra and paintings of a gold coin, violins, bassoons, and cellos. What a lovely way to honor their classical history.
According to Austrian Airlines, the painting of the plane was carried out using a laminated foil designed to withstand sudden changes in heat and pressure, as well as exposure to weather and the de-icing fluid sprayed on the plane during the winter.
Advertisements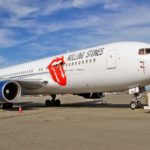 Advertisements
The Rolling Stones are one of the most iconic bands in rock and roll history, so it should come as no surprise that the musicians travel the world in style. They climb aboard their very own private Boeing 767, complete with a livery of their trademark lips on the side of the plane.
The band flies through the sky with their name floating in the clouds. The legendary group's aircraft can be easily spotted at various airports and landing strips when they embark on a tour, making this plane one of the most recognizable jets on this list.
Advertisements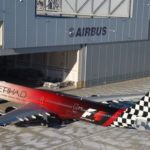 Advertisements
Etihad Airways celebrated being the official sponsor of the 2009 Formula 1 Abu Dhabi Grand Prix by decorating one of their planes. The aircraft featured the colors of Formula 1 with a black and white chequered flag.
Etihad Airways Chief Executive Officer James Hogan said, "The fly-bys are becoming a tradition at the F1 Etihad Airways Abu Dhabi Grand Prix. We certainly feel they add to the color and spectacle of the day. Etihad Airways is very proud of its sponsorship of the F1 Grand Prix on Yas Island, and the fly-bys are intended as a celebration of our involvement."
Advertisements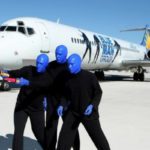 Advertisements
The Blue Man Group teamed up with Las Vegas-based Allegiant Air in celebration of their partnership to create the first-ever Blue Man Group plane. According to Travel Weekly, the Allegiant-Blue Man Group program offers many amenities to passengers.
"Flyers get in-flight ticket sales to the show, as well as Blue Man Group-branded cups, napkins, overhead bins, service carts, and in-flight crew uniforms. The trio includes an Allegiant Air-branded plane in its shows at the Venetian hotel-casino. There's also an Allegiant-sponsored VIP room in the Blue Man Group Theater," they wrote.
Advertisements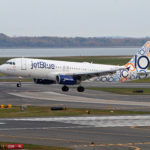 Advertisements
In 2010, JetBlue Airways celebrated its 10th anniversary with a commemorative Airbus A320 decorated with a 10-themed livery. The unique paint job featured blue, orange, and navy tens on the body and tail of the aircraft. What a way to celebrate such a big accomplishment.
Dave Barger, JetBlue's CEO, said in a statement, "We look forward to our next 10 years and thank all of our loyal customers and crewmembers for an incredible decade. We will continue to refine and refresh our product by listening to the valuable feedback from them while delivering more destinations, more choices, and more value to our customers!"
Advertisements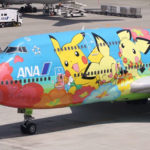 Advertisements
This Pokémon Jet is the property of Japanese airline All Nippon Airways (ANA). There are four versions of this plane: Boeing 747-400 (U.S. version), Boeing 747-400 ('99 version), Boeing 747-400 ('98 version), and Boeing 767-300 ('98 version).
Pokémons on the left side of one of these planes (from left to right) include Clefairy, Pikachu, Togepi, Mew, Mewtwo, and Snorlax. On the right side of the plane, from left to right, is Bulbasaur, Squirtle, Psyduck, Pikachu, and Jigglypuff.
If you notice, Pikachu is on both sides of the plane. And it makes sense, after all, seeing that he's the most popular of all Pokémon characters.
Advertisements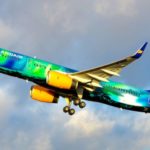 Advertisements
This is a Boeing 757 belonging to Icelandair. At first glance, it looks like somebody tie-dyed it, but it's actually a design made to look like the Northern Lights. Additionally, the plane's interior features one-of-a-kind LED mood lighting that recreates the look of the Northern Lights.
FUN FACTS
The word "Hekla" is actually a traditional Icelandic name for girls. It's also the name of one of Iceland's volcanoes. Meanwhile, the word "aurora" is a reference to the Northern Lights.
Hekla Aurora was created as part of Icelandair's #MyStopover campaign, which encourages passengers to take time to enjoy an Icelandair Stopover.
Passengers can request to fly on Hekla Aurora. All they have to do is let Icelandair know when, where and why they'd like to fly on the plane. Then, when they arrive at the airport for their flight, Hekla Aurora will be there waiting for them.
Advertisements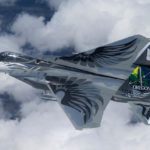 Advertisements
Back in 2016, members of the Oregon Air National Guard were given the task of repainting a Boeing-built F-15 Eagle jet fighter to help boost base morale at Kingsley Field in Klamath Falls and to commemorate the Air National Guard's 75th anniversary across the state.
And from the looks of it, the Oregon Air National Guard members took the name F-15 Eagle quite literally! It took them 33 days to complete the paint job. What's more is that the livery was so popular, the plane was flown to a Finland airshow for display. Once the plane returned home, the Oregon Air National Guard began using it for training.
Advertisements
62

Red Rackham's Treasure (The Adventures Of Tintin)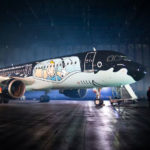 Advertisements
Brussels Airlines painted an Airbus A320 to look like the shark submarine from the book The Adventures Of Tintin: Red Rackham's Treasure. They did so as a way to honor Belgian culture. For those of you who may not be aware, The Adventures Of Tintin made its first appearance as a comic strip in a Belgian newspaper in 1929.
It isn't just the outside of the plane that features images from the book. The interior has images of Tintin and Captain Haddock as well. There are also copies of the book on board.
Unfortunately, the livery is no longer used. Brussels Airlines removed it from its planes in 2019.
Advertisements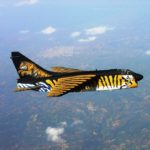 Advertisements
On this picture, we can see a version of an A-7 Corsair II, a type of embarked attack aircraft of the US Navy first built in 1964. On the picture, it is the A-7H version that we can see. It is a modified version of the A-7E for Greece, which does not have an in-flight refueling system.
This version of the A-7H Corsair II "Tiger" of the Hellenic Air Force dates from 2007 and there are only 60 copies in the world. This aircraft looks menacing with its tiger-like appearance! Imagine when it flies at over 620 mph.
Advertisements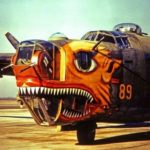 Advertisements
This aircraft is a late-model of the B-24D built in San Diego in March 1943. The menacing animal face on its nose was painted in May 1944, just before the bomber went overseas to fight in World War II.
Nicknamed the "Jungle Pussy", this bomber belonged to the 308th Bomb Group, 14th Air Force. This paint art of the nose of the plane is very nice and detailed. Let's bet that the enemy didn't like to face this plane!
Advertisements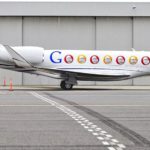 Advertisements
Google knows how to be creative when it needs to be. We only have to think of all the original ways they transform their logo according to the season or the celebrations on the home page of their search engine to realize how much they know how to stand out from the crowd.
So it would have been disappointing if Google's private jet had been ordinary and boring. But it's not! They managed to make a nice, funny and original wink while remaining minimalist, and we love it. Using the windows to make the O's is genious!
Advertisements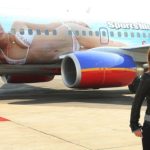 Advertisements
Bar Refaeli, born in 1985, is an Israeli model, television host, businesswoman and actress. She is in fact one of the most internationally known models from Israel. The fact that she was on the cover of the 2009 Sport Illustrated Swminsuit Issue is a great proof of that.
Refaeli was so proud to be on the cover of the famous magazine that to celebrate the event, she had a giant photo of herself in a bikini applied to a South West Airlines plane. The plane made several trips between New York and Las Vegas before being repainted a few months later.
Advertisements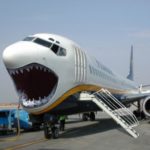 Advertisements
Painted planes of any animal species are quite common. Tigers, lions, sharks, birds, we've seen tons of them. But this shark plane is particularly good, and even a little scary. First of all, on the side of the nose of the plane are four protuberances acting as gills.
But the most impressive part of this shark painting is certainly the shark's mouth, which really seems to be a deep hole containing real teeth. We are aware that this is mainly just the magic of perspective, but notice the pipe that seems to be attached to the inside of a tooth. Clearly, there is real depth, however small!
Advertisements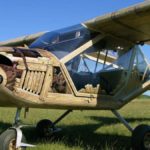 Advertisements
If you don't know what steampunk is, a simple definition would be "a design style inspired by Victorian-era industrialism". Now it's clear why the look of this A-22 is considered steampunk, don't you think?
The Ukrainian manufacturer Aeroprakt Company customized this plane, and we have to admit that we really like the look! The fake wood through which we can see fake mechanisms is really very well-done. We also like that the door leading to the cockpit is all glass!
Advertisements
69

White Tiger Fighter Jet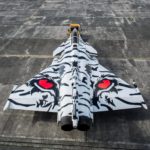 Advertisements
This figther jet has what it takes to intimidate the enemies flying over it! This is a French Dassault Rafale M fighter jet whose top has been painted to resemble a big white tiger face, with two very piercing and threatening red eyes.
This painting on this fighter jet was in fact a special request for a gathering of the NATO Tiger Association, an association that aims to promote solidarity between NATO air forces.
Advertisements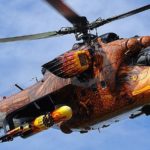 Advertisements
The helicopter you see in this picture is a Mil Mi-24V belonging to the Hungarian Air Force. Obviously, the helicopter has been custom painted to look like a giant hawk, and we can only admire the success of the work.
The paint job on this large artillery and attack helicopter is quite impressive. There is a ton of detail, and the colors are vibrant. If it wasn't for the helicopter's propellers, you could almost mistake it for a real hawk!
Advertisements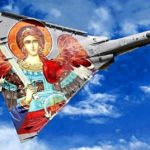 Advertisements
The Greeks are mostly Christian, and it is impossible to doubt it when you see this painting of Saint Michael on the undercarriage of one of their Air Force jet.
Apparently, it is a Greek tradition for the Hellenic Air Force to celebrate the Patron Saint Archangel Michael. Saint Michael is the protector of the Greek Air Force and every year, on His feast day, they honor him in different ways.
Advertisements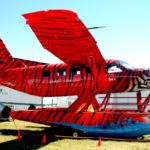 Advertisements
That's what we call motivation, dedication, and a lot of talent! Someone decided to paint their entire seaplane to look like a big, menacing tiger. The result is amazing!
And it's not just the plane itself that is painted, it's also the floats on which you can see big tiger paws resting on water. Really, this seaplane is a work of art!
Advertisements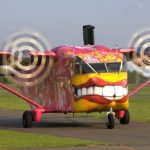 Advertisements
This plane has a somewhat disturbing look, don't you think? We have a hard time understanding what it's supposed to look like, except for a big mouth with prominent teeth on the front.
This is certainly one of the most unique Short SC-7 Skyvan 3-100 in the world! But why did they paint it like this? Who could this plane belong to? A hippy dentist? And did you notice that there is a tooth missing in that mouth, just on the left? It took us a long time to see it!
Advertisements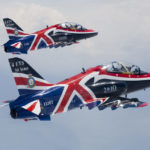 Advertisements
On this picture we can see two aerobatic Hawk T1 jet aircraft, belonging to the 208 Squadron of the British Royal Air Force, that are based at RAF Valley on the Isle of Anglesey, Wales. The livery they are covered in is the one of the 2010 display season.
When you see them, there is no doubt that they are British jets. But aren't they absolutely cute? Maybe it's the angle from which they are photographed, but they look very small, don't you think? Like they are mini jets or something!
Advertisements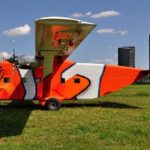 Advertisements
Everyone has seen the popular movie Finding Nemo, released in 2003, right? If not, one thing is certain: the person who owns this plane has seen it. The line from the endearing little clown fish is perfect!
This aircraft is a Short SC-7 Skyvan 3-100 and is operated by Pink Aviation, a company from the Czech Republic. This airplane is so cute, it must be the talk of the town when it flies, especially if children see it! Maybe the owner of this plane painted it like this to please their child?
Advertisements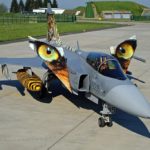 Advertisements
Here is a Saab JAS 39 Gripen ready to attend the NATO Tiger meet! Let's be honest, clearly the most spectacular thing about this aircraft is the painting of the tiger eyes on the ducks!
The Saab JAS 39 Gripen is a single-engine light fighter aircraft manufactured by Saab AB, which operates in the aerospace and defense industry.
Advertisements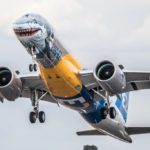 Advertisements
The plane you see on this picture is an E190-E2. In 2018, it performed a Demonstration Tour in more than 15 countries in Africa, in the United States and in Europe. This Embraer aircraft is one of the quietest, cleanest and most efficient new generation single-aisle aircraft in the world.
Besides being a very sophisticated aircraft, it also has a very original nose! The shark head painted on it is very realistic and successful. From this angle, this E190-E2 is very impressive!
Advertisements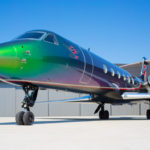 Advertisements
Oh, hello SexyJet! Yes, this Gulfstream GV operated by Clay Lacy Aviation is named SexyJet, we're not making this up! After all, its metallic and colorful chameleon-like paint scheme is quite admirable.
And it's not just the exterior of this Gulfstream GV that is impressive! Inside the jet, there is a full-sized galley totally equipped for cold and hot food preparation, some power outlets for office equipment, fold-out work tables, and even a private lavatory.
Advertisements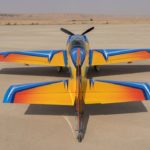 Advertisements
Is it a bird? Is it a butterfly? No, it's a plane! But we give it to you, we could easily believe that it is a giant butterfly, and for good reason. The painting of this plane is indeed inspired by the look of a butterfly!
The gradient of blue, orange and yellow is absolutely beautiful. In full flight, in a blue sky, this private prop plane found in Arizona must be majestic!
Advertisements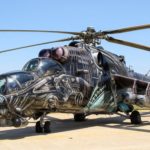 Advertisements
This aircraft was present at the famous NATO Tiger Meet held in Zaragoza, Spain, in 2016. Not only was it there, but it also won the Best Looking Tiger Aircraft award, that's no small feat!
Nicknamed "Tiger Hind", this plane is a Mil Mi-35 3366 belonging to the Czech Air Force. It can be difficult to understand what you see when you look quickly because the paint is so detailed and full, but if you look closely, you can clearly see a tiger on the side.
Advertisements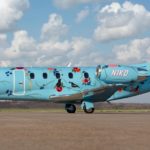 Advertisements
Well, here is a jet capable of attracting the attention of anyone, even those less interested in aviation, but fond of pretty things. Unlike all the planes painted to look menacing or even comical, this jet is simply the prettiest.
It's rare that we get to see a baby blue private jet with flowers and crows painted on it. We don't know who owns it, but this person has great taste! It must go somewhat unnoticed in the sky when it is a pale blue, though.
Advertisements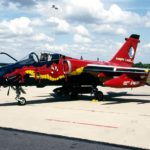 Advertisements
Forget about the fighter jets with a terrifying shark, tiger or eagle face painted on their nose. This fighter jet, part of the Italian Air Force's aerobatics squad, instead has a red dragon painted on its side.
We really like the design of this fighter jet, with a red dragon with a yellow belly on a navy blue background. If they ever make a new version of the Hannibal Lecter movies, maybe he could fly around in this plane! Haha!
Advertisements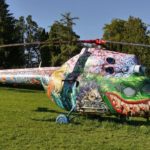 Advertisements
This is one of the strangest helicopters we have ever seen! We hesitate between being fascinated and terrified by its appearance. This painting is colorful and original, but also gives us the impression that the person who created it was going for a psychedelic look.
The most terrifying part of this painting is definitely the green creature with bulging, misty eyes and a disgusting mouth on the front. Still, it's worth taking a long look at this helicopter to see everything else that's painted on it!
Advertisements
Advertisements
What better way to show our love and support for our beloved country than to paint our Van's RV-8 aircraft in the colors of the American flag? That's definitely what this person thought.
This tandem two-seat, single-engine, low-wing homebuilt aircraft certainly doesn't go unnoticed wherever it flies, and we bet it's extremely popular with all the Americans who see it!
Advertisements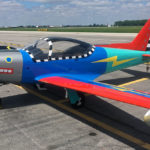 Advertisements
Is it a real plane? Because it really looks like a toy that has been painted to please a child. Or maybe that's exactly what it is? A real airplane painted like this by its owner to please his child? Imagine the child who would have the chance to fly in this plane! It would be a dream come true!
However, at the cost of such an aircraft, who would really want to give it this childish look? It's hard to take the person flying this plane seriously, don't you think?
Advertisements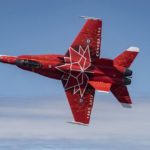 Advertisements
Like the Canadian flag, which is red and white with a maple leaf in the center, this Royal Canadian Air Force CF-18 Demo Jet has been painted red with a stylized, geometric maple leaf.
This jet, a CF-18 fighter also known as the Canada150, was revealed in 2017 at the RCAF's 150th Anniversary Air Show. Did you know that such a jet can reach a speed of 1,127 miles per hour? At that speed, you can't really admire its good looks!
Advertisements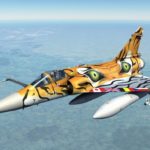 Advertisements
There are tons of aircrafts at the annual NATO Tiger Meet, which was established in 1961. That's why there are also a ton of aircrafts with some kind of tiger pattern painted on their body!
One of them is this Mirage 2000RDI 83/12-YL, which definitely has one of the most interesting feline artwork. It was introduced at the 2003 NATO Tiger Meet. Unfortunately, the aircraft broke down before it could fly its mission. That's too bad!
Advertisements
88

Southwest's Colorado Aircraft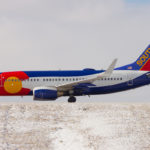 Advertisements
Although Southwest Airlines flies to 121 destinations in the U.S. and 10 other countries, its aircraft do a lot of flying through Denver, Colorado. So it was only natural that their aircraft would proudly display the Colorado flag, right?
The paint job on this aircraft is rather simple, but that doesn't stop it from being colorful and visually pleasing. If we were to travel to Colorado, we would love to travel in this plane!
Advertisements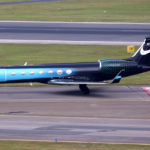 Advertisements
At the cost of private jets, it is understandable that an owner would want one that stands out from the crowd. He's bought himself a jet, so it might as well be visually original and appealing!
And that's exactly the case with this Gulfstream G550 that belongs to Nike. Its paint job is simple, but admirable. We love the dark blue of the back of the jet which gradually becomes light blue on the front. We also love the Nike logo, which is obviously on the jet, but which remains rather subtle.
Advertisements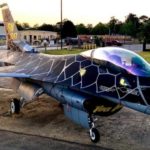 Advertisements
Fighter jets are really amazing. They maneuver so well that they are often used for airshows. Such shows are very impressive; the acrobatic pilots are very talented. But imagine seeing an air show with colorful and original jets?
For example, an airshow made with fighters jets like this one, painted to look like a black mamba viper, must give a very different tone to the show than if the jets were painted in rainbow colors, that's for sure!
Advertisements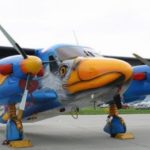 Advertisements
In general, aircraft with an eagle head on the front look rather menacing. After all, isn't that the point of disguising your aircraft as a bird of prey? Well, that's not the case here at all.
Although this plane has an eagle's head on the nose, it looks quite friendly, in our opinion. If we add the blue color of the plane with the different touches of red and yellow, this plane seems pretty cute, in the end, and not threatening at all!
Advertisements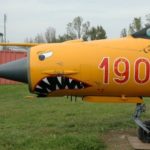 Advertisements
We don't know about you, but when we look at the nose of this plane, we have more the impression to have in front of us a kind of mining drill rather than the front of a plane. We know that the Mig-21s are built that way, but still.
Let's just say that this is not the best paint job we have seen. The yellow color is interesting, but for the rest, it's pretty basic. We could imagine such a design on a small soap box derby car.
Advertisements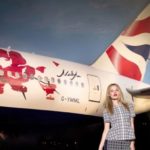 Advertisements
On this picture, we can see a very unique Boeing 777-200. Indeed, the design that we can see was created by the prominent Chinese fashion designer Masha Ma. It took 186 stencils and 2,500 hours of work to produce this design.
The design she created features a bamboo and a rose, which symbolize a fusion of symbols between East and West, in a style that combines impressionism and Chinese ink-and-wash painting.
Advertisements
Advertisements
Well, this is an airline with a great sense of humor! Kulula is a South African low-cost carrier, but you know, just because flying with them is not terribly expensive doesn't mean they are not professional and they don't know what they are doing!
The proof? On the side of the plane, there is the mention "This Way Up" with arrows pointing up. Do you see that? They totally know which way the plane should be! All kidding aside, if you're traveling on this plane, it's like you're a package and this plane is your delivery box. That's pretty cool!
Advertisements
Advertisements
Here is a queue of Mi-24 helicopter gunships that is fun to see! The mouth with large pointed teeth painted on the bottom front of the helicopter looks threatening, but the eyes painted on the top of it, just above the nose, are quite funny.
Angry Birds have never looked so mean! Haha! Still, it's a very thematic nickname, isn't it? Angry Birds for attack helicopters, it's perfect!
Advertisements
Advertisements
This is a very strange paint scheme that can be seen on this U.S. Marine Corps (USMC) CH-53 heavy-lift helicopter! There are apparently potentially four aircraft that were painted like this during the Gulf War, which took place from August 2, 1990 to February 28, 1991.
The deployment of helicopters to the Gulf was so rapid that there was not enough time to paint all the aircrafts, so the Marines were allowed to paint their squadron aircraft themselves, and this is how it turned out. With a woman's outline on the side. After all, why not?
Advertisements
Advertisements
Airlines are getting more creative when it comes to decorating their aircrafts with colorful, stylish, impressive, threatening or simply beautiful paint. However, sometimes the concept can be a bit of a fail, as it is the case here.
This Boeing 737-53C of SkyEurope Airlines had, in 2006, this nice sticker showing two smiling women with, in the background, beautiful snowy mountains. This sticker could be absolutely correct if only the eyes of the woman on the right were not totally replaced by two windows.
Advertisements
Advertisements
We absolutely love this cowboy-looking woman painted on the thin tail of this Western Pacific Airlines Boeing 737-3Y0. This sticker is from 1996; it looks indeed like a 1996 thing, and it's perfect.
This woman is actually an advertisement for Sam's Town Casino in Las Vegas. By the way, did you notice the playing cards suits on the woman's clothes? It's very thematic!
Advertisements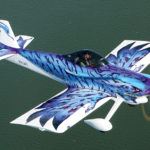 Advertisements
A retired Lead Flight Director for NASA's Human Space Flight program and his airline pilot wife decided to build an RV-3 together and paint it to their liking. They wanted something wild and exotic, and this is what they got.
After the creation of the concept model, several alterations and difficult decisions were made, and they finally succeeded in creating this plane that looks like a most detailed flying creature. Airbrush artist Scott Draper painted the piece.
Advertisements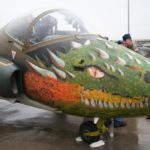 Advertisements
The aircraft seen in this picture is a BAC 167 Strikemaster, a British jet-powered training and light attack aircraft. However, this jet has a little something more than the others: a rather realistic dragon head with fire painted on its nose.
You have to admit, it's pretty cool! Imagine it in full flight, chasing an enemy aircraft. It would be like a scene from Game of Thrones, but in the modern world! So awesome!
Advertisements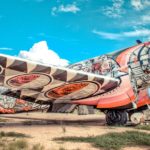 Advertisements
This plane, a Douglas DC-3 nicknamed the "Time Flies By", is part of the Boneyard Project instigated by Eric Firestone, a renowned American gallerist.
The goal of this art project is to resurrect the disused warplanes that languish in the famous Arizona boneyard by letting graffiti artists paint them as they see fit. This Douglas DC-3 was painted by the artists HOW & NOSM.
Advertisements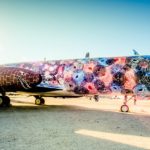 Advertisements
Another warplane that was part of The Boneyard Project, created by gallerist Eric Firestone, is this Lockheed Jetstar named "Spy Tigers". The artist behind the painting of this plane is Andrew Schoultz.
We really like the circular patterns that bring a lot of movement to the artwork, but we also admire the small brick plane, which really gives the effect that there is a second plane in this image.
Advertisements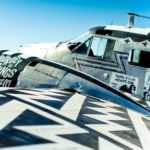 Advertisements
The Boneyard Project was created by gallerist Eric Firestone in 2011. The first part of this project, "Nose Job," was exhibited in the summer of 2011. The second part of the project, "Round Trip: Selections from The Boneyard Project," featured five monumental works created on military aircraft.
In this image, a Beechcraft C-45 model airplane named "Naughty Angels" can be seen. The artist behind this incredible paint art is Faile.
Advertisements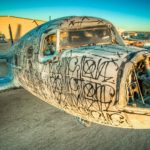 Advertisements
Some absolutely incredible works have been created by graffiti artists as part of The Boneyard Project, and this plane is further proof.
This is a Douglas DC-3 whose transformation into a work of art has been entitled "Warning Shot" by its creator, RETNA. The choice of the design really reminds of an old military plane. We love the concept, which is both simple and very profound and artistic.
Advertisements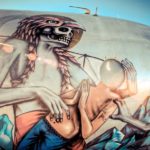 Advertisements
This work is part of the first part of The Boneyard Project, entitled "Nose Job". It is indeed an airplane nose that was painted by one of the 30 best urban artists who participated in the art project created by gallerist Eric Firestone.
This painting depicting death is rather modern, but the placement of the elements is reminiscent of illustrations of religious scenes, don't you think?
Advertisements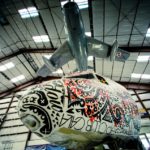 Advertisements
This airplane nose painted in black and orange by the urban artist Bast, and that he entitled "Jerky Jermal", is part of the first part of Eric Firestone's The Boneyard Project, entitled "Nose Job".
We particularly like the somewhat tribal, yet modern look of the black patterns that are painted over what looks like offers of any cheap products, written in orange.
Advertisements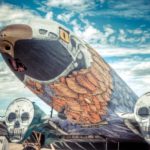 Advertisements
This military plane painted with the effigy of a phoenix, and which is called "Phoenix of Metal", is another example of impressive painting created on old abandoned planes within the framework of The Boneyard Project created by Eric Firestone in 2011.
We love the style that the urban artist Nunca gave to his phoenix, with the skulls on each wing. This work is very successful!
Advertisements