The Strangest Images Found On Google Map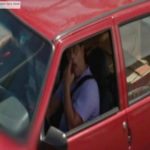 Advertisements
This man was quietly driving his little red car on Engenheiro Aristides Milton street, in Salvador, Bahia, Brazil, when an indomitable urge to pick his nose came over him. Clearly, he didn't know that the Google Street View car was passing by and was going to immortalize this unglamorous moment!
However, we have some doubts about the shame that this man could feel to have been caught with his finger in his nose, because if we look at the image well, someone is in the passenger seat of his car! So this man has no qualms about picking his nose in front of others.
Advertisements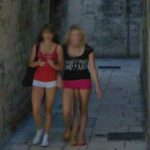 Advertisements
Is it an alien? Is it a three-legged woman? Nothing goes right in this image captured by the Google Street View car in Split, Croatia! Obviously, the camera has once again been the victim of a slight glitch that offers us a very funny image.
These two women were walking quietly in a small street when the car passed in front of them and took their picture. However, the glitch gives a third leg to the woman on the right. A third leg, or something else, when you look quickly, if you know what we mean!
Advertisements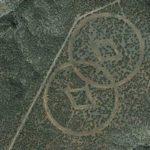 Advertisements
Scientology is a mysterious religion who shroud their many properties in secrecy. Non-members often wonder what events occur behind their closed doors. Thanks to Google Earth, we now can get an unrestricted view of the Scientologist church, Trementina Base, in New Mexico.
The markings are curious, and even though it may look like an extraterrestrial creation, it actually serves a practical purpose. According to Scientology officials, Trementina Base houses their founder, L. Ron Hubbard's, literature, books, and movies. They even buried stainless steel tablets with his writings carved on them to keep them preserved and out of harm's way.
Advertisements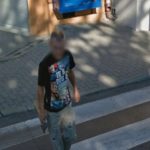 Advertisements
We have never been to Poland, but we highly doubt that the Poles regularly walk around with an axe in their hands. If we also take into account the shirt that this man is wearing, with drawings reminding of the ones of the Grand Theft Auto V video game's close-up and a sentence saying "It's not a game", we wouldn't dare to go near it.
GTA V is a fairly violent action-adventure game that was a huge success when it was released in 2013. While it is possible to attack people with an axe in the game, as the man's t-shirt reminds us, "It's not a game". That's worrying!
Advertisements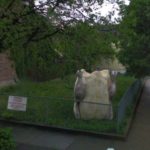 Advertisements
Pittsburgh, Pennsylvania is not messing around with the coming of the Google Street View car! On the contrary, they take it so seriously that when they heard about its arrival, they decided to set up several artistic actions on Sampsonia Way.
One of these original artistic actions was to install this huge raw chicken sculpture on the fenced-in area right at the corner of Sampsonia Way and Arch Street. No need to say, this sculpture definitely attracted attention!
Advertisements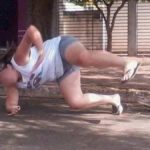 Advertisements
Riding a skateboard is a fun activity, but it can sometimes be dangerous, especially if we are not too skilled with this means of transportation or if the road is not quite smooth, for example. That's why you should always be protected, at least with a helmet.
This young woman unfortunately learned this the hard way and will probably remember it for a long time. And this accident must have been painful both physically and for her ego! Besides, the Google Street View car had to pass by there at that very moment… poor her!
Advertisements
Advertisements
There is definitely nothing more pleasant on a hot, sunny day than going to the beach and cooling off in the cool water. And of course, when we go to the beach, we prefer to bring as few belongings as possible to avoid potentially having them stolen.
However, these two women captured by the Google Street View car may have gone a little too far. Indeed, it is not clear where they are coming from, but the parking lot for the beach is clearly right in front of them. So they left the house like that, without clothes, just in their bikini. After all, why not?
Advertisements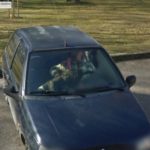 Advertisements
The Google Street View car captured a very special moment between two people in a car in Czech Republic. Maybe we're imagining things, but in our opinion, the woman in this car is not just looking for something she dropped on the driver's side.
Is this woman the girlfriend of this man? Or maybe she's an adult industry worker? Either way, it's clear to us that she is giving this man a very good time with her mouth. And now everyone knows it thanks to Google Street View!
Advertisements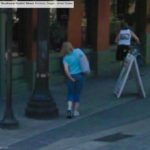 Advertisements
This woman certainly didn't expect to go viral on the internet when she left her house that day. Unfortunately for her, the Google Street View car was coming around at the same time she was.
While walking around Southwest 2nd Avenue and Southwest Yamhill Street in Portland, Oregon, this woman was bothered by her panties. She wanted to remedy the situation, but it wasn't just the few pedestrians around her who saw it! If it can make her feel better, at least she's only seen from behind.
Advertisements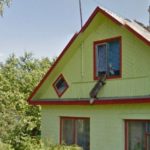 Advertisements
These Narva, Estonia homeowners are about to get robbed, but not by the type of thief they might have thought. And what's more, the Google Street View car caught it all! Here are several unlikely things happening all at the same time.
As you can see on this photo, a fox managed to climb to the second floor of this house and is now trying to get in through an open window. But how did he get up there? If he got in, the owners of the house were certainly surprised to see him there!
Advertisements
11

Illuminati In The Desert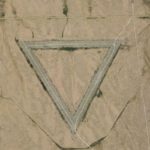 Advertisements
A large triangle can be seen in the desert of Wittmann, Arizona. The mysterious symbol seems to not lead anywhere, and many people speculate that the Illuminati created the triangle because triangles are often associated with the secret organization. Sorry to disappoint any conspiracy theorists, but this is one phenomenon that can be explained.
The Express reported that the theory has been debunked, and the triangle is actually the abandoned Air Force Base Luke Aux #4. "The airport was thought to be named after Frank Luke, an American fighter ace who was the first airman to receive the Medal of Honour in 1918," Kara Godfrey wrote.
Advertisements
12

The Happiest Man Alive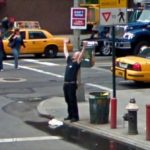 Advertisements
The Google Street View car found the happiest man in the world while driving through the streets of New York. How often have you seen a man screaming with joy on a street corner, just like he's doing on this photo? Not very often!
Is he that happy that his pedestrian light has finally appeared? Maybe he has been waiting for it for a while? Except that New Yorkers aren't known for waiting for their light before crossing. He's potentially happy to have crossed the street and still be alive on the other side, instead!
Advertisements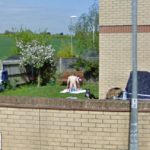 Advertisements
The advantage of having a backyard surrounded by a brick wall is that it is possible to have privacy from the prying eyes of passersby and neighbors. Unfortunately, the wall of these people is not high enough to counter the Google Street View car camera.
While this couple thought they were safe and most likely about to engage in some marital frivolity, the Google Street View car passed by on Dunthorpe Road, England, and the camera was high enough to catch them in the act.
Advertisements
Advertisements
It is not uncommon for a person to walk around their home completely naked. After all, why not? They are at home, they can do what they want! And it is comfortable, after all, especially when it is really hot. However, generally speaking, when a person walks around their house naked, they don't go out like that.
Unfortunately for this woman, she dared to leave her house totally naked. But what was she thinking? And then, it's one thing to potentially be seen by a few people, neighbors or passers-by, but she had the misfortune to leave her house naked while the Google Street View car was passing by. Oops.
Advertisements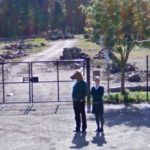 Advertisements
We don't know much about Scottish customs, but we highly doubt that it is a common custom to wear a horse's head as this man does, while standing on the side of the street with his wife, obviously waiting for something.
What are they waiting for? A cab? A friend? And why is this man wearing this horse's head when otherwise the couple seems to be well dressed in clean and matching clothes? Is it specially arranged for the passage of the Google Street View car?
Advertisements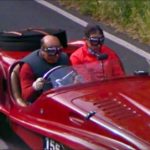 Advertisements
Who hasn't dreamed of driving a sports car at high speed on the highway, with the roof retracted, wind in your hair and sunglasses on? This is potentially one of the coolest scenarios you could ever experience, right?
Well, this couple did live that dream! In a certain way, that is… Sure, they have the bright red sports car that looks pretty nice, but we're still not so sure about the coolness of the situation. With their big goggles, it spoils the picture a bit.
Advertisements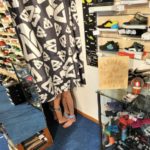 Advertisements
No, Google Street View does not collect all its data from car drivers. They also use people on bikes, snowmobiles, camels and even people on foot. After all, Google Street View goes EVERYWHERE! And everywhere means on top of a mountain as well as in stores.
A Google Street View employee caught customers in the middle of something at the Krakatoa store in Briançon, which sells and rents ski and other snow sports equipment. Indeed, we can see a man and a woman doing intimate things in the fitting room. Except that they are not! In fact, all this is a staging of the store that was aware of the passage of Google.
Advertisements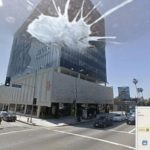 Advertisements
Holy moly, did that Google Street View car capture a building exploding? That's horrible! Except it isn't at all! This building is not really exploding, and absolutely no one is in danger of anything in this picture.
It seems that a bird that was flying over the Google Street View car had a little poop attack, and it resulted in said poop falling on one of the car's cameras. The illusion is nevertheless quite credible! Let's hope that the driver of the car noticed it quickly and was able to clean his camera.
Advertisements
19

Exploding Fire Hydrant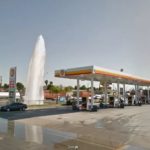 Advertisements
As the Google Street View car drove down Santa Fe Avenue in Long Beach, California, it caught a fire hydrant exploding right next to a Shell gas station. This is a very impressive situation. It's like a big fountain in the middle of the city!
We don't know what happened, but there's a fire truck in the photo, and also a police car, so did they went there to fix the problem or did the firefighters maybe cause the fire hydrant to explode due to mishandling?
Advertisements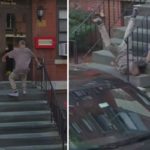 Advertisements
As the Google Street View car drove by a residential street in New Jersey, it captured an accident that was happening live in front of its camera. Indeed, at that very moment, a man fell down a flight of stairs in front of a building.
While on the left side of the stairs on Google Street View, we can see the man on the landing losing his footing. When we go forward slightly on Google Street View in order to be on the right side of the stairs, the same man is now on his back, on the first step down the stairs.
Advertisements
21

Superheroes Convention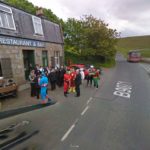 Advertisements
We don't know what was going on in Scotland in June 2009, but it was certainly serious! While a Google Street View car was capturing what was happening on the B9071 road, it drove past the Pierhead Restaurant & Bar in Shetland and found a ton of superheroes!
Was there a superhero convention that day in the area? Or a Comiccon, maybe? Or was it Halloween, perhaps, and they organized a thematic evening? Anyway, a lot of our favorite superheroes are represented in this picture!
Advertisements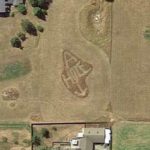 Advertisements
An angry neighbor sent an obvious message and thanks to Google Earth, we all get to witness the feud. A Washington State man mowed the word "A-Hole" into his grass with an arrow pointing to his neighbor's house.
According to the Daily Mail, Brian Juel has some beef with his neighbors, Cindy and Brian Zechenelly, after they built a purple garage apartment on their property in 2009. The couple refused to repaint the garage a different color, even after their neighbors formed a petition against them. Juel used creative landscaping methods to air his grievances to the world.
Advertisements
23

Same Location, Different Time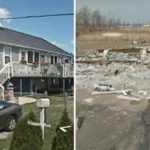 Advertisements
Google Street View is not an exact science. Even though the cars are constantly driving around to capture more recent images, when you visit the website, it is possible to see a very recent image, and if you go a little further, to see an older one.
Here we can see that Google Street View has two very different views of this address on Kissam Avenue, Staten Island. The beautiful house on the left was unfortunately destroyed by hurricane Sandy, as you can see on the right picture.
Advertisements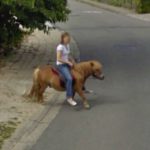 Advertisements
What little girl has never dreamed of owning a pony after watching My Little Pony as a child? Well, he may not be of a pretty pastel color and he doesn't have very long eyelashes, but this woman made her dream come true!
The Google Street View car immortalized her riding a pony in the street. Here is a very brave pony, but it seems to lack a little energy and have trouble carrying this woman, right? After all, it's only a pony, not a horse! This woman should give him a break.
Advertisements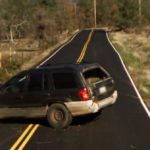 Advertisements
It's hard to explain what happened here, but one thing is certain, the Google Street View car certainly had trouble continuing its journey that day after arriving on this road blocked by a car with a broken front.
However, we only see one car in this photo, and no poles of any kind, so how could this man crouching in the bottom right of the photo destroy his car like this? He too must be wondering what was wrong with him if the shame he seems to feel is anything to go by. Or did he hit the Google Street Car?
Advertisements
Advertisements
The American comedy Wayne's World, released in 1992 and starring Mike Myers and Dana Carvey as Wayne Campbell and Garth Algar, was a huge success and continues to make people laugh even 25 years after its release.
But the question here is: are these the real Wayne and Garth that we see on this picture taken by the Google Street View car? Probably not, but you have to admit that these two men look like two drops of water. One wonders what they were doing dressed like that on the street!
Advertisements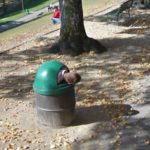 Advertisements
Is this man playing hide and seek with friends? Or is he being chased by thugs who want to harm him? Either way, he's definitely found the perfect hiding place! Who would think of finding him in a trash can?
This image was captured by a Google Street View car in Switzerland, and we really wonder what this man is doing there. How did he get in? Is he able to get out or does he need help? Poor guy, it must be disgusting in there!
Advertisements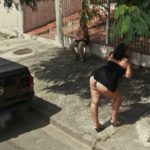 Advertisements
The Google Street View car captured a rather interesting scene here. Of course, we only see two women, one leaning on a metal support on the sidewalk, seemingly waiting for something, and another sitting on a chair, looking at the other woman with a half-curious, half-amused look.
One can understand the expression of this woman who observes the one who waits, leaning forward and leaning on the support, because this woman does not wear pants, and unless she wears a string that we do not see, she does not wear panties either. Has anyone ever told her that her top is not long enough, and therefore, not a dress?
Advertisements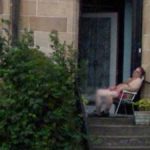 Advertisements
There is nothing better than relaxing in the afternoon sun when the weather is nice. A mid-day nap is the perfect opportunity to re-energize yourself to complete the day! However, people don't usually take their nap on their doorstep in their underwear.
Mister, what is wrong with you? Here's a very strange place to sit comfortably in your underwear and take a nap on your beach chair. Couldn't you find a quieter, more intimate place? Now the whole world can see you dozing in your underwear in front of your house!
Advertisements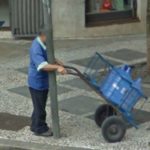 Advertisements
This man immortalized by the Google Street View car in a street of São Paulo was certainly aware that the car was passing in front of him at that moment, or at least, that it would pass soon. Otherwise, we can't explain this picture.
While pushing a cart with big jugs of water, the man got stuck in front of a metal pole, his arms on each side and the cart in front. Unless the pole came out of the ground as he was passing by, which we totally doubt, this man placed himself that way to be funny.
Advertisements