Unusual Festivals Around The World
1

Underwater Music Festival, United States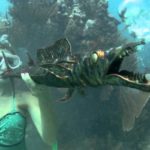 Advertisements
This festival was created to celebrate the coral reef. It is held every year at Looe Key Reef, which is an area of the Florida Keys National Marine Sanctuary. Divers and snorkels will get to experience the serenity of nature and enjoy unique music. The music is known to enhance the underwater experience while snorkeling. You will also get the chance to watch the beautiful wildlife in their natural habitat.
The founder of the festival said, "The Underwater Music Festival is a way to celebrate the Coral Reef, and we celebrate it by looking for a balance between protection of the reef and public enjoyment. The more people realize what is down there and enjoy it, the more they are likely to protect it." The music is one of the best parts of this festival. They will select water-themed music that is then piped under the waves by special speakers that are suspended from boats on top of the water.
Advertisements
2

Boryeong Mud Festival, South Korea
Advertisements
Haven't you always wanted to live out your childhood fantasies as an adult? Well, in South Korea you can. They have an entire festival dedicated to the most popular childhood fantasies—playing in the mud. For two whole weeks in July, many people will travel to Boryeong for weeks of carefree fun. The event was first created in 1999, but was not originally meant to turn into this big of a deal.
In the beginning, a cosmetics company wanted to promote their products that were made from the region's mud. The mud here is filled with minerals, which makes this the perfect way for people to relax in the summer heat. But for this festival, you will do more than just flop in a pile of mud. Besides the mud piles, there are mud fountains, pools, massages, playgrounds, obstacle courses, mudslides, and races. Tickets during the week cost ten thousand won, which is about $7.85. The tickets are fairly cheap, but the event is filled with fun.
Advertisements
3

Monkey Buffet Festival, Thailand
Advertisements
Don't get too excited, this feast is not meant for human consumption. It is for the monkeys. That's right, monkeys. This festival takes place on the last Sunday of November and opens with many unique performances. Some of which are performed by people dressed up in monkey costumes. The festival celebrates Macaques, which are through to bring good luck to the land and people. The admiration for the monkeys traces back thousands of years to the tale of Rama.
The tale says that the monkey king, Hanuman, helped Rama rescue his wife from a demon lord. So, now they celebrate by gifting the monkeys with towers of fruits and vegetables. This annual festival is sacred to those who live here. Not to worry, there are plenty of vendors and food stalls available for human enjoyment. Who wouldn't want to celebrate their favorite animal this way? They get to enjoy towers of food and you get to admire them as they do it.
Advertisements
4

World El Colacho, Spain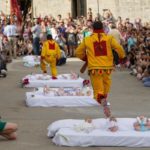 Advertisements
This festival dates back all the way to the 1620s. Does that mean they have been making babies jump for them for all of this time? Not exactly. Historians believe that this festival may have started as a fertility ritual, but that is not what it is now. However, it is still a pretty odd event. People dress up in red and yellow as "devils" and they will run through the streets yelling insults at bystanders while whipping them with horsetails.
Then, there are drums played to announce the black-clad men, who are ready to drive out the evil. Then, the El Salto del Colacho (Flight of the Devil) begins. Next, in a seemingly terrifying turn of events, parents lay out their babies on mattresses spread throughout the streets. After the babies are laid out, the costumed men will then leap over them. It is believed that these "devils" absorb the sins of the babies, and give them protection from disease and misfortune.
Advertisements
5

Hair Freezing Festival, Canada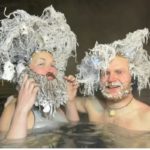 Advertisements
If you are looking for a good time, think about visiting the Yukon Territory in Canada for their annual hair freezing contest. Sure, it might be a little cold outside, but that is the point. In the Yukon Territory, there are natural hot springs that are extremely relaxing for those who have been there. But in true Canadian tendencies, they have found a way to turn this into a friendly competition. Other cultures may hold festivals with people throwing tomatoes and balls of fire, but the people of Canada have no interest in collective violence.
The festival began in 2011 following another Yukon Territory event. Each year, people from all over the world will travel to Canada to participate in this event. The participants will only be able to compete when the temperature is below -4 degrees Fahrenheit. They must sign a form saying that they were actually there at the time of their hair selfies. Which, if you have heard any of the Canadian stereotypes, you know that they are honest people. The selfies are accepted through March and then, in turn, are voted on.
Advertisements
6

Water Gun Festival, South Korea
Advertisements
South Korea has many unique events that bring in thousands of tourists each and every year. One of those festivals is the water gun festival. This is hosted each year in July. It first started in 2013 and has had a different theme every year. They block off the streets in order to maintain a safe zone during the battle. It also caters to everyone's age by having separate areas for children and families. This allows them to have a calm area away from all the chaos.
During the festival, there is an umbrella performance as well as water slides located throughout. For 2022, they decided to announce their out-of-this-world theme for the year. This year, they are having an alien theme.
Advertisements
7

Battle Of The Oranges, Italy
Advertisements
The people of Ivrea, Italy gather each year to throw oranges at each other. The origin of this battle began years and years ago with the tale of a woman who decapitated the man who assaulted her. After his death, the townspeople swarmed his palace in anger. This resulted in the annual battle. The people divide into 9 groups and attempt to "kill" the others until one team is left. During the event, one woman is chosen to represent the woman from the tale.
The teams are divided by royalty and common bloodlines. After three days, a general from one team chooses to end the war and a funeral then commences on fat Tuesday. But being hit by oranges for three days straight will leave some evidence on your body. Most people end up with multiple cuts and bruises. There are over 500 thousand pounds of oranges thrown at this event every year. That is a lot of oranges, and everyone is thrilled to attend this event each year.
Advertisements
8

Air Guitar World Championships, Finland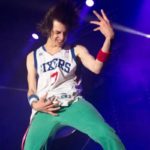 Advertisements
The purpose of this event is to promote world peace. Airguitarworldchampionships.com says its ideology is "wars will end, climate change will stop, and all bad things will vanish when all the people in the world play the air guitar." This event began in 1996 and has created a safe atmosphere for all of its attendees. The people who participate in this even plan their costumes and performances for months in advance.
They will dress up in their most eye-catching outfits to stand out from the other performers. During their solos, they smash their guitars, swallow them, and "impale" themselves with them. To be honest, these are not actions performed by real guitarists, other than maybe smashing their guitars. But that is kind of the entire point. They get to create their own performance that you would not see someone be able to do with an actual guitar.
Advertisements
9

Cheese Rolling Festival, England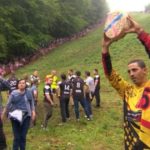 Advertisements
This festival is assumed to be over 600 years old, but the first written evidence comes from a newspaper in 1826. Some people believe this event began for those to claim grazing rights on common land, while others think it began as a fertility ritual. For the actual event, they will use a 3 to 4-kilogram block of cheese, which is roughly 6 to 8 pounds. It is traditionally made in circular shapes and is made locally by Mrs. Smart, who is a cheese maker.
The cheese is rolled down the side of a hill and the participants will chase them to the bottom. The cheese can even reach up to 70 miles per hour. The first person to make it to the bottom of the hill is the winner and their prize is the cheese. This festival had been open to everyone until 2009, after many participants had sustained injuries. It was then continued in 2011 with no official game management.
Advertisements
10

Burning Man Festival, United States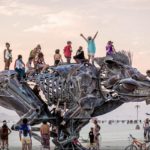 Advertisements
The intention of the Burning Man Festival is to create a society that connects every person to their creative powers, participation in the community, the larger realm of civic life, and the world of nature. They want to create a positive spiritual experience to change the world. This festival allows people to build their own "city" while also having many other activities to participate in. Each year, they create the "Man Pavilion." This is at the center of the festival, but is set on fire at the end.
The Burning Man symbolizes a ritual of not taking themselves too seriously, holding on too tightly, or defying their public symbol. They also have ten principles to reflect their community's ethos and culture that originally came from the event's inception. These principles are Radical Inclusion, Gifting, Decommodification, Radical Self Reliance, Radical Self Expression, Communal Effort, Civic Responsibility, Leaving No Trace, Participation, and Immediacy.
Advertisements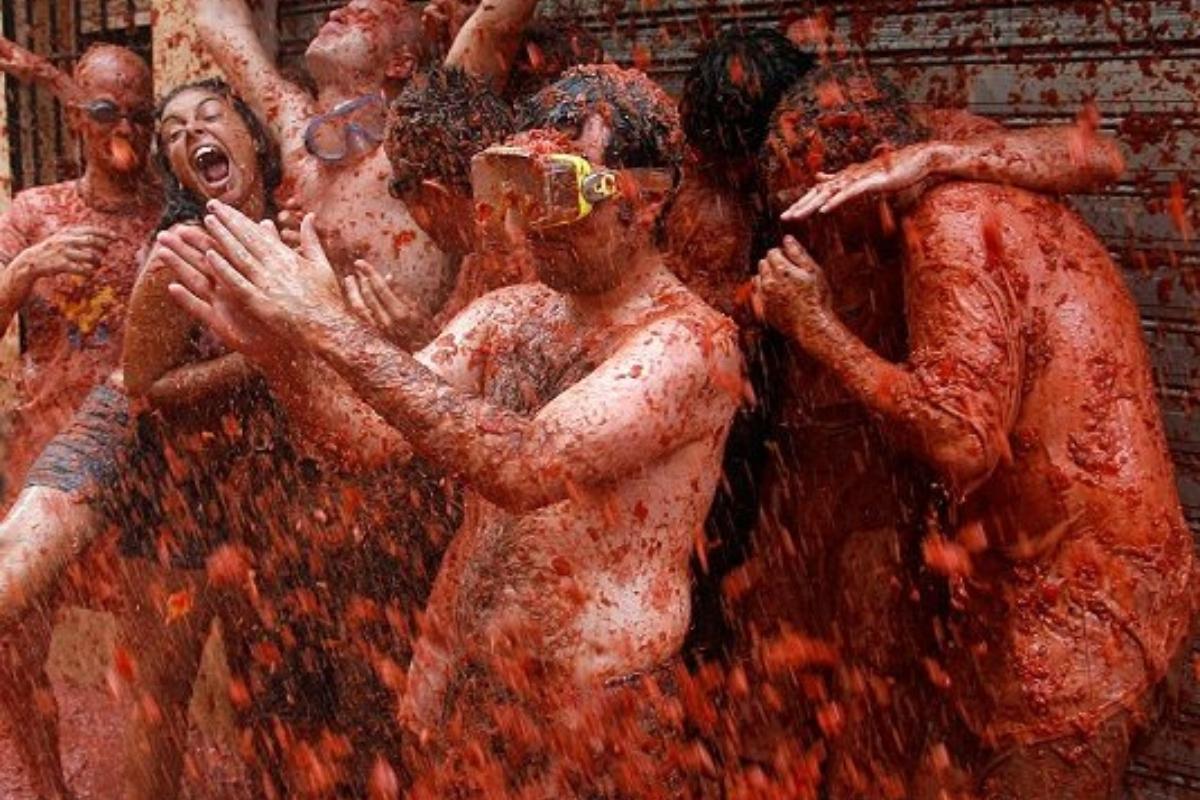 Advertisements
This festival began not so long ago, in 1945. Though it happened by accident, it is now highly celebrated. There was a parade that had turned into what we now know as La Tomatina. During the parade, there were children who caused one of the participants to fall. Everyone had become so angry that they started throwing tomatoes from a nearby veggie stand. They continued throwing tomatoes every year until it was banned in the 50s.
In 1957, they allowed the tradition to continue after the locals protested. Ever since then, it has gotten more and more popular. Since this festival is so loved by everyone, they will only sell 22,000 tickets so that they can still try to maintain control. When the festival begins, they bring in 120 tons of tomatoes and spread them throughout the festival grounds. When the time is up, they will shoot off a firework to cease the battle.
Advertisements
12

Busó Festival, Hungary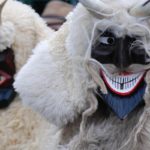 Advertisements
This festival is a six-day celebration that the people of Hungary throw at the end of Winter. Men will dress up in wool cloaks and wooden masks, known as the Busós. During the festival, they will dance around and make pranks. They are loud so that they will "scare" Winter away. They will also light a coffin on fire as another symbol for the ending of Winter. There are children who will dress up for a costume contest and artists who bring their art to display to the entire carnival.
The legend of the festival says the reason it began was for two reasons. One reason for their yearly celebration is said to be due to the fact that the Mohács successfully scared away the Turks. Another version is that the locals were forced to flee and hide in swamps nearby. On one stormy night, some of the people put on scary masks and returned to Mohács to scare away the Turks, who thought that the masked people were demons. Now, the festival is held to scare winter away and celebrate spring's arrival.
Advertisements
13

Cheung Chau Bun Festival, China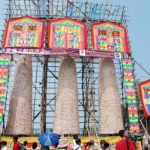 Advertisements
Have you ever wanted to visit Hong Kong? Make sure you plan your trip at the beginning of May, so you will have the opportunity to attend this festival. This is one of the most exciting and lively events to happen. Cheung Chau island is just a short ferry ride from Hong Kong, making the commute to the festival fairly easy. There are many theories as to why this festival began, but one of them is more commonly believed than the others.
Legend says that this celebration began after the island had succumbed to an epidemic that killed thousands of people. They say that the disease was finally conquered after the residents brought in the god known as Pak Tai, who was able to get rid of the disease and drive the bad spirits off of the island. Now, the people celebrate every year at the Pak Tai temple. There are altars throughout the event, but it gets its name from the bun tower altars in the festival. Not only are there towers and towers of buns everywhere, but there are also many vendors offering food, trinkets, and, of course, more buns.
Advertisements
14

Festival Of The Pig, France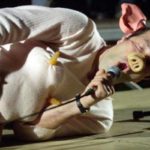 Advertisements
The festival of the pig has been celebrated in France since 1975. Yes, they are celebrating the pig industry, but it's not exactly in the way that you would think. People dress up in pig hats and tails and celebrate by eating the pigs. There are multiple competitions for visitors to compete in, including making a decision about who has the best pig costume. Vendors will also try to create the best pig-themed displays and have food-eating competitions.
Possibly one of the best pig-related competitions is the squealing contest. And, no, it's not for the actual pigs. Participants of the festival can decide to enter as long as they are comfortable with making a fool of themselves. For this contest, you must squeal like a pig. Yes, you read that right. In order to win, your squeal must be the most realistic and pig-like. That is a wonderful festival for those who love pork and for those who just love meat in general.
Advertisements
Advertisements
This celebration is known as the Northern Mardis Gras due to the liveliness and popularity of the festival. It lasts 24 hours, day and night, and is filled with spirit from all of the islanders. Apparently, it takes 364 days of the year to prepare for this festival, but much of the event planning is kept in secrecy, including what the Viking chief, Guizer Jarl, will be wearing and who he will be representing.
On the night of the festival, hundreds of men will disguise themselves and form ranks in the streets of the capital. The women who are involved in the event will prepare everything, such as food, dance halls, or anything else that may be required. Once it is finally 7:30 pm, a rocket will fly across the town hall, and the torches are lit. The Jarl's squad then takes half an hour to drag the Viking chief through the burning streets. There are multiple halls, private and public, where they will perform short skits or dances for all the attendees. Every guizer (male Viking) has a duty to dance with a lady in the hall, as the Up Helly Aa song says.
Advertisements
16

Gilroy Garlic Festival, United States
Advertisements
Who doesn't love garlic? It goes on basically everything, so how could someone not love it? Well, this festival is the perfect event for those who just can't get enough of it. In 1978, Dr. Rude Melone came up with a "crazy idea" that just blossomed. In 1978, Dr. Malone was the president of Gavilan College in Gilroy, California. He had read an article about a town in France that hosted an annual garlic festival and was frequently referred to as the "Garlic Capital of the World." So, he decided to prove them wrong.
He convinced the owner of Christopher Ranch, Don Christopher, as well as local farmers and business owners to host a festival of their own. At first, many of the town's residents were resistant to the idea. They were actually more embarrassed by the fact that they produced so much garlic. So, they decided to host a lunch filled with garlic dishes to prove that the town needed to host a garlic festival. This worked! They had their first festival in August of 1979. The festival always donates the funds to a worthy charity after the event is over. They will also host a charity golf tournament, concerts, wine tastings, and, of course, some delicious garlic-infused food and snacks.
Advertisements
17

Night Of The Radishes, Mexico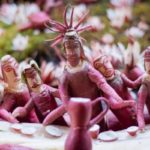 Advertisements
We all know that different cultures all have their own unique celebrations. Oaxaca, Mexico, is no different. Each year on December 23rd, they come together to celebrate the Night of the Radishes, or La Noche de Rábanos. This festival is mainly a competition between artists as to who can create the best radish sculpture. The festival began in 1897 after many local vendors had started making sculptures out of their products so that they would look more appealing.
The governor noticed how the locals had reacted to this, so he decided to make an event out of it. Mexico is a predominately Catholic country, so many of the sculptures you will see are related to their religion. You can also see sculptures of musicians, buildings, and even landmarks. They will also make it a point to create sculptures of famous art pieces such as Da Vinci's The Last Supper. To make sure it is a fair competition, the government will grow and provide the radishes themselves. In the morning, the festival begins with the artists sculpting their art and ends with their finished masterpieces.
Advertisements
18

Beer Floating Festival, Finland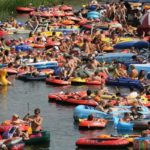 Advertisements
Ever since its origin in 1997, people have enjoyed drinking beer and floating on the river in Finland. Each year is different; sometimes it takes place on the last weekend of July, or it may take place the first weekend of August. People who want to visit will use social media to vote on the time it will start and the route that they will float. People will use inflatable rafts or create their own kind of floatation devices made from wood.
People use the wood to create a raft to place chairs on while floating down the river. They will decide to either float down the Kerava or the Vantaa River. Either way, it begins in the Finnish city of Vantaa and ends in the Finnish capital of Helsinki. Since the festival is not a sponsored event, the people get the final say. That can even include whether they decide to wear clothes to the event or not. Which, be careful looking at online photos of this event, because you might end up finding some folks chilling in the nude.
Advertisements
19

Floating Lantern Festival, United States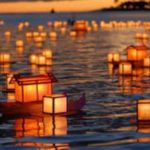 Advertisements
This festival is dedicated to those who have given their lives for America and those who have passed. It also mirrors a very similar festival known as the Toro Nagashi, which is the Japanese floating lantern festival. People will write notes and prayers on pieces of paper and place them in the lanterns before they let them go. More than forty thousand people will attend this event every year. They set up tents for attendants to grab their lanterns and are free of charge.
If someone is unable to attend the festival, they can still go online to write their message, and someone will make sure that it is sent out with the rest of the lanterns. At the beginning of the ceremony, the Pu (Conch shell) sounds and the Taiko (Japanese drums) and Oli (Hawaiian chant) will follow afterward. The first lanterns released are known as the "Parent Lanterns." These are released to symbolize gratitude and hold prayers for all. Next, they will release the collective lanterns on behalf of those who were unable to make it to the cemetery. After the parent and collective lanterns are released, then everyone else will have an opportunity to release their individual lanterns.
Advertisements
20

Balls Of Fire Festival, El Salvador
Advertisements
This festival is not for the faint of heart, especially not for those who have a fear of fire. Every year on the night of August 31st, the residents of Nejapa, El Salvador, begin their celebration. They will paint their faces to resemble a skull and soak their clothes in water before heading to the festival. In 1658, there was a volcanic eruption that, legend says, was actually a battle between St. San Jeronimo and the devil.
Now, every year, they will recreate their own fiery battle between good and evil. Since they are literally using fire during their fight, the town makes sure to have first responders on-site for when chaos inevitably breaks out. For this event, there are no rules or laws that they must follow. With that being said, there have been very few reported injuries, even though balls of fire are continually being thrown at everyone.
Advertisements