Unusual Places To Rent In The U.S.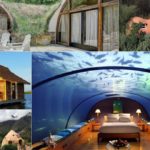 Are you planning your next vacation across the United States and looking for a place to stay? There are plenty of choices! So much so that it can be difficult to choose. But for a change, maybe you want to think outside the box and opt for something less typical than a simple hotel like you find everywhere?
If you're looking for something a little more unusual, there are plenty of choices to satisfy your need for originality. From a UFO to a dog-shaped house or even an underwater room, there are all kinds of weird places you can rent!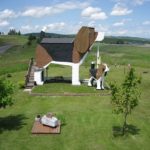 Advertisements
Location: Cottonwood, Idaho
Number of guests: Sleeps 4

One queen-size bed and two twin fold-out side-by-side mats in the loft

Price:

$152/night single occupancy
$158/night double occupancy
$14 per additional person
A two-night stay is required

Rating: 5/5 (Tripadvisor)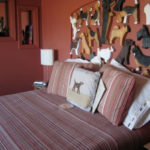 This two-story bed & breakfast guesthouse features a loft bedroom in the dog's head, additional sleeping space above the dog's muzzle, and furnishings carved by chainsaw artists Dennis Sullivan and Frances Conklin. Located inside the "World's Biggest Beagle," the Dog Bark Park Inn was named Top 20 Most Fun & Exciting Places to Stay by London Times.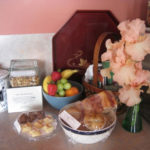 Amenities include a full bath, microwave, small refrigerator, coffee maker, clock radio, hair dryer, electronics charging station, air conditioning, and an expansive continental self-serve breakfast. Free Wi-Fi is also available, but, unfortunately, there's no phone or television.
Advertisements
2

Conestoga Wagon Campground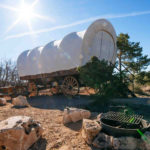 Advertisements
Location: Torrey, Utah (near Zion National Park)
Number of guests: Sleeps 6

One king-size bed, two twin/twin bunk beds

Price:

There is a base price for the first two people, plus $12 per each additional person (per night).
Rates vary based on season.
Minimum two-night stay required on all lodging types during peak season, holidays, and Friday stays.

Rating: 4.5/5 (Tripadvisor)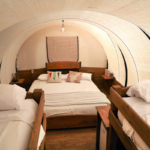 Roughing it in style. That's the best way to describe the Conestoga Wagon Campground in Utah. Each wagon is equipped with heaters, electricity, and outlets. Available on the premises is Wi-Fi, a coin-op laundry, a shower house, access to open use activities, a picnic table and grill, and continental breakfast. Please note that the continental breakfast is not available or included during the months of January and February.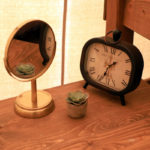 Advertisements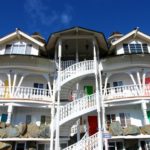 Advertisements
Location: San Luis Obispo, California
Number of guests: 5+ guests, depending on the room
Price: Starting at $169/night
Rating: 4/5 (Tripadvisor)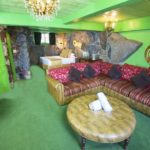 No, this inn has nothing to do with the pop singer Madonna. It has nothing to do with the Virgin Mary, either. The hotel actually got its name from the guy who created it, Alex Madonna, a businessman and real estate developer.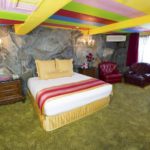 Madonna Inn has 110 individually themed guest rooms with names like Room 140: Bridal Falls, Room 144: Barrel of Fun, Room 142: Gypsy Rock, and Room 122: Harvard Square. Rooms/suites offer amenities like a rock waterfall shower, double sinks, a fireplace, and a refrigerator.
Onsite amenities include hiking, horseback trail rides, tennis, basketball and garden games, boutique shopping, live music, dancing, a terrace pool, and a fitness center.
Advertisements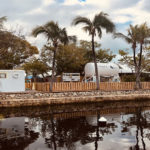 Advertisements
Location: Key Largo, Florida
Number of guests: Up to 6 guests
Price: Depends on the package you choose and your diver certification status
Rating: 4.5/5 (Tripadvisor)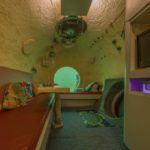 Located in Key Largo Undersea Park, Jules' Undersea Lodge is a retreat for certified divers and diving students alike. "We offer the SCUBA Professional and their student the ability to complete their instruction when the weather is not favorable to take a new diver out to the ocean," the lodge's website says.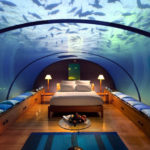 Additionally, visitors get to take in all of the sights, which include artifacts, interesting wildlife, and a moon pool. Lodging includes the Jules' Undersea Luxury Package and the "Aquanaut Package," which was given its name due to the work the lodge has done with astronauts over the years.
Advertisements
5

Featherbed Railroad Bed & Breakfast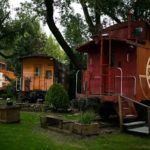 Advertisements
Location: Lake County, California
Number of guests: 2 guests

1 bedroom, 1 queen-size bed

Price:

$150-$220/night, depending on which caboose you book.
A two-night minimum stay is required.

Rating: 4.5/5 (Tripadvisor)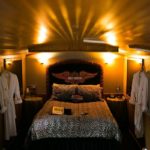 According to Airbnb, this is Northern California's most unique bed and breakfast. You get to have your own private space in a vintage railroad caboose (there are nine to choose from) that is set in a park-like setting and overlooks a beach, pier, and private boat launch.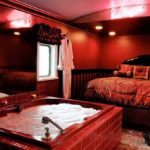 Names of the cabooses include Casablanca, Orient Express, and Wild Wild West. All rooms feature Downlite genuine goose down featherbeds and are designed specifically for a romantic getaway.
Advertisements
6

The Ark at Kelly's Jubilee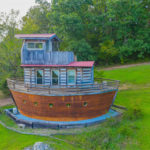 Advertisements
Location: Springfield, Tennessee
Number of guests: 4 guests
Price:

$234/night
Minimum two-night stay required.
NOTE: There is a $150 security deposit hold that will be refunded 5-7 days after checkout if no damages occur.

Rating: 4.94/5 (Airbnb)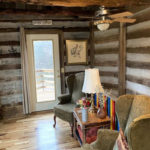 Located on a 50+ acre property with seven other homes, The Ark offers a unique lodging experience that includes multiple wooden decks, cabin-style octagonal windows, and all-wood interiors.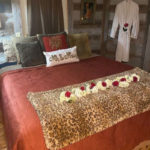 Also included is a fire pit, hiking trails, a labyrinth, a pond for fishing, a creek that runs year-round, a private two-person hot tub, a small, stocked kitchen, flowers, robes, chocolates, and snacks. Additionally, there is an outdoor ring doorbell camera on the front porch.
Advertisements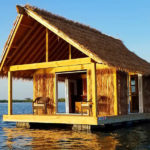 Advertisements
Location: Key West, Florida
Number of guests: 2 guests
Price: $673/night
Rating: 4.89/5 (Airbnb)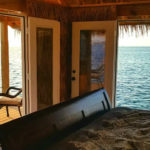 This houseboat, hosted by Tiki Suites, is the perfect spot for water lovers. That's because it's smack dab in the middle of the Key West waters! According to Airbnb, The Tiki Suite was designed to be a unique glamping experience, and unique it is! It takes "the best parts of boat life" and combines them "with the space and comforts of home," the home's listing says.
Outside you'll find a tropical-themed setup, including stand-up paddleboards, snorkel gear, and a hammock. Inside is Brazilian hardwood flooring, a high-vaulted ceiling, French doors, and a comfortable king-size bed. And, when night comes, you can use the installed voice controlled lighting to let Alexa know you want the lights on. You can also connect to Alexa to play music directly from your device as well.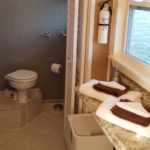 There are no kitchen appliances on board, with the exception of a K-cup coffee maker. There is a roto-molded cooler to keep your food and drinks cold, but you must bring your own bag of ice with you. The ice will keep in the cooler for up to nine days. Also, keep in mind that no heat or flame-generating devices or equipment are allowed. This includes cigars, cigarettes, and any other smoking devices, with the exception of vaping pens.
As for the bathroom, it's equipped with an electric macerating toilet and a shower with a water heater.
Advertisements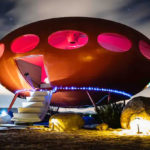 Advertisements
Location: Joshua Tree, California
Number of guests: 4 guests; 2 beds
Price: $291/night
Rating: 4.8/5 (Airbnb)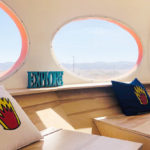 Although there are 85 of these futuristic creations in the world, this is the only one that's an Airbnb. Designed by Finnish architect Matti Suuronen in the 60s and 70s as portable ski chalets, this Futuro Pod has a staircase that opens and closes with the touch of a button.
Seating inside includes pillows, wooden benches, and spherical chairs, but perhaps the most awesome thing of all is the acoustics. "Just talking with the round ceilings makes for the most interesting thing. It's how safe, secure and peaceful you feel on the inside," owner Ronald Jackson told the New York Post.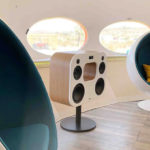 According to Airbnb.com, "this is a completely off-grid tour glamping experience." As such, this Futuro Pod is solar-powered, and the kitchen and shower can be found outdoors. Additionally, it is recommended that while camping there, you conserve power as much as possible.
Advertisements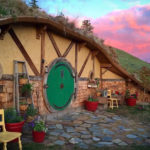 Advertisements
Location: Orondo, Washington
Number of guests: Sleeps 2 guests

1 bedroom
Pets welcome
NOTE: Guests must be over the age of 12.

Price: Typical starting price is $400
Rating: 4.82/5 (Airbnb)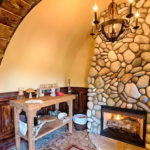 Nestled in a mountainside in Orondo, WA, is this charming little 288-square-foot underground hobbit house that looks like something straight out of a Tolkien novel. Inside you'll find a stone fireplace, an oversized iron chandelier, a wooden bathtub, and a barrel of drinking water. Outside are incredible mountain and river views, as well as on-site hiking trails.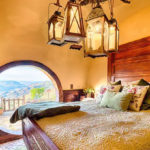 This home is all about off-grid living, so it uses solar-powered energy for water, electricity, and flushing the toilet. Additionally, there's no kitchen and no Wi-Fi or cellular reception.
Advertisements
10

Historic Wigwam Village No. 2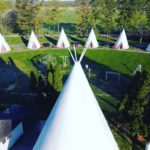 Advertisements
Location: Cave City, Kentucky
Number of guests: 2 to 4 guests

Singles with one full-size bed and doubles with two full-size beds

Price:

$75 for a single room
$150 for a double room

Rating: 4.5/5 (Tripadvisor)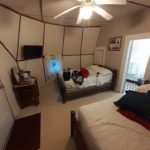 Wigwam Village, which technically should be called Teepee Village, is part of the Wigwam Motel chain and dates back to the 1930s. In fact, Historic Wigwam Village No. 2 is one of only three surviving Wigwam Villages of the seven built around the country before 1950. The other two are #6 in Holbrook, Arizona, and #7 in Rialto, California. At one time, the Wigwam Motel had locations in Alabama, Florida and Louisiana as well.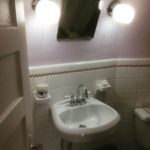 Listed on the National Register of Historic Places, the Wigwam Village is truly a step back in time. The rooms still have their original hickory furniture, while the bathrooms maintain their original red-and-white graphic tile. And like many places in the 1930s, there are no telephones in the rooms. Fortunately, there is TV and air conditioning.
Here's what else you get:
Free Wi-Fi
Free hot coffee and tea
Enhanced room cleaning
Group reservations
Cooking grills
Two large fire pits
A covered, lighted picnic pavilion with tables
A retro playground
Advertisements
11

A Fairy-tale Gingerbread House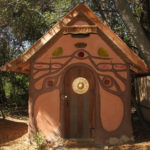 Advertisements
Location: Geyserville, California
Number of guests: 2 guests
Price: $96/night
Rating: 4.36/5 (Airbnb)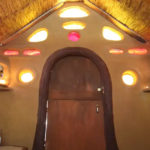 Nestled in an intimate corner of a wooded campground, these quaint little Airbnb huts offer a truly unique lodging experience. Each structure has thick walls and stained glass windows that let in colorful natural light. Outside, you'll find rustic showers, a fire pit, a small picnic area, a community garden, and a diverse range of exotic animals.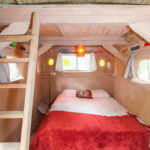 Onsite facilities include a small temple and theater, a pool, hot tub and sauna, a small library, a large walk-in refrigerator for food storage, and a spacious dining pavilion that features a gas fireplace and a well-stocked coffee and tea bar.
Advertisements
12

The Great Escape Lakeside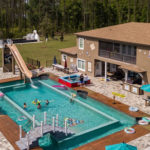 Advertisements
Location: Clermont, Florida
Number of guests: Sleeps up to 45 people
Price:

Weeknights (off-peak): $1,495/night
Thursday-Saturday Nights (off-peak): $1,680/night
Weeknights (mid-season): $1,595/night
Thursday-Saturday Nights (peak): $1,780/night
Weeknights (peak) $1,695/night
Thursday-Saturday Nights (peak): $1,880/night
Weeks Of Christmas/Thanksgiving/New Year's: $1,895-$2,080/night

Rating: 5/5 (Tripadvisor)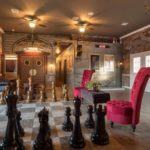 Located just outside of Orlando, The Great Escape Lakeside is a private 10-acre, 13-bedroom vacation rental that features a board game theme in every room. You can play with the giant, larger-than-life Lite Brite wall, or the slot machines and blackjack table in the Casino Games room, or the giant chess pieces made from solid teak wood in the "LIFE-ing" room lobby.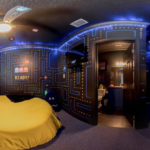 There's also various arcade areas with stand-up arcade games, pinball machines, and gaming consoles, plus a 1980s video game room with an Atari 2600, a full-sized Pac-Man machine, and more.
This estate also has 13 bedrooms, 11 bathrooms, a 40,000-gallon pool, a complete outdoor kitchen, a poolside TV, a basketball court, soccer billiards, human bowling, human foosball, and many other amenities too numerous to list here.
Advertisements
13

The World's Smallest Airbnb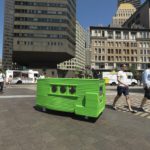 Advertisements
Location: Boston, Massachusetts
Number of guests: 1
Price: N/A
Rating: N/A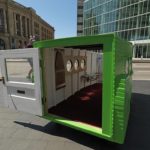 Tiny homes are all the rage these days, so it's no surprise that Airbnb owners would want to get in on the movement, too. And that's just what sculptor Jeff Smith did. Coming in at 25 square feet, this house on wheels, which was designed by Smith, is the world's smallest Airbnb.
Now, for someone like me, who is very claustrophobic, there's no way in the world I'd ever stay in this Airbnb. That didn't stop YouTuber Ryan Trahan, though, who spent 24 hours in this little house despite being claustrophobic. "When I was little, I got stuck in this condensed space in my closet, and it was super scary for me, and I held a fear of claustrophobia for a long time afterward," Trahan told Insider. "I saw [that the tiny house] was 25 square feet, and I was like, 'oh no'."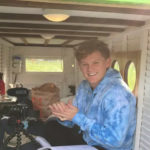 But Trahan decided to try it out anyway, and for a full 24 hours he endured the "oddly comfortable" experience, as he described it. What's more is that the house was more spacious than he'd expected—although he couldn't stand up in it. There was only enough room to sit up or lay down. And get this: the home comes equipped with a working stove, a sink attached to a tank of water, a table made from an old ironing board, and a toilet, which is just a hole in the floor with a drawer of kitty litter underneath it. Unfortunately, there's no heat, A/C, or Wi-Fi.
So, how much does it cost to stay in an Airbnb this size? Well, I'm not sure of the exact cost today, but back in 2016, the year after it was constructed, it was going for $55 a night.
Advertisements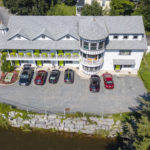 Advertisements
Location: Roxbury, New York
Number of guests: Some rooms sleep 2, others sleep 4 to 6
Price: Anywhere from $95 to $698, depending on whether you book a room, suite, or cottage
Rating: 5/5 (Tripadvisor)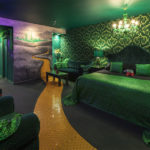 The rooms at The Roxbury Motel were inspired mostly by the TV shows and films of the 60s and 70s. For example, there's a studio theme called Fred's Lair, which was inspired by The Flintstones. Then there's The Wizard's Emeralds, which has a yellow brick road that runs right through the center of the room. I'm sure you can guess what movie inspired this theme! Lastly, there's the Mayan Temple bedroom in the cottages.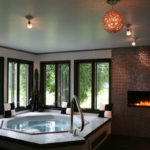 Advertisements
15

Turpentine Creek Wildlife Refuge
Advertisements
Location: Eureka Springs, Arkansas
Number of guests:

2 guests in the adult-only suites
Up to 6 guests in the family-friendly lodging
Up to 10 guests for the RV and tent spaces

Price: Varies

Starts at $125 for family-friendly lodging and $175 for adult-only lodging

Rating: 5/5 (Tripadvisor)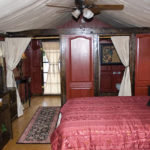 According to its website, Turpentine Creek offers a new and unique experience, and that is indeed true. I mean, where else could you go and have your stay revolve around the wildlife? And not just any wildlife either. I'm talking lions, and tigers, and bears! And leopards and cougars, too! In fact, many of the daily events include habitat tours, education sessions, and feeding time.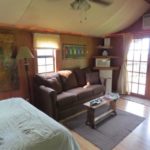 What's more is that the guest rooms are decked out in safari-themed décor. At night, guests can be treated to the sounds of "animals caroling throughout the evening and night," vice president Scott Smith said, according to CNN.
Advertisements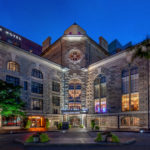 Advertisements
Location: Boston, Massachusetts
Number of guests: Up to 4 guests

One king bed or two queen beds

Price: Rates can vary

Current rates are approximately between $350 and $565, with the presidential suite costing a little over $2,000

Rating: 4/5 (Tripadvisor); 4.5-star hotel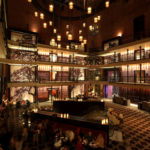 Liberty was the last thing the guests who used to stay in this building would expect to find there. That's because before it was The Liberty Hotel, it was the Charles Street Jail. The jail housed notable inmates such as James "Whitey" Bulger and the Boston Strangler. And, yes, there are vestiges of the old jail cells there. In fact, 19 of the 298 rooms are in a former cell block. Fortunately, none of the rooms lock from the outside!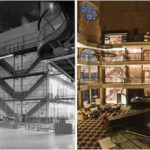 You'll find that this hotel's rooms are luxurious and include amenities such as a large flat panel HD-LCD television, bathrobe, imported linens, floor-to-ceiling windows, in-room safes, in-room private bars, Wi-Fi, valet parking, and more.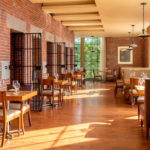 There are special packages you can choose from, too, including the Sunday Funday Package, which includes overnight accommodations, a $50 food & beverage credit, and complimentary valet parking. There's also the Make Your Escape Package, which includes a 30% discount on your stay, and the Winter Wonderland In Boston Package, which comes with two VIP passes to Boston Common's Frog Pond Ice Skating Rink.
Advertisements
17

McMenamins Kennedy School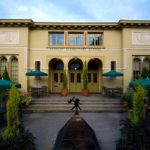 Advertisements
Location: Portland, Oregon
Number of guests:

4 guests in the rooms with queen-size beds
2 to 3 guests in the rooms with king-size beds, depending on the room type

Price: Current rates are between $165 and $200 per night
Rating: 4.5/5 (Tripadvisor)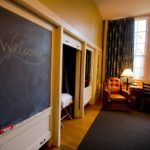 Sleeping in class is encouraged at this school. That's because it's actually a hotel! This former elementary school, which opened in 1915, offers 57 comfy guest rooms with private baths and telephones. Some of the rooms are fashioned from former classrooms and come with the original chalkboards and cloakrooms! The other rooms are decked out in literature-inspired themes.
There's also a restaurant in the old school cafeteria, multiple small bars, including one named the Detention Bar, a movie theater in the old auditorium, a soaking pool, a gift shop, and a brewery in an old girl's room.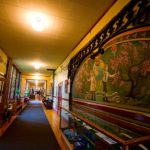 "For neighborhood residents, out-of-town guests and business travelers, Kennedy School is a memorable and comfortable place to gather. The hotel is located minutes from Portland International Airport as well as to shopping in downtown Portland," the hotel wrote on its website.
Advertisements
18

Cottage + Lobster Boat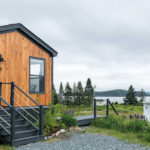 Advertisements
Location: Machiasport, Maine
Number of guests: 4 guests
Price: $207/night
Rating: 4.99/5 (Airbnb)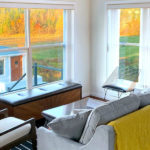 This charming little Airbnb includes a cottage that's connected to a lobster boat that has its own library and lounge—which are both accessible via a short series of boardwalks and decks. The cottage is surrounded by a nature reserve and offers incredible views of Holmes Bay. Inside you'll find nautical themes, including a wire fish sculpture, an old boat steering wheel, and model ships.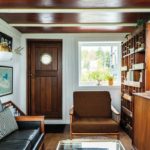 Additionally, this home is minutes from hiking trails and a national park. Other popular destinations that are only a short drive away include Campobello Island, Eastport, and the Schoodic Peninsula.
Advertisements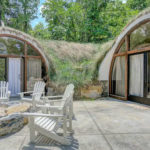 Advertisements
Location: Johnson City, Tennessee
Number of guests: 2 guests

1 bedroom, 1 queen-size bed

Price: $220/night
Rating: 4.99/5 (Airbnb)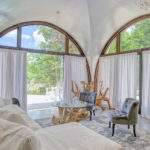 Sitting atop a rock cliff overlooking an old rock quarry pond, this grass dome house is the perfect place to unwind. The Sassafras offers incredible views and the opportunity to relax by the pond, the gas fire pit, in the outdoor tub, or inside the house itself, where you'll find high ceilings, huge round windows, cozy furnishings, and an all-around bright and airy feel.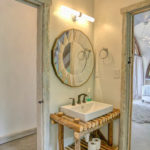 Other amenities include a kitchen, air conditioning, refrigerator, microwave, coffee maker, toaster, wine glasses, patio or balcony, and free parking on the premises. Please note that Wi-Fi and television are not included.
Advertisements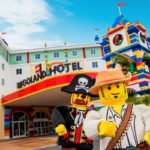 Advertisements
Location: Winter Haven, Florida
Number of guests: Up to 9 guests
Price:

Varies depending on the number of guests and the vacation package you choose.
Room-only bookings are available as well.

Rating: 4/5 (Tripadvisor); 3-star hotel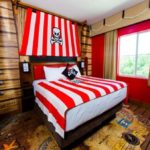 As you can imagine, LEGOLAND® Hotel offers tons of fun for the whole family. Each room has its own theme, which you can choose yourself. Themes include Kingdom, Adventure, Pirate, LEGO Friends, and The LEGO® MOVIE™. Also, there's a separate kid's sleeping area in every room.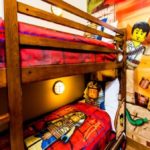 There is a daily in-room scavenger hunt with LEGO® prizes, nightly kid's entertainment, free creative workshops, and a heated resort-style pool. Additionally, LEGOLAND® Theme Park is just a few steps away from the hotel.
Other amenities include a free daily breakfast buffet, free self-parking, and dinner options at Shipwreck Restaurant or Skyline Lounge.
Advertisements