The Best And Worst Bargains At Kroger
1

Don't Buy: Pre-Cut Food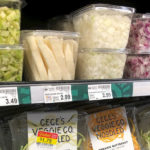 Advertisements
Did you know that Kroger jacks up the price of its pre-cut foods? It's true. According to a Consumer Reports find, many of their pre-cut items cost as much as 370% more than the uncut versions. Pre-washed, pre-cut kale, for example, costs 317% more than whole kale. Another example is pre-cut celery. At Kroger, you'll pay $2.99 for 14 ounces of it, but can get a large stalk that will amount to more than a pound once chopped for just $1.59.
But all is not lost. There is at least one pre-cut food at Kroger that you not only won't pay more, you'll end up actually paying less for it than its whole version. I'm talking about broccoli. According to an article published by Showbiz Cheat Sheet, pre-cut broccoli is actually 12% cheaper than a whole head of broccoli.
Advertisements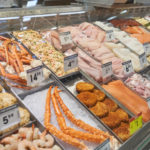 Advertisements
Not only is Kroger's seafood case well-stocked, the grocer offers a nice selection of sustainable picks, including both wild-caught options and farm-raised options. For example, Kroger sources 88% of its wild-caught fresh and frozen seafood species from sustainable sources, including 71% from Marine Stewardship Council-certified sources. Meanwhile, 96% of the farm-raised seafood they procure is from sustainable sources, and 100% of their shelf-stable tuna comes from companies aligned with the International Sustainable Seafood Foundation.
So, what wild-caught and farm-raised options can you choose from in their seafood department? According to the grocer's website, they offer items such as Atlantic salmon fillets, freshwater shrimp, Pacific cod, and jumbo lobster tails, to name a few. In addition to fresh and frozen options, Kroger also offers cooked items in its seafood department.
Advertisements
3

Don't Buy: Simple Truth Yogurt-Covered Raisins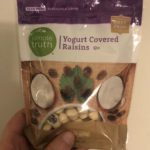 Advertisements
Yogurt-covered raisins sound healthy enough, right? You may be surprised to find out that what's covering these raisins is more closely related to Swiss cheese than yogurt. An article published by Eat This, Not That! revealed that the cultured whey found in this product "is best known for its role in developing Swiss cheese and has nothing whatsoever to do with the making of yogurt."
Consequently, these treats "are not actually yogurt-covered raisins, but rather tiny little sugar bombs," they added. In fact, one cup of Simple Truth Yogurt-Covered Raisins contains 19 grams of sugar, in addition to 5 grams of fat, all of which are saturated, 22 grams of carbs, and 130 calories. Additionally, these little sugar bombs, as you might have guessed, contain absolutely no fiber or protein.
Advertisements
4

Don't Buy: Kroger Complete Buttermilk Pancake Mix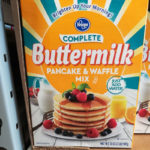 Advertisements
Starting your day off with a healthy, nutritious breakfast is so important. Still, there are those of us who love to indulge every now and then in a stack of fluffy, buttery pancakes. But before you run out and purchase a box of Kroger Complete Buttermilk Pancake Mix, you might want to know what's in it first.
For starters, this pancake mix is salty. According to Fooducate.com, it has over 25% of the daily recommended intake of sodium. Kroger Complete Buttermilk Pancake Mix is also highly processed. In other words, it contains no whole grains. Additionally, there are 240 calories, 3.5 grams of fat (2 grams of saturated fat), 640 milligrams of sodium, and 46 grams of carbs (1 gram of fiber, 9 grams of sugar) per one cup of this mix.
Advertisements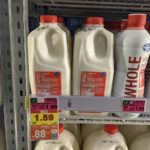 Advertisements
According to an article published by Taste of Home, some of Kroger's best deals can be found on the dairy aisle. In a 2018 cost comparison of products sold at Kroger, Walmart and Aldi, Kroger was found to have significantly lower prices on dairy items, particularly on milk.
Indeed, the milk in the Kroger's dairy section was $0.46 cheaper than the one at Walmart. It's not a huge difference, you may say, and you're right, but when you can pay less on a product consumed on a daily basis, at the end of the day, it looks good on the budget!
Advertisements
6

Don't Buy: Kroger Guacamole Seasoning Mix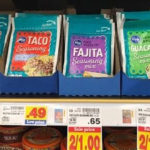 Advertisements
This guacamole seasoning mix sounds pretty healthy. I mean, it only has 5 calories, 9 grams of fat (0 grams of saturated fat), 80 milligrams of sodium, and 1 gram of carbs per serving. But if you take a look at the list of ingredients, you'll see what's really going on with this seasoning mix.
The first ingredient listed is maltodextrin. For those of you who may not know, ingredients are listed in order of predominance. In other words, the ingredient listed first is used in the greatest amount, the second ingredient listed is used in the second greatest amount, and so on and so forth. The issue here is that maltodextrin is a carbohydrate. According to WebMD, its glycemic index is higher than table sugar! This could lead to a spike in your blood sugar shortly after consuming it.
Now, the second ingredient in this seasoning mix is salt. That should come as no surprise, seeing that this mix is used to season food, and we all know the dangers of consuming too much salt. That's why Eat This, Not That! suggests creating your own guacamole using mashed avocados, lime juice, and sea salt.
Advertisements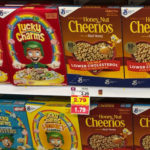 Advertisements
There's a trick to buying name-brand cereal at Kroger: stock up on it when there's a sale. A few years ago, Kroger offered a BOGO deal on varieties of Special K and Quaker cereals. At the time, Kroger sold Kellogg's Special K cereal for $3.79 for a 12-ounce box. This is a discount that is well worth it!
TIP
Pay attention to when the store is having a Mega Sale. Also known as "Cart Busters" or "Mix & Match," depending on the location, Mega Sales are regular store promotions that are held at least once a month. Although the details can vary, the general idea is that if you buy five or more participating items, you will save $1 on each of them. It's definitely worth it too!
Advertisements
Advertisements
If you're looking to pick up a cake for a birthday or other special celebration, you're better off heading to a big-box store like Costco or Sam's Club. They sell huge sheet cakes for $15 to $20. Kroger, on the other hand, sells 8-inch round cakes for $8 to $12. In other words, you're getting 75% less cake for around the same price.
Of course, you can always make a homemade cake if you're not pressed for time, and it really won't cost you that much either. For example, you can get flour from Walmart for less than $2. The same goes for eggs and milk. The sugar will cost around $2 or so, and you can get the other ingredients for cheap as well. What's more is that you likely have most of these ingredients at home already, so it really wouldn't cost you much at all to make a homemade cake.
Advertisements
9

Don't Buy: Rotisserie Chicken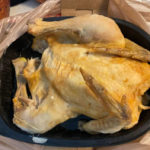 Advertisements
If you like roast chicken, buying it already prepared is a great solution for a quick and easy meal for those evenings when you don't have time to cook. However, according to Mashed's ranking of the best and worst rotisserie chicken, buying it from Kroger is not a good idea.
Sure, the rotisserie chicken at Kroger is competitively priced, especially if you have coupons that bring the price down to under $3! However, the quality of the chicken is not there. Their rotisserie chicken is usually overcooked, or, even worst, undercooked, as well as being rather small. If you are in the mood for a good rotisserie chicken, we suggest you buy it at Costco, Sprouts Farmers Market or WinCo instead.
Advertisements
10

Don't Buy: Kroger 3-Minute Microwave Pepperoni Pizza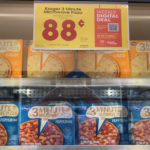 Advertisements
I'm sure you probably already know that frozen pizza is unhealthy, and Kroger's 3-Minute Microwave Pepperoni Pizza is no exception. Just one of these pizzas contains 540 calories, 25 grams of fat (9 grams of saturated fat), 1,110 milligrams of sodium, and 63 grams of carbs (4 grams of sugar). About the only good thing this pizza has going for it is that it contains 3 grams of fiber, 17 grams of protein, and is ready in three minutes, but that's not nearly enough to make up for all the unhealthy stuff found in it.
Ironically, the website says that this pizza was U.S.-inspected and passed by the Department of Agriculture, whatever that means. And with its ridiculously long list of ingredients, it's a wonder this pizza passed anything. There are 18 ingredients just in the crust alone. As for the cheese, it contains nearly 40 ingredients! Then, the sauce and the pepperonis add even more ingredients. By the time you add everything together, it comes out to nearly 100 ingredients!
Advertisements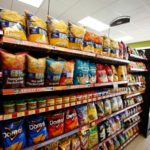 Advertisements
The price of bags of chips is really good at Kroger. According to a GOBankingRates article, prices at Kroger are generally always lower than at Safeway, among others.  The article, which was published in 2018, showed that Kroger consistently beat out Safeway time and time again when it came to convenience foods in general.
For example, an 8-oz. bag of Cheetos was $1 less at Kroger. A 12-oz. bag of Kroger brand pretzel rods was just $0.99, whereas a 10-oz. bag of The Snack Artist pretzel rods at Safeway was $1.79. If you regularly eat chips, here's a price difference to know!
Advertisements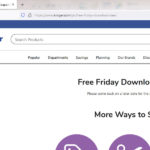 Advertisements
Okay, so, technically, you're not buying this because it's free. Nevertheless, it's still worth a mention here. That being said, I'll go into further detail on just what this Friday freebie thing is all about.
On select Fridays of every month, you can visit Kroger's website and download a digital coupon for a free item. NOTE: You must have an online Kroger account in order to download the coupon.
Now, here's how it works:
You download the digital coupon between 12:00 a.m. and 11:59 p.m. PT. You can then view the downloaded coupon under the "My Coupons" section of your online account or the mobile app. You must redeem your coupon within two weeks. Once you do, it will automatically be applied at checkout when you use your Shopper's Card.
So, what exactly can you get with this coupon? According to The Krazy Coupon Lady, some freebies have included bread, yogurt, candy, and pet food.
Advertisements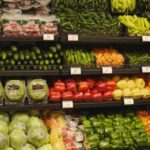 Advertisements
Depending on which produce you purchase, you can get it cheaper at Kroger than you can at stores like Walmart and Fred Meyer. For example, when red, seedless grapes go on sale at Kroger, you can get them for about $0.88 per pound, compared to $1.97 per pound at Walmart. That's a saving of over 50%! You'll pay less for carrots at Kroger as well.
Now, when it comes to produce items like bananas, apples, and spinach, you'd be better off heading to Costco. They are far less expensive there. For example, a 16-ounce bag of spinach costs $6 at Kroger, whereas a 40-ounce bag of spinach costs just $5 at Costco. Here's why you can buy fresh produce at Kroger, but not just any produce.
Advertisements
14

Don't Buy: Organic Food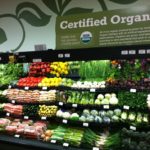 Advertisements
We all know that organic food costs more than conventional food, but you're going to pay even more for organic if you purchase it at Kroger. A comparison conducted by Cheapism showed that organic foods sold at the grocer are more expensive than the organic foods sold at both Aldi and Walmart. This was even true after the loyalty discount was applied to items like meat, dairy, and produce.
FUN FACT
Kroger's Simple Truth brand is the largest natural and organic product line in the country. The brand reached a significant milestone when its annual sales topped $3 billion for the first time in fiscal year 2020, which ended January 30, 2021. That figure rose from more than $2.5 billion in 2019.
Advertisements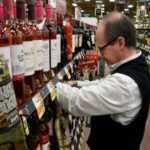 Advertisements
There's a trick to buying wine at Kroger that can save you more money. According to an article published by CNBC, you can save 10% by buying six bottles at a time. "The average cost of a bottle of red wine is about $15, so by taking advantage of this deal, you can likely save around $9 on your total," CNBC wrote on its website. The good thing is you don't have to stick to just one type of wine. You can mix and match and still get the same deal.
Additionally, Kroger also offers an online wine shop and subscription club that lets you get wines sent to you four times a year. You can build your own wine case by selecting bundles of four, six, or 12 bottles. They will ship them directly to your house, and shipping is free when you spend at least $35.
Advertisements
16

Don't Buy: Simple Truth Emerge Plant-Based Patties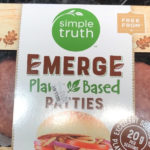 Advertisements
The simple truth about these plant-based burgers is that they're not as healthy as you've been made to believe they are. In fact, these patties contain 230 calories, 14 grams of fat (9 grams of which are saturated fat), 390 milligrams of sodium, and 6 grams of carbs per serving. When you compare that to a lean ground beef patty from Walmart that contains just 160 calories, 8 grams of fat (3 grams of which are saturated fat), and 85 milligrams of sodium per serving, you can easily see how the real thing is healthier.
What's more is that plant-based patties are highly processed and, in some cases, genetically modified. Additionally, there are not a lot of natural nutrients in them. "We really want to aim toward eating food in its natural whole form. The reality is that something isn't healthy just because it is plant-based," the University of Texas MD Anderson Cancer Center wrote on its website.
Advertisements
Advertisements
Did you know that several Kroger locations have a gas station attached to the store? Yep, it's true. Know what else? You can save a lot of money by filling up there instead of at a traditional gas station. Here's how it works:
You earn fuel points by shopping with your Shoppers Card. Every 100 fuel points earned is good for $0.10 off per gallon of gas. You can redeem up to 1,000 fuel points for $1 off per gallon. Additionally, you can redeem 100 fuel points for $0.10 off per gallon at participating Shell locations.
And redeeming your fuel points is easy. Simply scan your Shoppers Card or enter your alt-id and follow the instructions at the pump. Just make sure you redeem them by the last day of the month after they are earned (e.g. points earned in August must be redeemed by September 30). That's when they expire.
Advertisements
18

Don't Buy: Wrapping Paper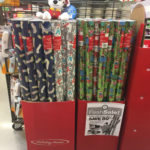 Advertisements
Wrapping paper is one of those things you really don't need to splurge on because it's just going to end up on the floor and in someone's trash can once the recipient rips it off the gift. That being said, why spend close to $30 (yes, that's what you'll pay for three 16-feet rolls at Kroger) for something that's going to get thrown away almost instantly when you could spend just $1.25 per unit for 36 17.5-square-feet rolls at Dollar Tree? That comes out to just $45!
And, you don't have to purchase all 36 rolls. You could just purchase one or however many you need. Even if you purchased three—the same amount of rolls in the Kroger example—you'd only pay about $3.75. Even if you were to purchase just one roll from Kroger, that'd be about $10 per roll. You can easily see how much more affordable wrapping paper is at dollar stores.
Advertisements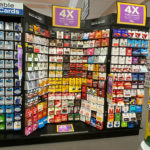 Advertisements
Depending on who you ask, you should never buy gift cards at Kroger because the store sells them at full price and you can get them cheaper elsewhere. And indeed, that's true. But what they probably don't know is that there is a way you can get them for as much as $15 off. Just head to Kroger's website. They frequently offer digital download coupons for as much as $15 off gift card purchases!
Not only that, but Kroger offers double points on gift card purchases that go towards your Kroger Loyalty Card. Additionally, the grocer occasionally offers 4x reward point campaigns that let you really maximize your earnings and take advantage of additional perks and benefits.
Advertisements
20

Don't Buy: Rotisserie Chicken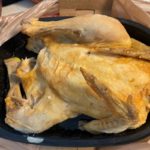 Advertisements
According to an article published by Eat This, Not That!, Kroger rotisserie chicken is the second-worst grocery store rotisserie chicken you can buy. The reason it received this ranking was due to reviews from customers. Some of them say the chicken isn't cooked all the way through. Another had this to say:
"Succumbed to hunger and popped in on my way home for a rotisserie chicken. $7.99 plus tax, so $8.75. Worst, smallest, crappiest, driest, most disappointing chicken I've ever eaten. For some reason, while the skin was undercooked and pale (it was the last one left, at 5:45 pm, like they are surprised people want them at this time of day), the meat itself is dry and dark from bloody broken bones and pretty much disgusting."
Another customer said this: "The rotisserie chicken I got was like a quail. It had hardly any meat on it."
And as if that weren't reason enough to avoid this chicken, Showbiz Cheat Sheet found that rotisserie chickens were 11.4 cents more expensive at Kroger than at other stores.
Advertisements