Cutest Celeb Kids on Instagram!
1

Willow And Jameson Hart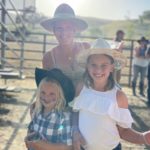 Advertisements
P!nk is a superstar performer known for hit songs like "Just Give Me A Reason" and "What About Us". She's married to pro-biker Carey Hart and they have two children together. While we all know her as a rock star, her kids just know her as "mom" and we have the snap to prove it.
She posted a pic to Instagram of her kiddos, Willow and Jameson, on May 9, 2022, along with the caption, "Happy Mothers Day." By the looks of that photo, they seem just like ordinary kids to us, having a good time with their ordinary mom.
Advertisements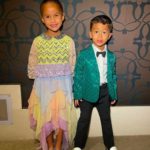 Advertisements
Chrissy Teigen is a model and television personality who married the singer John Legend. They have two adorable children, Luna and Miles, and one of her favorite pastimes is posting pics of their littles on social media.
Teigen marks vacations and special holidays with photos and she took a moment to share a photo of Luna and Miles dressed to the nines for Easter, along with the caption, "Happy Easter and Chag sameach from my little chickadees!" Is it just us or do these two look like mini-mes of their mom and dad? That's a whole lot of sass right there!
Advertisements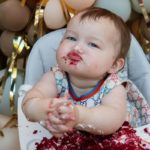 Advertisements
This little cutie, Jupiter Franch, belongs to none other than Ashley Tisdale of High School Musical fame. Tisdale is all grown up and married to Christopher French. She gave birth to their daughter in 2021 and has been chronicling her motherhood journey on social media.
She posted this sweet pic of their bundle of joy on her first birthday, and wrote: "It's Jupiter's world and we're all just living in it🪐I still can't believe my baby turned one this week!!! We had to go all out to celebrate my favorite girl ❤." That baby knows how to strike a pose for the camera!
Advertisements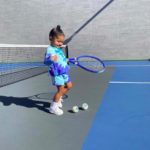 Advertisements
Kylie Jenner started on Keeping Up with the Kardashians when she was just a little girl, so it's been fun to watch her grow up in front of the cameras. She has two children with rapper Travis Scott, Stormi, and a baby boy whose name has yet to be announced.
Jenner always shares the most precious pics of Stormi and this has got to be one of the cutest. She posted a photo of her little girl playing tennis on Instagram, along with the short-and-sweet caption, "bestie." We can't get over how stylish Stormi is, even when she's just hitting a few balls around at home.
Advertisements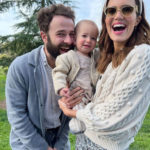 Advertisements
Mandy Moore found love with her husband, Taylor Goldsmith, and they share a son, August Goldsmith. The This Is Us actress takes to social media to share sweet family photos with her fans. We were lucky enough to be included on a very special occasion, August's first birthday.
Moore posted a group photo with her hubby and little boy and wrote: "1st birthday party was a hit! Making memories and so full of love and cake. #thisisgus" It's so nice to her glowing as a mom and August is just the cutest thing. We give this snap an "A" for adorable.
Advertisements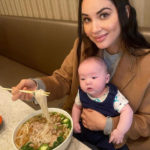 Advertisements
Olivia Munn's love life has been a bit of a rollercoaster, so we're so thrilled that she settled down with actor John Mulaney. The couple has a young baby, Malcolm Mulaney, who looks so much like his mommy.
Munn seems to be settling into motherhood nicely and isn't shy about posting pics of her little guy's milestones on social media. Everyday moments pop up from time to time on Instagram, like this photo of Munn and baby dining out together, along with the caption, "Crazy phở you 🍜. Malcolm goes to his first restaurant."
Advertisements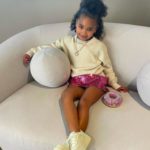 Advertisements
Khloe Kardashian shot to fame in the reality series Keeping Up with the Kardashians. Viewers have watched her many ups and downs over the years. From her heartbreaking divorce from Llamar Odom to her shaky relationship with Tristan Thompson, she's been through it all in the public eye.
Fans have stuck with her through thick and thin, so it's extra gratifying to see her post happy pics of her daughter, True. This little girl seems to light up any room and is more fashionable than we'll ever be. Just look at this cute Instagram pic that Khloe posted. She wrote: "Nothing sweeter than my girl."
Advertisements
8

Frances And Winnie Fallon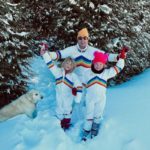 Advertisements
Celebrity moms aren't the only ones who like to show off their kids on social media. The host of The Tonight Show Starring Jimmy Fallon loves to let everyone see his adorable kids, proving that dads can be just as proud as mamas.
Fallon posed for this fun photo with Frances and Winnie while on a ski vacation and they got all matchy-matchy in retro ski suits. He wrote the caption: "I could tell how embarrassed my wife was by our matching snowsuits by how fast she immediately volunteered to take the photo." We love that the dog photobombed the pic. Too cute!
Advertisements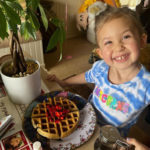 Advertisements
When it comes to adorable Hollywood kids on social media, it doesn't get much saucier than Kate Hudson's daughter, Rani Rose. The actress has the sweetest relationship with her little girl and you can just feel the love through every photo Hudson shares of Rani on Instagram.
Just look at this priceless photograph of Roni looking very proud of the waffle she would have made herself. Hudson wrote the caption beside the pic, "Someone's real proud of the waffle she made 🥰🧇🍓." We couldn't resist that face, to be honest.
Advertisements
10

Bronx, Jagger, and Ziggy Simpson-Ross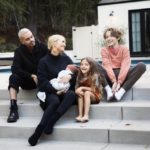 Advertisements
Ashlee Simpson is another Hollywood mom that grew up in the public eye. She starred in her own reality series, The Ashlee Simpson Show. These days, she has married Evan Ross and is the mom of three cool kids, Bronx, Jagger, and Ziggy.
She posted the loveliest family photo of the entire fam on Instagram and wrote a tribute to her oldest son, "Happy Birthday, Bronx! You are the coolest, kindest, deep, soulful kid (almost teen) and I am so lucky to be your mom! We love you so much! Happy twelfth 🥳," she wrote.
Advertisements
11

Harper And Gideon Burtka-Harris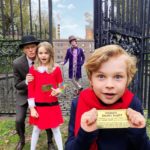 Advertisements
Neil Patrick Harris and his husband, David Burtka, have two delightful children, Harper and Gideon. Honestly, they look like the most fun family on the planet and their Halloween costumes are always top-notch. He posted a pic of them dressed as the characters from the film Willy Wonka & the Chocolate Factory.
He wrote: "Oompa, Loompa, doompety doo! We've got a family photo for you! This year, may you invent an October 31st that is spirited, safe, and scrumptious. Invention, my dear friends, is 93% perspiration, 6% electricity, 4% evaporation, and 2% butterscotch ripple. Happy Halloween from the Burtka-Harris Crew!"
Advertisements
12

Tiana And Jasmine Johnson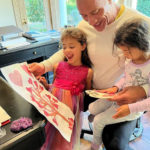 Advertisements
Dwayne Johnson is a big dude who is known for taking on manly roles in films like Hobbes & Shaw and The Fast & Furious franchise. So, it's especially heartwarming to see him being so sweet with his two youngest daughters, Tiana and Jasmine.
The man, also known as "The Rock," shared this picture of him receiving Valentine's Day gifts from his girls, along with the caption, "These two little tornadoes 🌪 busted into my office with their special Valentine's Day surprises for Daddy ❤️💗 💝💘💓" Now that is one good daddy. We can't wait to share what else he shares about his family.
Advertisements
13

Ace, Maxwell, and Birdie Johnson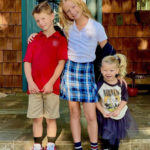 Advertisements
Jessica Simpson burst onto the scene first as a singer and then on the reality show The Newlyweds with her ex-husband, Nick Lachey. She moved on with her hubby, Eric Johnson. They have three super cute kids, Ace, Maxwell, and Birdie.
Simpson loves being a mom and often shared pics of her little ones on social media. Like this photo she shared on Instagram of all three of her kids standing on their front porch steps. She wrote the caption, "My best friends!!" It's hard to believe how much Maxwell and Ace have grown, and how darling is Birdie's little Nirvana t-shirt? Swoon.
Advertisements
14

North, Saint, Chicago, and Psalm West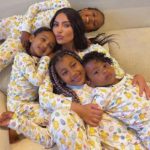 Advertisements
Kim Kardashian is most known for being the star of the reality series Keeping Up with the Kardashians. She has four children with her ex-husband, Kanye West, and she loves to give fans a glimpse into their lives on social media. It's a wonder she can keep up with all of them.
Kardashian shared an intimate moment with North, Saint, Chicago, and Psalm when they all piled on top of her in matching Easter pajamas. She wrote the caption: "Easter with my bb's 🐣🐰🥚" That's one cute snuggle session if you ask us. We hope the Easter Bunny brought them lots of treats.
Advertisements
15

Levi, Veda, and Livingston Alves McConaughey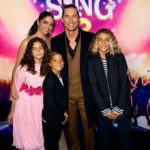 Advertisements
Matthew McConaughey and his wife, Camila Alves, seem to be living the dream with their three children, Levi, Veda, and Livingston. The kiddos have grown up in the public eye and McConaughey likes to post pics of their life on social media.
Like this photo that he posted on Instagram of his brood on the red carpet for the film Sing 2. He wrote: "Family affair at #Sing2 premiere @singmovie." McConaughey did the voice of the character Buster Moon in the animated movie. Which must have been so cool for his kids to see on the big screen!
Advertisements
16

Everly Tatum And Callum Kazee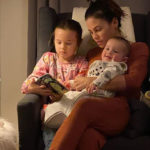 Advertisements
Jenna Dewan got her start when she starred in the movie Step Up with her ex-husband, Channing Tatum. While their marriage didn't last, they do share a daughter, Everly. Dewan moved on with Steve Kazee. They have a son, Callum.
So, like many of us, Dewan has a blended family, and things seem to be going swingingly for her. She posted this totally relatable post on Instagram of her posing with both kids while reading a bedtime story to them. She wrote: "Motherhood through my eyes 🤍 Being a mom has opened up an entirely new world for me full of deep connection, joy and love like I've never experienced in my life… I swear sometimes I feel like my heart could actually burst, I love them so much. […]"
Advertisements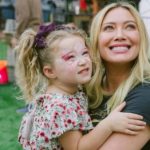 Advertisements
Who remembers when Hilary Duff was just a teenager on the series Lizzie McGuire? She is now a full-grown woman and mom to three kids, Luca, Banks, and Mae. While she often shares pics of all of her kiddos on social media, we couldn't pass up this sweet photo of her posing with Banks at her third birthday party.
Duff wrote a cute tribute to the birthday girl, saying, "A little farm/bounce/paint/treat/partay (finally) for Banks🐻 big 3!!! Love you my boss. Thanks for keeping this whole family on our toes♥️😊✨💖." We just love her little butterfly face painting.
Advertisements
18

River Rose And Remington Blackstock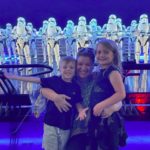 Advertisements
Kelly Clarkson became a household name when she won the first season of American Idol. She has two kiddos, River Rose and Remington, with her ex-husband, Brandon Blackstock. The singer and talk show host often shares photos of her cuties on social media.
She posted a family vacation pic to Instagram of the fam at Disney World along with the caption, "These aren't the droids you're looking for." We had so much fun at Disney World! All the rides were amazing but oh my gosh, y'all, Pandora, and the Star Wars rides are where it's at! Thank you for a magical vacation, Disney ❤️."
Advertisements
19

Monroe and Moroccan Cannon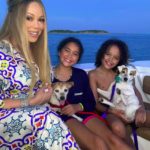 Advertisements
Mariah Carey is a superstar diva who has a set of twins with her ex-husband, Nick Cannon. She often shares photos of her twins living a life of luxury. From vacation pics of exotic places to this photo of the kiddos on a yacht, it's always fun to see what they're up to on social media.
Carey posted this pic as a tribute to their 11th birthday, and these two just look like they're so sweet. "Happy 11th birthday to the two greatest blessings of my life. Roc and Roe…Always be my babies! …DEMKIDS!!!! I LOVE YOU FOREVER! Mommy ❤️," she wrote.
Advertisements
20

Alabama and Landon Barker, Atiana De La Hoya, and Reign Disick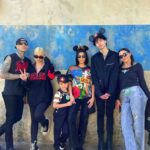 Advertisements
Speaking of blended families, Kourtney Kardashian, of Keeping Up with the Kardashians, posted a pic of a fun day at Disneyland with her soon-to-be step kids, Alabama and Landon Barker, and Atiana De La Hoya. Her youngest son, Reign Disick, posed for the camera as well.
Not shown in the photo were Kardashian's other two children, Mason and Penelope. The future fam looked to be having fun at the happiest place on earth. She wrote the caption, "Grateful for all of the blessings God has given me on my 43rd year of life 🥰😊❤️‍🔥 heart full." Aw… We love seeing Kourt so happy.
Advertisements