Most Paused Movie Scenes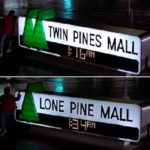 Advertisements
One of the most iconic moments in the cult classic Back to the Future (1985) is when the protagonist Marty McFly travels back in time and accidentally knocks down a tree in the middle of a farm. This seemingly insignificant event ends up having major consequences for the future, including a change in the name of the mall.
In the original timeline, the mall was called Twin Pines Mall, named after the twin pine trees that stood at the entrance. But when Marty goes back in time and accidentally runs over one of the pines with his time-traveling DeLorean, the name of the mall changes to Lone Pine Mall.
This subtle detail is a clever nod to the film's time-traveling narrative and shows the ripple effects that even the smallest actions can have on the future.
Advertisements