The Most Paused Movies Scenes Of All Time
Advertisements
The Wolf of Wall Street has many memorable scenes, but the most paused moment is when Margot Robbie's character seduced Leonardo DiCaprio's character in the nursery. It's a racy scene, but Robbie revealed it was far from sexy to film it.
"It doesn't come across when you're watching the movie, but in reality, we're in a tiny bedroom with 30 crew crammed in," she told Porter magazine. "All men. And for 17 hours I'm pretending to be touching myself. It's just a very weird thing and you have to bury the embarrassment and absurdity, really deep, and fully commit."
Advertisements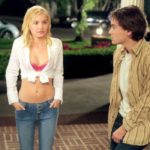 Advertisements
Elisha Cuthbert dazzled audiences in the raunchy film The Girl Next Door. It tells the story of a boy losing his innocence and a young lady trying to regain hers. There are several memorable shots from the movie, but only one scene has viewers hitting pause to get another look.
In the movie, Cuthbert and Emile Hirsch take a dip in the neighbor's pool and she steps into the house soaking wet. Eagle-eyed viewers grab the remote and stop the scene so they can feats their eyes on Cuthbert in all her dripping glory.
Advertisements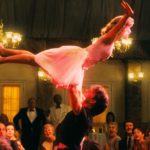 Advertisements
One of the iconic movies from the 1980s is Dirty Dancing, which has another Hollywood scene that has everyone hitting pause on the remote control. The famous lift, when Patrick Swayze lifted Jennifer Grey over his head, is one of the most stopped moments of all time. Grey reflected on the scene during an interview with The Guardian.
"I only did it on the day I shot it," said Grey. "Never rehearsed it, never done it since. I don't know how all these people who reenact it have the guts to throw themselves into the arms of anyone other than Patrick Swayze. It's insane!"
Advertisements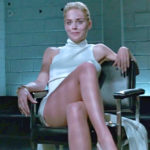 Advertisements
There are some scenes from films that are so epic they're forever talked about. Sharon Stone left little to the imagination during an interrogation scene in the thriller Basic Instinct. In the movie, Stone's character uncrosses her legs to expose herself and creates a "blink and you'll miss it" moment.
The risque move caused quite a stir when the film was released in 1992. Stone later revealed that the director tricked her into it, which the director has denied. Either way, people are still curious about getting a look and pause the infamous moment to this day.
Advertisements
5

Fast Times At Ridgemont High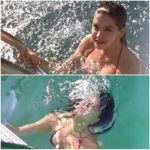 Advertisements
Fast Times at Ridgemont High contains a highly paused scene, thanks to Phoebe Cates and a red bikini. The moment shows Cates climbing out of her friend's swimming pool in slow motion and undoing her bikini top, in the imagination of Judge Reinhold's character, Brad.
So how did Phoebe Cates feel about filming the sultry scene? She told News.com.au, "the topless scene in Fast Times at Ridgemont High was funny, which made it easy." She added, "In this business, if a girl wants a career, she has to be willing to strip. If you've got a good bod, then why not show it?"
Advertisements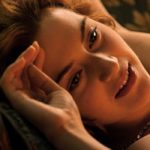 Advertisements
James Cameron's 1997 blockbuster, Titanic, made quite a splash during its release, so it's not shocking that it is home to another of the most-paused scenes in history. The moment where Rose (Winslet) takes off her clothes and asks Jack (Leonardo DiCaprio) to draw her like one of his "French girls".
Movie-goers stop the film to see a very nude Winslet, who told The Sun at the 2012 premiere of the re-release, "I wish I hadn't shown so much flesh, but I was young and I knew I had things to prove."
Advertisements
Advertisements
Who could forget when Tobey Maguire and Kirsten Dunst kissed upside-down in the rain in 2002's Spider-Man? It can be added to the list of most paused scenes, but in reality, the shoot was far from romantic. The filming conditions were less than desirable for both of the actors.
Maguire told Deseret News, "There was rain pouring up or down my nose," he said. "I couldn't breathe and I was gasping for breath out of the corner of Kirsten's mouth. Poor girl. I was giving her mouth to mouth rather than kissing her."
Advertisements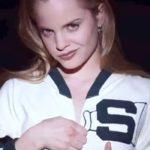 Advertisements
The 1999 American Beauty has one of the most memorable scenes in modern cinematic history. Kevin Spacey's character, Lester, takes notice of a cheerleader, played by Mena Suvari, as he sits at a crowded basketball game in a crowded school gym.
As he stares at her, she stands in a spotlight as the surrounding crowd fades to black. Suvari then dances seductively before unzipping her jacket, only to have rose petals spill out. This scene has mesmerized movie-watchers for years, making this moment a favorite place for viewers to pause.
Advertisements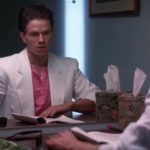 Advertisements
Paul Thomas Anderson's 1997 hit, Boogie Nights, chronicled the rise and fall of the adult film star Dirk Diggler. The film offers many unforgettable moments, but there is one scene in particular that stands out from the rest.
The most-paused scene is when Mark Wahlberg is sitting in a changing room. He stands up and gives viewers a peek at his member, which had been discussed many times in the movie. It's shocking and people are getting a better look at what he's packing in his pants. Don't worry, Wahlberg wore a prosthetic for the scene.
Advertisements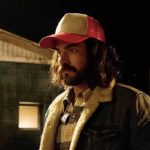 Advertisements
Some film cameos have fans pushing the pause button because they can't believe their eyes. They featured one of the best cameos in a film in Bohemian Rhapsody. Adam Lambert starred as a trucker that catches Freddie Mercury's attention when he's exploring his sexuality.
Lambert was hardly recognizable in the role as he wore a bushy wig, trucker hat, fake mustache, and plenty of make-up to disguise himself. He posted a pic of him from the film on Instagram, along with the caption, "Who is he!? #BohemianRhapsodyMovie is available for digital download on 1/22!"
Advertisements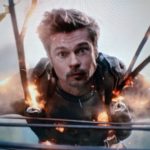 Advertisements
A quick pause and you may have missed Brad Pitt's cameo in Deadpool 2. His appearance at the very last moment of the film caught everyone off guard and turned it into one of the most paused moments of all time. He plays the Vanisher, who is an invisible character who is suddenly made visible.
Screenwriter Paul Wernick told Heat Vision about Pitt being cast, "We never saw Vanisher in the original script. He was always a mystery," Wernick said. "When he got tangled up…we just thought, 'Oh my god, what a perfect idea for a celebrity cameo.' And then we thought, 'Who is the hardest get in Hollywood? Let's call him.'"
Advertisements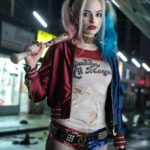 Advertisements
Margot Robbie's debut as the Joker's sidekick, Harley Quinn, gave viewers a reason to pause. One particular moment in the 2016 film Suicide Squad was so captivating that people stopped their DVR and DVD players to get a better look. Quinn lifts up her shirt to expose a red bra.
Robbie revealed to NYT how she felt about wearing such a revealing outfit in the film. "As Margot, no, I don't like wearing that. I'm eating burgers at lunchtime, and then you go do a scene where you're hosed down and soaking wet in a white T-shirt, it's so clingy and you're self-conscious about it," she said.
Advertisements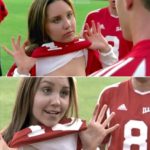 Advertisements
Amanda Bynes was just a fresh-faced young lady when she played Viola, a girl posing as her twin brother at school, in the 2006 film She's the Man. In one scene, Bynes lifts her shirt to prove that she's not a man, and it appears that every dude watching from their couch hit the pause button for the big reveal.
Much to their chagrin, the movie didn't show her body, but that didn't stop viewers from grabbing the remote control, just to be sure. Bynes later told People magazine that she fell into a depression after making the movie, because she didn't like how she looked as a boy.
Advertisements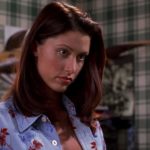 Advertisements
American Pie is the quintessential teen 90s movie and has one moment that has all the fellas hitting pause. In the scene, Jim (Jason Biggs) spies on an exchange student, Nadia (Shannon Elizabeth). He sets up a webcam, and he and his friends watch her change clothes.
According to Page Six, Elizabeth reflected on filming the scene, which was shot in a warehouse with only one sound guy. "Just me and the boom guy, and trying to make jokes with the directors and make light of it because if I wasn't nervous, maybe they wouldn't be so nervous," she said. "I just tried to make it no big deal."
Advertisements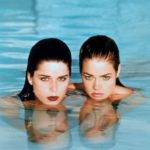 Advertisements
Critics panned Wild Things, but one racy moment will forever grip movie-watchers. Denise Richards and Neve Campbell have an intimate moment in a swimming pool, and viewers are stopping the film mid-kiss to watch the action.
Campbell opened up to Rolling Stone about the steamy scene. "I got to kiss Denise in the film," she said. "It was fun. We just sorta went in and did it. Actually, we mixed margaritas and brought a bottle of wine in my trailer and got drunk first," she added. That scene will forever be linked to what was otherwise a terrible movie.
Advertisements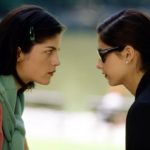 Advertisements
The cult classic Cruel Intentions is filled with pause-worthy moments, but one scene in particular had everyone talking when it was released in 1999. The action appears when Kathryn (Sarah Michelle Gellar) teaches Cecile (Selma Blair) how to kiss. It's a tantalizing scene that is one of the most-paused moments in the film.
Gellar spoke to Us Weekly on the 20 year anniversary of their little kissing lesson and had fond memories of shooting the scene. "Selma's a great kisser. I mean, I'll tell you, her skin is soft, she smells great. It was a wonderful day," Gellar said.
Advertisements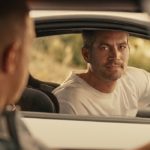 Advertisements
The Fast and Furious franchise suffered a horrible loss when Paul Walker, who played Brian O'Conner, passed away unexpectedly in 2013. The directors decided to continue production despite losing Walker and gave him an emotional send-off in the "Last Ride" scene in Furious 7. Many people pause the film at that moment to get one last look at him.
Vin Diesel told NME about the emotional scene, "It might be the best moment in cinematic history. Not just in my career, but in cinematic history. Men around the world—everyone was able to cry—but men around the planet for the first time in history were able to cry together," he said.
Advertisements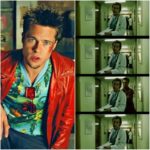 Advertisements
Fight Club fanatics know the exact spot to pause the movie to see the first flash of Brad Pitt's character, Tyler Durden, who is a figment of the main character's imagination. The scene unfolds when the narrator is talking to his doctor in a hallway. A blink-and-you'll-miss-it moment happens when Tyler flashes behind the doctor.
It's so unexpected and jarring that many movie-watchers have to rewind and pause the film, just to confirm what they're seeing. It's a moment that is synonymous with the movie, which is why we added Fight Club to this list.
Advertisements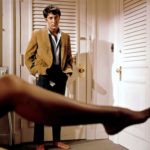 Advertisements
The Graduate is one of those timeless movies that has endured for over 50 years. Dustin Hoffman and Anne Bancroft delivered amazing performances in the film about a college-aged boy, Benjamin Braddock, being seduced by an older woman, Mrs. Robinson. One suggestive scene has everyone pushing pause.
The moment happens when Mrs. Robinson pulls Braddock into a private room and slowly removes her clothing. It's a scene that has stood the test of time and will forever be associated with the movie, making it the perfect candidate for the most-paused movie moment of all time.
Advertisements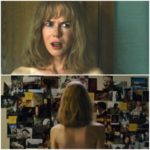 Advertisements
Nicole Kidman starred in the 2014 psychological thriller Before I Go To Sleep. She played Christine Lucas, a woman who suffers from anterograde amnesia and is forced to piece together her dark past. One moment in the movie makes people stop and look again.
The scene happens when Kidman wakes up to look at a collage of evidence on her wall. Lucky for viewers, the character sleeps in the nude, so movie-goers catch a flash of Kidman's backside. Many people pause the scene out of curiosity, making it the most paused moment in any Kidman film.
Advertisements
Advertisements
The Good Wife first appeared on our screens in 2009, starring Julianna Margulies as Alicia Florrick and Josh Charles as Will Gardner. From the beginning of the series, the attraction between these two characters was palpable, with viewers eagerly awaiting the moment when the romance would begin.
It wasn't until the season 2 finale that they finally got that long-awaited passionate kiss, which took place in an elevator after a hearty—and expensive!—dinner. After waiting so long for this kiss, we understand why this scene is one of the most paused in the history of television series!
Advertisements