Insane Celebrity Demands Written In Their Contract
1

Reese Witherspoon – Taking Home The Entire Wardrobe That Her Character Worebe
Advertisements
Reece Witherspoon played the iconic role of Elle Woods in the film Legally Blonde. This film first made it to theaters in 2001. In the film, Elle Woods was a sorority girl who adored fashion. When she gets dumped by her boyfriend, she decided to follow him to law school. She ends up getting accepted into the school and learns a lot about herself while she is attending. Before filming the movie, Witherspoon spent a lot of time learning everything there is to know about sororities and how they tend to act and function.
In case you weren't aware, Elle Woods has a very personalized wardrobe. From her pink mini skirts to the pink faux leather, everything is perfectly tailored to her character. Which explains why Whiterspoon made such a large demand when signing her contract for the film. She ended up taking home the entire wardrobe that her character wore, included 77 pairs of Jimmy Choo's.
Advertisements
2

 Samuel L. Jackson – Must Be Able To Play Golf Two Times A Week While Filming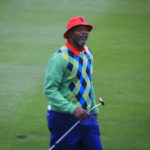 Advertisements
Samuel L. Jackson is one of the most popular actors of his generation. Films that Jackson has been a part of have grossed over $27 billion across the world. He played the character of Jules Winnfield in Pulp Fiction, which is an American crime film. He also played the character of Stephen in Django Unchained. This film is about a freed slave who sets out to rescue his wife from Mississippi. He has been in over 100 films, which is why he is the highest-grossing actor of all time.
Jackson loves golfing so much that he has it written in every contract. He must be able to play golf two times a week while filming any movie. He says, "Generally they either move me onto a golf course or I join a club so I can play there." No matter what, he gets the chance to play his favorite sport.
Advertisements
3

Cher – Must Have A Separate Room For Her Wigs Everywhere She Goes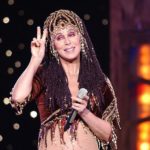 Advertisements
Cher is known for her over-the-top outfits and her amazing voice. She is known for pushing fashion boundaries in times where they weren't accepted yet. In the '70s, she was judged for having her belly button exposed on CBS, which was not considered appropriate at the time. In 1972, Cher showed up to the Academy Awards in an island princess-inspired look while the rest of the attendees had on tuxedos and evening gowns.
Since Cher is known for her perfectly curated looks, it's no surprise that she requested a separate room for her wigs everywhere she goes. In the room, there must be one large table and three chairs for her to display her wigs. Wigs are definitely not cheap, and knowing Cher, these wigs probably cost a fortune. I mean, it only makes sense for the icon to have a room for her wigs to be able to keep them safe.
Advertisements
4

Lady Gaga – Requested A "Glam Rock" Style Decoration For Her Dressing Room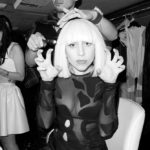 Advertisements
Lady Gaga performed her first show of the Monster Ball Tour in November 2009. This was only her second time on tour and yet fans were eager to get their hands on a ticket. The concert was announced after Kanye West had to cancel their joint tour together, and only four days after releasing The Fame Monster album. The concert began in 2009 with Gaga performing 201 shows with 119 in North America, 15 in Oceania, 7 in Asia, and 63 in Europe.
Lady Gaga has been known to go in her own direction when it comes to fashion. From a full-on meat suit to an actual star costume, we have seen it all. So, it's no surprise that she wanted her mannequins to go all out as well. For the star's dressing room, she requested that it be decorated in a "Glam Rock" style. This meant black and silver satins, rock band posters from Queen, Bowie, and Elton, as well as a mannequin. But not just any mannequin… This one had to come with "fluffy pink pubic hair" to really appease the singer. For any normal person, this would be absurd. But oh, no. Lady Gaga is no normal person, and we mean that in the best way possible.
Advertisements
5

Uma Thurman – Requested The "More Favorable Dressing Rooms"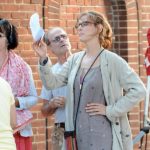 Advertisements
In the film Eloise In Paris, Uma Thurman plays the character of the Nanny. She is the nanny to the character of Eloise. The movie is based on the children's book written by Kay Thompson and is about Eloise setting off for Paris Fashion Week. While in Paris, she finds herself alongside one of Europe's top designers in search of a stolen dress.
Prior to filming the movie, she made only one small request that stood out. In her clause, she states that "No other cast members [may] receive more favorable dressing rooms." Other than the dressing room request, she also made it very clear to the producers that they were not allowed to use her name or likeness in merchandising deals unless she agreed with them. Which I think this part should be in every actor's list of demands. Then again, some of us don't have the means to pick and choose how we make our money.
Advertisements
6

Garry Marshall – Hector Elizondo Must Act In All His Movies
Advertisements
Garry Marshall was an American writer and producer. He is known for multiple productions such as A League Of Their Own. This film is about two women who join the first female professional baseball team. Another movie that Marshall is known for is Pretty Woman. This movie is about a man who falls in love with a prostitute.
After Marshall first met Hector Elizondo, he began to cast him in every film he made. Even if Elizondo wasn't too amused about the parts, he could not refuse to take them. Apparently, Marshall had a stipend for every film he produced that he would be casting his friend for a role in the movie.
Advertisements
7

Julianna Margulies – Must Wear A Wig
Advertisements
Julianna Margulies plays the character of Alicia Florrick in the series Good Wife. In the series, Alicia is a wife and mother finding her way back into the workforce after her husband is sent to jail following a sex and political scandal. She ends up returning to work as a litigator. She finds it difficult to try and prove herself after being out of the industry for so long.
Margulies has thick, naturally curly hair; which is why she opted to wear a wig for the television series. For the character of Alicia, the producers wanted her to "look coiffed and have straight hair." Margulies said, "Oh my God, 22 episodes a year, 14 hours a day, and if the weather changes my hair starts growing like a Chia pet." Anyone with naturally curly hair understands that it is a long process of getting your hair to be straight and stay that way for long periods of time. Oh, and the wig that she wears for the series is only $10,000.
Advertisements
8

Nicolas Cage – Production Must Use A Real Bat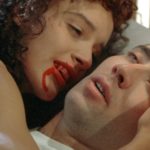 Advertisements
Nicolas Cage played the role of Peter in the film Vampire's Kiss. This movie came out in 1989 and is about Peter navigating the city and trying to make money and meet as many women as he can. He ends up bringing home a girl who bites him on the neck and he thinks he has turned into a vampire. He ends up growing fangs and hunting women.
For the film, Cage had one very specific demand. During the movie, there is a scene where a bat flies into his apartment. He was set on having a real bat in that scene so it would make it look more realistic. The director of the film had a very heated discussion with Cage about how it would be safer for the cast and everyone else for the bat to be fake. Although Cage didn't get his bat for the scene, he probably found another way to be in the presence of one.
Advertisements
9

Eddie Murphy – Must Get New Socks And Underwear For Each Wardrobe Change
Advertisements
Eddie Murphy has been in multiple successful movies, one of these being Coming To America. In this movie, Murphy plays, among others, the character of Prince Akeem. The prince flees his country to avoid an arranged marriage to find a partner that will love him for who he is, instead of his title. He has also played roles in the movies The Nutty Professor, Dr. Dolittle, Tower Heist, and Norbit.
Although the films he has been in were successful, people began to wonder what kind of person he really was. This is because the actor has demanded that he get new socks and underwear for each wardrobe change. He refuses to wear the same underwear or socks more than once and even refuses to use a toothbrush twice. It seems pretty absurd that Murphy is so wasteful with certain products.
Advertisements
10

Van Halen – Asked For A Bowl Of M&M's, But No Brown Ones
Advertisements
In 1974, Eddie Van Halen and his brother formed the band Van Halen. Gene Simmons, a guitarist for the band KISS, immediately jumped at the opportunity to fund and produce the first recording session for Van Halen. Since then, the band has been known for its hard rock tunes across the world. At the beginning of their career, they had become one of the most profitable bands in the recording industry and released multiple platinum albums.
One request the band made is for their backstage snacks. The band wanted a bowl of M&M's; only they refused to have any brown ones in the mix. This seems like a pretty outrageous request, even for them, but it turns out that the preposterous request was actually to see if the promoter had read the band's contract. David Lee Roth said that "If I came backstage, having been one of the architects of this lighting and staging design, and I saw brown M&Ms on the catering table… we would have to do a serious line check."
Advertisements
11

Jennifer Lopez – Requested A Helicopter On Standby And A Speed Boat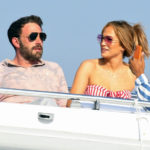 Advertisements
The World Music Awards began in 1989 and was created to honor the most popular artists from around the world. Winners of the awards are voted by the fans of the artists. There is no committee or juries to help decide who wins; it is solely based on the popularity of that artist. The nominees for the awards are determined by researching who had record sales throughout the previous year. There are two specialty awards during the show—the Legend Award and the Diamond Award. The Legend Award is given to someone who has made an outstanding contribution to the music industry, and the Diamond Award is given to someone who has sold over 100 million records throughout their career.
At the 2010 World Music Awards, Jennifer Lopez showed her diva side with an irrational request for her performance. Although to the performer, it probably made sense at the time. Since the award show was taking place in Monaco, JLo requested a helicopter on standby and a speed boat fully equipped with luxurious seats. She also requested a $5000 dollar pair of diamond-encrusted headphones to drown out the noise of said motorboat. No regular paid or headphones would suffice, obviously.
Advertisements
12

Beyoncé – No Junk Food For Anyone Involved In Her Tour
Advertisements
The Mrs. Carter World Tour was the 5th concert tour performed by Beyoncé. The tour began in April 2013 and ended in March 2014. She performed 132 shows in Europe, North America, and South America. The tour ended up making over $200 million in box office ticket sales. The Mrs. Carter World Tour was set to be one of her biggest shows that she had performed with bigger stages, more dancers, more lights, and all-around, a bigger performance.
Before the tour, Beyoncé did not shy away from making specific requests to make sure she could perform her best. Among a long list of demands, the singer requested that the entire staff only wear 100% cotton clothing due to her allergies. She also requested that there would be no junk food for everyone involved, a new toilet seat, and titanium drinking straws so she could sip on her alkaline water that was kept at 21 degrees; no warmer and no colder. Possibly the most absurd request that the singer made was hand-carved ice balls to "suck on." They must be carved by hand, nothing from the convenience store would be accepted.
Advertisements
13

Will Ferrell – Requested A 15′-20′ Fake Tree On Wheels
Advertisements
Will Ferrell played the character of Jackie Moon in the 2008 comedy Semi-Pro. In the movie, Jackie Moon uses his earnings from a popular song he made to fund a basketball team of his own, the Flint Michigan Tropics. His players seemingly end up being one of the worst teams in the league and face becoming dropped from the league unless they manage to win a game.
Although we know the legendary Will Ferrell to appear in comedy-based films, his requests for this movie were anything but humorous to the actor. You may laugh out loud when you hear his demands, but Ferrell was completely serious about them. He requested that he have an electric three-wheel motor scooter, a six-foot-high set of stairs on wheels, a 15′-20′ fake tree on wheels, and a rainbow on wheels, which could be painted on a canvas. Who knows the actual reasons for these items? I mean, it is Will Ferrell, after all.
Advertisements
14

George Clooney – Requested A Lot With A Private Basketball Court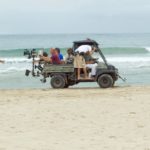 Advertisements
George Clooney starred in the 2013 film Gravity. In the film, Clooney plays Matt Kowalski, who is a veteran astronaut. He and Dr. Ryan Stone (Sandra Bullock) begin to set out for a shuttle mission when they are instructed to abort their mission due to an incoming Russian missile. They weren't able to get out of the way in time, and their entire crew ended up dying from the debris that damaged the shuttle. They try to navigate their way through space to make it back to earth.
Clooney is used to the finer things in life and refused anything less while filming Gravity. He demanded that his lot, while filming, come with a private basketball court, garden, hot tub, and a beach hut that was custom made. These demands cost the film around $125,000 for his specific requests. Even though he had all of these amenities at his own home, it was clearly needed for him to film the movie. Who doesn't need a custom-made beach hut and private basketball court?
Advertisements
15

Tom Cruise – Required To Keep 50 Custom-Made G-Strings On Set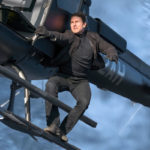 Advertisements
Tom Cruise is one of the highest-paid actors in the world. He has won three Golden Globes and has been nominated for multiple Academy Awards. He's starred in movies such as Top Gun, Mission: Impossible, and American Made. At the age of 14, Cruise decided to take seminars to become a priest, but that quickly ended. His love of acting began when he was cast as the lead role for his school's production of Guys and Dolls.
Tom Cruise is by no means a boring man. He is known for his action-packed films and lifestyle, but unbeknownst to many, he is also a man who refuses to wear anything other than a g-string during his stunt scenes. His wardrobe staff is required to keep 50 custom-made thongs on set so that he can always have a fresh pair. Cruise prefers the thong to regular underwear because they are "comfortable and flexible" when he is performing any action sequences.
Advertisements
16

Paris Hilton – Requested Grey Goose Vodka And Live Lobsters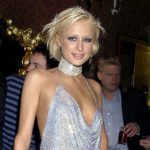 Advertisements
Paris Hilton was cast in a cameo role in the 2010 film The Other Guys. The scene with Hilton's appearance was cut, but ultimately made it onto the DVD. In the scene, Mark Wahlberg's character shoots Derek Jeter in a helicopter crash. He saved Paris Hilton, although he wasn't exactly sure who she was at the time. In the movie, she played herself and it was kept very private until the movie began filming.
Before she made her appearance on set, Hilton had a three-page long list of demands. Mrs. Hilton is no stranger to the party life, and her request for Grey Goose Vodka came to no one's surprise. Alongside her vodka demand, she also requested that her trailer come with live lobsters. These lobsters were not meant to be pets. Instead, she wanted live lobsters so that she could have someone prepare them fresh for her whenever she got hungry. It would make more sense for Hilton to just eat beforehand since she was only filming for one day, but who are we to judge her eating habits.
Advertisements
17

Will Smith – Requested An Extra Trailer For His Gym Equipment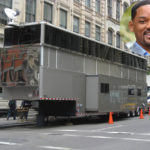 Advertisements
Will Smith played Agent J in the 2012 film Men In Black III. In this action-packed Sci-Fi movie, Smith must find a time-traveling device. The device is required so that he can go back to 1969 to find Agent K. He does this because the alien Boris escaped and went back in time to kill K. He must get to K before Boris kills him to help save the fate of the planet.
Mr. Smith did not like the fact that he wouldn't be able to get his workouts in during the duration of shooting the movie. To fix this, he demanded an extra trailer just for his gym equipment. Just one 53 foot long double-decker trailer was just not enough; he had to have two. Not only did the actor have two large trailers while filming, but he also rented a five-bedroom apartment just blocks away from the set. The apartment had 6.5 bathrooms and cost around $25,000 per month.
Advertisements
18

Justin Bieber – Should Only Be Eating Meals That Are Named After His Own Songs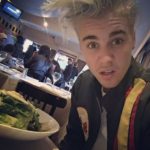 Advertisements
In 2017, Justin Bieber spent 4 days in India for his Purpose World Tour. This tour was his third concert and started on March 9, 2016, in Washington and ended July 2, 2017, in the UK. Bieber performed at 162 locations in total, with 78 venues in North America, 5 in Asia, 61 in Europe, 5 in Oceania, 11 in South America, and 2 in Africa. He was scheduled to perform 14 more times but ended up canceling due to anxiety, depression, and exhaustion.
While Bieber was in India, he came to the conclusion that he should only be eating meals that are named after his own songs. Here's how we imagine Justin Bieber's reaction to his meals that aren't one of his song names: "What do you mean this meal isn't named after my song? You did this on Purpose! Mark my words, you will be Sorry!" Or probably something similar.
Advertisements
19

Queen Latifah – Her Character Can't Die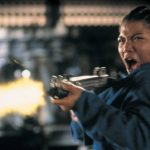 Advertisements
Queen Latifah starred in the film Set It Off, which was released in 1996. This film was about four women who suffered from poverty and set out to rob banks. These women are living through difficult situations that they feel justifies their actions. One woman was fired from her job after a bank robbery due to the fact that she knew one of the men. Another woman is a struggling single mother trying to provide for her child. The third woman is trying to provide the funds for her brother to attend school. At the end of the movie, Queen Latifah's character is killed.
After her character died in the movie, she decided to add a "death clause" to her movie contracts. She did this to ensure that if there would be a sequel to a movie she was in, she would be able to continue to play her character. Which makes sense, because who would want to be left out of a movie that they would otherwise be the star of?
Advertisements
20

Lindsay Lohan – Everyone Else Must Strip Down To Their Underwear
Advertisements
In the film The Canyons, Lindsay Lohan plays the character of Tara, who used to be a model and now spends her time partying. In the movie, Christian and Tara are seeing each other. Christian aims to produce movies during the day, and three-ways at night. Christian is planning on producing a new film with his assistant Gina's boyfriend, Ryan. In the movie, Tara ends up having an affair with Ryan while Christian has an affair with his yoga instructor, Cynthia. There is a scene in the movie in which Lohan makes an unusual demand.
While filming a steamy sex scene, Lohan began to feel insecure about having to be naked in a room filled with fully clothed producers and set managers. So, due to her feeling slightly embarrassed, she requested that everyone else in the room strip down to their underwear. If I was the only naked person in the room, I'd probably be feeling the same way. It only makes sense for everyone else to be naked too, right?
Advertisements