20 Celebrities Who Married Their Fans
1

Reese Witherspoon & Jim Toth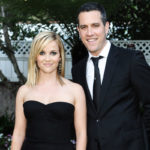 Advertisements
Met: 2010
Married: 2011
Children: Tennessee James Toth (born 2012)
Reese Witherspoon is easily one of the biggest names in Hollywood. She first made a name for herself in the entertainment scene in 1999 with her role in Cruel Intentions. At the time, she was just 23 years old. At the start of her career, Witherspoon definitely had eyes for other actors. She famously married Ryan Phillipe after meeting him on the set of Cruel Intentions, though their marriage only lasted seven years until their split in 2006. After that, Witherspoon dated another Hollywood star, Jake Gyllenhaal, for roughly two years.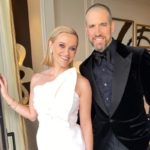 It seems Reese's love for fellow actors eventually died out. In 2011, she married Jim Toth, a practically unknown name in Hollywood. Rather than being an actor, Toth is a big talent agent who also happens to be a big fan of Reese's work. The two welcoming their son in 2012 and have been happily married for the past nine years with no signs of a separation on the horizon.
Advertisements
2

Ringo Starr & Maureen Cox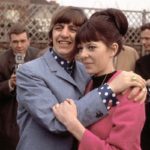 Advertisements
Met: Unknown, possibly 1964
Married: 1965
Children:  Zak (born September 13, 1965), Jason (born August 19, 1967), and Lee (born November 11, 1970)
Divorced: 1975
Maureen Cox basically lived out every teenage girl's dream. Like most people in the world at the time, she truly loved The Beatles. In fact, she developed a fairly intense crush on the band's drummer, Ringo Starr. But while most fans' crushes on famous musicians end in disaster, Maureen's story took a different turn. After attending as many of The Beatles' shows as she could, Ringo finally noticed Maureen. When Maureen was just 15 years old, the two struck up a relationship.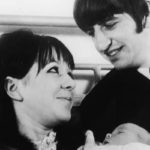 In early 1965, Maureen found out she was pregnant with Ringo's baby. They quickly got married and went on to have three children together. However, the couple didn't get the happily ever after they were dreaming of. Maureen had an affair with Ringo's bandmate, George Harrison, the guitarist of The Beatles. Ringo found out about the affair and the band broke up shortly after, in 1970. Ringo's divorce with Maureen was finalized in 1975, and she went on to live a quiet life outside of the spotlight until her death on December 30, 1994.
Advertisements
3

Billie Joe Armstrong & Adrienne Nesser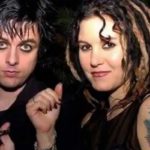 Advertisements
Met: 1990
Married: 1994
Children: Joseph Marciano Armstrong (born February 28, 1995), Jakob Danger Armstrong (born September 12, 1998)
It seems musicians falling in love with their fans isn't as uncommon as it sounds. In 1990, during Green Day's first tour, the band's singer Billie Joe Armstrong met Adrienne Nesser backstage. The two exchanged numbers and began communicating regularly. Billie fell for Adrienne quickly and even wrote "2000 Light Years Away" after their first kiss. However, things weren't meant to be. Even though Billie was rising to fame, Adrienne met and got engaged to another man. However, Adrienne's wedding never came to fruition, so Billie held out hope of a reunion.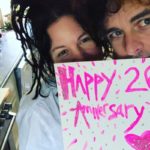 Finally, in 1994, the couple reconnected when Billie asked Adrienne to come out to California for him. Adrienne agreed, and the two were married two weeks later. Just a day after their nuptials, Adrienne found out she was pregnant. They two welcomed two children to their family over the next few years and are still happily married to this day.
Advertisements
4

Nicolas Cage & Alice Kim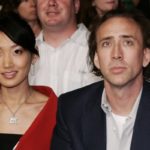 Advertisements
Met: 2004
Married: 2004
Children: Kal-el Coppola Cage (born October 3, 2005)
Divorced: 2016
Alice Kim was an aspiring actress living in Los Angeles in 2004. Like most struggling artists trying to make a living, Alice worked at an LA restaurant on the side as a server. One day, Nicolas Cage, one of Alice's favorite actors, walked in the door. At the time, Alice was just 19 years old. Even though Nicolas was roughly 20 years older than Alice, the pair connected immediately.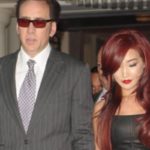 Two months later, Nicolas and Alice were engaged. They married later that year, making Alice Nicolas' third wife. A year later, the couple welcomed their first son. Alice's marriage to Nicolas also helped to expand her acting career. She starred in several films with Nicolas, including Next and Grindhouse. Unfortunately, the pair separated in 2016 after 12 years of marriage. However, they seem to maintain a fairly cordial relationship and are known to spend time together with their son.
Advertisements
5

Ruben Studdard & 

Surata Zuri McCants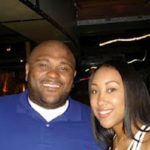 Advertisements
Met: October 2006
Married: 2008
Children: None
Divorced: November 2011
After Ruben Studdard won the second season of American Idol, his career took off. During one of his many appearances after the show, Ruben was signing CD for his many fans in a Walmart in Atlanta. While interacting with the fans, he met Surata Zuri McCants. He was so infatuated from the moment they met that he followed her around the store and asked for her number.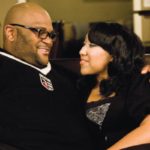 The couple's relationship took off from there and they married in 2008 in Studdard's hometown of Birmingham, Alabama. The couple went on to spend a few years together, but didn't welcome any children into their union. By November 2011, just three years after their wedding, Ruben and Surata decided their marriage wasn't working anymore. They filed for divorce, citing "irreconcilable differences," and went their separate ways.
Advertisements
6

Adam Shulman & Anne Hathaway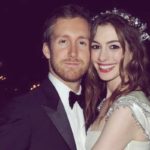 Advertisements
Met: November 2008
Married: September 2012
Children: Jonathan Rosebanks Shulman (born March 24, 2016), Jack Shulman (2019)
In 2008, Anne Hathaway broke off a four-year relationship with Raffaello Follieri. Thankfully, their romance ended just before Follieri was arrested for wire fraud. Five months later, Anne met Adam Shulman at the Palm Springs Film Festival. Anne was immediately attracted to Adam, who was already a big fan of hers. However, both Adam and Anne thought the other was in a relationship, so nothing came of their first meeting. That is, until six weeks later when Anne asked him on their first date, which just so happened to be a trip to New Orleans.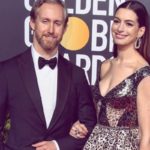 Thankfully, Adam said yes to the unique first date experience and their relationship took off from there. Anne and Adam dated for four years before tying the knot in a small Californian ceremony in September 2012. The pair welcomed their first son four years into their marriage, followed by another son in 2019. They are still happily together, and Anne continues to insist that she knew Adam was the love of her life from the moment she met him.
Advertisements
7

Matt Damon & Luciana Barroso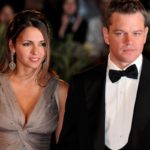 Advertisements
Met: 2002
Married: December 2005
Children: Isabella Damon (born June 11, 2006), Gia Zavala Damon (born August 20, 2008), Stella Damon (born October 20, 2010)
Although Matt Damon was a rising star in 2002, he chose to date a fan over his fellow movie stars. While filming Stuck On You in Miami Beach, Matt ended up at a bar with the crew after a long day of shooting. It just so happens it was the bar that Luciana worked at as a bartender. Matt claims he saw her across the room and knew he had to immediately speak to her, but Luciana's story is a little different. She said people were swarming the star asking for his autograph, so he jumped behind the bar to hide from the hungry fans.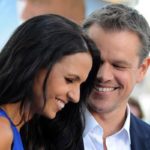 Instead of falling into a puddle at Matt's appearance, Luciana put him to work. He made drinks alongside her all night long, and their romance took off from there. The pair dated for a few years before getting married in a quiet New York City Hall wedding in December 2005. They've lived a quiet life since, welcoming three children into the world during their 18 years together.
Advertisements
8

Matthew Lewis & Angela Jones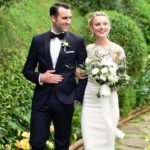 Advertisements
Met: January 2016
Married: May 2018
Children: None
Matthew Lewis is best known for his role as Neville Longbottom in the Harry Potter films. But while Neville wasn't the chosen one on screen, Matthew's Harry Potter role did lead him to his life partner. In January 2016, Matthew attended an event at The Wizarding World of Harry Potter in Orlando, Florida. There, he met Angela Jones, who was an event planner to Universal Studios Orlando. The pair hit it off right away and began a long distance relationship with Angela in Florida and Matthew in the UK.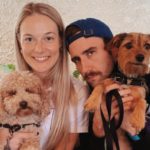 In November 2016, Matthew popped the question during a trip to Paris with Angela. She accepted his proposal, and the couple tied the knot two years later in a beautiful Italian wedding ceremony. The pair now lives together in Los Angeles. Although they don't have any children (yet), they seem perfectly happy in their life as newlyweds.
Advertisements
9

Hailey Baldwin & Justin Bieber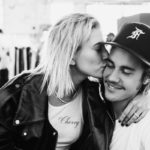 Advertisements
Met: 2009
Married: 2018
Children: None
Before Hailey Baldwin was truly famous, when she was simply the daughter of actor Stephen Baldwin, she was a huge fan of Justin Bieber and Selena Gomez. In fact, Hailey was rooting for Justin and Selena to be together! Hailey first met her future husband in 2009 at just 14 years old when her father introduced the pair to each other backstage at The Today Show. A few years later, in 2011, Hailey tweeted out her support for Justin's relationship with Selena, calling their romance a "teenage dream." By 2014, rumors were swirling about the pair being in a relationship, but they didn't confirm their status until early 2016.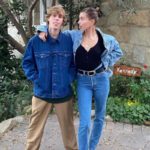 Alas, things can't be that easy when it comes to young love. Just six months after addressing their relationship, Justin and Hailey broke up. Justin continued his on-and-off relationship with Selena for the next two years, with no contact with Hailey. Then, in mid-2018, Justin and Hailey got back together. A few months into their reunion, Justin proposed. The pair tied the knot privately in late 2018 before holding a big wedding in September 2019. Though they've been open about struggling in their marriage, they seem happy together and in it for the long haul.
Advertisements
10

Julia Roberts & Danny Moder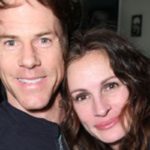 Advertisements
Met: 2000
Married: July 2002
Children: Hazel Moder (born November 28, 2004), Phinnaeus Moder (born November 28, 2004), Henry Daniel Moder (born June 18, 2007)
Much like Reese Witherspoon, Julia Roberts had a rich dating history at the beginning of her career. She's known for relationships with A-list actors like Keifer Sutherland and Liam Neeson. But at the turn of the century, Julia Roberts met Danny Moder. Danny was a cameraman working on the set of The Mexican, and he was already a huge fan of Julia. At the time, however, Julia was dating fellow actor Benjamin Bratt. Danny was also married to another woman. Still, that didn't stop this couple from getting together.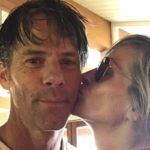 What started as an affair turned into a full-blown relationship. Julia stuck by Danny, even though she was labeled a homewrecker for ruining his marriage. In July 2002, Julia and Danny tied the knot. The pair have been happily married for the past 18 years, suggesting that Julia's lack of guilt about breaking up Danny's marriage was somewhat warranted. They share three children together and seem entirely content in their relationship.
Advertisements
11

Elvis & Priscilla Presley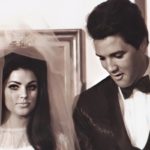 Advertisements
Met: 1959
Married: 1967
Children: Lisa Marie Presley (February 1, 1968)
Divorced: 1973
Elvis Presley was the biggest rock star in the world at the height of his fame. It's no surprise that his first wife, Priscilla, was completely obsessed with him. After all, most teenage girls at the time were. Elvis and Priscilla first met in 1959 when Priscilla visited her father at the German military base where Elvis was stationed. Despite their ten-year age difference, the pair clicked immediately. However, Priscilla's parents weren't too keen on the idea of her marrying a rock star. By 1962, however, Elvis won Priscilla's parents over and the young girl moved to Graceland to be with her famous love.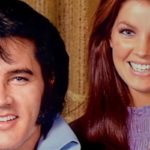 In 1967, Elvis and Priscilla tied the knot. Their marriage was secret, since Elvis' manager at the time didn't want his fans to desert the star because of his marital status. Just a year after the nuptials, Elvis and Priscilla welcomed their first child. However, the arrival of their daughter changed things for the couple. Elvis didn't give up his rockstar lifestyle, and Priscilla soon had enough of his infidelity. She filed for divorce in 1972 and the separation was finalized in 1973.
Advertisements
12

Jessica Sklar & Jerry Seinfeld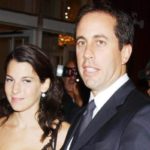 Advertisements
Met: August 1998
Married: December 1999
Children: Sascha Seinfeld (born November 7, 2000), Julian Kal Seinfeld (born March 1, 2003), Shepherd Kellen Seinfeld (born August 22, 2005)
Jessica Sklar's relationship with comedian Jerry Seinfeld actually has a very controversial beginning. In August 1998, Jessica met Jerry at a Reebok gym on the Upper West Side of Manhattan in New York City. A fan of his comedic work, Jessica was immediately smitten. However, there was one rather big impediment to their relationship: Jessica had married her first husband, producer Eric Nederlander, just two months earlier. However, Jessica later said that she and Eric were struggling even before they walked down the aisle. Even couple therapy wasn't enough to fix their many problems.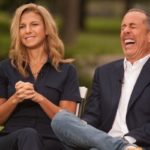 Despite her married status, Jessica and Jerry began dating. Jessica's then-husband, who she was separated from at the time, watched their romance play out in the press before his divorce was finalized. Just a year after their first meeting, Jerry and Jessica got engaged and quietly tied the knot in December 1999. Unsurprisingly, the media wasn't supportive of their union. Still, Jerry and Jessica went on to have a happy life together. Twenty years later, they share three children and still boast about their ability to laugh easily with one another.
Advertisements
13

Prince William & Kate Middleton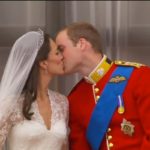 Advertisements
Met: 2001
Married: April 2011
Children: Prince George Alexander Louis of Cambridge (born July 22, 2013), Princess Charlotte Elizabeth Diana of Cambridge (born May 2, 2015), Prince Louis Arthur Charles of Cambridge (born April 28, 2018)
Before Kate Middleton was a well-respected member of the Royal family, she was just a teenage girl with a crush. At the age of thirteen, while Kate was in school at Marlborough College in Wiltshire, England, she decorated her walls with a poster of Prince William. Imagine her surprise when she ran into her idol a few years later when they both attended the University of St Andrews in Scotland. Kate recalls turning bright red when meeting her childhood crush and has said that she ran away, too shy to speak to him. However, that shyness eventually wore off and Kate and William struck up a friendship. After a few years, their friendship blossomed into romance after Kate broke up with the fellow St. Andrews student she was dating.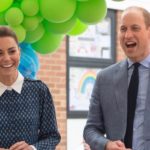 After college, Kate and William remained close and Kate started attending Royal events by William's side. Although they broke up briefly in 2007, they managed to reconcile and get their relationship back on track. In 2010, William proposed to Kate, officially inviting her into his family of royals. They tied the knot in April 2011 and have lived happily ever since. Despite constant rumors from the media of problems in their marriage, they've welcomed three children into their lives and continue to put forward a united front, no matter what else is happening in the Royal family.
Advertisements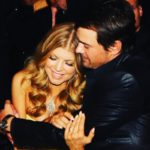 Advertisements
Met: 2004
Married: January 2009
Children: Axl Jack Duhamel (born August 29, 2009)
Divorced: September 2017
Although Josh Duhamel was famous all on his own, that didn't stop him from being a big fan of Fergie. In fact, Josh was practically obsessed with both the singer and her band, the Black Eyed Peas. While working on the show Las Vegas, Josh decided to use some of his entertainment power to his advantage. He convinced the producers to write the Black Eyed Peas into an episode so he could finally meet his celebrity crush. When Fergie arrived on set, however, Josh was completely starstruck. He couldn't think of anything better to say than, "You're hot."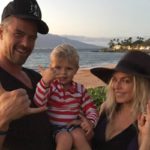 Thankfully, despite Josh's lack of game, things still worked out. The pair began dating immediately and got engaged three years later, in 2007. They tied the knot in January of 2009, but the celebration of their new marriage was marred by rumors of Josh's infidelity. Still, the couple stuck it out for another eight years before announcing their divorce in September 2017. Sources claim the couple simply grew apart, which ultimately led to the end of their relationship.
Advertisements
15

Tom Cruise & Katie Holmes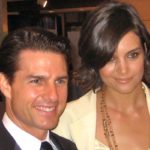 Advertisements
Met: April 2005
Married: November 2006
Children: Suri Cruise (born April 18, 2006)
Divorced: June 2012
Much like Josh Duhamel, Katie Holmes was another actress with a crush on a fellow famous person. In this case, Katie was totally enamored with Tom Cruise. She used to speak openly about her crush to her Dawson's Creek co-stars and even admitted to having a poster of Tom on her wall. In 2004, Katie told Seventeen magazine that she at one point truly thought she would marry Tom Cruise. Well, it looks like she wasn't wrong. Just a year later, Tom and Katie met in person for the first time and began dating.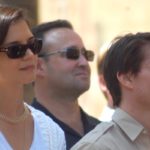 From there, Katie and Tom's relationship took off at warp speed. The couple was engaged just two months later. By October 2005, they announced they were expecting their first child. After Suri's birth in April 2006, the couple tied the knot in November 2006 during an expensive wedding ceremony in Italy. However, their relationship didn't last. Katie and Tom were married for just six years before Katie filed for divorce in June 2012. Since then, they've had a somewhat contentious relationship as they try to navigate the waters of co-parenting their daughter.
Advertisements
16

Patrick Dempsey & Jillian Fink
Advertisements
Met: 1994
Married: July 31, 1999
Children: Tallula Fyfe (born February 20, 2002), Sullivan Patrick & Darby Galen (born February 1, 2007)
It was nearly impossible not to fall in love with Patrick Dempsey during his years playing Dr. Derek Shepherd AKA Dr. McDreamy on Grey's Anatomy. The actor had fans all over the world. But before he landed the role of McDreamy, Patrick already had one big fan who changed his life: his now-wife Jillian Fink. Patrick first met celebrity hairstylist and makeup artist Jillian when he scheduled an appointment at her salon in 1994. As a fan, Jillian was shocked when he walked in the door.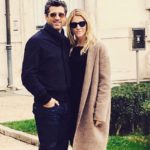 Patrick continued going to Jillian for hair cuts for three years before finally asking her out. Just three months after their first date, they moved in together and later married on July 31, 1999. After three children and 16 years of marriage, the couple hit a rough patch. Jillian filed for divorce in January 2015, citing irreconcilable differences. By November 2015, however, Jillian filed to have the divorce papers dismissed. Since then, the couple seems perfectly content in their 20-year relationship.
Advertisements
17

Jessica Alba & Cash Warren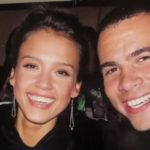 Advertisements
Met: 2004
Married: May 2008
Children: Honor Marie Warren (born June 7, 2008), Haven Garner Warren (born August 13, 2011), Hayes Alba Warren (born December 31, 2017)
As one of the most beautiful women in Hollywood, Jessica Alba could have dated anyone she wanted. Lucky for him, she chose to date one of her fans: Cash Warren. As a big fan of Jessica, Cash got the opportunity to meet his celebrity crush when he started working on the Fantastic Four film as a production assistant in 2004. Jessica, who played Susan Storm in the film, was immediately attracted to Cash, and the two struck up a relationship. Four years later, in May 2008, they tied the knot in a small Beverly Hills courthouse ceremony.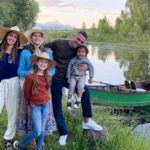 Just a month after their marriage, Jessica and Cash welcomed their first child. They went on to live many happy years together. Even today, they consistently speak highly of one another and boast about the support they receive in the relationship. They've both settled into a comfortable routine raising their children. Divorce doesn't seem like an option for this pair.
Advertisements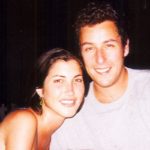 Advertisements
Met: 1999
Married: June 22, 2003
Children: Sadie Sandler (born May 6, 2006), Sunny Sandler (born November 2, 2008)
In 1999, Adam Sandler's now-wife Jackie was a struggling model and actress on the hunt for her big break. That year, she landed a role in Big Daddy alongside one of her favorite stars, Adam. While Jackie only played a minor role in the film, her admiration for the star must have caught Adam's attention. By the time the movie was released, Adam and Jackie were dating.
Just a year after their relationship began, Jackie converted to Judaism for Adam. Then, in 2003, they tied the knot during a Malibu wedding. Over the next few years, Jackie and Adam welcomed their two little girls into the world while continuing to star in movies together. Jackie has appeared in many of Adam's movies, including 50 First Dates, Just Go With It, and Little Nicky. Judging from the high praise the couple continually gives one another, it seems their marriage is completely solid.
Advertisements
19

Conan O'Brien & Liza Powel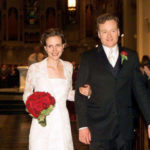 Advertisements
Met: 2000
Married: 2002
Children: Neve O'Brien (born October 13, 2003), Beckett O'Brien (born November 2005)
Conan O'Brien first fell for his wife, Liza Powel, when he saw her sitting in the audience during a 2002 taping of his show, Late Night With Conan O'Brien. At that time, Liza was working as an advertising executive for Foote, Cone & Belding. Since she was a fan of Conan, Liza was tapped to work on a skit with Late Night, which eventually led to her attending the show. Conan says he instantly fell for his now-wife when he saw her sitting amongst the audience. He even claimed, "Somewhere, in the vault at NBC, there's footage of me literally falling for my wife on camera."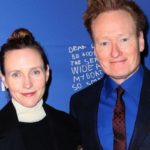 Liza and Conan started dating and tied the knot two years later, in 2002. Over the course of their life together, Liza transitioned from her advertising career to one in screenwriting, while Conan continued to pursue a spot on late-night television. They're still happily married and very much in love to this day. 
Advertisements
20

John Travolta & Kelly Preston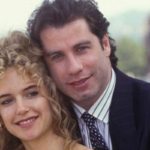 Advertisements
Met: 1988
Married: 1991
Children: Jett Travolta (born April 13, 1992), Ella Blue Travolta (born April 3, 2000), Benjamin Travolta (born November 23, 2010)
Kelly Preston was more than just a fan of John Travolta. According to her, she knew she was going to marry him long before she even met him in person. Kelly explained that, at just 16 years old, she walked out of a movie and saw a poster for Grease, which John starred in. Kelly said, "I really knew it and it turned into, 'I'm going to marry that man.'"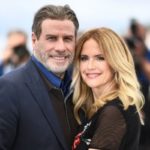 Well, her premonition eventually came true. In 1988, Kelly met John while working on the film The Experts. The pair hit it off immediately and married in 1991. Over the next few decades, Kelly and John stayed by each other's side, raising their children together and continuing to support one another through their many jobs in the entertainment world. After a long fight with breast cancer, Kelly passed away in July 2020. John posted a touching tribute to her on Instagram after her death.
Advertisements