Celebrities And Their Lavish Toys
1

Jay-Z – Bombardier Challenger 850
Advertisements
In 2012, Beyoncé purchased this $40 million dollar jet for her husband, Jay-Z, as a Father's Day gift. This Bombardier Challenger 850 is one of the largest mid-size aircraft that Bombardier Aerospace has manufactured. Beyoncé reportedly stated that she wanted to gift Jay-Z with this jet to show him how great of a father he was. At the time, they had just welcomed their first child. Blue Ivy Carter was born on January 7, 2012. They also have two other children, Rumi Carter and Sir Carter, who are boy-girl twins born in 2017.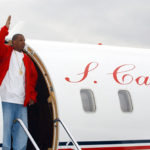 This jet can hold up to 19 passengers, which is plenty of room for the Carter family. It is also equipped with two bathrooms on board, a kitchen, a bedroom, plus a living room. It is literally like an RV for the sky. Jay-Z and Beyoncé couldn't go anywhere without their crew with them, so this plane has enough room for everyone they need, such as personal assistants, nannies, and managers to help them have the best travel experience.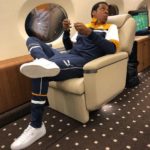 Advertisements
2

Brad Pitt – Luxury Helicopter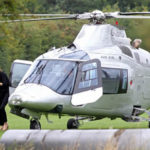 Advertisements
Back in the midst of our adoration for Brangelina, Angelina Jolie purchased a $1.6 million dollar helicopter for her fiancé Brad Pitt, along with flying lessons so he could pilot the helicopter himself. During this time, the couple had been engaged and had 6 beautiful children to show their love for each other. The couple had installed a helicopter pad on the grounds of their South France home. Why not get the actual helicopter to go along with it? I mean, it's obviously a no-brainer.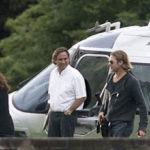 The legendary couple met in 2004 when they filmed Mr. and Mrs. Smith together. At the time, Brad Pitt was still married to Jennifer Aniston. Not long after filming this movie, Pitt and Aniston announced their separation. Just 3 months after their divorce was official, Brangelina confirmed that they were expecting their first child together. By 2014, they had 6 children together and were married. In 2016, Jolie filed for divorce, but it had still not been finalized in 2020.
Advertisements
3

Nicolas Cage – Haunted Mansion In New Orleans
Advertisements
At this point, we have all heard about the haunted mansion of Madame LaLaurie. This house was featured in one of the most iconic shows, American Horror Story: Coven. So, it's only natural to wonder about the horrors that happened behind closed doors of the mansion. It is rumored that Madame Delphine LaLaurie had tortured and murdered several slaves inside of the house while living there. Although LaLaurie was eventually forced to leave town, the horrors of its past still lurk inside.
Fascinated by the history of the mansion, Nicolas Cage thought it was a good idea to purchase the house for $3.4 million. He made this eccentric purchase in 2007 in hopes of the house inspiring him to write a horror novel, which didn't get very far. It is rumored that he only stayed one night in the house. While staying here, he heard ghostly sounds and moans that were unexplainable and stayed in a hotel across the street the following night. Cage did not own the LaLaurie mansion for very long, though. In 2009, he declared bankruptcy, and the house was foreclosed. It was later purchased by a wealthy businessman from Texas.
Advertisements
4

Tom Cruise – Sonogram Machine
Advertisements
Tom Cruise stated on Barbra Walters' show that he had purchased an ultrasound machine for his pregnant girlfriend, Katie Holmes. He said that he did have technicians to help the couple navigate the machine, and would donate it to a hospital once their child was born. Although Cruise had good intentions when purchasing the machine, obstetricians definitely had their doubts about it. Sonogram techs who operated this machine were required to complete 18 months of training before receiving their certification.
There were many concerns with the use of this machine inside of the home. Sonograms are used to help doctors learn important information about a fetus before birth, like size, position, and sometimes birth defects. Some concerns with the machine were that certain levels of ultrasounds can have physical effects on the fetus's tissue. Due to Cruise's purchase of the sonogram machine for personal use, the California Assembly voted to limit the sales of these machines to only licensed professionals and medical facilities. This was in hopes that only certified technicians would be able to use these machines and prevent any misuse that could harm a fetus.
Advertisements
5

Shaquille O'Neal – 3 Bentley's
Advertisements
We all know that Shaquille O'Neal is not your average-sized male. He is 7 feet and 1 inch tall and weighs over 300 pounds. O'Neal's net worth is over $400 million, thanks to being a legendary basketball star for many years. In 1992, he began his career with the Orlando Magic and was named Rookie of the Year just a year later. In 1996, the Lakers offered him a 7-year deal worth $121 million. Then in 2004, he was traded to the Miami Heat. He ended his basketball career in 2010, playing for the Boston Celtics.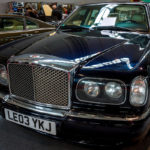 In 2003, Shaq made a trip to a local Rolls-Royce dealership in Beverly Hills. He was wearing shorts, a t-shirt, and some flip-flops when he made his way to the dealership. Shaq had approached one of the sales agents on the floor and asked him how much one of the Bentley's cost. The sales agent replied, "Can you afford it, sonny boy?" Obviously, a man this size who has millions of dollars is going to take this personally. So, he purchased 3 Bentley's on the spot. Was it a mistake, or was he trying to prove a point? He said, "A million dollars gone in ten minutes!" As of now, he has a collection of over 20 cars.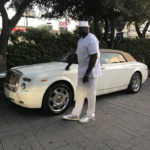 Advertisements
6

Beyoncé – 1959 Rolls Royce Silvercloud II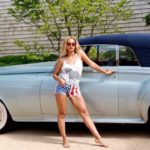 Advertisements
This glamorous vehicle was a gift to Beyoncé from Jay-Z for her 25th birthday. He had the car delivered to her with a sign on the driver's seat that read "Reserved for Mrs. Carter." Jay-Z really set the standards high for all of us "regular" people, didn't he? While celebrities typically have chauffeurs to drive them around, you could find Queen B driving herself around in this luxurious automobile. We don't blame her, though, it is seriously beautiful!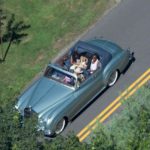 This car was purchased for around $1 million dollars and it is said to be one of the most desired vintage cars in the world. It has wide leather seats on the inside that are a soft blue color and can comfortably seat 4 passengers. It also has a 6.2-liter engine and in just 10 seconds can go 0 to 60. The navy blue convertible top perfectly accentuates the light blue interior and the whitewall tires.
Advertisements
7

Chris Brown – Lamborghini Gallardo
Advertisements
This car has raised the eyebrows of car lovers across the nation. This once black Lamborghini was wrapped by none other than the infamous West Coast Customs, and named "El Toro." People who have seen the car compared it to a real-life Hot Wheels for the road. Now whether or not you actually liked the design of the car, people were hesitant to give credit to Brown due to his concerning past. Since there are plenty of sources on the internet explaining the situation that occurred with Rihanna in 2009, we won't go into full detail, but we do know that this did aid in the despise of his car.
The 2004 Lamborghini Gallardo is a V-10 powered sports car that was built from scratch. It claims to max out at an astonishing 192 miles per hour. But where would you even be able to drive that fast? Unless you are on a racetrack, we don't think there are many places to drive your car at 192 mph. It has a rear-engine and was one of the best sellers for the brand, selling over 14,000 units before it was discontinued in 2013. The name "Gallardo" means brave and strong, which made the car even more sought after during its peak.
Advertisements
8

Mike Tyson – Bengal Tigers
Advertisements
While Mike Tyson was serving time behind bars for being convicted of assault, he purchased a Bengal Tiger for $71,000. The fact that Tyson was concerned with purchasing an animal while in prison is completely beyond us. But we do know that Mike Tyson adores this animal. The tiger's name was Kenya, and Tyson took care of her for 16 years.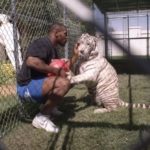 The tiger would stay in his room and sometimes even sleep in bed with him. Now, you can say what you want about Mike Tyson, but he was definitely brave in this circumstance. She weighed around 550 pounds, and Tyson had great affection for her. His explanation for having to get rid of her was, "She got too old and [he] had to get rid of her when her eyes and her head got bad." But there was also a "slight" incident that played a big part in his decision. This incident occurred when a woman was trespassing on his property and had jumped into the tiger habitat and tried to play with them. Apparently, the tiger got spooked since it had never seen this person before and attacked her. Tyson ended up paying her $250,000 in compensation for her injuries.
Advertisements
9

Nicolas Cage – Dinosaur Skull
Advertisements
Nicolas Cage is the king of eccentric purchases. This purchase is definitely well outside of any "normal" border. Cage spent $276,000 on a dinosaur skull (that Leonardo DiCaprio had also bid on) that he had found on a legitimate auction gallery. He later found out that it had been stolen from Mongolia.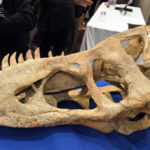 The skull, which came from a Tyrannosaurus Bataar, was stolen by a man named Eric Prokopi. Many of the fossils that he had smuggled back into the US were indigenous to Mongolia and were only able to be found there. The country's president stated that it was "an important piece of the cultural heritage of the Mongolian people." After Cage had purchased this fossil, he received a certificate of authenticity from the gallery. The Department of Homeland Security then contacted him and told him that it may have been stolen. Cage did turn over the fossil to authorities so it could be returned to Mongolia, but he was still out $276,000. Bummer.
Advertisements
10

Céline Dion – Humidifier
Advertisements
It is no secret that celebrities will stop at nothing to maintain their flawless skin, and Céline Dion is no exception to this. When Dion was performing many shows in Las Vegas, she was concerned with how the desert climate would affect her skin's appearance and vocal cords. The dry desert air tends to cause delicate skin to need an extra step of moisture, and vocal cords to become dry and itchy. So, Dion purchased the best humidifier on the market for $2 million. She used this while she was on stage—it hung just above her to keep her vocal cords from becoming injured.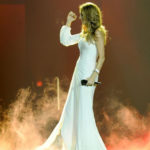 Céline Dion is a native Canadian singer. A few years ago, she had performed the theme song for Beauty and the Beast and eventually won an Oscar and a Grammy from this song. In 2016, her husband passed away from throat cancer, leaving her a widow with their three children. Years later, many so-called fans online commented her appearance. Her response to their comments was, "I take the positive. I take what's good for me. I leave behind what is not good for me… And I need to focus on what's right for me, how I feel, and last but not least, you can't please everybody." Well, said Céline. Well said.
Advertisements
11

Lady Gaga – Ghost Detector Machine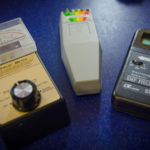 Advertisements
Lady Gaga spent $50,000 on a ghost detector after she was allegedly chased by a ghost named Ryan in 2010. Even though we know that Gaga is spiritual, she still was so freaked out by this encounter that she hired a medium to try and communicate with the spirit. After that meeting, she then decided to purchase an Electromagnetic Field meter that would allow her to find any spirits that may be lurking nearby. Along with this new ghost detecting machine, she also hired a team of expert investigators to inspect each and every venue that she would perform in.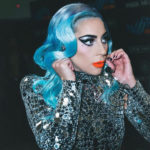 Lady Gaga is known for her out-of-the-box fashion statements. Her real name is Stefani Joanne Angelina Germanotta, and she is of Italian decent. She was born in New York City and has been passionate about music since a very young age, even teaching herself to play piano at the age of four. She worked hard to make a name for herself in this industry by writing songs for other artists before she was able to become a performing artist herself. Lady Gaga now has a net worth of over $275 million. She definitely has done what she has always hoped for.
Advertisements
12

Beyoncé – Diamond Encrusted Barbie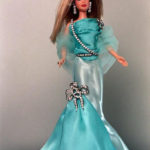 Advertisements
Beyoncé and Jay-Z don't hold back when it comes to purchasing extravagant gifts. One of those gifts being a diamond encrusted barbie for their daughter, Blue Ivy. This barbie was purchased for $80,000 for her first birthday. We aren't commenting on their parenting style, but an $80k doll does seem a little bit extreme. This doll was encrusted with 160 diamonds as well as white gold. Besides gifting their child with an overly expensive barbie doll, the couple also hosted an extravagant birthday party with a princess theme. Hopefully, Beyoncé helped Blue to maintain the appearance of the doll so it could be kept in the family for generations.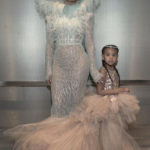 Beyoncé was only 18 when she met Mr. Carter, but the couple decided they should take their relationship slowly. Their first date occurred a year after they met and spent time getting to know each other. They spent a few years dating before they finally got married in 2008. Then in 2011, the singer announced her pregnancy on stage at the VMA's. In 2014, a fight between Jay-Z and Solange, Beyoncé's sister, revealed a private matter between the couple accusing Jay-Z of cheating. The couple handled this matter privately and has since then thrived in their careers.
Advertisements
13

Kim Kardashian & Kanye – Gold Toilets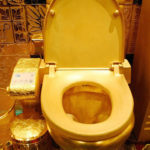 Advertisements
Kim Kardashian and Kanye West are known for being extravagant, even in their bathroom. The former couple has an $11 million dollar mansion in Bel Air that is equipped with some pretty special toilets. They spent around $750,000 on four gold plated toilets to seat them while they "did their business." But this isn't the first time that Kim has gone all out for her throne. She had also purchased a self flushing toilet for around $100,000 in previous years. We don't know what it is about them and toilets!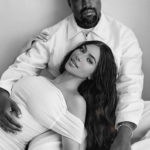 Kim and Kanye started their fairy tale love affair back in 2012. Later that year, Kim became pregnant with their first child. After the birth of North West in June 2013, Kanye proposed to Kim at AT&T park in October that same year. Then, in May 2014, they were officially married. Now, after 4 children and 7 years together, the couple has decided to file for divorce. All good things must come to an end, but the couple is focused on being the best parents that they can for their children.
Advertisements
14

Victoria Beckham – Gold Plated iPhone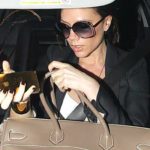 Advertisements
When iPhones were beginning to become more popular, David Beckham purchased a $33,000 gold plated iPhone for his wife, Victoria. He gave her this gift as a "push present" before that term caught on. This iPhone has 150 grams of 24 carat gold. There is still some speculation on whether or not this phone was actually a gift after she gave birth, or if she had the phone beforehand. Either way, it's still a pretty pricey phone to only have until the next generation is released.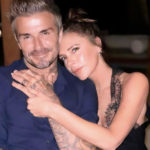 Victoria and David are one of the few celebrity couples who are still together today. The couple met in 1997 and were soon engaged by 1998. That same year, the couple had announced that they were expecting their first child. Their son, Brooklyn, was born in 1999 and the couple was married just a few months later. By 2011, they had three more children, making them a family of six now. Even with rumors of cheating and divorce, the couple is still going strong and having the best life together and with their children.
Advertisements
15

Steven Spielberg – Seven Seas Yacht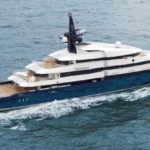 Advertisements
This custom-built yacht was constructed by Oceanco. It is 282 feet long and cost over $200 million dollars. Steven Spielberg purchased the Seven Seas Yacht in 2010. The yacht has a cinema room (obviously), a swimming pool, 7 cabins to hold 12 guests, a helicopter pad, a gym, a spa, and even a massage room. The cabins include a master suite, two VIP suites, two double bed cabins, and two twin bed cabins. In 2015, Steven Spielberg had chartered the yacht out for $1.2 million a month, giving people the opportunity to travel the sea in luxury.
Apparently, this 282-foot vessel was not enough for the mogul. He purchased a new yacht that was 18 feet larger, exceeding a 300 foot threshold. This new yacht cost over $250 million to build. As for the Seven Seas, Spielberg decided to put it up for sale and is asking for $160 million. The Seven Seas requires a crew of 28 people to be able to make sure that the yacht runs smoothly. His master suite was on the upper level of the boat and had a private study, a large wardrobe, and a bathroom, which is said to be larger than some studio apartments in NYC.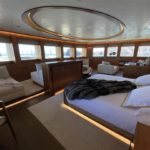 Advertisements
16

John Travolta – Boeing 707
Advertisements
John Travolta is known for many things, one of those things being his love for aviation. He is an avid collector of aviation memorabilia and aircraft. One of his most famous aircraft was the Qantas Boeing 707. He had the plane repainted in a retro Qantas livery. Fun fact, all the planes Travolta owns include his initials, JT, on the plane's tail number. The tail number of the Boeing 707 read "N707JT." At the front of the plane, the aircraft also has the name "Jett Clipper Ella" painted on it. John Travolta has two children, Jett and Ella, which is why these are painted on the plane. The word "Clipper" is in honor of Pan Am, which included the name on every aircraft.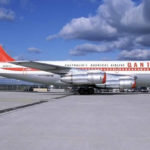 Travolta donated the 707 to the Historical Aircraft Restoration Society in Australia. There was a specific permit that was required for the plane to be able to make flight and the cost of getting it back to Australia caused a delay in its return. Although Travolta was the owner of the aircraft, the terms of the permit meant that he wouldn't be able to control the plane in flight. Also, if you didn't already realize how much John Travolta adored aviation, another example is his home. He designed it specifically to resemble an actual airport. Some may say it's just a hobby, but this says otherwise.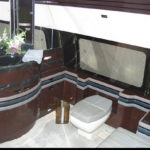 Advertisements
17

Nicolas Cage – Ferrari Enz0
Advertisements
An extravagant purchase by none other than Nicolas Cage himself. In 2002, Cage purchased the Ferrari Enzo, brand new, for $670,000 to add to his collection of cars. While we can't justify every purchase by the actor, he did have a reason as to why he spent his money so carelessly. In 2009, Forbes listed Cage as one of the highest paid actors of all time. He was making around $40 million a year. But, unfortunately, that quickly came to an end. From a young age, he has aspired to become just like his uncle, Francis Ford Coppola. He visited his home during the summers, which encouraged him to live that same lavish lifestyle.
The Ferrari Enzo was a game changer. It was equipped with a 6-liter V12 and was able to go 0 to 60 in 3.1 seconds, maxing out at 222 miles per hour. That is a fast car! The steering wheel was unique during its time, coming with easy-to-reach buttons on it for drivers while moving in the car. The wheel included buttons for turn signals, sport mode selection, traction control, and even a reserve button. Although this car did not come with a radio, the sound from the engine was music enough for those who owned this dream car. Today, the car resells for over $2 million.
Advertisements
18

Kanye West – Lamborghini Aventador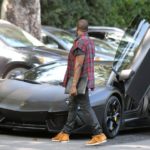 Advertisements
For Kanye's 35th birthday, Kim Kardashian gifted him with a Lamborghini Aventador LP 700-4. Even though the car is priced around $387,000, Kim purchased it for over $750,000 due to all of its unique customizations. Kim bought this sports car in 2012 while Kanye was on the Watch the Throne tour. Since he was out of town for the arrival of his birthday gift, she decided it would be a good idea for her to take a video of the car to show him in person once they were on Emerald Island together. How sweet of her!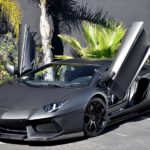 The Lamborghini Aventador comes with a 6.5 liter V12 engine and can go from 0 to 62 miles per hour in just a mere 2.8 seconds. The car is also able to reach up to 217 miles per hour due to its 7-speed gearbox. It doesn't seem like he'd be reaching that speed in his gated community in California, though. Fans of Kanye refer to his Lamborghini as the "Bat Mobile" due to its matte black finish. This car is so cool that even his daughter got one!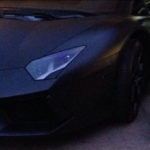 Advertisements
19

Tom Cruise – Gulfstream IV
Advertisements
The lifestyle of the rich and famous comes with many perks, like owning your own personal private jet. In 1994, Cruise acquired his pilot's license and has since then accumulated his own collection of aviation. In 2001, Cruise purchased the 1998 Gulfstream IV for $35 million. Quite a hefty price tag for the time.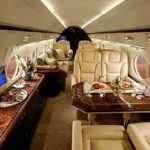 The Gulfsteam IV, manufactured by Gulfstream Aerospace, is one of the best private jets that a person can own. It is powered by two Rolls-Royce engines and is able to reach an altitude of up to 45,000 feet. It is able to comfortably seat 19 passengers in its luxurious interior. It also has an air conditioning system that refreshes the cabin every 2 minutes.
Advertisements
20

Céline Dion – Bombardier BD 700 Global Express XRS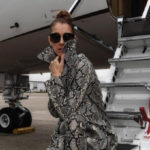 Advertisements
This private jet is filled with all of the luxuries amenities that you could imagine. Dion purchased her new jet for $42 million. Oh, the things we could do with just a fraction of that money. Nonetheless, the star decided that this purchase was definitely a necessity. Now, you may be wondering what exactly was in this jet to be considered a need by Dion. Besides the convenience of being able to travel across the world with her closest friends, here is what is on her private jet.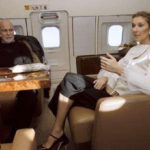 This nearly 50-foot long jet comes with everything the star needs when it comes to traveling in the air. It is able to comfortably seat 15 passengers. It also has a bathroom, kitchen, bedrooms, a desk for work, and, a cinema. It is also able to reach up to almost 600 miles per hour and has 6,000 nautical miles equivalent to 12 hours of flying time. Besides the massive hit that your bank account would face from purchasing this jet, it is estimated that the maintenance and housing of the jet come to around $3 million per year.
Advertisements