Celebrities You Had No Idea Were Related
1

Julia Roberts & Emma Roberts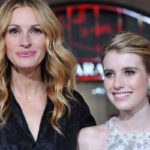 Advertisements
Relation: Aunt and niece
Family ties: Julia Roberts is the sister of Eric Roberts, who is the father of Emma Roberts.
Fun Fact: Emma Roberts told Queen Latifah that she visited "Aunt Julia" on the set when she was a child.

"You would have to drag me off set. I remember I was on

Erin Brockovich

, that set, a lot and, you remember all her costumes in that movie? They were very scandalous. I would always sneak into the trailer and put them on," she said.
Advertisements
2

Shirley MacLaine & Warren Beatty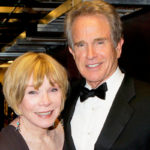 Advertisements
Relation: Brother and sister
Fun fact: Shirley MacLaine thanked her younger brother, Beatty, during her acceptance speech for the 2012 American Film Institute Life Achievement Award, calling him the person she'd "known the longest and loved the longest."
Advertisements
3

Diana Ross & Tracee Ellis Ross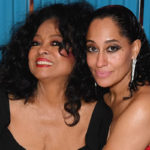 Advertisements
Relation: Mother and daughter
Fashion heritage: Tracee Ellis Ross credits her famous mom for her love of fashion, telling InStyle,

"As a kid, I saw my mom as the lady in the sparkly dress on the stage who sang, but as I've gotten older, I've found the language to articulate that what I was seeing was a woman in her full glory being in connection with this gift she was given, being glamorous and sexy but not in a way that's 'Look at me.'"
Advertisements
4

Dakota Johnson & Melanie Griffith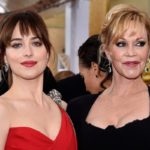 Advertisements
Relation: Mother and daughter
Famous family: Dakota Johnson is practically Hollywood royalty. Not only is her mother a famous actress, but her father is actor Don Johnson, and her grandmother is the legendary actress Tippi Hedren.
About her breakout role: Hello asked Johnson if she discussed her role as Anastasia in Fifty Shades of Grey with her parents. "No, not before I took the role. But both my mother and grandmother are two women who have had shocking female roles and I find it interesting that my mother has done similar work. If anything, they support me completely."
Advertisements
5

Jenny McCarthy & Melissa McCarthy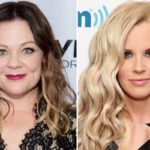 Advertisements
Relation: Cousins
Close since childhood: These two funny ladies are first cousins. As a matter of fact, Jenny McCarthy posted a throwback pic to Instagram of her, her sister, and Melissa when they were kids, along with the caption, 

"Me, my sis, and my cousin Melissa. 102 degrees at the zoo, not happy campers."
Advertisements
6

Lenny Kravitz & Al Roker
Advertisements
Relation: Second cousins
Family ties: 

Their grandfathers were cousins.

Fun Fact: Roker discussed his distant relation to Kravitz on Today, saying, "All I know is I'm going with it. Kids think it's cool."
Advertisements
7

Jonah Hill & Beanie Feldstein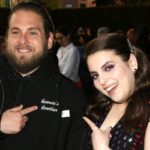 Advertisements
Relation: Jonah Hill is the big brother of Beanie Feldstein.
How close they are: Hill's bond with his sister is so strong that he got a tattoo of her name on his arm to commemorate her debut in the Broadway production of Hello, Dolly!. Now that's dedication!
Advertisements
8

Meryl Streep and Mamie Gummer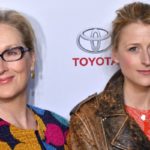 Advertisements
Relation: Mother and daughter
Sharing the screen: Mamie Gummer co-starred with Streep in the film Ricki and the Flash.
Mother's influence: Gummer opened up to The Telegraph about taking acting cues from her mom. "Well, I've been watching her my whole life," Gummer says. "Not just how she acts—if she has a secret to her success, she hasn't passed that on—but how she behaves and interacts with the world; like any kid does with a parent," she said.

Advertisements
9

Steven Spielberg & Jessica Capshaw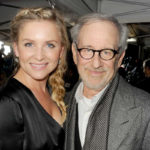 Advertisements
Relation: Stepfather and stepdaughter
Family ties: Jessica Capshaw, of Grey's Anatomy, is the stepdaughter of film director Steven Spielberg, who wed her mom, Kate Capshaw, in 1991. 
Fun fact: Capshaw played a small role in

Spielberg

's film Minority Report.
Advertisements
10

Goldie Hawn & Kate Hudson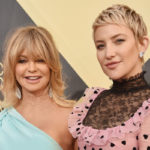 Advertisements
Relation:

Kate Hudson is the daughter of Goldie Hawn and Bill Hudson.

Mother above all: Hudson revealed to People what it's like to have such a famous mom.

"As much as she means to other people for other reasons, she is literally the life-force for me and my family," she said.
Advertisements
11

Jason Sudeikis & George Wendt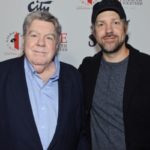 Advertisements
Relation: The SNL and Cheers alums are famous uncle and nephew.
Uncle influence: Sudeikis said of Wendt during an interview with Playboy,

"He was just a good example that being an actor was a viable option. Here's a guy from the Midwest, in my family, who took the road less traveled and it worked out for him," he added.

"The advice he gave me, and I say this jokingly, is 'Get on one of the best sitcoms of all time and then ride it out.'" 
Advertisements
12

Bryce Dallas Howard & Ron Howard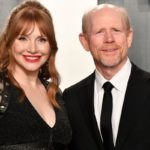 Advertisements
Relation:

The actress is the daughter of Oscar-winning director and actor Ron Howard.
On having a famous dad: Bryce Dallas Howard talked to Today about how she felt growing up with such a well-known dad.

"I wouldn't invite my parents to the school plays and stuff like that. I hid them. I wanted people to pay attention to me because of me and not because of who I am related to," she said.
Advertisements
13

Quincy Jones & Rashida Jones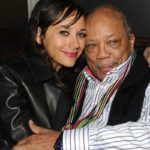 Advertisements
Relation: Father and daughter
Celebrating her dad: Rashida Jones made the 2018 documentary Quincy, which documented her father's life.
On directing the documentary: Jones opened up to Entertainment Weekly about how she approached directing a film about her dad. "

As much as my dad's career has been followed and celebrated, nobody quite has the same relationship that I have been lucky enough to have with him. And I think there are so many things that are missing from the documentation of his life because he's so accomplished," she said.
Advertisements
14

Conan O'Brien & Denis Leary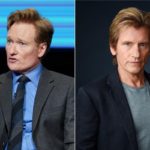 Advertisements
Relation:

These two seem to have a lot in common. Not only are they both hilarious and have red hair, but they're third cousins.
Fun fact: O'Brien once joked of Leary, "

Dennis always says after about a few drinks, 'Hey, buddy, you and me, we're cousins, right?' And then he'll hit me up for money. So let's…yes…sure…we're related," he said. 
Advertisements
15

Alfie Allen & Lily Allen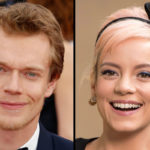 Advertisements
Relation: The Game of Thrones actor and English singer-songwriter are siblings.
Fun fact: Lily wrote the song "Alfie" about her brother and told Marie Claire, "It didn't occur to me that there would be a music video or people on the radio would be asking, "who's Alfie?" It has been the subject of many family arguments."
Advertisements
16

Rob Schneider & Elle King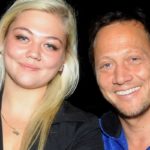 Advertisements
Relation: Father and daughter
Family issues: Elle King and Rob Schneider have a complicated history, but recently reconciled.
Big fan: King told People about her relationship with her dad,

"Honestly, he's probably my biggest supporter," she said. "Like, every other day I'll get texts in all caps of like, 'Your record's gonna change the world! I can't wait for your fans to hear what you've made! I love you! I'm so proud of you!' And that's a beautiful, wonderful thing."



Advertisements
17

Barbra Streisand & Josh Brolin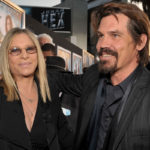 Advertisements
Relation: Stepmother and stepson
Family ties: Barbra Streisand is married to James Brolin, Josh Brolin's father.
Caring grandmother: Brolin got personal during SiriusXM's EW Radio Spotlight, revealing what Streisand is like with her grandchildren. "

She is really into it and I love that she is into it; I mean, it's like very typical Jewish grandmother who is saturated by this event—it's awesome," he said.
Advertisements
18

Snoop Dogg & Brandy Norwood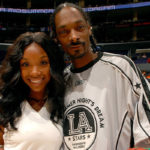 Advertisements
Relation: Cousins
More famous relation: Brandy Norwood is also the younger sibling of singer Ray J.
Fun fact: Snoop Dogg revealed that the celebs were related during an interview with MTV in 2006. "We never really told the world because we weren't trippin' off of that, but that's my family," he said. 
Advertisements
19

Nicolas Cage, Sofia Coppola, & Jason Schwartzman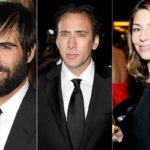 Advertisements
Relation: Cousins
Famous family: The Coppola family tree is filled with celebrities. Talia Shire, Jason Schwartzman's mother, is the sister of director Francis Ford Coppola. Sofia Coppola is Francis Ford Coppola's daughter. Nicolas Cage's father, August Coppola, is the nephew of Francis and Talia. Which makes this powerful trio first cousins. 
Advertisements
20

Emily Blunt & Stanley Tucci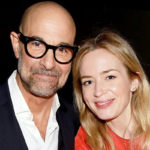 Advertisements
Relation: Brother and sister-in-law
Family ties: Stanley Tucci is married to Emily Blunt's sister, Felicity Blunt.
Fun fact: Felicity and Stanley met at Blunt's wedding to John Krasinski. Blunt and Tucci worked together on the film The Devil Wears Prada.
Advertisements
21

Sofia Vergara & Sandra Vergara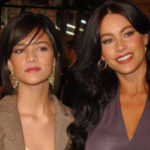 Advertisements
Relation: Cousins
Family ties: Technically cousins, Sandra is in fact Sofia's adopted sister. Sofia's mother adopted her sister's young daughter when she was only one year old because Sandra's mother had serious health problems.
Famous family: Like Sofia, Sandra is an actress and model. Their other sister, Veronica, is also an actress.
Advertisements
22

Beyoncé & Queen Elizabeth II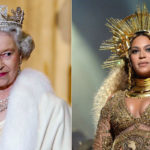 Advertisements
Relation: 25th cousins, once removed
Family ties: They share a common ancestor, Henry II
Other royal celebs: Beyoncé is not the only celebrity linked to Queen Elizabeth II. There are also Johnny Depp, Michael Douglas, Angelina Jolie, Hilary Duff, Brooke Shields, Uma Thurman, Alec Baldwin, Richard Gere, and Paris Hilton, to name a few.
Advertisements