Celebrities You Had No Idea Were Banned From Talk Shows
1

Madonna – Piers Morgan Live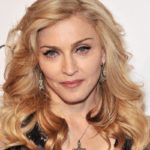 Advertisements
According to Billboard, Piers Morgan once vowed to never interview Madonna on his CNN show, Piers Morgan Live. "She is too vegan for TV," Morgan told the U.K. media. "We have Lady Gaga now, so Madonna is banned from my show," Morgan said. He went on to say that he would rather interview people who were relevant at the time, like "President Barack Obama, Mel Gibson, or Lindsay Lohan."
Madonna's rep told AOL's Popeater, "Madonna doesn't know who Piers Morgan is, but she's a big fan of Lady Gaga," so it seems like the pop diva didn't lose too much sleep over being banned from his show. The reason for their feud was only revealed much later by the host. Some people hold grudges longer than others…!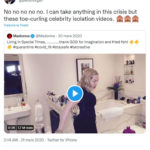 Advertisements
2

Dax Shepard – Late Night with Conan O'Brien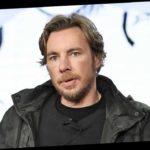 Advertisements
Dax Shepard opened up during an interview on Blake Griffin's OBB Sound-produced podcast The Pursuit of Healthiness. The star revealed Conan O'Brien banned him from appearing on Late Night with Conan O'Brien. He made a disastrous appearance during the height of his addiction in 2004, where he was a total mess.
Luckily, Shepard has since turned his life around. "So I was banned from that show for some years until I got sober and I got myself back on it, and now I've been on it a bazillion times, but that was probably the only career wreckage-y thing I did," Dax admitted.
Advertisements
3

Hugh Grant – The Daily Show With John Stewart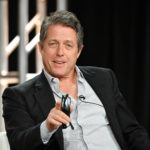 Advertisements
Host Jon Stewart banned Hugh Grant from The Daily Show after he reportedly pulled major diva-like behavior on the set. Stewart gave details of the 2009 incident during a Q&A with Stephen Colbert at the Wellmont Theater in New Jersey.
Grant was promoting the movie Did You Hear About the Morgans? when he appeared at the show. According to Stewart, he made life difficult for the staff backstage. "He's giving everyone sh*t the whole time, and he's a big pain in the a**," Stewart said. Needless to say, Grant was never invited to be a guest again.
One wonders in fact if this is a sad loss or not, given that the actor has a habit of making rather questionable comments about his fellow celebs when he is interviewed…
Advertisements
4

The Kardashians – Anderson Live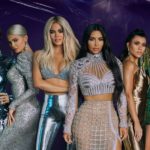 Advertisements
Anderson Cooper interviews celebrities for a living, but he was put in the hot seat when he played a game of "Plead the Fifth" on Watch What Happens Live With Andy Cohen in January 2012. Host Cohen asked Cooper if he could ban one guest from his show forever, who would it be? He didn't pick just one; he banned the entire Kardashian family.
The feelings didn't seem to be mutual between him and the Kardashians. In an ironic twist, the day Cooper announced his Kardashian ban, Khloe Kardashian tweeted moments earlier, "I love Anderson Cooper! #SilverFox." Hopefully, there were no hard feelings.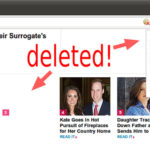 But Cooper is definitely not the only one who finds the wealthy family "depressing" and no longer wants to hear about them. In fact, you yourself are able to ban the Kardashians from your computer by downloading the "Kardashian Filter" extension, which will automatically block the majority of Internet publications about them!
Advertisements
5

Chevy Chase – Saturday Night Live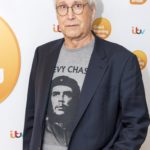 Advertisements
Chevy Chase may have risen to fame on Saturday Night Live in the 1970s, but his inappropriate behavior took a toll, and they banned him from ever hosting the show again. According to the SNL Wiki Site, an incident happened on set when he hosted the show in 1997.
Reports surfaced he slapped fellow cast member Cheri Oteri on the back of the head backstage. Will Ferrell reported the incident to producer Lorne Michaels, who promptly banned Chase. He appeared on the 40th Anniversary Special, but won't ever be invited to host the show again.
Chavy Chase has always had a reputation for being absolutely awful. In the late 1970s, right before a live SNL show, Chase had a run-in with Bill Murray. According to Decider, "Murray, an SNL novice who already worked with Chase on National Lampoon, confronted the ex-SNL star, telling him that everyone hated him. Naturally, a shouting match followed, with tensions continuing to rise throughout the show's dress rehearsal." Chase took great pleasure in recounting that moment on The Howard Stern Show in 2021.
Advertisements
6

Kelsey Grammer – Piers Morgan Live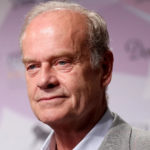 Advertisements
Kelsey Grammer walked off the set of Piers Morgan Tonight in 2012, and the host took to Twitter, writing, "Kelsey Grammer was supposed to be on my show now but ran out of the building. Strange." Morgan banned Grammer from his show.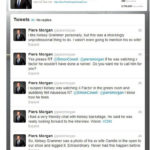 An insider told the Huffington Post that Grammer left after seeing a photo of his ex-wife Camille in the opening. "Publicists asked producers that it be removed and were assured it would be before the show went live. At 9:00 pm we were all sitting in the green room and saw no changes had been made. That's when Kelsey and his team left," the source said.
Advertisements
7

Kathy Griffin – Numerous Shows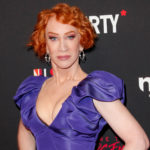 Advertisements
We all know Kathy Griffin for making controversial comments and the comedian often finds herself in hot water. So much so that they have banned her from appearing on countless talk shows. Griffin is officially banned from appearing on Live with Regis and Kelly, Conan, The View, Ellen, The Today Show, and David Letterman.
Griffin revealed in her book, Official Book Club Selection, "Here's the lowdown on banning: it's not like anybody makes a declaration outright that you've been banned. You find out by not getting booked on the show anymore. The reasoning can sometimes be elusive," she wrote.
Advertisements
8

Bobcat Goldthwait – The Tonight Show With Jay Leno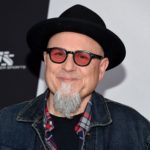 Advertisements
Bobcat Goldthwait took things too far when he was a guest on The Tonight Show With Jay Leno. The comedian sprayed his chair with lighter fluid and lit it on fire. Leno was not too happy about the stunt and vowed never to have Goldthwait on the show again.
Goldthwait was not only banned, but they fined him over $3000 for his destructive behavior and had to record fire safety public announcements. Leno must have not been all that upset because the ban lasted approximately one week before they invited Goldthwait back to the show.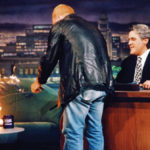 Advertisements
9

Howie Mandel – Piers Morgan Live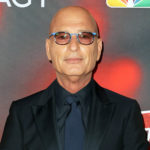 Advertisements
Piers Morgan and Howie Mandel may have been co-judges on America's Got Talent, but the two of them don't get along in real life. Mandell's on-set antics often made Morgan the butt of his pranks, but Morgan took revenge by banning him from the CNN show Piers Morgan Live.
According to Entertainment Weekly, Morgan found Mandell "too annoying." "It's behavior-related, so he has a chance to redeem himself on Season 6 of AGT, but I don't hold out any hope," Morgan revealed to the magazine. Mandell clearly failed to do so because he was never invited to be a guest on the show.
Advertisements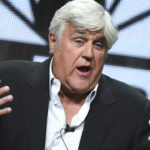 Advertisements
The late-night saga between Jay Leno and Conan O'Brien was so intense that Conan banned Leno from ever appearing on his show. The drama began in 2009 when Leno's contract with The Tonight Show came to an end.
To keep O'Brien on the network, NBC gave the job to him, offering Leno a new show. It did not thrill Leno to be ousted, and a year later, NBC gave the show back to Leno after giving O'Brien a sizable payout. TBS took on O'Brien with the show Conan, and he vowed never to have Leno on as a guest.
Advertisements
11

Joan Rivers – The Tonight Show Starring Johnny Carson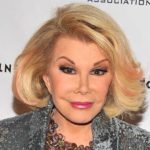 Advertisements
The feud between Johnny Carson and Joan Rivers is the stuff of Hollywood legend. Rivers was a writer and regular guest on The Tonight Show Starring Johnny Carson for many years. She left to host her own late-night program, The Late Show with Joan Rivers, in 1986. Carson was furious because it ran opposite his show.
The wedge ran so deep that Carson refused to have her on his show and never spoke to Rivers again. Jay Leno picked up the torch when he took over The Tonight Show and continued the ban. They finally invited her back when Jimmy Fallon took over.
Advertisements
12

Howard Stern – The Tonight Show With Jay Leno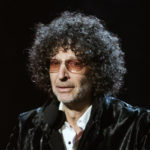 Advertisements
Howard Stern found himself banned from The Tonight Show by Leno after he pulled a risque stunt when he was a guest on the show. He brought adult film stars out during his interview and made inappropriate jokes. Leno was so put off by the incident that he vowed to never allow Stern to come back. Although it seems like he may have buried the hatchet.
Leno was a guest on Watch What Happens Live when Andy Cohen asked him about the infamous feud with Stern. "I didn't get into the feud, because you're not going to win a feud with Howard. Howard is good. If you start that feud, boom, you're down," Leno said. "So if you just let it roll, it's fine," he added. "I don't hold any grudges. I listen to him now, he's funny, he's good."
In any case, it seems that Howard Stern is not very fond of Jay Leno in general, as we can see in these different clips.
Advertisements
13

Sandra Bernhard – Late Show With David Letterman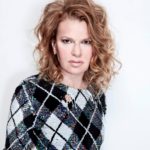 Advertisements
We know Sandra Bernhard for her brash comedic style and her many appearances on Late Show With David Letterman in the 80s and 90s. She found herself banned from his show when he moved to CBS because Letterman accused her of bad-talking him to their friends, which she's denied.
According to US Weekly, Bernhard discussed the drama with Andy Cohen when she was a guest on Watch What Happens Live! Cohen asked if she offended Letterman, and Bernhard said, "Apparently I did but I don't know what it was." The actress continued, "Cause he said, he asked me last time I was on if I was trashing him and I said, 'I've never, why would I trash you, Dave?'"
Advertisements
14

Oprah Winfrey – Late Show With David Letterman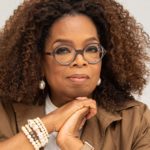 Advertisements
Oprah Winfrey and David Letterman had no love for each other over the years and banned each other from each of their respective shows. The beef started when Oprah had an "uncomfortable" interview as a guest on The Late Show With David Letterman. He made a joke at her expense and she shunned him for 16 years. He continued to use her life as fodder for bits on his show.

They finally buried the hatchet and Oprah appeared on Letterman's show in 2005. According to Today, they both wondered just how their 16-year feud started in the first place. "Could you tell me please what has transpired?" Winfrey asked Letterman during the show. "I have never for a moment had a feud with you. I want you to know, it's really over, whatever you thought was happening."
Advertisements
15

Gilbert Gottfried – The Howard Stern Show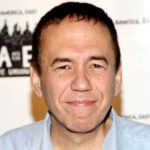 Advertisements
Gilbert Gottfried rose to fame thanks to his memorable voice, and when he played the role of the parrot, Iago, in Disney's Aladdin. Gottfried had been a fixture on The Howard Stern Show until one fateful day when he took a joke too far and spit cupcakes on the floor. He was never invited to come back.
Although, the true reason is unknown to Gottfried. He told The Pittsburg City Paper about being banned, "Yeah, it's still kind of a mystery to me. But what people who say who listen every day is that it's become more of an interview show; before it was more a madhouse."
Advertisements
16

Caitlyn Jenner – The Ellen DeGeneres Show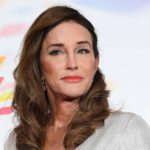 Advertisements
According to Showbiz Cheatsheet, Caitlyn Jenner took matters into her own hands when she heard Ellen had banned her from The Ellen DeGeneres Show. She called her out directly for "alienating" her from the "LGBTQ community" after the release of her memoir, The Secrets of My Life.
The 2015 comment that made Ellen take action was, "I have to admit that I remember 15 years ago, 20 years ago, whenever it was that the whole gay marriage issue came up, I was not for it," Jenner said. "I am a traditionalist. I mean, I'm older than most people in the audience. I like tradition and it's always been between a man and a woman and I'm thinking I don't quite get it."
Advertisements
17

Harmony Korine – Late Show With David Letterman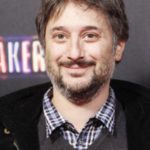 Advertisements
Harmony Korine had been a regular on The Late Show With David Letterman, but David Letterman banned the Spring Breaker's director from appearing on his show. Letterman addressed the controversy during an interview with James Franco in 2013.
"I went upstairs to greet Meryl Streep and welcome her to the show, and I knock on the door… and she was not in there. And I looked around, and she was not in there, and I found Harmony going through her purse," he said. "True story. And so I said, 'That's it, put her things back in her bag and then get out,'" Letterman revealed. He also said that he'd welcome Korine back.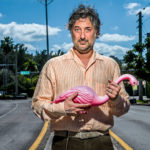 In a 2016 interview with Vice, Korine had the opportunity to explain his side of the story, saying, "The way Letterman tells that story, I don't really believe it's true. Truth is, I probably did eat a couple of pounds of shrooms right before, so my hallucinations were probably pretty on point, but at the same time, if you see a revolver in a purse, what are you gonna do? Do you know what I mean? You're gonna pick it up and play Russian roulette."
Advertisements
18

Piers Morgan – The Rosie Show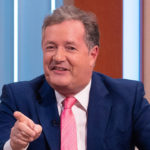 Advertisements
Piers Morgan loves to ban celebs from his show, but he's been banned from a talk show as well. Rosie O'Donnell banished him from her series, The Rosie Show. Turns out that she didn't appreciate the fact that he refused to allow her good friend Madonna on Piers Morgan Live.
She told Access Hollywood, "Yes, I've banned Piers Morgan. He banned Madonna for no reason when his show started, so I'm banning Piers Morgan! I don't have anybody banned, but if I have to make a list, he's on it." That's a full-circle moment if you ask us.
Funny enough, O'Donnell banned Morgan from her talk show in 2011, right out of the gate, but the host obviously never held it against her because in 2013, O'Donnell filled in for Morgan on Piers Morgan Tonight while he was on vacation.
Advertisements
19

Vivica A. Fox – Jimmy Kimmel Live!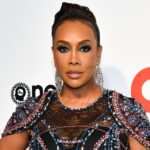 Advertisements
The beef between Jimmy Kimmel and Vivica A. Fox is so serious that he banned her from appearing on his show, Jimmy Kimmel Live! The host was a guest on Watch What Happens Live when Andy Cohen asked which celebrity he wouldn't ask back to his show.
"Vivica A. Fox was the guest. She may have been invited to Star Jones' wedding and I may have asked her if I could be the date to that wedding, and Star Jones may hate me and may have yelled at her and she may have been very angry when she (Fox) came back to our show," Kimmel revealed.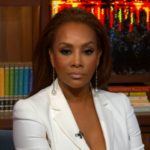 The interview in question took place in 2005, and the actress left in the middle of the interview. On this subject, she explains, "I was really surprised because I used to go on his show all the time. And there was just one time that I went on the show and he dissed my good friend Star Jones."
Advertisements
20

Vince Vaughn – The Ellen DeGeneres Show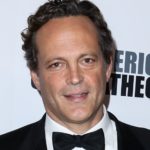 Advertisements
Vince Vaughn sparked controversy when his character in the 2010 movie The Dilemma made a homophobic comment in the film's trailer. Ellen DeGeneres took personal offense and banned Vaughn from her show.
According to Deadline, Vaughn issued a statement saying, "Let me add my voice of support to the people outraged by the bullying and persecution of people for their differences, whatever those differences may be," he said. "Comedy and joking about our differences breaks tension and brings us together. Drawing dividing lines over what we can and cannot joke about does exactly that; it divides us. Most importantly, where does it stop."
Advertisements