The Most Absurd Ways Celebrities Have Avoided The Paparazzi
Leonardo DiCaprio Hid In His Coat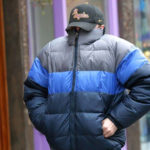 Advertisements
Fun Fact: T

he photo was taken in the middle of spring.

Creative ways to hide: Leonardo DiCaprio once wore a Darth Vader mask to remain incognito!
Advertisements
Dustin Hoffman Ducked Behind A Mailbox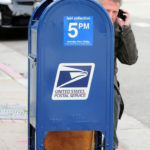 Advertisements
Fun Fact:

Dustin Hoffman likes to play hide and seek with Paparazzi.

Creative ways to hide:

Hoffman has been known to hide behind tree branches, light posts, or anything else that might be at his disposal.
Advertisements
Shaquille O'Neal Played Peek-A-Boo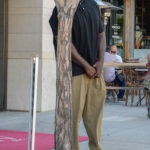 Advertisements
Fun Fact: 

Former NBA player Shaquille O'Neal is known for goofing around with photographers. 

Why we love him: It's refreshing to see a celeb play around with intrusive photographers instead of getting angry!
Advertisements
Katy Perry Hid Behind A Donut Pillow
Advertisements
Fun Fact:

Katy Perry attempted to hide from the paparazzi as she made her way through Miami International Airport by covering herself with a large donut pillow, along with a baseball cap and sunglasses.

She even shared it on Twitter: "Bought GIANT doughnut pillow at Kidrobot NYC and it wouldn't fit in any of my bags […] When gettin off the plane it was the best paparazzi shield."
Advertisements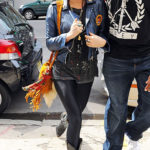 Advertisements
Her way of hiding: 

Kesha tapped into her wild side to scare away the paparazzi by wearing a tiger mask as she walked through the streets of New York City.

The impact social media and tabloids on her mental health

: 

"

Seeing paparazzi photos of myself and the accompanying catty commentary fueled my eating disorder […] The sick irony was that when I was at some of the lowest points in my life, I kept hearing how much better I looked."
Advertisements
Justin Bieber Hid Behind A Gas Mask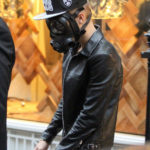 Advertisements
Fun Fact: 

The singer was spotted around town wearing a gas mask several times during his visit in London, but was reportedly pranking the paparazzi. 

Friends joke: An insider close to Bieber revealed to Us Weekly that 

"

Justin's close friend Julian Keyz (a young songwriter/producer also known as Julkeys) also wears it to pretend he's Justin and throw people off as they're the same height.

"
Advertisements
Alec Baldwin Dressed As A Ghost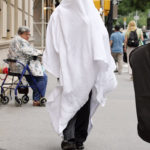 Advertisements
Fun Fact: Earlier on the day that photo was taken, 

the actor and his then-fiance supposedly visited the marriage bureau to obtain a marriage license when he had a physical confrontation with a photographer. 

Creative way to hide: Dressing up as a ghost is an effective way to disappear from sight!
Advertisements
Emma Stone And Andrew Garfield Hid Behind A Cause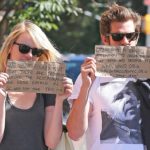 Advertisements
Generous way to hide: The former couple used the media for good after they saw a group of photographers waiting to snap their pic by carrying handwritten notes that called attention to their favorite charities.
Fun Fact: 

The message became viral and other celebrities started pulling the same stunt.
Advertisements
Cara Delevingne Wore A Pizza Onesie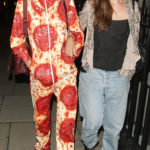 Advertisements
Creative way to hide: The actress took her love of food to the extreme and wore a pepperoni pizza onesie, covering herself from head to toe.
Fun Fact: 

Delevingne wasn't the first actress to sport the pizza onesie. The paparazzi spotted Katy Perry the week before wearing the same getup.
Advertisements
John Voight Did An Evasive Maneuver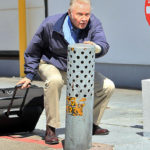 Advertisements
Useless way to hide: 

John Voight was caught off guard when he encountered photographers and took cover behind a traffic cone.

Fun Fact: He may not be the best hider, but the actor (and Angelina Jolie's father!)

 has become the master of evading tough questions from the media.
Advertisements
Ashley Tisdale Hid Behind Her Dog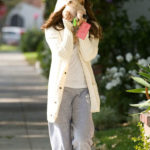 Advertisements
Creative way to hide: 

Ashley Tisdale was forced to use the nearest object to avoid the paparazzi and shielded herself with her dog.

Alarming Fact: 

In 2008, a photographer broke into her home and tried to capture exclusive video footage of the star. "They don't want middle America to know this is what they do to try to get pictures," Tisdale revealed.
Advertisements
Isla Fisher Took Cover Behind Her Baby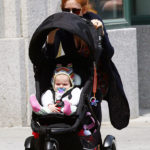 Advertisements
Shameless way to hide: 

Isla Fisher ducked behind her daughter Elula's stroller when she noticed photographers trying to snap a pic while on a pleasant mother-daughter stroll through the streets of New York City.

Ironic Fact: She spoke with People Magazine about the challenge of protecting her children from photographers. Seems like she preferred protecting herself that day!
Advertisements
Shia LaBeouf Put A Bag Over His Head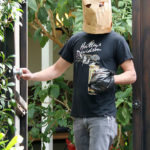 Advertisements
Creative way to hide:

Shia LaBeouf

 put a paper bag over his head and cut out eye holes so he could see as he made his escape.

Behavioral problem: 

LeBoeuf has earned a bit of a reputation for being confrontational with the paparazzi and once threw a cup of coffee at an intrusive photographer.
Advertisements
Miley Cyrus Hid Behind A Honey Boo Boo Mask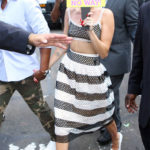 Advertisements
Creative way to hide: Miley Cyrus 

covered her face with a Honey Boo Boo mask as she made her way into ABC Studios in New York City.

Fun Fact: 

Cyrus admitted that she was a fan of the show

Here Comes Honey Boo Boo

when she was a guest on

Chelsea Lately. "I put in a home theater in my house, and then it wasn't quite loud enough so we got subwoofers so I can really hear her extra loud," Cyrus said. "So when I hear her, 'Holla for a dolla!' The whole house shakes."
Advertisements
Gwyneth Paltrow Took Cover Behind Her Tiny Purse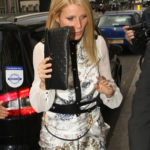 Advertisements
Common way to hide: 

Gwyneth Paltrow did like many other Hollywood leading ladies and uses her small purse to take cover as she fought her way through throngs of people wanting to snap a pic.

She didn't plan it: 

Most of the time, female stars carry oversized bags that serve as the perfects shields, but that day, hers was really small.
Advertisements
Scarlett Johansson And Alicia Keys Turned The Tables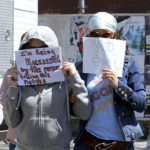 Advertisements
Denunciatory way to hide: 

Scarlett Johansson and Alicia Keys called the photographers out by holding signs, "I am being harassed by the person taking this picture" and "Me too!" 

Endless Problem: 

"

Until paparazzi are considered by the law for the criminal stalkers they are, it's just a waiting game before another person gets seriously injured or killed, like Princess Diana," Johansson once said. 
Advertisements
Alex Rodriguez Ducked Behind A Parking Meter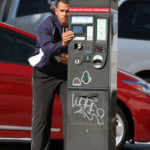 Advertisements
Creative way to hide: 

Alex Rodriguez was spotted paying at a parking meter before heading to the gym in Miami Beach, Florida. He noticed the shutterbugs and ducked behind the meter.

Paparazzi problems: According to TMZ, Rodriguez and Jennifer Lopez's driver clipped an overzealous photog who was trying to snap a pic as they left in their SUV while they were leaving a restaurant in Los Angeles.
Advertisements
Eva Mendes Hid Behind Her Hair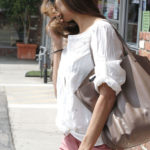 Advertisements
Creative way to hide: 

Photogs cornered Eva Mendes as she left the Salon Desire in Los Feliz, California, so she took matters into her own hands and hid behind her perfectly styled hair. 

Dog protection: Mendes opened up to New York Magazine, revealing that she wished her dog could have legal protection from the paparazzi."I'll go somewhere and they'll be like, 'Hey, Hugo!' and I'm like, 'How do you know Hugo's name?'" she said. "That's so creepy!"
Advertisements
Pete Wentz And Ashlee Simpson Wore Halloween Masks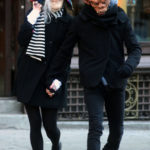 Advertisements
Funny way to hide: 

Ashlee Simpson and Pete Wentz noticed the paparazzi and ducked into the store Halloween Adventure. They emerged in creepy Halloween masks to throw off photographers.

Fun Fact: 

Wentz is another celebrity that likes to have fun with the paparazzi and once wore a paper plate over his face with a handwritten message that read,

"YOUR AD COULD BE HERE… EMAIL: JON@D—–BAG.COM".
Advertisements
Amanda Bynes Covered Up With A Shirt
Advertisements
Creative way to hide: Amanda 

Bynes made an attempt to hide from the cameras by draping a blue blouse over her head.

Strange choice: 

For a while, the actress often went on Twitter rants and had several run-ins with the law as she struggled with substance abuse. During that time, she was spotted wandering around the street in Times Square of New York City. We can't help but wonder why she chose to go to the busiest area of Manhattan if she wanted to avoid media attention. 
Advertisements