Countless Times The Kardashians Made Hilarious Fashion Mistakes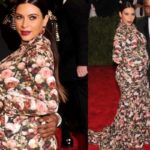 Advertisements
Who could forget when a very pregnant Kim Kardashian wore this Givenchy Roses Dress to the 2013 Met Gala? This gown is just wrong on so many levels.
Unless, of course, Kimmy's goal was to look like a couch. If so, she accomplished just that. It doesn't look like a very comfortable couch, though.
Advertisements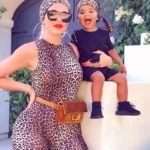 Advertisements
Khloe Kardashian posted a matchy-matchy pic on Instagram with her daughter, True. She wrote the caption, "A leopard and her cub."
While True looks adorable in a leopard print headscarf, Khloe looks like something the cat dragged in. This get-up is just too wild for us!
Advertisements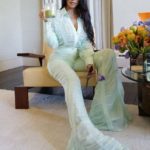 Advertisements
Kourtney Kardashian assaulted our eyes when she wore a mint green Salvatore Ferragamo set in May 2021. She donned the outfit to promote an installment of the Poosh brand's "Shop Drop" series.
We think she should've shopped around and dropped that horrible set. The matching ruched bloused and textured flare-leg pants are a massive fashion fail.
Advertisements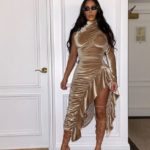 Advertisements
Kim Kardashian wore a form-fitting velvet gown that left little to the imagination for a night at the opera in New York City in December 2019. How is this look sexy?
She must have seen this hanging in the window and had to have it because she looks like she's wearing her grandmother's drapes. The lace-up heels might as well be curtain cords.
Advertisements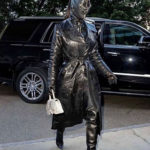 Advertisements
Kim has a thing for full body outfits, but also for leather clothes. When she combines the two, it can make for some pretty questionable results!
On September 12, Kim posted a picture on her Instagram, walking in front of her black Cadillac Escalade SUV wearing this all-leather look from Balenciaga. She was going to the Mark New York Fashion Week, but we definitely feel like she's ready for a different kind of special night!
Advertisements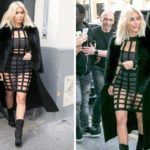 Advertisements
Kim Kardashian committed a fashion crime in March 2015 at Paris Fashion Week. She squeezed herself into a strange cut-out dress with a long overcoat and black boots.
Does anybody else think it looks like she's stuck in a cage? I mean, she probably should go to jail for this getup.
Advertisements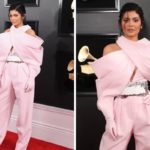 Advertisements
Who could forget when Kylie Jenner showed up at the 2019 Grammys looking like a stick of cotton candy gone wrong in an oversized pink suit? Apparently, the fashion police loved this look on her.
The Balmain Haute couture suit came fresh off the runway. It just looks like a Haute mess to us!
Advertisements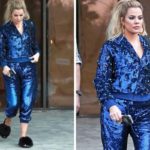 Advertisements
The paparazzi snapped a pic of Khloe Kardashian leaving a studio in Calabasas in January 2017. She wore blue sequined trousers and a matching jacket on top of fuzzy black flip-flops.
We're getting a slight Smurf vibe from this one. She looks like Smurfette after a rough night at the club.
Advertisements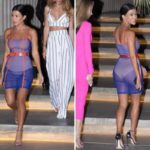 Advertisements
Kourtney Kardashian left little to the imagination when she stepped out in a see-through dress while vacationing in Cabo San Lucas, Mexico in August 2018. She wore a nude bodysuit underneath that hugged her curves.
I see London; I see France; I see Kourtney's underpants!
Advertisements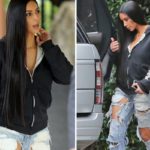 Advertisements
Kim Kardashian tried to bring back the acid-washed jeans trend while out on a lunch date with a friend in Bel Air in June 2017. She topped the outfit off with a black hoodie.
We feel totally torn about this one. Her jeans actually look more stressed than distressed. At this point, can we really consider that she wears jeans?
Advertisements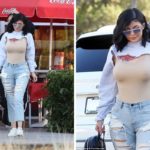 Advertisements
Kylie Jenner lost half of her sweatshirt. Photographers spotted her in Los Angeles leaving North West's 4th birthday party at Ruby's Diner in June 2017.
From the homemade crop top to the distressed jeans, this entire ensemble is just wrong. Isn't she rich enough to buy an entire sweatshirt?
Advertisements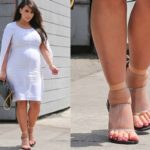 Advertisements
Poor Kim Kardashian abused her feet while lunching in Los Angeles. She was pregnant with North West in May 2013 when she stuffed her swollen tootsies into those shoes.
We get that she'd do anything for fashion, but this looks painful. It seems like her big toes are screaming out in pain. One wonders how long it took her to stop feeling her feet.
Advertisements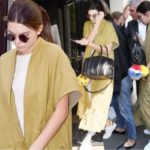 Advertisements
You'd think that Kendall Jenner would glam up for a visit to the Chanel showroom in Paris, France. The paparazzi snapped her wearing this strange frock in April 2016 and we have questions.
Is she aware that she looks like she's wearing a trash bag? Is homeless chic a thing? With all the money she has, she can certainly do better than that!
Advertisements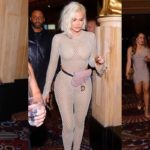 Advertisements
Khloe Kardashian stepped out in a nude fishnet bodysuit in Las Vegas in March 2019. This outfit is not the best look on her. It wouldn't be on anyone, mind you.
It just seems tasteless. Of course, if she was trying to look like a call girl, then she totally nailed it. Maybe she would catch fish if she jumped into the sea!
Advertisements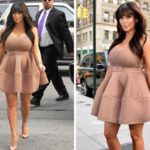 Advertisements
Kim Kardashian slapped on a textured babydoll dress while in New York City in March 2013. This is another maternity look she wore while pregnant with North West.
The body line of this dress isn't working for us. That skirt is just absurd. Kim really made some questionable clothing choices when she was pregnant!
Advertisements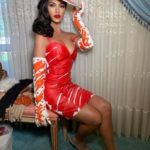 Advertisements
Kourtney Kardashian posted this pic on Instagram along with the caption, "Bonjour, oh and your Valentine's Day gift guide is up on @poosh ❤️". What is happening in this photograph?
From the vintage hat to that terrible dress, this outfit has us scratching our heads. What are these strange patterns? It looks like a child's painting!
Advertisements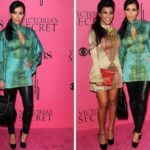 Advertisements
Let's travel back in time to the 2008 Victorias Secret Fashion show in Miami, Florida. Kim and Kourtney Kardashian walked the pink carpet in these horrid coordinated dresses.
That means both of them had to approve this look. Somebody needed to fire their stylist. One thing is certain, such a matching look is not likely to happen again!
Advertisements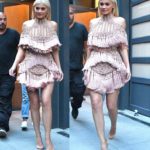 Advertisements
Kylie Jenner posted this pic of her in an appalling tassel dress on Instagram in September 2016. She saw this one in the window and just had to have it.
No kidding. It looks like she made a dress out of the nearest drapes. We can't believe she paid for this dress. And probably a considerable amount of money at that!
Advertisements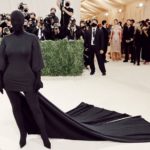 Advertisements
Every year, the famous MET gala is held, where celebrities parade around in the most creative outfits. For the 2021 edition, Kim once again made people talk with her style—it's becoming a habit!—which was a reflection of quantum mechanics.
Indeed, this outfit signed Balenciaga and compared by many to the dementors in the Harry Potter saga was in fact the beauty equivalent of Schrödinger's paradox.
Advertisements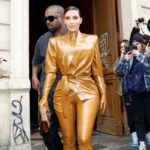 Advertisements
Kim Kardashian crammed herself into a latex suit while in Paris for Kanye's Sunday service in March 2020. It's a miracle she could sit for the sermon in that thing.
This outfit is perfect for church. Nothing says "I love the Lord" more than a tight latex bodysuit. Still, ironically, isn't that a bit too revealing of her body curves for church?
Advertisements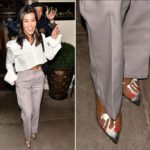 Advertisements
Kourtney Kardashian jumped on the clear shoe trend while out and about in Los Angeles, California. Let's zoom in on these practical plastic shoes.
Um… her toes were sweating so much that her shoes fogged up. Is this even hygienic? This is a very bad choice of shoe. Let's bet she never wore them again.
Advertisements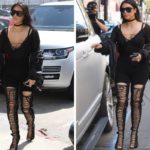 Advertisements
Kim Kardashian laced herself into some strange thigh-high boots while meeting Scott Disick for lunch in Los Angeles in May 2016. Those laces are working overtime.
This is a totally appropriate look to meet your sister's ex-boyfriend for lunch. Not racy at all. We can only imagine how long it takes to tie them up and we are discouraged!
Advertisements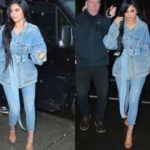 Advertisements
Kylie Jenner showed her love for denim when she stepped out to eat dinner at the Sarafina Restaurant in Soho, New York, in March 2017. We love a good denim jacket, but this head to toe look is a bit overboard.
Is that long belt made for a giant? This outfit is perplexing. Too much is like not enough, as we say.
Advertisements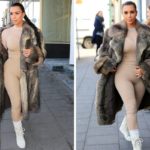 Advertisements
Kim Kardashian showed off her curves into a nude bodysuit while vacationing in Iceland in April 2016. The fur coat seems out of place with that unitard.
The Yeezy tennis shoe boots only add to the confusion. This outfit is all over the place, and there is really nothing we like about it. Go back and change, Kim!
Advertisements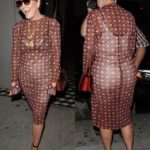 Advertisements
Kris Jenner had a bit of a wardrobe malfunction while out in Los Angeles, California in June 2017. The photographer's flash bulbs exposed her nude slip.
Although, we can't help but wonder if she took a note from Kourtney and did this on purpose? We wouldn't put it past her.
Advertisements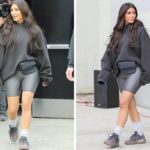 Advertisements
Kim Kardashian went through a phase of wearing biker shorts as street fashion. The paparazzi captured her in this frumpy look as she went to Watts Empowerment Center to receive the "Key to our Heart" for her family's donation to the program in March 2018.
Did she just leave the gym? How is this considered fashionable?
Advertisements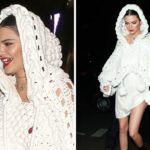 Advertisements
Kendall Jenner wore this kooky outfit on the streets of London in February 2017. This is another head-scratcher because she always stays on trend.
If the baggy sweater wasn't enough, the gold tooth seems so random. Maybe she suffered from jet lag? The only valid reason to wear this sweater is if it was made by her lovely grandmother.
Advertisements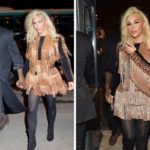 Advertisements
Kim Kardashian went Western chic at the Balmain PFW dinner of the Paris Fashion Week in March 2015. That fringe is out of control.
Sorry, Kimmy. This outfit is so bad that even Kanye looks baffled by it. And it looks like the blonde hair adds to the bad look, don't you think? It could be an interesting costume for a figure skating number, though.
Advertisements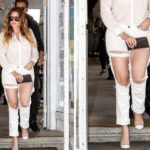 Advertisements
Khloe Kardashian jumped on the shredded jeans trend, but took it a bit too far while running errands in Los Angeles. Holey jeans can be cool, but these just look trashy.
Some poor stylist must have slipped when they were shredding these with scissors. That's the only logical explanation.
Advertisements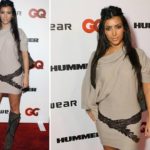 Advertisements
It's so fun to look back at Kim Kardashian's outfits from the early 2000s. She actually wore this belt and boot ensemble to a Jay-Z release party in Hollywood, November 2006.
Her hair and makeup are just as awful as this outfit. Was Robin Hood inspired red carpet wear ever a thing?
Advertisements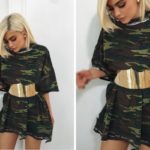 Advertisements
Kylie Jenner mixed fashion with outdoor wear when she posted this pic of her in a camo shirt and a gold belt on Instagram in September 2016. These two things just don't go together.
Quit trying so hard, Kylie. You won't win any fashion wars with this look. Unless it's a worst outfit contest, then you'd have a chance.
Advertisements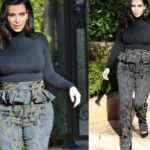 Advertisements
We can all learn a lesson from Kim Kardashian's peplum pants fiasco. She was spotted wearing python peplum pants in Los Angeles in 2013. This is yet another maternity look gone wrong.
The frilly top just adds volume to her curvy frame. This is a major fashion flop!
Advertisements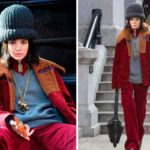 Advertisements
Kendall Jenner walked the Marc Jacobs Autumn 2017 show at Park Avenue Armory in this confusing outfit. We get they styled her for the fashion show, but this is just not a good look on her.
It's a lot to take in. From the puffy wool hat to the chunky platform shoes, this outfit is ridiculous from head to toe.
Advertisements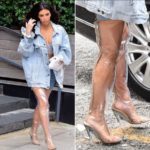 Advertisements
Kim Kardashian sported these terrible thigh-high clear boots during a trip to New York City in 2016. She completed the hideous outfit with a sheer bra, denim cut-off shorts, and a huge denim jacket.
We can only imagine how sweaty she got in those plastic boots. It's like a walking sauna for her legs. Yuck!
Advertisements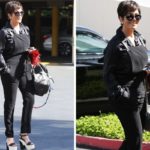 Advertisements
Kris Jenner normally looks flawless, but this outfit is just a fashion no. Photographers captured the "Momager" walking to the family office in Los Angeles in black overalls in April 2014.
Those chunky black and white sandals aren't doing her any favors. Who knew Farmer Kris was even a thing?
Advertisements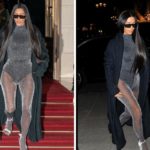 Advertisements
Kim Kardashian paired a leotard with glittery stockings and high heels while going out to dinner during the 2019 Paris Fashion Week. She topped the whole thing off with a long black coat.
This shimmery look just seems awkward. Does anybody else think she looks like she's on her way to audition for the Rockettes?
Advertisements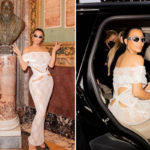 Advertisements
To visit the Vatican City, on July 1st, 2021, Kim Kardashian decided to wear a white lace dress rather revealing. We strongly doubt that this is a look suitable for such a visit.
In the caption of her Instagram post, she still wants to reassure her fans, though. She wrote, "Don't worry, I adhered to the dress code and fully covered up while inside St. Peter's Basilica and the Sistine Chapel's".
Advertisements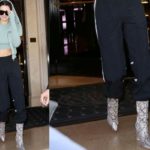 Advertisements
The paparazzi snapped a pic of Kendall Jenner committing a major fashion crime. The Keeping Up with the Kardashians star paired Adidas track pants with snake-skin boots.
We get trying to dress up athletic wear, but this look just isn't working. Someone should've stopped her from going out in public looking like such a hot mess.
Advertisements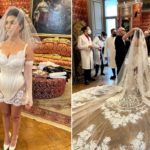 Advertisements
Kourtney's clothing style has changed dramatically over time, especially since she was in a relationship before drummer Travis Barker. This change of style is reflected in her wedding dress.
Although "dress" is very quickly said. Let's just say that it's far from a traditional wedding dress! It lacks a bit of length, and literally lacks fabric. And what about the huge veil with the Virgin Mary in the center… No, really, Kourtney, we're not buying it.
Advertisements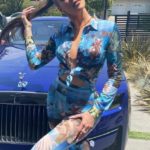 Advertisements
Khloe is potentially the Kardashian who fascinates us the most. Not only is her evolution as a woman admirable and her physical transformation amazing, but what strikes us the most is her fashion inconsistency.
Khloe is as capable of being dressed in a very classic, chic, modern and glamorous way as she is of wearing sportswear even when she doesn't workout. But this kind of 2-piece spandex outfit with Renaissance prints on it? Frankly, it's far from pretty.
Advertisements
41

New Kind Of Motorcyclist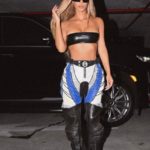 Advertisements
Has Kim Kardashian taken up motorcycling? It's funny, but we have our doubts. Especially since she's wearing high heels, a tiny crop top and her hair is perfectly styled. And that she clearly just got out of the big black SUV behind her.
But Kim, why the motorcycle pants? They're not meant to be everyday clothes, they're meant to be motorcycle clothes! Not everything is fashionable, and these pants definitely aren't!
Advertisements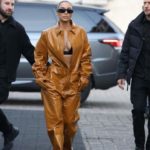 Advertisements
Kim Kardashian wearing latex one-pieces that even cover her hands and sometimes her feet, we are used to it, it does not surprise us anymore. But Kim Kardashian wearing a baggy latex one-piece? What's going on?
Add a hood and a visor to this one-piece and it looks exactly like a hazmat suit. Good thing she didn't button it up to the neck or we would have wondered even more about this clothing choice!
Advertisements
43

Tommy Hilfiger… Pajamas?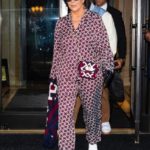 Advertisements
There are two types of people in life: those who like branded clothes, but prefer the mention of said brand to be subtle, and those who like their items to be lined with the brand. Kris is definitely in the second category.
We understand that she was going to the Richard Quinn X Tommy Hilfiger show, but that's totally over the top. A blue, red and white complete outfit covered with T's and H's, with matching handbag and tote bag, frankly, is a lot. And it looks more like pajamas than a suit!
Advertisements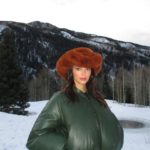 Advertisements
We know that Kendall Jenner is the most boyish of the Kardashian-Jenner sisters. She likes nature and simplicity, and she is the one who is the least pompous on a daily basis. Still, there are limits to trying to make a rural look fashionable!
In our opinion, she's been watching too much the Yellowstone TV show, and it's gone to her head a bit. She could have gone for a more traditional cowboy look; she already did that and the result was great! But no, she opted instead for the cowboy chic version that reminds us of a kid dressed up as a pumpkin.
Advertisements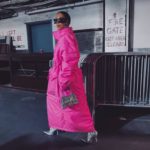 Advertisements
At a certain point, wearing an oversized coat just becomes ridiculous. It's a coat, not a dress! And based on the shiny heeled boots she's wearing, paired with her equally shiny handbag, there wasn't much snow where she was in October 2021.
We could see the point of such a coat if she were visiting the North Pole or one of the coldest countries in the world, but there's certainly no place in the United States that requires wearing this big pink thing.
Advertisements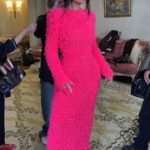 Advertisements
It is not because a dress was created by a famous designer that it is necessarily beautiful, far from it. In this photo, Kylie Jenner is wearing a dress signed by the late Demna, who worked at Balenciaga.
We can't help but find that this dress of a much too flashy pink looks like it was made from a bath mat fabric. And what about the combination with the huge white sunglasses that give her an alien face!
Advertisements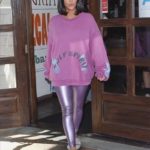 Advertisements
We almost forgot that there was a time when Kim Kardashian looked like a completely normal girl with no larger-than-life proportions and absolutely no pores in her skin. Yes, Kim was once ordinary! Kind of, at least.
One can only wonder what once drove the famous Kim Kardashian we now know to go out dressed like this. Big purple sweatshirt with "Holy Spirit" written on it, metallic purple leggings, but above all, slippers. What's up, Kim?
Advertisements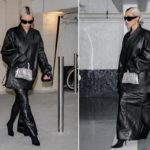 Advertisements
With Kim Kardashian, it's all or nothing. Either she wears too much clothing, or she does not wear enough. Either she wears clothes too tight, or her clothes are too big.
What is this leather kimono? And that long, wide skirt that goes with it? It just looks like a big shapeless bundle of leather! We look at the picture and just want to exclaim, "Kim, oh no!"
Advertisements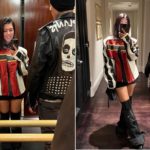 Advertisements
Kourtney Kardashian would never have worn such an outfit before meeting her husband, Travis Barker. Her look has become more grunge, more rock, and it sets her apart from her sisters for sure.
The leather motorcycle jacket, well, that's okay. But with a dress or skirt that short? It's already a little strange, but it's still okay. However, we do stall at the boots that come just above her knees and have a fake pant's bottom on them.
Advertisements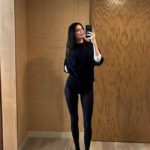 Advertisements
It would be possible to believe that Kendall Jenner dressed like this just for the photo. After all, her dark blue sweatshirt with a little white sleeve sticking out, her long legs in tights and her high pointy heels, it gives her a chic and sexy look!
But she will wear pants or a skirt to go out for sure. Right? Well, no! Pictures of her outside holding a bouquet of flowers in her hands were taken, and she's still wearing nothing but her tights. This is her complete outfit, and we can't believe she did that.
Advertisements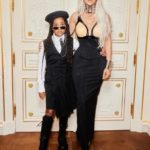 Advertisements
Let's be honest, if we only take into account the outfits on this picture, it's not that bad. The nude patches on the bust of Kim's dress are a bit strange—and a bit too much of the same color as her skin; when you look quickly, you think you saw something else—but for the rest, it's good!
But can we talk a little about all the bling bling that Kim and her daughter North are wearing? The long chain hanging from their nose? And the sunglasses inside, we will never understand. North is definitely starting to share her mom's love of fashion, and we wonder if that's good news or not!
Advertisements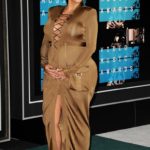 Advertisements
But what the heck happened with Kim Kardashian at the 2015 Video Music Awards? What is that dress with a big pocket on each side, and a laced front? Was it Kanye who chose her outfit for the evening? We bet it was.
Either way, let's be honest, this dress is absolutely horrible, and she should have realized it. Clearly, it was not designed to be worn by a pregnant woman. Kim looks ridiculous and ten times bigger than she really is in this horror.
Advertisements
53

She'll Never Lose Her Keys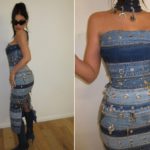 Advertisements
Kylie Jenner is a denim fanatic, and she often proved it. However, this all-denim dress with metallic holes and a ton of charms is something else entirely. She even has the denim choker to go with it, and even her boots look like they are made of denim!
Not only is that a lot of denim, but it's also a lot of metal charms. Truthfully, Kylie looks like a big keychain. At least it's practical; she can attach her keys to one of the holes in her dress and she's sure to never lose them.
Advertisements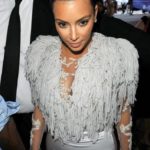 Advertisements
Here is the dress Kim Kardashian wore when she attended the Marchesa Spring 2013 show in September 2012. She was starting to make her mark in the fashion industry then, but she wasn't yet the icon she is now.
The dress itself could have been very pretty if not for the ugly overlay she wore on her shoulders. Nothing to do, we're sorry, but it looks like a mop. Kim Kardashian showed up at a fashion show wearing a mop. That's bad.
Advertisements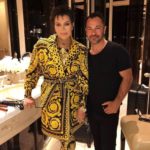 Advertisements
This outfit of Kris Jenner makes our eyes and head hurt. It's honestly hard to watch! There are too many patterns—why the leopard print collar in addition of all the rest!?—and definitely too much yellow.
Not only does this outfit not look good on her, but Kris seems to have tweaked her photo a bit to look even better. Well, we're not sure how having one leg is better than having two, but anyway.
Advertisements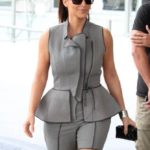 Advertisements
We are not quite sure of the right way to qualify this outfit that Kim Kardashian is wearing on this picture. First, is it a dress or two separate pieces?
And the shorts part, it looks like bike shorts. So is it a bike dress, maybe? But why would someone wear a bike dress? But more importantly, why would Kim wear a bike dress when she doesn't ride a bike?!
Advertisements
57

Picnic Tablecloth Suit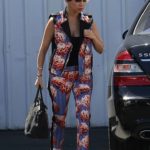 Advertisements
We feel like this Kourtney Kardashian outfit could have been pretty, but there's something about it that really annoys us. Is it the mix between the all-black fabric and the blue and white plaid with big red and white flowers on it?
Or is it too much pattern since the pants AND the jacket are matched with this pattern? And let's face it, this pattern reminds us way too much of a picnic tablecloth. With her hair, it gives her a very original look, but still a little too much.
Advertisements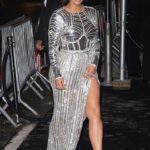 Advertisements
What happened to Kim Kardashian's look at the annual MET Gala in New York in 2016? Was it Kanye West who had concocted their look? If so, seriously, it's far from one of his best designs.
What is that horror that Kim is wearing? That metallic dress with a very high slit and a top not unlike a knight's armor is truly awful. And where are her eyebrows? Her face is scary in this picture!
Advertisements