Take A Look At These Celebrities Who Used To Be Cheerleaders
Advertisements
Before Fergie became the well-known star she is today, she was simply Stacy Ann Ferguson, a student at Wilson High School in Los Angeles. There, Fergie joined the cheerleading team. This photo, taken in 1992, shows off Fergie's embroidered cheer uniform for the Wildcats.
While cheerleading requires lots of charisma, Fergie was already comfortable in front of a crowd. In 1984, she had already appeared in numerous commercials and starred on Kids Incorporated. The show allowed Fergie to show off her singing skills, and she later joined the pop group Wild Orchid. However, the band never made it big. Due to the lack of success, Fergie began to abuse the good stuff. It wasn't until 2003, when this period was behind her, that she joined the Black-Eyed Peas and finally found success in the music world.
Advertisements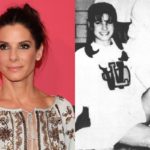 Advertisements
Before Sandra Bullock was a big-time Hollywood star, she was just another student at Washington-Lee High School in Arlington, Virginia. There, she joined the varsity cheerleading squad. But cheerleading was just one aspect of Bullock's involvement with her school. She was also President of the German Honor Society and Vice-President of the Thespian Honor Society, among a variety of other activities she participated in.
Although Bullock grew up in a family of singers where performing was always part of her life, she didn't pursue a career in entertainment in earnest until after she graduated from East Carolina University. Then, she moved to New York to pursue a career onstage. However, her work eventually led to being cast in films. She made a splash in the 1993 movie Demolition Man, which launched her illustrious career.
Advertisements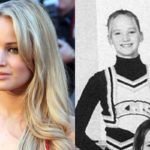 Advertisements
When she was growing it, it was a requirement in Jennifer Lawrence's family that all the children participate in sports. To that end, Lawrence played basketball, softball, field hockey, and joined the cheerleading squad. However, it wasn't exactly her cup of tea. Though she didn't single out cheerleading, Lawrence did say that team sports in general weren't exactly her strong suit.
Although team sports weren't to her liking, Lawrence did find her talent in acting. She was originally discovered at just 14 while on a trip to New York with her family. She then started acting in commercials and various other projects. Her first notable gig came when she was cast on The Bill Engvall Show. After that, she began acting in feature films and eventually became the huge star she is today.
Advertisements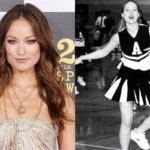 Advertisements
For high school, Olivia Wilde attended Phillips Academy in Andover, Massachusetts, a prestigious institution that boasts graduates like Humphrey Bogart and George W. Bush. During her time at the school, Wilde was a member of the step team. While step is slightly different than cheer, the outfits and overall effect are the same.
Wilde's first big break came in 2003 when she landed the role of Alex Kelly in The O.C. The role came after years of hard work for Wilde, who deferred her admission at Bard College in New York three times to pursue her acting career. She further committed to her job in entertainment by later studying at the Gaiety School of Acting in Dublin, Ireland. Obviously, all that hard work and education paid off.
Advertisements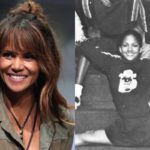 Advertisements
Halle Berry was quite the superstar in high school. In addition to being the editor of the school newspaper, an honor student and prom queen, Berry was also a cheerleader at Bedford High School in Cleveland. In short, Berry did it all, and she still kept that dazzling smile on her face.
When she was younger, Berry competed in a variety of beauty pageants, which set the stage for her entertainment career. She even made it all the way to Miss USA, where she finished as the first runner-up. She then landed her first major movie role in 1992's Boomerang, which she starred in alongside Eddie Murphy. After that, Berry's career continued to rise, transforming her into the Oscar-winning actress she is today.
Advertisements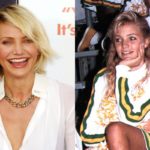 Advertisements
When she was younger, Cameron Diaz attended Long Beach Polytechnic High School in Long Beach, California. There, she joined the "pep squad," otherwise known as the cheerleading team. In this picture, she was just a sophomore. Though she seems young, the photo was snapped right around the start of her entertainment career.
Though she's well-known today as a talented actress, Diaz actually started as a model. She began modeling when she was just 16. She later claimed it was a way to get out of her hometown, and it certainly worked. Soon, she signed with Elite Model Management and started appearing in campaigns for big brands, such as Calvin Klein and Levi's. Her agent then asked her to audition for a movie. Though Diaz was hesitant, she agreed to give acting a shot—and the rest is history.
Advertisements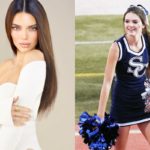 Advertisements
While some stars were high school cheerleaders in days long past, Kendall Jenner's cheerleading days aren't far behind her. Despite her famous family, Kendall Jenner attended her local school: Sierra Canyon High School in Chatsworth, CA. However, she soon dropped out to pursue a homeschooling route that would allow her to focus on her modeling career. While at the school, Jenner joined the cheer squad and showed off some dance moves while flaunting her school spirit.
Of course, Jenner's fame began when she was just a child through her family's reality series Keeping Up With the Kardashians. But Jenner managed to find success beyond the TV show. At age 14, she signed with Wilhemina Models and soon began appearing in print ads. In fact, Jenner's first big gig as a model was the cover of American Cheerleader magazine. After that, her career continued to take off as she graced the covers of numerous magazines and walked the runways of illustrious fashion shows, all while maintaining her status as a reality star.
Advertisements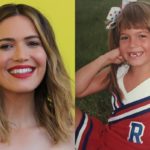 Advertisements
While some stars pursued cheerleading in high school, Mandy Moore was just a child when she first donned her uniform. While the actress has claimed she wasn't the most adept at the physical aspects of the sport, she was a rather loud cheerleader. Though she loved the hobby, she thankfully decided to take her career down a different path.
After outgrowing her cheerleading uniform, Moore turned her attention to music. In the early 2000s, she started to gain some recognition for her singing skills. She released her debut album, So Real, in 1999. She then released three more albums before she even turned 20 years old. After some time on the music scene, Moore made the transition to acting and is now a household name.
Advertisements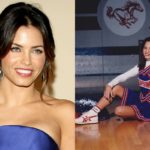 Advertisements
Before she was a professional dancer, Jenna Dewan was a high school cheerleader in Texas. She posted about her cheerleading days on Instagram, and has said in interviews that she brought the over-the-top Texas cheerleader style into her professional career. According to her, glitter eyeliner is a must.
While Jenna Dewan was waving her pom-poms around, she was also pursuing her deep love of dancing. After graduating from the University of Southern California, Dewan was discovered by a dance agent and started touring as a backup dancer for some of the biggest names in music, including Janet Jackson, Missy Elliot, and Ricky Martin. In 2006, she landed the role of Nora Clark in Step Up, which vaulted her into the world of Hollywood fame.
Advertisements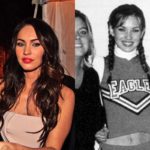 Advertisements
During her teen years, Megan Fox moved to Florida. There, she joined the cheerleading team for Morningside Academy in Port Lucie. The team, as clearly seen on her cheer uniform, was called the Eagles. While Megan looks different in her younger photos, the gorgeous face that made her so famous in Hollywood is still recognizable, even at a young age.
Megan Fox first established herself as a force to be reckoned with in Hollywood when she starred in the 2004 film Confessions of a Teenage Drama Queen alongside Lindsay Lohan. A few years later, in 2007, she landed a role in Transformers, which vaulted her into mainstream popularity. While she has taken a step back from the entertainment world in recent years, she managed to find the kind of success most people in Hollywood only dream about.
Advertisements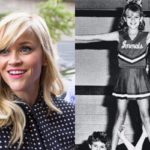 Advertisements
Reese Witherspoon was another star who began her cheerleading career as a young girl. The vintage photo of Witherspoon in uniform shows off the name of her team, the Generals. When Witherspoon posted the photo, she referred to herself as a "proud" cheerleader. That's probably why she got so hooked on Netflix's Cheer series.
Despite her love of cheer, Witherspoon decided to pursue a different path. The star got her start in entertainment at just 7 years old, when she began modeling. The modeling quickly led to appearances in TV commercials, which allowed her to land her first acting role in The Man in the Moon. From there, Witherspoon's star just continued to rise. She garnered more and more fame, and is now one of the most well-known actresses in Hollywood.
Advertisements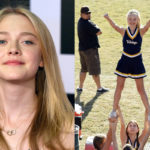 Advertisements
As a child actress, Dakota Fanning was homeschooled for most of her life. As she grew older, however, she craved a bit of normalcy. She eventually decided to attend Campbell Hall High School in Los Angeles and immediately established herself as a force to be reckoned with. She joined the cheerleading squad and was even voted homecoming queen during her time at the school. With a such successful high school career alongside her impressive acting resume, Fanning proved that you can have it all.
Dakota Fanning started her career at an incredibly young age. After her parents noticed her interest in acting, they spent six weeks in Los Angeles, where Fanning quickly landed a national commercial. She soon signed with a professional agency and landed her first move role in 2001 at just 7 years old. After that, Fanning became a prominent child actress, starring in numerous films in just a few short years, including I Am Sam, Uptown Girls, and War of the Worlds.
Advertisements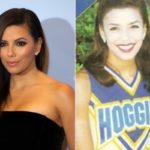 Advertisements
While many Hollywood stars put an end to their cheerleading careers after high school, Eva Longoria continued to pursue the sport after she graduated. Longoria first cheered for Roy Miller High School in Corpus Christi, Texas. After she graduated, she attended Texas A&M Kingsville for college, where she studied kinesiology. In addition to her studies, Longoria again joined the cheer team.
It was during her college days that Longoria first started her career in entertainment. She won the Miss Corpus Christi pageant and was subsequently signed by an agent in Los Angeles. She began auditioning after graduation, but only found minor success until she landed a two-year role on The Young and the Restless. After that, she found breakout success starring in ABC's Desperate Housewives, which launched her into the public eye.
Advertisements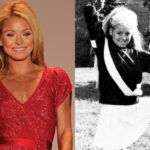 Advertisements
Kelly Ripa was born to be a performer. Although she started ballet lessons at the age of three, she didn't discover her talent for cheerleading until high school. She attended Eastern Regional High School in New Jersey and quickly joined the cheer squad. However, Ripa now admits her fashion tastes weren't the best at that time. After admitting that she was addicted to tanning, she also commented on the huge nest of hair on her head that created this unique look.
After high school, Ripa moved to New York City to pursue a career in acting. She landed a major role on All My Children and stayed with the show for 12 years. When her time on All My Children came to an end, Ripa immediately replaced Kathie Lee Gifford and started hosting Live! With Regis and Kelly alongside Regis Philbin. She still hosts the show now, but Ryan Seacrest is her current co-host.
Advertisements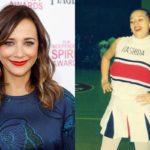 Advertisements
Since Rashida Jones is a dynamic actress, it should come as no surprise that she was a student of many talents during high school. She has described herself as "overachieving" when talking about her past. Not only was she a cheerleader, but she was also in numerous clubs, including the math club and the National Honor Society. Her drive to succeed led her to Harvard University, where she studied religion and philosophy.
It was during her days at Harvard that Jones first found an interest in acting. She first starred in a mini-series called The Last Don, released in 1997. After that, she had small roles in numerous television shows before she joined the cast of The Office in 2006. She also kept herself busy by being a backup singer, model, and writer while pursuing her acting career.
Advertisements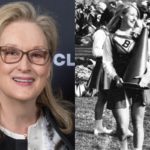 Advertisements
Long before she began her illustrious career in Hollywood, Meryl Streep found popularity as a high school student. Along with joining the cheer squad at Bernard's High School in New Jersey, she was also a member of the choir and was voted homecoming queen in her senior year. This was way back in the 1960s, but Streep had already found a love for acting and starred in many of her school's productions.
Streep's real talent for acting emerged when she attended Vassar College in 1966. There, she starred in Miss Julie and earned widespread attention across campus. She then got her Master's degree at the Yale School of Drama, where she continued to let her talents shine onstage. Before landing her first film role opposite Jane Fonda in Julia in 1977, Streep focused much of her attention on the theater.
Advertisements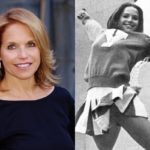 Advertisements
While attending Yorktown High School in Arlington, Virginia, Katie Couric joined the cheerleading team. While it was a fun pastime, it wasn't enough to capture all of the renowned journalist's attention. Even at that time, she split her effort between the cheer squad and an internship at a radio station in Washington, D.C.
After high school, Couric attended the University of Virginia, where she continued to pursue her career in journalism. After graduating, she landed her first job at the ABC News Bureau in Washington in 1979. Since then, she has steadily built her career as a journalist, producer, author, and presenter, earning many awards along the way.
Advertisements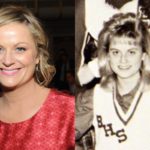 Advertisements
While Amy Poehler's goofy personality doesn't exactly scream "cheerleader," her endless energy and pep certainly do. While attending Burlington High School, Poehler was a member of the cheer squad from 1986 to 1989. If you needed any more proof that it was the 80s, just take a look at Poehler's high school haircut.
After high school, Poehler studied communications and media at Boston College. After graduating, she joined a comedy troupe and quickly established herself as a talented comedy writer. For a while, she stayed behind the camera, writing sketches for shows like Late Night With Conan O'Brien. Eventually, she landed a role on Saturday Night Live, which she starred on from 2001 to 2008. Poehler's time on SNL truly kick-started her career.
Advertisements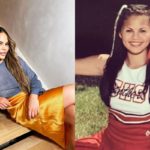 Advertisements
After the docuseries Cheer debuted on Netflix, Chrissy Teigen took to her Instagram to reminiscence on her time in uniform. But according to the model and celebrity personality, she wasn't very good at the sport. While there wasn't a JV and Varsity squad at her school, Teigen was assigned to the cheerleading team that attended volleyball and wrestling matches, while the other team cheered for basketball and football games.
But even though cheerleading didn't work out for Teigen, modeling certainly did. At 18, Teigen was discovered by a photographer in Huntington Beach, California. She began modeling and soon moved to Miami to pursue the career in earnest. While she worked paycheck to paycheck for a while, she gradually started landing bigger and bigger gigs. In 2018, she was one of the highest-paid models in the world with a net worth of $11.5 million.
Advertisements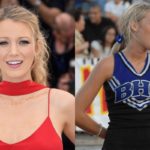 Advertisements
If there's one star who definitely gives off cheerleader vibes, it's Blake Lively. The woman behind the iconic Serena Van der Woodsen from Gossip Girl exudes beauty and confidence. Therefore, it was a surprise to no one when Lively shared a throwback pic from her cheerleading days. While she poked fun at her athleticism during her time at Burbank High School, she certainly looks comfortable in the uniform.
While Lively was bouncing around in her cheerleading uniform, she was also setting the stage for her future acting career. Though she had a few small parts during her childhood, Lively landed her first big role as Bridget in The Sisterhood of the Traveling Pants right before her senior year. She then returned to school to officially graduate before pursuing a career in acting in earnest.
Advertisements