These Celebrities Graduated With Surprising University Degrees
1

Bradley Cooper Has A B.A. In English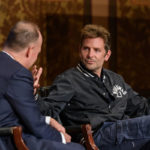 Advertisements
Bradley Cooper has talked openly about his time attending Georgetown University, which he considers a top accomplishment in his lifetime. The four-time Oscar nominee applied to Georgetown right after high school, but unfortunately wasn't accepted. After attending rival school Villanova University, Bradley was eventually able to transfer to his dream college. He graduated from Georgetown in 1997 with a Bachelor's in English and a minor in French.
Advertisements
2

John Legend Has A Degree In English & African-American Literature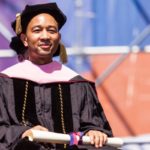 Advertisements
John Legend, talented musician and husband of Internet legend Chrissy Teigen, always knew he wanted to have a career in music. But before he started pursuing entertainment in earnest, he decided to get a degree and ensure some stability if his dream didn't come true. While deciding where to attend school, Legend reportedly turned down a scholarship from Harvard and instead decided to attend the University of Pennsylvania, where he studied English with a focus on African-American literature. He graduated magna cum laude in 1999. He initially started working at a consulting firm while pursuing music on the side. Eventually, he got his big break, and the rest is history.
Advertisements
3

Ken Jeong Has A Medical Degree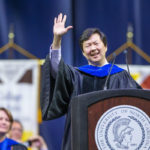 Advertisements
While it's hard to imagine actor Ken Jeong in any kind of serious role, the comedy talent actually boasts a medical degree. In fact, Jeong is something of a genius. He graduated high school at just 16 years old and went on to attend Duke University. After graduating from Duke with his Bachelor's degree in 1990, Jeong attended medical school at the University of North Carolina. He graduated in 1995 and completed his residency in New Orleans. He then worked as a doctor for years while doing comedy on the side. When he finally got his big break in a small role on The Office, he left medicine behind and decided to pursue acting full-time.
Advertisements
4

Eva Longoria Has A B.S. In Kinesiology
Advertisements
The gorgeous Eva Longoria is so much more than her looks. Before she landed a role on Desperate Housewives, she attended Texas A&M University in Kingsville. She graduated with a Bachelor of Science in Kinesiology, the scientific study of body movement. After college, she made her foray into acting, but she wasn't ready to say goodbye to her school days just yet. In 2013, Longoria graduated with a Master's degree in Chicana/o Studies from California State University, Northridge. While working towards that degree, she released a thesis on the importance of Latina women in STEM careers.
Advertisements
5

Sacha Baron Cohen Has A Degree In History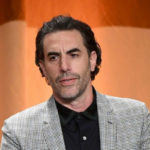 Advertisements
Sacha Baron Cohen is known as a comedy legend. He is the genius behind beloved characters like Ali G, Borat, Brüno, and many more. But before Cohen became the ultimate funny man, he attended Christ's College at the University of Cambridge in England. There, he studied and earned a degree in history. He graduated in 1993 and went on to embrace his politically inappropriate satire. Though he uses his degree sparingly in his work in entertainment, it's still impressive that he graduated from one of the top schools in England.
Advertisements
6

Carrie Underwood Has A B.A. In Mass Communications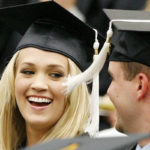 Advertisements
Unlike other stars on this list, Carrie Underwood actually put her entertainment career before her schooling. When she joined the cast of American Idol season four in 2005, she was in the middle of earning a Bachelor of Arts degree in mass communications from Northeastern State University. In fact, she was only three credits away from completing her degree. Still, she decided to leave college to pursue the opportunity with American Idol. In May 2005, she was crowned the winner of the singing competition. In recognition of her accomplishments, NSU granted her the last three credits, allowing her to graduate magna cum laude in 2006. 
Advertisements
7

Mayim Bialik Has A Ph.D. In Neuroscience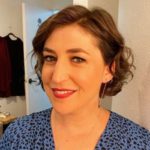 Advertisements
On TV, Mayim Bialik played neurobiologist and total genius Dr. Amy Farrah Fowler on The Big Bang Theory. But it seems her genius-level smarts weren't all an act. Bialik actually earned a Ph.D. in neuroscience from the Univerisity of California, Los Angeles. Bialik started as an actor on NBC's Blossom, which she starred in from 1991 to 1995. When that ended, she decided to take a step away from entertainment and focus on school. She earned her undergraduate degree in 2000 before going on to earn her doctorate degree in 2007. After she conquered the academic world, she made her triumphant return to the small screen.
Advertisements
8

Rebel Wilson Has A Law Degree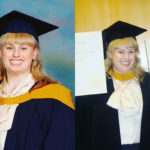 Advertisements
Rebel Wilson is an uproariously funny actress. But even though comedy seems to come naturally for her, it wasn't her first professional pursuit. Wilson graduated from the University of New South Wales in Australia with a double degree in law and arts. However, she soon decided that the corporate world wasn't for her and switched her attention to acting. Since then, she has starred in many noteworthy films, including Pitch Perfect, Isn't It Romantic, and The Hustle. 
Advertisements
9

Rashida Jones Has A Bachelor's In Comparative Religion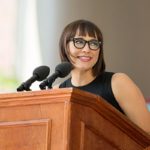 Advertisements
Rashida Jones is a talented actress best known for her work as Karen Filippelli on NBC's The Office and Ann Perkins on Parks and Recreation. But, especially considering her proclivity for silly, comedic roles, most fans don't know that Jones earned a Bachelor's degree in comparative religion from Harvard University. During her time at the school, she was also the musical director of a cappella group the Harvard Opportunes, as well as an active member of the Harvard Black Students Association. She graduated in 1997 and went on to pursue her acting career in earnest.
Advertisements
10

Ellie Kemper Has A B.A. In English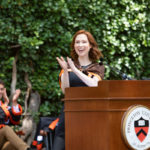 Advertisements
Comedic actress Ellie Kemper lived a full life before she joined the world of entertainment. In 2002, Kemper graduated from Princeton University with a Bachelor of Arts in English. During her time at Princeton, Kemper was involved with various theater clubs, and was a member of the National Championship-winning field hockey team. After graduation, she pursued a graduate degree in English literature from Oxford University. Then she moved to New York City and committed herself to studying improvisation, which helped her get her start in acting.
Advertisements
11

Allison Williams Has A B.A. In English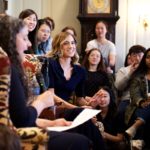 Advertisements
Before Allison Williams played Marnie Michaels on Girls, she attended Yale University. Despite earning a spot at the prestigious school, education wasn't the primary focus for Williams. She always wanted to pursue a career in acting, but her parents insisted she graduate from college before entering the entertainment world. During her freshman year at Yale, she auditioned for a big musical, but didn't land a part. She then joined an improv group, Just Add Water, where she discovered a real talent for comedy. She graduated in 2010 with a degree in English and immediately moved to Los Angeles to pursue acting.
Advertisements
12

Dakota Fanning Has A Degree In Women's Studies
Advertisements
Dakota Fanning was another child actor turned academic. After building a successful entertainment career, Fanning enrolled in the Gallatin School of Individualized Study at New York University. There, she built her own major, focusing on the portrayal and impact of women in film. She graduated in 2016, adding another item to her long list of accomplishments.
Advertisements
13

Aziz Ansari Has Degree In Business Marketing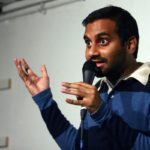 Advertisements
In NBC's Parks and Recreation, comedian Aziz Ansari played Tom Haverford, an administrator for Pawnee's Parks and Recreation Department. But before Ansari took on the hilarious role, he attended New York University's Stern School. After moving to New York from South Carolina, Ansari chose to major in business marketing because he thought it would help him to get a well-paying job after graduation. But after graduating from NYU in 2004, Ansari quickly turned his attention to comedy, which was much more intriguing to him than business.
Advertisements
14

Danai Gurira Has A Degree In Social Psychology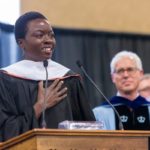 Advertisements
Danai Gurira first made a splash playing Michonne on the popular TV series The Walking Dead. Then she vaulted herself to superstar status after landing the role of Okoye in the Hollywood hit Black Panther. But before all that success, Gurira attended Macalester College in Minnesota. She graduated from the school in 2001 with a Bachelor's degree in social psychology. She then returned to the school in 2016 as one of the commencement speakers.
Advertisements
15

David Duchovny Has B.A. In English Literature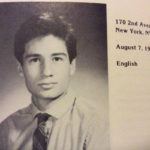 Advertisements
David Duchovny is best known for playing FBI agent Fox Mulder on The X-Files and writer Hank Moody on Californication. But before he got into acting, he attended Princeton University, where he earned a Bachelor of Arts in English literature. After he graduated summa cum laude in 1982, he went on to attend Yale University, where he worked to earn his Master's in English literature. However, he never finished his thesis and therefore never graduated. While he impressed many teachers during his time at Yale for his proficiency in poetry, Duchovny abandoned all his studies in 1987 and decided to focus on acting full-time.
Advertisements
16

Issa Rae Has A Degree In African-American Studies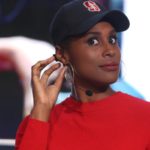 Advertisements
Issa Rae's college years didn't turn out quite like she originally hoped. The creative teenager wanted to attend school in New York, where she felt she could put her story-telling skills to work. But after 9/11, her parents insisted that she remain closer to home. She ended up attending Stanford University, where she majored in African and African-American studies while earning a minor in political science. During her years at the school, Rae continued to cultivate her creative side, producing a range of video and stage productions. When she graduated in 2007, she was ready to take on the entertainment world.
Advertisements
17

Cole Sprouse Has A Degree In Archeology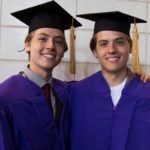 Advertisements
With a successful career as a child actor on the Disney Channel's The Suite Life Of Zack and Cody, Cole Sprouse could have easily skipped college altogether. He certainly didn't need a degree to continue his career in entertainment. But rather than focusing all his energy on the entertainment world, Sprouse enrolled in the Gallatin School of Individualized Study at New York University. There, he designed his own major. Under the umbrella of archeology, Sprouse earned a degree in geographical information systems and satellite imaging. After taking place in several excavations, including a 2013 dig in Bulgaria, Sprouse graduated in 2015.
Advertisements
18

Natalie Portman Has A B.A. In Psychology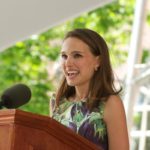 Advertisements
Although Natalie Portman started acting when she was very young, she was always committed to her schoolwork. She got her first big break at just 12 years old in the film Léon: The Professional, but continued to make time to study and boost her grades. She did very well, as she earned a place at the prestigious Harvard University. In 2003, she graduated with a Bachelor's degree in psychology. Despite her academic achievements, she returned to the world of acting after college and easily established herself as a talented household name.
Advertisements
19

Lisa Kudrow Has A B.S. In Biology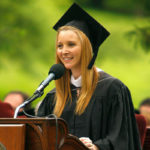 Advertisements
Lisa Kudrow is best known for her role as Phoebe in the immensely popular TV show Friends. But despite Phoebe's somewhat air-headed persona, the actress behind the character is rather brilliant. After a fairly normal childhood growing up in California as the daughter of a physician, Kudrow attended Vassar College in New York. Thinking she would follow in her father's footsteps, she graduated with a Bachelor of Science in biology in 1985. Though she worked under her father for eight years, she eventually discovered a true love for acting and made a successful career switch into the world of entertainment.
Advertisements
20

Will Ferrell Has A B.A. In Sports Information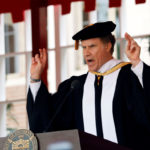 Advertisements
Before he became the renowned actor and comedian he is today, Will Ferrell was just a normal student at the University of Southern California. In 1990, he graduated from the Annenberg School for Communication and Journalism with a Bachelor of Arts in sports information. He then went on to work as an intern in NBC's sports department, but soon discovered a talent and love for comedy. Since graduating, he has continued to support his alma mater and even returned in 2017 to give the school's 134th commencement address.
Advertisements