Kim Kardashian: See Her Best Photos From All Angles!
Advertisements
This selfie was posted by Kim herself on her Instagram account back in March 2020. The nude bodysuit she is wearing in this picture is a Solutionwear from the company SKIMS, which she co-founded with Jens Grede in 2019, and which still persists today.
SKIMS is a solution-oriented brand offering modern and quality underwear, loungewear and shapewear. The company wants to set new standards regarding inclusivity, among others, by creating pieces adapted for all body types. The company produces panties, bras, underwear, clothing and shapewear. The products are available in several collections and in different materials.
Advertisements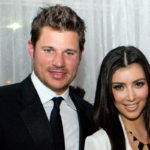 Advertisements
In 2006, Kim would have had a movie date with the singer and actor Nick Lachey. They went to see the movie The Da Vinci Code by Ron Howard. That date happens six months after the separation of Lachey with Jessica Simpson. To those who consider Kim as his ex-girlfriend, the singer wants to remind that they had only one date, and he claims that Kim would have used this opportunity to inflate her fame.
In 2019, he told Andy Cohen on the set of Watch What Happens Live With Andy Cohen, "She left about halfway through and went to the restroom and then shockingly there were 25 paparazzi when we left the theater. […] I think there were other things in play on our little rendezvous."
Advertisements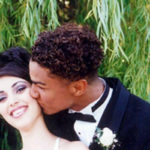 Advertisements
Kim dated the American singer and nephew of Michael Jackson TJ Jackson from 1995 to 1998. She even admitted to losing her virginity to him at the age of 14. On this picture, we can see them together at the prom.
Kim would have celebrated her 14th birthday at Neverland the Michael Jackson ranch. About the Kardashians, TJ Jackson said, "I still talk to the family every now and then, though not too much because our schedules are pretty busy. […] I dated Kim when my mother passed away, so I was actually quite close to the family when I was young."
Advertisements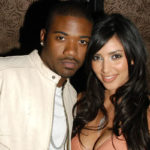 Advertisements
Kim began dating Ray J, American singer, songwriter, rapper, television personality, actor, and entrepreneur, in 2002. In 2007, an adult video of the former couple was posted online, and despite the unpleasantness, this event greatly helped propel Kim's career.
But this adult video saga never really seems to end as in 2022, Ray J accused Kim of trying to smear his name with the whole video thing as he claims she allegedly has a single copy of a second video of them, which she hides under her bed in a Nike shoe box.
Advertisements
Advertisements
Kim and Nicole Richie grew up in the same Los Angeles neighborhood. It's even hard to believe that Kim and Nicole were friends even before Nicole was friends with Paris Hilton, since these two seem to have known each other forever!
While Kim was attending Marymount High school, an independent, Catholic, all girls, college-preparatory school located in the Holmby Hills/Bel Air neighborhood, Nicole was instead studying at Montclair College Preparatory School in Van Huys.
Advertisements
Advertisements
While dating her first real love Ray J, at the dawn of her 15 years old, Kim Kardashian said she was ready to have her first sexual relations. She then went to her mother, telling her, "I think I'm going to, or I want to.
Kris, being the open and caring mother that she is, reportedly replied, "OK, so this is what we're gonna do, we're gonna put you on birth control." How awesome is that? What teenager wouldn't want a mother like Kris Jenner?
Advertisements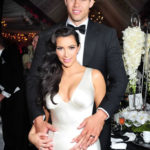 Advertisements
Kim and Kris Humphries started dating in December 2010 and got married in August 2011. Unfortunately, Kim asked to end their marriage 72 days later. However, the divorce was not made official until 2013.
On Keeping Up with the Kardashians reunion hosted by Andy Cohen and airing in June 2021, Kim admitted she owes her ex-husband an apology. She claimed to have handled the divorce the wrong way, but also to moving forward with the marriage in part because of the show. She said she got married "Because I felt pressured, I felt like I was going to let everyone down."
Advertisements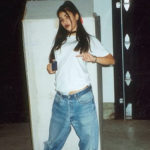 Advertisements
Kim shared this photo of herself in 2019 to promote her '90s inspired makeup line. It would be the makeup looks of big stars of the 90s such as Jennifer Aniston, Drew Barrymore and Gwen Stefani which would have inspired this collection of its brand KKW Beauty.
But let's come back to this photo of teenage Kim. At the time it was taken, she was 13 years old, and according to her own words, she would have been a nightmarish teenager. With that in mind, she implored her daughters North and Chicago to be easy on her!
Advertisements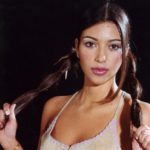 Advertisements
In this picture, Kim Kardashian is still a teenager. Born in 1980, Kim lived her teenage years in the 90s, so her look here could be explained easily. After all, the popular Disney movie Pocahontas was released in 1995, when she was 15.
And when you look at this photo, don't you think that Kim has a little Pocahontas look? If you ask us, it's not a coincidence! Unfortunately, we have no evidence to prove whether Kim loved this movie or not.
Advertisements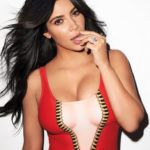 Advertisements
Kim was featured on the cover of Rolling Stone magazine, published on July 3, 2015. This photo was part of the photoshoot for that issue, on which the magazine cover announced, "Kim! Inside her real world." How intriguing!
In this cover story of the magazine, Kim made several revelations, including about Kanye West and Caitlyn Jenner, whom she first knew as Bruce Jenner, her stepfather from the age of 11. During this interview, Kim would have affirmed, among other things, "I believe that I am so much smarter than I'm portrayed."
Advertisements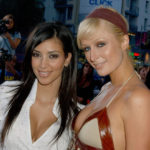 Advertisements
Kim and Paris met at preschool, where they quickly became very good friends. Kim was Paris' assistant until she gained fame, becoming more famous than Paris. Unfortunately, Paris became jealous and their friendship did not survive.
This is not a very well known information, but at the same time Kim was Paris' assistant, her sister Khloé was the assistant of Nicole Richie, Paris' best friend, with whom she made the successful reality show A Simple Life.
Advertisements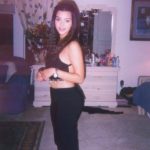 Advertisements
Kim shared this photo from her youth on her Instagram account on January 4, 2020. As a teenager, she could already pose for the cameras. The success that Kim is experiencing today was predestined for her a long time ago!
Despite what some may believe, however, the Kardashians, when Kris was married to Robert, were not the wealthy family they are now. Of course, they lived well, but nothing like their life today, with their numerous mansions and all.
Advertisements
13

Middle School Graduation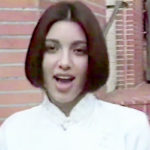 Advertisements
This image of Kim is from a video taken by her family on her graduation day and which she shared on her official app in August 2016. She graduated from middle school in 1994, at the age of 13.
About this video, Kim wrote, "This is a really special memory for me; it was the day of my middle school graduation ceremony. I was 13 years old here. […] So many of our family and friends came to congratulate me. Look at my haircut, guys!!! […] It feels like my dad used to film every single moment of our lives. […] He was always there with a camcorder, whether it was my sisters' birthday parties, a family trip to Vail or just a random day when we were all chilling at the house."
Advertisements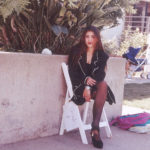 Advertisements
Kim shared this photo of herself on her Instagram account on September 20, 2018. In the caption, she wrote, "7th grade. This was my go to lipstick. It's gotta make a comeback". What a distinguished look for a teenager!
In this photo, Kim was 15 years old, and already she has style and unwavering confidence. The photo was reportedly taken during an event in honor of her younger sister Kendall, but Kim certainly got some attention that day too!
Advertisements
Advertisements
Kim now has 4 children, named North West, Chicago West, Saint West and Psalm West. She gave birth to her first two children in 2013 and 2015, then used a surrogate for the next two, born in 2018 and 2019.
Whether her hair is black or blonde, short or long, and whether she wears glamorous, expensive clothes or casual and holey outfits, Kim Kardashian always has style. Everything looks good on her, it's unbelievable!
Advertisements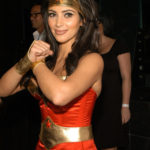 Advertisements
This picture was taken on October 30, 2008. Kim dressed up as the superhero Wonder Woman to go to the PAMA's Halloween Masquerade at the Stone Rose in Los Angeles, California.
Note that this is not the first time that Kim donned the Wonder Woman costume. Indeed, her older sister Kourtney shared a photo of her and Kim on her Instagram account in 2016, showing them in their Halloween costume when they were all young. Kourtney wore a ballerina costume while Kim sported a Wonder Woman one.
Advertisements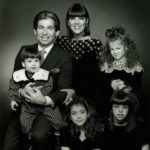 Advertisements
On this picture, we can see the whole, original Kardashian family: the parents, Robert and Kris, and their 4 children, Kourtney, Kim, Khloé and Rob. Robert Kardashian unfortunately passed away on September 30, 2003, at the age of 59, from esophageal cancer.
Luckily for us, after her divorce from Robert, Kris continued to do family photos with her new extended family, the Kardashian-Jenners, adding two children she had with Caitlyn Jenner—formerly Bruce Jenner—Kendall and Kylie. These photos have even become a tradition for many, many years!
Advertisements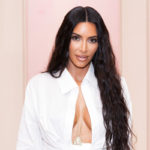 Advertisements
This photo was taken on June 20, 2018. Kim was then attending her KKW Beauty and Fragrance pop-up opening at Westfield Century City in Los Angeles. Kim launched her KKW Fragrance brand in 2017, with her very first product being Crystal Gardenia.
After closing KKW Fragrance on May 1st, 2022, 8 months after closing her KKW Beauty brand, Kim had announced that she wanted to relaunch the brand under a new name, saying "We're currently away working on a new, more modern, elevated and sustainable brand and customer experience". On June 21, 2022, Kim launched her brand new skincare brand, SKKN.
Advertisements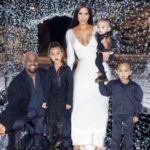 Advertisements
Kim shared this family Christmas picture on her Instagram account on December 26, 2018. Many people criticized the famous mother for putting lipstick on her little North, then 5 years old.
While the Kardashian family Christmas card photos have now become a classic, and have been for many, many years, Kim makes it a point every year to do Christmas photos of her and her own family of 4 children. In the past, Kanye West was there too, of course.
Advertisements
Advertisements
This picture was taken around 2006. Before she became the celebrity she is today, back when she was best friends with Paris Hilton, Kim loved to party with people like Lindsay Lohan, who was also her friend before they parted ways.
Unfortunately, unlike her friendship with Paris Hilton who has recovered from a few more difficult years, Kim and Lindsay's friendship seems lost forever. To this day, the two women do not have a good relationship at all.
Advertisements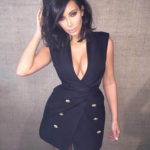 Advertisements
The Kardashian women have always been very interested in fashion, even before they were as famous as they are today. In 2006, along with her sisters Kourtney and Khloé, she founded the clothing store DASH in Calabasas.
Over the years, they opened branches in Miami Beach, Florida, and Manhattan, New York. However, after 11 years of operation, the now celeb sisters closed all three stores in 2018. Since then, Kim and Khloé have each launched their respective brands, SKIMS and Good American.
Advertisements
22

The Start Of A Meteoric Rise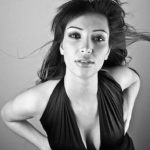 Advertisements
Kim's career really began in 2007, when the reality show Keeping Up with the Kardashians, whose 20th and final season, began on March 18, 2021. Before that, the Kardashians were not the family they are today.
The same year it all started for Kim, she appeared in the music video Thanks For The Memories of the group Fall Out Boy, and posed nude for the special "celebrity" edition of the December issue of Playboy magazine.
Advertisements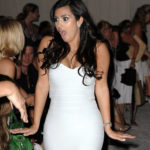 Advertisements
This picture was taken on July 13, 2007 in Miami Beach, Florida. Kim then participated in the Ashley Paige, Girls Gone Wild Fashion Show at the Cabana Grande tent during 'Mercedes Benz Fashion Week: Miami Swim' at the Raleigh Hotel.
The concept of this Ashley Paige for Girls Gone Wild fashion show revolved around rags-to-riches fantasy. The American designer said of this collection that her muse was a "trailer-park girl who suddenly became very, very rich."
Advertisements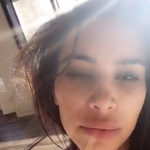 Advertisements
Kim shared this photo of herself without makeup, looking exhausted, on her Snapchat account on Monday, April 25, 2016. About the photo, she wrote, "It's so hard to get up when you have babies laying all over you. My workout's in 15 minutes."
While we're always used to seeing Kim at her best, with a lot of makeup, it's a surprise to see her share such a picture of herself au naturel on Snapchat. But this makes her even more human, and we think she looks beautiful without makeup!
Advertisements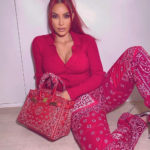 Advertisements
Kim shared this photo on her Instagram account on July 27, 2020. The handbag seen in the picture is said to be none other than a Hermes Birkin xJay Ahr Red Bandana Embroidery 1993 collection worth around $38,500.
At the time this picture was posted on her Instagram, Kim was going through a difficult time. This post was made after she had to make a public statement following her husband, Kanye West's, first bipolar episodes.
Advertisements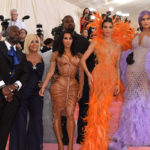 Advertisements
This picture was taken on May 6, 2019 at the famous annual Met Gala. The dress that Kim wore at this gala has caused a lot of talk. Some fans even raised the possibility that she had ribs removed to fit into her dress.
Designed by the renowned Thierry Mugler, this "dripping" latex corset ensemble that Kim wore was created to fit the theme of the gala, "Camp: Notes on Fashion." About her ensemble, Kim said, "This is about eight months in the making … He envisioned me this California girl stepping out of the ocean, wet, dripping."
Advertisements
27

Promoting Her Brother's Clothing Line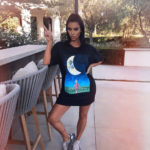 Advertisements
This picture of Kim Kardashian was taken in 2019. The shirt she's wearing in the photo is from her brother Rob's skatewear label Halfway Dead. He launched its clothing line in June 2019 in partnership with Nicky Diamonds.
Rob is much less present than his sisters in the world of American showbizz, but he is no less an entrepreneur. In 2012, he launched a designer stocking brand called Arthur George. In October 2020, he launched his own hot sauce, Grandeza Hot Sauce, and then in January 2021, he announced that he had struck a deal with Exotic Pop to create his own vanilla cream soda drink.
Advertisements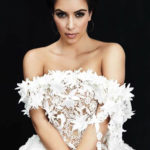 Advertisements
Kim was featured on the cover of InStyle Australia magazine in November 2011. In this edition of the magazine, the famous Kardashian woman talks about her marriage to Kris Humphries, which occurred a few months earlier.
Kris proposed to Kim in May 2011, and the couple got married in August of the same year. Unfortunately, the couple filed for divorce only 72 days later. Even so, they are far from breaking the record for the shortest celebrity wedding, which is that of Zsa Zsa Gabor and Felipe de Alba, which lasted only one day!
Advertisements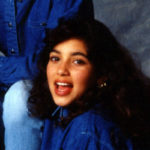 Advertisements
This image is one of the famous Jenner-Kardashian family photo, taken in 1991. At that time, Kim was not nearly as famous as she is now. She was just a friend of the wealthy Paris Hilton, to whom she would become an assistant a few years later.
You can see on this picture a young Kim all frizzy! We're a far cry from today's beauty queen, with a long, straight mane and a ton of makeup on her face! We love to see Kim when she is younger, in her natural state, having no idea of the celebrity she would live one day.
Advertisements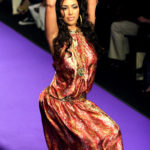 Advertisements
This photo was taken on March 21, 2007. Kim was then participating in the Christian Audigier Fall/Winter fashion show during the Los Angeles Fashion Week in Culver City, California. Yes, Kim was doing the runways long before her sister Kendall became a reference in this industry!
Looking at this picture from more than a decade ago, it's hard not to imagine Kim as a kind of genie straight out of her magic lamp! Maybe Aladdin is not far away? We'd like to see him too!
Advertisements