These Iconic Colorized Vintage Photos Bring History To Life
1

Ruby Bridges Goes To School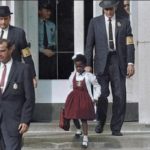 Advertisements
Date: November 14, 1960

Ruby Bridges was only six years old when she was the first African American to attend an all-white school during desegregation. U.S. Marshalls escorted her as she made her way to and from William Frantz Elementary School in New Orleans, Louisiana. The colorized version of this iconic photograph reflects the determination in her eyes. 
Advertisements
2

Helen Keller Meets Charlie Chaplin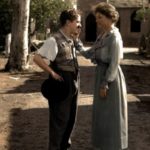 Advertisements
Year: 1919

Helen Keller and Charlie Chaplin shared an intimate meeting at the First National Pictures studios in Hollywood during the filming of the movie

Sunnyside

. Keller was on a speaking tour when she stopped by the studio and communicated with Chaplin by touching his face. It's quite moving to see this photo in color.

Advertisements
3

Lyndon B Johnson Being Sworn In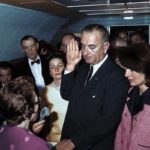 Advertisements
Date: November 22, 1963

Vice President Lyndon B. Johnson was sworn as the new President of the United States aboard Air Force One in Love Field. President John F. Kennedy had been assassinated in Dallas, Texas, and declared dead only an hour and a half before they took this picture. Seeing this image in color captures the heaviness of this moment in time. 
Advertisements
4

Elizabeth Taylor On The Set Of Giant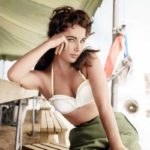 Advertisements
Year: 1955

Photographer Frank Worth took this pic of Elizabeth Taylor in Marfa, Texas, on the set of the film 

Giant.

She took on the role of Leslie Lynnton Benedict in the movie. Taylor was best known for her striking looks and violet eyes. This colorized version of the famous black-and-white photo captures the essence of her beauty perfectly. 
Advertisements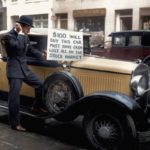 Advertisements
Date: October 29, 1929

This photo of a gentleman attempting to sell his car in 1929 encapsulates the beginning of The Great Depression. Black Tuesday was the last day of investors at the New York Stock Exchange trying to stabilize the market. Investors lost billions of dollars when they traded 16 million shares and the stock market crashed. 
Advertisements
6

King

Tutankhamun's Tomb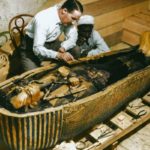 Advertisements
Year: 1922

Photographer Harry Burton took this photo of British Egyptologist Howard Carter excavating the tomb of King Tutankhamun. Carter discovered the tomb filled with Tutankhamun's treasures in the Valley of the Kings. Seeing this image in color draws us into the wonder and excitement of the historic moment. 
Advertisements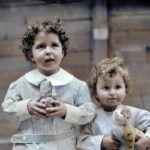 Advertisements
Year: 1912

These two little guys were the only children rescued from the Titanic without a parent. Michel Marcel Navratil Jr. and his little brother, Edmond, became known as the "Titanic Orphans" after they survived the sinking of the Titanic on April 15, 1912. This version of the photo humanizes the youngest survivors of the tragic accident. 
Advertisements
8

Rita Hayworth's Red Swimsuit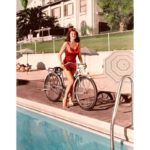 Advertisements
Year: 1940
Rita Hayworth was one of the most glamorous actresses in Hollywood during the 1940s. This colorized photograph of Hayworth on a bicycle while wearing a red swimsuit captures her charm completely. Shot on location at the Beverly Hills Hotel in California, this image gives us a snapshot of the allure of old Hollywood.

Advertisements
9

A Sunny Day In Madison Square Park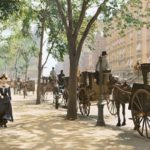 Advertisements
Year: 1900

This captivating color image gives us a glimpse into a sunny afternoon in New York City's, Madison Square Park circa 1900. From the fashionable ladies to the dapper drivers of the horse-drawn carriages, we get a taste of what life was like in the Big Apple at the turn of the 20th century. 
Advertisements
10

Marilyn Monroe's USO Tour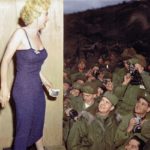 Advertisements
Date: February 1954

Marilyn Monroe posed in front of American soldiers in Korea after one of her famous USO performances. The actress embarked on a tour where she performed ten shows over four days, to the delight of the soldiers. You can almost feel the energy radiating from the colorized pic. 
Advertisements
11

Claude Monet's Water Lillies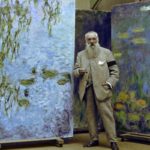 Advertisements
Year: 1923
Art-lovers will appreciate this photo of the famous painter Claude Monet posing in front of paintings from his Water Lilies series. This 1923 photograph was colorized from the original black-and-white version and shows the magnitude and scope of Monet's work. It's also refreshing to see the artist himself in full color.

Advertisements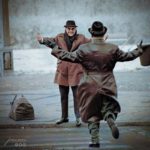 Advertisements
Year: 1963
There are those photos that just capture important moments in history perfectly and this photograph, titled "West Meets East", is one that seems even more dramatic with colorization. Two German brothers reunited during the 1963 "border pass agreement" after being separated by the Berlin Wall. Their excitement is palpable.

Advertisements
13

Joan Crawford At The Grand Hotel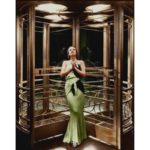 Advertisements
Date: 1932

Joan Crawford posed in a revolving door of The Grand Hotel for the film 

Letty Linton

. Costume designer Gilbert Adrian designed the amazing gown, which looks even more elegant in this colorized photo. Crawford once said, "Dear Adrian, he was the greatest costume designer of them all. There will never be a greater one."
Advertisements
14

Harry Houdini's Escape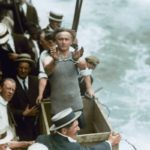 Advertisements
Date:

July 15, 1914

Harry Houdini was an escape artist and illusionist from the early 1900s. This colorized photo captured his overboard box escape at Battery Park in New York City. Thousands of spectators gathered on the shore to watch the action. It's so mesmerizing to see Houdini working his magic in vibrant color. 
Advertisements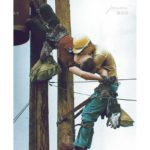 Advertisements
Date: 1967

This photo called "Kiss of Life" was originally shot in black-and-white by photographer Rocco Morabito. It features a utility worker giving mouth-to-mouth to his co-worker, Randall G. Champion after he came in contact with a low voltage power line. So powerful to see the humanity in this photograph. 
Advertisements
16

Elvis Presley And His Mother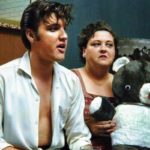 Advertisements
Date: 1956
Did you know that Elvis Presley loved teddy bears? Fans get a peek into his personal collection in this colorized photo of him with his mom, Gladys. The photograph was taken at his home in Memphis, Tennessee. It's so sweet to see this touching moment with his mother, even if that teddy bear looks a bit creepy.

Advertisements
17

President Abraham Lincoln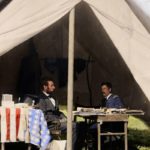 Advertisements
Date: October 2, 1862

This is another historical photograph that is mind blowing to see in color. President Lincoln visited the battlefield to visit General McClellan to discuss the Battle of Antietam. How powerful is it to see Lincoln look like a regular person? This offers a rare glimpse of the President that was larger than life. 
Advertisements
18

The Spanish Flu Pandemic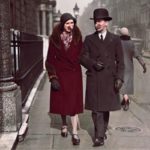 Advertisements
Year: 1918
This photo of a couple wearing masks over their faces may seem familiar, but it's actually a colorized version of a photograph taken in 1918. The Spanish Flu pandemic was one of the most severe pandemics in history. It's interesting to look back on this picture as we are forced to deal with the Coronavirus and mask mandates. This image seems more relevant than ever.

Advertisements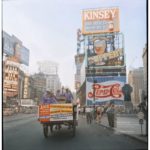 Advertisements
Year: 1947

Take a trip back in time with this retro photograph of Times Square in New York City. Through the magic of colorization, the city is brought to life. From the bright billboards to Joan Crawford's name in lights, it's fascinating to see how much the skyline has changed over the years. Yet, it somehow feels the same. 
Advertisements
20

Louis Armstrong And His Wife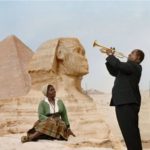 Advertisements
Year: 1961

Louis Armstrong traveled to Egypt as part of cultural diplomacy in 1961. This colorized photo of Armstrong playing the trumpet in front of the Great Sphinx in Gaza captured a loving moment between him and his wife, Lucille. You can just see the admiration she had for her husband by the look on her face. 
Advertisements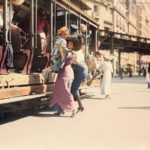 Advertisements
Date: July 1913
This colorized photo of a mother helping her child off the trolley on Broadway in New York City brings a new glimpse into what life was like in the early 1900s. From the beautiful dresses to the lady's impressive hats, it's interesting to see what fashion looked like during that time period. The addition of color to the picture adds to the historical mystique.
Advertisements
22

Jacqueline Adoring John F. Kennedy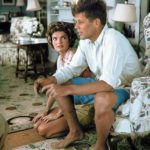 Advertisements
Year: 1953
A photo of newly engaged John F. Kennedy and Jacqueline Bouvier becomes even more intimate after being colorized. Taken in Cape Cod on July 4th, 1953, you can really see the admiration in her eyes in this version of the photograph.
Advertisements
23

Lunch Atop a Skyscraper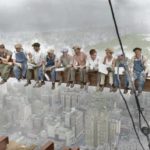 Advertisements
Year: 1932
We've all seen the iconic photo "Lunch Atop a Skyscraper". The image depicts Laborers as they take their lunch break on a steel beam atop the 70-story RCA building in Rockefeller Center. The colorized photo captures the danger in an exciting vantage point.
Advertisements
24

Farewell 18th Amendment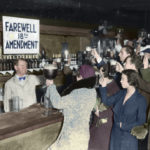 Advertisements
Year: December 1933
A group of bar patrons in New York lifts their glasses in a toast to celebrate the end of prohibition. Seeing this moment in color adds to the sense of celebration people felt at the time. It also adds to the drama of 1930s fashion.
Advertisements
25

Unpacking The Mona Lisa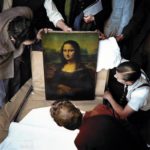 Advertisements
Year: 1945
This photo shows The Mona Lisa painting being carefully unwrapped after it was returned to the Louvre. The painting, along with other priceless works of art, was hidden in the French countryside until after World War II. It's stunning to see the moment captured in color.
Advertisements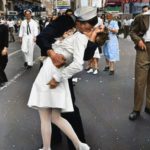 Advertisements
Date: August 15, 1945
Photographer Alfred Eisenstaedt snapped this famous photo of a sailor kissing a woman in Times Square, after news broke of the Japanese surrender in World War II. The colorized version captures the electricity in the air as people celebrated. It's an iconic moment brought into the modern world.
Advertisements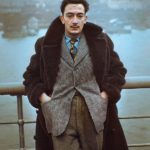 Advertisements
Year: 1936
A colorized photo of the surrealist artist Salvador Dalí sparks the imagination. The painter was captured standing on the deck of the S.S. Normandie as it docked in New York City. We love seeing this larger-than-life figure in full color. He looks so dapper!
Advertisements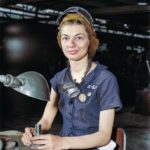 Advertisements
Date: August 1942
Women joined the workforce during World War II and this colorized photo shows working in a Midwest aircraft plant. This version of the photograph transports us to a different time. It's clear that this young lady took pride in her work.
Advertisements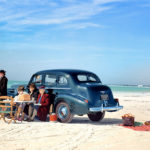 Advertisements
Year: 1941
This picture depicts a colorized version of a group of people enjoying a picnic at a Sarasota trailer park. The vibrant colors reflect a time when ladies wore dresses and hats to the beach. It's pretty cool to see those vintage cars in all their glory as well.
Advertisements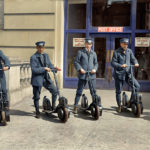 Advertisements
Year: 1917
Post officers posed to show off their "Autopeds" in front of a Washington, D.C. post office. These guys were way ahead of their time and it's fascinating to see this moment captured in color. An image like this may be commonplace in our modern world, but was not as common in 1917.
Advertisements