Can You Recognize These Photos From Vintage McDonald's Restaurants?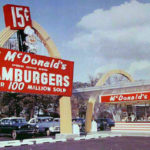 In 1948, the first McDonald's restaurant opened its doors. Located in San Bernadino, California, the original site of the popular fast-food chain was the brainchild of brothers Maurice and Richard McDonald. Through their innovative methods, McDonald's was able to sell large quantities of food very quickly for a much lower cost than its competitors. Just seven years later, in 1955, McDonald's became a franchise.
Today, more than 70 years after the first restaurant opened, McDonald's is one of the most recognizable fast-food chains in the world. However, the actual restaurant has changed quite a bit from the early days of its conception. Take a look below at vintage McDonald's photos and see if you can recognize the past version of the popular fast-food chain.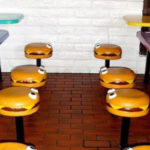 Advertisements
The original McDonald's restaurants had no problem going all-in on the burger theme. In fact, they decided that just eating a burger wasn't enough—their patrons had to sit on burgers as well! The burger seats added a bit of whimsical charm to the McDonald's restaurant. Unfortunately, they weren't that comfortable. Patrons only had a small surface area to sit and chow down on their burgers. Plus, the googly eyes on the edge of each seat weren't comfortable when they were digging into your lower back.
Of course, burger stools weren't the only seating options available in vintage McDonald's. Older restaurants also leaned into the McDonaldland theme even further by creating chairs that looked like the popular personalities. Seats with Grimace's body or Hamburglar's face could be found all over the restaurant. Thankfully, these chairs provided a little more room to sit than the burger stools. They also filled vintage McDonald's restaurants with bright colors and cute figures.
Advertisements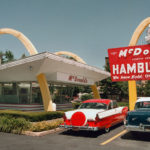 Advertisements
The golden arches have always been a primary identifier of McDonald's. They're part of the fabric of the restaurant. In fact, McDonald's doesn't feel complete without those golden arches somewhere on the outside of the building.
Vintage McDonald's, however, embraced the arches in a way that modern McDonald's just don't. Vintage McDonald's restaurants built the arches into the building itself. Older McDonald's buildings featured large arches on each side of the restaurant, signaling to passing drivers that they were approaching the popular chain.
Advertisements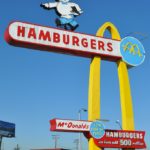 Advertisements
Believe it or not, Ronald McDonald wasn't always the face of McDonald's restaurants. When the chain first opened, the clown wasn't at all part of the branding. Instead, most vintage restaurants featured a pudgy-looking chef on top of the sign pointing patrons towards the hamburgers.
The McDonald's mascot once looked eerily similar to the Pillsbury Doughboy. Unlike the doughboy, the chef did have on jeans and shirt, but his entire body was white and his stomach looked like he may have eaten a few too many McDonald's hamburgers.
Advertisements
4

Birthday Party Destination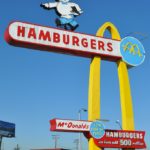 Advertisements
At one time, McDonald's was the ultimate party destination. Why wouldn't it be? The entire restaurant spoke to children. Walking through the door reminded little ones of the commercials that advertised various McDonaldland personalities. The characters were incredibly popular, and children wanted to celebrate where all their favorite personalities lived.
Unlucky workers would be roped into corralling children for a McDonald's-themed birthday party. The kids could play in the Playplace, eating chicken nuggets, and enjoy tossing on some McDonaldland paraphernalia. It was the perfect place to throw a party, and many children took advantage of the option.
Advertisements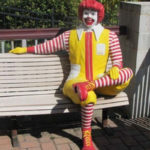 Advertisements
The Ronald McDonald bench was a staple of every McDonald's restaurant through the '90s and early 2000s. As the face of McDonald's, Ronald used to be plastered in every open nook and cranny of the restaurant. But no spot was more enviable than the bench that featured his famous figurine.
Children could hop on the bench and snap a picture alongside the famous clown. He was even positioned to make it look as though every child who sat next to him was his best friend. As Ronald McDonald was phased out of McDonald's advertising, the bench also disappeared. While it's now rare to see this figurine outside a McDonald's, it will always be one of the most memorable elements of the kid-friendly restaurant.
Advertisements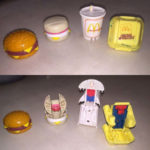 Advertisements
Toys have always been a major element of McDonald's Happy Meals. While chicken nuggets and fries make for a great meal, it was the toy that truly captured the attention of hungry children.
While the McDonald's toys went through their own phases, one of the most recognizable Happy Meal treats were these innovative Transformer toys. The toys started as simple figurines of McDonald's food and packaging, but transformed into crime-fighting machines, just like their comic book counterparts. While the toys were too complex for some young children, they were just challenging enough to keep most kids entertained as they munched away on their chicken nuggets.
Advertisements
7

Very Low Prices Advertised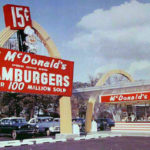 Advertisements
When McDonald's first opened, part of the draw for new patrons was the ridiculously cheap prices. Buying a burger from this joint only cost you 15 cents, a price much lower than most competitors.
McDonald's knew how amazing its prices were, so the low cost was used commonly in advertising for vintage stores. In fact, most of the vintage McDonald's featured a large "15¢" on the outdoor sign to let anyone passing by know just how cheap it was to eat at this restaurant.
Advertisements
8

McDonaldland Characters
Advertisements
Ronald McDonald is still the most recognizable face of McDonald's, but he wasn't the only character that came from the restaurant. In fact, Ronald used to have a whole gang of goofy personalities, all of whom lived in the fantasy world of McDonaldland. The characters were used in various commercials for McDonald's from 1971 all the way to 2004. The gang included Ronald McDonald, Grimace, Hamburglar, Mayor McCheese, and more cooky characters, all created to advertise the best parts of McDonald's cuisine.
Perhaps the most recognizable place they lived was the windows of vintage McDonald's restaurants. To truly bring the gang inside, many vintage McDonald's featured window decals of the McDonaldland characters. They greeted you from both inside and outside the store, and they were clearly visible every time you sat down to eat. You may have gone to McDonald's just to get some fast food, but you always ended up walking into what felt like another dimension full of McDonaldland personalities.
Advertisements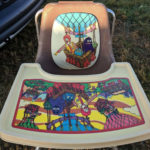 Advertisements
The McDonaldland characters could truly be found everywhere in vintage McDonald's, including the seats. Heading to McDonald's used to be an exciting outing. As the family got settled at their table, some groups required a highchair for the younger members of their pack. Thankfully, McDonald's not only provided a sufficient option, but they covered the chair in familiar depictions of McDonaldland characters.
Even if you didn't bring a baby to McDonald's, you could always find this chair lurking in the corners of the restaurant, waiting for a family who needed it. The McDonaldland highchair was a staple in vintage McDonald's, which is why we'll never fully forget exactly what it looks like.
Advertisements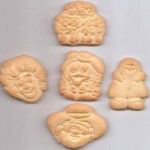 Advertisements
Along with the highchairs, McDonaldland characters could also be found in sweet treats unique to McDonald's. When buying a Happy Meal or even purchasing off the main menu, customers inside vintage McDonald's were able to add a themed cookie to their meal.
The cookies, of course, depicted popular McDonaldland characters. At times, the character was immediately recognizable. Dependent on the quality of the cookie, however, some customers might end up with a snack that looks more like a smiling blob than a depiction of Ronald McDonald.
Advertisements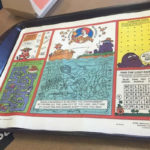 Advertisements
If customers ate inside a vintage McDonald's, they received a tray to carry their food to their table. While the tray is still a functional element of modern McDonald's, the fun tray liners have disappeared.
The liners were akin to a kid's menu as a sit-down restaurant. They offered fun games to keep kids entertained while their parents enjoyed their food. The tray liners also centered on the McDonaldland characters, offering yet another chance for children to familiarize themselves with these fast food mascots. While the tray liners look old and cheesy now, they were once a major highlight of eating a meal in McDonald's.
Advertisements
12

Old-Style Drive-Thru Menus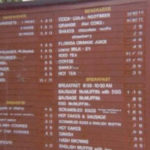 Advertisements
At one time, McDonald's wasn't completely polished and modern-looking. Instead of shiny drive-thru menus with pictures of the food, the old-style drive-thru menu simply outlined what you could buy and how much it would cost you.
Not only that, but the items on old-style menus had to be physically placed on the board by one unlucky worker. While the menu didn't change often, it was a bit of a hassle to find the tiles needed to put up both the items and the price. Without pictures, patrons had to read through the entire menu looking for what they wanted to order. Then, they simply had to hope that their McMuffins and Big Macs looked as good in person as they did in the customer's imagination.
Advertisements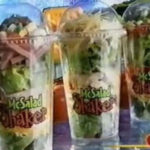 Advertisements
McDonald's has never been known as a health food destination. Still, over the years, the restaurant chain has done its best to provide diet-friendly options. One of those choices back in the old days was the McSalad Shaker.
Rather than offering a salad in a bowl like a normal restaurant, McDonald's put their salad in a cup. The plastic holder was filled to the brim with lettuce and salad toppings. To dig into your leafy meal, you simply had to pour the dressing to the cup and shake it to mix everything together. Unsurprisingly, the McSalad Shaker wasn't a success. While it stuck around for a few years, McDonald's eventually realized that bowls are a better choice for serving a salad.
Advertisements
14

A Small, Themed Playplace
Advertisements
The McDonald's Playplace wasn't always the imposing structure you see today. In fact, it used to be quite a small part of the restaurant. The Playplace shown below only features a few small pieces, all of which are themed to McDonaldland characters.
Plus, this Playplace is outside and made of metal. Going down that slide in the sun probably caused quite a lot of pain for any child brave enough to try. The Playplaces attached to McDonald's used to look like somewhat of an afterthought. The focus was the food, and kids certainly didn't spend hours wandering around this tiny playset.
Advertisements
15

Fisher Price McDonald's Toys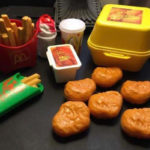 Advertisements
Transformers weren't the only recognizable toys offered at McDonald's. For a long time, children would open their Happy Meal to find plastic, McDonald's-themed Fisher Price toys. The playthings were perfect for an at-home kitchen, but they were also a nifty branding device for McDonald's.
By bringing the McDonald's logo into the child's home, the restaurant ensured that they were the first choice in fast-food eateries for children. Plus, the McDonald's toys conveniently kept parents from buying new devices for their kids. It was an all-around win, both for the restaurant and for their customers.
Advertisements
16

Ronald McDonald Hand Puppet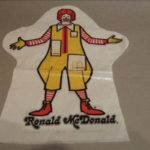 Advertisements
From its inception, McDonald's always tried to establish itself as a kid-friendly destination full of fun. Around the mid-1970s, the restaurant decided to offer Ronald McDonald's hand puppets to their younger customers.
The hand puppets were simply a thin piece of plastic emblazoned with Ronald's goofy body. They were often far too large to fit on a small child's hand. Still, they were a fun treat children could enjoy each time they visited the restaurant. Over the years, the hand puppets disappeared and were replaced by better, more high-quality toys.
Advertisements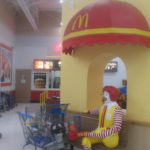 Advertisements
While it's common for restaurants to put a chain in a well-known store, the vintage McDonald's in Walmart was especially recognizable. Rather than a small kitchen and a counter to order food, the McDonald's in Walmart used to take up an entire corner of the store. Even more interesting, the small fast-food chain almost looked like a child's play kitchen.
In Walmart, a McDonald's awning sat over the signature Ronald McDonald bench. Even inside a large store, the McDonald's creators couldn't give up the bench. The McDonald's portion was also sectioned off from the rest of the store, creating a chicken nugget-filled nook. Somehow, the appearance of the vintage McDonald's in Walmart made the restaurant all the more magical.
Advertisements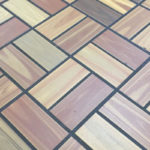 Advertisements
Even the floor of vintage McDonald's used to be the exact same. No matter which restaurant you stepped into, you could count on seeing this flooring running underneath your feet.
We have no idea why this floor was so popular. It's quite ugly and certainly doesn't match the new, modern McDonald's aesthetic. But at the time, seeing this floor felt like coming home. You knew you were just a few steps away from a Big Mac and a McFlurry. Ugly as it is, we almost miss it.
Advertisements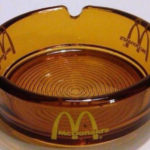 Advertisements
Back when smoking in public was still acceptable, these ashtrays could be found all over McDonald's. But interestingly enough, the ashtrays weren't limited to the restaurant. Somehow, these ugly yellow bowls made their appearance everywhere. 
From your friend's house to your own kitchen, these ashtrays were once a favored piece of decor. People seemed to steal them from the restaurant constantly. Perhaps that's why McDonald's eventually gave up on the ashtrays altogether. That, and the fact that smoking has become increasingly frowned upon over the years.
Advertisements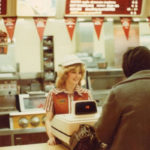 Advertisements
Nothing can ever replace the experience of ordering your food from an actual person. At one time, that was the only option available. While today's McDonald's are full of modern tech, vintage McDonald's relied solely on the people behind the counter.
When you would visit an old McDonald's, you always had to order your food from a real person. Sometimes they were super friendly, and other times they didn't seem like they wanted to be working that day at all. Either way, chatting with someone about your order and waiting for it to come out was part of the experience when visiting a vintage McDonald's.
Advertisements