The Fast Food Items To Avoid in the US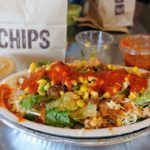 Advertisements
You may or may not be familiar with this information, but the fact remains that between 2015 and 2018, Chipotle Mexican Grill made more than 1,100 of its customers across the United States sick by food poisoning.
It would appear that the employees of this popular restaurant were having difficulty complying with the restaurant's food safety protocols, transmitting the norovirus to many customers. That's reason enough to stop visiting Chipotle restaurants!
Advertisements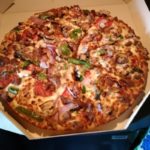 Advertisements
Pizza Hut is a must for many when it comes to pizza, and indeed, it is far from being the worst pizza place there is. However, if you suffer from certain health problems, you may want to avoid their extremely salty pizza.
Also, the cheese used at Pizza Hut is far from being the best one, being often rubbery and tasteless, which is a shame since it is one of the most important ingredients on a pizza! So Pizza Hut is a good choice if you're in the mood for a good pizza, but it's definitely not the best choice.
Advertisements
3

Triple Whopper with Cheese – Burger King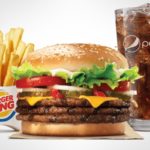 Advertisements
Burger King has been a fast food favorite since it opened its doors in 1954. While you can find some yummy options on their menu, there is one item in particular that you should steer clear of if you're trying to make healthy eating decisions.
The Triple Whopper with Cheese is just as fattening as it sounds. This burger comes with three ¼ lb flame-grilled beef patties topped with tomatoes, lettuce, mayonnaise, ketchup, pickles, and onions on a sesame seed bun. With 1216 calories and 82 grams of fat per serving, this cheeseburger is a triple bypass heart surgery waiting to happen.
Advertisements
4

Big Breakfast – McDonald's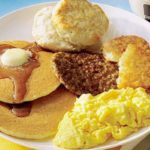 Advertisements
McDonald's is most known for their Big Mac and tasty french fries, but they also have an extensive breakfast menu. While they have a few healthy options, most of their breakfast items only offer empty calories. The Big Breakfast is their worst offender.
Just as the name implies, you get a huge serving of food. The meal includes two hotcakes, a biscuit, a sausage patty, scrambled eggs, and an order of hash browns. This breakfast packs on 1340 calories and 64 grams of fat. While it may sound delicious, you'd be better off ordering McDonald's Fruit 'N Yogurt Parfait, which has 210 calories.
Advertisements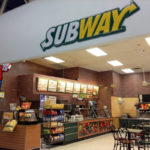 Advertisements
The freshness of Subway salads and the quality of its meats have come in for a great deal of criticism in recent years. There was a time when they were really good, though! What happened to them?
Moreover, as people start to appreciate the importance of a healthy diet, Subway's popularity has dipped considerably and 1,000 outlets were closed in 2018. It seems that their claims of health and freshness might not be too well-founded after all.
Advertisements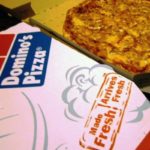 Advertisements
Similar to McDonald's, Domino's international success has not prevented it from finding itself on a list of America's worst fast-food restaurants. Indeed, they are rating poorly across the board, including for value, food quality, service speed and cleanliness.
The 12-inch version of the corporation's unhealthiest pizza, the Pepperoni Handmade Pan Pizza, will ensure you pile on the pounds as it contains 130 gm of fat and 2,420 calories. If you do find yourself in a Domino's, opt for the 140-calorie garden salad.
Advertisements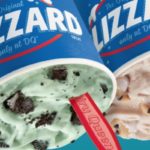 Advertisements
When the weather is nice and warm outside, there's nothing better than a good ice cream to cool down! And for many people, ice cream generally means Dairy Queen. Well, you might want to rethink your habits.
You know the ad that says your blizzard must stay in the cup when turned upside down or they'll make you another? Of course, the blizzard never falls from the cup, but that just shows that Dairy Queen's ice cream is way too greasy for your own good!
Advertisements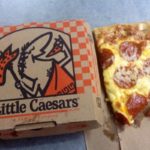 Advertisements
The take-away-only pizza chain Little Caesars markets itself on having high-quality ingredients, but customers disagree. In addition to low scores for freshness and quality, a slice of Little Caesars' unhealthiest offering would definitely be the Stuffed Crust Deep!
Only a single slice of the Stuffed Crust Deep Pepperoni Pie contains an astonishing 20 g of fat, 45 mg of cholesterol, 840 mg of sodium, 10 gm of saturated fat and 420 calories. That's a lot for a quantity far from a full meal!
Advertisements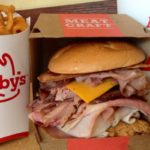 Advertisements
Arby's may be one of the most popular chains in America, but two of their sandwiches have ranked extremely low in a recent nutrition study, and a third of all of their menu items were found to contain trans fats. That means a lot of their items are highly unhealthy.
This includes the chain's famous roast-beef sandwich. Yes, it tastes great, but it's more than bad for your health. And sides are just as bad. You'll find 2,530 mg of salt in a serve of mozzarella sticks. You'd better invest in a healthy future and skip Arby's.
Advertisements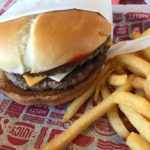 Advertisements
Reading the many bad comments on Google about Jack in the Box restaurants makes you wonder how they manage to stay open. In general, customers say that the food is tasteless and often served cold, and that customer service is absolutely poor.
According to Consumer Reports, only 33% of the customers who have visited a Jack in the Box say they will return. How could it get any worse? This restaurant chain is definitely not a crowd pleaser, and you better stay away from it.
Advertisements
11

Coffee Cake Muffin – Dunkin' Donuts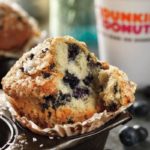 Advertisements
Dunkin' Donuts serves up some delicious coffee and donuts. You may think that a healthy choice would be to opt for one of their muffins, but the truth is, most of their muffins contain more fat and sugar than many of their donuts.
The most unhealthy pastry item at Dunkin' Donuts might surprise you. The Coffee Cake Muffin boasts 590 calories, 24 grams of fat, and 370 mg of sodium. Dunkin' Donuts also has a few specialty coffee drinks you should avoid. The Caramel Swirl with Cream has a shocking 900 calories per serving!
Advertisements
12

New England Clam Chowder – Panera Bread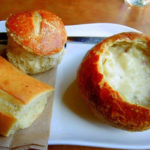 Advertisements
Customers flock to Panera Bread for a variety of sandwich and soup options. While you can find several fresh menu items, you still have to be choosy if you're on a health kick. One of the worst choices you can make is the New England Clam Chowder served in a bread bowl.
This one comes in at 1040 calories, 840 mg sodium, and 157 grams of carbs. You'd be smart to skip the bread bowl and opt for a serving of Panera's Low-Fat Chicken Noodle Soup instead, which is only 160 calories and contains 5 grams of fat.
Advertisements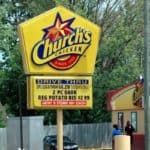 Advertisements
America is covered with chicken restaurants, but Church's Chicken is a relatively lesser-known chain. As with the other chains on this list, meals at Church's Chicken are high in calories and fat, but this fast food restaurant has even more strikes against it.
According to many customers, their chicken is dry, their shrimps are soggy and their biscuits are hard. So when it comes to Church's Chicken, keep your money in the bank. If you're going to eat fast food, at least go for something that tastes good!
Advertisements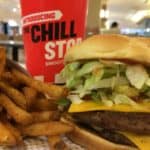 Advertisements
Checkers restaurants have been running in the United States since 1986, and as of 2022, Checkers Drive-In Restaurants, Inc., which also operates Rally's restaurants, has a total of 878 restaurants. So many years serving a loyal clientele, it should be a guarantee of quality, Don't you think?
Well, it's absolutely not the case here. Not to mention the poor service you'll find there, you'll certainly be disappointed with the quality of your food, whether it's the soggy salad in your hamburger or the lack of taste in general.
Advertisements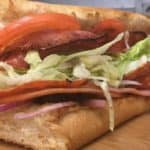 Advertisements
Who doesn't feel like eating a good sandwich once in a while? Unfortunately, at Quiznos, that's not really what you'll get. Not only will you eat a sandwich that's not that tasty, but you'll have to pay way too much for it.
Let's just say that the quality/price ratio is not at its best at Quiznos. It's not for nothing that several of their restaurants have closed in the last few years. While the chain had a total of 4,700 locations worldwide in 2007, it have only 359 locations left in 2022.
Advertisements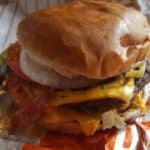 Advertisements
The A&W restaurant chain, known mainly for its draft root beer, root bear floats and burgers, has been in business since 1919. Probably there was a time when their food was worth the detour, but this is no longer the case.
In addition to getting a pretty poor service when going to the restaurants—which also has a questionable cleanliness, it is important to mention it—you'll eat a quickly assembled hamburger and odd-tasting greasy fries.
Advertisements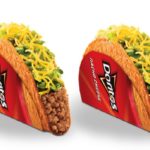 Advertisements
Grabbing a taco when you're on the move may sound like a great idea. It's quick, inexpensive and delicious! However, see what else you can find other than a Taco Bell if you want to purchase and feast on better-for-your-health-and-your-taste buds Tex Mex food.
This chain has the dubious honor of being America's worst Mexican fast food restaurant, scoring especially low on food freshness and quality. Knowing this, no one really wants to go back to Taco Bell.
Advertisements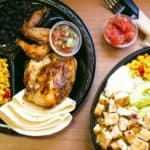 Advertisements
Every Mexican food lover has visited an El Pollo Loco at some point in their life. However, it is quite possible that they have only been there once, then never again, because of the really poor quality of these restaurants.
The food at El Pollo Loco could taste much worse, that's for sure. The taste is actually not that bad, although it is usually dry. But the thing is, at the price their meals are sold for, you'd expect a much better quality of food.
Advertisements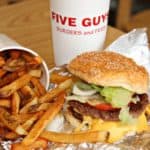 Advertisements
Five Guys is not the place for the health-conscious consumer, or simply anyone who doesn't want to consume 1,500 calories in a single meal. No one goes in there to invest in their health and sip on a glass of spring water, anyway.
But the extraordinarily calorific Five Guys should only be visited as a treat, or ideally, never at all. After all, 1,500 calories is the maximum total number of calories a person should ingest in a day, not during a single meal!
Advertisements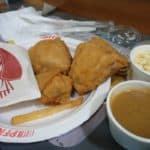 Advertisements
KFC chicken isn't just chock full of herbs and spices; it is also overflowing with fats and chemicals. To their credit, chicken strips may be a good source of protein, but they are also carb-heavy and this can compromise your health.
KFC has actually found a way to make a food that is basically really great for your health—chicken breasts are one of the best proteins for your health—into something extremely unhealthy. And what about their famous brownish sauce that tastes so good, but is so visually questionable!
Advertisements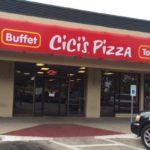 Advertisements
When the employees of a restaurant won't eat the food it produces, you know something might be wrong. However, while the staff stays away from the menu due to its poor quality and the chain's restaurants receive low scores for cleanliness, surveys show that you will be served politely and quickly at a Cici's Pizza.
However, in our opinion, a great and courteous service is not a good enough reason to purchase and consume a bad meal that even employees won't buy. There are so many other restaurants, don't do this to yourself.
Advertisements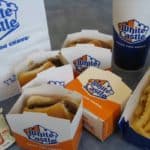 Advertisements
This restaurant is definitely a favorite of the comedy duo Harold and Kumar, but you may struggle to see what the fuss is all about. Indeed, one wonders how it is possible that anyone likes this restaurant that much at all.
Why would someone trade other places' big and juicy burgers for their small and dry buns and bland meat? Is this really what a person might want to eat? Obviously, a White Castle meal is simply not worth all the calories.
Advertisements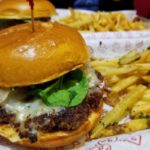 Advertisements
Smashburger often tries to play the healthier-than-others card by simply adding avocados or truffles to their hamburger, for example, but please don't be fooled. That's not how you make an unhealthy meal healthier.
You only have to think about the high-fat ranch dressing or the old mushy lettuce they add to their burgers, to only name a few, to realise that Smashburger is totally wasting all their efforts on a delicious and healthier dish.
Advertisements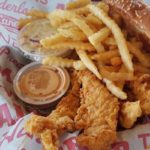 Advertisements
If you like breaded chicken fillets, Raising Cane's would certainly be the place to go since they only sell this and the taste is generally good. The big problem with Raising Cane's, however, is consistency.
You can visit these restaurants several times, but rarely will your chicken strips taste the same. Sometimes they will be okay, but other times they will be overcooked, or soggy.
Advertisements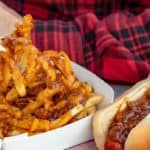 Advertisements
Wienerschnitzel restaurants may seem very attractive because of their very low prices, but here's all you'll find attractive there, be sure of it.
Their low prices come at the cost of overcooked meat that tastes burnt and is served in quantities far too small for the bread that contains it, and French fries of questionable texture.
Advertisements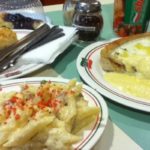 Advertisements
The specialists in New York-style pizza have found themselves at the bottom of fast food outlet ranking lists this year, dragged down by the low quality and freshness of their food.
It may be unsurprising then that early in 2019, Sbarro started its second bankruptcy proceedings in around three years.
Advertisements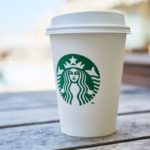 Advertisements
Starbucks may not be the first name that comes to mind when you think of fast-food restaurants but perhaps you should think again.
Purchase a mocha or a hot chocolate and you'll consume a huge amount of calories and 300% of your maximum recommended daily sugar intake.
Advertisements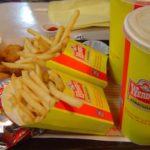 Advertisements
Choose just one of the items on a Wendy's menu and there's a good chance you will be getting a whole day's recommended intake of salt, sugar, saturated fat and calories. Nothing good for your arteries, especially if you are in recovery for any cardiac disease.
If you don't find that off-putting enough, cast your mind back to the 2018 video that went viral showing an employee at Wendy's discovering a mouse amongst a batch of buns.
Advertisements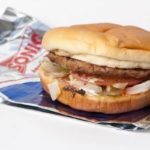 Advertisements
Apparently eager to challenge Hardee's for the title of 'Maker of America's Unhealthiest Burger,' Sonic gives customers the option of doubling up their bacon cheeseburger with mayo to create a meal that will clog your arteries as soon as you look at it.
In total, this double burger contains 1,880 mg of sodium, 23 gm of saturated fat, 12 gm of sugar and 1,030 calories. We also recommend making sure that your health insurance is still in effect if you really must try it.
Advertisements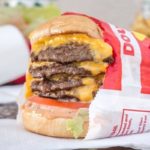 Advertisements
In-N-Out Burger is a popular fast-food chain in the Western United States and is a favorite among the rich and famous. Of course, they serve up juicy hamburgers and crispy french fries but think twice before placing your order because they have plenty of not-so-great options for you.
They even have a secret menu that features their most unhealthy item, the IN-N-OUT 4×4 Burger. This monstrosity has four hamburger patties and four slices of cheese. At 1,050 calories and 70 grams of fat, your arteries will not be happy if you hunker down on this bad boy.
Advertisements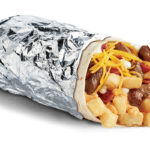 Advertisements
Mexican food enthusiasts flock to Del Taco for their authentic menu items. This fast-food chain offers everything from street tacos to nachos. Plus, they have delicious french fries on the menu, and who doesn't love eating a taco with french fries?
For their worst item, in terms of calories and fat, you should not opt for the Epic Steak and Potato Burrito. It contains layers of carne asada, crinkle-cut fries, chipotle sauce, bacon, cheddar cheese, and sour cream. The sodium count alone is 2,280 mg! Your heart rate probably went up just reading about this burrito!
Advertisements
32

Burger King's Extreme Super One Pound Beef Burger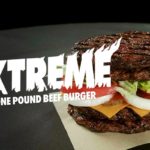 Advertisements
As everyone knows, the menus of the various fast food restaurants can vary from country to country. This specific item is only available in Japanese Burger King's restaurants, but it still deserves its place in this list because it is absolutely incredible.
The Extreme Super One Pound Beef Burger is considered 'A heart attack to go' according to a Twitter user. It contains no bread, but it has more than a pound of meat, about 4 times more than a Whopper, giving it a weight of 1.12 pounds. The rest of the ingredients are quite similar to a normal hamburger. Still, it costs 1400 yen, or $13.50.
Advertisements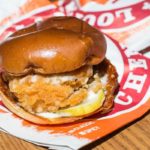 Advertisements
Popeye's Chicken is another fast-food chain for chicken-lovers. They serve traditional fried chicken and all the yummy sides. They caused quite a stir with their Spicy Chicken sandwich. It may be worth all the hype, but it is not the best option if you're hoping to eat healthily.
This gut-busting sandwich features a chicken breast marinated in Louisiana seasonings, buttermilk breading, barrel cured pickles, spice mayonnaise, all in a brioche bun. It may sound yummy, but it has 700 calories and 70 grams of fat. Yikes! You'd be better off ordering their loaded chicken wrap.
Advertisements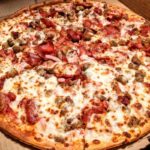 Advertisements
Papa John's Pizza is a beloved pizza chain that offers everything from specialty pizzas to chicken wings. It's the best place to go to fulfill those pizza cravings, but not so good if you're on a health kick. They offer a Garden Salad for the health-conscious diner, but their other menu items are not great options.
For example, Papa John's large Meat-Lover's pizza is loaded with calories. This pie features pepperoni, sausage, beef bacon, Canadian bacon, and is smothered with mozzarella cheese. One slice alone is a whopping 410 calories and contains 1130 mg of sodium. Avoid this pizza at all costs!
Advertisements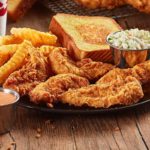 Advertisements
If you like chicken, then chances are, you love Zaxby's. This southern fast-food chain offers everything from traditional chicken wings to their famous Chicken Fingerz. This is tailgating food at it's finest, but don't eat here if you're watching your waistline. Although they offer salads on the menu, there are items you should avoid.
The 6 Piece Chicken Plate is their least healthy option. The meal includes 6 chicken fingers, crinkle-cut french fries, coleslaw, and a slice of Texas toast. It may sound mouth-watering, but this meal comes in at 1,920 calories! No, thank you!
Advertisements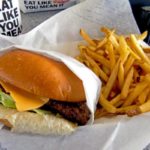 Advertisements
Hardee's is home to America's unhealthiest burger. One for which health insurance should be a requirement. A hugely familiar brand across the country, Hardee's (or Carl's Jr. in some areas) is responsible for a burger that includes three cheese slices, four bacon strips and close to a pound of beef.
Eat one of these monstrosities and you'll be consuming 35 gm of saturated fat, 1,690 mg of sodium and 1,240 calories. Yikes.
Advertisements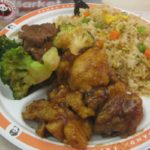 Advertisements
With brown rice available as a healthier option, you will even find vegetables in a Panda Express meal, although vegetarians have just one choice when it comes to entrees.
Nonetheless, salt levels are elevated and the corporation has been criticized for its high prices given the quality of its food.
Advertisements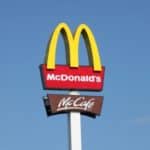 Advertisements
Being an international food chain doesn't guarantee excellence. The burgers at McDonald's received the lowest ranking in terms of the quality and freshness of their ingredients in a recent survey.
While low on quality, they are immensely high in calories and there is now little doubt that the obesity epidemic in the US is due in part to the omnipresence of McDonald's restaurants. Yes, the classic of classics on the fast-food market is actually bottom-of-the-scale stuff.
Advertisements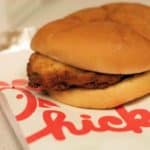 Advertisements
When you start craving a chicken sandwich, rule Chick-fil-A out! With high-fat, high-calorie and bad-tasting fries and salty, fatty sandwiches, go elsewhere to satisfy that craving.
Grilled nuggets are a slightly healthier choice at Chick-fil-A, as long as you don't buy fries as a side and trade them with something else, which, good luck.
Advertisements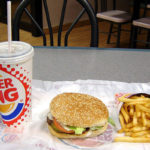 Advertisements
Breakfast items are the worst offenders when it comes to the calorific offerings on a Burger King menu. With as much as 1,420 calories in a breakfast option, trade the latter for grilled chicken with a garden salad without dressing.
However, if you care about your cardiovascular system, it's probably best to stay away from this high-fat, high-salt and high-cholesterol fast-food chain altogether.
Advertisements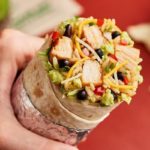 Advertisements
Welcome to Moe's, where you can get the Homewrecker Burrito. This should be called the Gutbuster because the Homewrecker Burrito with chicken contains a whopping 1,019 calories per serving. With 43 g of fat and 2,180 mg of sodium, this is one item that should be avoided.
According to the Moe's website, this menu item consists of guacamole, seasoned rice, beans, shredded cheese, shredded lettuce, pico de gallo, sour cream, and a choice of carnitas, steak, chicken, ground beef, or organic tofu, wrapped up in a 12-inch tortilla. With 121 net carbs, this is the least healthy option at Moe's.
Advertisements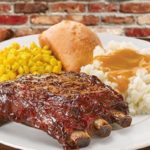 Advertisements
It may seem like you're making a healthy choice by eating at Boston Market, and while they do offer healthier menu items, there's one meal that stands out from the rest when it comes to calorie and fat content.
If you order 1/2 Order Baby Back Ribs with Fresh Steamed Vegetables, Mashed Potatoes, Zesty BBQ sauce, and Cornbread, you'll be taking in 1,550 calories and 78 g of fat. It may be tempting to hunker down on some ribs, but the Quarter Skinless Rotisserie Chicken with Zesty BBQ Sauce can give you the same flavor and is so much better for you.
Advertisements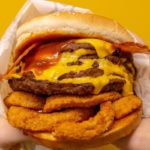 Advertisements
If you're craving a cheeseburger but don't want to eat a day and a half's worth of calories in one sitting, you should stay clear of the Triple Western Bacon Cheeseburger. This monster of a burger comes with three charbroiled all-beef patties, two strips of bacon, melted American cheese, crispy onion rings, and BBQ Sauce in a sesame seed bun.
Coming in at 1,380 calories and 81 g of fat, this menu option would not be the best choice if you're watching your waistline. With 2,750 mg of sodium, your heart and arteries would be at risk too. This cheeseburger is trouble, for sure.
Advertisements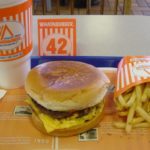 Advertisements
They say that everything is bigger in Texas and that is the case with the next item on the list. Whataburger, a Texas fast-food burger chain, boasts the Triple Meat Whataburger. If you add an order of french fries and a drink to your order, this meal contains 1,400 calories.
Looking at the fat content, you'd be taking in 46 g of fat in one sitting. The sodium content is just as shocking at 1,590 mg. Any way you look at it, this meal is off the charts and not the healthiest choice for your body.
Advertisements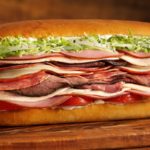 Advertisements
Jimmy John's offers a sandwich aptly named The J.J. Gargantuan. This monster comes with salami, sliced smoked ham, capicola, roast beef, turkey, and provolone combo. Don't think that you can cut back on calories by ordering this one on wheat bread.
At 1,100 calories and 55 grams of fat, the Gargantuan sandwich is not the best option on the menu. Jimmy John's says it's "huge enough to feed the hungriest of all humans!" and they weren't kidding with that assessment. With 3,550 mg of sodium and 69 grams of carbs, you might not feel your best after eating this one.
Advertisements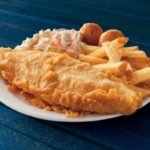 Advertisements
You won't believe what people have said about the food at Long John Silver's. Their Big Catch meal was named the "Worst Restaurant Meal in America" by the Center for Science in the Public Interest. You can't get much worse than that, can you?
They totally earned that title as this meal comes in at a staggering 1,320 calories. The meal comes with fried fish, hush puppies, and a side of onion rings. With 19 grams of saturated fat and almost 3,700 milligrams of sodium, it's no wonder this meal has gained such a terrible reputation. Be sure to skip this one.
Advertisements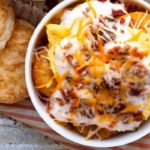 Advertisements
Who knew that a bowl menu item could land a fast-food establishment on this list? That's the case with the Bojangles Chicken Rice Bowl, which comes with roasted chicken, dirty rice, Cajun pinto beans, and cheddar cheese.
Coming in with a whopping 780 calories and 27 g of fat, this menu item is a far cry from being the best option. With 3,550 mg of sodium, there's no shortage of salt in the Chicken Rice Bowl. If healthy eating is your goal, avoid this one at all costs. Your body will thank you for it.
Advertisements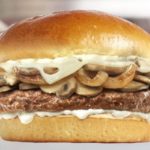 Advertisements
Johnny Rockets says they are "Home to Burgers, Shakes, Fries & Fun!" They're also home to the Route 66 Double Burger, which is how they ended up on this list of what not to order at a fast-food chain.
This sandwich is stacked with two beef patties, mozzarella cheese, mushrooms, and onions. It has 1,060 calories, 70 grams of fat, and a shocking 1,870 mg of sodium. You would get a day's worth of sodium in one sitting, which is not a healthy life choice. We'd think twice before biting into this enormous burger, if you ask us.
Advertisements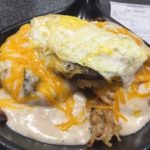 Advertisements
Steak 'N Shake is mostly known for their milkshakes and steakburgers, but they have several items on their menu that should be avoided. The Country Skillet may sound delish as it comes with shredded hash browns, sausage patty, sausage gravy, cheddar 'n jack cheese, and a buttermilk biscuit topped with two fried eggs.
Don't pull out your knife and fork just yet, though, because the Country Skillet at Steak 'N Shake is totally not good for you. Need more proof? This menu item contains 1,320 calories and 2,340 mg of sodium. You'd be wise to not order this breakfast skillet.
Advertisements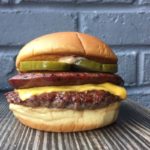 Advertisements
Shake Shack has taken the world by storm. The Austin-based burger joint is home to the Lockhart Link Burger, which is a cheeseburger topped with a griddled jalapeño sausage link. It may sound delectable, but it could be a nightmare for the scale.
Coming in at 1,330 calories and 96 g of fat, this mouthwatering menu item just isn't worth the price you'll pay in pounds. Not to mention that the Lockhart Link Burger contains 4,110 mg of sodium. We feel like we had a slight heart attack just from typing those words. Be kind to your body and avoid this ordering one.
Advertisements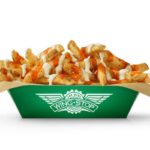 Advertisements
Wing Stop claims to carry "Chicken wings from wing experts". While this may be true, it's actually one of their side items that has us questioning their credentials. Their Louisiana Voodoo Fries could pass as a full meal on its own. These fresh-cut fries come topped with Cajun seasoning, ranch, and cheddar cheese.
At 910 calories and 49 grams of fat, you won't have any room for wings if you order this beast of a side dish. We're sweating just thinking about eating those fries! You'd do better to just stick to ordering what they're known for.
Advertisements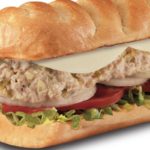 Advertisements
Tuna seems like a healthy option, but the folks over at Firehouse Subs managed to make it an unhealthy choice in their menu. The large Tuna Sub looks innocent enough, but it spells nothing but trouble for your waistline. With 1,540 calories and 103 grams of carbs, its nutritional content is off the charts.
Taking a look at the sodium, the large tuna sub has 3,030 mg of sodium. That's way over the recommended daily amount of 2000 mg. You would exceed healthy sodium levels in just one meal. This is another menu item you should definitely pass on.
Advertisements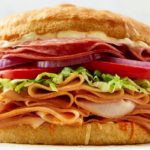 Advertisements
Schlotzsky's may have "fresh items that everyone loves," but not every menu item is a healthy choice. While the Original Style Turkey Sandwich does contain naturally lean turkey meat, which sounds like a great choice for a sandwich, it's actually filled with high calories, fat, and sodium.
Coming in at 831 calories, 35 grams of fat, 81 g of carbs, and 2,529 mg of sodium, Schlotzsky's filled this menu item with salami and three kinds of cheeses, making it an unhealthy option in disguise. The fact of the matter is, this sandwich will do you zero favors.
Advertisements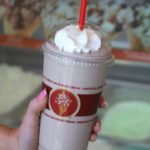 Advertisements
Who would think that a milkshake could contain 2010 calories? That's the case with The Cold Stone PB&C milkshake. Men's Health added this one to their list of the 20 worst drinks in America. "In terms of saturated fat, drinking this Cold Stone catastrophe is like slurping up 68 strips of bacon," the mag said.
That's a crazy thought, if you ask us. The PB&C milkshake combines peanut butter, chocolate ice cream, and milk. It contains 68 grams of saturated fat and 153 grams of sugar. The sugar count alone is downright scary.
Advertisements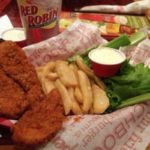 Advertisements
Red Robin is famous for their gourmet burgers, but that's not what landed them on this list. The Clucks & Fries Buffalo Style comes with french fries, chicken tenders, and a blue cheese dipping sauce. They even throw in some celery to make it appear healthy, but don't be fooled.
Coming in at 1,620 calories and 113 g of fat, this entrée item would not be good for your weight loss goals. The sodium content is 4,120 mg, which has us worried because that's almost twice the amount of daily recommended intake. Whatever you do, don't order this dish at Red Robin!
Advertisements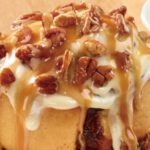 Advertisements
Everyone deserves a treat now and again and Cinnabon is there to cater to your sweet tooth at just about any mall food court in America. We're here to warn you about one particular item on their menu that you should avoid, the Cinnabon Caramel Pecanbon.
This monster cinnamon bun has 1,080 calories and 51 g grams of fat. That's more than half of your daily allotment of calories and nearly an entire day's worth of fat! It's teaming with sugar at 75 grams. It's yummy, but not that yummy! Don't waste the empty calories on this treat.
Advertisements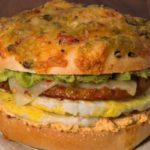 Advertisements
Einstein Brothers pride themself on being your "neighborhood bagel shop," but they also have breakfast sandwich items on their menu. The Chorizo Sunrise 2-Egg Signature Sandwich may seem healthy because it's packed with protein, but it's not as good as it seems.
At 920 calories and 57 grams of fat, that's not the healthiest way to start your day. Plus, with 1,600 mg of sodium and 62 grams of carbs, it's just high across the board. You'd be smarter to opt for the Santa Fe Egg White, which comes in at 420 calories. That's still pretty high in calories, but it would be better for you.
Advertisements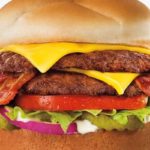 Advertisements
We love bacon just as much as the next person, but it can tip the scales when added to a cheeseburger. That's the case with Culver's Bacon Deluxe, Triple. This burger comes with two beef patties and a heaping serving of bacon. While it may sound delish, it's filled with high calories and tons of fat.
Need proof? The Culver's Bacon Deluxe, Triple comes in at 1,090 calories and 76 grams of fat. We can feel our blood pressure rising at just the thought of eating this burger. Go instead for a ButterBurger 'The Original,' Single without cheese if you're craving a Culver's burger.
Advertisements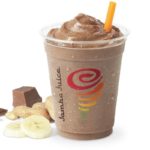 Advertisements
Jamba Juice has fast become a fan favorite for smoothies. Don't fool yourself into thinking you've made a healthy choice if you order Jamba Juice's Peanut Butter Moo'd Smoothie, though. This is the most calorie-dense option on their smoothie menu, coming in at 910 calories for a large serving.
Calories aren't the only problem with this option, either. With 28 grams of fat and 144 grams of carbohydrate, it's a wolf in sheep's clothing. You should go for the Strawberry Surf Rider instead, which only has 250 calories. You won't skimp on flavor and your body will feel so much better.
Advertisements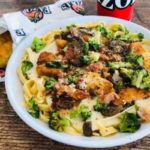 Advertisements
Fazoli's is a fast-food chain that offers fresh Italian meals. Their Ultimate Fettuccine meal is by far the worst item on the menu, not for the taste, but for the calorie and fat content. With 980 calories and 35 grams of fat, there is no way this dish is good for you.
The sodium content alone should make you pause at 3,180 mg of sodium per serving. That's pretty absurd. If you just can't resist the lure of the Ultimate Fettuccine, then at least split it with a friend. Do yourself a favor, and order the Baked Lasagna instead. It has 630 calories, which isn't great, but not nearly as unhealthy as the fettucini.
Advertisements
61

Chicken Bacon Ranch – Subway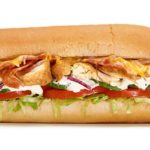 Advertisements
Subway may seem like a healthy fast food option, and while many of their menu items are smart options, they offer several sandwiches that aren't the best for you. The Chicken Bacon Ranch is the highest calorie Subway sandwich.
This sub offers chicken breast strips, bacon slices, ranch sauce, and Monterey cheese blend on Italian bread. That may sound tasty, but the 6-inch sub has a whopping 610 calories! Not to mention that it has 32 g fat and 1,340 mg sodium. Don't let Subway fool you into thinking you're making a wise decision with this sub.
Advertisements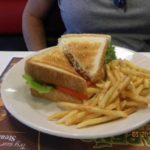 Advertisements
While Steak 'n Shake offers a variety of delicious burgers and sandwiches, ordering a BLT may not be the best choice. The reason for this is because the BLT simply does not live up to their high standards. Because of that, a BLT may not be the best value for your money at this restaurant.
As a former employee said, "I worked at Steak n Shake for a while. Pretty much the only thing I'd never order is a BLT. You're paying like $6 for two pieces of toast and two strips of bacon. The problem is that the BLT is supposed to be made with 4 strips of bacon (8 pieces when broken in half) but nobody does this, usually due to managers trying to invisibly cut costs."
Advertisements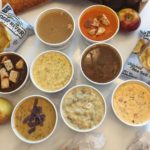 Advertisements
The reason why you shouldn't order any of the soups on Panera Bread's menu is because the soups are actually not fresh at all, as explained a former employee. But in addition, the sanitary conditions of the kitchen of this restaurant seem to leave much to be desired.
As they said, "Any of the soups. Soups were frozen in a bag and shipped. They were thawed using a "re-thermalizer," a sink full of heating elements that boiled water. Yeah well, that sink wasn't cleaned out all the time, sometimes bags burst. Soup that survived was cut open with a pair of scissors, usually a pair from the managers office or from the prep line, they weren't too picky during dinner rush. Then it was poured into a pitcher. Then transferred to soup line. Problem: the pitcher was hardly ever cleaned, if poorly rinsed out could be considered cleaning."
Advertisements
64

Breadsticks – Little Caesars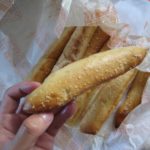 Advertisements
Little Caesars' breadsticks can be quite bland and lack the delicious flavor and seasoning that customers expect from a breadstick. As one Yelp reviewer notes, "The breadsticks were a total letdown. They tasted like plain bread, with no flavor or seasoning whatsoever."
What's more, a former employee said, "Don't EVER get the breadsticks at Little Caesar's. Literally tons of day old butter are painted on to the bread. I've seen co workers pick up breadsticks off the ground and put them back in the bag just because they are in a rush." This is so disgusting!
Advertisements
65

Beyond Sausage Farmers Breakfast Wrap – Tim Hortons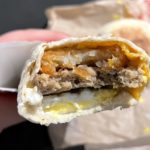 Advertisements
One of the worst items to order on Tim Horton's menu is their Beyond Sausage Farmers Breakfast Wrap. While the restaurant chain prides itself on providing a range of breakfast options, this particular item has received criticism for its lackluster taste and quality.
The Beyond Sausage Farmers Breakfast Wrap has been described as dry, lacking in flavor, and unappetizing by customers. As one Reddit user notes, "I found it to be dry and lacking in flavor. It was like eating cardboard." Additionally, some customers have reported that the Beyond Sausage patty itself can be quite rubbery and unappetizing.
Advertisements
66

Chicken Parmesan Sandwich – Jersey Mike's Subs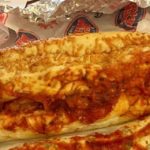 Advertisements
A former employee of Jersey Mike's Subs recently shared their experience with the chicken parmesan sandwich, stating that it was not a menu item they would recommend. According to the former employee, "It's a frozen pre-breaded chicken patty that we just microwaved for a few mins that just turns to mush in the sandwich."
Based on this insider knowledge, it may be best for customers to avoid the chicken parmesan sandwich at Jersey Mike's Subs. The use of a pre-breaded and microwaved chicken patty can result in a lack of flavor and poor texture. Customers who are looking for a more satisfying and flavorful sandwich option may want to consider other menu items, such as the cold cut subs or cheesesteaks.
Advertisements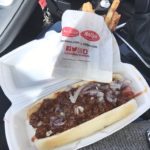 Advertisements
According to a former employee, customers may want to think twice before ordering chili at Checkers. The employee stated, "I would never, ever, ever, in a bazillion years, eat any fast food place's chili after working there. The 'chili' is just the past few day's unsold, sat in the heater too long to sell as a hamburger, meat that gets chopped up and thrown in some chili seasoning and beans. The batch of chili was never thrown out, just always sat there getting replenished with new chili sauce and meat, so some of the chili in there was months old at least."
The use of unsold, leftover meat that has been sitting in a heater for days or even months is simply horrible. Customers who are looking for a more satisfying and fresh option may want to consider other menu items at Checkers, or even a completely different restaurant, at this point.
Advertisements
68

Philly Cheese Steak Pizza – Domino's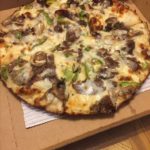 Advertisements
According to a former employee of Domino's, customers may want to avoid ordering the Philly Cheese Steak Pizza due to the ingredients used. The employee stated, "At Domino's, don't order the Philly steak or American cheese, it's only used on the sandwiches and one specialty pizza so it usually goes bad and we have to throw it out often."
If you don't want to risk getting sick after eating potentially expired food, it may be best to avoid the Philly Cheese Steak pizza at Domino's. And maybe the American Cheese, too, while you're at it. It's better not to take any chances.
Advertisements
69

Big Fish Sandwich – Burger King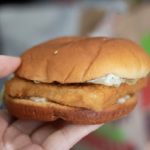 Advertisements
If you eat at Burger King, you may want to avoid ordering the Big Fish Sandwich due to concerns about its quality. A former employee stated, "The fish sandwich. It's a rectangular piece of fried fish and breading. Absolutely disgusting. They also keep some surplus so they don't have to make it new each time someone orders it, so you may be getting old fish."
The idea of potentially eating old fish that is no longer fresh is very repulsive. This is why it is never recommended to order a very unpopular item in a restaurant, especially in a fast food one.
Advertisements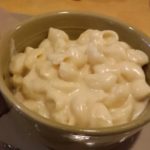 Advertisements
Panera Bread is known for its high-quality salads, and sandwiches, but customers may want to avoid pasta, according to a former employee. The employee stated, "The pasta, it's all microwaved. This includes the mac and cheese. The best items are the real sandwiches and salads. They use real ingredients and are usually fresh."
The use of microwaving to prepare the pasta can result in a huge lack of texture and flavor. So, it would be better to stay away from all kind of Panera Bread's pasta.
Advertisements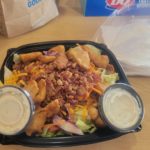 Advertisements
While Dairy Queen may be known for their sweet treats like Blizzards, customers may want to avoid ordering salads at this fast food chain. A former employee stated that the salads at DQ are a rip off, with old lettuce, cabbage, carrots, and grilled chicken. Not only that, but the salads have been downsized while the bowl has been made to look the same, resulting in less food for the same price.
In addition to the subpar salads, some former employees have even gone as far as to say that customers should only order Blizzards or burgers at DQ. One employee stated, "If you go into DQ for anything other than a Blizzard or a burger, you are at fault." But yet, another employee mentioned that even the burgers also aren't great. So, maybe you should stick with the Blizzards only.
Advertisements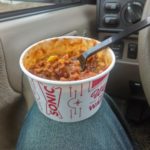 Advertisements
You might want to avoid the chili at Sonic. A former employee warned, "Don't get the chili. It comes in a bag, gets warmed up in a metal tub and then sits for 10 hours until we run out and replace it, it's also just not very good to begin with."
If you have any food allergies, it's also important to note that cross-contamination is not a priority at Sonic. The former employee added, "If you're allergic to any kinds of foods be weary, onions are in the same dressing station as the rest of the condiments and cross-contamination is not our problem. The same goes for peanuts with the shakes." So if you want to stay safe and healthy, it might be best to skip the chili, and anything that could trigger an allergic reaction at Sonic.
Advertisements
73

Tuna Sandwiches – Subway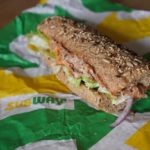 Advertisements
According to a former employee, "tuna is literal poison in a container" at Subway, and is often several days past its expiration date. In addition, another former employee suggests that Subway's tuna sandwiches are "80% mayonnaise," which may not be what you're looking for in a sandwich. 
Moreover, in January 2021, a lawsuit was filed against Subway claiming that the tuna used in their sandwiches is not actually tuna, but rather a "mixture of various concoctions" that do not meet the definition of tuna. Subway has denied the claims and stated that their tuna is "100% wild-caught" and "100% delicious." As of march 2023, the lawsuit is ongoing.
Advertisements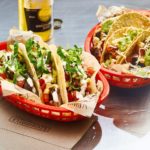 Advertisements
As many people say, never order tacos at Chipotle. According to a former employee, the portion sizes for tacos are significantly smaller than what you would get in a bowl. You may end up paying the same amount for less food.
Instead, the employee recommends ordering a bowl and getting the taco shells on the side. This way, you can create your own tacos with the same amount of ingredients as a bowl. It's always good to be aware of portion sizes and get the most for your money.
Advertisements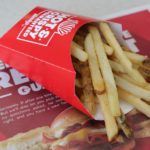 Advertisements
When it comes to fast food, fries are a popular side dish that many people enjoy. However, customers at Wendy's may want to think twice before ordering them. A former employee stated that at Wendy's, "a saying there was (about fries): 'They aren't old until they're sold."
This means that the fries may have been sitting around for a while before being sold, potentially resulting in a lack of freshness and quality. In addition to the fries, customers may also want to avoid the chili at Wendy's. Another former employee mentioned that their chili is made from overcooked beef which can be up to 7 days old.
Advertisements
76

Hot Chocolate – Dunkin' Donuts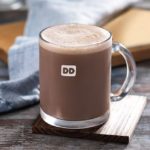 Advertisements
If you're in the mood for a warm drink at Dunkin' Donuts, you may want to avoid ordering their hot chocolate. According to a former employee, the hot chocolate mix contains cellulose gum and xanthan gum, which are thickening agents that give the drink a creamier texture.
However, some customers may find the resulting drink to be too thick or artificially creamy, and it may not taste as good as a freshly made hot chocolate. If you're looking for a warm and satisfying drink, you might want to try Dunkin's coffee or tea instead.
Advertisements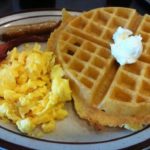 Advertisements
If you're thinking of ordering scrambled eggs at Denny's—or a lot of breakfast items, really—you may want to reconsider. According to a former employee, everything comes frozen and the scrambled eggs are best avoided.
The eggs are pre-made and often sit in a warmer for hours, making them less than fresh. Other items to avoid include nachos, corn hash, sausage, French toast, and waffles, especially the wheat or custom mixes. It's important to keep in mind that cleanliness can also vary from store to store, so it's always a good idea to do your research before ordering.
Advertisements
78

Hamburgers – Five Guys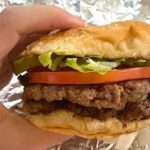 Advertisements
As much as Five Guys is loved for its burgers, former employees have expressed concerns about the safety of the food preparation. For example, a former employee stated that the patties were left out for a too long period of time after preparation.
As they said, "I stopped working there after arguing with my manager about food safety and restaurant cleanliness. I know most locations aren't like the one I was at, but every restaurant has their bad ones. Some points to my argument: Patties shouldn't sit out for three hours after prep."
Advertisements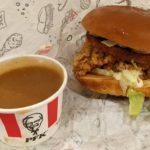 Advertisements
If, like many, you're a fan of KFC's gravy, you may want to reconsider your order. According to a former employee, the gravy is made by taking the "bottom of the deep fryer with seasoning in it." This means that the gravy is essentially made from the leftover bits and pieces of fried chicken mixed with seasoning.
Additionally, another former employee claims that the fryer oil is not changed as frequently as it should be, with the oil being skimmed off and reused for several weeks at a time. So, if you want to avoid potentially unhealthy and unappetizing gravy, it might be best to skip it at KFC.
Advertisements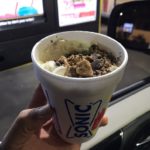 Advertisements
If you're planning to get some ice cream at Sonic, you might want to think twice. According to a former employee, the ice cream at Sonic can be a health hazard, to say the least.
They said, "The ice cream comes in a bag and you pour it into a bucket in the bottom of the machine. Not too hard, right? Nah, people would spill it all the time and the lid to the bucket wasn't secure. Then they would leave it until it grew mold (sometimes even inside the bucket,) then we would have to take the entire machine apart and sanitize EVERYTHING."
Advertisements