20 Surprising Healthy Fast Food Options That Won't Ruin Your Diet
1

Taco Bell: Beef Fresco Crunchy Taco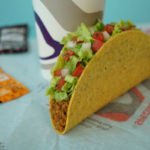 Advertisements
Thankfully, a soft chicken taco isn't the only healthy option available at Taco Bell. If you're craving something with a little crunch, you can opt for the beef fresco crunchy taco. While it's true that the ground beef has a few more calories than the ground chicken, the crunchy shell actually contains less sodium and fewer calories than a soft taco.
Overall, one of these tacos is only 140 calories. It also boasts 7 grams of fat, 14 grams of carbs, and 6 grams of protein. It gives you that satisfying feeling of ordering from the Taco Bell drive-thru, without the guilt that often accompanies fast food.
Advertisements
2

Panda Express: Broccoli Beef
Advertisements
It's hard to imagine that anything in the fried, grease-filled land of Panda Express could truly be healthy. Thankfully, there are some good options. Instead of getting a heaping serving of fried rice and orange chicken, opt for broccoli beef for a healthier meal.
To truly create a diet-friendly dish, however, you have to pair your broccoli beef with healthy sides. Opt for a serving of brown rice and a heaping plate of veggies in addition to your beef. The meal has plenty of nutritional value, and it will provide you with more than enough food to satisfy any level of hunger.
Advertisements
3

Chick-Fil-A: Grilled Chicken Sandwich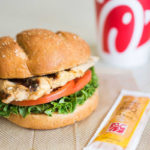 Advertisements
While Chick-Fil-A is best known for its greasy fried chicken, there are some healthy options for you to indulge in on the menu. One of the best meals for those on a diet is the grilled chicken sandwich.
This yummy meal comes on multigrain bread with a grilled chicken breast, lettuce, tomato, and a fruit cup on the side. Overall, the sandwich provides 29 grams of protein—plenty to keep you full and energized. It's just 330 calories, which is a decent amount for a lunch on a diet. Plus, the best part is it packs all that delicious Chick-Fil-A flavor into a sandwich that's actually pretty good for you.
Advertisements
4

Chipotle: Chicken Burrito Bowl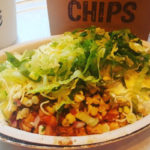 Advertisements
If you're on a diet and you hear Chipotle, it's likely your stomach starts to turn. With all those indulgent, greasy options, you probably think there's no way Chipotle could be diet-friendly. Thankfully, you're wrong. While tacos and burritos aren't the healthiest options, a burrito bowl can fill you up while still keeping your healthy eating on track.
If you want a truly healthy meal, pack your burrito bowl with brown rice, chicken, plenty of veggies, and light or no cheese. The final product is actually quite healthy. It includes enough protein and carbs to keep you feeling full, but it also gives your bodies the veggies it needs.
Advertisements
5

Chipotle: Chicken Salad
Advertisements
If you're trying to steer clear of carbs, even the burrito bowl might not be the healthiest option for you at Chipotle. However, that doesn't mean you have to stay away from the chain altogether. Instead, try ordering a salad with a bit of Mexican flair.
The chicken salad from Chipotle comes with lettuce rather than rice. But you can still include beans in the bowl, which will provide necessary carbs in a much smaller dose. Then, just like the burrito bowl, pack your salad with extra veggies and top it with salsa. You'll still get that amazing Chipotle flavor, but you'll also decrease your carbs and increase your veggies even more.
Advertisements
6

Taco Bell: Chicken Taco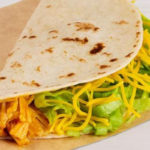 Advertisements
When it comes to eating healthy at a fast food joint, you want to keep it as simple as possible, and that's exactly what this chicken taco does. Served in a corn tortilla with shredded chicken, lettuce, tomato, and cheddar cheese, this taco is the epitome of simple and filling. 
The corn tortilla is healthier than the flour version, and the chicken taco boasts fewer calories than ground beef. Plus, you can still indulge in Taco Bell's signature dish while on a diet. Healthy eating doesn't mean snacking on lettuce. With this simple meal, you can keep your diet on track while still visiting Taco Bell.
Advertisements
7

Starbucks: Sous Vide Egg Bites
Advertisements
If you want to get a bit fancy with your healthy fast food breakfast, grab some sous vide egg bites from Starbucks. If you get the egg white and pepper variety, you'll start your day with a nice 13 grams of protein.
However, that's not the only positive. Two sous vide egg bites are also just 170 calories. Plus, they're a great source of calcium. The sous vide egg bites are easy to eat alongside your morning coffee, and they'll start your day on the right note.
Advertisements
8

In-N-Out Burger: Protein-Style Hamburger
Advertisements
If you're lucky enough to live in a place with an In-N-Out, then you know that denying yourself of this delicacy is almost impossible. But instead of getting a fat-filled meal every time you stop by, enjoy all those flavors in a healthier style.
Next time you order a burger from In-N-Out, tell them you want it protein-style. You'll be served a bun-less hamburger wrapped in lettuce leaves. While it might not look as appealing as a normal hamburger, the flavor you're craving will still be present. Protein-style, your hamburger is only about 275 calories, which is perfect for any diet.
Advertisements
9

Wendy's: Grilled Chicken Wrap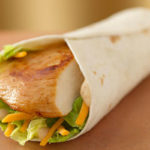 Advertisements
In case you haven't noticed a theme, grilled chicken is usually your best bet when it comes to healthy fast food options. That rule definitely applies to Wendy's, where one of the most diet-friendly dishes on the menu is the grilled chicken wrap.
Wendy's grilled chicken wrap features delicious grilled chicken wrapped in a tortilla and paired with veggies and cheese. It has enough flavor to satisfy any craving, but it also contains an impressive 20 grams of protein for just 300 calories. If you want to make a truly balanced meal, grab some apple slices on the side.
Advertisements
10

Subway: Veggie Delite Sandwich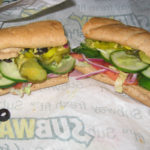 Advertisements
While a chicken sandwich is certainly one healthy option at Subway, you can kick your healthy eating up a notch by ordering a veggie delite sandwich. With zero meat, this sandwich is packed with nutritious veggies that will have you feeling your best. It's a step up from a salad in the flavor department because it includes Subway's delicious bread, but it also boasts just 280 milligrams of sodium.
The best part? A veggie delite sandwich is only 200 calories. With that low number, you can pack on a few more condiments to take the flavor of your sandwich to the next level.
Advertisements
11

Arby's: Roast Turkey Farmhouse Salad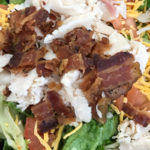 Advertisements
While you can get away with ordering burgers and sandwiches at certain places, sometimes the healthiest option at your favorite fast food chain is a salad. That's certainly true for Arby's. Thankfully, with the roast turkey farmhouse salad, you don't have to sacrifice flavor for the sake of health.
This salad includes chunks of turkey and bacon amidst a bed of lettuce and cheese. At just 240 calories, it's the perfect healthy option from Arby's. Plus, it has lots of protein, which allows you to truly fill up and stop those cravings that often hit later in the day.
Advertisements
12

Popeye's: Loaded Chicken Wrap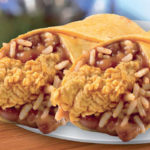 Advertisements
If you want to lighten up your meals and add some healthier options into your day, Popeye's probably isn't on your radar. However, just like most fast food chains, you can still find diet-friendly options at this Southern fast food restaurant.
One healthy option at Popeye's is the loaded chicken wrap. This meal is packed with protein, but each wrap is only 310 calories. Plus, the cheddar tortilla still ensures that this low-calorie meal is packed with flavor. With this delicious option, you don't have to sacrifice taste in the name of health.
Advertisements
13

Papa John's: Mediterranean Veggie Pizza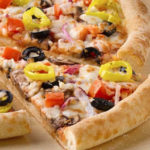 Advertisements
If we're being totally honest, pizza is never the best choice if you're trying to maintain your diet. But if you find that you need to order a pizza, you can still keep your meal somewhat healthy. When ordering from Papa John's, look for pizzas labeled "Papa's Lighter Choices." All those options are made to be less than 300 calories per slice.
But beyond cutting down your calories, try ordering the Mediterranean Veggie Pizza for a truly diet-friendly meal. Not only does this pizza clock in at 170 calories per slice, but it's also loaded with veggies that will add a nutritional boost to your dinner.
Advertisements
14

Panera: Ancient Grain & Arugula Salad With Chicken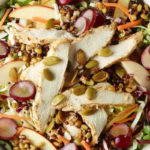 Advertisements
Panera is full of delicious food options, but none are quite so good for your health as the ancient grain and arugula salad with chicken. Not only does this dish taste delicious, but it also manages to pack four essential food groups into one bowl. With this meal, you'll get a healthy dose of vegetables, fruits, lean protein, and grains.
Plus, this salad is only 210 calories. It's rich and tasty enough to keep you feeling full, and it ticks a lot of boxes in terms of what you should be ideally eating in a single day.
Advertisements
15

Starbucks: Hearty Blueberry Oatmeal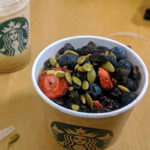 Advertisements
When you think fast food, Starbucks probably isn't the first place to pop into your mind. But while you're grabbing your morning coffee, you might as well take advantage of the breakfast options available there. You might be surprised to learn that some of their meals are actually quite diet-friendly.
If you need breakfast in a pinch, order the hearty blueberry oatmeal from Starbucks. This meal is only 220 calories and boasts an impressive 5 grams of fiber. Not only is that good for your digestive system, but it will also have you feeling fuller for longer, eliminating the need to snack before lunch.
Advertisements
16

McDonald's: Happy Meal
Advertisements
Sometimes sticking to your diet is as much about your portion sizes as what you're actually putting into your body. If you're hit with a really severe McDonald's craving, you don't have to deny yourself altogether. Instead, just decrease your portion size by ordering a Happy Meal.
Happy Meals can scratch your McDonald's itch while simultaneously ensuring you don't overeat. A nugget Happy Meal comes with just four pieces and a small fry. Order water with the meal and you've got a snack that won't derail all your healthy progress. Everyone needs to indulge once in a while. By ordering this small meal, you make sure that your indulgence doesn't ruin all your progress.
Advertisements
17

Dunkin' Donuts: Wake-Up Wrap
Advertisements
Of course, Starbucks isn't the only place to order a delicious on-the-go breakfast. If you prefer to get your coffee from Dunkin' Donuts, try getting your breakfast there as well! While it might be difficult to say no to the delicious donuts, a wake-up wrap is a filling, healthy option to start your day.
Opt for the wake-up wrap with ham, egg, and cheese. It will still taste delicious, but it has less saturated fat and sodium than other options. Plus, it's only 190 calories! In other words, it's the perfect starter to keep your diet going strong for the rest of the day.
Advertisements
18

Subway: Rotisserie Chicken Sandwich
Advertisements
In general, Subway isn't the worst choice in fast food, especially since you can pack your sandwich full of veggies. But if you want to get the healthiest option possible, choose rotisserie chicken as your meat. Then, pair the chicken with a whole wheat bun for an extra dose of fiber.
After the base of your sandwich is prepared, skip the cheese and pile on veggies. Also, take it easy on the condiments. If you can, try to stick to oil and vinegar. Altogether, a 6-inch version of this sandwich should be less than 300 calories.
Advertisements
19

Burger King: Classic Hamburger
Advertisements
At Burger King, the healthiest option is also the most obvious: a classic hamburger. While there are plenty of salads on the menu at Burger King, they may derail your diet, rather than help it. The entrée salads are high in saturated fat, calories, and sodium, so they're not nearly as good for you as you might assume.
Instead of opting for one of the not-so-great salads, let yourself indulge in a classic hamburger. But rather than getting a side of greasy fries, order a side salad. Altogether, that meal isn't going to undo your progress. Plus, the side salad ensures you're still getting a healthy dose of veggies, without the saturated fat.
Advertisements
20

Five Guys: Bunless Cheeseburger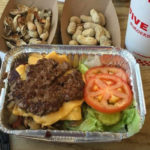 Advertisements
Yes, burgers can still be on the menu while you're dieting. What a shock, right? If you're really craving a cheesy patty, head on over to Five Guys and make your order a little healthier by opting for a burger with no bun.
The bunless cheeseburger from Five Guys still covers your patty in cheese, but it comes with healthy lettuce rather than an unhealthy bun. While it eliminates some unnecessary carbs, it also incorporates veggies into a meal that still tastes delicious. If you want to kick it up a notch, order your cheesy patty over a bed of lettuce, tomatoes, and peppers. You can still enjoy the best parts of the burger, but you'll also eat a meal packed with healthy nutrients.
Advertisements