Discontinued Items At Costco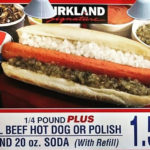 Advertisements
Polish Dog connoisseurs were so outraged over the discontinuation of this product that Costco had to make a statement about it. Costco explained that they were making changes to their menu to incorporate healthier choices, such as the all-beef hot dog. It is not the same, though. Members loved this easy menu item and looked forward to grabbing one every time that they would make their Costco trip.
Even though members dearly miss this grocery shopping staple, you can still find Costco's signature all-beef dog in their food courts. They offer a combo meal for only $1.50, which comes with both the all-beef dog and a soda. The combo meal is still a steal when it comes to prices; it is extremely well priced and convenient to grab when inside of the Costco food court. We know it is not exactly the same thing, but it is close enough, right? We can only dream.
Advertisements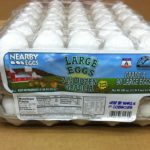 Advertisements
While this is still a work in progress, Costco plans to only sell cage-free eggs in their stores. Costco stores in France, Spain, and Iceland are already 100% in accordance with their Animal Welfare Policy. With this policy, Costco says that "[They] serve as stewards of the animals, land, and environment entrusted to the company. Costco is committed to a global approach to Animal Welfare and is working toward a uniform program in all countries/regions where it operates, while respecting that each country may have its own regulatory and social requirements in place."
In 2020, 93.2% of the eggs in U.S. stores were known to be cage-free. When shopping for these specific eggs, you can check the carton for the certification before purchasing. As of right now, the only eggs that you can purchase with the cage-free certification are Kirkland Signature Liquid Egg Whites and Kirkland Signature Organic Large Brown Eggs.
Advertisements
3

Kirkland Signature Body Soap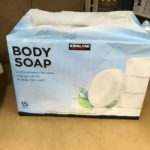 Advertisements
When Costco discontinued the production of this body soap, people were devastated. This soap was oh-so-loved due to its amazing quality and low price point. People loved how moisturized it made them feel and how easy it was to work up a lather while using it. It was a no-brainer to purchase this soap; it lasted forever, and it was a fair price.
The Kirkland Signature Body Soap left you with a strong natural scent that lasted—which inevitably turned into its downfall. Cosco stopped producing this product due to its "strong scent." There are claims that this product could possibly be produced again if they can fix the ingredients. Costco still sells similar products, such as Dove bars, which cost significantly more than the Kirkland brand soap bars.
Advertisements
4

All American Chocolate Cake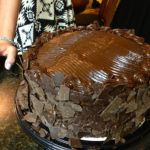 Advertisements
Costco discontinued their All American Chocolate Cake back in 2020. Once members got wind that the cake wasn't going to come back to the bakery, a petition was created and gained over 7,200 signatures. Although Costco had no plans of bringing this cake back, they did, however, decide to bring in something almost identical.
They now have a pack of 6 mini chocolate cakes for $7.99. The only thing that is found to be different is the size of these cakes. Now, the package comes with 6 cakes that are slightly larger than a cupcake, but they taste exactly the same! This is great news to all of those who were avid Costco chocolate cake lovers.
Advertisements
5

Lavazza Espresso Italiano Whole Bean Coffee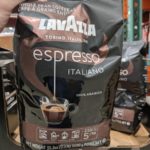 Advertisements
This product came in a 2-pound bag and only cost $12.99. In April 2021, a member noticed that this coffee had a "death star" on its price tag. When Costco places these symbols on the price tags, members know that the item is going to be discontinued and likely won't be coming back to the warehouse.
This coffee was perfect for any coffee machine like French Press, drip, and espresso makers. Some members have stated that their warehouse still has this coffee in stock, and some members said that their location no longer has it. So, if you are a Lavazza Espresso lover, we recommend that you go to your nearest Costco location to try and get your hands on some before it's all gone.
Advertisements
6

Kirkland's Signature Light Beer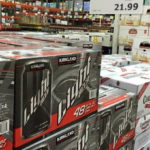 Advertisements
This let go is in no way disappointing to Costco members. The only great thing about this product was its price. You could purchase a 48 pack for around $22, which meant that each can cost under 50 cents. That was a steal! But the quality of this product is what resulted in Costco removing it from their warehouses. A couple of reviews from the beer tasters said that it tasted like battery acid and it smelled like a "urine-soaked diaper."
I mean, who would want to drink this after hearing that? While Costco stopped selling this product in 2018, one thing that people still remember was the commercials made by someone who actually enjoyed this beer. He claimed that he would drink around 18 cans every day. In the commercial, he would bust through a wall of empty boxes of Kirkland light beer. Anyone who actually tasted this would disagree with this person's view of the beverage, but enjoyed watching him make these claims.
Advertisements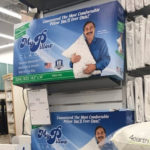 Advertisements
The reason for the retailer discontinuing this line is due to "Cancel Culture." And well, we all know how quickly canceling a brand can go into action. The reason for retailers canceling this brand directly pertains to his political agenda. Nowadays, we see many people expressing their views and stating who they see fit to pursue political roles. But, it isn't always the best idea for brands to explicitly make statements regarding these subjects.
Mike Lindell, CEO of MyPillow products, spoke out many times about his views on our former President, Donald Trump. He continually made false claims on how the election was rigged and Trump would be serving a second term. While we don't have any opinions on this subject, we think it's best to not mix political views with business. Otherwise, this situation will continue to be a topic of interest for the brands that do.
Advertisements
8

Bibigo Organic Potstickers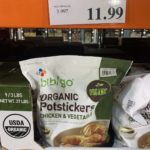 Advertisements
This is another item that has been blasted with the death star. While there isn't an exact reason as to why the chain is discontinuing this item, we think it is simply due to the demand for other products. Costco tends to rotate products in and out of their stores so that they have more of a variety and it gives the chance for other products to sell better. Although some locations still have these potstickers in stock, it will not be long until they are sold out for good.
These organic potstickers came in a package of six and had chicken, cabbage, onion, green onion, and tofu in them. They also came with a dipping sauce and were able to be microwaved in just 2 minutes. They were tasty and a great meal for those who were on the go. While these may not be making their way back to Costco warehouses, you can definitely still find similar products in their freezers.
Advertisements
9

Costco Food Court: Cinnamon Sugar Pretzels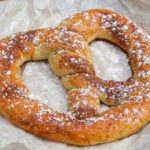 Advertisements
By this point, we've realized Costco's reputation of discontinuing products due to their health value. And well, the cinnamon sugar pretzels are no exception. Costco members loved this melt-in-your-mouth pretzel. Their texture was exquisite. The cinnamon and sugar mixture was something that everyone craved and nothing could compete.
Even with the outpouring of desire for these cinnamon sugar pretzels, Costco still found that they did not see the profit that they had hoped to. With new health requirements and the lack of purchases, the retailer found that it was best to remove this item from their food court menu. There are still other chains that might offer this item on their menu, but you might find it to be less convenient. If you wanted to, there are also a plethora of recipes on the internet to help you recreate this delicious treat.
Advertisements
10

Kirkland Signature Turkey Burgers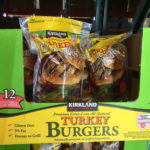 Advertisements
These patties were only 200 calories and a much healthier option than your typical beef patty. Costco members loved this product due to their delicious taste and their ease of cooking. For a quick meal, all you had to do was toss one in the microwave, then dress it however you desired. These burger patties were also loaded up with 35 grams of protein, making it so simple to get the nutrients that you needed.
We are well aware that the retailer removes items because of their health value. But the turkey burgers? Members have stated their disappointment in Costco for discontinuing something they felt was a dietary staple. Costco does have other turkey burger options in their freezers, but nothing will ever compare to these. Their price definitely did not reflect their amazing quality. So, while there are other options, members will never be completely satisfied.
Advertisements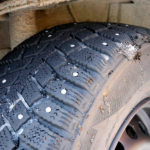 Advertisements
In 2007, Costco halted the distribution of studded tires, with the exception of Alaska locations. The reason being was that they were not exactly environmentally friendly. These tires are perfect for icy and snowy road conditions, but they otherwise tear up asphalt and damage roadways.
A couple more reasons behind this discontinuation are that they damage non-studded tires in shipment and, frankly, they just did not sell as well as they used to. For people who did not live in Alaska, there were much safer and less damaging options to choose from when it came to ice-friendly tires. If this item is something that you find is a necessity, there are other retailers who sell similar products, but we always advise that you do your research.
Advertisements
12

Kirkland Signature American Cheese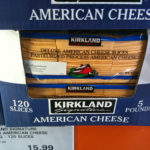 Advertisements
Costco used to sell a package of Deluxe American Cheese Slices that people loved. This cheese came in 5-pound packages with 120 slices inside. Costco members adored this cheese because of its flavor! People said that it tasted less processed than leading competitors and was easier to melt, making it the perfect cheese for nachos or burgers. Costco still sells similar items in store, such as Kraft singles, which seem to be everywhere. But they aren't quite as satisfying as the Kirkland brand.
What made this product initially stand out from the others was how it was packaged. When you purchase in bulk, you expect each item to be individually wrapped, right? Well, the Kirkland Signature American Cheese was not. This was to help lessen the plastic waste and make it more convenient to remove out from the packaging. Although they stopped producing this product due to low demand, there is still hope that it makes its way back to Costco shelves in the future.
Advertisements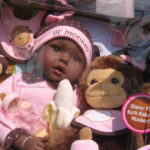 Advertisements
Costco stopped carrying this product in 2009 due to the offensive nature of the doll. Each doll came with a stuffed monkey or panda and came in 3 different ethnicities: African American, Caucasian, and Hispanic. In North Carolina, a Costco member had noticed an African American doll paired with a plush monkey and banana. The doll wore a headband with the statement "lil' monkey" across it.
When Costco got wind of the potential racism that lingered with the dolls, they immediately pulled this product off of their shelves. Even though they had the other versions still available for purchase, they eventually dismissed the entire collection. Costco did state that it was not their intention to cause any insensitivity and that the dolls were purchased in hopes of reflecting ethnic diversity. CEO, Jim Sinegal, stated that "We don't believe there is room for argument in matters of this type, even though it was an honest mistake, made while we were attempting to do the right thing."
Advertisements
14

Kerrygold Pure Irish Butter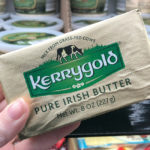 Advertisements
In 2017, Costco locations in Wisconsin had discontinued this butter which came from grass-fed cows. This was because they said that the Kerrygold butter wasn't produced from Grade A milk products, which is a law in Wisconsin. Kerrygold butter is produced, packaged, and graded in Ireland. So, their inspection process is a little different from how the US does it. Fans of this butter decided that they were going to try and make a change to this new action.
Jean Smith, one of the Kerrygold butter's biggest lovers, stated that she "wants to please ask whoever it is that's preventing [her] from getting butter in [their] stores here to stop it." She even went the extra mile (literally) to travel to Nebraska to make sure that she was still able to get her beloved butter. Ornua, the company that produces Kerrygold, has announced that they intend to bring back the pure Irish butter to the state of Wisconsin. We aren't exactly sure how long it took for this to happen, but we know that you can find Kerrygold Pure Irish Butter on Costco's website today.
Advertisements
Advertisements
In efforts to create a new sustainable seafood policy, Costco has discontinued all sales of endangered seafood. Costco is in partnership with the World Wildlife Fund to research the standards that seafood warehouses produce seafood. Some of the discontinued species for sale include monkfish, orange roughy, Atlantic cod, Atlantic halibut, swordfish, bluefin tuna, redfish, shark, Greenland halibut, Chilean sea bass, grouper, and rays. These fish are currently identified as being a "great risk" in their natural habitats and are included on the "red list."
In 2009, Costco had launched their new sustainability policies, but received criticism because they failed to include the wildlife still in their stores. The policy had generally been focused on creating green products and recyclable materials. Their updated policy, which went into effect in January 2019, includes the seafood that is endangered. This policy also comes after Greenpeace launched an online petition that reached over 100,000 signatures to end Costco's "Ocean Destruction."
Advertisements
16

Costco Food Court: Hand Dipped Ice Cream Bars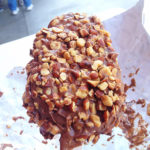 Advertisements
This product was another Costco member's favorite. These were vanilla ice cream bars that they dipped in chocolate and, if you wished, almonds. Members couldn't refuse to reward themself with this sweet treat each time they made their trip to Costco. But yet, this crowd-pleasing dessert was discontinued due to the lack of profit.
These ice cream bars were only $1.50, and it was inevitable that you grab one when you came in. When Costco removed this product, there was a petition with over 1,000 signatures begging for the retailer to bring it back. Though they have yet to bring back this cult favorite, there are similar products being sold in the store, such as Häagen-Dazs. Of course, they come at a higher price point, though. Even with signatures for the petition, there is little hope that the retailer will bring back their hand-dipped ice cream bars to the food court.
Advertisements
17

Chocolate Frozen Yogurt
Advertisements
Costco made some tough decisions when they decided to make cuts to their food items in order to maintain health standards. In these cuts, chocolate frozen yogurt was on the list. In 2018, the California County Costco location was one of the first to get rid of this product, and soon, other locations followed in their footsteps. They had replaced it with another version that was healthier for its members: acai.
These acai bowls came with bananas, blueberries, granola, and strawberries. While they got rid of their chocolate option, they still, however, have vanilla frozen yogurt in their food courts. They had also released a vanilla acai swirl and a berry sundae. While vanilla frozen yogurt may still be a topic of debate regarding nutrition, acai bowls are said to have many more health benefits than their chocolate predecessor.
Advertisements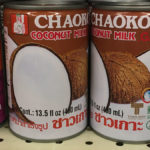 Advertisements
The discontinuation of this product was highly due to the standards of the coconut milk company. In 2020, it was revealed that the company was using actual monkey labor to get their coconuts. PETA made a statement saying that "When not being forced to pick coconuts or perform in circus-style shows for tourists, the animals were kept tethered, chained to old tires, or confined to cages barely larger than their bodies.
One coconut farmer confirmed that when monkeys are terrified and try to defend themselves, handlers may have their teeth pulled out." Costco decided to remove the product from their stores and said " We have ceased purchasing from our supplier/owner of the brand Chaokoh… We have made it clear to the supplier we do not support the use of monkeys for harvesting and that all harvesting must be done by human labor." Way to go, Costco.
Advertisements
19

Costco Food Court: BBQ Brisket Sandwich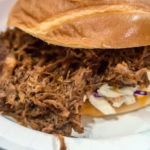 Advertisements
This tasty concoction was loved by many. From the bun, tangy barbecue brisket, and crisp coleslaw, people would certainly make time to grab one before they left. It tasted like it came straight from a Texas cookout, and that's what made it so good! It was hard to find a good quality BBQ sandwich in some areas, but when Costco served this sandwich, it was convenient to everyone.
Costco has discontinued many food items from their menu due to health reasons. Quite frankly, we would risk our health to be able to enjoy this delicious invention one last time. There are some recipes you can find floating around the internet, but will it ever taste exactly how we remember it? We can only dream, and maybe try a dozen different recipes until we can get it right.
Advertisements
20

Kirkland Signature Seasoned Rotisserie Chicken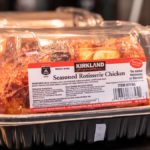 Advertisements
Costco's ready-to-eat rotisserie chicken hasn't needed to prove itself in a long time. In fact, it's a definite favourite with the chain's members, with over 106 million sold every year, and for good reason. It tastes great, has a good portion size and is competitively priced! However, fans of the rotisserie chicken have been having a hard time getting their favorite on-the-go meal for the past several months, and there have been alarming rumors that the product is being discontinued.
But don't panic! While it's been difficult to get rotisserie chicken at Costco in recent months, it's not because the chain has decided to discontinue it. It is rather the arrival of the H5N1 avian flu, which unfortunately affects several farms, that is responsible for this shortage. This problem could last a bit, but at least, you should know that your favorite poultry will be back eventually.
Advertisements
21

Kirkland Signature Milk Chocolate Peanut Butter Cups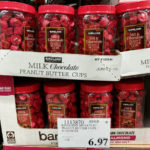 Advertisements
Costco members loved this candy so much that they chose it over Reese's. It was said to have the perfect ratio of milk chocolate to creamy peanut butter insides. These peanut butter cups were loved by all. If you had these bad boys laying around the house, it was only a matter of time until each and every one had been devoured by someone in your family—there was no "saving for a rainy day."
Since this product has been discontinued, the peanut butter cup advocates have been nothing less than disappointed. While most people chose to eat these straight from the container, there were many options as to what you could do with them. People would add them to cookies, brownies, ice cream—you name it, it's been done. You can still find similar products on Costco shelves, although they might cost slightly more than the beloved Kirkland brand.
Advertisements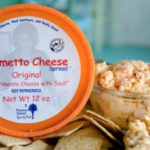 Advertisements
Unfortunately, this product was pulled from Costco shelves due to the actions of the brand owner. Brian Henry posted publically on Facebook attacking a protest group. Since then, this product hasn't been available to purchase in over 120 Costco stores in the United States.
In 2020, Brian Henry made a public apology and stated that the company would soon be rebranding. This meant that their goal was now to be "more sensitive to cultural diversity." With this being said, Palmetto Cheese still hasn't made its way back to the shelves. And it may not for a while, at least until the brand makes some serious changes. Until then, you can find similar products on the Costco shelves, and feel good about supporting a brand that doesn't make obnoxious statements.
Advertisements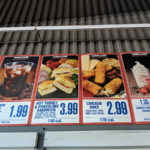 Advertisements
Some Costco locations have outdoor food courts for their members (and non-members) to enjoy. These food courts gave countless people the option to consume Costco's world-famous menu choices. But, sadly, that time has come to an end. Non-Costco members are no longer allowed to make their way up to that Costco counter and purchase whatever it is that they may be craving.
If you are one of these outdoor food court visitors, you are now going to be required to have a Costco membership (assuming that you did not already have one) to purchase items in the food court—whether it's indoors or outdoors. This means that you are no longer able to walk up to the outdoor courts and grab that tasty hot dog or ice-cold soda. While it may be an unfortunate circumstance, you might be able to justify purchasing a membership so you can freely buy all the food court items that you please.
Advertisements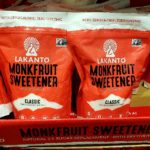 Advertisements
A member had noticed that Costco would no longer be selling the Lakanto Monkfruit sweetener any longer. This sweetener was especially loved by those who were on a Keto diet. It has no calories, carbs, or fats in it. It is also used as an anti-inflammatory for people who may have a sore throat. One person had stated that they spoke directly to Lakanto to see what the issue was.
The company said that the majority of its inventory was being sold to Costco and they wanted to make things fair and be able to sell more to all of their customers. You can still find this sweetener online, although it may not be at a low cost like it was at Costco.
Advertisements
25

Kirkland Signature Four-Cheese Ravioli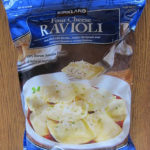 Advertisements
This product was so loved and definitely had high praise. People loved it so much that they would compare it to high-end Italian restaurants. Crazy, I know. But it is true! It came in a 4-pound package, which seems like quite a bit until you start eating it and can't stop. And trust us, if you purchased this product, there was no way that it was going to sit around until the expiration date. The four kinds of cheese included were Asiago, Ricotta, Grand Padano, and Parmesean. The perfect mixture.
The options to prepare this ravioli were endless. You could choose from marinara, garlic sauce, and even alfredo sauce. This extremely tasty pasta is dearly missed by everyone who has purchased it in the past. Costco does still sell similar products that you can easily find in the freezer section of the store.
Advertisements
26

Kirkland Signature Dark Chocolate Chips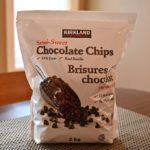 Advertisements
While we aren't exactly sure why Costco decided to discontinue this product, we assume that it was due to its ingredients and the lack of demand. But Costco members are not happy about it! People who experience a gluten allergy and dairy sensitivity loved these dark chocolate chips because they met their dietary needs, which seemed to be a difficult task to accomplish.
These dark chocolate chips were perfect for baking. They melted in just the right way and added the perfect amount of flavor to whatever you added them to. People would add these chocolate chips to many different baking creations—cookies, brownies, cakes, anything! You could even sprinkle some on top of your ice cream or eat them straight out of the bag. Even though this product is no longer available, you can still find a similar product on Costco's shelves.
Advertisements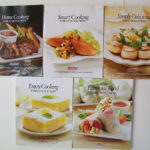 Advertisements
Cooking The Costco Way Cookbooks are no longer going to be available for purchase in the retail stores. Members used to get this cookbook from the retailer or delivered straight to their doorstep. But don't fret! There is still a way to get ahold of those precious recipes that you so desire.
Costco announced that they are going to relaunch their "Farm To Table" section in their magazine Costco Connection. So you can still get your tasty recipes when they publish new articles. It is nowhere near as exciting as opening your front door to find that cookbook that you've been waiting months for, though. But it is the best they can do at the moment. You can still find other unique recipes online and in other cookbooks sold by the retailer.
Advertisements
28

Kirkland Signature Take And Bake Pizza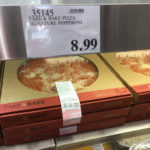 Advertisements
This product was something that was easy to grab and only took minutes to prepare. Between frozen pizzas and the food court slices, this was the best option for members to be able to "bake" their own pizza. Frozen pizzas never turned out how the box said they would, and purchasing a slice of pizza from the food court may not last on the ride home. So, this take-and-bake pizza was seriously the best. It gave you the option to prepare a fresh and tasty pizza that would satisfy your entire family.
While they may still be other refrigerated pizza options on Costco's shelves, they just simply do not compare to this certain delicacy. From the extremely fair price to the quick prep time, these refrigerated pizzas were loved by so many. If you loved the taste of these take-and-bake pizzas, Costco still offers their Kirkland Signature frozen pizzas. But be ready to be slightly disappointed, because they aren't quite as delicious.
Advertisements
29

Kevin's Natural Foods Thai Curry Cauliflower
Advertisements
While Costco carries several products manufactured by Kevin's Natural Foods, this specific product was recently spotted with the dreaded "death star." While this removal is truly a tragedy, there are still keto and paleo-friendly options that Costco still offers in its retail stores.
This Thai Curry Cauliflower was a great source of nutrients for those who had specific dietary needs. Some of the unique qualities of this product were that there were no added preservatives, it was vegan and gluten-free. In this product, there were only 80 calories per serving. Within those calories, 10% were protein, 40% were carbohydrates, and 50% were fats. Those fats were healthy fats and were required for those who were on a keto or paleo diet. It incorporated many unique flavors, including Thai spices, which gave the product its desired curry flavor.
Advertisements
30

Kirkland Signature Funhouse Treats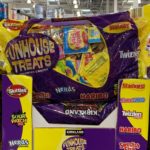 Advertisements
This bag of fun seriously has some of the best choices when it comes to candy. In this 92 ounce bag, there are 175 assorted pieces of Air Heads, Haribo Gold Bears, Jolly Rancher Stix, Skittles, Sour Patch Kids, Sour Punch Twists, Starburst, Swedish Fish, and Twizzlers Twists. It was the perfect mixture for Halloween candy or for anyone who just simply needed to satisfy their sweet tooth.
You can definitely still find similar products in-store or from other retailers, but it just is not the same. The Kirkland bag had the most variety, a significant amount of pieces, and it was not as expensive as other retailers sold it for. Also, if there was one specific item that you were not exactly fond of, you still had plenty of other options to choose from. That is what made this product so amazing! Even though it has been seen with the death star, we can only hope that it will make an appearance on Costco shelves, eventually.
Advertisements
31

Tea Drops Organic Variety Pack
Advertisements
This product offers individually wrapped tea drops that give consumers the perfect amount of product to brew their tea of choice. Tea Drops Variety Packs have 12 different flavors. In this box, there are 9 different flavors randomly selected:
Citrus Ginger
Sweet Peppermint
Turmeric
Blueberry Acai White Tea
Rose Earl Grey
Matcha Green Tea
Chocolate Earl grey
Vanilla White Tea
Thai Tea
Chai Spice
Pumpkin Spice
Orange Cinnamon Roll
Members noticed this product was marked with the death star. If you were wondering if this product was worth it, it was. The tea drops came in fun shapes and were extremely easy to make. All you have to do is drop it into a cup of water or hot milk. Easy! If you were someone who felt personally victimized by this removal, don't worry! You can still purchase this product online directly from the Tea Drops retailer. They may come at a slightly higher cost, though.
Advertisements
32

Bark Thins Dark Chocolate Almond
Advertisements
Dark chocolate and almonds in one tasty treat? You can't be serious! These Bark Thins were something that members held close to their hearts. Anyone who purchased this product knew that they were worth every penny. So why are they leaving Costco shelves, you ask? Well, unfortunately, this product has also been struck by the ever-so-hated death star. Since Costco is known for rotating products in and out of their stores, who knows? Maybe this product will make a comeback! If it doesn't, though, there are still other retailers where you can find this product on the shelves.
Even though the dark chocolate and almond thins weren't necessarily "healthy," they definitely made up for it by tasting wonderful. The dark chocolate and almonds were a mixture sent from heaven itself. This product was specifically designed for consumers to be able to snack on and feel good about it. Plus, dark chocolate has been rumored to have health benefits. Dark chocolate has antioxidants to protect your cells against free radicals, which can sometimes play a role in cancers and heart disease. It also improves cognition and boosts your mood. What other reason do you need?
Advertisements
33

Hawaiian Hurricane Microwave Popcorn
Advertisements
The microwave popcorn comes in a box of 4 packages. While there are different flavors to choose from, the most popular choice amongst Costco members was the original butter flavor. Since this product was stamped with the death star, members have been scrambling to get their hands on it before it's gone. Although Costco won't have this product on its shelves in the future, you can still purchase it at Hurricane's website and get it sent directly to your doorstep.
This product was created in Kaneohe, Hawaii. The Hawaiian Hurricane Company started a popcorn pushcart to be able to get their product to the locals. They had specialty flavors that included salted, butter, and other unique flavors that caused this product to become popular. People would travel all over the islands to be able to get their hands on this popcorn. This brand has since grown into something that helps show the culture and flavors of Hawaii.
Advertisements
34

Island Princess Mele Macs
Advertisements
Mele Macs are Hawaiian macadamia nuts that are coated with toffee, milk chocolate, and powdered sugar. Island Princess prides itself on being 100% transparent on the sources of its products. They grow the nuts in Hawaii and package the products there as well. The company has a 1,100-acre orchard and has processing facilities on the island of Keaau.
The couple who started this company, Gwen and Dr. Michael Purdy, did not have the intentions of creating this beloved brand. Dr. Purdy and his wife had moved to Hawaii to start his dental practice. In turn, Gwen had started making these products and eventually opened her business. Dr. Purdy, also known as "The Choc Doc" by the locals, had practiced dentistry during the day and helped his wife at night.
Advertisements
35

Royal Kona Vanilla Macadamia Nut Coffee Blend
Advertisements
Have you ever had a cup of joe that was so good you couldn't think about anything else? Well, that's what this coffee did for its consumers. Costco members seriously loved the Royal Kona Vanilla Macadamia Nut Coffee, but it has also been spotted with the death star. Costco, we're going to need an explanation on this one. Since Costco is removing this product from their stores, you can still find it on the Royal Kona website. The price may be higher, but there is a reason for that. The area of land that can actually produce these coffee beans is very limited and the harvesting and producing processes are all done by hand. They pay laborers to help them with production, but it doesn't come as easily as it might in other areas of the world that produce coffee.
Royal Kona Coffee is known for its Hawaiian flavors and locally sourced ingredients. The coffee bean is grown in the Kona region of Hawaii from soil that comes from volcanic terrain. This also aids in giving the coffee one of its most unique flavors. Royal Kona Coffee originally began its business in the 1800s by harvesting and producing coffee beans. They use what is known as the dry process and the wet process to be able to retrieve the flavors that they desire.
Advertisements
36

Bark Thins Dark Chocolate Clusters
Advertisements
The death star makes its appearance once again. Yet another sought-after product that has been torn from Costco members everywhere. Not to worry, this product can still be found on the Bark Thins retailer website. Obviously, you will find it at a higher price, but dark chocolate connoisseurs know that this product is definitely worth it.
Bark Thins Dark Chocolate Clusters have almonds, rolled oats, dried blueberries, dried cranberries, and dark chocolate. This mixture of nuts, berries, and dark chocolate was something that members had to grab every time that they made their trip to Costco. These clusters had around 14 servings per bag (who pays attention to that stuff anyway?), 9 grams of sugar, and 3 grams of protein. Plus, Bark Thins is a fair-trade company which made consuming their products a better choice than the next leading brand.
Advertisements
37

Island Princess Macadamia Crunch
Advertisements
Who doesn't love a good caramel popcorn treat? Costco members definitely did. The Island Princess popcorn product was dearly loved by Costco members, who were surprised to see the death star make its way to the product. This popcorn is coated with toffee and mixed with macadamia nuts that are locally grown and sourced from Hawaii.
The inspiration for the brand name, Island Princess, comes from the Aloha spirit of the company. The image of the logo represents their bond to Hawaii. The girl is dressed in typical hula attire with foliage around her wrists, a leaf skirt, and a lei around her neck. Just as the macadamia nuts are grown on Hawaiian soil, the leaves and flowers that the Island Princess wears are grown on the islands as well. As you can tell, Hawaiian culture is what keeps this company honest and allows them to continue to manufacture its products.
Advertisements
38

Kirkland Signature Trek Mix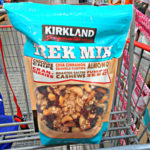 Advertisements
This product included almonds, cashews, dried cranberries, chocolate chips, pumpkin seeds, and chia cinnamon granola clusters. This was the perfect snack for those who had dairy allergies or were on a diet. Plus, it tasted great! The trek mix came in a 32-ounce bag and was priced around 8 dollars. Costco did end up replacing this product with similar brands, but nothing will ever quite taste the same.
The Kirkland Signature Trek Mix was a wonderful choice for those who lived an active lifestyle. It was easy to eat while on the go and provided the necessary nutrients to hold you over until your next meal. It was also a great choice for those who just wanted a quick and tasty snack, whether they were active or not. There's nothing quite like reaching into the bag and tasting a combination of sweet and salty. What a dream.
Advertisements
39

Kirkland Signature Fruit & Nut Medley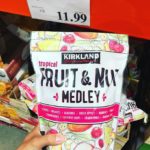 Advertisements
This is a product that left Costco shelves for only a short amount of time. The reason for this was due to the redesign of the package. The previous packaging was very difficult to look at; it had a dark look to it and incorporated the use of a very outdated font. When they changed the packaging, they decided to incorporate the use of negative space and illustrations all around. They even decided to update the font with a clean "handwritten" feel to it.
This redesign was important for the product to be successful in Costco. The fruit and nut medley has 140 calories per serving, 6 grams of fat, 18 grams of carbs, 1 gram of fiber, and 2 grams of protein. The package weighs 3 pounds 8 ounces and has peanuts, almonds, walnuts, apples, pineapple, strawberries, bananas, and cranberries.
Advertisements
Advertisements
In October 2020, Costco members were devastated to hear the news that they would no longer be able to purchase this delicious treat. While it is not exactly the healthiest option when it comes to desserts, it is definitely one of the tastiest. So, who cares if it is not healthy? All that matters is if these cinnamon rolls satisfy your cravings. Which they did.
But, not to worry, cinnamon roll fans! Costco has put out a new product extremely similar to the precious cinnamon rolls. Instead, they produced cinnamon roll pull apart pieces. Basically the same, right? Although dedicated cinnamon roll fans have debated the taste of this new product compared to the previous, it is hard to argue that they do not taste good. This product comes in a circular tin with pull apart pieces and is coated with delicious icing spread over the top.
Advertisements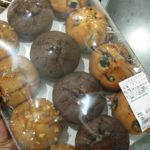 Advertisements
Costco has decided to change its inventory of these breakfast items. Costco members have noticed this bakery item slowly diminish. The reason behind this discontinuation is due to the overwhelming amount of SKUs that Costco has. For those of you who have not been in the retail world, an SKU is a stock-keeping unit that allows retailers to track their stock of the item. So, in this case, Costco determined that they had too much of this product and decided to get rid of the less popular muffins in order to maintain their stock and sales.
A couple of the muffins that members are upset over are the poppyseed and apple strudel. Clearly, these specific muffins did not sell as well as Costco had hoped. But the members who had religiously purchased these items are devastated that they will no longer be able to enjoy these muffins anymore.
Advertisements
42

Seasonal Cookie Varieties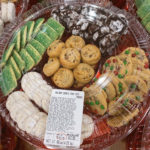 Advertisements
The pandemic has affected the daily lives of everyone across the globe. It has also affected many Costco products that resulted in their inevitable disappearance. While it's been a difficult time for everyone, Costco members seem to be taking the product removals personally. As if it were somehow a direct attack on them. When Costco discontinued its cookie variety packs, members were angry.
One of the most popular cookies that had been removed was the raspberry crumble cookies. Costco members already didn't like the fact that these cookies were only seasonal, so when they had been taken off of the shelves, they became more outraged. Members loved this product so much that they would purchase the cookies in bulk and freeze them so that they could enjoy them all year long. But due to the large volume of complaints, this product did make a reappearance. Not to worry!
Advertisements
Advertisements
Costco's bakery seems to continue to make changes amidst the ongoing pandemic. One of these changes being the discontinuation of their dinner rolls. The corporate office had decided that these dinner rolls were a waste of time and resources to continue baking them. The dinner rolls were a product that was sold all year long at Costco.
One person had stated on a Costco Reddit thread that she had purchased these for her grandmother, who only ate these rolls. She was disappointed to find out that she would no longer be able to find them for her. We're sorry, grandma. Hopefully, you can find a similar product that makes you just as happy! Along with this user, there were many other people who seemed to be upset about Costco removing this product. Although, it is rumored that Costco may bring this item back around the holiday season.
Advertisements
44

Redland Farms Dark Chocolate Pistachios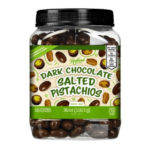 Advertisements
Pistachios and chocolate are popular choices for those who tend to snack often. But chocolate and pistachios in one? It doesn't get better than that! It's hard to pass up a snack that is both sweet and savory all at once. Costco warehouses were required to pull this item from its shelves, unfortunately, but not due to lack of sales.
These dark chocolate pistachios had been recalled from the manufacturer, Redland Farms. They released a statement informing consumers that it had been brought to their attention that some of the pistachios had been over-roasted. Since the company takes pride in the quality of their pistachios, they did not want this batch to fall back on their reputation. In turn, Costco members who had purchased this product in the specified time frame were offered a full refund if they weren't satisfied with the quality of their product.
Advertisements
45

S&W Organic Black Beans
Advertisements
Black beans are a staple in many households across the world, especially since they can be incorporated in many styles of food. Due to the rise in popularity of organic foods in recent years, these organic black beans became an even more sought-after product. Costco stores that had sold this product had to remove it from their shelves due to health concerns raised by the manufacturer.
Faribault Foods, in accordance with the Food and Drug Administration, issued a statement to the consumers of this product. The issue had not been with the beans themselves, but with the can that the beans had been packaged in. The manufacturer realized that there was an issue with the seals of the cans that could potentially cause the cans to leak, bloat, or allow bacteria to grow inside. They had not had any reports of consumer illnesses but wanted to take the extra step to ensure that they wouldn't in the future.
Advertisements
46

Kirkland Signature Parmigiano Reggiano Wedges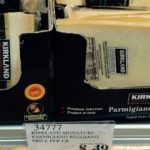 Advertisements
The removal of this cheese from Costco shelves has caused somewhat of a mild meltdown amongst Costco members. Cheese is one of the many things that members look for when they make their trip to the warehouse. I mean, who can pass up buying cheese in bulk? Cheese is always a necessity for any meal, especially if you're the one cooking it. Costco members took to Reddit to start a "riot." If Costco wasn't going to do something about it, they were going to try. One user said "This is devastating," while another stated that "We must riot!" It doesn't look like members are taking this disappearance too well.
Since the pandemic began, there have been supply shortages of many popular products. Some members had decided to wait it out to see if the cheese would find its way back, but unfortunately, Costco has said that they have removed the cheese wedges indefinitely.
Advertisements
47

Food Court Combo Pizza
Advertisements
Change.org is the site of many public petitions that have generated millions of signatures in their time. In this case, the Costco food court pizza is amongst those petitions. Members were devastated when Costco decided to remove this fan-favorite from their food court. There wasn't anything quite like that blend of fresh veggies, pepperoni, and sausage to end your shopping trip. Other than the fact that members noticed the pizza crust becoming thinner and less cheese being on top, that's not all that Costco had to cut back on.
There have been many manufacturers that had to reevaluate the products that they were putting out since the pandemic began. Fresh foods like fruits and vegetables were harder to come by. Whatever the reason may be for this heartbreaking removal, Costco members just couldn't understand. Maybe once we begin to see the end of the pandemic and production begins to flourish, Costco will bring this back, but we can only hope.
Advertisements
48

Indian Vegetable Tiki Masala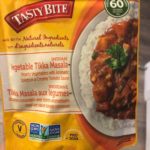 Advertisements
Even though this product is discontinued at Costco, it's still available to purchase at other grocery stores. But who wants to make two trips to two separate stores? This easy meal was ready in just a matter of minutes. All you had to do was to place it in the microwave for 60 seconds, and boom!, it was ready to go. It came with potatoes, carrots, tomatoes, onions, corn, peas, and many other spices that made it oh so delicious. It was a quick and easy meal choice for those who were vegetarian and ate kosher products.
We're not exactly sure why this product was discontinued, but those who were die-hard fans of it are not happy. Costco did replace this product with another food from the same brand. They decided to switch it out for the lentils, but members complained that it just wasn't quite the same.
Advertisements
49

Litehouse Freeze Dried Garlic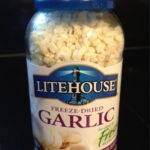 Advertisements
This product was more than just a spice for Costco members. People who purchased the freeze-dried garlic would not only use it while cooking, but they would upcycle the jars once the product was empty. This was a great way for some people to be more environmentally friendly while also getting to use a product that they love. Plus, who doesn't love cooking with garlic? It adds an extra flavor that is too good to pass up. So, when members noticed the "death star" on the tag, they began to worry.
There were some members who had spoken to a Litehouse Foods customer service rep who informed them that it wasn't the entire brand that was being removed. Although, this specific product was one that still upset members. A Litehouse Foods spokesperson also stated that there would be new and improved products coming to the warehouse soon. Will they still be packaged inside of those reusable glass containers? I guess we will find out when the new products are rolled out.
Advertisements
50

Primal Kitchen Buffalo Sauce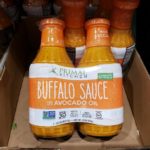 Advertisements
This two-pack buffalo sauce was perfect for those who wanted to add a little flavor to their meals. It's keto-friendly and extremely easy to use. Plus, it was a better alternative for those who weren't interested in making their own sauce. Members would use this for buffalo chicken dip, french fries, mac and cheese, and so many other tasty recipes.
Primal Kitchen is known for its various snacks, dressings, and marinades. Each product they produce is focused on clean ingredients and curated for clean eating. There is no doubt about the quality of these products, so if you absolutely adore this brand of buffalo sauce, there are still retailers who have it for sale.
Advertisements
51

Popcornopolis Pumpkin Spice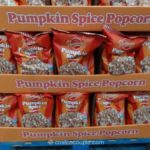 Advertisements
Seasonal products come and go, but that doesn't mean that Costco members are any less devastated when they leave the warehouse. Pumpkin spice-flavored products typically appear around the start of the fall season. Due to the popularity of this flavor, it typically sells out quickly, no matter what the product is. Once the fall season starts to come to an end, so do the pumpkin spice products.
Those who spend the entire year waiting for the arrival of their favorite products will never understand why pumpkin spice is only seasonal. The good news is that if you love this brand of popcorn, they have other flavors that stay on the shelves year-round. If you are a lover of all things pumpkin spice, we would advise you to stock up when it's in season. If not, you'll just be waiting for fall to roll around again just to get your hands on it.
Advertisements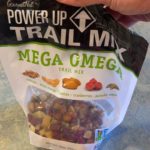 Advertisements
Trail mix is an easy, and still rather healthy snack for people of any age. It has nutrients to help give you an extra boost of energy or to simply satisfy your hunger cravings. Whatever the reason may be as to why you picked up this snack, sadly, you will soon have to find a replacement.
Costco tends to filter out products to make room for new or more profitable ones. This specific product didn't seem to make the cut. But the good news is there are still many other options to choose from. Trail mix is something that can be easily made, so if you're wanting something exactly the same, the best choice would be to make this item at home.
Advertisements
53

Krusteaz Pumpkin Spice Bread 4-Pack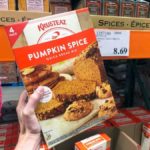 Advertisements
This pumpkin spice multi-pack is definitely a crowd favorite. Like many popular items in the Costco warehouse, this one only shows up at a certain time of the year. Pumpkin spice products have been the center of memes and stereotypes for a long time now, but those who are at the center of it tend to blow it off. The reason simply being is that pumpkin spice is too good to pass up. The only thing that matters is when it comes back in stock, and if it's sold near them.
This product was perfect for large gatherings. Since it came in a four-pack, there were so many things you could do with it. Of course, if you purchased this product just for yourself, chances are it would last you a while. Like the box shows, you can make pumpkin spice bread, pancakes, and even cookies with it.
Advertisements
54

Pocky Chocolate Biscuit Sticks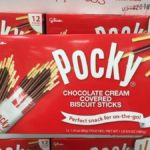 Advertisements
Costco had one of the best deals when it came to this product. They sold it for only $5, which was a steal for the amount of product that was packaged inside. It came with 12 punches, and each of them weighed a little over a pound. It was the perfect snack for those who were on the go, and, let's be honest, it was absolutely delicious!
They are sweet and savory and had 4 grams of protein per serving. But, if Costco was your go-to grocery store for this snack, don't worry! This product is still sold by the brand online or you can typically find it at other grocery stores. Just because Costco stopped selling it doesn't mean you have to give up your favorite snack!
Advertisements
55

Old Tyme Whole Grain White Wheat Bread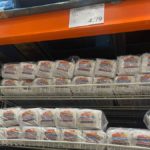 Advertisements
It's hard for some grocery retailers to keep bread stocked on their shelves. One of these reasons is due to the fact that they don't have a long shelf life. After a few days or weeks, the bread begins to become stale. So, since Costco didn't sell this bread as quickly as they thought they would, it's going to be leaving the warehouse.
This is not a product that many members are upset over, though, because there are similar products that can be found. If you prefer this brand, there still may be other options to choose from. Plus, it's still being produced, so you're likely to find it at a different retailer if you really want to buy this particular product.
Advertisements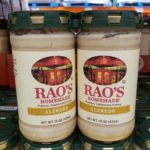 Advertisements
Who doesn't love a home-cooked meal? This sauce was the perfect addition to everyone's favorite comfort food… Pasta! There were so many ways that Costco members could use this product. Since it came in a package of two, you could use both if you were cooking a large meal or freeze whatever you didn't use.
If you made sure to purchase this item when you made your trip to the warehouse, it's probably best that you start looking for a suitable replacement. When Costco sells out of this item, they won't be replacing it. There are still many other brands that still produce Alfredo sauce, but if this brand is what your heart desires, there are still other retailers who have it for sale.
Advertisements
57

Kirkland Cinnamon Roll Protein Bars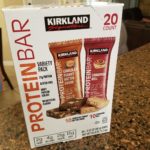 Advertisements
For people who weren't used to eating a large breakfast, or maybe just needed something to hold them over, these protein bars were a perfect choice. They were made for those who were always on the go and didn't exactly have time to stop or sit down for a meal. You could easily throw them in your bag or leave some in your car for whenever the time came.
Costco decided it was time to stop production on this flavor of protein bars. We aren't sure why this decision was made, but we know it wasn't due to the lack of popularity for the item. If protein bars are one of your go-to snacks, there are still plenty of other options to choose from. They probably won't taste the same and might be priced a little higher, but at least there is still something for you.
Advertisements
58

Fannie May S'mores Snack Mix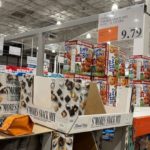 Advertisements
This product was definitely a hit. Costco members devoured this tasty snack mix and made sure to pick it up when they made their trip to the warehouse. There are many platforms where users shared their outpouring of love for this product, so it's safe to say that this removal was a huge letdown.
Due to the popularity of this item, whatever Costco has left in stock will probably sell out extremely quickly. If this is an item that you can't seem to live without, we advise you to hurry up! If not, there might be similar products on the market for you. Or, you might even be able to make your own!
Advertisements
59

MaraNatna Almond Butter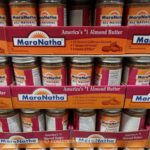 Advertisements
The discontinuation of this product came from the manufacturer itself. In a statement issued by MaraNatha Foods, they said that they have "decided to voluntarily recall certain retail lots of MaraNatha Almond Butters […] because they have the potential to be contaminated with salmonella."
This recall came after discussions and testing done by the Food and Drug Administration. It's never easy for a company to issue statements like this, but there is still hope of finding the perfect almond butter for all of your needs in the Costco warehouse. Plus, you wouldn't want to risk becoming sick by eating a product that has been recalled for any reason.
Advertisements
60

Itaberco Chocolate & Salted Caramel Sauce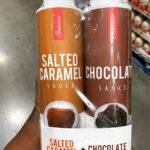 Advertisements
This multi-pack of salted caramel and chocolate sauce was only $5 and could be used for so much. So, when Costco members noticed that it was leaving the warehouse, they grew concerned. Where would they find another gem like this one? The good news is, there are similar products like this one on the market. They may not taste exactly the same, but they would get the job done.
This product is one of the many dessert toppings that Itaberco produces. This company prides itself on the quality of its products. Quality that Costco members are very familiar with. So, if you only use these sauces, you can still purchase them on the brand's website, but unfortunately, not at your Costco store.
Advertisements
61

Golden Taste Tuna Deluxe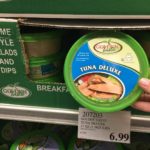 Advertisements
This product is another discontinuation that was given no explanation. Maybe this brand of tuna didn't sell as well as other brands, or maybe there is something more behind this decision. All we know is that some members didn't take this removal lightly because this product was appreciated by many.
This product was cheaper than most and weighed 17 oz, which is quite a bit of tuna if you think about it. You could eat this tuna straight out of the package, or prepare it in a tuna salad. Either way, there were so many different things you could make with it. But, not to worry, there are still similar products in the warehouse if tuna is a part of your daily diet.
Advertisements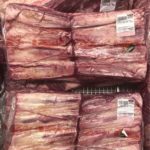 Advertisements
Beef plate ribs are the same as short ribs. They come from the lower part of the cow's ribs and are typically cut in slick slices, leaving a lot of meat surrounding the bone. These ribs can be cut in different ways to create meat cuts such as flank. Members loved to grab this item when they were hosting a barbecue or a cookout.
One Costco member had made a trip to the warehouse to pick up this product, only to realize that the corporate office had decided to get rid of them. Costco members loved how they could create their own unique meal with this product. Beef plate ribs need to be cooked slow and marinated well. It only makes sense that the removal of this meat would cause members to become upset.
Advertisements
63

Kirkland Iced Green Tea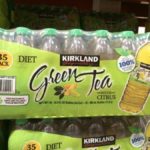 Advertisements
Green tea is a drink that many people like to enjoy year-round. You can get it flavored, sweet, or even in a diet version. Members made sure to stock up on this product each time they went to the warehouse because it would run out so quickly, but when Costco decided to discontinue this product, members weren't happy.
They were able to purchase this product cheaper than the leading name brands, and it tasted just as good, if not better! It was a staple for many households due to the taste and price of the product. Fortunately, there are many other brands on the market with the same product. The price may be a little higher than Costco's, but at least it's not gone forever.
Advertisements
64

Sweet Red Bean and Purple Rice Dessert Soup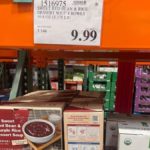 Advertisements
Costco has decided to remove this Chinese dessert from its shelves. It came in a package of four and was loved by many. Costco removes and replaces items quite frequently without giving an explanation. Sometimes it's due to the fact that they need to make room for holiday items, because the product isn't selling well, or if an item might have been recalled. In this case, we can't nail down the exact reason as to why this dessert has been removed.
We do know that many members are quite devastated by this. The dessert came in a four-pack and was easy to make. If Costco was your go-to retailer for this product, there are still other places to purchase it once the warehouse sells out for good.
Advertisements
65

Kauai Coffee Company Whole Bean Medium Roast Coffee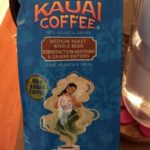 Advertisements
It's basically a crime against humanity to start your morning with anything other than coffee. I mean, unless you're allergic, then that's okay. But, if you're like many Costco members, you would make sure to pick up the Kauai Coffee Company beans when you made your trip to the warehouse. This 100% Hawaiian coffee is a medium roast and is locally grown and harvested in Hawaii.
Since it came with whole beans, part of the excitement was getting to grind them up yourself. This helped create the best tasting coffee that you could make at home. Unfortunately, this item is one of many on a long list of removals. Anyone who loves this coffee can still purchase it from the brand itself, but if you don't want to wait for it to be shipped to your house, you might want to find another coffee from Costco that makes you just as happy as this one did.
Advertisements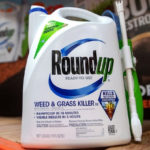 Advertisements
Roundup faced billion-dollar lawsuits with claims saying that their active ingredient, Glyphosate, was carcinogenic to humans. Glyphosate is a chemical compound used in herbicides, which are used to kill weeds. Zen Honeycutt, the founder of Moms Across America, created a petition to get this product removed from the retailer. It ended up with over 85,000 signatures on Change.org and potentially influenced Costco to remove this line from their shelves.
Monsanto, the owner of the Roundup brand, claims that their product is 100% safe to use. But, the World Health Organization still advises against this claim. While the company states that Roundup is safe, many cities across the U.S. have decided to ban the product, and therefore, retailers are unable to sell it. You can still purchase the product on the Roundup website, but be aware of the risks and the many lawsuits that they have faced due to their ingredients.
Advertisements