Big-Name Items In Disguise: Save Big Without Compromising On Quality!
1

Great Value Ice Cream: Wells Dairy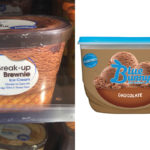 Advertisements
It was Walmart themselves who shared this news on their corporate site. For more than 30 years, Wells Dairy in Le Mars, Iowa has been the originator of the house brand ice cream, Great Value. Wells Dairy is also the company that produces the popular Blue Bunny brand, so you can be sure you are buying a quality product when you consume Great Value ice cream.
Indeed, the products used are always fresh. As Walmart indicates on its page, "To make amazing ice cream, we focus on quality ingredients. Every day, Dykstra Farm's fresh milk takes a 20-minute truck ride to the Wells Dairy plant, where it's turned into fresh cream that same day. […] Almost everything that goes into our ice cream is produced right there in Le Mars, the Ice Cream Capital of the World."
Advertisements
2

Great Value White Bread: Sarah Lee Bread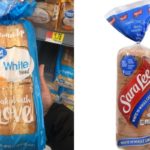 Advertisements
Before you head out to the grocery store, you'd be smart to brush up on which generic items are big brands in disguise. According to Hip2Save, ConAgra makes Great Value White Bread, and it's baked in the same bakery as Sarah Lee.
One reader confirmed this, saying, "I worked in a name brand bakery for a year or so. We changed the bags without stopping the production line and bagged bread for any Texas retailer you could name. Occasionally the slicer would be adjusted to change the thickness of the slice. I almost always buy the house brand regardless of what the product is."
Advertisements
3

Trader Joe's Creamy Tomato Soup: Pacific Creamy Tomato Soup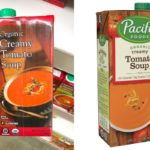 Advertisements
There are some items that have yet to be confirmed as being made by big brands, but taste tests prove they are the same product. The folks over at the Huffington Post compared Trader Joe's Creamy Tomato Soup to Pacific Creamy Tomato Soup, and the results may surprise you.
"Aside from a slight difference in color and thickness (the Trader Joe's version may have been a bit thicker and darker colored), there was no discernible difference in taste between these two products, leading us to believe…they're probably the same product,"  Kristen Aiken, a Food & Drink author, wrote.
Advertisements
4

ALDI's Millville Cereals: General Mills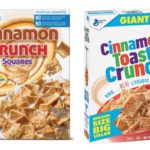 Advertisements
Many customers speculate that ALDI sells well-known brands under its own label. For example, it's been said that ALDI's Millville brand is made specially by the huge name General Mills. While ALDI has yet to chime in on the rumor, we can't help but notice that "Mills" is even the name.
Either way, Millville Cinnamon Crunch Squares are pretty much the same item as General Mills Cinnamon Toast Crunch in both taste and appearance. Although, they have much different price points. ALDI's cereal sells for $1.39 while General Mills goes for $3.49 a box.
Advertisements
5

Trader Joe's Mac 'n Cheese: Annie's Classic Mac & Cheese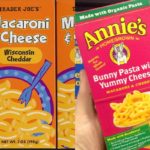 Advertisements
Rumors have been swirling for years about several of Trader Joe's products being big brands in disguise. While the company remains tight-lipped about who actually makes their items, there are a few products that taste undeniably similar to their big name counterparts.
Trader Joe's Organic Shells and White Cheddar Macaroni & Cheese is allegedly made by the organic company Annie's, and tastes almost exactly like Annie's Homegrown Organic Shells & White Cheddar Macaroni & Cheese. At just $1.39 a box a Trader Joe's, this is one rumor we hope to be true. Annie's version sells for around $2.89.
Advertisements
6

Kroger American Cheese: Kraft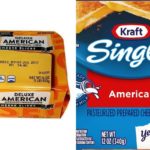 Advertisements
Kroger is another grocery chain that often sells products that are manufactured by name brands. There's chatter claiming that Kroger American Cheese is made by the leading brand Kraft. While we couldn't find hard evidence on this claim, the signs seem to point to yes.
Not only does the packaging look almost exactly the same, but the ingredients are similar as well. This is one case where you can get a similar flavor for a lower price. Don't bother buying Kraft when you can purchase Kroger American Cheese. This will make both your taste buds and your wallet happy.
Advertisements
7

Kirkland Signature Ocean Spray Cranberry Juice: Ocean Spray
Advertisements
If you buy cranberry juice for your family, then you know how costly it can be to purchase popular brands like Ocean Spray. Well, we have good news for you: Costco sells the same product at a lower price. Ocean Spray actually makes Kirkland Signature Ocean Spray Cranberry Juice, and it says so right on the label.
Don't bother buying cranberry juice at the big box stores when you can buy a six-pack at Costco for a mere $4.29. When you compare those prices to other leading grocery stores, this is quite a great bargain.
Advertisements
8

Great Value Applesauce: Musselman's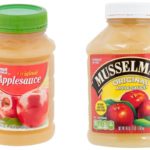 Advertisements
Walmart offers several generic items that are manufactured by high-quality brands. We have a product to add to your grocery list. Great Value Applesauce, which is actually made by Musselman's. A reader at Hip2Save left this tip, which confirms the rumor.
"A plant in our town makes Musselman's, White House, and Great Value. The same recipe, they just change the packaging. The only time they change the recipe for a brand is if they do a specialty one like "all Granny Smith" or something. Toured the factory in high school and have bought Great Value ever since," they wrote.
Advertisements
9

Kirkland Signature Coffee: Starbucks
Advertisements
Smart shoppers know that Starbucks is the big name behind Kirkland Ground and Whole Bean Coffee. The evidence appears directly on the packaging. This means that Costco's coffee doesn't skimp on flavor and is sold for a reasonable price, which is a double win.
Keep your eyes peeled for these affiliated Starbuck flavors on the shelves at Costco: Kirkland's Signature House Blend Medium Roast, Espresso Blend Dark Roast, and Decaf House Blend Medium Roast. This is a great way to save cash without having to cut back on your Starbucks habit. Which is a good thing these days.
Advertisements
10

Kirkland Signature Moisture Haircare: Pureology Hair Products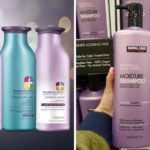 Advertisements
Word has it that Costco's Kirkland Signature Moisture Hair Care is produced by L'Oréal's Pureology division. Which seems to be true because the bottles are even the same color. The folks over at CostPro compared the two products.
"These distinct fragrances separate Pureology Hydrate Shampoo from other brands. And, the fragrances are easy to distinguish in the rebranded Kirkland bottles at Costco. What is different is the price. Eight fluid ounces of Pureology Hydrate can cost close to $30, while the Kirkland version, which is 33.8 fluid ounces of hydrating shampoo is under $13," they wrote.
Advertisements
11

Kirkland Signature Pet Food: Diamond Naturals
Advertisements
We have outstanding news for pet owners. The well-known brand Diamond Pet Foods, Inc. makes Kirkland Signature Pet Food. This is yet another high-quality brand in disguise at Costco. According to the Dog Food Guide, Kirkland Signature Pet food is made of only the best products for your dog or cat.
"Not only does Kirkland use fresh ingredients in their formulas, but each recipe is enriched with fresh fruits, vegetables, and herbs as well as probiotics. A quick review of several Kirkland and Nature's Domain products reveals that the claims this company makes about their pet foods are founded in truth," the site said.
Advertisements
12

Great Value Purified Bottled Water: Niagara Purified Bottled Water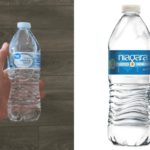 Advertisements
Savvy Costco shoppers know that they can buy high-quality products under the Kirkland label. Another example is the Kirkland Signature Purified Bottled Water, which is sourced by Niagara Purified Water. The partnership is well known, since it shows the brand on the label.
Walmart and Safeway also have their bottled waters made by Niagra Bottling, so you know you're getting a good value. The price is the same at all the stores, so you won't be saving a ton of money at Costco, but you can feel confident knowing that Kirkland Signature Purified Bottled Water is made by a reputable company.
Advertisements
13

Great Value Brand Whipped Cream: Cool Whip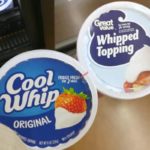 Advertisements
Walmart often gives big brands a run for their money when it comes to taste and price. The Great Value Brand Whipped Cream is very similar to the leading brand Cool Whip. While this may not be an official case of a big brand in disguise, the two are almost exactly the same.
Consumer Reports conducted a taste test between Great Value Brand Whipped Cream and Cool Whip, and the generic brand came out on top. "The Walmart had less of a chemical aftertaste than the Cool Whip brand whipped topping," said senior project editor Mandy Walker.
Advertisements
14

Kirkland Signature Diapers: Huggies
Advertisements
Parents know how expensive diapers can be, so it will trill them to learn that Kirkland Signature Diapers are reportedly made by Huggies. While Costco has yet to confirm or deny the rumor, there's no denying that Kirkland diapers offer both the quality and a discounted price.
Not only that, but Costco diapers get rave reviews from happy customers. Just read this tip from a Hip2Save reader on the subject. "Yes, Kirkland diapers are made by Kimberly Clark, who makes Huggies diapers. They are just the older style of Huggies," they wrote. That's good enough for us!
Advertisements
15

Kirkland Signature Chinet Plastic Red Cups: Chinet
Advertisements
You can find fantastic deals on party supplies at Costco, especially if you're looking to buy plastic cups for your celebration. We have an insider tip that can save you a ton of cash. Chinet is behind the Kirkland Signature Chinet Plastic Big Red Cups.
This isn't really a secret, considering Chinet's name is written on the packaging. Not only will you get quality plastic cups, but you can get them at an impressive price. A 240 count of cups will only cost you $11.79. Be sure to add these to your party supply list.
Advertisements
16

Great Value Peanut Butter: Peter Pan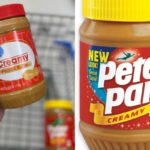 Advertisements
Many big brands make Walmart's Great Value products, you just have to know which ones to keep an eye out for. Peanut butter lovers will be happy to learn that they actually manufacture the Great Value Creamy Peanut Butter in the exact plant as the leading name brand Peter Pan.
The truth came out in 2007 when ConAgra Foods recalled certain batches of each brand, proving they were both made in the same factory. You can get the same quality peanut butter for a fraction of the cost.
Advertisements
17

ALDI Tuscan Garden Restaurant Style Italian Dressing: Olive Garden Italian Dressing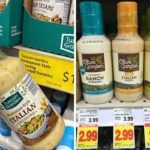 Advertisements
If you enjoy Olive Garden's Signature Italian salad dressing, then you'll love ALDI's version just as much. This copycat dressing hasn't been verified as being a big label in disguise, but the flavor is spot on. Why spend more on Olive Garden's salad dressing when ALDI's tastes almost exactly the same?
While ALDI also has the Olive Garden's dressing on their shelves for $2.99, the Tuscan Garden "Restaurant Style" Italian Dressing sells for just $1.69 for the same size bottle. You can't beat the price for the quality on this one. You do the math!
Advertisements
18

Great Value Pretzels: H.K. Anderson Pretzels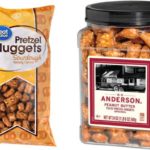 Advertisements
We have another deal that you won't want to pass up. H.K. Anderson Pretzels manufactures Walmart's Great Value Pretzels. Don't believe us? A reader left a hint on Hip2Save, proving it to be true.
"I once took a tour of the famous Anderson Pretzel factory. Imagine my surprise when they stopped the machines and changed the bags for the pretzels to Great Value bags, then continued on! So, you can pay $5 for H.K. Anderson pretzels in an Anderson Pretzel bag, or you can pay $2 for Anderson Pretzels in a Great Value bag," they wrote.
Advertisements
19

Trader Joe's Garden Vegetable Lasagne: Amy's Vegetable Lasagne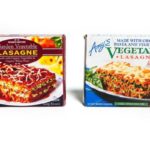 Advertisements
If you prefer to eat organic food, then health-conscious shoppers will love the next item on this list. Many of Trader Joe's organic products are marked down name-brand products disguised under its own label. It's no secret that Trader Joe's Garden Vegetable Lasagne is a mirror image of Amy's Vegetable Lasagne.
Both dishes have the same ingredients and offer the same flavor. We really like the difference in price and you will too. Trader Joe's Garden Vegetable Lasagne sells for $2.69, while Amy's Organic version costs $5.39. Those are some serious savings!
Advertisements
20

Trader Joe's Pita Chips: Stacy's Pita Chips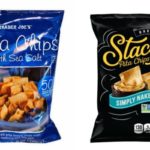 Advertisements
There are several methods to track down who makes Trader Joe's snacks, and one way is to compare the ingredients of the products. It turns out that Trader Joe's Pita Chips with Sea Salt are made with the same ingredients as the Simply Naked flavor of Stacy's Pita Chips.
This shouldn't come as a surprise, as they have such similar flavor and taste exactly the same. While this rumor can't be confirmed, it leads us to believe that it's the identical packaging at a lower price. Trader Joe's Pita Chips goes for $1.99 while Stacy's Simply Naked Pita Chips typically sells for $2.99 a bag.
Advertisements
21

Trader Joe's Organic Chili: Amy's Organic Chili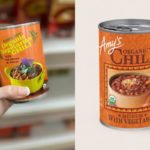 Advertisements
We have another insider tip for Trader Joe's customers. Amy's Organic Medium Chili with Vegetables is identical in taste and ingredients as Trader Joe's Organic Vegetarian Chili. The labels are even both orange, which is a huge giveaway.
The only difference is the price. Trader Joe's Chili goes for $2.29 while Amy's Organic Medium Chili with Vegetables sells for around $3.49. Trader Joe's won't confirm or deny this rumor, but we think all the evidence points to this being another big brand name in disguise. Don't let the label trick you.
Advertisements