Brilliant Kitchen Hacks: You'll Wonder Why You Never Thought Of Them Before
1

Hang Veggies And Fruits With Binder Clips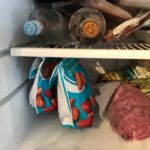 Advertisements
If you have limited freezer space, it's challenging to store all of your frozen fruits and veggies. Don't surrender to a jumbled mess because we have a brilliant solution that will save you so much space. Did you know that office supplies can be handy in the kitchen? 
Use binder clips to hang bags of frozen fruits and veggies in the freezer. They attach perfectly to the shelf and the clip will ensure that the food stays fresh. No more freezer burn, which is good news. This is one hack you shouldn't overlook.

Advertisements
2

Make Homemade "Canned Soup" In Plastic Cups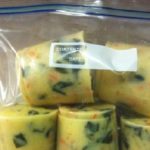 Advertisements
Who doesn't love to save time in the kitchen? If you're looking for a quick-cooking fix, then you'll love this next tip. All you need is a batch of your favorite homemade soup and some plastic cups to have perfectly portioned soup waiting in your freezer. 
Just pour the soup into the cup and place them in the freezer. After the soup freezes, peel away the cup and store the portions in a ziplock bag. Now, you'll have a fast dinner of "canned soup" on hand. You can also do this technique with sauces, which is great when you're short on time. 
Advertisements
3

Put A Lid On Chocolate Chip Bags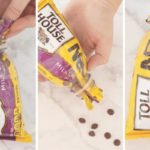 Advertisements
Bakers will want to pay close attention to this kitchen hack. We discovered a simple way to store chocolate chips that keeps them fresh. The only supplies you'll need are a plastic bottle and a pair of scissors. 
Jill Nystul over at One Good Thing wrote, "Cut the top third of a plastic water bottle off, then thread the top of the chocolate chip bag through the mouth of the bottle. Fold the bag over the opening, then screw the lid back onto the bottle." This method makes for easy pouring. We like that this up-cycling tip is so earth-friendly. 
Advertisements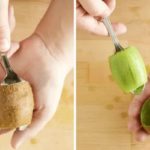 Advertisements
Peeling a kiwi without damaging the delicate flesh is challenging. Try peeling it with a spoon. Jill Nystul over at One Good Thing gave these easy directions for the quickest way to prepare kiwi. "Cut off the top and bottom of the fruit and rest it upright on one end," she wrote. 
"Then take a spoon and slide it between the fruit and the skin, and rotate the spoon around until all the skin has come loose. When the spoon gets back to the starting point, the kiwifruit should pop out of the skin. Slide the skin off, then slice the kiwi and serve."
Advertisements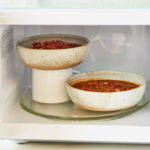 Advertisements
Looking for space-saving hacks for a tiny kitchen? Don't let a small microwave slow you down because this next tip will double the amount of food you can heat in one setting. It's an inexpensive solution because you don't even have to buy a special gadget. 
For those who are short on space, you can microwave two bowls at once by using a mug. Set one of the bowls on top of the mug to raise it above the other bowl. This brilliant hack will increase space and save on time. Isn't that amazing?
Advertisements
6

Freshen Your Fridge With A Tea Bag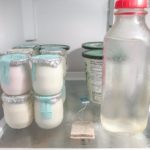 Advertisements
If foul odors have taken over your refrigerator, then you'll want to give this next hack a try. It's hard to clear up a nasty smell, but we have a solution that is so smart, you'll be shocked that you didn't think of it yourself. 
Tea bags can freshen up a smelly fridge. After brewing the tea in boiling water, squeeze out any extra water and leave it out to dry. Next, put the tea bag on a shelf of your refrigerator. The dry tea bag will absorb those stubborn odors. Your fridge will smell so nice and fresh. 
Advertisements
7

Save Cheese With Butter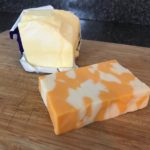 Advertisements
Here's another cooking trick for you. It's rare to eat an entire block of cheese in one sitting. Looking for a way to keep your cheese fresh? This hack will blow your mind because it's just so simple. The next time you have leftover cheese, rub a bit of butter over the cut edge. 
This will make a protective layer and prevent the block of cheese from oxygenating in the refrigerator. We love this tip because it uses an item you probably already have on hand, which helps you save on groceries. Cheese-lovers rejoice!
Advertisements
8

Keep Your Microwave Clean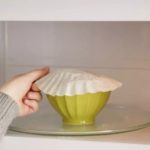 Advertisements
We all know the trick of keeping your microwave clean by placing a paper towel over plates and bowls. If you're pinching pennies, then paper towels can be expensive. We have an economical solution that will save you some cash.
Try using a coffee filter instead. They serve the same purpose as paper towels but are so much cheaper. Just cover your food with one when you place it in the microwave. We also like coffee filters because you can buy them in bulk. This means fewer trips to the grocery store, which is a good thing. 
Advertisements
9

Mason Jar Dish Scrubber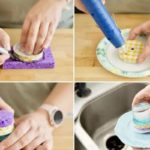 Advertisements
This next DIY hack is perfect for all the crafty people out there. You can transform a mason jar into a dish scrubber that dispenses soap. You'll need a mason jar, a lid with a hole, a sponge, and a hot glue gun. Jill Nystul over at One Good Day gave these directions. 
"Cut a sponge so it's the same size and shape as your jar lid, then use hot glue to glue the edges of the sponge to the top of the lid," she added. "Fill your jar with dish soap, put the finished sponge lid on top, and it's ready to use!"
Advertisements
10

Clean Your Can Opener With Wax Paper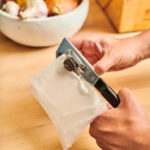 Advertisements
It's challenging to clean all the nooks and crannies of a manual can opener. Food often gets trapped in the gears and is nearly impossible to clear it out. We have a quick hack that will make cleaning your can opener a breeze. You more than likely already have the secret tool in your pantry. 
Try cleaning it with wax paper. Fold a piece of wax paper several times and then run the paper through your can opener. This will dislodge any trapped food and the wax will make your can opener run so much smoother. 
Advertisements
11

Use A Water Bottle For A Freezer Test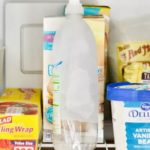 Advertisements
If your freezer doesn't seem to work as it should, we have a quick kitchen hack that will put it to the test. The only thing you'll need is a water bottle. The folks over at One Good Thing covered this easy to follow tip.
Take a half-way filled water bottle and freeze it upside-down. Later, flip it over and allow the bottle to sit for a day, then check it. "If the ice has moved to the bottom of the bottle, you'll know that the ice melted at some point and that it's time to replace your freezer," Jill Nystul wrote.
Advertisements
12

Use A Coat Hanger To Hold Cook Books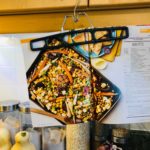 Advertisements
It's annoying to lose your place when cooking a recipe from your favorite cookbook. It can also be awkward to glance down at the directions while preparing the food. We have a solution that is so brilliant, you'll want to do it right away. The answer is waiting in your bedroom closet.
A coat hanger can double as a cookbook holder. Affix the desired pages to the clasps and then hang it from the cabinet handle. No more struggling to keep the cookbook open, and we love that the recipe is eye level when you use this kitchen hack. 
Advertisements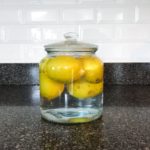 Advertisements
Sometimes it's tricky to know the best way to store fruit to keep it as fresh as possible. It may be tempting to put your lemons in a bowl on the kitchen counter as a decoration, but that's not the best way to store them. 
We have a tip that ensures your lemons will stay fresher longer. The best way to do this is to put the lemons in a bowl full of water and keep it in the refrigerator. This method is so effective, you can store lemons in the fridge for up to 3 months. 
Advertisements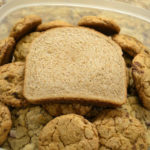 Advertisements
Bakers should listen up to this next tip. There is nothing better than freshly baked treats. If you find that your baked goods lose softness after a couple of days, then we have a genius idea for you. A great way to keep them fresh is to use a common pantry staple.
Simply place your cookies, muffins, or other baked goods in an air-tight container and add a piece of white bread. This will keep them just as fresh as they were on the day that you baked them. You won't believe how well this hack works!
Advertisements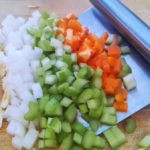 Advertisements
We love it when a common kitchen tool has multiple uses. A pastry scraper is designed to cut and measure dough as well as scrape excess dough off a work surface. Not only does it come in handy while baking, but you can also use a scraper for quick and easy prep work.
Next time you're adding chopped vegetables to your recipe, use a pastry scraper to transfer the veggies into the pan from the cutting board. You'll be shocked at how much time this one move can save. Not only that, but it makes cleaning a breeze.
Advertisements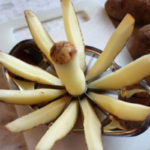 Advertisements
Do you enjoy making potato wedges from scratch? This next tip will help you make restaurant-quality french fries at home. Cutting potatoes with a knife can be time-consuming and the wedges often aren't uniform. You can find a solution in your kitchen drawer.
Did you know you can use an apple slicer for amazing french fries? All you have to do is chop off one end of the potato for stability and push an apple slicer through it. This creates perfect and uniform wedges every time. Be sure to add your favorite seasonings to make delicious homemade fries.
Advertisements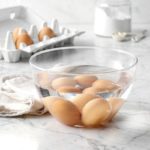 Advertisements
Many recipes call for room-temperature ingredients. It can be tricky if you forget to take eggs out of the refrigerator. What's an amateur chef to do in this situation? Don't stress out over a minor mistake because we have a solution that will have your eggs at just the right temperature in no time.
The answer is so simple and takes very little effort. Just place your refrigerated eggs in a bowl of warm water for a few minutes. You'll soon have room-temperature eggs and your recipe will be saved. Problem solved!
Advertisements
18

Keep Garlic Fresh With Salt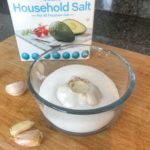 Advertisements
Every good cook knows that garlic is the base of many recipes. It's tricky to make the bulbs last in the fridge. Looking for a way to keep garlic bulbs fresh longer? The answer is already waiting in your spice rack. All that you need is a bit of salt. 
Place the garlic bulbs in an air-tight container and pour coarse salt over them. This trick works because the salt pulls moisture out of the garlic, which will help the bulbs last longer. Now you'll always have fresh garlic on-hand in the refrigerator. Who knew it could be so easy? 
Advertisements
19

Clean Grease Up With Foil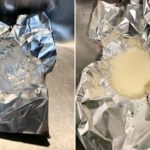 Advertisements
Not sure how to dispose of bacon grease? Don't pour it down the kitchen sink drain because it can clog your pipes. So, what's the most effective way to get rid of leftover grease? The answer is so simple that it might surprise you. 
Next time you're in this situation, try using foil. All that you have to do is line a bowl or a mug with foil. Allow the grease to sit long enough to solidify, wad up the foil, and toss it into the trash. No more collecting jars of grease with this easy hack. 
Advertisements
20

Preventing An Avocado Half From Turning Brown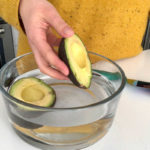 Advertisements
Often, you may feel like eating avocado without necessarily needing to use it all. However, an unused half of avocado browns in no time at all, making it unusable even the next day. Luckily, a simple tip can help you keep one half in good condition for up to two days!
All you have to do is put the unused half of your avocado, flesh-side down, at the bottom of a bowl filled with water and put it in the refrigerator. You will be able to enjoy the second half of your avocado a few days later without any problem!
Advertisements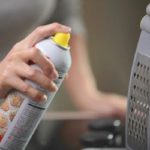 Advertisements
If you prefer to buy pre-shredded cheese because you don't want to have to deal with cleaning sticky cheese off the grater, stop what you're doing and listen to this next kitchen hack. Admittedly, it can be a pain to clean a grater, but one move makes for easier cleanup.
Just grab cooking spray for the cabinet and spray a spritz onto the grater. This forms a coating that will keep your cheese-grating experience mess-free. Your recipes will taste much better with freshly grated cheese and your cleanup time will be cut in half.
Advertisements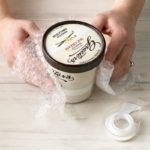 Advertisements
Have you ever packed up a pint of ice cream only to have it melt by the time you reach your destination? We can all agree that there's nothing worse than melted ice cream. Have no fear because we have a way to keep it nice and chilled.
An unexpected item can rescue your frozen treat. Try using bubble wrap as insulation. Simply wrap your pint of ice cream with bubble wrap to lock the cold in. Your treat will stay nice and firm for hours. Who knew we could use packing supplies in the kitchen?
Advertisements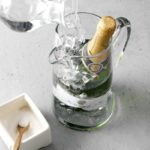 Advertisements
Let's face it, most wines are served better when chilled. What if you want to pop open a bottle that hasn't been refrigerated? This next hack will help you quickly chill lukewarm bubbly. All you'll need is a tall pitcher or bucket, ice water, and a salt shaker.
Just immerse the bottle in the ice water and toss in a tiny handful of salt. Be sure to rotate the bottle every few minutes. You'll have chilled booze in about 20 minutes. No more holding up the party while you wait for the wine to cool off.
Advertisements
24

Keep Bowls From Slipping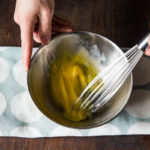 Advertisements
Some kitchen hacks are so simple that it's hard to believe you didn't think of it yourself. Have you ever been using a mixing bowl only to have it slide around on the counter while you stir? It can be frustrating to deal with a slippery bowl.
Don't break your back trying to keep it in place because we have an easy and inexpensive solution for you. Grab a kitchen towel, soak it in a small amount of water until moist but not drenched. Slip the damp towel under the mixing bowl to keep it in place.
Advertisements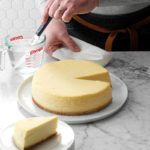 Advertisements
If you want to impress your dinner guests by plating a perfect slice of cheesecake, then listen up. This next kitchen secret will give you uniform slices that will make it look like you hired a professional chef.
Grab a bowl or measuring cup and fill it with hot water. Dip a sharp knife into the hot water for a moment and wipe the blade dry with a paper towel. Next, cut your cheesecake and be amazed at how tidy the slices are. Finally, place it on a plate and pat yourself on the back for a job well done.
Advertisements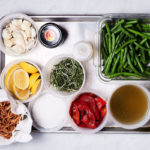 Advertisements
It's crucial to stay organized in the kitchen to save on cook time. One way to streamline your prep is to measure out ingredients and place them in containers. From plastic bowls to plastic takeout containers, you'll be ready to cook in no time.
We have another tip that can make prep-time go even smoother and you probably have the staple kitchen item sitting in your cabinet. Grab a sheet pan or cookie sheet. We can use this versatile pan for so much more than baking cookies. Use it as a tray to hold your ingredients.
Advertisements
27

Keep Your Avocados Fresh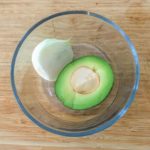 Advertisements
There's nothing worse than trying to save half an avocado, only to have it turn brown. It seems like nothing you do can keep it fresh. The next hack is an easy way to preserve them, and you won't believe how simple it is. 
The best way to store leftover avocado is to put it in a little, air-tight container and toss in a small bit of onion. The onion releases sulfur compounds that will keep that avocado from browning. If you have dietary restrictions that keep you from eating onions, though, you probably shouldn't try this kitchen trick. 
Advertisements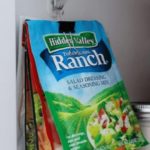 Advertisements
Is your pantry overrun with various packets? From packs of Kool-Aid to envelopes of sauces, it's all too easy to let them take over. Don't fret because this next organization tip will help you corral those odds and ends. Use simply a command hook and a clip.

Once again, office supplies to the rescue. Place an adhesive hook onto the inside of a cabinet or pantry. Then clip your packets and hang the clip from the hook. Now your condiments will be organized and out of the way. No more dealing with cluttered packets in your cabinet. 
Advertisements
29

Snap A Pic Of Your Fridge For Shopping Reference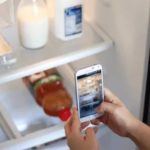 Advertisements
There are some kitchen hacks that are so simple, it's hard to believe you didn't think of it yourself. This next tip will save you the headache of wondering what you need to buy when you're shopping at the grocery store. Grab your phone and snap a pic of the inside of your refrigerator on grocery day. 
Then when you're standing in the store, whip out your phone to confirm what you need to buy. No more getting home only to realize that you forgot to buy lemons. This is a sure-fire way to purchase everything on your list and more. 
Advertisements
30

Hidden Kitchen Storage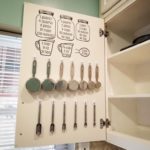 Advertisements
If you're short on storage space, don't let your utensil drawer become overrun with measuring cups and spoons. There is a convenient space just waiting to keep those items hidden, but keep them within reach. The inside of your cabinet door is the best place to hold small kitchen items. 
All that you need are a few Command hooks, which you can find at hardware stores. Affix them to the door and hang your measuring cups and spoons on them. You can also add conversion charts for easy reference. The Command hooks are removable so it won't damage your cabinet door. 
Advertisements
31

Grow Your Green Onions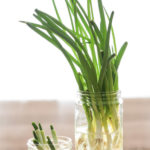 Advertisements
This final tip will help you save money on green onions. Don't waste your cash on a new bundle every time you go grocery shopping. You can easily grow them yourself with this gardening trick. Store the green onions in a glass or jar of water.
Be sure to keep them in the sun. A kitchen windowsill is the perfect place to watch the tops grow. Now you can have a supply of green onions right there when you need them. Just be sure not to clip off too much at one time. Who knew it could be so easy to have a green thumb? 
Advertisements
32

The Best Way To Cook Eggs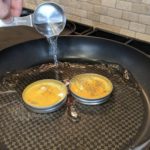 Advertisements
A very original, but absolutely great way to cook your eggs is to do it in a pan with mason jar lids and water. It is a method particularly loved by fans of the keto diet, but everyone would benefit from doing it!
Simply place the mason jar lids in your already heated frying pan and crack your eggs in it. Crack the yolks, season, then after about a minute of cooking, add 1/4 cup of water to your pan. Let them cook covered for 3 minutes. You will obtain delicious and perfectly round egg cakes perfect for your English muffins, or even to serve themselves as "bread" for your sandwich!
Advertisements
33

Use Plastic Wrapped Egg Pouches for Poached Eggs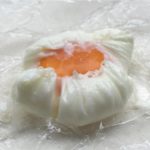 Advertisements
The poached egg is the scourge of most home cooks. While you know that you should crack the egg into a pot of boiling water and wait for it to cook, it often disintegrates into the liquid, leaving you with a messy egg-ish product that looks nothing like the beautifully poached eggs you order at your favorite restaurant.
To fix this problem, cook your egg in a bit of plastic wrap. Before you drop your egg into the boiling water, line a small cup with plastic wrap, spray it with nonstick cooking spray, crack an egg into it, and tie it closed. Then, you can drop each of these plastic-wrapped pouches into your hot water and allow the egg to cook. Once it's done, simply snip the plastic wrap off the outside of your egg and you'll have a perfect, poached masterpiece.
Advertisements
34

Ripen Food in a Paper Bag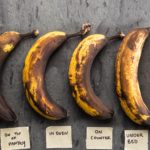 Advertisements
Have you ever brought home a bundle of fruits, only to realize that they're not quite ripe enough to eat? While you can wait for the fruits to ripen on their own, you can also speed up the process with a paper bag.
Put unripened food in a paper bag and fold it closed. The bag will trap the ethylene gas inside, allowing the fruits to mature much more quickly than they would in the open air. Just be sure to check on it fairly regularly. If you leave it in the bag too long, you'll just end up with rotten fruit! 
Advertisements
35

Cook The Best Stuffed Chicken Breasts
Advertisements
Like Swedish potatoes, you can cook your chicken breasts to give them even more flavor. Drop the dry, tasteless chicken breasts and welcome the stuffed ones! They are extremely easy to make and you're sure to love them.
Simply cut slits in your chicken breasts, but don't cut through the meat completely. Then, cook a mixture of olive oil, spinach and ricotta cheese in a frying pan and place it in the slits. Season with salt and pepper, add a little paprika and grated cheese, then bake in the oven at 400°F for 20 to 25 minutes.
Advertisements
36

Create Your Own Burrito Bowls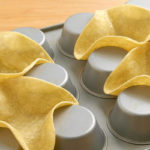 Advertisements
If you eat at home a lot, you're probably on the hunt for new, innovative foods that differ from your average dish. Do you know what you'll never get tired of? A delicious and crunchy burrito bowl.
For this trick, all you need is a muffin tin and corn tortillas. Flip the muffin tin upside down and form the corn tortillas into a little bowl between four of the cavities. Then bake your corn tortillas in the oven at 375 degrees for roughly 10 minutes. When they're done, you'll have crispy bowls ready to be filled with your favorite burrito fixings.
Advertisements
37

Add A Delicious Twist To Your Burgers
Advertisements
Who doesn't like cheese? Probably no one. And there's nothing better than cheese in a hamburger to add a little flavor. But the days when you just added cheese slices to your burger right before eating it are over!
A very simple way to add cheese to your burger and make it even better is to add a piece of Babybel cheese directly in the centre of your meatball. When you cook your meatball, the cheese will melt in the centre, and you'll see, your burger has never been so delicious!
Advertisements
38

Use a Plastic Bag for Pancake Mix
Advertisements
If you have the time to make them, pancakes are the perfect breakfast food. But after you mix the batter, you're still faced with the tough task of ladling it onto your skillet. That's where things often get messy and you end up with pancakes that don't quite look like the ones you order in a restaurant.
For quicker, easier pancakes, put your batter into a large plastic bag. Cut a small hole in the corner of the plastic and use it as a piping bag. The hole will control how much batter comes out and you can easily swirl the ideal amount into your skillet. The result is perfectly shaped pancakes that don't waste any of your precious batter.
Advertisements
39

Put An Ice Cube In Your Burgers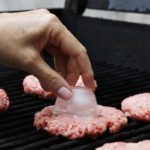 Advertisements
When grilling burgers at home, even good cooks struggle to keep the burgers nice and juicy while fully cooking the ground beef. As it turns out, an ice cube might provide the perfect solution.
While forming your burger patties, put an ice cube in the center of each burger and form the patty around it. Then toss the burgers onto the grill and cook them as you normally would. The ice will melt into the patty while it's cooking, keep your meat nice and juicy. Say goodbye to dry burgers forever with this trick.
Advertisements
40

Make Your Own Cooking Spray
Advertisements
Cooking spray is an indispensable ingredient in the kitchen. Although it is not expensive and it is possible to find healthy cooking sprays, many of those found in stores contain chemical propellants and preservatives that are harmful to your health. To make sure you only consume what is best for you, here is a very easy DIY cooking spray!
There is really nothing easier to prepare than this cooking spray. All you need is 1 part of the oil of your choice (olive, coconut, macadamia, avocado, etc.) and 4-5 parts of boiled, distilled or filtered water. Once the two ingredients are mixed, pour the mixture into a spray bottle, and voilà! Your oil will last for a little over a week in the refrigerator. Don't forget to shake it well before using it!
Advertisements