The 20 Most Ridiculous Inventions You'll Ever Encounter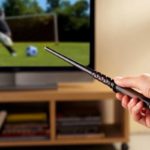 Advertisements
Date first available: 2010
Inventor:

Chris Barnardo of The Wand Company
Harry Potter fans will love the Kymera Wand universal remote control. If you've always wanted to feel like a real-life wizard, then this wacky invention is perfect for you. The Wand Company can fulfill your every fantasy and change the channel on your television at the same time.
The product description on their webpage says, "With its flick, swish, and tap gestures, once you have taught your wand some remote control functions, all you have to do to work your magic, is pick the wand up to turn it on and start using it to control your stuff—magic!"
Advertisements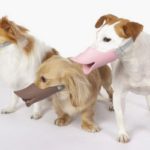 Advertisements
Date first available: 2015
Created by:

NACOCO
If dogs don't feel humiliated enough by being forced to wear a muzzle, you can now make them feel even more self-conscious by using the Quack Bill Muzzle. This crazy product is manufactured by the Japanese company NACOCO. 
Although, it has a huge following and has a four-and-a-half-star rating on Amazon. One happy customer wrote, "Love it! The small muzzle fits perfectly on my Jack Russell. It keeps her from nipping at me when I trim his nails but gives him enough space to still be able to drink water. And let's face it, it's adorable!" 
Advertisements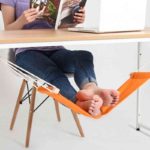 Advertisements
Date first available: 2017
Manufactured by: 5FOLD PRODUCTS
Next on our list of absurd inventions is the Under The Desk Hammock for Feet, created by 5FOLD PRODUCTS. The company says that it's good for your circulation and that it's viable to prevent back, foot, and hip pain. We just think it makes your feet look like they're on vacation. 
One reviewer wrote, "This hammock made sitting at my desk so much more comfortable! I am a vertically challenged individual and have dangling foot syndrome when sitting in office chairs. I've used stools to combat this annoyance in the past, but this foot hammock has been a game-changer for working at my desk." 
Advertisements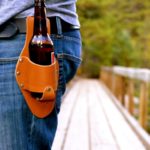 Advertisements
Date first available: 2014
Manufactured by:

Splash Brands 
Perhaps one of the most unnecessary inventions ever to be made is the beer holster. Who knew that having constant access to a beverage could be so important? According to the product description, this holster is designed for a man's man, whatever that means.
"No more stopping work just to take a sip: the Beer Holster Classic always keeps your chilled beverage within arm's length. Wear it on your left or right hip and take a sip anytime. With the Beer Holster Classic, your hands are free for important "men tasks" (like operating power tools or turning the meat on the grill), while your beverage is still always with you." 
Advertisements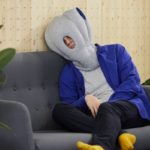 Advertisements
Date first available: 2012
Invented by: Ali Ganjavian
If you consider yourself to be a competitive napper, then you will love The Ostrich Pillow. It may look like some sort of torture device they made it with nappers in mind as it creates a cocoon for your eyes and ears. 
According to CNN, "The Ostrich Pillow is specifically designed for those shorter periods of rest—the power naps—and the creators boast that their invention allows you to sleep anytime, anywhere by creating a 'little private space within a public one, to relax and unwind.'" We just have one question: where can we get one? 
Advertisements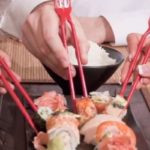 Advertisements
Date made available: 2010
Invented by:

Jordan Brow
Eating with chopsticks can be a tricky endeavor. One minute you're shoveling food in your face, the next you're accidentally shooting sushi across the room. Have no fear, The Chork is here! It's just what it sounds like, a set of chopsticks with a fork on the end. 
The inventor of The Chork, Jordan Brown, told the Los Angeles Times, "I always felt I was decent at using chopsticks, but I always have to revert to a fork near the end of the meal to get the last pieces of rice or pick up something slippery," Brown said. 
Advertisements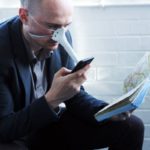 Advertisements
Date first available: 2011
Invented by: Dominic Wilcox
The inventor of the Finger-Nose Stylus came up with the idea because he used his touch phone in the bath and encountered the problem of his left hand going in the water without thinking. It became wet and unusable for touchscreen navigation.
According to Dezeen, Dominic Wilcox said: "I found that I could use my nose to scroll but I couldn't see where my nose was touching precisely. It was at that point that I came up with this idea of a nose extension 'finger' that would allow navigation while my phone is firmly held by one hand." 
Advertisements
8

Beauty And The Geek Keyboard Jeans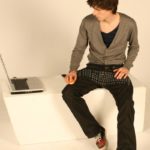 Advertisements
Year Invented: 2008
Invented by:

Erik De Nijs
Erik De Nijs designed Beauty And The Geek Keyboard Jeans for an assignment at the design school HKU in Utrecht Holland. We're not sure how comfortable these would be, but what they lack in comfort, they make up for in design. 
De Nijs discussed his invention with Wired, saying, "I came up with the idea of putting a keyboard in your pants, and to make jeans with all the important computer stuff (like a mouse, keyboard and the speakers) in it. Besides the new look the jeans would get, there was some sort of freedom behind your computer screen." 
Advertisements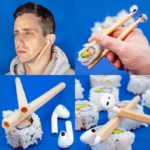 Advertisements
Date invented: 2019
Invented by:

Matt

Benedetto
Matt Benedetto is the designer over at Unnecessary Inventions, based in Burlington, Vermont. According to his website, they create products that solve problems that don't really exist by creating products that no one is really asking for. These inventions were practically created for this list. 
For example, The Airstick, which is described as "The perfect accessory for your Apple AirPods. Enjoy your favorite sushi on the go and never leave your chopsticks behind." So, now you can walk around with chopsticks hanging off your ears. That sounds strange and completely unnecessary to us.  
Advertisements
10

Mould Covered Sandwich Bags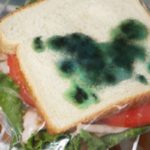 Advertisements
Date first available: 2017
Manufactured by:

Witty Yeti 
Are you tired of having your food stolen from the refrigerator from co-workers or family members? This next invention will stop those thieves dead in their tracks. The moldy-looking sandwich bags make it appear as if your food has spoiled. Genius, right? Either that or these are totally weird. We can't decide. 
A happy Amazon customer wrote, "Our Eleven Year Old Daughter loves gag gifts and this hit all the markers. Easy to use. Can trick lots of unsuspecting people. Gross. Lots of bags." 
Advertisements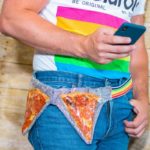 Advertisements
Date invented: 2019
Invented by: Matt Benedetto
Matt Benedetto of Unnecessary Inventions tackled an age-old problem. What happens if you want to take your pizza on the go? His answer was The Pizza FannyPack™️, which is a clear pouch that carries two slices of pizza. Um… That is SO necessary!

The product description reads, "The Pizza FannyPack™️ Precious pizza, anywhere—anytime! Strap on our futuristic fanny pack that features two transparent pouches for your favorite slices on the go! The rugged waist strap has a high-impact resistant buckle and reflector for a safe Pizza Party on the go. Extra pineapple, please!"
Advertisements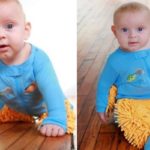 Advertisements
Year invented: 2012
Invented by: BetterThanPants
Babies are so lazy when it comes to helping with housework. The Baby Mop is a one-piece outfit with built-in mops on the arms and legs. According to ABC News, Mike Parker, BetterThanPants.com's press officer, said the idea came about from Japan in the late 90s. 
"They had a book that came out about 10 years ago about 101 useless inventions. We've seen it, we've seen the fake commercial that floated around, and so we've been talking about using it as a real product for years. So we tried it and put it on the site about six months ago, and it just went from there," Parker said.

Advertisements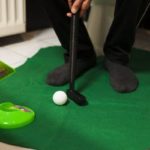 Advertisements
Date First Available: 2004
Manufacturer: Fairly Odd Treasures LLC – Sporting Goods
Is it really a thing for people to need to be entertained while sitting on the toilet? The folks that created the Potty Putter Toilet Time Golf Game obviously had too much time on their hands to create this hilarious game. 
They sure did have fun with the product description, though. "Help even the crappiest golfer improve their putting game while pulling double duty and answering nature's call." Honestly, this would make a fantastic gag gift for that golfer in your life. This product earned 4.4 out of 5 stars on Amazon. 
Advertisements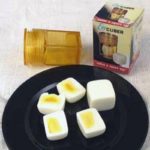 Advertisements
Year invented: 1978
Invented by: Masashi Nakagawa
This next item on the list has us scratching our heads. The Egg Cuber has been around since the 1970's when it was invented by Masashi Nakagawa. Years later, it was reproduced and is now sold on Amazon and manufactured by the Home & Kitchen Store. 
We have a few questions about this one. Why would anyone need to make square eggs? Is there something wrong with oval eggs? Could this product revolutionize children's Easter baskets? Do we ask enough questions? Either way, the egg cuber is a fascinating and mysterious product. 
Advertisements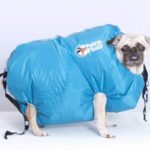 Advertisements
Year invented: 2014
Invented by:

Marissa Streng
The Puff-n-Fluff Dog Dryer looks like it could be a form of punishment for doggies. The device dries dogs in about 25 minutes. The most impressive part is that it was invented by a 12-year-old girl named Marissa Streng for a 3rd-grade science project.
Not only did she win a science competition, but Streng told TBNWeekly, "Jimmy Fallon and the Tonight Show were having a segment on young inventors who had been patented and they gave me a call," she said. "I was on Fallon's opening week and I got a prize of $5,000 in a contest sponsored by General Electric." 
Advertisements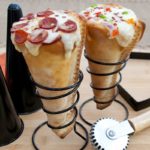 Advertisements
Year made available: 2014
Manufactured by: Pizzacraft
Everybody loves pizza and everybody loves ice cream, but that doesn't mean that we should eat pizza in a cone. You can prepare your own personalized pizza with this odd product. It's really popular on Amazon and has a rating of 4.3 stars out of 5. So, people seem to like it.
One pleased reviewer wrote, "OMG, this Amazon Find is really GREAT! It takes a bit of skill to master the "cone" pizza technique…however, once you get used to how it molds, bakes, etc. You'll really love the "unique" shape of this scrumptious cone pizza." 
Advertisements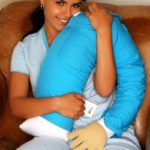 Advertisements
Year invented: 2004
Manufactured by:

Kameo Corp.
This next item is for all the lonely people out there who need something to snuggle with. The Boyfriend Pillow is perfectly named because it is literally a pillow shaped like a man's chest and arm. It's perfect for cuddling up to a cold night.  
The product description says it best, "Spoil yourself, or a friend, with the soothing masculine arm and buff upper body of this unique man pillow design. And, he's not just for sleeping! The pillow provides a wonderful way to cuddle up for a movie marathon, during long car rides, or with a good book." Who needs a real man, anyway? 
Advertisements
18

Pen Cap Eating Utensils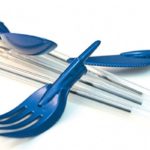 Advertisements
Year Invented: 2013
Invented by:

ZO-loft 
Have you ever sat down to eat at the office without eating utensils? The Dine Ink Pen Cap Utensils comes with a fork, spoon, and knife that conveniently slips onto the end of a pen.
This invention is actually pretty clever. The product description is priceless. "Putting in the overtime and eating at your desk again? Well, here are the essential multitasking office tools you have been waiting for—a set of ordinary stick pens that does double duty as handy dining utensils. They're food-safe, reusable and they will stand up to the rigors of General Tsao's Chicken." 
Advertisements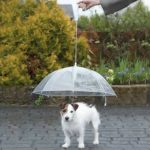 Advertisements
Year invented: 2013
Manufactured by:

Hammacher Schlemmer
It can be a pain to walk a dog on a rainy day, but The Dogbrella promises to keep your pup dry. This product is either brilliant or totally superfluous. It's a clear umbrella that attaches to your dog's leash. The Dogbrella comes with mixed reviews and earned 3.5 out of 5 stars.  
One Amazon customer wrote, "Ha! I am laughing as I remember my dog using this the last time it rained. It does its job beautifully! However, my dog was terrified of it. He thought it was an object constantly about to touch him." 
Advertisements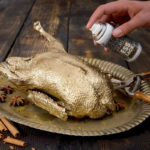 Advertisements
Date first available: 2013
Invented by: The Deli Garage
Have you ever wanted to serve an actual golden goose for Christmas dinner? Thanks to The Deli Garage Food Cooperative, based in Germany, you can now buy edible spray paint. You will totally impress your guests with your amazing culinary creations.
The product description is too funny not to share: "Food Finish is as easy to use as the result is beautiful: off with the lid and on with the spray. Food Finish chrome-plates and gold coats everything and anything in the kitchen that fits under its spray nozzle. It is completely harmless and tasteless"  
Advertisements