Are These Iconic Brands Actually Made In China?
Advertisement - Continue reading below
There are those brands that just seem synonyms with America. These classic items might embody the American spirit, but it's shocking to learn just how many of our favorite products are actually made in China. It's challenging to know what to purchase if you prefer to buy American-made products. We've taken the guess-work out for you and compiled a list of popular brands and where they're manufactured so you can buy with confidence.
1

Made In China: Converse
Converse tennis shoes were founded in 1908 and have been the signature style for pro-skaters and other casual athletic customers ever since. Their headquarters are in Boston, Massachusetts, which may give the impression that they're an American-made product. Yet, they don't manufacture their shoes in the USA.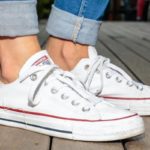 They sold the company to Nike in 2003 and moved production overseas in 2003. Now, their sneakers are made in factories in China and Indonesia. Despite their iconic status as All-American footwear, they aren't made on American soil. If you're looking to buy US-made products, then Converse isn't for you.
Advertisement - Continue reading below
Advertisement
Advertisement