Top Magic Eraser Hacks To Clean Your Home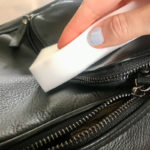 Advertisements
We can use Magic Erasers in so many ways. We've already told you how they can clean glass and plastic, but they come in handy with other materials. It might surprise you to learn that a Magic Eraser can also clean leather items, like purses, belts, or shoes.
Leather handbags can easily get dirty, but they are easy to clean with a Magic Eraser. It can wipe off smudges or nasty spots in no time. If you're worried about it ruining your purse, try testing it on a less noticeable spot. Chances are, it will lift the dirt with no problem. 
Advertisements
2

Polish Tarnished Silverware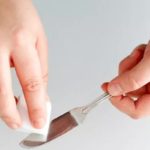 Advertisements
If you have a drawer full of tarnished silverware, don't just hide your silver forever. There are several cleaning tricks to make it shine again, but the most effective method is to use a Magic Eraser. It's a simple way to polish dull knives, forks, and spoons. 
Just dampen the eraser sponge with warm water and run it in a circular motion over your flatware. The dirt will disappear right before your eyes. This technique also works on silver trays and serving platters. You could even shine your silver jewelry with a Magic Eraser. 
Advertisements
3

Clean Dusty Computer Keyboards
Advertisements
Computers are part of our everyday lives. Many people work, play, and even eat their meals in front of their computer screen. This means that our keyboards can often become grody. From gunked in dirt to unwanted dust, it's important to clean your keyboard from time to time.
This next hack can get your keyboard looking shiny and new in about 30 seconds. The only thing you'll need is a Magic Eraser. Just soak it in water to make it pliable, but make sure it's dry before you gently brush it across your keyboard. The eraser will remove any dust or caked in gunk. 
Advertisements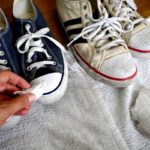 Advertisements
Do you have a favorite pair of tennis shoes that are looking dirty? Don't spend too much cash on shoe cleaning products because we have a tip that can save you both time and money. Magic Erasers are good for more than just making areas of your home shine. 
You can also use one to clean the rubber soles of your sneakers. Just run the eraser sponge under warm water, wring out any excess liquid, and wipe the dirt stains right off. You can also use this trick on leather shoes or any other plastic part that needs cleaning.
Advertisements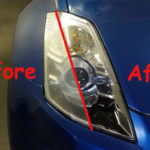 Advertisements
Over time, it's inevitable that your car lights will get dirty. Dust, weather and other natural elements make life difficult for them, and over time, they become hard to clean, making them less effective, which is a problem. But have you ever tried to clean them with a magic eraser?
You already know that the magic eraser can work miracles, but you will be positively surprised by its effectiveness on your car lights. They will be like new, cleaner and brighter than ever!
Advertisements
6

Buff Out Small Scratches On Your Cell Phone Screen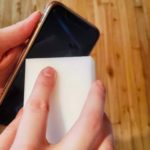 Advertisements
Don't let a scratched cell phone screen get you down. A Magic Eraser isn't just good for cleaning around the house, it can also work in a pinch for removing scratches from your phone. Don't waste your money getting your phone repaired with this simple hack. 
All you need is a Magic Eraser to buff out any unwanted scratches. It's as simple as rubbing the eraser across your screen. You'll be shocked at how quickly this tip works. In a matter of seconds, your screen will be scratch-free for a fraction of the cost of getting it cleaned by a professional. 
Advertisements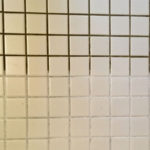 Advertisements
One place that often gets overlooked when people go on a cleaning spree is the grout on backsplashes. If you're looking to give your tiles a deep clean, then a Magic Eraser is the perfect cleaning tool. The sponge can easily get to those hard-to-reach places. 
Here's a pro tip. Mix a solution of equal parts vinegar, baking soda, and dish soap. Dip your Magic Eraser into the mix and wipe it over the grout between tiles. This technique isn't just for backsplashes. You can also use a Magic Eraser on floor and shower tiles. 
Advertisements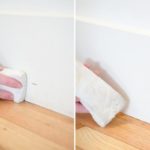 Advertisements
Be sure to add a Magic Eraser to your list of supplies when cleaning your baseboards. This handy little tool will drastically cut the time and effort it takes to remove dirt from the trim in every room of your house. Who wants to waste time scrubbing when Magic Erasers work so well?
Just grab a sponge eraser and fill a bowl or bucket with warm water. You can either add dish soap or vinegar to create a cleaning solution. Soak the sponge in the mixture, and swipe it across your baseboards. The results will thrill you. 
Advertisements
9

Remove Permanent Marker Stains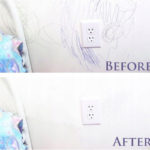 Advertisements
It can feel devastating to discover a permanent marker stain on your countertops. Don't feel hopeless because this next tip works like a charm. You could try many cleaning products to lift the stain, but they probably won't work. Magic Erasers are perfect for removing stubborn Sharpie marks. 
Just apply a damp eraser sponge to the stain and scrub it off. You won't believe how quickly that spot vanishes. You can also use this method for permanent marker stains on your walls. Parents never have to stress out over unexpected art drawn by their children ever again. 
Advertisements
10

Remove Nail Polish Stains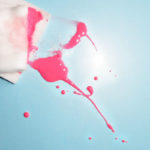 Advertisements
If you've ever given yourself a home manicure, then you know how unnerving it can be to spill nail polish on your countertops. It can be a challenge to remove a stain like that from surfaces, but don't worry because we have good news.
We've already shared that a Magic Eraser can remove permanent marker stains, and it can do the same for nail polish. Just moisten the sponge and rub it over the area in need of cleaning. It will remove the stain without damaging the surface. So, you can paint your nail polish and not stress out over drips. 
Advertisements
11

Clean A Dirty Microwave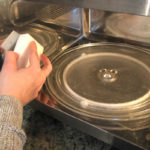 Advertisements
The microwave is one appliance that often gets covered in build-up. From sauce stains to caked-on food, it can be a challenge to get microwave sparkly clean. You could break the bank on cleaning products, but a Magic Eraser is the more economical choice.
Here's an amazing trick to make the most of your Magic Eraser. Heat the wet sponge in the microwave on high for 3 minutes. Then, you have a nice, warm sponge to wipe down the surface. You can even use it to clean the glass on the door. This makes cleaning a breeze. 
Advertisements
12

Remove Residue From Hair Tools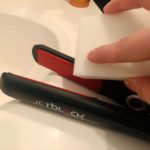 Advertisements
Ladies who use flat irons or curling irons on their hair know how quickly styling tools can end up coated with residue. Hairspray and styling gels often leave a nasty build-up, which is so hard to clean off. Have no fear, because we have a simple solution for you.
Try cleaning your heated tools with a Magic Eraser. Just be sure that your device is not on and has totally cooled down before you get to work. Moisten the eraser sponge with warm water and run it along the surface. All of that gunk will vanish right before your eyes. 
Advertisements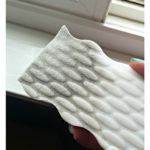 Advertisements
If your windows look dingy and could use a thorough cleaning, maybe you should try wiping them down with a Magic Eraser. They designed the sponge to clean many surfaces, from mirrors to glass, so it would work really well on windows. 
This little-known cleaning technique will cut down on the actual time you spend wiping down your home's windows. It works especially well at cutting out grime and haze on the outside of the glass. All you do is take a damp Magic Eraser and gently wipe it across the surface. Your windows will look so much clearer. 
Advertisements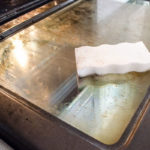 Advertisements
We love that the Magic Eraser can clean almost any surface in your kitchen. The stove is another appliance that often needs attention. From greasy spills to crumbs, it's all-too-easy for a stove to end up a big mess. 
So, you'll be relieved to learn that you can clean it with a Magic Eraser. The first step is to make sure that the stove is off and cool. Then you run a wet eraser sponge in a circular motion over the stain. The micro-scrubbers will lift all that gunk right off. It packs a powerful punch for such a small sponge. 
Advertisements
15

Clean Tough Food Stains On Cooking ware
Advertisements
Once food residues are stuck on your cooking ware, it is very difficult to dislodge them; you can rub them, put them in the dishwasher, nothing helps. But have you ever tried to clean up those stubborn residues with a magic eraser?
Wet your pirex and magic eraser well, then rub off the remains. You'll see that it won't take much effort to get your glass pirex looking like new!
Advertisements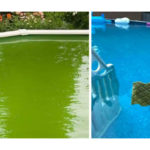 Advertisements
Keeping a pool in good condition and clean can be quite difficult. It requires constant maintenance, and one can quickly feel overwhelmed by the different steps to follow and respect to the letter. But then again, your magic eraser can help!
If your pool starts to turn green, or even a little cloudy, turn to your magic eraser. Place it in a skimmer basket, which you will put in your pool. As the skimmer basket moves, the accumulated dirt will be picked up by the Magic Eraser, leaving your pool all clean.
Advertisements
17

Cut Sponges Into Tiny Pieces For These Hard To Reach Places
Advertisements
There have certainly been many times when you were cleaning and came across an unreachable place where very few things could get through to clean it properly. But have you considered your magic eraser?
A magic eraser can seem a little big sometimes to get to some of the smaller spots, but if one ever comes apart, you can use the smaller pieces for that purpose! And why bother, cut them yourself if the need arises!
Advertisements
18

Remove Stains From Furniture
Advertisements
Parents of little kids know just how quickly spills can happen. You can extend the life of your furniture by taking care of the them. Don't let a stain ruin a perfectly good sofa or chair because we have a cleaning hack that will change how you care for your furniture. 
You can remove unwanted blemishes with a Magic Eraser. It can be used to clean leather and microfiber. Be sure not to saturate the surface with water or other cleaners. Wet the Magic Eraser and scrub and pat until it lifts the stain. 
Advertisements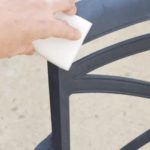 Advertisements
Let's take a step outside, shall we? If you have patio furniture, then you know how grimy they can get. From pollen to mildew, outside chairs and tables are vulnerable to the elements. This next trick can bring new life to your patio furniture. 
You can use a Magic Eraser. First, spray the patio furniture down with a hose to clear off excess dirt. Then wipe it down with a damp eraser sponge. This hack works best on plastic furniture, but you can also try it on metal chairs. Simply use a gentle touch so nothing gets scratched.
Advertisements
20

Wipe Down Vinyl Fences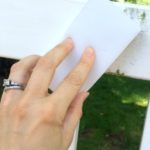 Advertisements
If you have a vinyl fence in your backyard, then you know how tricky it can be to keep it clean. This one area that often ends up covered in tough dirt stains. From caked-on mud to unwanted mold, it often feels like an impossible task to tidy up.
You could pressure wash your fence, but if there is leftover grime, clean it with a Magic Eraser. Just dampen the eraser sponge and wipe down the vinyl. This will erase all of that unsightly dirt, and your neighbors will think you had a new fence installed. 
Advertisements
21

Remove Red Stains From Tupperware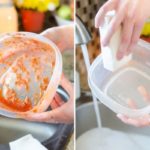 Advertisements
Have you ever kept leftover spaghetti only to discover a red stain on your Tupperware? It seems like no amount of scrubbing will get rid of that stubborn stain. Don't give up and throw away your Tupperware because we have a tip for you. 
The next time you want to remove leftover red sauce from a plastic container, try washing it with a Magic Eraser. It will be good as new with a few simple steps. Just sprinkle a bit of baking soda into the container, apply water, and rub it with a Magic Eraser. Finally, rinse any residue from the container.
Advertisements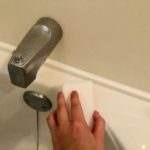 Advertisements
Magic Erasers aren't just for the kitchen. They work great for cleaning other rooms in the house. The bathroom is one location that often gets super dirty, especially the bathtub. Don't let water stains or mold and mildew keep you from enjoying a nice, warm bath.
Try cleaning your tub with a Magic Eraser. It can slide into those tough-to-reach spots. Apply a warm, moist eraser sponge to any area that needs attention. From tile grout to dirty faucets, a Magic Eraser will have your bathroom looking sparkling and clean. You'll thank us for this tip later, we promise. 
Advertisements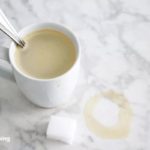 Advertisements
Have you ever left a cup of coffee sitting on your counter, only to discover it left a ring when you later picked it up? Don't let an unsightly coffee stain ruin your beautiful countertops because this next hack will clean it up in a jiff. 
We've already established that a Magic Eraser can remove permanent marker and nail polish from surfaces, so it's no surprise that it works just as well on coffee stains. Just run the sponge under warm water and scrub it over the ring. Your countertop will be ring-free in no time. 
Advertisements