These Common Foods Can Naturally Clean Your Home
1

Clean Microwaves With Lemon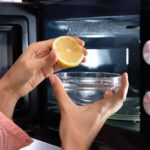 Advertisements
When you put foods in the microwave, they have a tendency to end up all over the inside of your appliance. If you don't wipe it down right away, the foods stubbornly adhere to the metal, making it nearly impossible to fully clean your microwave. However, with a bit of lemon juice, you can have this handy appliance looking nearly brand new.
Simply put half a cup of water into a bowl. Then, squeeze the juice of one full lemon into the water and drop the rest of the lemon into the bowl. Place the bowl in the microwave and allow it to run for three minutes. Once the timer goes off, let the bowl sit for another five minutes before you open the door. When the five minutes is up, remove the bowl and wipe down the microwave. Those stubborn food particles should slide right off with minimal scrubbing, leaving a clean microwave behind.
Advertisements
2

Shine Silver With A Banana Peel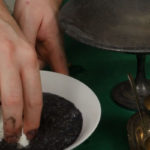 Advertisements
If you're dealing with tarnished silver, whether on your kitchenware, your jewelry, or any other silver items, a banana peel offers a solution to return your things to their former shine.
First, place a banana peel into a blender and turn it into mush. Then rub the mush into your silver and gently wash it away. The banana will help to take away the corrosion. With this simple method, you can easily ensure none of the silver in your home ever loses its shine.
Advertisements
3

Clean Copper Pots With Ketchup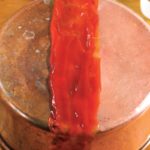 Advertisements
If copper pots are your cookware of choice, then you know how difficult it can be to keep them clean. While copper pots hold heat well and are easy to cook with, they also tarnish easily. Ketchup, however, might provide a solution to this common problem.
Next time you clean your copper pots, grab a bottle of ketchup. Smear the ketchup onto the pot and massage it into the cookware as you would soap. The ketchup should help to clear away the discoloration, leaving bright, sparkling pots behind.
Advertisements
4

Mop Floors With Rosemary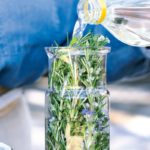 Advertisements
Rosemary isn't just for seasoning your favorite dishes. This handy plant also has anti-viral and anti-bacterial properties, making it the perfect natural solution to clean your home. Of course, you can't just rub rosemary all over your floors. Instead, you'll need one other common food product: white vinegar.
Grab a big bunch of rosemary and pop it into your container of white vinegar. Then, allow the container to sit in the fridge for two weeks to allow the rosemary to infuse into the liquid. After that's done, use the vinegar solution to clean your floors. The rosemary combined with the white vinegar will get rid of any dirt and grime. Plus, your house will be infused with the pleasant smell of rosemary when you're done.
Advertisements
5

Clean Cookware With Cream Of Tartar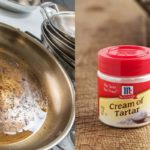 Advertisements
There's one big problem with aluminum cookware. Whether pots, serving spoons, utensils, or any other kitchenware, aluminum cookware becomes easily tarnished, especially if it's run through the dishwasher. Much of your aluminum utensils will end up with a gray-ish residue that won't come off, no matter how long and hard you scrub with soap.
Now, you can put the soap away and grab cream of tartar instead. Wash your aluminum utensils first with cream of tartar, then rinse with warm water. The cream of tartar will remove the gray discoloration, returning your utensils to their former shine.
Advertisements
6

Remove Gum With Peanut Butter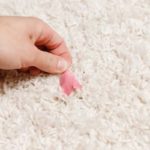 Advertisements
Gum is meant to stay in your mouth, but that's not always what happens. Sometimes, gum accidentally ends up in inconvenient places, such as your carpet. But instead of panicking, grab your jar of peanut butter and get to work.
Rub the peanut butter over the gum and slowly massage it into the carpet. With a little work, the oils in the peanut butter will loosen the gum's grip on the carpet. Once that happens, you'll be able to easily scrape the gum away. Then you can clean the peanut butter from the carpet with just a bit of soap and water.
Advertisements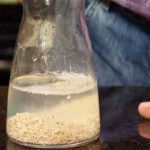 Advertisements
Vases are perhaps the most difficult thing to clean. If you don't have a bottle brush on hand, finding a way to scrub the bottom of the vase is nothing short of impossible. However, a little rice can solve your problem.
Next time you have to wash a vase, start by putting a bit of rice at the bottom. Then add some soap and water to the container. Once that's done, swirl the contents around the vase, allowing it to touch on every hard-to-reach area. The rice is just abrasive enough to scrub away any stubborn gunk. Once you're done, pour the rice and soapy water into the trash can or down the disposal and rinse your perfectly clean vase.
Advertisements
8

Remove Rust With Potatoes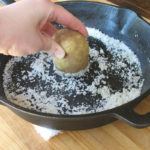 Advertisements
Rust can, unfortunately, settle onto any kind of iron or steel surface. That means your baking pans, knives, and cast iron cookware are all susceptible to rust. Not only does it make your cookware look unclean, but it's also not something you want to make its way into your food. Thankfully, you can banish rust from your cookware forever with just a bit of potato.
Next time you notice something rusty in your kitchen, grab a potato and slice it in half. Cover one of the halves with a bit of dish soap and salt. Then rub down your rusty cookware with the potato. The salt will scrape off the rust and the dish soap will clean, but the potato will do most of the work to restore your cookware to its former glory. This handy starch contains oxalic acid, which helps to naturally remove rust.
Advertisements
9

Clean Grout With Vinegar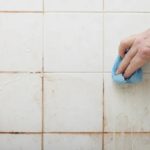 Advertisements
Cleaning the grout between your kitchen or bathroom tiles is quite the task. Oftentimes, it requires a lot of scrubbing for less-than-impressive results. But with a little vinegar, you can have your grout looking brand new.
Simply dump some vinegar onto your floor, ensuring it gets into the grout specifically. Allow the vinegar to sit for roughly an hour, then scrub the grout with a toothbrush. The vinegar will help to loosen all that stubborn grime, allowing your toothbrush to easily wash it away. With just a little elbow grease, your grout will be clean and grime-free.
Advertisements
10

Remove Water Stains With Mayonnaise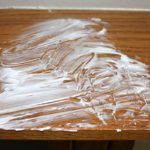 Advertisements
While it's best to always use a coaster when placing glasses on wood surfaces, someone always manages to forget. This mistake, unfortunately, leads to yucky water stains that mark the appearance of your favorite furnishings. However, all hope is not lost. With a bit of mayonnaise, you can banish those water stains for good.
As soon as you notice the water stain, slather mayonnaise over the entire affected area. Then allow the mayo to sit overnight. In the morning, wipe the area clean. If caught early enough, the mayo should lift the stain right out. It can even polish your wooden furniture, so the affected area might look even better than before.
Advertisements
11

Clean Garbage Disposals With Orange Peels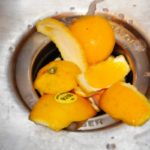 Advertisements
While garbage disposals are an easy way to rid yourself of your food scraps, they're also difficult to keep clean. If you allow food residue to continue building up in the disposal over time, you'll end up with a nasty smell that invades your entire kitchen. To keep your garbage disposal stench free, clean it every so often with orange peels.
In order to clean the disposal, you simply have to put the orange peels down the drain and allow the disposal to run. If you want an extra dose of clean, soak the peels in vinegar first. The citrus and vinegar will help to disinfect the disposal, while the orange will keep it smelling sweet. After you're done, you should notice a faint, but pleasant aroma of oranges in your house.
Advertisements
12

Wipe Up Broken Glass With White Bread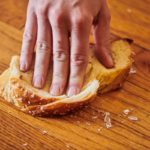 Advertisements
Something as simple as white bread isn't only delicious, it's also the perfect cleaning supply when you're in a bind. If you happen to break a glass, the most worrisome part is the small pieces that often evade your broom. While these pieces aren't visible to the eye, they can be disastrous if they get lodged into your skin.
If you don't have a vacuum on hand, grab a piece of white bread. Gently push the white bread along the floor where the glass broke. The bread will pick up those tiny, non-visible pieces, ensuring no glass ends up in your feet.
Advertisements
13

Clean Your Dishwasher With Tang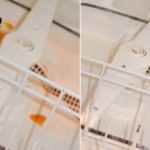 Advertisements
Remember Tang? This powdered orange drink was originally created for astronauts, but it was all the rage a few decades ago when it was released to the general public. Since then, Tang's popularity has steadily increased, especially as people become more conscious about their health and realize there are better alternatives. Still, Tang can serve one very important purpose: cleaning your dishwasher.
Next time you need to clean your dishwasher, grab some Tang. Run the empty dishwasher for two minutes, then stop it. Pour Tang into the detergent container and sprinkle it along the bottom rack. Then complete the dishwasher cycle. The citric acid in Tang is perfect for cleaning and disinfecting, allowing it to keep your dishwasher running smoothly and eliminating any pesky hard water stains.
Advertisements
14

Remove Scratches On Wooden Furniture With Walnuts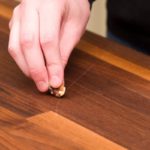 Advertisements
While scratches on your wooden furniture don't mean your house is dirty, they certainly affect the pristine look of your home. However, walnuts surprisingly provide the perfect solution to ridding your wooden furniture of scratches for good.
Next time you notice a scratch, grab an unshelled walnut and gently rub it over the mark. The oil in the walnut should help to remove the scratch, restoring your furniture to its former glory. However, walnuts work best on shallow marks. If you're dealing with a deep scratch, you may have to look into another cleaning solution.
Advertisements
15

Clean Grills With Onions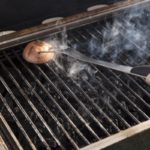 Advertisements
When you fire up the grill, you first have to clean the grate before you can throw new food onto the barbecue. Thankfully, you don't have to waste time scrubbing your grate will all kinds of chemicals. Instead, an onion is just the thing you need to get your grill clean.
When you turn your grill on, stab half an onion with a fork. Then run the onion along the hot grate. The onion will help to disinfect and remove stubborn grime, leaving your grill clean and ready for the next batch of food. Plus, with this all-natural method, you don't have to worry about chemicals finding their way into your food.
Advertisements
16

Clean Tubs & Sinks With Grapefruit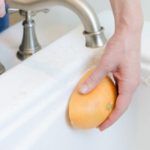 Advertisements
Cleaning the tub and sink in your bathroom is somewhat of a challenge. It's not that it's particularly hard, but the chemical agents we often used to clean our bathtubs often result in a sickening smell that takes a long time to disappear. But now, you can clean and disinfect your tub and sink using an all-natural ingredient: grapefruit.
Cut the grapefruit in half and sprinkle the top with plenty of salt. Then rub the grapefruit around your tub and sink, gently squeezing out the juice as you scrub. Once you're done, all you have to do is rinse. The grapefruit will get rid of all that dirt and grime and leave your bathroom smelling pleasantly of citrus.
Advertisements
17

Remove Marks From Walls With Cucumbers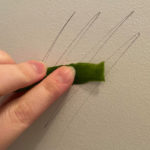 Advertisements
The walls in your home tend to accumulate certain scuffs and marks over time. Even if you don't have children running crayons down the wall, bumping into the plaster while moving furniture or scuffing it with your shoe all lead to scratches that don't easily come off. With a cucumber, however, you can clear your wall of all those pesky abrasions.
Simply take the peel off a cucumber and gently rub it against the marks on your walls. The cucumber will buff out any scrapes or crayon marks, leaving a smooth, clean wall behind. Plus, cucumber is an entirely natural cleaning solution, eliminating the need to spray harsh chemicals all over your walls.
Advertisements
18

Clean Cutting Boards With Lemon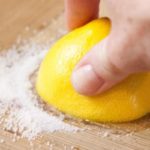 Advertisements
Just like your kitchen counters, your cutting boards also need to be cleaned and disinfected regularly. While you can scrub your cutting boards with a bit of dish soap and a sponge, you can get an even more effective clean with a bit of salt and lemon.
After using your cutting board, sprinkle the surface with salt. Then take half a lemon and run it back and further over the cutting board. The lemon helps to get rid of odors, while the salt is just abrasive enough to clean the cutting board of any lingering bacteria. Once you're done scrubbing, rinse the cutting board with water and allow it to dry before using it again.
Advertisements
19

Clean Wine Stains With Salt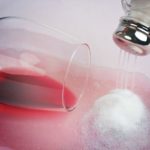 Advertisements
There's always a certain amount of risk involved when drinking red wine. If you happen to spill a bit of the liquid on your carpet or clothes, you're pretty much cursed with a stain that will never come out. Thankfully, salt is one of the foods that can clean a stubborn red wine stain.
As soon as you notice the spill, pour a healthy amount of salt onto the stain. Allow the salt to sit for a while, or until you're ready to wash the article of clothing. The salt will help to soak up some of the excess liquid. What's more, it will keep the stain from setting into the fabric, allowing it to come out with a gentle wash.
Advertisements
20

Mop Floors With Freshly Brewed Tea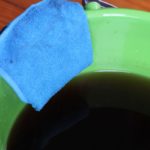 Advertisements
Finding safe products to clean your wooden floors doesn't have to be difficult. In fact, making your floors shine is as simple as brewing a pot of tea.
Next time you have to mop your wooden floors, boil a couple of tea bags in a liter of water. Once the water has cooled, dip a soft cloth into the mixture and use it to scrub your floors. The tea will not only gently cleanse the wood, it will also get rid of any lingering odors. Once you've cleared away the grime, dry the floors with another soft, clean cloth.
Advertisements