Genius Car Cleaning Tricks That You'll Wish You Knew Sooner
Advertisement - Continue reading below
Car maintenance is important if you want to keep the value of your vehicle. It's costly to pay professionals to wash and detail your car. We've compiled a list of car cleaning tips and tricks that will keep cash in your pocket and your automobile looking brand new. All it takes is a handful of household items and a bit of elbow grease. You won't believe how simple it is to clean your car like a pro.

1

Dust Your Car With A Coffee Filter
Does your dashboard feel act as a magnet for dust? We have a car cleaning tip that will make dusting your dashboard a breeze. All it takes is a coffee filter and a dab of vegetable oil. Rub the filter on an area you want to clean and watch the lint vanish.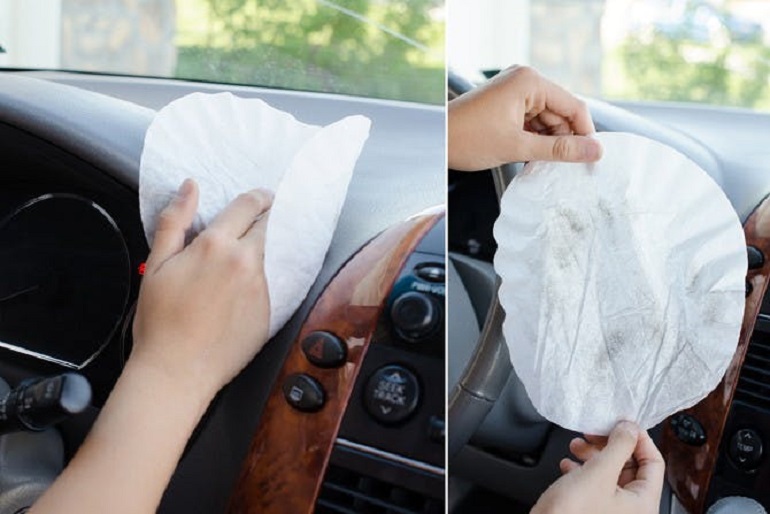 You can also swipe a coffee filter over your leather seats or the car's console for an amazing shine. This cheap alternative is so simple and you don't have to worry about washing a dirty rag. They're compact and easy to store. Just stash some in your glove compartment for easy access.
Advertisement
Advertisement
Advertisement
Advertisement
Household Fact
Did you know that, on average, a woman spends between 16 and 17 hours a week doing household chores? Whether she's a woman at home or a businesswoman who has to balance work and family, the average remains about the same. While such a number of hours seems immense even for the woman at home, imagine how the businesswoman can seem to lack the time to have a life outside of her mandatory occupations? It's several hours that could be used for many other purposes that are certainly more fun, but that will also have a very positive impact on her physical and mental health.
Vacuuming or watching a TV show?

Dusting all the furniture in the house or having a drink with friends?

Washing dishes or spending time with family?
The choice is pretty obvious…Thanks to our tips and tricks articles, you'll be able to save a lot of time on housework and enjoy more the good things in life!