Genius Car Cleaning Tricks That You'll Wish You Knew Sooner
1

Dust Your Car With A Coffee Filter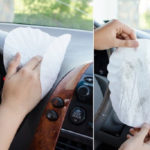 Advertisements
Does your dashboard feel act as a magnet for dust? We have a car cleaning tip that will make dusting your dashboard a breeze. All it takes is a coffee filter and a dab of vegetable oil. Rub the filter on an area you want to clean and watch the lint vanish.
You can also swipe a coffee filter over your leather seats or the car's console for an amazing shine. This cheap alternative is so simple and you don't have to worry about washing a dirty rag. They're compact and easy to store. Just stash some in your glove compartment for easy access.
Advertisements
2

Olive Oil As Leather Polish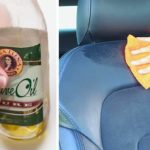 Advertisements
If you have leather seats in your automobile, it's important to give them more care and attention since they're made of a natural material. Without regular maintenance, your seats can fade or crack. Here's a car cleaning secret that will keep your leather looking glossy and healthy.
Treat your seats with olive oil to ensure they don't get weathered. Add a bit of olive oil to a cloth and polish your leather in a circular motion. We love that this is a kitchen staple that most people already have in their kitchen cabinet.  
Advertisements
3

Remove Car Odors With Baking Soda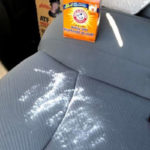 Advertisements
There is nothing worse than owning a stinky car. Between unwanted pet odors and stains left by messy kids, it's all too easy to discover a foul smell lingering in your vehicle. Don't panic because we have an inexpensive and simple cleaning hack that will give your automobile that new car smell once again.
Sprinkle baking soda over any spills or stinky areas. Rub it in and let the baking soda set in for a few hours. After the allotted time, vacuum up the baking soda. This should make all nasty odors disappear without a trace.
Advertisements
4

Use Newspaper To Clean Windows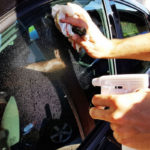 Advertisements
There are long-standing cleaning tips that are more than just myths. Professionals have been cleaning windows with newspapers for generations and for good reason. Rags and towels often can leave streaks behind when used to wash windows. Paper towels can even create slight scratches.
A newspaper has tight fibers and is non-abrasive, so it won't scratch your windows. Just spray window cleaner and rub the newspaper in a circular motion. Then wipe up and down to clear up any streaks and absorb all the liquid cleaner. Your windows will be so sparkly. We love this idea because it's cost effective.
Advertisements
5

Raw Onion For Burn Stains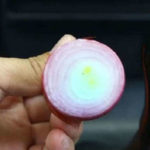 Advertisements
If you discover an unsightly burn stain on your car upholstery, then you know how challenging it is to remove it. We have a simple solution for handling burns on your leather or vinyl seats in the produce section of your local grocery store. Use a raw onion to reduce the appearance of a burn.
Cut an onion in half and apply it to the spot you desire to erase. Leave it on there for a few minutes and then gently blot it with warm water. You'll be impressed with how much raw onion juice can reduce the visibility of that unwanted stain.
Advertisements
6

Clean Vents With Foam Paint Brush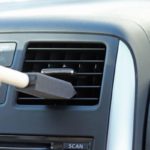 Advertisements
Another area that collects dust in cars is the air conditioner vents. It's so important to keep those dust-free, but it's challenging to clean them with a rag or towel. We have a genius solution that won't cost an arm and a leg to buy.
Use a foam paintbrush to remove dust from your vents. It slides between the blades with no problem. Just swipe the brush between the vents to gather up all that dirt and grit. You can purchase these foam brushes online and they aren't very expensive. That's a win/win in our book. 
Advertisements
7

Spray Lysol Into Stinky Air Conditioner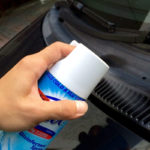 Advertisements
Your car's air conditioner can be a breeding ground for bacteria and mold. If you smell an unpleasant odor blowing from your vents, then you need to take quick action. The last thing you want is to breathe in toxic fumes. There is a quick solution that can save you on repair costs. 
Use a can of Lysol spray to eliminate that nasty smell and kill dangerous bacteria. Turn your car on, blast the air conditioner, roll down the windows, and spray Lysol into the air conditioner intake vent at the bottom of your windshield on the hood of your car. 
Advertisements
8

Dish Soap For Cleaning Hubcaps
Advertisements
Does your car's hubcaps look grimy and muddy? Don't pay top dollar to have them professionally cleaned. There is a cleaning tip that will make your tires look shiny and new. You just have to mix a few common ingredients to make a super cleaning solution.
According to POPSUGAR, just mix one tablespoon dish soap, two cups of warm water, and a half-cup of baking soda in a bowl. Wash the tires and hubcaps with a sponge or rag. Rinse with water, step back, and marvel at how clean your hubcaps are.
Advertisements
9

Streak-Free Windows With Shaving Cream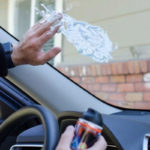 Advertisements
It can be so annoying to defrost your windshield in the winter months only to have the glass fog up. This next hack will keep your windshield fog-free, and all you need is a can of shaving cream. Just place a bit of shaving cream on the inside of your windshield and wipe it off. It's really that simple. 
How does it work? The shaving cream acts as a protective film over the glass and keeps condensation from collecting. No more streaky or foggy windows. You can also use this tip on your side-view mirrors. 
Advertisements
10

Use A Sock To Clean Your Cupholder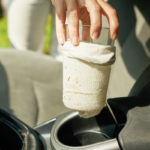 Advertisements
It doesn't take much to end up with filthy cup holders in your car. If cupcake molds aren't your thing, then we have another tip to help keep that area clean. All you need is a sock, a travel cup, and a bottle of Windex.
Place the sock over the cup, spray it with Windex, and dip the sock-covered cup into the cup holder. Swish it around until the cup cleans up all the muck. You may have to twist the cup a few times if it's extra dirty in there. Either way, this is an excellent way to clean out that tiny space.
Advertisements
11

Use A Toothbrush For Detailing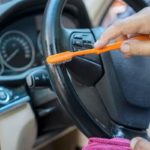 Advertisements
This next tip is a secret that expert car cleaners have known and often use when cleaning the interior of cars. All it takes is one surprising tool that you can buy at your local drugstore. Use a soft-bristled toothbrush to detail the inside of your automobile and you will see amazing results.
It's perfect for getting dirt and grime out of those tough to reach nooks and crannies. You can also use a toothbrush to shine the steering wheel and dashboard. By the time you're finished cleaning, your car will look like a pro detailed it.
Advertisements
12

Remove Stickers With A Blow Dryer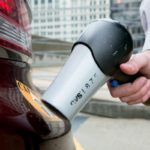 Advertisements
Many drivers put bumper stickers on their cars only to have their interests change. Now they're stuck with an outdated sticker on their vehicle. Have no fear because we have a safe and effective way to remove it that won't damage your car. 
You can remove it with heat and use a blow dryer. Use the low setting on your dryer and blow the nozzle 6 inches from the unwanted sticker. Blast the air on it evenly for 60 seconds. The heat will loosen the sticker and allow you to place a credit card under the corner. Gradually peel the sticker off. 
Advertisements
13

Wash Your Car With Hair Conditioner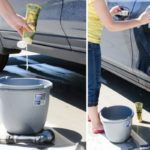 Advertisements
If you're hoping to shine your car but don't want to break the bank paying for supplies, then try washing your car with this common hair product. Hair conditioner can double as car wax. Most hair conditioners contain lanolin and silicone, which is what makes your hair look shiny.
These two ingredients will make your car sparkle and be resistant to watermarks. The key is to make sure that the conditioner contains lanolin. Wash your car with soap as you normally do, then mix 2 cups of water with half a cup of conditioner in a bucket. Apply with a cloth and rinse.
Advertisements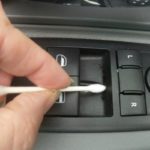 Advertisements
Wondering how to keep those tiny nooks and crannies in your car clean? This next hack uses a common personal item that you probably have waiting in your bathroom drawer. Q-Tips are amazing tools for clearing out those dirty crevices in your vehicle.
These handy little cotton swabs are just the right size to clean all the tight spots that often accumulate dust and gunk. Q-Tips make detailing go so much faster and do a brilliant job of getting to those hard-to-reach places. No need to waste your money on expensive cleaning brushes when you can purchase a pack of Q-Tips.
Advertisements
15

Vaseline To Prevent Dashboard Cracks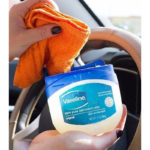 Advertisements
Looking for a cleaning hack that will keep your dashboard from cracking? Then you'll want to pay attention to this tip. This is one area of your vehicle left vulnerable to sun and heat damage, so it's important to be proactive. The solution may be closer than you think. Look no further than your medicine cabinet.
Apply a slight amount of Vaseline onto a clean rag and spread it over your dashboard in circular strokes. Not only does this trick prevent cracks, but it also serves as a polish and will leave your dashboard looking shiny.
Advertisements
16

Line Cup Holders With Muffin Cups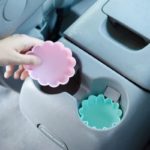 Advertisements
Car cup holders are another place that often gets messy. Between spilled coffee or soda, it can become a sticky situation. This next tip will make cleaning it a breeze and keep your cup holders mess-free. Purchase a pack of silicone muffin cups and line your cup holder with them. 
These cups fit so perfectly that it seems like they were made for this purpose alone. You can easily remove them for cleaning and they will prevent nasty grime from collecting. Men will like this solution because it's economical and ladies will like that it adds a cute pop of color to their vehicle's interior. 
Advertisements
17

Clean Dirty Headlights With Toothpaste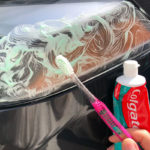 Advertisements
Have you noticed that your car headlights aren't as bright as they used to be? Don't let dirty headlights get you down. We have a smart solution that is both quick and cost-effective. The only supplies you'll need are toothpaste, a towel, and water for rinsing. Squeeze some toothpaste onto the towel and apply it to the dingy headlight. 
Scrub the toothpaste over the entire headlight and watch the grime wipe away. Rinse with water and wipe away the excess toothpaste. You will not believe your eyes when you see how clean and shiny this hack leaves your car's headlights. 
Advertisements
18

Remove Dead Bugs From Grill With Dryer Sheets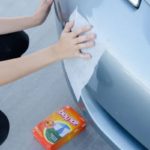 Advertisements
If you've ever been on a long road trip then chances are, you've ended up with dead bugs stuck to your bumper. We have an easy and inexpensive way to clean up the carnage, and you might just find it in your laundry room. Dryer sheets are effective in removing stuck bugs from cars.
The steps are simple: fill a spray bottle with water, place a balled-up dryer sheet in the bottle, and spray the bumper. Then you rub a dryer sheet over the smashed bugs and watch them come right off. It will have your bumper bug-free in no time.
Advertisements
19

DIY Slime To Remove Dust And Dirt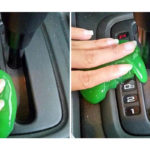 Advertisements
Sometimes, cleaning up certain residues such as dust or food crumbs can be more complex in certain areas, especially where there are many details in the material, or where there are buttons of all kinds, such as the gear arm or the armrest on the car doors. However, if you have a few specific ingredients at home, you can easily make a slime that will solve your problem!
All it takes to make this glue is a bowl, 1 1/2 cups of hot water, 1 measuring cup, 5 ounces of school glue, 1/2 teaspoon of Borax Laundry Booster and your choice of colorant. First, mix Borax powder with 1 cup of hot water and set aside. Then, in the bowl, mix the glue, remaining hot water and coloring. Finally, combine the two mixtures!
Advertisements
20

Clean Wiper Blades With Rubbing Alcohol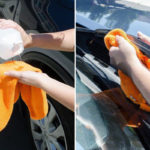 Advertisements
Are you tired of your windshield wipers leaving streaks when you use them in the rain or to clean the glass? Even if you spray the windshield with wiper fluid, they just seem to leave splotchy lines. Don't rush to replace your wipers if you bought them within the last 6 months. 
We have a hack that will save you time and money. Wash your wipers with wiper fluid, then clean the blade with a small amount of rubbing alcohol on a rag. This will eliminate any soap residue left on the wiper and keep them from being streaky. 
Advertisements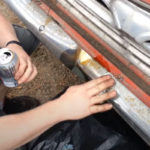 Advertisements
You've probably heard the old wives' tale of using Coca-Cola to remove car rust. It's not just an urban myth, you really can eliminate rust by pouring soda over it. So, how does it work? The secret ingredients are carbonation and phosphoric acid.
The carbonation breaks up the rust while the acid eats it up. It's a cheap alternative to commercial rust removers. All you do is pour the cola over the spot you wish to remove, rub it in with a folded piece of aluminum foil, and rinse it with soap and water. Your car will look good as new.
Advertisements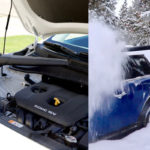 Advertisements
If you have a leaf blower at home, it's the perfect tool to take care of your car, summer or winter! When you clean the outside of your car, we recommend using a leaf blower to dry it well, but also to take care of the underside of your hood. Put the leaf blower under your hood before cleaning your car to make sure that any leaves, dirt and dust that may have accumulated are removed, then when your car is clean, return it under the hood with the leaf blower to dry out any water that may have gotten in to prevent muddy buildup.
In winter, the leaf blower can not only save you time, but also physical effort! It has snowed and you have to clear the snow from your car before using it? Take your leaf blower and blow away the snow! Your car will be cleared of snow in no time at all!
Advertisements