Here Are The Best Car Tricks For Smooth Driving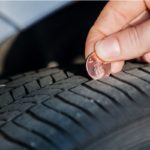 Advertisements
It's important to have your car's tires rotated when getting your vehicle serviced and it's just as crucial to keep track of the tread depth on your tires. Luckily, we have a trick that makes it easy to check your tire's tread at home. It's a tried-and-true method called "The Penny Test".

spa
Put a penny headfirst into the tread grooves across the tire. If you can see the top of Lincoln's head, then the tire's treads are worn. If the tread covers Lincoln's head then you have the necessary 2/32 of an inch of tread depth left on your tire.
Advertisements
2

Keep Take Out Food Warm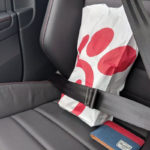 Advertisements
There's nothing worse than picking up fast food through the drive-through and hitting traffic on the way home. By the time you sit down to eat, the food is totally cold. Nobody likes that. Well, we have the perfect solution that is so simple, just about anyone can pull it off, as long as your car has seat warmers.
Use your car's seat warmers to keep your food toasty. Place the bag or pizza box on the passenger seat, strap it in with the seatbelt, turn on the warmer, and your food will be at the perfect temperature when you arrive at your destination.
Advertisements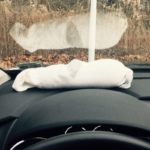 Advertisements
If winter weather causes your windshield to fog, then you'll love this next tip. We discovered a clever way to fight an icy windshield and the only supplies you'll need are a tube sock, a bag of kitty litter, and a roll of packing tape.
Place the roll of tape at the top of the sock and place it into the middle to widen the cuff. Fill the sock up with kitty litter, remove the tape roll, and tie the sock off. Place the litter-filled sock on your windshield and it will absorb any condensation. Non-clumping litter works best for this trick.
Advertisements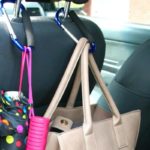 Advertisements
If you're looking to clear up space in your car, we have an inexpensive trick that will give you a bit of extra storage space. Place a carabiner or two on the front seat head supports. This handy little tool works great as a hook.
You can hang essentials from the carabiners like a purse, grocery bags, or any other item you wish to get out of the way. We like this hack because it's so simple and budget friendly. Everything you need will be within arm's reach and you won't have messy floorboards anymore.
Advertisements
5

Cereal Container Trash Bin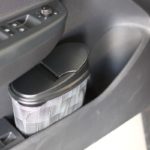 Advertisements
It's all too easy for trash to accumulate in your car. Straw wrappers, receipts, candy wrappers, and any other form of trash often gets tossed aside and before you know it, the car is a mess. There are small car trash cans on the market, but those can be pricey.
We have an excellent tip that will make your wallet happy. A small cereal or food container box works great as a trash receptacle. You can even find one small enough to fit into the side door compartment. This makes cleaning up a breeze and your car will be clutter-free in no time.
Advertisements
6

Tennis Ball Garage Hack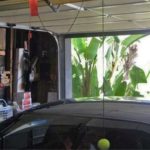 Advertisements
Pulling a car into the garage can be challenging. Pull in too far you might hit the wall or pull in too little and the garage door might hit the car. There is a trick to help you gauge the proper distance and all you need is a tennis ball and some string.
Tie the tennis ball onto the string at the distance between the windshield and the garage ceiling. Then affix the string to the ceiling in the place you want your windshield to be when the car is parked. Now you have the perfect guide to help you stop in just the right place.
Advertisements
7

Hand Sanitizer For Frozen Locks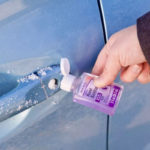 Advertisements
We have another handy hack for those who live in colder climates. Don't let frozen car locks slow you down because this solution is perfect for cleanup in a hurry. Keep hand sanitizer in your car because it works great for de-icing those pesky locks.
If you discover that the car lock is frozen shut, squeeze a bit of hand sanitizer on the lock or onto your key before unlocking your car. The alcohol in the sanitizer melts the ice in no time and you'll be able to slide the key in with ease. No more winter blues for you.
Advertisements
8

Parking App To Find Your Car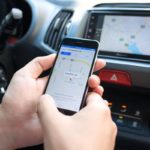 Advertisements
Have you ever stepped out of a store and into the parking lot only to discover that you have no idea where you parked your car? It's no fun to spend your precious time wandering around the lot in search of your vehicle. Quit pushing that key fob in a panic because there's an easier way.
You can download an app that will tell exactly where you parked your car. There are many parking apps on the market, so just check the app store to find the one that's right for you. This tip is perfect for that forgetful person in your life.
Advertisements
9

Hot Steering Wheel Hack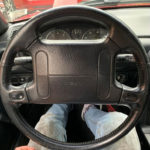 Advertisements
There are some car hacks that are so simple it's shocking once you learn them. We have a tip that can keep your steering wheel cool on a hot day. It's so insulting to enter your car after it's been sitting in the sun for hours, only to burn your hands on the steering wheel.
Why not turn your steering wheel upside down before you exit the car? That way, you can simply spin it around when you return, and the wheel will be nice and cool to the touch. No more blowing on your fingers while you wait for the steering wheel to cool off.
Advertisements
10

Nail Polish Chip Trick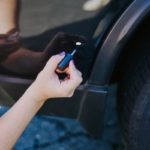 Advertisements
From road debris to someone smacking your vehicle with their car by accident, the exterior of your vehicle is vulnerable to dinks now and again. Don't spend too much cash on costly body work because there's a cheap way to cover that scratch.
All you need is a bit of nail polish. First, wash your car and wait for it to dry completely. Grab a bottle of nail polish that mostly matches the color and sheen, and apply the polish on top of the scratch. You might have to give it two coats.
Advertisements
11

Dryer Sheet Air Freshener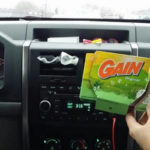 Advertisements
Frugal car owners are always looking for ways to save money when it comes to their automobile. If you discover a nasty smell in your car, don't go to the store and buy costly air fresheners because we have a tip to get your car smelling nice and fresh at a fraction of the cost.
You may even have the solution waiting for you in your laundry room. Dryer sheets work really well as air fresheners. Just place a few sheets in the air conditioner vents and the scent will circulate throughout the vehicle. You can even leave a box under your seat.
Advertisements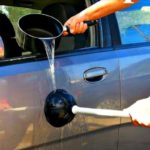 Advertisements
If you discovered a dent on your car, don't despair because we have a hack that might just get that dent out. It's called "The Plunger Trick" and it's exactly what it sounds like. You just need two supplies: a pot of boiling water and a plunger.
First, pour the boiling water over the dent to soften the material. Then place the plunger over the indention and pull back. The dent will miraculously pop out. You may have to do this a few times before the surface totally flattens out. Just be aware that this hack works best in warm weather.
Advertisements
13

Pool Noodles Plug Gaps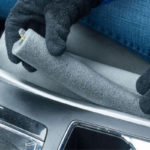 Advertisements
Is your car always messy? One spot that seems to collect the most debris is the space between the middle console and the car seats. Straw wrappers, ketchup packets, and dirt fall easily between the cracks. Then, it can be hard to fit your hand in the crack to clear out the junk.
A pool noodle can actually be used to prevent trash from collecting in that area. Slip the noodles down the side of the car seats. This will plug up that gap and make cleanup quick and easy. We love using tools for more than their expected use.
Advertisements
14

Bungee Cord Paper Towel Holder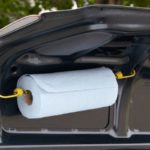 Advertisements
The folks over at Familyhandyman.com asked readers to share their favorite bungee cord hacks and one reader, Donald Boland, sent in a genius suggestion. He offered a fantastic solution for storing emergency paper towels in your trunk that you'll be excited to try. So grab a bungee cord.
"Here's a tip I learned from my father. Attach a roll of paper towels to the inside of your car trunk lid with a short bungee cord. The towels will be handy but won't take up space (or get wrecked) rolling around your trunk," Boland wrote.
Advertisements
15

Headrest Emergency Tool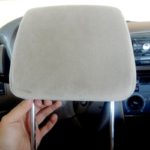 Advertisements
We have a safety tip that might just get you out of a jam. Your seat headrest can be used to help you escape from your car if you're ever trapped. Although this may not be part of their initial design, headrests in most cars can be detached.
Once you've pulled off the headrest, you can slam one of the pegs into the corner of the car window a few times, but be sure to turn your face to protect your eyes from broken glass. This trick takes a good deal of strength, so it might take a few hits to actually break the window.
Advertisements
16

Gum Container Coin Collector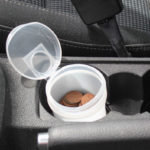 Advertisements
Many people like to collect loose change in their car. It's easy to toss pennies and dimes into the nooks and crannies of your car, but sometimes that change can take over the storage space in your vehicle. It can also be a pain to gather it up.
There's a cheap and simple way to collect those quarters and nickels. An empty chewing gum container can double as a portable piggy bank in your car. They're the perfect size to fit in a cup holder and easy to remove when you're ready to spend that cash.
Advertisements
17

Rubber Band Phone Mount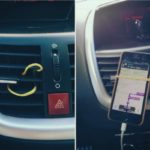 Advertisements
Many states have hands-free laws which means drivers need a safe place to store their cell phones while driving. Don't spend your hard earned money on cell gadgets for your car. You can use a rubber band to keep your cell at your fingertips. It just takes 3 easy steps.
First, slip the rubber band through the top area of the air-conditioning vent. Then, grab the end of the rubber band and pull it around one of the horizontal plastic pieces, creating two loops. Finally, slip your phone into the loops to hold it in place.
Advertisements
18

Warm Up Windshield Wipers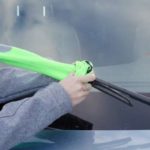 Advertisements
Have you ever been late to work because you were forced to pry icy wipers off your car's windshield? People who live in winter climates know this scenario all too well. Don't leave your car vulnerable to nasty weather because we have an easy solution that won't break the bank.
Store a pair of socks in the glove compartment during the colder months. If a cold snap is forecasted for your area, grab those socks and slip them over your windshield wipers the night before to stop them from icing over in the morning. It's as simple as that.
Advertisements
19

Rubber Gloves For Pet Hair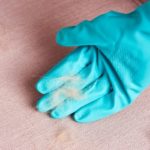 Advertisements
Pet owners will want to take note of this next car cleaning trick. If you have unwanted pet hair in the upholstered seat of your car, don't bother buying expensive chemical cleaners because there's a cheap and easy way to clean it up.
All you have to do is run a latex rubber glove over the seat. Who knew it could be so simple to remove pet hair from your car? The friction of the glove against the fabric makes static electricity which makes the hair stick to the glove. This hack works wonders for picking up all that fuzz your 4-legged friend left behind.
Advertisements
20

Shoe Organizer For Road Trips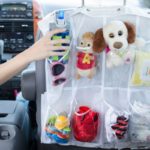 Advertisements
If you ever plan to take a road trip with children, then you know how hard it can be to keep them entertained in the car. Organization is the key to a smooth travel experience. A useful idea is to place a shoe organizer on the back of the front seats.
You can place toys, snacks, wet wipes, and whatever else you may need while on the road in the pockets. Everything will be within reach and this keeps your vehicle nice and tidy. No more fussing kids or nasty mess to clean up when you arrive at your destination.
Advertisements
21

Eco Chip To Save Money On Fuel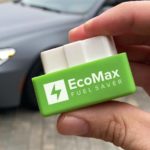 Advertisements
With the price of fuel constantly on the rise, it is becoming discouraging to fill up. It becomes a potential cause of stress for some, which can even lead to a decrease in car use. However, there is an effective way to reduce your fuel bill considerably!
There is now an Eco Chip that, once installed in your car, analyzes your driving behavior in order to improve the fuel efficiency of any car. In the end, your fuel consumption will improve, without even reducing the power of your engine, leading to a lower bill every time you fill up!
Advertisements