Amazing Organization Tricks To Help Get Your Home In Order
1

Put a Tension Rod Under Your Sink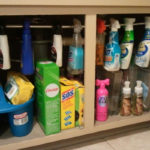 Advertisements
The cabinet underneath your sink is the perfect place to house spray bottles and other cleaning supplies. While those kitchen essentials are hidden from view, shoving all those products into one cabinet often leads to a disorganized mess that's difficult to navigate.
To add some order to your cleaning supplies, put a tension rod underneath your sink where you can hang all your spray bottles, dish towels, and cleaning gloves. The tension rod creates a line of cleaning supplies that allows easy visibility when you need to use a product. Plus, it leaves the bottom of your cabinet free for anything else you might need to store. It's almost like adding a shelf under your sink, but it's so much easier.
Advertisements
2

Store Matching Sheets In Pillowcases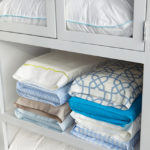 Advertisements
Linen closets can get messy with mismatched sheets. It doesn't take much for it to become a jumbled mess. The folks over at Martha Stewart have a streamlined way to store your sets of sheets. Store your folded sheet sets inside a pillowcase.  
"This method keeps sheet sets together, makes it easy for whoever is putting the sheets away, and is a breeze for the person who is taking them out to make a bed," said Cary Prince, a certified professional organizer in Los Angeles. "And, for aesthetic purposes, the closet immediately looks more organized and manageable."
Advertisements
3

Put a File Organizer to Good Use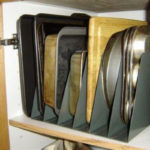 Advertisements
File folders aren't the only office supply you can use in your kitchen. File organizers are also the perfect product to transform your space. Purchase a cheap metal file organizer from any office supply store. Then fit the organizer into your kitchen drawers or cabinets.
Once it's in its rightful place, you can use the file organizer to store baking sheets, cutting boards, and pan lids. The file organizer will keep all these items stored neatly, rather than allowing them to freely flop around your drawers. Gone are the days of sifting through pan lids to find the one you need–the file organizer can solve some of your major kitchen storage problems!
Advertisements
4

Use a Pool Noodle To Prevent Sliding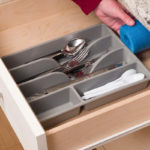 Advertisements
Some drawer organizers are kitchen staples. For example, most people have a silverware organizer somewhere in their kitchen drawers. If you have plastic containers in your kitchen, then you know that they tend to slip and slide around in your drawers, ruining your perfectly organized space. To fix that problem, all you need is a pool noodle.
First, place your organizer in precisely the space you want in your drawer. Then measure out how much excess space you have in the back of your drawer. Once that's done, cut a pool noodle to that size, so it can perfectly slide into the back of your drawer. The pool noodle won't take up much space, so you can still store miscellaneous items alongside it. But it will also allow your organizer to fit snugly in your drawer, preventing that annoying slipping and sliding that ruins your organization.
Advertisements
5

Label Cords With Bread Ties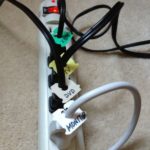 Advertisements
Power strips often get overcrowded with cords and it becomes hard to keep up with what goes where. There are power cords for the television, DVD player, and various video game systems. It's enough to make your head spin, but there is a solution to help you manage your appliances.
Use plastic bread tags as labels. This will give you a quick reference when dealing with a tangle of cords. Not only is it a cheap fix, but it makes use of something you probably already have in your kitchen, saving you both time and money. Upcycling for the win!

Advertisements
6

Get Stackable Storage Bins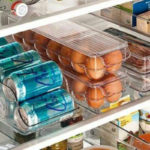 Advertisements
After you've cleaned up your counter space, it's time to turn your attention to your fridge. Often, you have way too many refrigerated items and not enough space in your fridge. Without an organization tool, you end up stacking everything on top of each other in a haphazard mess that falls apart every time you open the door.
Free up some space in your fridge by getting stackable storage bins. These clear bins allow you to organize your food and beverages in one easy-to-see location. Plus, you can stack the bins on top of each other to make use of every inch of your refrigerator space. Say goodbye to messy refrigerator shelves with this easy storage solution.
Advertisements
7

Make Use of Shelf Risers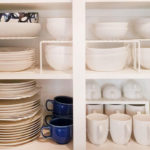 Advertisements
Kitchen cabinets aren't always designed with optimal function in mind. They often feature a huge space that forces you to stack many items on top of each other. You can certainly fit everything in the cabinet, but getting things out when you need to use them is a huge hassle.
To simplify your space, employ shelf risers. Wire shelf risers can easily fit into your kitchen cabinet, doubling your vertical storage space. Seeing the items you have in your cabinet and pulling out the tools you need will be much easier with this simple organization tip.
Advertisements
8

Use A Wine Rack To Store Towels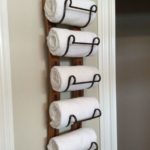 Advertisements
If you're looking for an inexpensive way to spruce up your bathroom, then you'll want to note this organizing tip. Store your bath towels in a wine rack. This surprising trick will make your restroom have a spa-like feel that will impress any guest. 
Just roll up your towels and place them where wine bottles would normally go. No more searching for extra towels as the wine rack offers plenty of extra storage space. Mount the rack on your wall for functional wall decor. It could also store kitchen towels if you prefer to hang one in your kitchen.  
Advertisements
9

Procure a Pan Organizer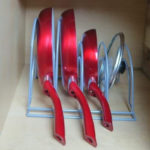 Advertisements
While a file organizer stores your thinner kitchen tools sideways, you'll need a genuine pan organizer to do the same with your pans. Pan organizers allow you to store your pans sideways, eliminating the need to stack pots and pans on top of each other.
A pan organizer adds some serious function to your kitchen. You can store your pans sideways in your cabinet, allowing you to grab the pan you need and return it to its rightful place without disturbing anything else in the cabinet. Good pan organizers also allow you to change the depth of each section so you can fit any pot and pan in this convenient space.
Advertisements
10

Double Up Your Hangers With Soda Tabs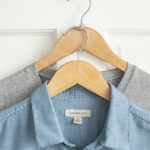 Advertisements
Organizing your closet can be a pain, especially if you own a lot of clothes and have a tiny space to store them. This first tip will help create extra storage for all of your wardrobe needs, and it costs the same as a can of soda.
This simple solution only requires one surprising tool, a soda can tab. Slip the coat hanger into the hole in the tab and slide it down to the neck of the hanger, then loop another hanger from the other side of the tab. Just be sure to use hangers that the tab can slip over. 
Advertisements
11

Store Plastic Grocery Bags In A Tissue Box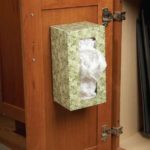 Advertisements
If you bring your groceries home in plastic shopping bags, then you know that they can clutter up your cabinets. It's challenging to know the most organized way to store them, but this awesome trick will make storing your plastic bags easy and convenient. The only item you'll need is an empty tissue box.
Don't just stuff the bags in there willy-nilly, though. The secret is to string the bags together by looping the end of the bag to the handle of the one underneath it. You can place it in a drawer or affix the box to the inside of a cabinet door.
Advertisements
12

Store Board Games In A Hanging Closet Organizer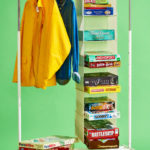 Advertisements
Struggling with board game storage? If you love to host game nights or you enjoying playing as a family, then you know how challenging it can be to find the best place to store them. Have no fear, we have a solution that will streamline your gameplay. Try storing them in a hanging closet organizer.
They designed these hanging vertical shelves to hold shirts, but board games fit in the slots perfectly. No more messy stacks of boxes that topple over when you grab one game from the bottom. This hack will keep your closet looking nice and tidy. 
Advertisements
13

Use A Sponge Holder To House Condiment Packs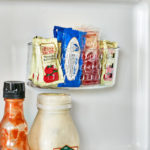 Advertisements
More and more people are ordering takeout food these days, and that means an abundance of condiment packets are infiltrating our kitchens. Is your junk drawer overflowing with small ketchup and soy sauce packets? If so, you'll want to jump on this next organization trick.
Place a sponge holder in your refrigerator door to hold all those little packs. You could also store it to the inside of a cabinet if you don't care if they're cold or not. Sort them out by flavor if you want to be extra tidy. Either way, it's the perfect tool for condiment storage! 
Advertisements
14

Store Eye Shadow In Ice Trays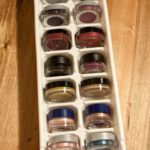 Advertisements
Another beauty item that can end up tossed into a messy drawer is eye shadow palettes. These small containers can be pesky to keep up with, especially if you have a passion for makeup and own every color in the rainbow. We have a simple solution that won't break the bank. 
Organize your eye shadow palettes in ice cube trays. They fit perfectly in the ice compartment and are just the right size to slide into a bathroom drawer. It's a cheap and easy way to keep your makeup vanity in order. 
Advertisements
15

Put A Lazy Susan In Your Refrigerator To Create Extra Space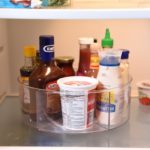 Advertisements
Is your refrigerator filled with forgotten condiments that never get used and just seem to take up space? From that old jar of jelly to that last bit of ketchup, it's easy for your fridge to become overrun with bottles and jars. There is a solution that will revolutionize the way you organize your refrigerator. 
Buy one or two lazy suzans to put on the shelf in the fridge. This simple addition is normally used on the table during a meal, but it works just as well in this case. It not only saves you tons of space, but it also makes meal prep easier.
Advertisements
16

Use Shower Rings To Hang Scarves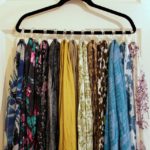 Advertisements
If your closet is stuffed with items, it's challenging to find a place to store scarves and other thinner items like tank tops. They often end up wadded up and tossed wherever they may land. Then you have to deal with wrinkled fabric, but there is a smart storage trick that saves space.
All it takes is a clothing hanger and a pack of shower rings. Simply clip the rings to the rod and affix your scarves and tank tops to the rings. You could also use a belt loop to hang up multiple pairs of jeans on one hanger.

Advertisements
17

Display Jewelry On A Bulletin Board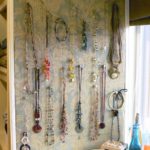 Advertisements
Is your jewelry collection a tangled mess of necklaces, bracelets, and earrings? Do you find yourself searching for that one special piece, but can't locate it? Maybe it's time to think outside of the jewelry box and find a fresh way to display your favorite jewelry.

One cool trick is to store them on a bulletin board. You can use a plane corkboard or even cover it in a pretty fabric. Then affix your jewelry with thumbtacks. This is a double win as it will keep your trinkets organized and it makes a cute wall display. That's a win/win!
Advertisements
18

Place Risers Under Your Bed For Extra Storage Space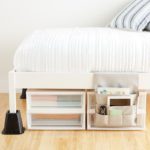 Advertisements
If you live in a compact space, then you know it's difficult to find places for extra storage. Where are you going to keep that box of old photographs if your closet is full? What are you supposed to do with your summer shoes in the winter? The answer might be closer than you think.
Place risers under the feet of your bed to lift your mattress and create a whole extra place for hidden storage. You can purchase them at almost any hardware store, and you'll be surprised at how simple it is to install them. 
Advertisements
19

Keep Christmas Ornaments In An Egg Carton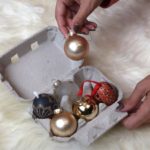 Advertisements
Do you ever feel overwhelmed when the Christmas season winds down and it's time to pack up the ornaments? It's often expensive to buy storage bins for the fragile ornaments, but we have an affordable alternative. The solution could already be waiting in your refrigerator. 
Store your delicate ornaments in an empty egg carton. It's perfect for tiny figurines or Christmas balls. Just place the ornament where the eggs are normally stored. If you feel nervous about some of them breaking, wrap them up in bubble wrap or tissue paper before closing the carton. 
Advertisements
20

Use A Tension Road To Hang Spray Cleaners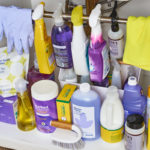 Advertisements
One location in the kitchen can get messy fast. The cabinet under the sink is a prime spot for clutter, and it's all too easy to end up with a mess of cleaning products. Despite your best intentions to keep it tidy, that space almost always ends up in chaos.
We have a genius hack to get your cabinet in order. Install a tension rod! Measure the space so you know which size to buy. Once you have the rod snuggly in place, hang your spray cleaning products and plastic gloves on the rod. It's an instant space-saver. 
Advertisements
21

Hang A Hamper On The Back Of A Door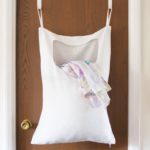 Advertisements
Doing laundry can be super annoying, so we're always on the lookout for ways to simplify the process. Many people use traditional clothes baskets to store and transport their dirty clothes, but we have an ingenious solution that will save you time and money. Hang a laundry hamper bag on the back of your bedroom door.
This smart trick keeps dirty laundry out of sight and makes it easy to grab the bag of clothes and carry them to the washing machine. These hampers are available both online and in stores. Who doesn't love making laundry day easier? 
Advertisements
22

Organize Small Appliances With Rolling Plant Stands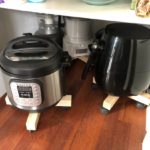 Advertisements
We often store small appliances in the bottom kitchen cabinet. It's such a pain to squat down and rummage through the blender, slow cooker, or other appliances to get to the one you want to use. This next trick will not only save space, it will also spare your aching back. 
Place your kitchen appliances on a rolling plant stand. You can move your appliances with ease as you slide them in and out of the cabinet. No more struggling to shift anything out of the way! This only works if your cabinet is directly placed on your floor, though.
Advertisements
23

Create Drawer Dividers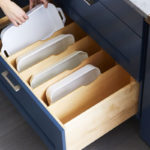 Advertisements
Over the years, most kitchens accumulate a plethora of baking pans. While the various shapes and sizes of these cooking pans meet different cooking needs, storing oddly shaped pans in your kitchen drawers isn't easy. Instead of piling all your pans on top of each other, forcing you to pull out every single pan when you need to use just one, try creating drawer dividers for your kitchen.
Cut several pieces of wood or cardboard to the length and depth of your kitchen drawer. Then place each divider into your pan drawer in evenly spaced intervals. Place your pans between each divider, allowing you to easily pull out the pan you need and return it to its rightful place when you're done with it.
Advertisements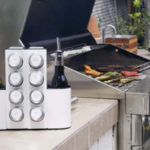 Advertisements
As essential parts of every cooking venture, salt, pepper, cooking oils, and commonly used spices probably have an established space on your kitchen counter. While that makes them easy to use, it also takes up valuable counter space and makes your kitchen look a little messy.
Instead of leaving those essential items freely floating around your kitchen, invest in a small cooking caddy. This little caddy can house your commonly used oils and spices in one convenient location. You can carry the caddy around with you while you cook, then place it on the counter or in a cabinet once you're done with it. It's a simple change, but it will add both function and style to your kitchen.
Advertisements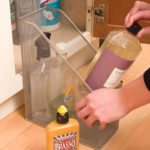 Advertisements
File folders may be a staple in your home office, but did you know that they can actually be a useful addition to your kitchen? While a tension rod creates a clean line of spray bottle cleaning products, file folders can organize the rest of the bottles underneath your kitchen sink.
Place your various bottles into a file folder, putting the most-used products at the front. Use as many file folders as you need to neatly fit all your cleaning products. Then put the file folders under the kitchen cabinet. The new neat state of your cabinet will be beautiful and satisfying, guaranteed.
Advertisements
26

Invest in a Rotating Spice Rack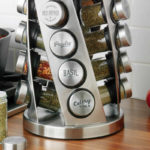 Advertisements
Spices are a crucial part of creating a delicious meal. Unfortunately, storing all your spices is one of the main challenges in your kitchen. If you shove them all into a drawer, you'll spend half your time pushing bottles aside to find the spice you need. Not to mention, you might need that drawer for something else if you have limited kitchen space.
Thankfully, we have the solution: invest in a rotating spice rack. This spice rack enables you to pile many spices on top of each other in an organized system that allows you to easily find the spice you want. Plus, the cylindrical nature takes up much less space on your kitchen counter. Trust us—a rotating spice rack will change your life.
Advertisements
27

Add A Magnetic Strip To Your Medicine Cabinet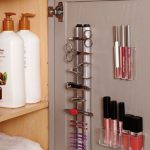 Advertisements
Is your medicine cabinet overrun with a variety of tiny tools? Toenail clippers, tweezers, and bobby pins can overtake a bathroom in no time. These small grooming tools often float around and cause plenty of clutter. There is a quick solution that is borderline genius and is sold at most hardware stores.
Install a magnetic strip to the inside door of your medicine cabinet. It sticks to just about any smooth surface and makes a handy space-saver for all your metal tools. It's convenient to have all of your tiny items in one place.  
Advertisements
28

Store Dry Foods In Glass Jars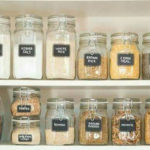 Advertisements
If not organized correctly, your pantry easily becomes the most frustrating part of your kitchen. Boxes and packages of dry goods strewn across your shelves make it difficult to find what you need in a timely manner. Instead of continuing to pile onto the mess, buy a set of glass jars to improve your pantry organization.
Give each glass jar a designated dry food: rice, lentils, oats, beans, etc. Put the food into the corresponding jars and place the uniforms jars in a neat line in your pantry. The clear jars allow you to find the food you need easily, but they also create uniform storage that will elevate the functionality of your pantry.
Advertisements
29

Put New Items At the Back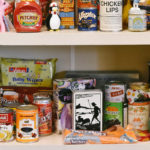 Advertisements
Although you can put some of the dry foods in your pantry in jars, some products can't be moved out of their original packaging. However, you can still organize your pantry in a functional way by putting newer products at the back, much like a supermarket.
When you buy doubles of products you already have, put those new products behind their older counterparts in the pantry. This ensures that things don't get lost over time and that you're always using up the entirety of one package before you open another.
Advertisements
30

Purchase a Kitchen Cart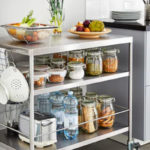 Advertisements
If you're hurting for counter space in your kitchen, a kitchen cart might offer a solution. These rolling carts are topped with a flat surface that serves as an extra area for food preparation. Plus, the cart includes various baskets that can store your miscellaneous kitchen items that don't otherwise have a home.
A rolling kitchen cart easily navigates any kitchen space, no matter how big or how small. You can even move your cart to another room if there are too many cooks in the kitchen.
Advertisements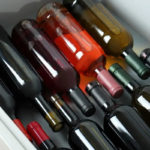 Advertisements
If you're an avid wine lover, you probably have quite a few bottles on hand at all times. But if you have nowhere to store your wine, the bottles end up sitting on your counter. While it certainly communicates that you love wine, it's not the most aesthetically pleasing decoration.
In the absence of a wine rack or wine cellar, you can store your wine bottles in a kitchen drawer to keep them hidden away until you're ready to pop them open. Put the wine bottles in the drawer horizontally, alternating the direction so they nest together. It gets the wine off your counter, but it still allows for easy access when you're ready to have a glass.
Advertisements
32

Create a Concealed Bin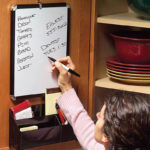 Advertisements
Half the struggle of organizing your kitchen involves cleaning up your counter space. If you're constantly throwing pens, notepads, and other miscellaneous items onto the countertop, your kitchen will never look as clean as you want it to. To keep your kitchen looking sleek and beautiful, created a concealed bin for all those little trinkets.
Take a small plastic bin or desk organizer and attach it to the inside of the door on a fairly deep cabinet. Then attach a dry erase board above it. You can use the dry erase board as an easy reminder area while the bin houses all the random knickknacks that often end up on your kitchen counter.
Advertisements
33

Create Drawers With Plastic Bins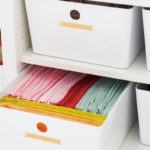 Advertisements
Some kitchens have a surplus of cabinets, but not enough drawers. If that's the case in your space, you just have to make your own.
Put plastic storage bins into deep cabinets to create your own pseudo-drawers. You can stack placements, cloth napkins, dish towels, and other miscellaneous items neatly in the plastic bins. When you need to use something, simply pull out the plastic bin, take what you need, and slide it back in. It's almost as good as having built-in drawers.
Advertisements
34

Store Soft Toys In A Shoe Organizer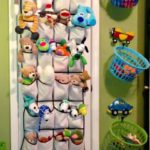 Advertisements
Kid's rooms can be hot spots for chaos. Small and soft toys often pile up and take over the entire room. If your kiddo's playroom is brimming with small stuffed animals, then you might want to consider storing them in a shoe organizer. This handy tool hangs on the back of a door and is most often used to keep shoes in order. 
They're typically used in the closet for organization, but they work just as well for smaller items in any room. We like that it doubles as a cute display and makes it easy for your little one to clean up after they're done playing.
Advertisements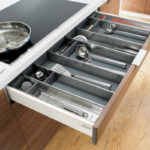 Advertisements
Dividing your drawer into separate spaces is the natural route for keeping utensils organized. But dividing all your drawers can greatly simplify your life and keep your kitchen neat and organized.
Take a look at the items that are crowding some of your kitchen drawers and separate them into categories. For example, you may have small measuring cups, ice cream scoopers, spatulas, and cheese graters. Based on those categories, purchase small plastic trays that can house those particular items. Then fit the plastic trays into your drawers like your own personal Tetris puzzle. Instead of digging through drawers to find the item you need, this system allows you to open your drawer and immediately grab the necessary utensil.
Advertisements
36

Store Bath Toys In Hanging Fruit Baskets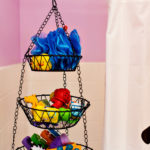 Advertisements
Most parents know that kids love playing with toys while they take a bath. It's challenging to store them in a way that makes cleanup easy. If you're tired of picking up toys, then you'll love this next tip. 
Store all of your kid's bath toys in tiered baskets. These hanging baskets are normally used to hold fruits, but they work great for toys, too. Hang it on your shower rod and fill each basket up with toys and sponges. It's a brilliant way to drip dry rubber duckies, and it's mobile as well.
Advertisements
37

Designate a Produce Drawer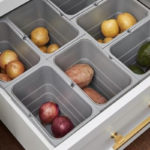 Advertisements
While thin trays can organize your shallow kitchen drawers, big buckets can transform deeper spaces into your own personal produce drawer. Rather than storing your produce on your counter or taking up valuable space in your fridge, you can transform a spare kitchen drawer into an organized collection of produce.
Produce like potatoes, apples, onions, and even avocados don't necessarily need to be stored in the fridge. Instead, find an empty drawer in your kitchen and make a note of the depth and width. Then purchase a few deep plastic buckets, enough to fill the drawer when placed inside together. Once that's done, you can fill the buckets with your non-refrigerated produce, hiding them from sight, but ensuring that they have their own designated home.
Advertisements
38

Use a Magnetic Knife Bar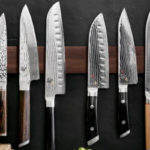 Advertisements
If you have a small kitchen, placing an entire knife block on your counter might be too much to ask. Instead, invest in a magnetic knife bar that attaches to your wall. This bar allows you to store knives in an easy-to-reach place without taking up valuable counter space.
If you want to create a sleeker kitchen, you can even place the knife bar inside one of your cabinets. The function will be the same, but your good knives will be hidden from view.
Advertisements
39

Store Pots and Utensils Above The Stove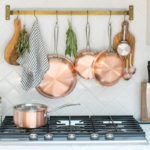 Advertisements
If you have limited space in your kitchen, finding a clean way to organize all your pots and pans is probably your biggest concern. Thankfully, there's one area that you probably haven't filled yet—the wall behind your stove.
On this wall, hang a bar with various hooks. Then hang your most-used pans, pots, and utensils from that bar. If you want to get really fancy, you can even create your own shelf to sit above the bar, giving you even more storage space. This method adds a little functional decoration to your kitchen that will expand your storage options in a small space.
Advertisements