The Best And Worst Products To Buy From Ikea
1

Best: Raskog Utility Cart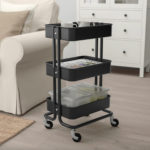 Advertisements
Rating: 4.9/5 stars
The Raskog utility cart features three separate shelves fitted together. The cart is made from sturdy material and features rolling wheels at the bottom. It's available in three colors: black, green, and white.
Why It's Good
The Raskog utility cart is largely loved among Ikea customers for its versatility. The cart is fairly small, meaning it can easily fit into a variety of spaces. It also comes in a range of different colors, allowing you to choose a hue that best fits your home's aesthetic. What's more, the simplicity and sturdiness of the cart make it perfect for a vast mix of uses. It could be used as extra storage in your bathroom, as a bar cart, as a display shelf for your plants, or even as extra kitchen storage.
Advertisements
2

Best: Variera Pot Lid Organizer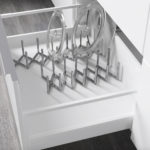 Advertisements
Rating: 4.6/5 stars
The Vareira pot lid organizer is made to keep all your pot and pan lids in one easy-to-find location. It features an adjustable design, allowing you to customize the size you need.
Why It's Good
The main draw of the Variera pot lid organizer is its customizable features. The organizer can adjust from 3 inches all the way to 20, meaning it can fit in a variety of spaces and accommodate lids of all sizes. What's more, the pot lid organizer can also be repurposed to house Tupperware, cutting boards, or even mail, depending on your needs. It's also available at an incredibly cheap price, making it easy for anyone to make their home just a little more organized.
Advertisements
3

Worst: Somntuta Sheet Set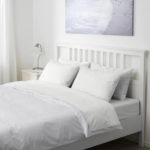 Advertisements
Rating: 3.1/5 stars
The Somntuta sheet set is made of 100% cotton. The 400 thread-count bed linens fit mattresses with a thickness of up to 18 inches. The full set includes a flat sheet, a fitted sheet, and two pillowcases.
Why It's Bad
As a general rule of thumb, it's often not a good idea to purchase cheap sheets. While bed linens can get expensive quickly, cheap sheets are made of low-quality material and tend to be scratchy and uncomfortable. That's certainly the case for these sheets. Some reviews claim the sheets crinkle loudly when you move in the bed. Not only that, but they feel like paper and wrinkle easily. In general, it's probably best to fork over a little more money rather than trying to sleep with these noisy sheets.
Advertisements
4

Best: Kallax Shelf Unit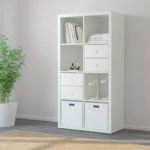 Advertisements
Rating: 4.8/5 stars
The Kallax shelf units feature various particleboard cubicles with an open front and back. Available in a variety of sizes and colors, the Kallax shelves are fairly cheap and strong enough to withstand at least 50 pounds.
Why It's Good
The Kallax shelf units are perhaps some of the most-loved products available at Ikea. Not only are they available in a variety of colors, but there is also a range of options for these shelves. You can get a small four-cubicle unit if you need a little extra shelf space, or you can purchase a huge 25-cubicle unit that can effectively and stylishly divide a room. The shelves are simple enough to allow your decorations to shine, while still being sturdy enough to be useful in any space.
Advertisements
5

Worst: Huvudroll Frozen Meatballs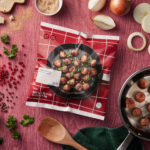 Advertisements
Rating: 4.8/5 stars
Made with a mixture of pork and beef, Huvudroll frozen meatballs are gently seasoned to enhance the meat flavor. The frozen packet contains 2.2 pounds of meatballs that can be heated in the oven, microwave, or a frying pan before being consumed.
Why It's Bad
Although most people wouldn't trust food from a furniture store, some still fall all over themselves for the food from Ikea, including the meatballs. Despite the 4.8 star rating for these meatballs, however, we still wouldn't recommend purchasing your own pack. Back in 2013, it was discovered that Ikea meatballs contained horse DNA. While the furniture chain has supposedly rectified the issue since then, it takes a lot of bravery to dig into these meatballs without that scandal coming to mind.
Advertisements
6

Best: Marjun Room Darkening Curtains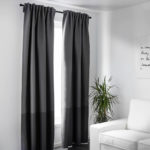 Advertisements
Rating: 4.7/5 stars
Made of 100% polyester, the Marjun room darkening curtains are made to darken a room and prevent people from seeing inside your home. In addition, they block winter drafts and summer sunlight, ensuring a comfortable temperature inside your house. They can be hung either on a curtain rod or with rings and hooks.
Why It's Good
If your house gets quite a lot of natural light, then you know just how important blackout curtains can be. However, they can also be fairly expensive. The Marjun room darkening curtains from Ikea are perfect for those on a budget. But unlike other cheap blackout curtain options, the Marjun curtains actually work. They manage to block much of the outside light from coming in while simultaneously maintaining a stylish and aesthetically pleasing look. There's basically no drawback to purchasing a set of these curtains.
Advertisements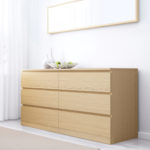 Advertisements
Rating: 4.4/5 stars
The Malm dresser features six drawers set in a particleboard frame. Sturdy and widely built for plenty of storage, the dresser comes in four colors—gray, black, oak-stained veneer, and white. It also comes with materials to secure the dresser to the wall.
Why It's Bad
The Malm dresser is actually rated fairly high on the Ikea website. However, if you're concerned about the safety of your home, you should definitely avoid purchasing this dresser. Since 1989, eight children have succumbed to injuries after the Malm dresser fell over on them. Countless more have been injured and millions of dressers were recalled in both 2016 and 2017. While Ikea now offers materials to mount the dresser to the wall to avoid this problem, the number of injuries that have occurred with this dresser is more than enough to steer clear from buying it altogether.
Advertisements
8

Best: Terje Folding Chair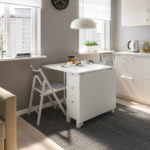 Advertisements
Rating: 4.5/5 stars
The Terje folding chair is made of solid beech wood and comes in a variety of colors, including black, white, and gray. It folds flat for easy storage when not in use.
Why It's Bad
If you're hurting for space in your home, you have to invest in the Terje folding chair. Made of solid beech wood, the chair is actually quite sturdy in comparison to other Ikea products. In addition, the chair easily folds up, allowing you to store it out of sight when it's not in use. What's more, it's cost-effective and fairly comfortable, especially when compared to other folding chair options.
Advertisements
9

Worst: Lack Coffee Table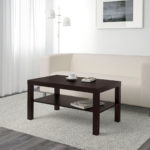 Advertisements
Rating: 4.3/5 stars
Made of particleboard and fiberboard, the Lack coffee table features a smooth top and a separate shelf for decorative items, such as magazines, books, and more. Available in white-stained oak, brown, and white, the Lack coffee table is a simple, unassuming addition to any home.
Why It's Bad
The name of this coffee table doesn't exactly inspire confidence, apparently for good reason. While the Lack coffee table is great if you need a cheap option, it's known for being poorly made and not very durable. In fact, many reviewers claim the coffee table is wobbly on assembly. In addition, it also falls apart quickly, forcing you to spend more money on a replacement. If you want to avoid a lackluster coffee table, we recommend steering clear of the Lack on your next trip to Ikea.
Advertisements
10

Worst: Husvika Spring Mattress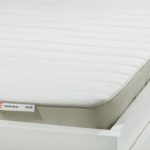 Advertisements
Rating: 3/5 stars
The Husvika twin mattress is made for Ikea daybeds or children's extendable beds. The mattress features Bonnell springs and is roll-packed for easy pick-up or delivery to your home.
Why It's Bad
Buying the right mattress is essential for a comfortable night's sleep, and purchasing the Husvika mattress is not the way to go, according to the reviews. Some reviews claim the mattress was too firm and just a small step up from an air mattress. While it's certainly cheap, most reviewers agree that it's wildly uncomfortable. Unless you want to wake up with stiff limbs and a sore back, there's no reason to purchase this mattress.
Advertisements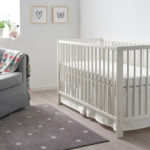 Advertisements
Rating: 4.8/5 stars
The Gulliver crib offers diverse sleeping options for your child. The bed can be placed at two different heights, accommodating both a newborn and a growing baby. In addition, one side of the crib can be entirely removed to make an open bed. The crib is available only in white.
Why It's Good
If you're preparing to welcome a new baby to your home, you have to purchase the Gulliver crib from Ikea. This crib is lauded for its various features that eliminate the need to buy a new bed when your child reaches toddler age. The crib can be adjusted to create an open bed, allowing your child to transition into sleeping on their own without leaving the comfort of their crib. Plus, the crib is simple and clean, allowing it to fit with any aesthetic. Most importantly, it's quite inexpensive in comparison to other cribs with the same characteristics.
Advertisements
12

Worst: Pax Interior Organizers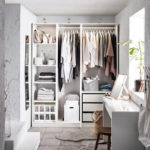 Advertisements
Rating: 3.3/5 stars
Pax is just one of Ikea's many systems designed to organize your closet. The Pax system allows you to choose the size, color, and style to create a wardrobe organizer that works for you. In the end, you'll have shelves, drawers, and hangers that align with your individual needs.
Why It's Bad
While the Pax system looks great in Ikea photos, the real-life version of this wardrobe system often misses the mark. Some reviews claim the set-up of the Pax system is particularly tricky, which is significant given how difficult many Ikea products are to assemble. In addition, the pieces have a tendency to fit incorrectly, leading to a clunky, unrefined look. Lastly, the wardrobe system is cheaply made. If you do manage to get it together, it's unlikely you'll be able to move the Pax system to another house while keeping it intact.
Advertisements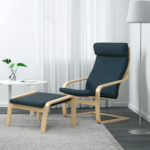 Advertisements
Rating: 4.7/5 stars
The Poang armchair is crafted with chic curved lines made of a birch veneer. The chair is available in eight different colors, including dark blue, yellow, and beige. It also features soft cushioning that provides much-needed back and neck support.
Why It's Good
If you need a simple but elegant armchair to add to your home, the Poang chair from Ikea should be your first choice. At just $99, the chair is affordable, but still stylish. What's more, most reviews claim it's actually quite comfortable and seems to stand the test of time in terms of durability. It's a perfect addition to any space, especially since it's simple enough to round out any room.
Advertisements
14

Worst: Myskgras Comforter
Advertisements
Rating: 3.7/5 stars
The Myskgras comforter is a thinner duvet option designed to keep you cool. Made with polypropylene fabric and polyester filling, the comforter is machine washable in hot temperatures. It's advertised as being especially good for hot sleepers.
Why It's Bad
Much like Ikea sheets, you should stay far away from this cheap comforter. While it's advertised as a thin, cool duvet, most of the reviews claim it's scratchy, low quality, and terribly uncomfortable. One particularly harsh review claims the comforter is closer to an emergency blanket than a duvet you want to sleep with every night. Suffice it to say, this comforter is not worth purchasing, even for the incredibly cheap price.
Advertisements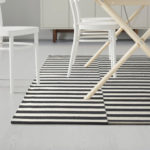 Advertisements
Rating: 4.6/5 stars
The Stockholm rug features a modern, black and white stripe pattern. Made of 100% wool, the surface is both durable and soil-resistant. It also features the same pattern on both sides, allowing you to turn the rug over if one side is stained.
Why It's Good
A good quality rug can be very expensive. However, you don't want to add a cheap strip of fabric to your space. After all, you'll be forced to walk on what will probably be highly uncomfortable material every day. Thankfully, the Stockholm rug from Ikea is both cost-effective and luxurious. The rug is soft, stylish, modern, and affordable, meaning there's nothing to lose by adding it to your cart.
Advertisements
16

Worst: Hemnes Bed Frame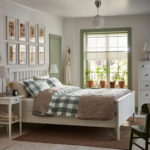 Advertisements
Rating: 2.6/5 stars
The Hemnes bed frame, made from sustainably sourced wood, is available in a full, queen, or king size. Because of the materials used, each bed frame features unique variations in color and texture. The bed features a high headboard and footboard, as well as 17 layer-glued slats.
Why It's Bad
The Hemnes bed frame is surprisingly inexpensive, explaining why many people would be drawn to this product. However, the cheap price also reflects a cheap bed. Many reviews claim the material is quite flimsy and can't handle much weight, which is definitely not what you want to be worried about when it comes to your bed. The frame collapses easily and both the headboard and footboard have a tendency to splinter after a short amount of time. In short, this just isn't a bed you can rely on.
Advertisements
17

Best: Markus Office Chair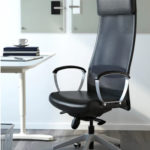 Advertisements
Rating: 4.3/5 stars
The Markus office chair features a mesh backrest and built-in lumbar support. The chair is also adjustable, allowing you to set the tilt and the height. Lastly, the chair includes an automatic brake function, which stops it from moving when you stand up and allows it to move again when you resume a seated position.
Why It's Good
A good office chair is a must-have, especially for anyone who works from home. Thankfully, the Markus office chair from Ikea delivers. Not only is the chair comfortable, but it's also budget-friendly. Plus, it includes all the features you would want in an office chair, including adjustable settings and a mesh back to keep you cool during your entire workday.
Advertisements
18

Worst: Flottebo Sleeper Sofa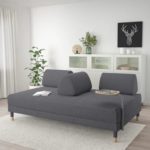 Advertisements
Rating: 3.6/5 stars
The Flottebo sleeper sofa is a modern piece of furniture that easily transforms into a comfortable bed. The sofa features three large cushions that can be moved to accommodate any sitting or lounging position. The sofa also features a large storage space under the seat that can house your extra bedding.
Why It's Bad
While the Flottebo sleeper sofa has all the makings of a nice couch, it's not as functional as it seems. The reviews for the sofa claim the cushions are light and slide too easily. Therefore, the couch has to be pushed against a wall if you actually want to maintain a seated position. Not only does it struggle to function as an actual couch, but other reviews claim the sofa is fairly uncomfortable and falls apart easily.
Advertisements
19

Best: Stockholm TV Unit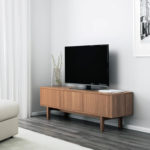 Advertisements
Rating: 4.1/5 stars
The Stockholm TV unit features a walnut veneer with legs of solid ash. The TV unit includes cable outlets on the underside of the bench and even boasts adjustable feet, so you can make sure your unit is stable on any surface. It also features three shelved cubicles, each covered with a door.
Why It's Good
The Stockholm TV unit is simple and stylish, which is why it's a great addition to any home. The TV unit includes enough features to simplify your TV space by hiding excess cords and gadgets your entertainment system needs. What you're left with is a sleek console that will complement any and all decorations. What's more, the TV unit is cost-effective and durable enough to last for years to come.
Advertisements
20

Worst: Bekant Sit/Stand Desk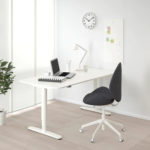 Advertisements
Rating: 3.2/5 stars
The Bekant sit/stand desk comes in white and boasts a generous work surface. The height of the desk can be adjusted automatically using buttons found on the side. It also features a cable management net under the desktop to help keep your workspace clean.
Why It's Bad
With more and more people working from home, a sit/stand desk seems like a good idea. However, you should avoid purchasing the Bekant sit/stand desk from Ikea. While a motorized sit/stand desk sounds good, the motor on the Bekant desk dies fairly quickly. Without it, you're unable to adjust the height of the desk. If the motor happens to die while the desk is in a standing position, you won't be able to lower it until the motor is replaced. In addition, the desk also lacks sturdiness, making it difficult to work on the surface for a long period of time.
Advertisements