20 Dollar Store Organizing Ideas to Inexpensively Order Your Home
1

Store Cleaning Products In a Shoe Organizer
Advertisements
Isn't it ironic that you have to keep your house clean of cleaning products? Once you accumulate bottles of cleaner that work for each specific need in your house, you run into the problem of how to store them without creating a mess in your cabinets or closet.
Our dollar store organizing idea provides a solution. Simply grab a cheap, over-the-door shoe organizer from your local dollar store. Hang the organizer over the door of your cleaning closet and store each bottle of cleaner in one of the pockets. If you have leftover pockets, you can even include other cleaning items, such as paper towels or brushes. The organizer makes it easy to find the product you need, but it also keeps your closet mess-free.
Advertisements
2

Store Bathroom Towels In Floating Baskets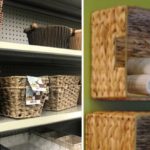 Advertisements
At some point, everyone realizes their house just doesn't have enough storage space. Still, despite the lack of shelves and closets, there are items that need a home. In particular, there never seems to be a spot to fit all your many bathroom towels. Rather than wailing about the lack of shelves, try creating your own with items from the dollar store.
At your local dollar store, grab a few nice-looking baskets. They can be metal or wicker—it all depends on your personal taste. Then take the baskets home and adhere them to the wall using a few command strips. The baskets are large enough to hold all your towels, and they'll look like trendy floating shelves in your bathroom. Plus, they'll ensure your towels are always within reach, rather than sequestered away in some far-off closet.
Advertisements
3

Use Shower Curtain Loops to Hang Tank Tops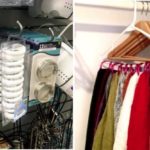 Advertisements
If you're running out of room in your closet, have no fear! The dollar store provides an organization solution that only requires one hanger.
For this idea, you'll have to pick up a few cheap shower curtain loops from your local dollar store. Once you've got your loops, attach them to a hanger you already own. Then take your tank tops and hang each one from a loop. The loops will keep your tanks separate, allowing you to grab only the one you need. By hanging many tanks on a single hanger, you'll free up space in your closet for more important clothing items.
Advertisements
4

Create a Pot Rack With a Towel Bar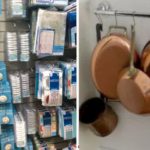 Advertisements
If you're working with a small kitchen, or if you simply have more kitchenware than you know what to do with, the dollar store and a little DIY work provide a solution.
Next time you run to the dollar store, pick up a cheap towel rack. Then find an open space on the inside or outside of your kitchen cabinets that will hold the towel bar in place. Install the towel bar in the spot you see fit and use it as a pan rack. This provides easy storage for your many pans, and it opens up precious space in your cabinets for other essential kitchen items.
Advertisements
5

Repurpose a Cupcake Tin As a Desk Organizer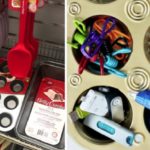 Advertisements
Your office space is likely full of all kinds of odds and ends that don't have a true home. From paper clips to thumbtacks or USB drives, all these tiny products end up scattered all over your desk and drawers, resulting in one big mess.
Instead of settling for a cluttered office space, use this dollar store organizing idea. Next time you run to the store, pick up a cheap cupcake tin. Fill each container of the cupcake tin with different, small office essentials. Then you can either leave the cupcake tin on your desk or stash it in a drawer. Either way, you'll create a home for those tiny office items, making the entire room a little cleaner.
Advertisements
6

Organize Linen Closet With Baskets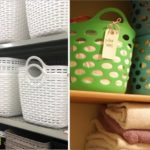 Advertisements
If there's one thing you're sure to find at the dollar store, it's baskets. Any local shop has plenty of plastic baskets to choose from. While these often seem silly and disposable, they might be the perfect way to bring some organization to your linen closet.
Instead of piling different sized sheets on top of each other and hoping for the best when it comes time to change your linen, use this dollar store organizing idea to keep your linen closet mess-free. Purchase a few plastic baskets in different colors from the dollar store. While you're there, throw some paper labels and string into your cart. Then organize your sheets by size. Roll the sheets into a cylinder and store sheets of the same size in the same basket. Then create a label for each basket that delineates the sheets inside. After that, take a step back and admire your organized linen closet.
Advertisements
7

Use Small Baskets to Arrange Bathroom Drawers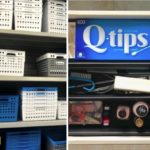 Advertisements
In case you haven't noticed, baskets from a dollar store are must-have tools when it comes to organizing your home. While big baskets can create some order in your linen closet, small baskets might be just the thing you need to effectively arrange your bathroom drawers.
On your next trip to the dollar store, grab some small baskets that can easily fit inside your bathroom drawers. Arrange the baskets in your bathroom in whatever way you like, fitting them together like a Tetris puzzle. Then put similar products in the same basket. For example, one basket might house your toothbrush and toothpaste, while another might hold your foundation and other makeup products. By organizing your drawers with baskets, you create a much cleaner bathroom space. Not only that, but this favorite dollar store organizing idea will also make it much easier to find the product you need.
Advertisements
8

Store Aluminum Foil & Cling Wrap Boxes In Metal File Basket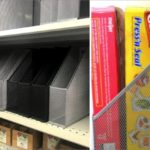 Advertisements
Metal file baskets aren't just good for the bathroom. No, we haven't yet exhausted the many uses of a cheap metal file basket when it comes to dollar store organizing ideas. Rather than using this common item in your bathroom, take it to your kitchen.
A dollar store metal file basket will easily store your rectangular boxes of aluminum foil and cling wrap. The boxes fit vertically in the file basket, allowing you to easily pull them out whenever you need them. If you want to create even easier access, stick the file basket to the inside of a cabinet using a few Command strips. It will free up some space in your kitchen cabinets, and also give those oddly shaped boxes a place to live.
Advertisements
9

Organize Earrings In An Ice Cube Tray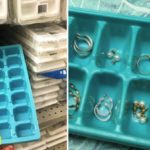 Advertisements
Creating a designated spot for your jewelry is much harder than it sounds. If you have tons of gorgeous pieces, you know that simply dropping them into a bowl is a disaster waiting to happen. Your earrings will stick together, forcing you to unweave a tangled mess every time you want to accessorize.
But with this dollar store organizing idea, you can wave goodbye to tangled earrings forever. Simply grab a cheap ice cube tray from the dollar store. Then put a pair of earrings in each divot. It's not the trendiest organization technique, but it's certainly effective. Plus, it will allow you to grab the earrings you want and head out the door in seconds.
Advertisements
10

Use File Sorters to Organize Linen Closet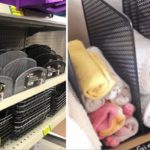 Advertisements
A close friend of the metal file basket, file sorters also have a place in organizing your home. If you pick up a metal file sorter from your local dollar store, you can use it to arrange your towels and sheets into an easy-to-use-system.
For this favorite dollar store organizing idea, place a metal file sorter in your linen closet. Then place different towels and sheets into the sections of the file sorter. You can separate sheets by size, or separate towels by who uses them. This is an especially attractive hack if you have kids, as it allows your children to grab towels or washcloths from their designated space without messing up the rest of your linen closet.
Advertisements
11

Create An Attractive Storage Unit For Makeup Brushes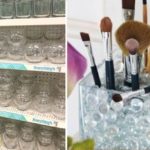 Advertisements
The problem of where to store makeup brushes seemingly never has a good solution. Storing them in a drawer or bag often creates a huge mess as makeup residue accumulates and finds its way into every nook and cranny. But leaving them strewn all across your bathroom counter isn't exactly an attractive solution.
Using one of our dollar store organizing ideas, you can store your makeup in a clean, effective way. Simply grab a small glass vase from the dollar stone, along with a few floral stones. Fill the vase with floral stones, and stand your brushes up in the center. This method keeps makeup residue from the rest of your things and allows you to easily access any brush you need. Plus, it will look pretty cool sitting on your bathroom counter.
Advertisements
12

Store Boots With Pool Noodles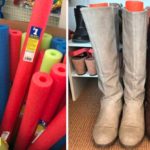 Advertisements
If you need to clear up some space on your closet floor, try using one of our nifty dollar store organizing ideas! This hack applies to your boots, which often clutter your closet floor by flopping over, taking up twice the amount of space.
Instead of allowing your boots to cover your closet, buy some cheap pool noodles from the dollar store. Stick the pool noodles into your boots and cut them so they align with the top of your shoe. The pool noodle will keep your boots upright, opening up just a little space on your closet floor. It might not seem like much, but it could make a huge difference in creating an organized space!
Advertisements
13

Arrange Small Bags & Purses With a File Sorter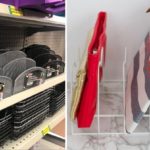 Advertisements
Even if you're not a big purse person, you probably have a small collection of bags that you're not really sure how to store. Oftentimes, they end up taking up valuable space in your closet. Even worse, they might end up scattered around your bedroom or thrown on the floor, depending on how much space you have.
Well, not anymore. Next time you're at the dollar store, pick up a cheap file sorter. The more spaces it has, the better. Then place a purse in each opening of the file sorter. Not only does it give your bags a designated spot in your home, but it also keeps them from getting dirty and allows them to maintain their shape. It's the perfect solution!
Advertisements
14

Put Nail Polish In a Spice Rack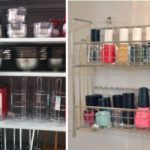 Advertisements
Among the many convenient things you can find at the dollar store is a cheap spice rack. While it's great to purchase one of these discounted items for use in your kitchen, there might be another place in your home where a spice rack can lend some organization.
Instead of putting your spices on this rack, try stocking it with your nail polish. The rack is the perfect size for all your tiny bottles. By storing your nail polish this way, you decrease the amount of space needed in your cabinets for all your many bottles, opening up room for other important items.
Advertisements
15

Put Hair Appliances In Metal File Basket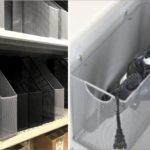 Advertisements
Hair appliances like curlers, straighteners, and blow dryers are always difficult to place. With their odd shapes and clunky cords, they often end up crowding your bathroom counter, creating a messy space that's not at all conducive to getting ready.
Rather than leaving your hair appliances strewn across your bathroom, purchase a cheap metal file basket from your local dollar store. Find a place for the basket in your bathroom, then place all your hair appliances inside. The basket will not only create a dedicated place for your styling items, but it will also corral all the cords, keeping your appliances much safer moving forward.
Advertisements
16

Create Floating Shelves In Your Shower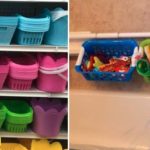 Advertisements
Showers never seem to have enough room to store all your cosmetic items, particularly if many people use the shower in your home. One little shelf isn't enough space to store a large variety of shampoos, conditioners, face washes, body soaps, and more. If you want your shower to look as clean as you are when you step out of it, this dollar store organizing idea provides a solution.
Head to your local dollar store and buy a cheap shower rod, a few plastic baskets, and a few shower curtain hooks. Then place the rod on the inside of your shower, against the back wall. Once the rod feels sturdy, hang a few baskets from it using the shower curtain hooks. This hack creates floating shelves in your bathroom that can easily store hair products, body products, loofas and sponges, or even your child's toys. Everything will be within reach, but it will also look orderly and clean.
Advertisements
17

Organize Fruit In Plastic Bins In the Refrigerator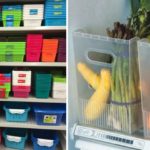 Advertisements
If you often have an excess of produce in your fridge, the dollar store provides a solution. With one of our dollar store organizing ideas, you can keep all kinds of fruit and veggies in order within your fridge.
Head to your local dollar store and pick up a few clear plastic bins. Make sure the bins are small enough to fit comfortably in your fridge. Then place the bins in the fridge and put all your loose produce inside. The bins will keep your produce from rolling around, opening up space for other essential food items.
Advertisements
18

Make a Bookshelf With Wooden Crates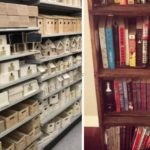 Advertisements
Bookshelves aren't just for books! While it's great to have a place to store all your reading material, bookshelves also provide space for knick-knacks and miscellaneous items that just don't fit anywhere else. Unfortunately, buying an actual bookshelf can be a rather pricey purchase.
Instead of buying a ready-made bookshelf, make your own with crates. Grab wooden crates or baskets from the dollar store and stack them horizontally in a designated place in your home. With almost no effort, you'll have a cheap bookshelf that adds character and storage space to any room.
Advertisements
19

Use a Shower Caddy to Store Feminine Hygiene Products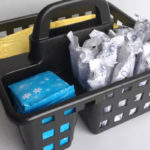 Advertisements
The dollar store is a very reliable place to find a cheap, plastic shower caddy. But unless you're heading off to college, it's unlikely you even think about purchasing this item. With our dollar store organizing ideas, however, the shower caddy takes on a whole new purpose.
Rather than carting your products to and from your dorm room, a plastic shower caddy can act as the perfect receptacle for all your feminine hygiene products. The various pockets allow you to store different items without the need for bulky boxes. Plus, it consolidates all your products into one easy space. Once you have your shower caddy set up, you can stick it in the back of your bathroom cabinet and pull it out only when you need it.
Advertisements
20

Add Rustic Room Shelving With Wooden Crates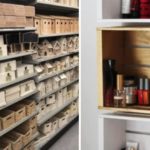 Advertisements
If you need extra shelves in your bedroom or living space, you might as well make them as cute as possible. Purchase some rustic-looking wooden bins from the dollar store and adhere them to an open wall in your room.
While these bins aren't large enough to hold big objects, they will provide a space for small knick-knacks and other items floating around your room. You can store jewelry, skincare products, nail polish, and even a small alarm clock in this space, offering a little organization in an attractive way.
Advertisements