These Travel Hacks Will Blow Your Mind
1

Don't Forget Your Charger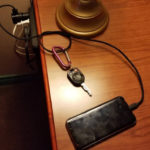 Advertisements
It's nearly impossible to travel without your phone charger. While on vacation, you use your phone for many things, including taking photos, checking in at your hotel or Airbnb, and finding a restaurant. You'll likely end up burning through your battery quickly, resulting in you inevitably plugging your charger into the hotel wall. But most people bring chargers for more than just their phones. Here's what you should do to remember it.
When you plug your charger into the outlet, grab your keys as well. It might seem odd, but stick with us. Use your charger to make a loop through your keyring and tie it in a knot, but not so tight to where it could damage the cord. This will help you remember to grab your charger every time that you go somewhere because your keys are directly attached to it.
Advertisements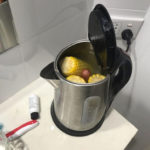 Advertisements
Sometimes, when people are traveling for work and they don't have access to a kitchenette, it can be really tough to find a place to prepare your food. If you are in this situation, or if you just want some motivation to try new things on your next trip, here is a simple hack to help you enjoy your leftovers when you are in a hotel.
Most hotel rooms keep some sort of coffee pot or tea kettle in the room. Find whichever one that your room has and fill it with hot water. Then, put your food in a dish that you can place under the spout (like leftover vegetables or noodles) and pour the hot water over them! You can even place the foot directly in the pot, as long as you are sure that you can clean it up afterward.
Advertisements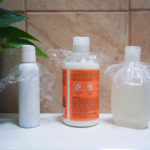 Advertisements
When you are traveling, you typically bring items such as shampoo, face wash, or liquid body wash. I mean, these products are necessities and are required for everyday hygiene. You can't travel without them. When these items leak in your suitcase, though, it really is devastating. Then you have to go through the process of cleaning whatever it spilled on and purchasing new products after they have leaked out.
Instead of having to worry about your caps leaking, you should use a piece of plastic wrap as a barrier between the bottle and the cap. This will prevent your items from leaking all over your suitcase and save you time and money from having to clean up any potential messes. Plus, it's an inexpensive way to make sure that doesn't happen.
Advertisements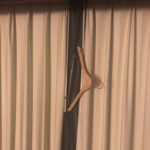 Advertisements
Sleeping in a hotel room can sometimes be difficult. Most rooms do already come with blackout curtains installed, but that might not be enough. A clever traveler will always look for ways to improve their quality of sleep. With some creativity, you can find a way to completely block out any light that could come in!
The first thing that you will need to do is find a hanger with clips on it. Most hotel rooms have this in the closet or wardrobe. Then, go to the window and close the curtains as close together as possible. You may notice that there is still a sliver of light coming through. That's where the hanger comes in! Take the hanger with the clips and use it to hold the curtain together so that there is no light coming through. Now, you can get a good night's rest in complete darkness.
Advertisements
5

Keep Your Toothbrush Clean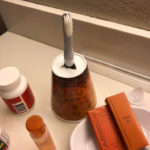 Advertisements
It's hard to keep your toothbrush free of germs when you are in a hotel room. Do you leave it out on the counter? Do you put it in a bag to collect germs? Even though most hotels keep toothbrushes in stock just in case of emergency, it's better to prevent anything from happening to yours. Luckily, there are some ways to keep your toothbrush clean while you are traveling.
Hotel rooms will typically provide paper cups for you to get coffee or water with, but they can also be used for more than just liquids. You can actually use these cups to keep your toothbrush clean. One way to use it is by putting your toothbrush in a paper cup with a hole at the bottom of the cup. This creates an upside-down cover that will hold the toothbrush up, allowing for the toothbrush to stay off of any dirty surfaces.
Advertisements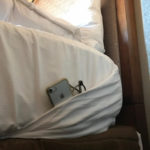 Advertisements
People tend to lose things in or under their beds. Your trip can turn bad quickly if you lose your phone in the hotel room. Luckily, there are easy ways you can avoid this problem so you don't have to spend the entire trip panicking every time you misplace your phone. Here is the most common trick to make sure that you don't lose your phone!
This is by far the easiest way to make sure we never leave our phones behind again. All you need to do is take a few sheets and pin them together so they form a pocket. The pocket should hang over the side of the bed and be right next to your pillow. Look at the corner of your bed, next to where your head would go, and use the sheet from on top of the bed. Make sure to pull them tight enough together so that it doesn't come loose throughout the night.
Advertisements
7

Block Out Hallway Noise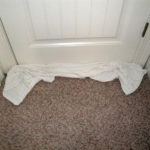 Advertisements
Have you ever stayed at a hotel and found it difficult to get some rest because of all the noise? Or maybe it's not the noise that is bothering you, but rather the hallway light shining through your door. It can be frustrating when you are trying to sleep or relax during your vacation.
You might want to use a towel to block out the light and noise. To block out the hallway light, roll up a towel to the size of your door handle and place it underneath the door. It will cover enough space that you should not see any more light coming into your room. For extra noise protection, place another towel against the wall and over the door. Along with blocking out light and noise, the towels will help to keep your room warm or cool by preventing outside air from coming in or being let out.
Advertisements
Advertisements
If you're a fan of cosmetics, having a ton of products is fun, but it can also take up a lot of room in your luggage. Most people travel with lotions, liquid makeup, liquid body wash, and other products that tend to take up a lot of space while in your suitcase. Some brands do offer travel-size containers, but even those can sometimes be too bulky. Also, if you are traveling by plane, you will have a limit on the weight of liquids that you can bring with you.
There is a simple solution. You can create your own travel-size container by using an empty contact case. These are small containers that are sometimes used to store contacts while traveling. Remove the contact lenses from the container and make sure to clean the case thoroughly. Then, fill up each section with your favorite liquids and creams (moisturizer, foundation, sunscreen).
Advertisements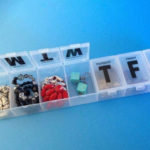 Advertisements
Traveling can be rough. There are so many details to manage, from packing your bags to keeping track of your passport and itinerary. It can be necessary to carry around a lot of stuff when you're on the go. That is why it's important to pack light, but still be prepared for any situation. This is especially necessary when traveling with jewelry. Your necklace chains can get tangled and knotted, and you can easily lose small pieces when you just toss them in your bag.
One way of doing that is to use empty pill containers for your jewelry when you travel. Empty pill containers sometimes have the days of the week labeled on top. You can also use that to help you remember which jewelry goes with a certain outfit that you packed. It is an easy way to make sure that you don't lose any rings or bracelets while you are traveling.
Advertisements
Advertisements
One of the best travel hacks will have you doing something that most people have lying around their house. You can use a cheap plastic case for lipstick or chapstick to hold some emergency money. The chapstick tube will not be recognized as a typical hiding spot, and it doesn't look like you are carrying cash. It also makes for an easy-to-carry item that won't take up much room. Attach this to your keys or something else small, like a bag, and it will be easy to access.
This is a useful tip for those who travel often and don't want to worry about having their money stolen from them. It's also a good idea for college students traveling abroad or anyone going on a road trip soon. If you're having trouble coming up with ideas of how to hide your cash, consider using something as simple as a chapstick tube.
Advertisements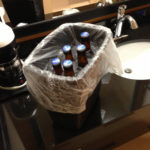 Advertisements
When you are traveling, it's sometimes hard to lug around a heavy cooler, but you still need a place to keep your drinks cold and in an easy-to-transport cooler. Just fill a trash can with ice and keep your drinks at the bottom, where they will stay cold. This is an easy way to transport your drinks for gatherings such as picnics, cookouts, or parties. Since you will be filling it with ice anyway, there is no need to buy expensive, disposable coolers.
You can do this by using the plastic garbage bin provided by the hotel and filling it with ice from an ice machine in your hotel room. That ice will melt, so you'll have to dump the water out and refill the bin with ice. Just make sure you have a plastic liner in there, too, to keep any residual ice from leaking onto your carpet or floor.
Advertisements
Advertisements
So you've headed away on vacation and you don't want to risk any accidents due to not packing your razor correctly. You never know what could happen when you leave your razor in your cosmetic bag. It's better to pack it away with a razor guard, but if you don't have one or are in a hurry, there is a quick and simple travel hack that will allow you never to be without a clean shave ever again.
Take a large metal binder clip and place it on either side of the razor, close to the base. Using the metal binder clip, your razor will be safe in your bag and prevent any accidents from occurring. And there you have it! No more problems with forgetting your razor guard. Simply just use this quick travel hack before taking off on your trip again.
Advertisements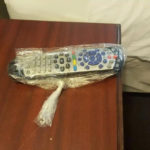 Advertisements
When you are on the road, your concerns about germs multiply. You might be wondering if using a hotel room remote control is worth it. You don't know how clean they have been kept in storage, or if touching the buttons will somehow lead to you taking a trip to the emergency room. You could just stay home where every surface has been sterilized just for you, but where is the fun in that?
In order to maintain your sanity when on the road, here are some hacks that will help keep you safe from germs and give you peace of mind when in public places. The first tip is to use plastic wrap over hotel room remotes so that you don't touch someone else's germs. Just stick a small piece of plastic wrap over the remote and you will be able to change the channels, or lower and raise the volume.
Advertisements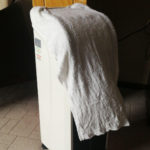 Advertisements
When you're traveling and away from home, it can be difficult to mimic your familiar comforts. One of the most noticeable changes is the humidity—especially for those who suffer from dry skin or sinus issues. Although many people enjoy the comfort of the cold AC during the night, it can also lead to dryness and irritation for others. Fortunately, there's a simple hack that lets you make any hotel room more humid.
All you need to do is grab a towel from the bathroom and run it under the sink or bathtub. For this hack to work best, it is recommended to use a larger cloth, such as a bath towel or even a floor towel. The moist cloth will create some humidity as it evaporates and helps maintain the moisture in the air. So, next time you find yourself feeling uncomfortable on vacation, just remember this towel hack!
Advertisements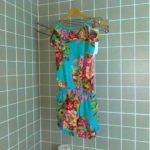 Advertisements
One of the worst things about traveling is having to deal with wrinkled clothes. You may be on an important trip where you have to dress in formal attire, or your t-shirt may just be too wrinkled to wear in public, but there is an easy way to get rid of the wrinkles without the hassle of trying to pull out the iron and ironing board. 
Whenever you are getting ready to take a shower, grab your wrinkled clothes and place them on a hanger. While you are in the shower, you can hang them up somewhere in the bathroom. Keep the bathroom door closed so that you can keep the steam from the shower inside. The steam will help to release any wrinkles that are in your clothes. This method also helps to save you time since you can shower and steam your clothes at the same time!
Advertisements
16

Protect Your Clean Clothes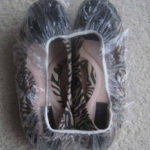 Advertisements
When traveling, most people just focus on their clothes and toiletries to pack. However, once you're out there actually experiencing the trip, it's easy to forget all about your shoes. Unfortunately, this can lead to some unfortunate accidents with dirty shoes—but don't worry! There are many ways that you can keep your clothes clean for the entire trip.
One of these hacks is to use a shower cap on your shoes inside of your luggage. This will keep any dirt on them from transferring onto the rest of your clothes, keeping everything nice and clean! Plus, if you travel somewhere that is wet and muddy, you won't have to worry about shoving them back into your suitcase and getting the dirt all over everything else.
Advertisements
Advertisements
Sometimes when getting ready in a hotel, you leave valuable items out, such as earrings or rings. Most times, these items are next to the sink where you are getting ready. It's hard to keep an eye on them the entire time that you're getting ready, so here is an easy hack to make sure that your items don't happen to fall down the sink drain.
For this hack to work, you will need some coins and a plastic bag. Collect a couple of coins and place them in a plastic bag. If you're extra paranoid, you can double-bag the coins and add water to the bag. This method helps to stop anything from falling down the drain. When you're done getting ready, all you have to do is tie up your plastic bag and put it back in your purse or suitcase.
Advertisements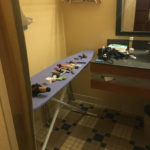 Advertisements
When you stay in a hotel room, you typically do not have the space that you are used to at home. There is a puny little desk and an extremely small amount of counter space in the bathroom. What if you get take-out and need a surface to eat on? There is a simple solution!
All you have to do is find the ironing board that is in your room. You can use the board for extra counter space in the bathroom. You can lay your toiletries out, clothes, or anything else that you would need in the bathroom. You can also use the ironing board as a table setting. Just set the stand up to the desired height and you have a DIY table! You can use the ironing board for extra table space for whatever you would need it for. You can even use it to actually iron your clothes, which is obvious.
Advertisements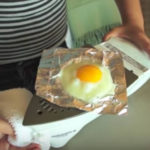 Advertisements
Making the most out of your hotel room is an important part of traveling, and there are lots of little tips that can make it easier. One that often gets overlooked is the use of an iron to heat up food. You've probably seen movies or shows where people have used irons in hotels to get their food hot, but you might not have thought it would actually work. Well, you're right; there is a trick to it. Or rather, there are many tricks.
For example, if you want to use an iron that has water in the reservoir (most do). The next thing you need to know is how to set up your food or anything else that you are trying to heat up under the iron. It might be better for your food and for the iron if you use some kind of barrier between the two. This will help your food to "cook" the best way possible, and also not leave a mess on the iron.
Advertisements
20

Keep Your Clothes Smelling Fresh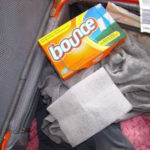 Advertisements
If you are traveling any distance over a weekend or a longer period of time, chances are you'll be packing a suitcase full of clothes. The last thing you want is for your clothes to smell less than fresh when you arrive at your destination. That's where dryer sheets come in! Follow this simple hack and your clothes will be smelling great, no matter how long the journey takes.
For this easy hack to work, all you will need are some dryer sheets. Preferably, ones in a scent that you like. Once you have the dryer sheets of your choice, you can just toss them in your suitcase, or put them in socks or shoes to keep them smelling fresh. This is the best way to eliminate any odors that may occur while you are traveling, whether it be from a car or a plane.
Advertisements