Google Earth Images That Tell a Hidden Story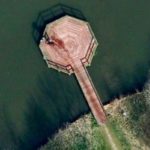 Advertisements
Reddit users thought they had spotted a crime scene when they discovered this Google Earth photo taken in the Dutch city of Almere. The image appears to show a trail of blood on a jetty with two people standing at the end of the pier.
The Sun reported it was actually a trail of water left by the dog named Rama after it went for a swim. The dog's owner said, "When I saw the picture I realized, 'it's my dog'. He loves the water. He jumps off the end of the jetty, swims around to the bridge, and runs down to the edge again."
Advertisements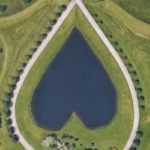 Advertisements
Google Earth often captures aerial views of hidden spaces we wouldn't have even known existed. Some are wacky or weird, but this next one is just plain romantic. There is a heart-shaped pond tucked away behind a gated home.
We know little about the sweet pond in Columbia Station, Ohio. Since it's on private property, the details remain a mystery. Although, it's fun to speculate the sentiment behind the man-made pond. Perhaps it was a lover's gift? Either way, it's quite an impressive sight to see from above.
Advertisements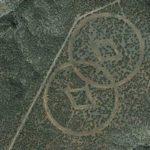 Advertisements
Scientology is a mysterious religion who shroud their many properties in secrecy. Non-members often wonder what events occur behind their closed doors. Thanks to Google Earth, we now can get an unrestricted view of the Scientologist church, Trementina Base, in New Mexico.
The markings are curious, and even though it may look like an extraterrestrial creation, it actually serves a practical purpose. According to Scientology officials, Trementina Base houses their founder, L. Ron Hubbard's, literature, books, and movies. They even buried stainless steel tablets with his writings carved on them to keep them preserved and out of harm's way.
Advertisements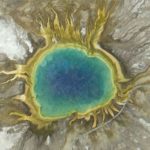 Advertisements
Natural wonders are even more impressive when seen from a bird's-eye view on Google Earth. The Grand Prismatic Spring in Yellowstone National Park, Wyoming is magical from above, where you can see vibrant rings of color in the 370 foot-diameter spring.
According to Express, the color is "due to the varieties of pigmented bacteria and microbes that live in the mineral-rich waters surrounding the hot spring." The Grand Prismatic Spring is one of the most photographed places at Yellowstone National Park. It's amazing how a change of perspective can unlock a new view of everyday locations.
Advertisements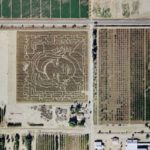 Advertisements
It's so cool when Google Earth features pop culture references in our landscape. Oprah Winfrey is an American icon and her face was captured in a corn maze. According to the website Google Sightseeing, it was created by Arizona's Schnepf Farms.
Each year, the farm immortalizes its favorite celebs by creating famous faces in their 10-acre cornfield. So, they declared their love for Oprah for all to see during Halloween of 2004. The aerial view is impressive because it actually looks like Oprah from above. The folks at Schnepf Farms did a superb job.
Advertisements
6

Mysterious Egyptian Spiral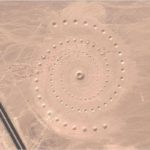 Advertisements
This strange spiral captured by Google Earth looks like a UFO landing pad at first glance. Located in the Egyptian desert near the Red Sea, this image may seem like something out of a science fiction book, but it's actually an environmental art installation created by 3 female artists.
According to Live Science, Danae Stratou, Alexandra Stratou, and Stella Constantinides created the installation, titled Desert Breath. The artists said on their website, "The work functions on two different levels in terms of viewpoint. From above as a visual image, and from the ground, walking the spiral pathway, a physical experience."
Advertisements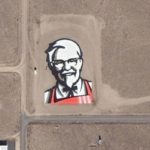 Advertisements
Google Earth gave way to "Roofvertising," an entirely novel way for businesses to advertise on horizontal billboards painted onto rooftops. A giant Colonel Sanders was visible from outer space in an ad for Kentucky Fried Chicken. The "Face from Space" lived in the desert of Rachel, Nevada.
According to Traveller, "The giant Colonel Sanders image was assembled like a jigsaw puzzle out of 65,000 tiles, individually painted red, black, white, or beige," they wrote. Despite the installation being removed in 2006, the Colonel will live on forever in the annals of Google Earth.
Advertisements
Advertisements
Hollywood productions often hide movie props in top-secret locations. Disney Studios tried to keep a tight lid on the whereabouts of the Millenium Falcon during the filming of The Last Jedi. Despite their best efforts to keep the iconic spaceship hidden, an eagle-eyed user located the ship on Google Earth.
Business Insider reported that Twitter user Kevin Beaumont discovered Han Solo's ship at Longcross Studios, a film and TV production facility near London. Beaumont tweeted a pic along with the caption, "Lol Disney tried to hide the Millennium Falcon by surrounding it with shipping containers. Also, it's on Google Maps."
Advertisements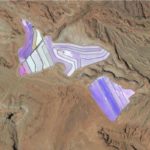 Advertisements
These mesmerizing blue ponds are located near Moab, Utah at the Intrepid Potash mine. It almost looks like stained glass when seen from above, thanks to images captured by Google Earth. They're actually potassium chloride evaporation ponds.
Reader's Digest reported that "Potash" means "salts that contain potassium" and they add blue dye to the water to "optimize the absorption of sunlight and evaporation." Crystals of salt and potassium are left behind after evaporation and gathered to produce the chemical. It's a scientific process that creates a beautiful landscape.
Advertisements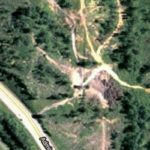 Advertisements
This next one on the list is just spooky. Sometimes Google Earth captures sinister images and one Internet user, Luther Blissett, claims he discovered the Devil's face. According to Google Sightseeing, Blissett recognized the evil image while he used Google Maps to locate potential Pagen holiday destinations.
Apparently, Satan lives in a wooded area just outside of Atlanta, Georgia. His face is made up of several trees and other natural formations. We question the validity of this claim, but have to admit that a face can be seen in the landscape when viewed through Google's lens.
Advertisements
11

Illuminati In The Desert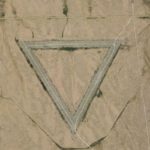 Advertisements
A large triangle can be seen in the desert of Wittmann, Arizona. The mysterious symbol seems to not lead anywhere, and many people speculate that the Illuminati created the triangle because triangles are often associated with the secret organization. Sorry to disappoint any conspiracy theorists, but this is one phenomenon that can be explained.
The Express reported that the theory has been debunked, and the triangle is actually the abandoned Air Force Base Luke Aux #4. "The airport was thought to be named after Frank Luke, an American fighter ace who was the first airman to receive the Medal of Honour in 1918," Kara Godfrey wrote.
Advertisements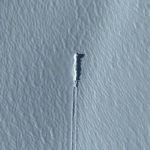 Advertisements
This next one almost had us convinced that extraterrestrials had visited our home planet. A YouTube channel, SecureTeam10, claimed to have located a crashed UFO on an island in Antarctica. They convinced viewers that a Google Earth image of a strange trail in ice was an alien spacecraft landing site.
According to LiveScience, it was actually a photo of disturbed ice from an avalanche on the side of a glacier near Mount Paget. "A long trail extends away from the main disturbed area, leading to a white object that appears embedded in the snow on top of the glacier," Rafi Letzler wrote.
Advertisements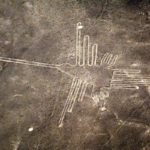 Advertisements
Google Earth caught a glimpse of ancient markings located on the Peruvian coastal plain. The formation depicts strange shapes and they may look like alien carvings, but they were actually created by the ancient Nazca culture and are known as the Nazca Lines. They look quite impressive from overhead.
According to History.com, recent research speculated that the Nazca Lines' purpose was related to water. "The geoglyphs weren't used as an irrigation system or a guide to find water, but rather as part of a ritual to the gods—an effort to bring much-needed rain," they wrote.
Advertisements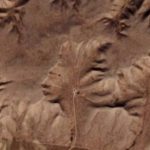 Advertisements
Google Earth captured another fascinating image in an area known as the "Badlands Guardian", in Alberta, Canada. This remote landscape is a geographical wonder where rainwater eroded the clay-rich soil, creating beautiful natural formations.
The most notable is a left-side profile of a person's head made from a section of rock and deep ridges. The image looks like an ingenious man and many people refer to the formation as an "Indian Head". According to Express, one Twitter user commented that it looked like "a massive face (wearing headphones) carved into the clay."
Advertisements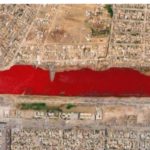 Advertisements
The Internet buzzed with speculation when a photo of a blood-red lake surfaced on Google Earth. Located outside Sadr City in Iraq, the viral image first appeared in 2007. So what caused the once clear water to turn red? Several theories have floated around online.
According to Time, "A tipster told the tech blog Boing Boing that he was told by a friend that slaughterhouses in Iraq sometimes dump blood into canals." Iraq never released an official statement, but there is probably a logical explanation for the phenomenon, like sewage runoff. Either way, it's shocking to see a red lake from the air.
Advertisements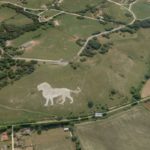 Advertisements
A majestic lion is carved into the countryside in Dunstable, Bedfordshire. The landmark stands guard near Whipsnade Zoo and was made with 800 tonnes of chalk from under a nearby resident's house.
The figure overlooks the Dunstable Downs and marks the zoo's location. They restored it in 2018 after falling into disrepair since its initial construction in 1933. The zoo's general manager, Owen Craft, told the BBC he was "incredibly proud" of the lion. "We are delighted to have restored this iconic landmark to its original glory," he said.
Advertisements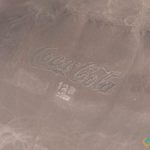 Advertisements
Thanks to the magic of Google Earth, we can see aerial images from above that don't look as spectacular from the ground. An impressive Coca-Cola tribute can be seen from space, and the story behind it is just as fascinating as the image itself.
According to the> Guinness Book of World Records, the installation was made from 70,000 empty Coca-Cola bottles. The logo, which is in the desert of northern Chile, measures 50 meters tall by 120 meters. The company created the massive logo to commemorate Coke's 100th anniversary. That's one way to get name recognition.
Advertisements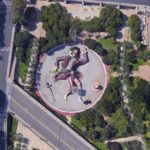 Advertisements
The image of a large mysterious man surfaced on Google Earth, and we can't help but wonder exactly what we're looking at. What seems like it could be an art installation is actually a strange children's playground in Valencia, Spain.
Bright Side reported that the massive gentlemen has secret passages, several slides for kids to slide down, and a wide bench for parents to sit while they watch their little ones play. This is a very creative use of space and looks almost like some sort of artsy amusement park from above. Either way, we'd love to visit the park someday.
Advertisements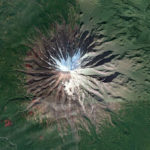 Advertisements
Some of the most visually stunning places on Google Earth are natural wonders. They offer views of locations they may not have access to in real life. Seeing the earth from above gives a fresh perspective on geological sites and this symmetrical volcano is quite a sight to behold.
According to Bored Panda, a man that goes under the nickname "geologistmakesthebedrock" captured this screenshot of a mind-blowing volcano from Google Maps and captioned the image, "A beautifully symmetrical volcano on the Kamchatka Peninsula in Russia. Look at those weird red cinder cones on the flanks."
Advertisements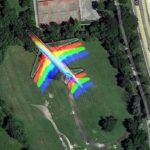 Advertisements
Sometimes Google Earth captures something so strange, you can't believe that it's real. The camera lens often reveals a kaleidoscope of colors not seen by the naked eye. What may seem real is actually a mirage of some sort. This next photo is a perfect example of this phenomenon.
When you first see this aircraft, you may think that it's a Pride plane. It's actually an optical illusion captured by Google Earth. Several satellite cameras created the rainbow effect, taking pics of the same image at once. So, this isn't a magical unicorn plane after all.
Advertisements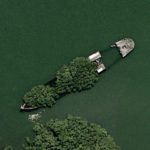 Advertisements
Yes, it is indeed a forest that you can see in the middle of the water on this photo available on Google Earth. It is in fact a 102 years old wreck of a transport ship which is located in Homebush Bay, Sydney, Australia.
This particular wreck was supposed to be dismantled, but what is now officially known as the Floating Forest has become such a popular attraction for tourists and photographers from all around the world that it is finally here to stay.
Advertisements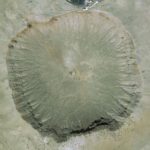 Advertisements
It is not every day that a meteorite comes to impact the Earth, and generally, over hundreds or thousands of years, the trace of their impact fades, sometimes to the point of becoming unnoticeable. However, the Barringer Meteor Crater, Arizona, USA, is still very visible, even about 49,000 years after it was created.
The crater is 2.4 miles in circumference and over 550 feet deep. The place has obviously become very touristy and there is an Interactive Discovery Center, unique gift and rock shop as well as tourist information center.
Advertisements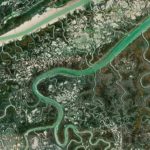 Advertisements
This aerial view of the fishing village of Ayamonte, Spain, located just outside of Portugal on the banks of the Guadiana River, is simply stunning. It looks like a work of art!
On the top of the hill, you can still admire the ruins of an ancient Roman castle, and the beaches of Canela and Moral are among the most popular in the region for summer lounging. Anyone interested in the Roman or medieval eras will be fascinated by the historical architecture of Ayamonte.
Advertisements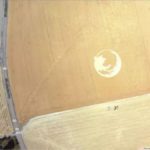 Advertisements
In a field in Dayton, Oregon, there is something quite unusual. It's potentially unnoticeable from the ground, so few people know it's there, but with an aerial view like the one offered by Google Earth, you can clearly see a Firefox logo hiding in that field.
Is Firefox trying to do some original advertising for people who travel over this field in a plane? Or is the company trying to become interplanetary, or even interstellar? That seems very ambitious to us, but why not?
Advertisements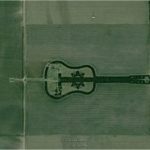 Advertisements
The guitar is one of the most popular musical instruments in Argentine folklore. Knowing that, we are not so surprised to find this aerial view of a big forest in the shape of a guitar on Google Earth, quite the contrary!
This strange forest is located in Córdoba, Argentina, in the Pampas region. It is formed by more than 7,000 cypress and eucalyptus trees. It is a forest created by man, specifically by Pedro Martin Ureta, in memory of his wife.
Advertisements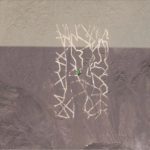 Advertisements
It's easy to miss some of the oddest sights when only standing at ground level. That's why there had been very few people who knew about this mysterious pattern in the middle of the Gobi Desert in China before it was posted on the internet.
Once the pattern was discovered, the media went wild and wanted to know what it was all about. The most plausible theory is that it is, in fact, a pattern created to calibrate Chinese spy satellites. Nothing supernatural, then!
Advertisements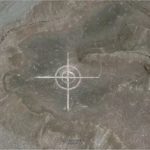 Advertisements
If there's anything you don't expect to see on the ground in the desert, it's a giant target. And yet, that's what we find in this Nevada desert. But why would someone create this huge target on the ground, which can only really be seen from the air?
Is it to indicate to potential aliens where to drop their ship if they come to visit us one day? Maybe! But in fact, it would be more plausible that this marking is an aerial photo calibration target. There would be several of them all over the United States, especially in the desert airbases.
Advertisements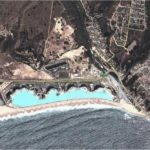 Advertisements
Did you know that the biggest swimming pool in the world is located in Algarrobo, Valparaíso, Chile? It is so huge that even on an aerial photo taken on Google Earth, it looks too big to be real. You'd think it was a lake at that size!
This pool is 1,013 meters long, with a total surface of 8 hectares. Do you see the difference in size of this pool with the much smaller one on the right? It is located in the enclosure of the San Alfonso del Mar resort, which is also the largest resort in the world.
Advertisements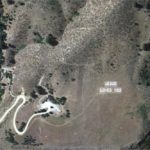 Advertisements
Americans are still, to this day, very religious, unlike people in some other countries. So much so that someone decided to put a huge message on the ground, visible from above, that says "Jesus loves you." How sweet!
This message of love shared to anyone flying over this area is located in the heart of the Boise National Forest, Boise, Idaho. It is clearly safe to say that this message was placed there by the residents of the small house that is located a little to the left.
Advertisements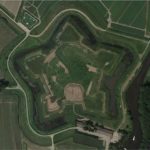 Advertisements
This star-shaped fort is called Fort Henricus and is located in Steenbergen, Netherlands. It was built in 1626 and has suffered more than damages since its construction, especially because it was one of the places that experienced the Eighty Years War, also known as the Dutch Revolt, which took place from 1566 to 1648.
While Fort Henricus is still impressive from the air, there is unfortunately not much to see from the ground. Indeed, the fort was completely destroyed in 1812, and the fortifications around it were dismantled in 1827. Only the shape of the fort and some remains remain.
Advertisements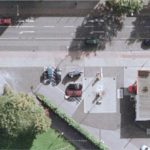 Advertisements
In a lifetime, the chances of your car ending up on its side on the ground are pretty slim, unless you have an accident, and even then. And the chances of your car ending up on its side while visibly parked are even slimmer!
So imagine what the chances are that not only does your car end up on its side on the ground, in a parking lot, but that it is captured by Google Earth. It's absurd that this has even happened to anyone! But this picture taken in Krefeld, Germany, is real.
Advertisements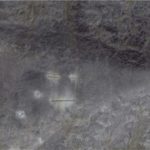 Advertisements
Sometimes, nature creates grandiose spectacles without any need of human intervention. And sometimes, these natural works of art can only be seen under special circumstances, for example, from really high in the air.
A Google Earth image taken over Russia offers a very funny vision created by nature. Don't you think that these strange lines on the ground look like a monkey's face? Are they relics of King Kong or something like that? Haha!
Advertisements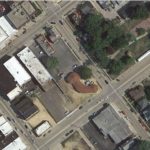 Advertisements
Yes, you saw it right. This building on Google Earth has a very suggestive shape. But do you know the worst part? It is a church! In fact, this phallic-shaped building is actually the Christian Science Society of Dixon, Illinois, located at 321 W 2nd St. This is a bit embarrassing!
Clearly, the architect of this building didn't think about the aerial view that his drawings would provide. It seems that at one point, Google Earth even censored the church, making it blurry, but they quickly changed their minds.
Advertisements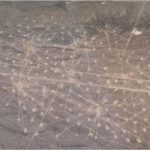 Advertisements
You may have seen images of oil fields from the ground, but have you ever seen an aerial image of several oil fields? This photo taken on Google Earth shows perfectly the oil fields that are located in Rio Negro, Argentina.
The Señal Picada (Rio Negro) Field is really impressive seen from the air. You can see the different extraction points, all connected by several paths. Don't you think it looks a bit like a very complex constellation?
Advertisements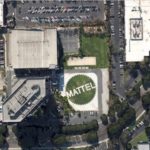 Advertisements
Everyone knows about the American multinational company Mattel, which has been building toys and entertaining children and adults since January 1945! While Mattel is present in 35 countries and territories and sells products in more than 150 countries, its headquarters are located in El Segundo, California.
This image from Google Earth shows pretty well where their headquarters are located, don't you think? The company has made every effort to be visible, even from the air. Now that's what we call successful marketing!
Advertisements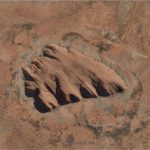 Advertisements
Mount Uluru, also commonly known as Ayers Rock, is a large sandstone formation located in central Australia. It is 863 meters high and has a prominence of 348 meters. This mount is also sacred to the Pitjantjatjara, the Aboriginal people of the area.
Although Mount Uluru is well known in Australia—it is one of the country's most recognizable natural landmarks—and a popular tourist destination, it is more rarely seen from the air, and it looks rather strange from this angle, don't you think? It almost looks Photoshopped!
Advertisements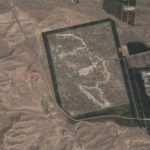 Advertisements
This particular image was discovered by a German Google Earth user, and it must be said that it caused quite a stir. In the image, which shows part of the Yong Ning Xian region, Yinchuan, Ningxia, China, one can see what turns out to be an accurate scale model of a sensitive part of the Sino-Indian border that China and India have been fighting over since 1962.
This scale replica would represent a 2,400 km stretch of the Aksai Chin area bordering Ladakh and would be used by troops of the China's Huangyangtan province military complex for training, as well as for familiarization of troops, helicopters and infantry vehicles.
Advertisements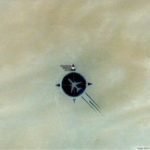 Advertisements
Many strange things can be found in the deserts of the world when you have fun flying over them with Google Earth, and this photo is one more proof. But what could be this plane sign in the middle of the Sahara Desert, southern Ténéré of Niger?
Well, this ground drawing is actually a memorial for the UTA Flight 772 which unfortunately crashed at this location on September 19, 1989 while on a flight from Brazzaville in the People's Republic of the Congo, via N'Djamena in Chad, to Charles de Gaulle Airport in Paris, France. This tragic air event was the worst to have occurred in Niger.
Advertisements
39

Come Downtown And Play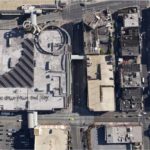 Advertisements
This photo is a rather low aerial view of the city of Memphis, Tennessee, which can be found on Google Earth. This photo seems very ordinary until you notice the sentence "Come downtown and play" which is written in big letters on the roof of one of the buildings.
Who did this graffiti on the roof? And for what purpose? Who was this person addressing when they came up with the idea of writing this? People flying by? Or potential extraterrestrials who would see this message and might be tempted to land their spaceship to meet them?
Advertisements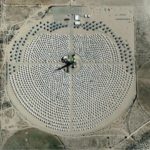 Advertisements
At first glance, it is difficult to understand what we see on this picture. Is it a strange circle of small houses in the middle of the desert? Is it a military base with equipment much too well placed? None of these answers!
This aerial image taken on Google Earth over Daggett, California, in the Mojave desert, shows a decommissioned experimental solar facility containing hundreds of solar reflectors. There were two phases to this project, Solar One and Solar Two, which operated respectively from 1981 to 1988, then from 1995 to 1999.
Advertisements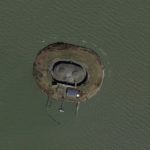 Advertisements
This strange little island is located in the IJmeer, a bordering lake in Netherlands. This island is called Forteiland Pampus (Fort Island Pampus in English,) and was part of the military plan "Stelling van Amsterdam", created to protect the city of Amsterdam.
Amsterdam built this island between 1887 and 1895 in order to be protected in case of an attack from the IJmeer. In order to slow the enemy's progress towards the city, the island would have been flooded just deep enough for soldiers being unable to land, but not deep enough for ships to pass.
Advertisements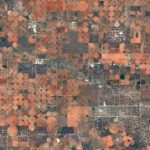 Advertisements
Are we the only ones who find that this image seems more to be a kind of work of art created with pennies of different sizes rather than a real picture? Honestly, it's hard to understand what could look like this on Earth from the sky!
But apparently, this is an aerial image showing a bunch of irrigated fields located in west Texas. The orange/brown parts would be the fields, while the white specks would be oil pads connected by small roads.
Advertisements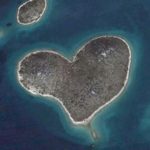 Advertisements
A heart-shaped island, really? Sounds too good to be true, don't you think? And yet, this island really exists! It's a 130,000 square yard desert island named Galesnjak, but now nicknamed Lover's Island, which is located in the Adriatic Sea, off the coast of Croatia.
This island could certainly become a favorite place for lovers, especially on Valentine's Day, but it's not clear how tourists could stay there, or even get food and water. The isolated location of this island, however, in Zadarski Kanal between Zadar and the Island of Pasman, makes it an intimate and romantic destination!
Advertisements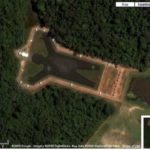 Advertisements
Did a giant once fall from the sky and crash to the ground, creating this human form that would have filled with rainwater over time to become a lake? Because its shape is that of a human, no doubt about it. It is located in the city of Lacanga, near São Paulo, in Brazil.
But no, this lake is not naturally of this shape. It is, in fact, an artificial lake voluntarily designed in the shape of a human. This lake would be called the Lagoa Humanóide and would be located at the bottom of a recreation area.
Advertisements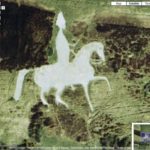 Advertisements
This strange figure of a rider with a pointed hat riding a horse with a pointed nose is found on the hillside of Sutton Poyntz, United Kingdom. This design is too perfect and elaborate to exist naturally, isn't it?
Well, this work was indeed created by man. It is called the Osmington White Horse, and it is actually a prehistoric figure carved in the white chalk of the hillside. Did you know that this type of carved form is called "Leucippotomy"?
Advertisements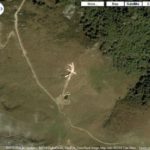 Advertisements
This giant rabbit that can be seen on Google Earth is called Haze. It made its appearance in Piedmont, Italy, in 2005. It was conceived and created by the Viennese art collective Gelitin. It took the collective 5 years to knit this giant pink rabbit, 200 feet long and 20 feet high.
Haze was supposed to last until 2025, but unfortunately, since 2016, it has already started to completely decomposed. In 2020, it seemed that only its outlines remained. As many found the rabbit rather creepy, one can imagine that few people feel sorry for its hasty decomposition.
Advertisements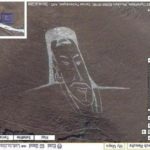 Advertisements
This very recognizable portrait of Genghis Khan was carved into a hillside just outside the city of Ulaanbaatar, the capital of Mongolia. Although his face is a bit long, there is no doubt about the person reproduced here.
Genghis Khan was the founder and first emperor of the Mongol Empire, which came into being in 1206. After Khan's death in 1227, the Mongol Empire became the largest contiguous empire in history. The Great Khan is definitely a major figure in Mongolia; that's why they wanted to pay him a big tribute!
Advertisements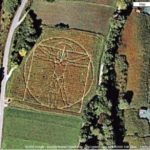 Advertisements
The Vitruvian Man was created by Leonardo da Vinci during the Italian Renaissance, around 1490. The Vitruvian Man represents the artistic and scientific ideals of the physical representation of man at that time.
Yes, even during the Renaissance, there were "ideal" body proportions! This image is so famous and important even today that someone decided to reproduce it in a field in Munchen, Germany. We have to admit that the work is very successful!
Advertisements
49

Gulliver the Gentle Giant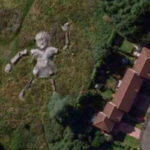 Advertisements
This statue, called Gulliver the Gentle Giant, was created by Jimmy Boyle, a former gangster and convicted murderer, while he served a sentence at Barlinnie Prison in Glasgow. It is located in Edinburgh, Scotland.
The 100 feet long statue became so popular that in 1976, it was placed and unveiled. Composed of a torso, two arms and two legs, the statue formed a series of tunnels and hideaways. Unfortunately, it was demolished in 2011, leaving no trace of its past existence. But at one point, it was the largest concrete sculpture in Europe!
Advertisements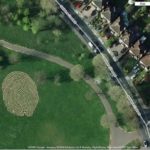 Advertisements
But what is this huge fingerprint that we can see traced on the grass from Google Earth? At this size, even a giant's fingerprint doesn't seem to be a realistic hypothesis at all! Could it be the fingerprint of God, perhaps?
Just kidding! This huge fingerprint, which is located in Hove park in Brighton, England, is actually a large maze called "Fingermaze". It was designed by Chris Drury in 1993 and is made of stone and turf. Here's an interesting piece of art!
Advertisements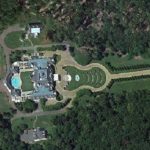 Advertisements
This mansion is located at 7 Montagel Way in Shoal Creek, Alabama. Not only does it have 15 bedrooms, 16 bathrooms and a gym, but its 27 acre lot, which includes a horse riding area, pool and hot tub, waterfalls and cabanas, is shaped like a guitar!
The house was owned by former MedPartners CEO Larry House. The house was put up for sale for a cool 13.9 million in February 2014, but did not find a buyer. In 2015, it was put back on the market, but in an auction, and bids started at just $1!
Advertisements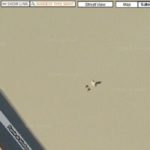 Advertisements
This is an aerial view of the Guadalquivir river in Córdoba, Spain, taken on Google Earth. But what is in the lake? It looks like someone is sitting there, don't you think? Except that the lake is clearly too deep for that to be possible. So what's going on?
Well, it's the giant of Córdoba taking a bath, of course! After all, have you ever seen a bath big enough for a giant? Neither have we! This is a statue that should make motorists look twice the first time they drive on this red road!
Advertisements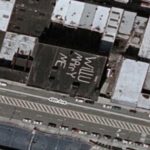 Advertisements
People tend to be more original and creative when it comes to proposing to their significant other, but we have to admit that while this is an impressive proposal, it's hard to understand why someone would write "Will U Marry Me" in large letters on the roof of a building.
This proposal can definitely be seen only from the air. It would be hard to detect the message if you walked directly on it. But this person's lover, who are they? Unless they're an airplane pilot or an astronaut, we have serious doubts that they'll see this proposal!
Advertisements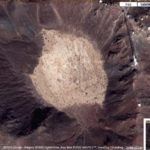 Advertisements
This aerial view shows Cerro Prieto ("Black Hill" in English), an extinct volcano crater located near Mexicali in Baja California, Mexico. It last erupted at an unknown date, but probably within the last 10,000 years.
Now there is a geothermal field that has been producing electricity since 1973 and should be able to maintain its current capacity until 2030. It is also a very visited place, and visibly, the visitors had a great time creating many graffiti.
Advertisements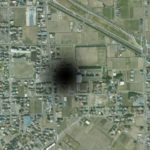 Advertisements
But what is this black hole in the center of this picture? It looks like a shadow, but there is nothing in front of the camera that could create such a big circular shadow on this part of the city. And it can't be the camera's shadow either, that's just not possible.
And black holes only exist in space, so what is it? Did Google try to cover up something in the image of this city, which is about 60 km north of Tokyo, Japan? If so, this thing must be pretty big, and we wonder what it could be!
Advertisements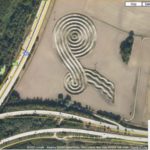 Advertisements
This image comes from Google Earth and it shows a field near the airport of Munich, Germany. It is simply what we call a "land art", or an "Earth art". Imagine the patience it takes to create something this big and well done!
It looks like a big ribbon, and it's really impressive how even all the lines are. It seems almost impossible that this is true! And the little wispy part at the bottom right, are we the only ones who are reminded of bacon? We're hungry all of a sudden!
Advertisements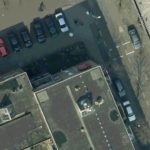 Advertisements
There are things in life that are universal and well known. In particular, that the Earth revolves around the Sun, that the Moon orbits the Earth, and that EVERYWHERE on Earth, there is what we call gravity. Every square millimeter of the Earth is subject to gravitational force, that's just how it is.
Except in this parking lot in Westenbergstraat, Netherlands, apparently. For some reason we have a hard time explaining, there are arrows on the walls of the building, pointing to the roof, and on the side, parking lines, one of which is used by a small red car. How is this possible?
Advertisements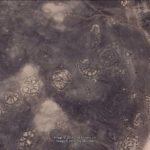 Advertisements
This line made of strange wheels or some kind of shape that evolves along the line is located in the Azraq Oasis in the Badia region, Jordan. A team of scientists working with the Aerial Photographic Archive for Archaeology in the Middle East (APAAME) estimate that these shapes have been there for about 8,500 years.
Based on the positioning of the wheels, which are also called "works of the old men", scientists believe that they would actually be in a southeast-northwest orientation, and thus, would line up with the rising sun on the winter solstice.
Advertisements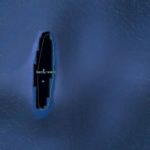 Advertisements
The story behind this Google Earth image is quite amazing. The island we see, Sandy Island, is a ghost island. What appears to be an island the size of Manhattan in the heart of the South Pacific Ocean, northwest of New Caledonia, does not exist! Australian researchers wanted to visit it in 2012 and found nothing but water where it should be.
In an obituary of the island published in April 2013, the researchers explained that Sandy island has been included in some maps for over a century, but in fact, it would be the result of human errors and a possible pumice raft.
Advertisements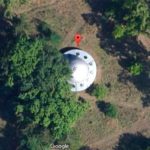 Advertisements
That's it! Thanks to Google Earth, we now have proof that not only do aliens exist, but that they also come to Earth for reasons unknown to us. It's clearly a flying saucer that we see on this image coming from Romania!
Except it's not, unfortunately. This round thing seen from above, partially hidden by a tree, looks like a flying saucer indeed, but is not one. After verification, it is, in fact, only a water tower. It's a pity, we know.
Advertisements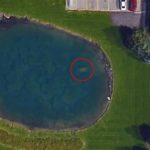 Advertisements
At first glance, this Google Earth image showing a small pond behind a Michigan funeral home is not at all unusual. When you look closely, however, you notice a small rectangular spot in the pond. Well, that spot is a car sitting at the bottom.
While funeral home employees were decorating an outdoor tree for the holiday season in 2015, they noticed the roof of a car at the bottom of the pond. Although the car is clearly visible on Google Earth, no one has ever noticed it was there in nine years. This sudden discovery actually helped solve a missing person's case… what a horrible story!
Advertisements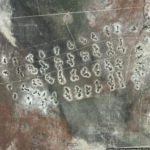 Advertisements
There seem to be some very strange things happening on the ground in Utah when you step back and take a look at the area from the air. But what are all these protrusions, uneven, yet neatly lined up in four distinct rows, that you can see via Google Earth?
If it is not a kind of message left on Earth by extraterrestrials in a language yet unknown to us, we really don't know what it could be. We would like to know what this message means! And to whom is this message addressed? To other aliens?
Advertisements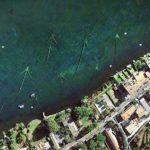 Advertisements
This Google Earth aerial image comes from the air over Lake Bracciano, between the Italian cities of Trevignano Romano and Viterbo. Looking at the image, one quickly notices the strange thin arrows in the water, pointing to the middle of the lake. But what could they be?
Well, although these arrows look quite mysterious, they are actually just a certain type of fish trap called an arrowhead trap. When fish swim to shore, then try to return to deeper water, they get caught in the trap. A simple and effective way to fish!
Advertisements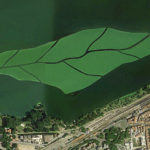 Advertisements
Wow, if there's one thing you never thought you'd see on Google Earth, it's such a big leaf! How is it even possible? No tree on Earth is big enough to have such huge leaves! What's going on in Mantova, Italy?
There are actually three man-made lakes surrounding the town of Mantova. They were built in the 12th century for protection purposes. In one of them is this gigantic leaf of a mile long. It is called the Isola del Fior, or the Flower island in English, and it is made of a large grouping of water lilies.
Advertisements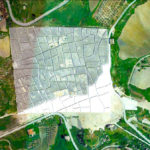 Advertisements
What is that weird, gray, square thing that covers the entire center of the image? At this size, it's certainly not a simple sculpture or even a building. It's absolutely huge! And yet, it is indeed a concrete structure. This huge concrete slab is located in the center of Sicily and is called the Cretto de Gibellina, or Cretto di Burri, in honor of the artist who created it, Alberto Burri.
It is half a square mile in size and completely covers what was once the village of Gibellina, which was completely destroyed by an earthquake in 1968. The pattern seen on the concrete square represents the streets and buildings that made up the village.
Advertisements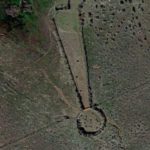 Advertisements
We want to exclaim loud and clear when looking at this image found on Google Earth! After all, isn't that a huge exclamation point you can see on this part of Idaho's territory? Well, this place has a name: Diskshooter!
Dickshooter represents not only a trailmarker but also at least three geographical features in the Owyhee County area: a ridge, a reservoir and a creek. The location is in a wilderness area about 24 miles northeast of the community of Riddle.
Advertisements
67

Unidentified Submerged Object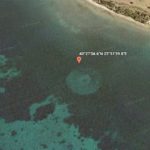 Advertisements
Here is a Google Earth view of the Aegean Sea, near the Greek city of Thessaloniki. It is a YouTube user named The Hidden Underbelly 2.0 who shared this image on the web, asking for the opinion of Internet users in order to identify a strange round shape under water. But what could it be?
The YouTube user did some calculations, and the thing is reportedly 220 feet long. There are many hypotheses, but nobody agrees on what it really is. An alien spaceship? A crater? An underwater bomb from World War II? An old lighthouse that would have been submerged? Who knows?
Advertisements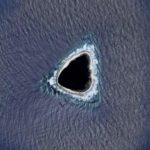 Advertisements
If there are places where it is possible to find unexpected things, it is in the water! And one Reddit user has found what appears to be a black hole right in the middle of the central Pacific Ocean. Except that black holes are only found in space, not on Earth! So what's that stain in the ocean?
Well, as surprising as it may seem, it is an island discovered more than 200 years ago, 400 miles from Tahiti, and is called Vostok Island. It is an uninhabited island of 56 acres belonging to the Republic of Kiribati. What seems to be a big black hole is in fact a very dense forest made of Pisonia trees.
Advertisements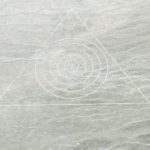 Advertisements
On this picture, you can admire an aerial view of the Nevada desert. But why is there a huge triangle with, in its center, five circles one inside the other, getting smaller and smaller? Who drew this on the ground? The lines are so beautiful and precise, it is clearly not a natural design in the desert sand!
Could it be a subtle message from aliens to indicate where to put their ship to go unnoticed? Some suggest that there is nothing paranormal here and that it is rather an old bomb testing site or an abandoned airstrip.
Advertisements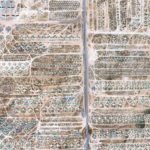 Advertisements
Google Earth spotted this amazing image of rows and rows of airplanes located outside of Tucson, Arizona. It may appear to be an airplane graveyard, but in reality, you're looking at an aerial view of the Davis-Monthan Air Force Base.
This is where old planes spend their last days and there are over 4000 military aircraft resting on the base. According to TIME, from B-52s to stealth bombers, the planes are salvaged for parts and broken down for scrap. It's one of the most seen satellite pictures online, making guided tours of the base a popular tourist destination.
Advertisements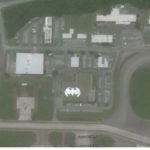 Advertisements
Batman fans will be thrilled to learn that the Batcave has been discovered. Google Earth spotted the secret location at the home of the U.S. Air Force's 44th Fighter Squadron's Kadena Air Base in Okinawa.
The military newspaper Stars and Stripes reported on the finding. Ed Gulick, the Kadena spokesperson, told the paper that the symbol was real and painted in the 1980s. "We know it's been there for years… and is somewhat common for esprit de corps around the Air Force as it gives members of the squadron pride in their unit," Gulick said.
Advertisements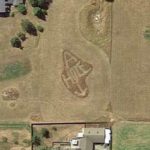 Advertisements
An angry neighbor sent an obvious message and thanks to Google Earth, we all get to witness the feud. A Washington State man mowed the word "A-Hole" into his grass with an arrow pointing to his neighbor's house.
According to the Daily Mail, Brian Juel has some beef with his neighbors, Cindy and Brian Zechenelly, after they built a purple garage apartment on their property in 2009. The couple refused to repaint the garage a different color, even after their neighbors formed a petition against them. Juel used creative landscaping methods to air his grievances to the world.
Advertisements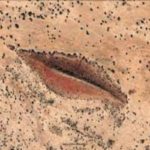 Advertisements
Google Earth spotted a mystical image in the Sudan, Darfur desert that has locals talking. In the hilly desert region, we can see a pair of lips in the natural landscape from above. It looks like a slightly open mouth surrounded by full lips.
According to The Express, rows of trees and patterns create the shape in the sand. Residents of the nearby village of Gharb have their own theories as to the purpose it serves. "Some say that it actually houses a massive black hole that remains closed as long as the mouth remains so," a villager said.
Advertisements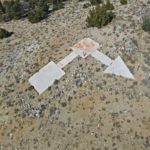 Advertisements
At one time, in the early days of the US Postal Service's national airmail service, pilots carrying packages had to find their way over the United States by sight alone, which could be quite difficult, especially when the weather was not optimal.
In 1923, Congress approved the installation of the Transcontinental Airway System, which consists of a network of approximately 1500 towers, each with a gas-powered bearing light for night flights, and an arrow-shaped foundation to assist daytime navigation.
Advertisements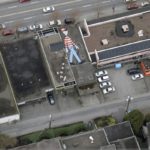 Advertisements
Here's a wacky discovery from Google Earth. The digital mapping site inspired an elaborate game where users searched for Waldo, from the children's book Where's Waldo, in various cities. A huge 55-foot painting of Waldo surfaced on a rooftop in Vancouver, Canada.
Artist Melanie Cole titled the project Where on Earth Is Waldo? According to The Express, she said of the work: "My addition of a Waldo figure to Google Earth, in a way, subverts the whole earth into being part of my game; each rooftop or field then becomes a place where Waldo could be hiding."
Advertisements
76

Cruise Ship Amidst Skyscrapers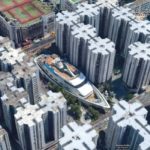 Advertisements
Located in Hung Hom, Kowloon, this 360-foot long concrete shopping arcade hosts many shops, from the Japanese supermarket AEON to a fitness gym in the basement. According to The Express, >the area where the ship stands, Hung Hom, was formerly a dockland, and the structure is an homage to the area's historical purpose.
Advertisements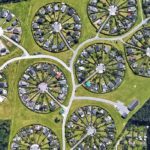 Advertisements
We can glimpse how at people live all over the world because of Google Earth. This surreal sight is not an alien landing pad as it may appear, but is a view of a housing community in Denmark. The urban development is known as Brøndby Garden City.
Located just outside Copenhagen, Denmark, the designer of these garden homes placed them in a circular arrangement to encourage residents to garden on their property and stay close to the other residents living in the same circle. It creates a fascinating tapestry when seen from a bird's eye view.
Advertisements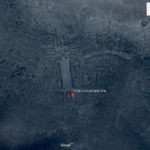 Advertisements
<>From far up in space, Google Earth spotted an ancient cat carved into a mountainside. It's known as The Tarapacá Giant and is in Iluga, Chile. According to Google, this prehistoric, anthropomorphic geoglyph is the world's largest & represents an ancient deity.
The carving is 9,000 years old and locals believe it represents a divine cat that came to earth from another planet. This historical geoglyph is in the Atacama Desert, which is also one of the driest places on earth. It's an otherworldly image captured by Google Earth's cameras.
Advertisements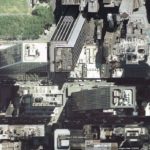 Advertisements
If you look closely at this photograph, you'll see an optical illusion that is known as the "Google Escher Effect". Google Earth captured a satellite image of the skyline in Houston, Texas, and several of the buildings appeared to be warped.
The artist M. C. Escher was known for painting buildings in a surreal way, and this image represents the spirit of his art. There are several examples of the "Escher Effect" on Google Earth. We just think that it's cool to look at and imagine a weird city that's buildings defy gravity and logic.
Advertisements
80

Mysterious Circle Maze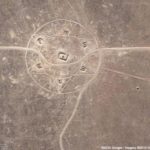 Advertisements
Google Earth often spots strange happenings and this crop circle discovered in Beatty, Nevada is definitely an odd one. Some viewers believe that it's an ancient message left by Jewish aliens to their ancestors. Others believe that it's a hoax.
Either way, Nevada is chocked-full of mysterious circles like this one. We like the theory that it's an alien form of communication, but chances are, it's just someone playing a joke on Google Earth. At a second glance, it could be a bunker for some sort of military operation. I guess we'll never know as it's shrouded in secrecy.
Advertisements
Advertisements
The Nazca lines are very numerous in Nazca, a city located on the southern coast of Peru. This phenomenon would date from between 100 BC and AD 800 and still raises many questions today. But while some Nazca lines form rather abstract forms, others remind us of very precise things.
These Nazca lines, for example, look strangely like a monkey, don't you think? Not only is this creation impressive, but we can't help but wonder what it's for, and why the monkey shape? Scientists believe that the Nazca lines were used for religious and astronomical reasons, but it is impossible to be certain.
Advertisements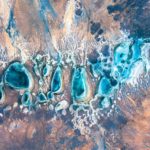 Advertisements
Generally speaking, when we think of a desert, we think of sand, cacti, and drought. Except that this is not totally true. Some deserts have stretches of water. Not necessarily in large quantities, but still. When we look on Google Earth, however, we realize that deserts like the Great Sandy Desert, located in Western Australia actually has several lakes!
We can't deny it, it's quite impressive seen from the air. The desert covers an area of hundreds of thousands of square kilometers. It is the second largest desert in Australia, and it contained hundreds of ephemeral salt lakes. Unfortunately, nowadays, they are mostly evaporated.
Advertisements
83

Island In A Lake In An Island In A Lake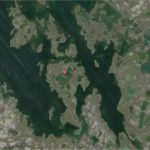 Advertisements
Nature doesn't need anyone to create great things, and this kind of islands and lakes mise en abyme is a good example. This image from Google Earth showing a place in northern Canada is quite funny and spectacular. It is in fact the biggest island in a lake on an island in a lake on an island. Phew! Are you keeping track?
The smallest island on the picture has no name and is a little more than 300 meters long. The lake that surrounds it doesn't have a name either, but covers a good part of the island that shelters it. This island is located in a finger-like lake located about 90 kilometers inland from the southern coast of Victoria Island, in Canada's Nunavut Territory.
Advertisements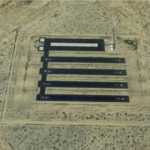 Advertisements
Did you know that there are landing strips in the middle of some deserts? Sometimes, there is not only one landing strip, but several in the same place. This is the case of this desert that can be seen on Google Earth, located in Eloy, Arizona, USA. The place has indeed four landing strips.
According to a Reddit user, these landing strips are located near Pinal Airpark and are in fact helicopter runways used by the Air National Guard. According to another Reddit user, they would use them to practice emergency landing.
Advertisements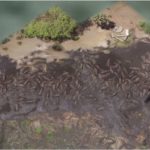 Advertisements
Hippos are semiaquatic mammals that need water stretches deep enough to immerse oneself in. They usually spend most of their day in the water to stay cool and hydrated. They have the habit of living in pods that can count more than a hundred hippos. In the water, males establish their territory, which they do not do on land.
This image taken on Google Earth is not so surprising, even if it is quite impressive. And did you know that by defecating in the water where they are, it seems that they share their gut microbes, affecting the biogeochemical cycle.
Advertisements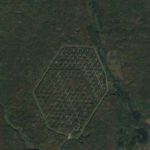 Advertisements
When you look on Google Earth at the heart of this unnamed forest located in Russia, you can see many strange buildings in an hexagonal shape. From the ground, it is almost impossible to see them, but from the air, it's quite the opposite.
This facility is isolated at the end of a single stretch of highway about a mile long. Inside the double hexagonal high fence that frames the facility are several perfectly aligned buildings, as well as what appears to be a guardhouse or checkpoint.
Advertisements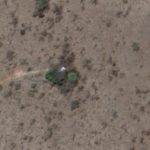 Advertisements
There is more than one strange thing you can see from the air thanks to Google Earth, and this is just one more. If you believe in aliens, here is an image that will certainly make you speculate. It is in this image taken over a large, sparsely populated area of South Africa that we can see what looks like a flying saucer that has landed.
The saucer would potentially have had a difficult landing since it seems a little tilted on one side. Around it, there are only a few trees and a single dirt road leading to it. Maybe it is just a very isolated house, but a round house with a roof that seems to be made of metal? We doubt it.
Advertisements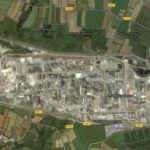 Advertisements
If you go on Google Earth and move over Normandy, in the department of Manche, you will eventually arrive over La Hague. You will then see an area of 300 hectares completely pixelated. But what could that be? Well, this is the reprocessing plant operated by the company Orano.
This place processes spent nuclear fuel coming mainly from French nuclear reactors, but also some from Germany, Belgium, Switzerland, the Netherlands and Japan. The plant opened in 1966 and as of 2018, it employed about 5,000 people.
Advertisements
89

Heart-Shaped Sand Bank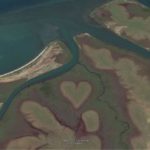 Advertisements
If we want to be precise, a sand bank is actually an area of sand or silt that forms, as a result of erosion and redeposition above the water, or at a shallow depth below the surface, on a shoal or in a river bed. So the formation of sand banks is very random and unpredictable.
So what are the chances of a heart-shaped sand bank forming, just like this one, which is in New Caledonia? That's an incredible chance, don't you think? Nature is really full of surprises, and it will certainly never stops to amaze us.
Advertisements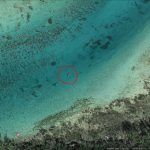 Advertisements
In the category of the strangest things found on Google Earth is this image of a car at the bottom of the water in Fresh Creek, on Andros Island, Bahamas. Why this car would be there, however, is still unknown.
Since there is no real road or ramp that could explain such a jump of the car, many believe that it was actually dumped there. It would even potentially be a car belonging to the rental company of Andros island. It remains to be seen why someone would abandon a car in the water.
Advertisements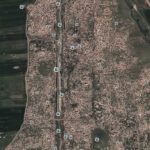 Advertisements
Google Earth can sometimes be a perfect tool to illustrate a little history lesson. It was on March 15, 2011 that the civil war broke out in Syria, and unfortunately, the conflict is still not resolved in early 2023. Obviously, the war has huge repercussions on many levels. In this aerial image, we can see how much the landscape of the country has changed.
The civil war in Syria has endangered hundreds of archaeological sites and damaged the six UNESCO World Heritage Sites in the country. But all the holes that can be seen in this picture, making Syria almost look like the moon, were dug by looters in the last 12 years.
Advertisements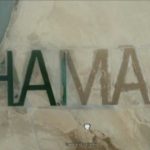 Advertisements
Money may not buy happiness, but apparently it can buy the carving of your name in giant letters visible from space into the sandy surface of Al Futaisi Island. Al Futaisi Island, which is located in the Persian Gulf, is owned by billionaire Sheikh and member of Abu Dhabi's ruling family Hamad bin Hamdan al Nahyan.
The letters forming his name are half a mile tall and a total of two miles long, making it potentially the largest word in the world. The letters are so large and deep that instead of being washed away by the water, they form waterways that absorb the encroaching tide.
Advertisements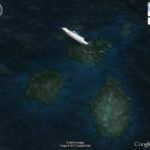 Advertisements
We can see many shipwrecks if we linger a little on the different stretches of water that cover the planet when we go on Google Earth. On this picture, we can see the wreck of the S.S. Jassim, a Bolivian cargo ferry, which sank in 2003 on the Wingate Reef off the coast of Sudan after running aground.
The S.S. Jassim was 81 meters long, making it for a long time one of the longest shipwrecks visible on Google Earth. Unfortunately, over time, the shipwreck has sunk more and more, making it almost invisible now.
Advertisements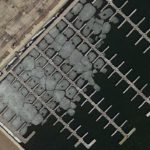 Advertisements
The incredible thing about Google Earth is that we can enjoy incomparable aerial views that we would not normally be able to admire unless we were in a plane or in space. This image was taken over a marina near Milwaukee, Wisconsin, in late winter as temperatures began to rise.
There's nothing so incredible about ice starting to break up on a body of water as the thaw begins, but don't you think it's a whole other thing to see it from the sky? The phenomenon itself may not be that impressive, but the resulting aerial image is visually stunning, in our opinion.
Advertisements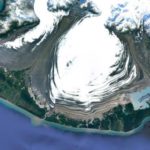 Advertisements
This Google Earth image was taken just off Yakutat Bay, in Southeast Alaska. You can see the Malaspina Glacier, which is a piedmont glacier, a type of glacier that spread out into a fan-like shape. It comesdown to the plain that forms the coast of the North Pacific Ocean. The Malaspina glacier is the largest piedmont glacier in the world.
Located at the head of the Alaska Panhandle, it is about 65 km wide and 45 km long, covering a total area of about 3,900 km2. Just below the glacier, we can see Malaspina Lake, which is very close to Yakutat Bay.
Advertisements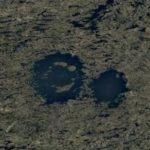 Advertisements
The Lac a l'Eau Claire is located in the Mauricie region of northwestern Quebec, Canada. In reality, it is a single lake with an area of 1,383 km2 and a length of 71 km. However, an Imgur user shared this image taken on Google Earth, arguing that the Lac a l'Eau Claire was potentially created by two impact craters caused by meteorites that hit the Earth about 200 million years apart.
His theory is based on the fact that the lake, as can be seen on the picture, would be formed by two almost perfect circles, which is rather rare in nature. Anything semi-geometric would therefore likely be caused by a specific geological or human process. This is why the theory of impact craters in the Canadian Shield prevails.
Advertisements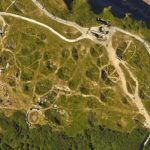 Advertisements
June 6, 1944 was the day of the Normandy invasion, more commonly known as D-Day. It was the largest seaborne invasion in history as the Allies invaded Normandy as part of Operation Overlord during World War II against Germany.
This aerial photo allows us to see from the air the preserved craters from the D-Day bombardment of German fortifications at Pointe du Hoc, Normandy. We find this image absolutely beautiful and full of unforgettable history.
Advertisements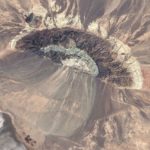 Advertisements
This image captured on Google Earth is beautiful. Seen from the air, it looks like a big jellyfish engraved on the ground, don't you think? Of course, this is not the case, but we like to make up stories! Jocking aside, this picture actually shows the Kavir National Park, an protected ecological zone in the north of Iran.
Kavir National Park is 4,000 km2 and is located 120 kilometers south of Tehran. It is found right at the western end of one of Iran's two major deserts, the Dasht-e Kavir (Great Salt Desert). Almost in the center of the park is a large, semi-circular rock outcropping called Siahkuh (Black Mountain).
Advertisements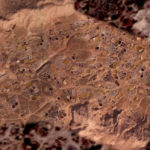 Advertisements
It is difficult to understand what we are looking at in this image, isn't it? To begin with, is it a distant view or rather a very close one? Is this some kinf of honeycomb? Or is it an ant farm or something? But no, it's none of those things. It is in fact salt ponds.
Indeed, these strange bubbles of different shades of brown and beige are salt ponds harboring colored brine found near the small Saharan town of Teguidda-n-Tessoumt in Niger. They are needed to extract minerals from the dry desert clay.
Advertisements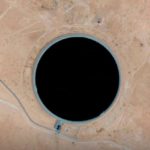 Advertisements
If you're browsing Google Earth, we bet you'd never expect to come across a big black circle in the middle of an arid region. Except that you do if you go over Libya. Google Earth calls this place the "bottomless pool", but it would probably be the Ajdabiya Water Reservoir, in northern Africa.
The Ajdabiya Water Reservoir is part of the Great Man-Made River, a network of pipes that provides fresh water from the Nubian Sandstone Aquifer System fossil aquifer across Libya. It is the largest irrigation project in the world. So, this "bottomless pool" would most likely have a bottom, but it could really be far, far away!
Advertisements