Google Earth Images That Tell a Hidden Story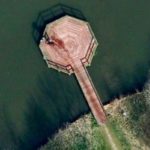 Advertisements
Reddit users thought they had spotted a crime scene when they discovered this Google Earth photo taken in the Dutch city of Almere. The image appears to show a trail of blood on a jetty with two people standing at the end of the pier.
The Sun reported it was actually a trail of water left by the dog named Rama after it went for a swim. The dog's owner said, "When I saw the picture I realized, 'it's my dog'. He loves the water. He jumps off the end of the jetty, swims around to the bridge, and runs down to the edge again."
Advertisements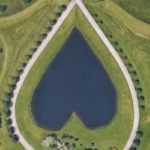 Advertisements
Google Earth often captures aerial views of hidden spaces we wouldn't have even known existed. Some are wacky or weird, but this next one is just plain romantic. There is a heart-shaped pond tucked away behind a gated home.
We know little about the sweet pond in Columbia Station, Ohio. Since it's on private property, the details remain a mystery. Although, it's fun to speculate the sentiment behind the man-made pond. Perhaps it was a lover's gift? Either way, it's quite an impressive sight to see from above.
Advertisements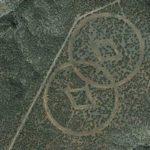 Advertisements
Scientology is a mysterious religion who shroud their many properties in secrecy. Non-members often wonder what events occur behind their closed doors. Thanks to Google Earth, we now can get an unrestricted view of the Scientologist church, Trementina Base, in New Mexico.
The markings are curious, and even though it may look like an extraterrestrial creation, it actually serves a practical purpose. According to Scientology officials, Trementina Base houses their founder, L. Ron Hubbard's, literature, books, and movies. They even buried stainless steel tablets with his writings carved on them to keep them preserved and out of harm's way.
Advertisements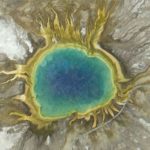 Advertisements
Natural wonders are even more impressive when seen from a bird's-eye view on Google Earth. The Grand Prismatic Spring in Yellowstone National Park, Wyoming is magical from above, where you can see vibrant rings of color in the 370 foot-diameter spring.
According to Express, the color is "due to the varieties of pigmented bacteria and microbes that live in the mineral-rich waters surrounding the hot spring." The Grand Prismatic Spring is one of the most photographed places at Yellowstone National Park. It's amazing how a change of perspective can unlock a new view of everyday locations.
Advertisements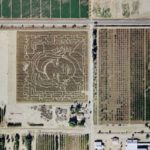 Advertisements
It's so cool when Google Earth features pop culture references in our landscape. Oprah Winfrey is an American icon and her face was captured in a corn maze. According to the website Google Sightseeing, it was created by Arizona's Schnepf Farms.
Each year, the farm immortalizes its favorite celebs by creating famous faces in their 10-acre cornfield. So, they declared their love for Oprah for all to see during Halloween of 2004. The aerial view is impressive because it actually looks like Oprah from above. The folks at Schnepf Farms did a superb job.
Advertisements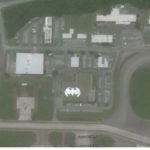 Advertisements
Batman fans will be thrilled to learn that the Batcave has been discovered. Google Earth spotted the secret location at the home of the U.S. Air Force's 44th Fighter Squadron's Kadena Air Base in Okinawa.
The military newspaper Stars and Stripes reported on the finding. Ed Gulick, the Kadena spokesperson, told the paper that the symbol was real and painted in the 1980s. "We know it's been there for years… and is somewhat common for esprit de corps around the Air Force as it gives members of the squadron pride in their unit," Gulick said.
Advertisements
7

Mysterious Egyptian Spiral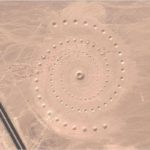 Advertisements
This strange spiral captured by Google Earth looks like a UFO landing pad at first glance. Located in the Egyptian desert near the Red Sea, this image may seem like something out of a science fiction book, but it's actually an environmental art installation created by 3 female artists.
According to Live Science, Danae Stratou, Alexandra Stratou, and Stella Constantinides created the installation, titled Desert Breath. The artists said on their website, "The work functions on two different levels in terms of viewpoint. From above as a visual image, and from the ground, walking the spiral pathway, a physical experience."
Advertisements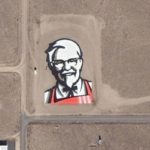 Advertisements
Google Earth gave way to "Roofvertising," an entirely novel way for businesses to advertise on horizontal billboards painted onto rooftops. A giant Colonel Sanders was visible from outer space in an ad for Kentucky Fried Chicken. The "Face from Space" lived in the desert of Rachel, Nevada.
According to Traveller, "The giant Colonel Sanders image was assembled like a jigsaw puzzle out of 65,000 tiles, individually painted red, black, white, or beige," they wrote. Despite the installation being removed in 2006, the Colonel will live on forever in the annals of Google Earth.
Advertisements
Advertisements
Hollywood productions often hide movie props in top-secret locations. Disney Studios tried to keep a tight lid on the whereabouts of the Millenium Falcon during the filming of The Last Jedi. Despite their best efforts to keep the iconic spaceship hidden, an eagle-eyed user located the ship on Google Earth.
Business Insider reported that Twitter user Kevin Beaumont discovered Han Solo's ship at Longcross Studios, a film and TV production facility near London. Beaumont tweeted a pic along with the caption, "Lol Disney tried to hide the Millennium Falcon by surrounding it with shipping containers. Also, it's on Google Maps."
Advertisements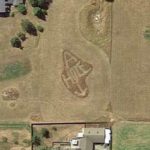 Advertisements
An angry neighbor sent an obvious message and thanks to Google Earth, we all get to witness the feud. A Washington State man mowed the word "A-Hole" into his grass with an arrow pointing to his neighbor's house.
According to the Daily Mail, Brian Juel has some beef with his neighbors, Cindy and Brian Zechenelly, after they built a purple garage apartment on their property in 2009. The couple refused to repaint the garage a different color, even after their neighbors formed a petition against them. Juel used creative landscaping methods to air his grievances to the world.
Advertisements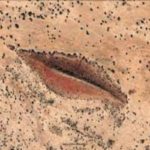 Advertisements
Google Earth spotted a mystical image in the Sudan, Darfur desert that has locals talking. In the hilly desert region, we can see a pair of lips in the natural landscape from above. It looks like a slightly open mouth surrounded by full lips.
According to The Express, rows of trees and patterns create the shape in the sand. Residents of the nearby village of Gharb have their own theories as to the purpose it serves. "Some say that it actually houses a massive black hole that remains closed as long as the mouth remains so," a villager said.
Advertisements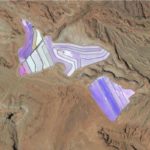 Advertisements
These mesmerizing blue ponds are located near Moab, Utah at the Intrepid Potash mine. It almost looks like stained glass when seen from above, thanks to images captured by Google Earth. They're actually potassium chloride evaporation ponds.
Reader's Digest reported that "Potash" means "salts that contain potassium" and they add blue dye to the water to "optimize the absorption of sunlight and evaporation." Crystals of salt and potassium are left behind after evaporation and gathered to produce the chemical. It's a scientific process that creates a beautiful landscape.
Advertisements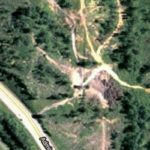 Advertisements
This next one on the list is just spooky. Sometimes Google Earth captures sinister images and one Internet user, Luther Blissett, claims he discovered the Devil's face. According to Google Sightseeing, Blissett recognized the evil image while he used Google Maps to locate potential Pagen holiday destinations.
Apparently, Satan lives in a wooded area just outside of Atlanta, Georgia. His face is made up of several trees and other natural formations. We question the validity of this claim, but have to admit that a face can be seen in the landscape when viewed through Google's lens.
Advertisements
14

Illuminati In The Desert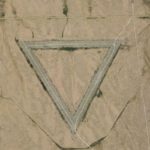 Advertisements
A large triangle can be seen in the desert of Wittmann, Arizona. The mysterious symbol seems to not lead anywhere, and many people speculate that the Illuminati created the triangle because triangles are often associated with the secret organization. Sorry to disappoint any conspiracy theorists, but this is one phenomenon that can be explained.
The Express reported that the theory has been debunked, and the triangle is actually the abandoned Air Force Base Luke Aux #4. "The airport was thought to be named after Frank Luke, an American fighter ace who was the first airman to receive the Medal of Honour in 1918," Kara Godfrey wrote.
Advertisements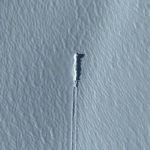 Advertisements
This next one almost had us convinced that extraterrestrials had visited our home planet. A YouTube channel, SecureTeam10, claimed to have located a crashed UFO on an island in Antarctica. They convinced viewers that a Google Earth image of a strange trail in ice was an alien spacecraft landing site.
According to LiveScience, it was actually a photo of disturbed ice from an avalanche on the side of a glacier near Mount Paget. "A long trail extends away from the main disturbed area, leading to a white object that appears embedded in the snow on top of the glacier," Rafi Letzler wrote.
Advertisements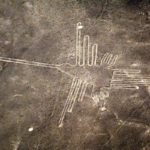 Advertisements
Google Earth caught a glimpse of ancient markings located on the Peruvian coastal plain. The formation depicts strange shapes and they may look like alien carvings, but they were actually created by the ancient Nazca culture and are known as the Nazca Lines. They look quite impressive from overhead.
According to History.com, recent research speculated that the Nazca Lines' purpose was related to water. "The geoglyphs weren't used as an irrigation system or a guide to find water, but rather as part of a ritual to the gods—an effort to bring much-needed rain," they wrote.
Advertisements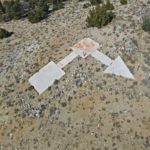 Advertisements
At one time, in the early days of the US Postal Service's national airmail service, pilots carrying packages had to find their way over the United States by sight alone, which could be quite difficult, especially when the weather was not optimal.
In 1923, Congress approved the installation of the Transcontinental Airway System, which consists of a network of approximately 1500 towers, each with a gas-powered bearing light for night flights, and an arrow-shaped foundation to assist daytime navigation.
Advertisements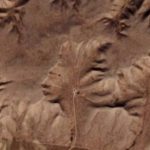 Advertisements
Google Earth captured another fascinating image in an area known as the "Badlands Guardian", in Alberta, Canada. This remote landscape is a geographical wonder where rainwater eroded the clay-rich soil, creating beautiful natural formations.
The most notable is a left-side profile of a person's head made from a section of rock and deep ridges. The image looks like an ingenious man and many people refer to the formation as an "Indian Head". According to Express, one Twitter user commented that it looked like "a massive face (wearing headphones) carved into the clay."
Advertisements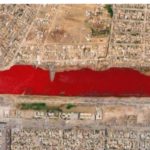 Advertisements
The Internet buzzed with speculation when a photo of a blood-red lake surfaced on Google Earth. Located outside Sadr City in Iraq, the viral image first appeared in 2007. So what caused the once clear water to turn red? Several theories have floated around online.
According to Time, "A tipster told the tech blog Boing Boing that he was told by a friend that slaughterhouses in Iraq sometimes dump blood into canals." Iraq never released an official statement, but there is probably a logical explanation for the phenomenon, like sewage runoff. Either way, it's shocking to see a red lake from the air.
Advertisements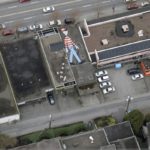 Advertisements
Here's a wacky discovery from Google Earth. The digital mapping site inspired an elaborate game where users searched for Waldo, from the children's book Where's Waldo, in various cities. A huge 55-foot painting of Waldo surfaced on a rooftop in Vancouver, Canada.
Artist Melanie Cole titled the project Where on Earth Is Waldo? According to The Express, she said of the work: "My addition of a Waldo figure to Google Earth, in a way, subverts the whole earth into being part of my game; each rooftop or field then becomes a place where Waldo could be hiding."
Advertisements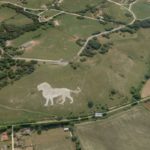 Advertisements
A majestic lion is carved into the countryside in Dunstable, Bedfordshire. The landmark stands guard near Whipsnade Zoo and was made with 800 tonnes of chalk from under a nearby resident's house.
The figure overlooks the Dunstable Downs and marks the zoo's location. They restored it in 2018 after falling into disrepair since its initial construction in 1933. The zoo's general manager, Owen Craft, told the BBC he was "incredibly proud" of the lion. "We are delighted to have restored this iconic landmark to its original glory," he said.
Advertisements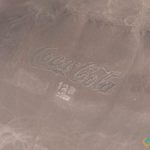 Advertisements
Thanks to the magic of Google Earth, we can see aerial images from above that don't look as spectacular from the ground. An impressive Coca-Cola tribute can be seen from space, and the story behind it is just as fascinating as the image itself. 
According to the Guinness Book of World Records, the installation was made from 70,000 empty Coca-Cola bottles. The logo, which is in the desert of northern Chile, measures 50 meters tall by 120 meters. The company created the massive logo to commemorate Coke's 100th anniversary. That's one way to get name recognition. 
Advertisements
23

Cruise Ship Amidst Skyscrapers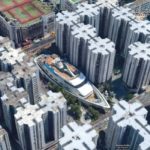 Advertisements
Google Maps offers views of many strange things. They captured a very odd structure above Hong Kong. At first glance, this looks like a cruise ship made its way between skyscrapers and is landlocked. Your eyes aren't deceiving you, but it's actually a shopping mall made to look like a cruise ship. 
Located in Hung Hom, Kowloon, this 360-foot long concrete shopping arcade hosts many shops, from the Japanese supermarket AEON to a fitness gym in the basement. According to The Express, the area where the ship stands, Hung Hom, was formerly a dockland, and the structure is an homage to the area's historical purpose.
Advertisements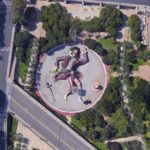 Advertisements
The image of a large mysterious man surfaced on Google Earth, and we can't help but wonder exactly what we're looking at. What seems like it could be an art installation is actually a strange children's playground in Valencia, Spain.
Bright Side reported that the massive gentlemen has secret passages, several slides for kids to slide down, and a wide bench for parents to sit while they watch their little ones play. This is a very creative use of space and looks almost like some sort of artsy amusement park from above. Either way, we'd love to visit the park someday. 
Advertisements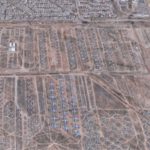 Advertisements
Google Earth spotted this amazing image of rows and rows of airplanes located outside of Tucson, Arizona. It may appear to be an airplane graveyard, but in reality, you're looking at an aerial view of the Davis-Monthan Air Force Base. 
This is where old planes spend their last days and there are over 4000 military aircraft resting on the base. According to TIME, from B-52s to stealth bombers, the planes are salvaged for parts and broken down for scrap. It's one of the most seen satellite pictures online, making guided tours of the base a popular tourist destination.
Advertisements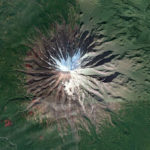 Advertisements
Some of the most visually stunning places on Google Earth are natural wonders. They offer views of locations they may not have access to in real life. Seeing the earth from above gives a fresh perspective on geological sites and this symmetrical volcano is quite a sight to behold.
According to Bored Panda, a man that goes under the nickname "geologistmakesthebedrock" captured this screenshot of a mind-blowing volcano from Google Maps and captioned the image, "A beautifully symmetrical volcano on the Kamchatka Peninsula in Russia. Look at those weird red cinder cones on the flanks."
Advertisements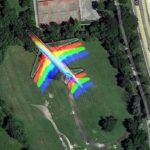 Advertisements
Sometimes Google Earth captures something so strange, you can't believe that it's real. The camera lens often reveals a kaleidoscope of colors not seen by the naked eye. What may seem real is actually a mirage of some sort. This next photo is a perfect example of this phenomenon. 
When you first see this aircraft, you may think that it's a Pride plane. It's actually an optical illusion captured by Google Earth. Several satellite cameras created the rainbow effect, taking pics of the same image at once. So, this isn't a magical unicorn plane after all. 
Advertisements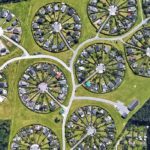 Advertisements
We can glimpse how at people live all over the world because of Google Earth. This surreal sight is not an alien landing pad as it may appear, but is a view of a housing community in Denmark. The urban development is known as Brøndby Garden City. 
Located just outside Copenhagen, Denmark, the designer of these garden homes placed them in a circular arrangement to encourage residents to garden on their property and stay close to the other residents living in the same circle. It creates a fascinating tapestry when seen from a bird's eye view. 
Advertisements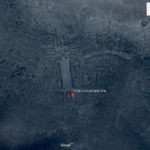 Advertisements
From far up in space, Google Earth spotted an ancient cat carved into a mountainside. It's known as The Tarapacá Giant and is in Iluga, Chile. According to Google, this prehistoric, anthropomorphic geoglyph is the world's largest & represents an ancient deity.
The carving is 9,000 years old and locals believe it represents a divine cat that came to earth from another planet. This historical geoglyph is in the Atacama Desert, which is also one of the driest places on earth. It's an otherworldly image captured by Google Earth's cameras. 
Advertisements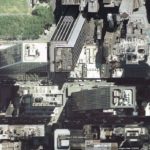 Advertisements
If you look closely at this photograph, you'll see an optical illusion that is known as the "Google Escher Effect". Google Earth captured a satellite image of the skyline in Houston, Texas, and several of the buildings appeared to be warped. 
The artist M. C. Escher was known for painting buildings in a surreal way, and this image represents the spirit of his art. There are several examples of the "Escher Effect" on Google Earth. We just think that it's cool to look at and imagine a weird city that's buildings defy gravity and logic. 
Advertisements
31

Mysterious Circle Maze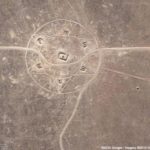 Advertisements
Google Earth often spots strange happenings and this crop circle discovered in Beatty, Nevada is definitely an odd one. Some viewers believe that it's an ancient message left by Jewish aliens to their ancestors. Others believe that it's a hoax.
Either way, Nevada is chocked-full of mysterious circles like this one. We like the theory that it's an alien form of communication, but chances are, it's just someone playing a joke on Google Earth. At a second glance, it could be a bunker for some sort of military operation. I guess we'll never know as it's shrouded in secrecy.
Advertisements