The Most Luxurious And Stunning Celebrity Mansions
1

Nancy Pelosi – Napa Valley, California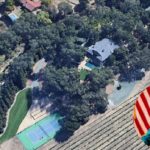 Advertisements
Have you ever dreamed of owning your own vineyard? Well, Nancy Pelosi does. In 1990, Pelosi paid over 2 million dollars for this property. This vineyard sits on 16.55 acres of land. They also have a permit to allow for weekly wine tastings and production of 5,000 gallons per year of wine.
The house on the property was originally 3,314 square feet. Obviously, that wasn't enough for the politician so they made some changes to make the living situation exactly how they wanted.
The original house came with 6 bedrooms and 2 bathrooms. There is also a pool on the property for the Pelosi's to entertain their guests. Other than the wine, of course. This estate is located on Zinfandel Lane and is surrounded by other local vineyards. The property is valued at between 5 million and 25 million. Which, if you didn't know, aids in making Pelosi one of the richest Californians in Congress.
Besides the value of the property, the vineyard also makes her money as well. It is unknown what the grapes are sold for, but we do know that those sales make her between 5 thousand and 15 thousand dollars per year.
Spokesperson Drew Hammill said "The disclosure says grape sales. That's the only information available." There was also an email from the California Department of Food and Agriculture that stated the information on grape sales is "considered proprietary and is protected by statute." We aren't sure why these sales are so secretive, but oh well. Could you imagine visiting this estate? It's absolutely gorgeous. You'd get to walk through the vineyards and have your own private wine tasting, right where the Congresswoman does.
Advertisements
2

Britney Spears – Thousand Oaks, California
Advertisements
Since Britney Spears spent 13 years under her conservatorship, it only makes sense that she would at least have a nice place to live. So, naturally, she owned a home in Thousand Oaks, California. This 7.4 million dollar home was the perfect place for the singer to spend all of her time.
It has 5 bedrooms, 8 bathrooms, and sits on a whopping 21 acres of land. The 13,264 square foot home also has a temperature-controlled wine cellar that holds 500 wine bottles, a game and media room, and a private pool house.
Oh, and Spears also has private parks, an orchard, and a tennis court on the property. Not only does the home have everything you could ever want, but it also has the most beautiful views of the mountains and valleys that surround it.
The house incorporated tall windows and marbled floors, making it feel like Spears lives at a resort full time. Plus, the ceilings are 35 feet high, giving her all of the space that she'll need to have her own Circus inside.
Plus, she can feel like a real-life princess as she descends the grand staircase that leads into the living room. And if she doesn't want to be on the same level as everyone else, she can look over them from above through the foyer that overlooks the main living area.
Advertisements
3

Aaron Rodgers – Malibu, California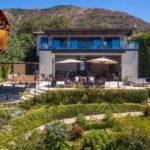 Advertisements
Now, the NFL player does have more than one home, but we will start out with the house that he owns in Malibu. This house was no cheap investment. It cost him 28 million dollars for this stunning home. Inside, there are 3 bedrooms and 2 bathrooms.
This house has a view of the Pacific Ocean and also includes a guest house on the property. You can view the ocean from many points in the house, but the view from the master bedroom is one of the best ones.
The master suite has a private balcony overlooking the ocean, perfect for watching the sunrise or sunset. Plus, the guest house can accommodate his guests who travel from out of town. The guest house has a three-car garage and has two bedrooms. This home incorporates an open floor plan that flows directly onto a balcony for eye-catching views.
If you get tired of looking at the ocean (which, we don't believe you could), you can use one of two ways to actually access the beach. You can travel down using the staircase or by the funicular. For those of you who love to spend time in the kitchen, this one comes with top-grade appliances to aid you, whether you are baking or cooking a feast for all of your guests.
This house also includes an office for all of the work that Mr. Rodgers does during the off-season. Plus, he can entertain his guests with a media room, to watch all of his highlights from the previous season. We think he probably used this room to understand where he went wrong during a game so he could work on it for the next season.
When Rodgers wasn't working in his office or media room, he also had a game room that we're sure was filled with all of the sports games that you could imagine.
Advertisements
4

Rob Gronkowski – Foxborough, Massachusetts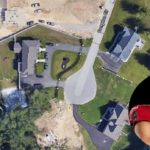 Advertisements
Rob Gronkowski owns two homes on a cul-de-sac in Massachusetts that some people like to refer to as "Gronk Circle." Gronkowski, also referred to as Gronk, had his first home built with five bedrooms and three bathrooms. This house is 4,486 square feet, and the second home on the compound is 4,466 square feet. This means that he has almost 10,000 square feet of living space.
What could he even do with that much space? To get into this gorgeous Victorian-style home, you must first enter through the gates. Gronk has owned this home since he was 24 years old and has since added to it. Oh, and not to mention, this compound is located near the Gillette Stadium, making it extremely convenient to get to practice or a game.
He also owns a 1.9 million dollar loft in Boston. The apartment is 2,063 square feet, which is pretty large for just an apartment. There are also two bedrooms and two bathrooms for the football player to take advantage of when he is in town.
The walls have exposed brick as well as wood beams and paneling across the ceiling. This industrial-style apartment is in a building that is over 100 years old, basically making it a piece of history. There is also a black windy staircase inside the apartment that leads to roof access. We imagine this is the perfect way for him to look over the city when it lights up at night.
Advertisements
Advertisements
Ivanka Trump and Jared Kushner purchased this home at a discount, and we know what you're thinking, "What kind of discount would they need?" And, well, it's not exactly the amount that you and I would consider being a discount.
The couple purchased this home for 24 million dollars, with a one million dollar discount. The reason that they were able to purchase this home for lower than the asking price is due to the fact that it sat on the market for half a year.
Besides the fact that this house has 6 bedrooms and 8 1/2 bathrooms, there is so much more that adds value to this home. This is a French neo-classical home that comes with everything that the two could ever dream of, including 8,510 square feet of living space. The arched windows allow for the home to have natural lighting as well as a European feel.
Plus, the entrance showcases the Cinderella staircase as well as 26-foot ceilings. Within the home, there is also a screening room, an office, and a gym. You really wouldn't need to leave your home if you were able to do everything that Ivanka is able to do in hers. Even the master suite has his and her bathrooms.
You could have as much privacy as you could want in this home! If you get tired of sitting in the living room, don't worry! You could simply walk out to the backyard, which is accessible by the living room. The backyard includes a pool and a hot tub that is perfect for entertaining all of the guests that Ivanka and Jared have over.
Advertisements
6

Sofia Vergara & Joe Manganiello – Beverly Park, California
Advertisements
In the middle of 2020, Sofia Vergara and Joe Manganiello dropped a cool $26 million on their Los Angeles mansion. The Beverly Park palace, situated in the middle of a gated community, boasts 10 bathrooms and six bedrooms.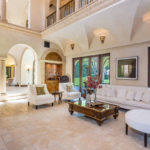 Other amenities found in this 17,100-square-foot estate, which sits on a 1.85-acre lot, include a walnut-paneled office, a movie theater with a snack bar, and an elevator.
Outside, the property is a tree-lined driveway, a stunning pool surrounded by lush gardens, and marble fountains. Behind the mansion is a two-story guesthouse, a sports court for basketball and tennis, an oval-shaped swimming pool, and a spa.
The house used to belong to baseball legend Barry Bonds, who sold it for $22 million in 2014. Impressively, the couple snagged the gorgeous property for $4 million below the asking price of $30 million.
FUN FACT
Sofia likes to host summer events in her backyard. There you can find a jacuzzi and lots of outdoor plants.
Advertisements
7

Will Smith & Jada Pinkett Smith – Calabasas, California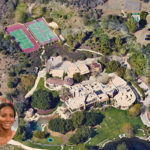 Advertisements
Like many celebrities, Will Smith and his wife Jada Pinkett Smith have quite a few impressive properties in their real estate portfolio. But their true family home is their 25,000-square-foot Calabasas estate.
The $42 million property includes nine bedrooms, an eight-car garage, and a home theater. The custom-built home took seven years to complete and also includes basketball, volleyball, and tennis courts, plus a secluded, private lake.
Meanwhile, the couple purchased yet another home in 2021. This one is located in Hidden Hills, a guard-gated community that is home to a lot of celebrities. According to an article published by Dirt, the couple dropped $11.3 million on this new home.
So, what does the mansion look like inside? According to the article, there are six bedrooms, each of which have their own ensuite bathrooms, an open kitchen with two islands and a big pantry, a soundproof movie theater with velvet walls, a game room with a wet bar, a gym with its own steam shower, and a formal dining room with a refrigerated wine closet encased in glass.
Outside is a full outdoor kitchen with BBQ, an infinity-edged pool with an inset spa, a firepit seating area, a full-size sports court, and a serenity lounge.
Advertisements
8

Blake Shelton & Gwen Stefani – Encino, California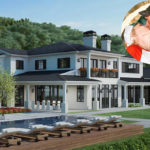 Advertisements
Shortly before news of their engagement broke, country singer Blake Shelton and pop star Gwen Stefani purchased their first home together. The 13,000-square-foot house, nestled in the San Fernando Valley, sold in a private sale for $13.2 million.
Because the deal was private and the property was newly built on spec, there aren't that many photos of the home. That being said, we'll tell you a bit about it here.
On the 1.6 acres of land, you can find a large kitchen with top-end appliances, an ATMOS home theater, extra-large pool, spa, backyard cabana with wet bar and outdoor kitchen, and a four-car garage.
According to photos Stefani shared on Instagram, the couple have their initials, "B&G", framed in a huge neon light on a white paneled wall. Additionally, the walls leading up to the first floor are also white paneled and feature two huge 3D neon pieces of art.
Lastly, the stunning black and white home sits behind two oversize gates that offer the utmost privacy for this famous couple.
Advertisements
9

Barack & Michelle Obama – Washington, D.C.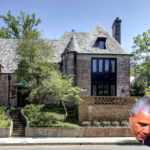 Advertisements
After his presidency ended, Barack and Michelle Obama moved to the historic neighborhood of Kalorama in Washington, D.C. and purchased an $8.1 million mansion. The nine-bedroom, eight-bathroom property features the original facade of the home from the 1920s with an entirely updated interior.
Outside, the house features a courtyard that can accommodate 10 vehicles at a time. Inside, the home features marble floors, gorgeous fireplaces, and an open-plan kitchen.
Meanwhile, the former first family purchased another home in 2019. This one was a Martha's Vineyard estate for which they paid $11.75 million.
The nearly 7,000-square-foot home on the Edgartown Great Pond has seven bedrooms, nine bathrooms, a living room with vaulted ceilings, exposed steel beams and a stone fireplace, a chef's kitchen, a formal circular dining room overlooking the pond, a master suite with a fireplace, two guest wings, and a private sun deck.
Outside are entertaining areas, a fireplace, a screened porch with an additional fireplace, a pool, a jacuzzi off the second-floor balcony, a boathouse, and a private beachfront.
Advertisements
10

Bill Gates – Medina, Washington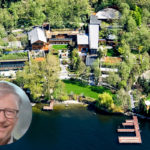 Advertisements
It should come as no surprise that one of the richest men in the world also owns one of the most expensive houses on this list. Microsoft founder Bill Gates built his Medina, Washington, home for over seven years for $63 million.
But, as the years have gone by, the value of the property has only gone up. It's now worth an impressive $127 million, which is in part due to the high-tech nature of the house. The 66,000-square-foot home has seven bedrooms and 18.75 bathrooms.
While living in the home, occupants are given a chip that allows them to set temperature and lighting preferences that will follow them as they move through the house. The artwork hanging on the walls is actually computer screens, allowing the picture to be changed with the click of a button. With this and many more impressive features, including a trampoline room and a library, it's not hard to see why this property's value continues to rise.
FUN FACTS
Gates purchased the lot for $2 million in 1988.
The home was built with half a million board-feet of lumber from 500-year-old Douglas fir trees.
Three hundred construction workers, 100 of whom were electricians, labored on the home.
The pool has its own underwater music system.
The home has six kitchens in different parts of the house, so staff can be ready for any event.
Guests can dive under a glass wall in the home and emerge outdoors by a terrace.
Advertisements
11

Tom Cruise – Telluride, Colorado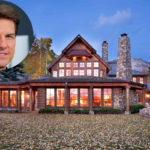 Advertisements
Tom Cruise officially sold his longtime Telluride Ranch—the same home where he sat down for an interview with Oprah in 2008—last year.
The home was listed for $39.5 million in March 2021. According to the listing, the 10,000-square-foot home was "custom-built for privacy, where unspoiled natural beauty, sweeping mountain vistas and outdoor recreation abound."
In a 2006 interview with Cruise and then-wife Katie Holmes, Vanity Fair's Jane Sarkin described Telluride Ranch as having the feeling "of a sprawling lodge or chalet, with rustic, log-cabin touches-informal, airy, built with honey-colored deadwood from Oregon."
Cruise began making plans for the compound (a 7-bedroom, 9-bathroom main home plus a guest house with three bedrooms) more than 30 years ago. It was completed in 1994 and was put on the market for $59 million 20 years later.
As for where Cruise lives now, that remains a mystery—at least to us, anyway. That being said, we are definitely looking forward to seeing pictures of his new home!
Advertisements
12

Tiger Woods – Jupiter Island, Florida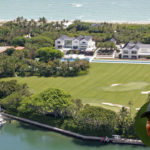 Advertisements
Known as one of the wealthiest zip codes in the country, Jupiter Island, Florida, is home to Tiger Woods' massive 12-acre property. As a professional golfer, Woods used 3.5 acres of land to create his own at-home golf course, ensuring he's always able to practice. While Woods bought the home for $44.4 million, it's now said to be worth nearly $60 million after massive renovations.
Built in 2010, as his divorce from Elin Nordegren was being finalized, this 3,300-square-foot home has an oxygen therapy room, a basement game room, and a private movie theater.
Outside is an impressive 30-meter pool and a 6,400-square-foot multi-purpose building with a world-class gym, media room, wine cellar, and elevator. The main home and the multi-purpose building are linked together by a glass-covered walkway.
FUN FACT
"The Woods," Tiger's flagship restaurant, is right around the corner from his home. According to his website, he envisioned the elevated sports bar "as a place where friends and family could come together to relax and refuel."
Advertisements
13

Ryan Seacrest – Hollywood Hills, California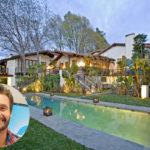 Advertisements
This is the former home of Ryan Seacrest. According to an article published by People in 2020, the TV host put his home up for sale for $85 million.
The listing described the property as "resort-like grounds, outdoor living/dining areas, a reflecting pond, and manicured lawns," with "beautiful city and ocean views."
This 125,580-square-foot compound features a 4-bedroom, 6-bathroom, 9,000-square-foot main house, two guest houses, a fitness center, a pool with a pool house, and an underground garage.
The living room has 22-foot-high ceilings, and there is a gourmet chef's kitchen that opens to an outdoor pizza oven. The home also has a bar/lounge, a movie theater, a spa, a world-class gym, and a master suite with its own meditation garden.
As for Seacrest's current home, it's likely somewhere in New York, which is where he spends most of his time since he's the co-host of Live with Kelly and Ryan.
FUN FACTS
Seacrest purchased the compound from Ellen DeGeneres in 2012.
The home belonged to Will & Grace creator Max Mutchnick prior to DeGeneres purchasing it.
Jennifer Aniston admitted to Seacrest that she had always coveted the property.
Advertisements
14

Kylie Jenner – Holmby Hills, California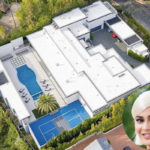 Advertisements
In early 2020, Kylie Jenner decided to expand her real estate portfolio with a $36.5 million mansion in Holmby Hills, California. The house was originally listed for $45 million, so Kylie got a great deal at her still-high price point.
The massive 19,250-square-foot property boasts 14 bathrooms, seven bedrooms, a chef's kitchen that opens to a family room, a formal dining room, bars, a gym, and a home theater.
On the outside is a sports court, a projection screen, and nine covered spaces for Jenner's cars, plus an additional 20 parking places!
In addition to the main house, there are two guest apartments with kitchenettes on the property, as well as two more guest suites with private patios and entrances. There is also a dedicated guardhouse that comes with a kitchen and a full bath.
FUN FACT
House Beautiful reported in 2020 that Jenner was also having a vacation retreat custom-built in the Palm Springs area.
Advertisements
15

Taylor Swift – Los Angeles, California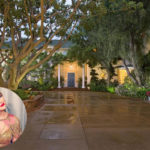 Advertisements
With a net worth of over $350 million, Taylor Swift has invested lots of her money into properties around the country. In 2015, she expanded her portfolio even further with a historic mansion in Los Angeles, California. The seven-bedroom, $25 million home belonged to the family of legendary Hollywood producer Samuel Goldwyn.
The house is reminiscent of Old Hollywood, and at one time hosted stars like Charlie Chaplin and Clark Gable. In 2017, Taylor applied for and won landmark status, ensuring this historic site will never be significantly changed.
FUN FACT
One of the songs on Swift's album titled Folklore tells the story of the former owners of a house she now owns in Rhode Island. The song, titled "The Last Great American Dynasty," is based on the lives of Rebekah West Harkness, a composer and philanthropist who founded Harkness Ballet, and her husband, William Hale "Bill" Harkness, whose family founded Standard Oil. Swift purchased the home for $17.75 million back in 2013.
Advertisements
16

Mohamed Hadid – Bel Air, California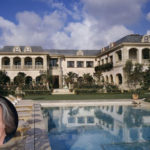 Advertisements
Mohamed Hadid, the father of Gigi and Bella Hadid and a frequent guest star on The Real Housewives of Beverly Hills, is a real estate mogul. As such, he has several impressive properties in his portfolio, including a Bel Air mansion worth $85 million.
With 10 bedrooms, including a huge soundproof bedroom that's hidden by a false wall, 15 bathrooms, a Parisian-style sitting room, a movie theater, a ballroom that can fit 250 people, and a room that was assembled in Morocco and then shipped to the U.S., this house is absolutely stunning! And that's only what you'll find on the inside.
On the outside is an underground Turkish bath and infinity pools overlooking Beverly Hills from above. Unfortunately, after violating several construction laws and failing to obtain the necessary permits, a court in California ordered that the house be knocked down in mid-2020. "Whoever buys it, I will paint two portraits for him and her," Hadid said, according to an article published by CNBC.
Advertisements
17

Jennifer Lopez & Alex Rodriguez – Miami, Florida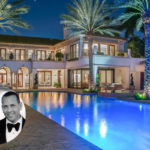 Advertisements
In late 2020, Jennifer Lopez and Alex Rodriguez bought a Miami, Florida, estate for $40 million. Although the couple already owns several properties, this 40,000-square-foot palace is an impressive addition to their real estate portfolio. The oceanfront property features 10 bedrooms, 12 bathrooms, and a luxurious infinity pool.
It also features a massive multi-level shower decked out in marble, and an elevator to make navigating the massive property that much easier.
Now, I know what you're thinking. You're saying to yourself, "These two aren't together anymore," and you're right. But here's what you probably don't know: these two are still sharing this home. That's a whole entire year after they split up!
"It is not clear what the pair have planned for the property long-term, and whether one of them intends to live there or if they wish to keep it as an investment," HELLO! magazine wrote on its website. "Both Jennifer and Alex own several other properties across Miami, Manhattan and Los Angeles, and also share a modest $1.4 million (£1 million) ranch-style cottage in Encino, that they bought in 2019."
Advertisements
18

Celine Dion – Jupiter Island, Florida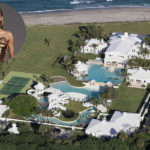 Advertisements
Celine Dion's Jupiter Island, Florida, home is perhaps one of the most impressive on this list. Built in 2010, the 11,000-square-foot beachfront home boasts 13 bedrooms, 14 bathrooms, an all-white kitchen with two islands, and 415 feet of Atlantic Ocean frontage. But by far the most impressive feature is the full water park in the backyard, complete with massive slides and a meandering, river-like pool.
In addition to the main house, the property also has five pavilions, including a double four-bedroom guest house, a tennis house with a simulated golf range leading to the tennis court, a pool house with a built-in grill and separate kitchen, and a beach house with a second-floor sleeping loft and massage room.
Custom-built for Dion, the singer eventually sold the house for $38.5 million, plus almost all of its contents. This was after first listing it for $72.5 million in 2014.
The lucky buyer was reportedly an American who planned to use the home as a vacation property.
Advertisements
19

Bella Thorne – Topanga, California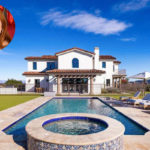 Advertisements
After selling her unique hot pink home, actress Bella Thorne bought a $3.3 million mansion in the mountains of Topanga, California. The property features a private, gated entryway and a long, winding driveway. It also offers views of the city, ocean, and canyon.
Built in 2014, this 6,654-square-foot house boasts six bedrooms (each with an ensuite bathroom), a gourmet kitchen with high end appliances and a giant marble island, a two-story living room, and Spanish tiles throughout the bottom floor.
Outside is a built-in barbecue and fire pit, a sparkling Pebble Sheen pool with a saltwater system and attached blue-and-white tiled hot tub with waterfall features, and a four-car garage.
There is also a 700-square-foot guest house that adds another bedroom and bathroom to the compound's total count. The Mediterranean-style home is fairly generic in its appearance, but its seclusion and privacy is a huge departure from the star's former loud-and-proud hot pink pad.
Advertisements
20

Oprah Winfrey – Montecito, California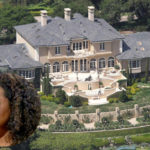 Advertisements
While Oprah Winfrey has impressive properties all over the country, none are quite as stunning as her Montecito estate. Purchased for $50 million in 2001, the property sits on 42 acres of land.
In 2016, Oprah added another 23 acres when she purchased a parcel of land next door. The house that sits on the property is a whopping 23,000 square feet. Inside, there are six bedrooms, 14 bathrooms, 10 fireplaces, a theater, a library, and a wine cellar.
While the outside doesn't have a pool, it does have a gorgeous garden full of blooming flowers and unique statues.
Oprah is notoriously private when it comes to her home, but the pictures that have emerged of this palace show an idyllic property any TV star could relax in.
FUN FACT
Oprah purchased yet another home in 2019. The 3,517-square-foot property cost $6.85 million and includes two bedrooms, three bathrooms, a kitchen with wood cabinetry and quartz countertops, a spacious dining room with hardwood flooring, an office space, a pool, and a 1-bedroom guest house. The property used to belong to Jeff Bridges.
Advertisements
21

Adele – Beverly Hills, California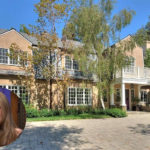 Advertisements
While Adele hails from London originally, she has properties all over the world, including a mansion in a notable gated community in Beverly Hills. It's the same community where other big stars live, including Nicole Richie, Ashton Kutcher, Mila Kunis, and Jennifer Lawrence.
Adele bought the mansion for $9.5 million in 2016 after she landed a huge record deal with Sony. It was first listed for $10.75 million in September 2015, but the price was reduced to $9.9 million about a month later.
This 6,600-square-foot home, which is situated on a 17,000-square-foot secluded lot, has an open floor plan that includes a two-story foyer, two living rooms, a dining and breakfast area, four bedrooms, six bathrooms, dramatic ceilings, and French doors that lead outside.
Speaking of outside, this is where you will find a wide driveway, string lights, a gazebo, an in-ground pool, a dog run, a treehouse, and an outdoor train set.
Advertisements
22

Beyoncé & Jay-Z – Bel Air, California
Advertisements
In 2017, Beyoncé and husband Jay-Z bought an $88 million mansion in Bel Air. The purchase came shortly after the birth of their twin daughters and was widely considered to be one of the most expensive property transactions of the year.
The 30,000-square-foot mansion, with 10,000 square feet of outdoor space, is modern to the core and complete with bullet-proof glass to keep this famous family safe.
The house features eight bedrooms and 11 bathrooms, along with four swimming pools, a basketball court, a spa and wellness center, a media facility, and a 15-car garage. With a two-acre garden and a comprehensive security system, this house is the perfect place for the king and queen of music to unwind and relax.
FUN FACT
This mansion is so big that Harper's Bazaar said it "could pass as a small town." Meanwhile, HELLO! magazine referred to it as a mega mansion that "is in a league of its own."
Advertisements
23

Kim Kardashian – Hidden Hills, California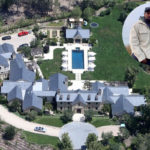 Advertisements
Kim Kardashian and estranged husband Kanye West first bought this massive Hidden Hills property for $20 million in 2014. Over the years, they put another $20 million into renovations to create their Internet-breaking minimalist masterpiece.
When photos of the home first emerged, fans were shocked at the empty rooms, clean walls, and muted color scheme. Now worth $60 million, the home boasts a music studio, a massive outdoor pool, and a church-like aesthetic.
And, while the couple is finalizing their divorce, Kardashian is making sure to secure the property for herself and her children. In fact, she paid West $23 million for the Hidden Hills home.
In addition to the mansion, Kardashian also built a miniature version of her Hidden Hills neighborhood. It includes an arch where the "street" starts, a sweet flower shop, a grocery store, a two-story cottage-style abode, an ATM machine, a Starbucks walk-up, and a faux guard tower to screen incoming guests.
Advertisements
24

Lady Gaga – Malibu, California
Advertisements
In 2014, Lady Gaga purchased a Malibu mansion for a cool $22.5 million. The 10,270-square-foot home sits on a six-acre lot, giving Gaga plenty of room to lounge around and escape the pressures of the entertainment world.
The house has five bedrooms, seven bathrooms, a rustic kitchen with a brass vent hood, wicker chairs and exposed beams, a wine cellar, a wet bar, a private terrace, and its own bowling alley.
Additionally, there's an infinity saltwater pool, a jacuzzi, an outdoor fireplace, stables, riding trails and grazing pastures for her horse, and four grass-fed pens inside a spacious barn.
Lastly, the property boasts impressive views of the Pacific Ocean from almost every room, making it an oasis perfect for a star of Gaga's talent.
FUN FACTS
Lady Gaga refers to her home as her "gypsy palace."
The home's kitchen was featured in Lady Gaga's documentary, Gaga: Five Foot Two.
Lady Gaga and Bradley Cooper signed the deal for the 2018 film A Star Is Born in this home. According to an article published by House and Home, the two sealed the deal over a spaghetti and meatball dinner in the singer's kitchen.
Advertisements
25

Miley Cyrus – Hidden Hills, California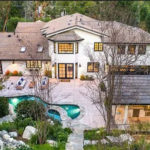 Advertisements
It was reported in 2020 that Miley Cyrus dropped $4.95 million on a newly refurbished house in Hidden Hills—a home that she would stay in for only a few months before selling it.
Included in this 6,800-square-foot estate is six ensuite bedrooms, seven bathrooms, a massive chef's kitchen with a large marbled island, a four-person wet bar and a wine cellar in the middle of the home, a state-of-the-art movie theater with a 135-inch projector screen and eight leather recliner chairs, a living room with higher-than-average ceilings and arched windows, a fireplace covered in shiplap, French oak hardwood floors, and more.
Outside is a backyard fireplace, a kitchen, a lagoon-style swimming pool with a built-in jacuzzi, an undeveloped acre-long grass hill, and a charging station for an electric car.
FUN FACT
This property was used by Miley Cyrus and her ex-husband Liam Hemsworth as a creative studio and guest house.
Advertisements
26

The Weeknd – Los Angeles, California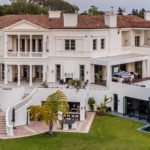 Advertisements
Grammy award-winning artist The Weeknd purchased this home back in 2021 for $70 million. According to Architectural Digest, it was among the most expensive deals in L.A. that year.
The contemporary Bel Air mansion is roughly 33,000 square feet and features a gym, sauna, hammam, indoor and outdoor pools, movie theater, music studio, and other amenities too numerous to list here.
Additionally, the home sits on 1.6 acres and has nine bedrooms, 13 bathrooms, a large living and entertaining space with high gloss orange walls and a black fireplace, a kitchen with copper cabinets with handles made from leather belts, a formal dining room with a fireplace and coffered ceilings, an industrial-style office, and a view of Bel Air Country Club.
FUN FACT
The home underwent a three-year renovation prior to the musician purchasing it. The previous owner, who bought the home in 2015 for $21.44 million, described the home's interior design as "horrendous." He purchased it anyway because he loved its overall structure and its location.
Advertisements
27

Kelly Clarkson –

Hendersonville, Tennessee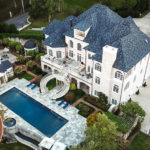 Advertisements
A lot of celebrities put their homes up for sale last year, including Kelly Clarkson. The singer and talk show host put her Nashville-area mansion, which sits right off Old Hickory Lake in Hendersonville, up for sale, initially listing the selling price at $8.75 million in 2017 and then dropping it to just under $7.5 million in 2019.
Clarkson owned the home for seven years.
Built in 2007, the 20,121-square-foot, 4-acre gated waterfront home has seven bedrooms, 9.5 bathrooms, high ceilings, a sweeping double staircase, a saltwater in-ground pool, two spas, a sand volleyball court, cowboy-styled bar, studio, gym, indoor theater, pool, outdoor cabana, five garages, a private dock, and a lift for two boats.
Not only that, but this home boasts magnificent views from every window.
FUN FACTS
This home was custom designed by Clarkson.
The home has been off and on the market since 2017.
The home is located near the U.S. Army Corps of Engineers.
Advertisements
28

LeBron James – Beverly Hills, California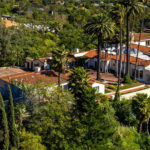 Advertisements
This $36.75 million, 9,100-square-foot Mediterranean-style estate where LeBron James resides has four bedrooms, eight bathrooms, seven fireplaces, exposed-beam ceilings, a sculptural staircase, a pool house with two baths, a lighted tennis court, a hedge-lined driveway, a palm-topped motor court, and a screening room.
The home, which is located in Beverly Hills, was built in 1930 and was once owned by The Young and the Restless co-creator Lee Phillip Bell. Prior to being purchased by the Bell family, the home belonged to the legendary Katherine Hepburn.
FUN FACTS
The original listing price for this property was $39 million, but James was able to snag it for $2.25 million less than the asking price.
James once owned a property in Miami that, as the Los Angeles Times puts it, has enough space for two yachts. The half-acre property includes a three-story home, a one-bedroom guesthouse, a pool with a swim-up bar, and a concrete dock. He acquired the property for $9 million in 2010 and sold it for $13.4 million in 2015.
Advertisements
29

Alicia Keys – La Jolla, California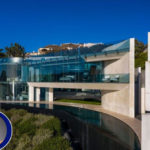 Advertisements
In 2019, Grammy award-winning singer Alicia Keys and her record producer husband Swizz Beatz purchased this clifftop mansion, known as "Razor House," for $20.8 million.
Located in the affluent Southern California town of La Jolla, this 11,545-square-foot cantilevered home has six bedrooms, 6.5 bathrooms, a circular living room, a screening room, a library with a glass-and-steel pool table, a family room with wine cabinets, floor-to-ceiling windows, a vanishing-edge heated pool, a stainless-steel spa and outdoor kitchen on the roof, a 1,301-square-foot two-bedroom detached guesthouse, and a "Batcave" tunnel that leads to a four-car garage.
The home also boasts breathtaking views of the Pacific Ocean.
FUN FACTS
"Razor House" takes its name from the local natural monument Razor Point.
This home has been featured in television commercials, including ones for Visa Black Card and Calvin Klein.
The property served as the inspiration behind Tony Stark's mansion in Iron Man.
Donald Burns, the inventor of magicJack, was the home's previous owner.
Advertisements
30

Bruce Willis – Brentwood, California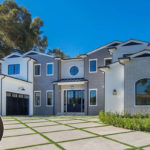 Advertisements
According to an article published by SheKnows, Bruce Willis' $10 million, 13,048-square-foot smart home in Brentwood "comes with more amenities than a luxury hotel."
These amenities include seven bedrooms, 12 bathrooms, a chef's kitchen with stainless steel appliances and two marble islands, an eat-in kitchen, a formal dining room, a casual indoor dining area, home theater, gym, game room, a private balcony right off the master suite, an indoor spa, indoor pool, indoor whirlpool and sauna, and a private office that you can reach by elevator.
In the foyer is an extravagant chandelier and a sweeping staircase. The living room features built-in bookcases, a fireplace, and rows of artwork hanging on the walls.
Outside is a spacious yard, an outdoor spa, and a pool flanked by two cabanas and an outdoor dining area.
Phew! That was quite a list—and probably not even half of what this gorgeous home has to offer.
Advertisements
31

Queen Elizabeth II – London, England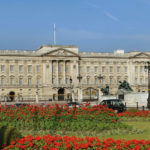 Advertisements
This list wouldn't be complete without mentioning one of the most extravagant, luxurious homes in the world. Buckingham Palace, where Queen Elizabeth II resides, is a 828,820-square-foot masterpiece!
Home to the British monarchy since 1837, Buckingham Palace has 775 rooms, including 19 state rooms, 52 royal and guest bedrooms, 92 offices, 78 bathrooms, and a throne room complete with not one but two thrones, red wallpaper and ornate gold decorations, including a chandelier. There's also a Grand Staircase.
FUN FACT
You can buy tickets to tour the Buckingham Palace. Tours take place between July and October. The palace is usually open from 10:00 a.m. to 6:00 p.m. from July to September, and entry is on a timed admission basis.
Tickets to visit the State Rooms cost £19.50 for adults aged 18 to 24, £30 for adults over 24 years of age, and £16.50 for children over five years of age. Children under five are admitted for free. Additionally, you can buy an add-on ticket, which includes a 45-minute guided tour of Buckingham Palace gardens.
Tours of the palace take anywhere from two to two-and-a-half hours.
Advertisements
32

Drake – Toronto, Ontario, Canada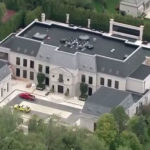 Advertisements
Dubbed "The Embassy," Drake's manor house in his hometown of Toronto is massive!
This 50,000-square-foot mega mansion comes with amenities like an NBA regulation-size indoor basketball court, a world-class recording studio, and a 3,200-square-foot master-bedroom suite with a two-story closet adorned with amethyst hardware, rock crystal, and a 4,000-pound tub of faceted black marble.
Not only that, but according to an article published by Architectural Digest, this home "is a marvel of old-world craftsmanship, constructed of limestone, bronze, exotic woods, and other noble materials."
"In form, materials, and execution, the structure is a proper 19th-century limestone mansion. But, the exterior profiles are more minimal and the lines are a bit cleaner," Canadian architectural and interior designer Ferris Rafauli told Architectural Digest. "This isn't stucco, paint, and fake gold. That's not what Drake wanted, and that's not what I do."
Advertisements
33

Mark Wahlberg – Beverly Hills, California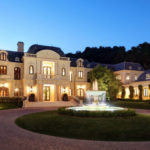 Advertisements
Mark Wahlberg, or Marky Mark, as hip-hop fans know him, is the owner of this 30,000-square-foot Beverly Hills mansion. The French Chateau-inspired home sits on 6.14 acres, is located in an exclusive guard-gated community, and comes with 11 bedrooms, 18 bathrooms, a grand double staircase, two-story office/library, home theater, gym, huge playroom, wine cellar, resort-style pool, terraces, pool house, a backyard putting green, and more.
Wahlberg acquired the property in 2009 for $8 million.
FUN FACTS
Finton Construction, who built the home, said that the house is as big as a hotel and the pool is worthy of an amusement park.
This home is considered to be modest by some because it doesn't have a ballroom, bowling alley, or indoor basketball court. Wahlberg made it clear to the designer that he didn't want any of those things. He wanted his home to be a home.
Advertisements
34

Rihanna – Los Angeles, California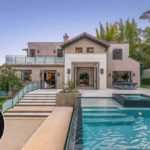 Advertisements
Last fall, singer Rihanna listed her Hollywood Hills home for sale, asking $7.8 million for it. That's up from the $7.495 million she asked for it in December 2018. Rihanna purchased the home for $6.8 million in 2017.
So, what's inside this mansion? The 7,130-square-foot home has six bedrooms, 10 bathrooms, a family room with a fireplace, a tray ceiling and lit arched inset shelving, a tiled chef's kitchen with an L-shaped black marble island, a bar and back-lit ceiling beams, and a home theater.
On the outside are lounge areas, a gunite infinity pool, a grassy yard, a barbecue, and a separate two-car garage with a second-floor guest house that has a gym and a full bathroom.
Advertisements
35

Elon Musk – Boca Chica, Texas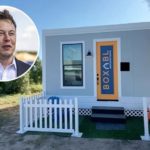 Advertisements
The Boca Chica prefab tiny home pictured above is apparently the new home of Tesla CEO Elon Musk. His private space company, SpaceX, purchased it in 2021 for the incredibly modest sum of $50,000, and he in now renting it. It's cheaper than a Tesla Model Y Long Range Dual Motor AWD! The small property would be located at Starbase, the site of SpaceX.
So, why is he no longer living in a big mansion worthy of a man as rich as him? Well, apparently, he has vowed to never own a house again. "I am selling almost all physical possessions. Will own no house," he tweeted in May 2020. He has indeed sold 7 houses for a total of about $128 million.
The Boxabl house is in fact a small prefabricated house, a Casita, which, when arriving at its destination, only has to be unfolded and attached to its foundation and the different utilities. The whole thing takes only a few hours.
The 375-square-foot home would contain only the minimum necessary for a person to live well, although Musk paid a few thousand dollars more to customize and upgrade the base model a bit. It is an open-plan space with a bedroom, a bathroom, a kitchen and a living room.
According to an interview that his ex-girlfriend, the singer Grimes, gave to Vanity Fair, it seems that Musk lives most of the time very modestly, even below the poverty line. The reason would be that Musk funnels a large portion of his fortune into his SpaceX Mars program, dedicated to sending humans to Mars within the next 4 years.
FUN FACT
Although the billionaire claims that his primary residence is now this modest tiny house, according to an article published by Forbes, that's not true. The magazine said that the billionaire was actually living in a luxury mansion in Austin owned by one of his wealthy friends, Ken Howery, the co-founder of PayPal.
Advertisements