Stunning Secrets About Walt Disney World
1

There Are Secret Tunnels Under Magic Kingdom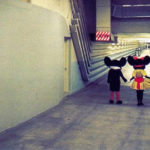 Advertisements
While Magic Kingdom is massive and magical from the perspective of a park visitor, it's 100 times more impressive when you learn that the park also includes a system of underground tunnels. According to early stories, Walt Disney was absolutely committed to maintaining the flow of the park and ensuring nothing would disrupt the magic.
When he saw a cowboy walking to his post in Frontierland through Tomorrowland, he immediately knew that just wouldn't do. To ensure employees could always reach their post without running into visitors in the park, Disney constructed a series of underground corridors. The corridors stretch along the entire park and even include cafeterias, dressing rooms, and prop storage areas.
Advertisements
2

American Flags Are Fake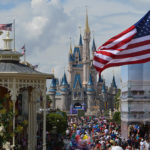 Advertisements
The national flag code outlines very strict stipulations for American flags across the US. However, Disney World's Main Street, USA doesn't necessarily want to follow all those requirements, such as putting the flags at half-mast on certain days. Still, the park needs American flags—it is called Main Street, USA, after all.
To get past the flag requirements, Disney World decided their flags simply wouldn't be authentic. Most flags are missing a star or a stripe, meaning they don't have to follow flag etiquette. Instead, they are considered pennants, which can be flown without many requirements.
Advertisements
3

The 'Disney Point' Originates With Walt Disney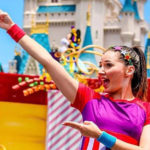 Advertisements
Disney World cast members have a very specific way of pointing. Rather than just using their index finger, as is natural for most people in the US, Disney cast members point with both their index finger and their middle finger. Pointing with just the index finger is considered rude in some cultures, so Disney employees are forced to adapt their method in order to be polite to all guests.
However, the backstory behind the "Disney point" goes even deeper. In old photos, Walt Disney was often captured pointing at various attractions. However, he usually had a cigarette between his fingers. When the Disney company decided to distance itself from smoking, they used photo editing to airbrush the cigarette out of Walt's hand. Therefore, it looked like he was pointing with his index and middle finger, leading to the famous "Disney point."
Advertisements
4

The Secret Suite In Cinderella's Castle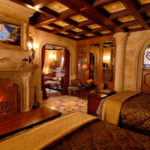 Advertisements
Cinderella's Castle is the focal point for Disney World's Magic Kingdom park. But most visitors to the park can only walk through Cinderella's castle via the archway in the center. The archway leads tourists through the castle, but the inside of Cinderella's magical home is a mystery to most Disney fans.
A select few, however, are actually allowed inside the hallowed halls of Cinderella's castle. When the park was constructed, a secret suite was built in the castle for Walt Disney and his family to stay in. Today, special guests and contest winners can take up accommodation in the room. Of course, guests can't book a stay in the castle, but they can enter various sweepstakes for a chance to sleep inside the park.
Advertisements
5

Park Employees Must Know Everything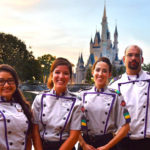 Advertisements
If you want to work at a Disney World park, be prepared to be on your A-game, day in and day out. While there are many rules cast members have to follow, one of the most difficult is that they're not allowed to tell park guests "I don't know."
Instead, park employees must have an answer for every question, even if they don't really know. However, they must also avoid lying, so asking around to see if their colleagues have the answer is common.
Advertisements
6

You Can Only Meet The Beast In One Place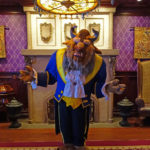 Advertisements
Beauty and the Beast is one of Disney's most beloved stories. While you might see Belle wandering the park, ready to take pictures with excited fans, you'll only find the Beast in one specific spot.
The Beast only appears at the Be Our Guest Restaurant in Disney World's Magic Kingdom. He makes an appearance during dinnertime, allowing excited fans to meet him then. But other than that, the Beast will never set foot in a Disney park, so you better make a reservation if you want to meet this character.
Advertisements
7

The Abandoned Water Park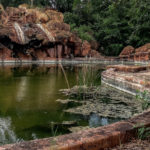 Advertisements
From 1976 to 2001, Disney World operated a water park called River Country. However, the park was abruptly shut for unknown reasons.
Despite closing 20 years ago, the water park still sits in an abandoned area of Disney World. It can be found on the island in the middle of Bay Lake, where it's slowly being covered in vines and moss. While the rest of the park looks happy, the decaying state of this abandoned spot is actually rather dismal.
Advertisements
8

Disney World Uses A Special Mosquito Repellant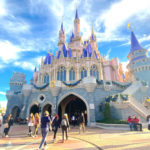 Advertisements
Mosquitos are all too common across swampy Florida. But somehow, the insects aren't found in Disney World. In fact, if you visit the parks, it's very unlikely that you'll walk away with any mosquito bites. So, how does Disney do it? First and foremost, the Disney World park is designed to be unattractive to mosquitos. There is no standing water where the bugs could lay eggs, so they often aren't interested in the park, to begin with.
But beyond that, Disney World also uses garlic as a mosquito repellant. Since the bugs can't stand the smell of garlic, an extract that is undetectable to humans is sprayed around the park. It's Disney's own special way of ensuring bug bites aren't a problem.
Advertisements
9

Disney Parks Are A No-Fly Zone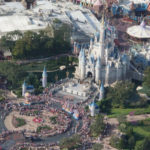 Advertisements
Visiting Disney World isn't just about going on rides and eating delicious foods. The parks are designed to be an immersive experience where you can truly lose yourself in the magical world of Disney. Therefore, the parks try their best to pretend the outside world doesn't exist, which also requires limiting any outside noise pollution.
When you're in a Disney World park, you might notice that you never hear the sound of plane engines roaring overhead. While it might seem like a coincidence, there's actually a reason behind it. Disney World parks are a no-fly zone. The restriction is issued by the Federal Aviation Administration, and it ensures that noise pollution from airplanes never makes its way into the park.
Advertisements
10

You Can't Buy Chewing Gum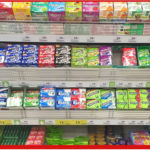 Advertisements
Chewing gum is perhaps the grossest piece of trash to come across when you're walking down the street. Not only that, but it can also get stuck to your shoes or clothes, creating a complete disaster. Thankfully, Disney World has taken measures to decrease the amount of chewing gum in their parks.
In an effort to keep the parks cleaner, Disney World doesn't sell chewing gum anywhere in the parks. However, they won't stop you if you bring in your own gum. Still, you should try to make sure your gum ends up in the trash and not on the street where it might ruin someone else's day.
Advertisements
11

Trash Cans Are Only 30 Steps Apart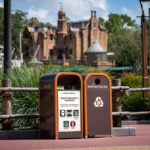 Advertisements
Banning chewing gum isn't the only measure Disney World took to make sure the parks are clean. They also made sure trash cans are readily available. While creating the parks, Walt Disney determined that a person would hold on to a piece of trash for roughly 30 steps before getting tired and dropping it.
Therefore, the trash cans in Disney parks are all set about 30 steps apart. By keeping trash cans so close, Disney ensured that more garbage actually makes its way into the cans, rather than ending up on the ground.
Advertisements
12

The Smells Aren't All Natural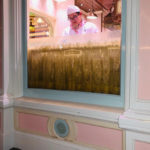 Advertisements
While walking through a Disney World park, your senses are hit with all kinds of overwhelming information. But while looking at the visually appealing construction and listening to the sound of fellow park-goers screaming on nearby rides are real, the scents your nose is picking up on are not. At least, not all of them.
According to former Disney employees, Disney actually pumps certain smells into the park to enhance visitors' experience. Whether it's the smell of popcorn and baked goods wafting down Main Street or the slight scent of gunpowder near the Pirates of the Caribbean ride, Disney uses special Smellitzer machines to make sure different scents are dominant throughout the park. Apparently, the smells are supposed to trigger a sense of childhood nostalgia, thereby enhancing the whole experience.
Advertisements
13

You Won't See Character Duplicates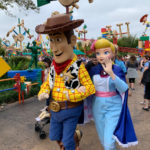 Advertisements
Disney World is committed to maintaining the magic of Disney stories. Therefore, they're very specific about their characters. While taking pictures with characters is one of the best parts of visiting the park, catching your favorite Disney personalities in such a large space is difficult. However, Disney refuses to allow duplicates of one character to roam the park at the same time.
Disney parks force their characters to stick to a strict schedule with a set time to appear in the park. While multiple people might play a character, or there may be different versions of a character, you won't see two of the same character in the park at the same time. Running into three different Mickeys in a one-hour span would ruin the magic of the characters, so Disney makes sure you'll only ever see one at a time.
Advertisements
14

Mickey Mouse's Shorts Color Is A Secret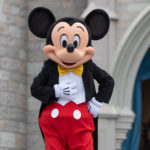 Advertisements
While visiting Disney World, you can buy Disney paraphernalia to your heart's content. However, there's one thing that's not available for purchase—shorts in the exact same color as Mickey Mouse.
Apparently, the precise red hue of Mickey Mouse's shorts is proprietary and will never be released. While that's certainly a disappointment for committed Disney fans, it also makes Mickey's shorts all the more special.
Advertisements
15

Tinker Bell's Flying Requires A Lot Of Upper-Body Strength
Advertisements
The Wishes Nighttime Spectacular, a beautiful fireworks show that often ends a day spent in Disney World's Magic Kingdom, features Tinker Bell soaring high above the ground, seemingly by magic. But the truth behind Tink's nighttime flight is much more practical than you might assume.
To make it to the end of her flight path and back, Tinker Bell is given a good push from the window of Cinderella's castle. The push has to be strong enough for Tink to float above the crowd while still making it all the way back to the window. If the push isn't hard enough, however, Tink has to make her way back using her own upper body strength. Obviously, being Tinker Bell requires a lot more than just a pretty face.
Advertisements
16

A Main Street Phone Plays a Secret Conversation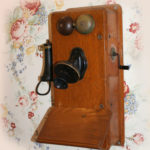 Advertisements
Next time you're visiting Disney World, make your way to The Chapeau on Main Street, USA. There, you should keep your eyes peeled for a phone that looks like a prop, but is actually so much more.
If you put this phone to your ear, you'll be able to listen in on a secret conversation. The recording depicts neighbors gossiping, sharing life advice, and generally chatting. If you listen long enough, you might walk away with some nugget of wisdom you can incorporate into your own life.
Advertisements
17

Custodians Are The Best People To Ask For Directions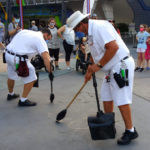 Advertisements
Generally, Disney World cast members are required to stay in one specific spot or area during their shift. A strict policy prevents them from wandering the park and abandoning their post. However, this rule doesn't apply to custodians.
It's the custodians' job to keep the park clean and orderly. As such, they're required to wander the streets picking up trash and generally tidying things up. Therefore, custodians probably know the park better than anyone. If you need to ask for directions, find a custodian—they're sure to know the best way to get around.
Advertisements
18

The Lighting At Cinderella's Castle Is Picture-Perfect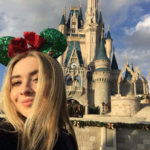 Advertisements
If you want to snap the perfect Disney World picture, head to Cinderella's castle. While the castle can't magically make you photogenic, it can ensure that you always have optimal lighting for a picture.
The castle faces south, so the sun is never directly behind it. In addition, the park is designed in such a way that no shadows from other buildings fall on the area around Cinderella's castle. Basically, the lighting will always be perfect at the castle, so you can always snap a flawless photo.
Advertisements
19

There's A Jar Of Real Pickled Sausages In The Tower Of Terror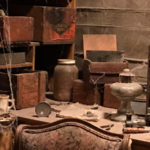 Advertisements
While the Imagineers were working on the Twilight Zone Tower of Terror, they came up with a fun, silly prank. One day, someone brought a jar of pickled sausages to the construction zone. The Imagineers would then hide the jar around the Tower of Terror, hoping to surprise their colleagues.
However, the prank went on a little too long, and one Imagineer accidentally left the jar behind at night. Unfortunately, that also happened to be the night that every prop was glued down. Thinking the pickled sausages were just another prop, the crew glued them as well. The pickled sausages can still be found on the ride today, behind the photo pickup area.
Advertisements
20

There Are Private Clubs In Various Parks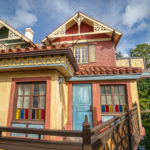 Advertisements
While many areas of Disney World are open to all guests, Disney also has a private dining club called Club 33. First opened in 1967, the original club was modeled after executive lounges created during the 1964 New York World's Fair.
In Disney World, however, the various Club 33 locations all have a unique spin. Epcot's Club 33 is located above the American Adventure. Magic Kingdom's version can be found to the right of the Adventureland entrance. A third can be found on the second floor of the Hollywood Brown Derby restaurant in Disney's Hollywood Studios. The clubs are very expensive and most average guests could never dream of getting a peek inside at the extravagant decorations.
Advertisements
21

Animatronics Are Reused From Old Rides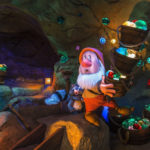 Advertisements
Disney World rides are full of animatronics that represent famous Disney characters. Since making animatronics takes a lot of time, creativity, and money, Disney isn't just going to throw them away when rides close or become outdated. Instead, Disney is known for reusing its animatronics to keep costs down while keeping the magic alive.
For example, many of the Seven Dwarfs animatronics on the Seven Dwarfs Mine Train rollercoaster first appeared on Snow White's Scary Adventures. When the original ride closed, the animatronics were moved to the new attraction. That's certainly a better idea than simply throwing them out.
Advertisements
22

The Screams Around The Tower Of Terror Are Pre-Recorded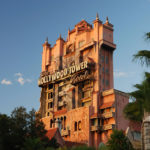 Advertisements
The Tower of Terror ride is scary enough that it surely elicits its fair share of real screams. But just to make sure visitors get a feel for the terrifying nature of the ride, Disney World decided to play pre-recorded screams over the park's speakers.
Many of the screams you hear around Tower of Terror aren't actually real and are just the result of a recording. The sound is supposed to make the ride more intimidating. If you've ever visited Disney World before, we bet you probably agree that it does the trick.
Advertisements
23

Lingering In The Park After Closing Pays Off
Advertisements
Once Magic Kingdom closes, everyone is supposed to make their way to the exits and head back to their hotel rooms. But if you linger in the park for a little bit, you'll be met with a special surprise. Roughly 15 minutes after the park officially closes, the Cinderella's castle lights up for the last time that evening.
While "When You Wish Upon a Star" is playing in the background, a special message is played over the loudspeakers. The message thanks visitors for coming and wishes them a final good night. The moment is known by Disney fans as the "kiss good night."
Advertisements
24

Liberty Square Strives For Historical Accuracy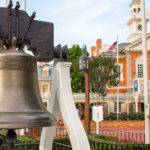 Advertisements
Liberty Square is located in Disney World's Magic Kingdom park. It's meant to be a replica of towns in colonial days, including its own Liberty Bell and Liberty Tree. However, the creators of the park decided to take things one step further when it came to historical accuracy.
Since there were no restrooms in colonial days, the park creators determined there would also be no restrooms in Liberty Square. However, they can't leave park-goers with nowhere to take care of their business. So, they put bathrooms in both the Liberty Tree Tavern and the Columbia Harbor House. However, the bathrooms there are located so far back that they're technically considered part of different lands, maintaining the historical accuracy of Liberty Square.
Advertisements
25

The Haunted Mansion Stretching Room Isn't An Elevator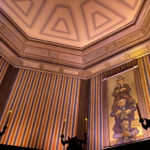 Advertisements
The Haunted Mansion is a popular ride at both Disneyland and Disney World. However, the mechanics of the ride in each park are a little different. At Disneyland, the ride starts with the visitors being ushered into a room that slowly starts to stretch. Rather than the room actually stretching, however, visitors are lowered one level to complete the rest of the ride. The motion of the elevator moving down makes it seem like the room is stretching.
At Disney World, however, the ride is a bit different. Without the space constraints they faced at Disneyland, the creators of the ride were actually able to make a stretching room. Rather than moving visitors down a level, the Disney World Haunted Mansion room stretches up. It creates the same effect, but the technology involved isn't the same at all.
Advertisements
26

Main Street Hides Some Sweet Accolades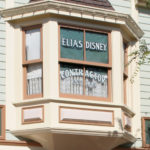 Advertisements
Main Street, USA in Disney World's Magic Kingdom is meant to mimic the small town in Missouri where Walt Disney grew up. But it also includes a few more nods to notable people in the Disney universe. All along the second level of Main Street, there are window inscriptions that praise a valued employee or Disney contributor.
For example, one inscription honors Buddy Baker, the composer of much of the music in Disney films and the theme park attractions. Another inscription thanks Roy O. Disney for opening the park even after his brother, Walt Disney's, death. Other inscriptions thank the creators and designers of some rides, as well as other notable people who contributed to the parks.
Advertisements
27

The Areas Of The Park Are Made To Be Completely Separate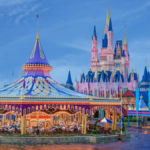 Advertisements
Disney World's Magic Kingdom park is split into various sections, including Frontierland, Tomorrowland, Fantasyland, and more. But when you're in one section of the park, it's easy to forget that any of the other sections even exist, and there's a good reason for that.
The park is designed to ensure each "land" is truly its own separate world. If you're in Fantasyland, you won't be able to see Liberty Square, even though they're right next to each other. Towering trees and well-placed buildings ensure you can only see one land at a time, further contributing to the illusion that each section of the park is a brand new world.
Advertisements
28

A Special Family Opens Magic Kingdom Every Day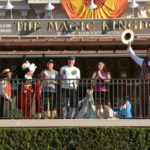 Advertisements
Some visitors like to arrive at the park the second it opens, but others take their time before making their way to Magic Kingdom. Either way, most visitors don't know that Magic Kingdom has a special opening ceremony each day. For the ceremony, one special family is chosen to receive a tour of Main Street before the park opens.
Then, cast members from the park take the family members to the train station, where they take part in a music-filled opening ceremony known among fans as the "rope drop." In order to be chosen for this special role, families must arrive at the park extra early, wearing their best Disney gear and looking especially enthusiastic.
Advertisements
29

The Jungle Cruise Features Recycled Props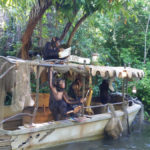 Advertisements
The Jungle Cruise is a painfully kid-friendly ride, but it's still one of the most iconic expeditions in the entire park. Still, considering the simple nature of the ride, it's not surprising that it features recycled props from other rides across the Disney World parks.
The spiders on the ride were actually taken from the Haunted Mansion, as is the face of an explorer who is also seen in the Haunted Mansion's graveyard scene. The monkeys looking for gold on the ride used to live on Living With the Land, a ride found at Epcot. Other bits and pieces of the expedition pay homage to Disney World, including Trader Sam's loincloth, which was made with the original fabric found on top of the Jungle Cruise boats.
Advertisements
30

Disney World Uses "Forced Perspective" To Make Buildings Seem Taller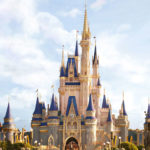 Advertisements
Forced perspective is a technique that uses optical illusions to make objects appear bigger, smaller, farther away, or closer than they actually are. In the case of Disney World, the theme park uses forced perspective to make Cinderella's castle and other buildings seem taller than they really are.
One way in which they accomplish this is by making the bricks toward the top of Cinderella Castle smaller than the bricks at the bottom of the castle. The park uses a similar technique for the Beast's castle. Although it's much shorter than Cinderella's castle, it appears to be much larger than it actually is.
Advertisements
31

There Are Several Mickey Mouse Motifs Hidden All Over The Park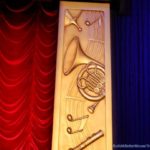 Advertisements
Did you know that there are several Mickey Mouse motifs hidden all around Disney World? In fact, there are so many of them that you wouldn't even be able to find them all. Not only that, but their locations can be hard to spot, making it even more difficult to find them.
But perhaps you may have noticed some of them. They can be seen in landscaping, ride décor, bolts in signs, in artwork, and many other places. For example, the hidden Mickey Mouse in the image above is located on the stage at Mickey's PhilharMagic at the Magic Kingdom. Can you spot it?
Advertisements
32

There's A Secret Way To Get A Perfect Score On Buzz Lightyear's Space Ranger Spin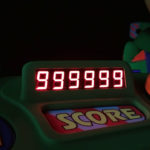 Advertisements
If you want to get the highest score possible on Buzz Lightyear's Space Ranger Spin, there's a secret hack you can follow. All you have to do is keep shooting the red robot and claw in the first room. These targets are worth 100,000 points each. If you keep shooting them, you'll hit the maximum score, which is 999,999. What's more is that you will hit this score before the ride is even halfway over!
TIPS
When the ride begins, engage the trigger and check to see where your laser beam is firing so you can get an idea of where your beam is.
Keep your thumb on the trigger at all times to make sure the gun is constantly firing.
Take a picture of your 999,999 score and show it to the cast member in the photo area at the exit so you can get a free Galactic Hero button.
Advertisements
33

There's A Singing Runway Just Outside The Magic Kingdom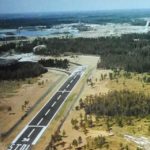 Advertisements
There's an abandoned runway just outside of the Magic Kingdom. It was built in 1970 just before Disney World officially opened and was once part of Disney World's first and only airport on park property. The airport was used for about a year or two by Shawnee Airlines before it was shut down. It is now used for backstage parking. To find the runway, simply make a right turn under the Monorail just before entering the Magic Kingdom.
Being that it's at Disney World, you should know that this isn't just some ordinary runway. It's a singing runway! Rumor has it that if you drive over it at approximately 45 miles per hour, you'll hear the runway sing "When You Wish Upon a Star." This is due to strategically placed grooves in the pavement.
Advertisements
34

The Cinderella Fountain Statue Is Designed To Look Different To Children And Adults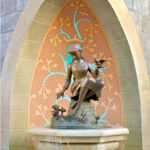 Advertisements
If you've ever been to Disney World as a child and then later on as an adult, you might have noticed that the Cinderella fountain statue looked a little different from when you were a kid compared to when you were a grown-up.
And while it's true that things look different when you are a child, the Cinderella fountain statue was purposely designed to look different to children than it does to adults. From a child's height, the mosaic behind Cinderella makes it look like she is wearing a crown. From an adult's height, the statue appears to be a bit melancholy.
Advertisements
35

There's A Hidden Silhouette Of Donald Duck Inside The Haunted Mansion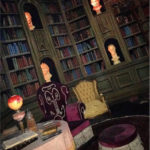 Advertisements
As many times as you've been on the Haunted Mansion ride, you probably never even noticed that hidden silhouette of Donald Duck. But there it is, right there on the chair inside the Haunted Mansion ride's library or in the endless hallway scene—depending on the day. Sometimes the chair changes position.
At first glance, the image isn't all that easy to see. The line on the top of the chair is where you will find Donald's sailor hat. Below that is the eyes, and so on and so forth. In all honesty, it looks more like Squidward to me than Donald Duck!
Advertisements
36

Disney Princesses Must Train As Furries Before Becoming Princesses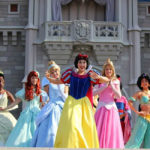 Advertisements
Disney princesses don't start out as princesses at Disney World. They must first train as a "furry," or masked character (i.e. Mickey Mouse, Goofy, etc.), before becoming a princess. Not only that, but a former Rapunzel, Brianna Smith, told Insider back in 2017 that Disney princess auditions are super rigorous and selective. And if they make it past several rounds of auditions and are hired, they have to train for several weeks as "furries" before they can move on to princess status. They also must know their character inside out.
What's more is that after going through this rigorous selection process, it's super easy for them to get fired. Smith almost got fired on the spot once because she forgot to change out of her bright orange sneakers and into her princess shoes. "Luckily, someone spotted me just as they were opening the doors. They had to rush to re-shut the doors before guests came in," she told Insider.
Advertisements
37

There's A Hidden Character At Animal Kingdom Named DiVine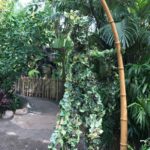 Advertisements
If you're not looking closely, you just might walk right past DiVine the next time you're at Disney World's Animal Kingdom. DiVine is the name of a street performer camouflaged in leaves, vines, and green face paint. She walks on four stilts as opposed to the typical two to enhance her vine-like appearance.
In fact, DiVine blends in so well with the scenery that she's easy to miss. Luckily for you, we have a secret tip to help you find her a bit more easily: DiVine is usually found during the afternoon around the Animal Kingdom entrance or a back path between Pandora and Africa within the park.
Advertisements
38

You Don't Need To Purchase An Admission Ticket To Dine With A Disney Character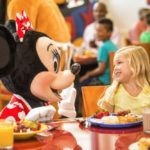 Advertisements
Did you know that you can dine with a Disney character without having to purchase a park admission ticket? Yep, it's true! That's because some of the character dining experiences are actually outside the theme park. For example, you can have breakfast with Mickey Mouse, Pluto, Goofy, and Donald Duck every morning at Chef Mickey's in the Contemporary Hotel. You can also have breakfast with them at the Four Seasons Orlando Resort.
At Topolino's Terrace at the Riviera Resort, you can dine with Mickey, Minnie, Donald, and Daisy. At Ohana, which offers Hawaiian-flavored dishes and music in a Polynesian-themed setting, kids of all ages can have breakfast and dinner with Lilo and Stitch.
Advertisements
39

There's A Basketball Court Hidden In The Matterhorn Ride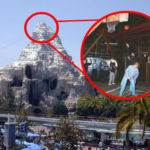 Advertisements
Looking at the height of the Matterhorn Bobsleds ride, it's obvious that employees who have to get to the top are feeling a little tired after their climb. That's why, in the past, a resting place was built in an attic-like room near the summit.
However, one day, an employee decided to bring a basketball hoop into the room. One thing led to another and the room became a mini half-court, with a hoop, but also floor markings! This is a good way for employees to pass the time when the weather doesn't allow them to climb the mountain!
Advertisements
40

Epcot Wasn't Supposed To Be A Park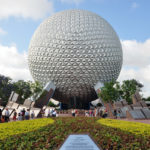 Advertisements
Epcot is one of the many theme parks included in Disney World, but it wasn't actually supposed to be another addition to the long list of attractions. Originally, Walt Disney wanted Epcot to be a futuristic community. Named Experimental Prototype Community of Tomorrow, the park was nicknamed Project X by Disney himself.
Disney wanted Epcot to be a real community where people could work, live, and play. He wanted a citywide monorail system and a climate-controlled environment. However, the original plans were abandoned following his death, and Epcot was turned into just another theme park.
Advertisements
41

Most Magical Place To Watch The Fireworks Display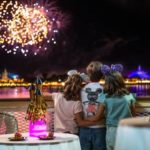 Advertisements
Here's a tip to get the most amazing view of the fireworks display at the Magic Kingdom and avoid the crowds. The Tomorrowland Terrace Restaurant offers fireworks dessert parties where park-goers can enjoy the show along with an assortment of cheeses, beverages, and special desserts.
They offer three packages, including a pre-party, a seated party, or an after party. All three options provide an unobstructed view of the Magic Kingdom Fireworks spectacular across the park. Who wouldn't want to eat yummy treats and watch the display? The event is offered on special evenings and can be booked at the Disney World Website.
Advertisements
42

Automated Vacuum Assisted Collection System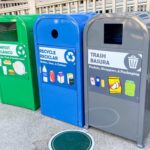 Advertisements
Disney has a few tricks up its sleeve when it comes to keeping the park litter free. The Magic Kingdom features state-of-the-art trashcans that run on an automated vacuum-assisted collection system. This is just a fancy way of saying that the park moves waste through underground trash tubes.
It's quite an impressive system made up of 17 collection points around the park. Every 15 minutes, vacuum tubes suck out the trash and send it shooting at 60 miles per hour to a trash compactor located behind Space Mountain. There, the garbage is compressed and sent away. It really is out of sight, out of mind.
Advertisements
43

The Sidewalks Are Red At The Entrance By Design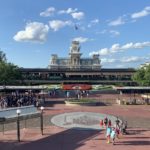 Advertisements
Observant park-goers may notice that the pavement at the entrance to the Magic Kingdom is red. Of course, this was done by design, as all things are when Disney is concerned. It's been said that the color is supposed to represent a red carpet as people enter the show.
Another reason is so that photos will look better. A red background is much more exciting than a boring gray sidewalk. Not to mention that the red reflects sunlight, which is a good thing, considering the Magic Kingdom is located in Orlando, Florida. They don't call it the "sunshine state" for nothing.
Advertisements
44

Wait Times Are Overestimated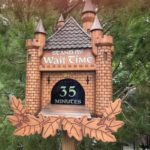 Advertisements
People have come to expect wait times when visiting any of the Disney parks. There are signs posted at the beginning of the line that indicate how many minutes you'll be waiting until it's your turn to enter the ride. Be aware that the wait time posted is often overestimated.
There is true physiology behind this method that park-goers will feel like it's a win if the sign says there is a 35-minute wait time, but they board the ride in 15 minutes. When you're visiting the Magic Kingdom, keep track of your actual wait time and compare it to the estimation. You'll see!
Advertisements
45

Cast Members Speak In Code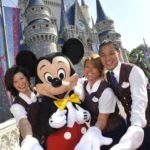 Advertisements
Cast members at the Disney parks often speak in code to not alert the guest to various situations that might unfold. This ensures that everyone can have a magical day without being bothered by difficulties or problems. Do you want to learn how to speak Disney?
These are just a few examples of codes the cast members use. "Code V" means that someone yacked on a ride. You'll never hear an announcement that a ride is broken; instead, Disney workers call out code "101" while "102" means a ride is up and running again. "Signal 70" stands for "lost parent".
Advertisements
46

The Most Awesome Place For Character Sightings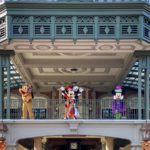 Advertisements
There is a secret character sighting spot at the Magical Kingdom that's a little bit off the beaten path. There, you'll get to see your favorite character up close. Multiple times during the day, characters fill the Main Street USA Train Station. We have a great tip.
While the characters are on the platform, walk towards the Main Street Chamber of Commerce and take the walking path between the Train Station and the Chamber of Commerce. After their appearance, the characters leave the stage in a line and walk down a ramp. You'll be there waiting to wave hello.
Advertisements
47

The Tree Of Life Isn't A Real Tree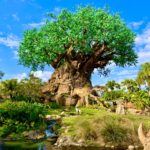 Advertisements
The Tree of Life is the main feature guests see as they enter Animal Kingdom. While it's an awe-inspiring site, you may find it surprising that it's not a real tree because it's actually a sculpture. Surprisingly, the inside of the tree is built around an upside-down oil rig.
It was quite a process to construct the artificial baobab tree, which was built by 10 artists over an 18-month period. Not only did each artist create an animal sculpture, but according to WDW Magazine, there are 102,000 leaves in five different shades of green, and the leaves were attached by hand to over 8,000 branches!
Advertisements
48

The Park Features Green Paint To Trick The Eye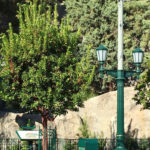 Advertisements
Did you know that Disney theme parks created their own color called "Go Away Green"? The hue is designed to help construction areas and other unwanted objects fade into the background to not obstruct guest views. It appears in various shades of green.
The color mutes the object's appearance to match the surrounding greenery. Here are just a few examples of things that are painted "Go Away Green" around the park: light posts, construction facades, table umbrellas, and restricted doors. Basically, anything that might call attention away from the Disney magic around the park.
Advertisements
49

See The Rarest Characters At Epcot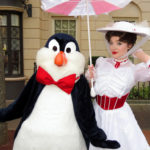 Advertisements
The most popular Disney characters, like Mickey and Minnie or princesses like Belle, Cinderella or Snow White, are quite easy to see when you visit the park. Let's just say that these characters are not trying to hide! However, others are more difficult to see.
Nevertheless, there is a way to maximize your chances of seeing some of the rarer characters if you visit Epcot. In fact, sometimes Disney characters, including the rarest ones, train at the International Gateway. If you're there at the right time, it could be your chance to see Mushu from Mulan or Mr. Penguin from Mary Poppins, among others!
Advertisements
50

Baby's First Haircut At Harmony Barber Shop
Advertisements
The Harmony Barber Shop is nestled on Main Street in the Magic Kingdom. Keep an eye out for the red-and-white striped pole if you'd like to stop in for a haircut while you're at the park. It's decorated like an old-fashioned barber shop that offers a very special service.
Parents can take their baby in for the "My First Haircut" experience. Little ones not only get their locks snipped for the very first time, but the service comes with loads of extras to mark the event like a commemorative Mickey Ears hat, a keepsake lock of hair, and an official milestone certificate.
Advertisements