How A Couple Retired In Their 30s—Now They Live Off The Grid And Spend $40,000 A Year
Time For A Lifestyle Change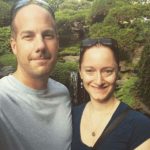 Advertisements
Steve and Courtney Adcock retired in their 30s and live a carefree lifestyle in Arizona. The couple quit their jobs in 2016 and 2017, and are currently worth $1.2 million. They spoke to NBC's Make It's Millennial Money series about retiring at such a young age, and what inspired them to make that change.
"In my early 30s, I came to the realization that I just could not spend the rest of my life sitting in front of a computer, working 10 to 12 hours a day, writing computer code, or fixing problems," Steve said. "I just couldn't do that."
Advertisements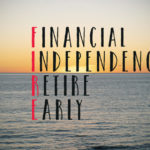 Advertisements
In 2014, the Adcocks joined the FIRE movement, which stands for "Financial Independence, Retire Early." The goal is to save and invest between 50-75% of your income enabling you to retire in your 30s or 40s.
Their combined net worth was  650,000, including their home equity, which they intended to sell. In order to retire in their 30s, Steve and Courtney calculated they needed a total of  $800,000 to $900,000. They had their work cut out for them, as they were earning a yearly combined income of $230,000.
Advertisements
Advertisements
After deciding to use the FIRE method, the Adcocks took several aggressive steps to achieve their goal of saving 70% of their income. With their eyes on early retirement, the couple made bold moves to build their retirement nest egg and maxed out their 401K contributions.
They took advantage of their employers matching funds taken directly from their paychecks to build a retirement account, taking out the maximum amount left them extra funds to save or invest.
Thanks to their high-paying salaries, this produced substantial money for Steve and Courtney, which made their dream of early retirement become a reality.
Advertisements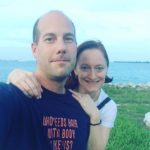 Advertisements
Another crucial step that the Adcocks took to set them up for early retirement was to funnel any extra savings they accrued into several accounts. The couple placed their money in a Roth IRA, a brokerage account, and a savings account.
Their laser focus on pouring cash into these accounts took a good chunk of their earnings, making it almost effortless for them to manage their retirement plans. "At one point we were saving 70% of our combined income," Courtney told NBC's Make It's Millennial Money. It took them three years to reach their goal.
Advertisements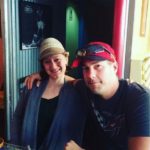 Advertisements
The couple made it a point to slash their monthly costs by creating a tight grocery budget and canceling monthly subscriptions. There were times when they had to make hard financial decisions. They reigned in their spending, limiting their restaurant budget to just $50 a month, which was a sacrifice for Steve.
He admitted to CNBC that Courtney was more of a "saver" and the budget was challenging for him, as he considered himself to be a restaurant aficionado. Prior to enacting their retirement saving plan, Steve said he "once made a point to visit an eatery a day for a full year."
Advertisements
Moved Into An Airstream Trailer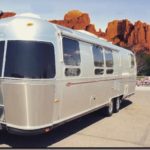 Advertisements
One important step the Adcocks took on the road to retirement was to move out of their Tucson, Arizona home. They went from a 1,600-square-foot home, complete with a swimming pool, to a more economical way of living.
The couple purchased a 2005 Airstream for $42,000 in cash. Steve posted a pic of their new RV to Instagram, along with the caption, "Here he is! Our new to us 2005 Airstream Classic. I'm so excited to make it perfectly us. March 31st can't come quick enough! O the places we will go… O the people we will see!"
Advertisements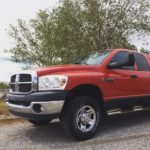 Advertisements
Steve and Courtney took a drastic step for their automobiles. They now share one pickup truck, which they now use to tow their Airstream when they hit the road to travel around America. This was quite the sacrifice for Steve.
He revealed to CNBC that he used to own several vehicles. "Before we got married, I spent a lot of money. I had a supercharged Corvette convertible. I had a brand new Cadillac CTS. I had a Yamaha sportbike. I had all the toys," he said, adding that they sold all of them to go towards their retirement.
Advertisements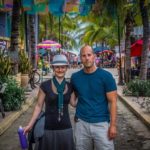 Advertisements
After they reached their goal of retiring in 2016, the Adcocks spent a good deal of time traveling in their Airstream. They filled their social media accounts with images of their adventures. Steve posted a pic on Instagram along with the caption, "The wife and I in beautiful #Sayulita #Mexico. #Colors #Paradise"
Their travels took them all over the United States. From Key West to the Grand Canyon, Steve shared a pic of Courtney in front of a waterfall on Instagram and wrote, "The one and only @astreaminlife admiring Steelhead Falls near Bend, OR"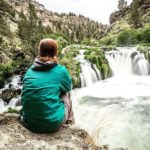 Advertisements
Careful With Their Budget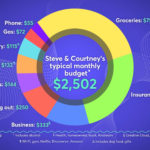 Advertisements
The Adcocks have both a combined checking and saving account and live on a set budget.
According to CNBC, their budget breaks down like this:
Groceries: $750 (Includes alcohol)
Insurance: $651 (Health share plan, homeowners, truck, and Airstream insurance)
Business: $333 (Includes Adobe Creative Cloud, Google Domains, UPS box, and more)
Dining out: $250
Property taxes: $144
Subscriptions: $132 (PlanWiFi, Planet Fitness, Netflix, Discovery Plus, Amazon Prime, Kindle Unlimited)
Discretionary: $115 (Includes dog food and gifts)
Gas: $72
Phone: $55
Steve revealed that he and Courtney talk about every purchase they make and must agree on a purchase before they spend any money.
Advertisements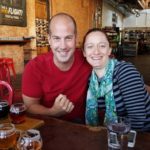 Advertisements
It's not all work and no play because Steve and Courtney leave room in their budget for some splurges. They allow a bit of money for two of their favorite pleasures, eating out and drinking adult beverages. Their grocery budget includes cash for nice spirits so they can make their favorite cocktails at home.
Since Steve considers himself to be a foodie, they also enjoy dining out. They budget $250 a month for eating at their favorite local restaurants at least once a month, proving that a crucial part of enjoying retirement is allowing yourself a few luxuries in life.
Advertisements
Bought Property In Arizona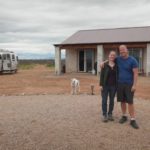 Advertisements
After spending a chunk of time exploring the country in their Airstream trailer, the couple decided to lay down some roots. Another way they eliminated spending was to purchase a small home and a bit of land in 2019.
They bought a 6.7-acre parcel of land in the Arizona desert and moved into an 800-square foot house, which they purchased for $72,000. With a home base in their financial arsenal, they were able to save money when they weren't on the road. They parked their Airstream on the property and enjoyed spending time at home. 
Advertisements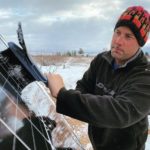 Advertisements
Steve and Courtney also took several steps to live off the grid, which helps them save money. In October 2019, they added a solar panel array for $28,000. This move eliminated costly power bills.
They also avoid water and sewer bills by having a septic tank and collecting rainwater. Steve shared a pic of their new water tank on Instagram in May of 2021.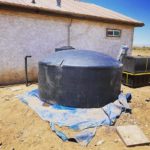 "Completed switching out the previous low-quality water tank for this one, a professional-grade water holding tank. Nice little project that was way overdue," he wrote.
Advertisements
Joined A Health Share Plan
Advertisements
When it comes to their health care, Steve and Courtney decided to go the non-traditional route. They joined a health share plan, which costs about $500 combined monthly.
According to their plan, they can visit any participating doctor at any time and pay cash for their services. They also found a creative way to save money when it comes to caring for their teeth.
According to CNBC, they pay out-of-pocket for dental work. The duo hop in their Airstream and travel to Mexico for dental checkups, where they can get a cleaning for around $25.
Advertisements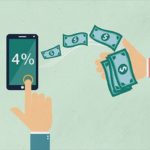 Advertisements
The Adcocks follow the 4% rule. This means that it's safe for early retirees to withdraw 4% a year from their retirement. This is half of the average return on balanced portfolios, which is 8% of the long-term historical average return.
The amount they spend changes yearly but grows over time. "If we're having a good year and we're making money, we can be a little bit more flexible with our lifestyle," Courtney explained. "And then if we're in a down market, we will really cut back and get our [annual] budget more in the $30,000 to $40,000 range instead of up near $50,000."
Advertisements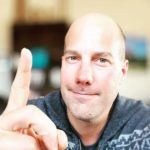 Advertisements
Another financial strategy that Steve and Courtney have taken in their retirement is to save at least two years' worth of money in their high-yield savings account. They keep between $60,000 and $80,000 in savings at all times.
Instead of investing this cash, it's worth it for them to have peace of mind knowing that they have access to funds, no matter what the market is doing. This ensures that their needs will always be taken care of. Steve wrote on Instagram, "If you don't have an emergency fund, then you are living a life at risk."
Advertisements
Targeted Retirement Funds
Advertisements
The couple does invest a portion of funds in low-risk investments. They make it a goal to place a majority of their assets in targeted retirement funds, which is one of the safest ways to invest money.
According to CNBC, Steve revealed that he prefers this because they are "automatically diversified" to reduce risk. He believes that investing "doesn't have to be hard."
The Adcocks don't try to time the market or pick particular stocks. They stick to their savings and avoid selling any investments. This strategy protects their money from a market crash.
Advertisements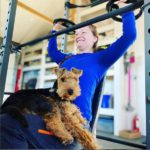 Advertisements
In 2020, the Covid lockdown forced Steve and Courtney to stick close to home. Since they could no longer travel the country in their Airstream, they began investing money into their home in Arizona. The couple added a home gym to their garage, complete with a weight machine, and made their health a priority.
They often share their workout journey on social media. Steve posted a pic of his home gym on Instagram, along with the caption, "My gym is a requirement. It's not optional. Your health is your #1 priority, always. Everything else pales in comparison."
Advertisements
100% In Control Of Their Time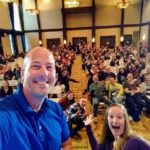 Advertisements
Being out of the workforce doesn't mean that Steve and Courtney have quit working altogether. Now, they are able to be selective with their time. "Early retirement, to me, is the ability to control nearly 100% of your day without the need to work a full-time job to fund your lifestyle," Steve said.
"I like to earn an income doing things that I like," he continued. "I don't do what I do because I need the income. I do what I do because I think it's cool. It's thrilling to do something you fundamentally enjoy and get paid for it."
Advertisements
Advertisements
Steve has taken on writing e-books, hosting a YouTube channel, and taking odd jobs in IT. The couple also speaks at various financial speaking engagements.
Courtney enjoys volunteering on the board of a local water system project in her community. She also runs a knitting YouTube channel and donates a portion of her profits to local charities.
"Now you can work for free," Courtney told CNBC. "You can volunteer not only money but time. You have a lot more options in terms of what you can do to help out and be of service to others than when you might have been working."
Advertisements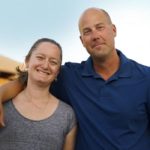 Advertisements
The Adcocks know that the steps they took toward early retirement may not be for everyone. Living within a tight budget may seem like a challenge, but both of them are happy with their lifestyle choices when it comes to penny-pinching and giving up luxuries.
"If you think about it as sacrificing, as what you're giving up, you're going to have a very hard time not spending like your friends," Courtney said. "But if you think about it as what you're gaining, if you have that vision of the future, it really made it not feel like a sacrifice."
Advertisements