From Prom To Weddings: Nostalgic Celeb Pics At Important Moments In Their Lives!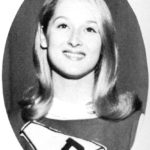 Advertisements
Meryl Streep was extremely popular when she attended Bernards High School in Bernardsville, New Jersey. According to NPR, Streep discussed how being popular was her first acting gig when she gave the 2010 commencement speech at Barnard College.
The actress revealed that she flipped through Vogue and Seventeen magazines to find fashion inspiration so she could look like one of the "it" girls. She even labeled her high-school performance "a form of acting for a purpose" and that, in retrospect, she thought about her high-school years as "playing a role." It must have worked because it appears she was well-liked.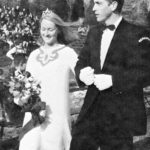 There are some people who were just born to be a star and Meryl Streep is one of them. She was so popular that she was voted homecoming queen in 1967. We love her white mini dress with detailed patterns on the neckline.
She was also class treasurer and sang in the choir at school. Glancing at the photo of her on the homecoming court gives a glimpse of what life was like for Streep at the time. From the crown on her head to the bouquet of flowers in her hand, she was well on her way to becoming Hollywood royalty.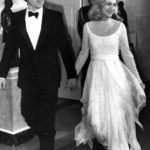 Perhaps the longest-running role that Meryl Streep has taken on is that of wife to her husband, Don Gummer. They married in 1978 and have been together for over two decades. The couple share four children, Mamie, Grace, Louisa, and Henry.
The actress thanked Gummer in her 2010 Oscars' speech, saying, "First I'm going to thank Don, because when you thank your husband at the end of the speech they play him out with the music," she said. "And I want him to know that everything I value most in our lives you've given me." How sweet is that?
Advertisements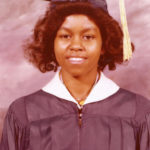 Advertisements
Michelle Obama posted a throwback graduation pic on social media to encourage the class of 2021. She wrote a lengthy caption, saying, "Congratulations, Class of 2021! 🎉 From navigating virtual learning to finding new ways to develop relationships with teachers and classmates—while somehow submitting your assignments on time."
"You overcame so much this year with grace and humor. You should be incredibly proud of everything you've accomplished. When I think about how you must be feeling right now, I am reminded of my own experience as a younger woman, just getting started as an adult."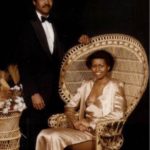 Michelle Obama joined in the fun to encourage young people to register to vote by posting her own amazing prom photo. She wrote the caption: "Throwing it back to my 1982 prom night and this pink satin, polka-dotted dress."
"If you're a student or teacher, join the #PromChallenge with @WhenWeAllVote and @MTV and tell us what your school is doing to register students to vote—you could get a free prom for your school! Learn more at prom.mtv.com," she wrote. "You can also help me spread the word by posting your prom photo with #PromChallenge."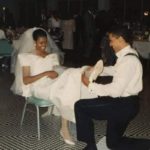 The former first lady also posted this adorable wedding pic from the day that she married Barack Obama. She wrote the caption: "You can't tell it from this photo, but Barack woke up on our wedding day in October 1992 with a nasty head cold," she continued.
"Somehow, by the time I met him at the altar, it had miraculously disappeared and we ended up dancing almost all night. Twenty-five years later, we're still having fun, while also doing the hard work to build our partnership and support each other as individuals. I can't imagine going on this wild ride with anybody else."
Advertisements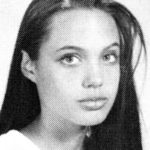 Advertisements
Angelina Jolie's yearbook photo shows that she had a serious side when she was in high school. During an interview with Harper's Bazaar years later, Jolie revealed that she felt like an outsider when she was in high school.
"At school, I wasn't that popular person; I was a punk. I loved leather, PVC, and fishnets. Those were my three favorite fabrics in my early 20s. I remember the first time I wore PVC pants," she said. Jolie went on to say that she wore the pants to an audition but the legs fused together, costing her the role.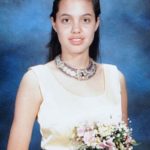 The actress looked just as stunning at her high school prom as she does at red carpet events. Long before she was a big-time actress, Jolie was just a teenager who attended Beverly Hills High School located in Beverly Hills, California.
She looked so pure in her yellow dress and choker necklace. Not to mention that it looks like she didn't wear a stitch of makeup. Her natural beauty really shines through. We just have one question about this photo. How was it possible that Jolie went to prom without a date? That just doesn't seem right.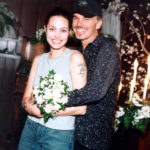 A star as sought-after as Angelina Jolie tends to not have a private life. She's had three public marriages and divorces. Her first husband was Jonny Lee Miller, to who she was married from 1996 to 1999. Then came Billy Bob Thornton, who she eloped with in 2000.
They wed at the Little Church of the West Wedding Chapel. Jolie wore slouchy jeans with a tank top. The strange duo was together for 3 PDA-packed years before divorcing in 2003. Years later, Jolie would meet her third husband, Brad Pitt, on the set of Mr. and Mrs. Smith, and the rest is history.
Advertisements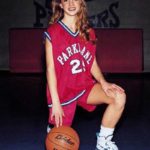 Advertisements
Before Britney Spears exploded into the music scene with her 1998 hit song "Baby One More Time", she was a normal teenage girl. The singer was only 16 years old when the song hit number one. Just one year before the single hit the airwaves, Spears attended Park Lane Academy.
The Mississippi native played on the school basketball team her freshman year. It's hard to believe that she would become so famous so soon after this photo was taken. It just goes to show that celebrities lived average lives before finding fame.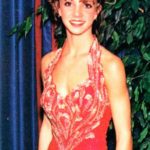 Not only did Britney Spears play on the basketball team for Parkland Lane Academy, but she enjoyed the everyday activities most students do when they're in high school. The singer attended her freshman year prom and looked so glam on the big day.
That's quite a dress she wore for the event. Spears was not afraid to stand out in a bright red dress covered in sequins. It almost looks like she was going to a beauty pageant instead of going to a school dance. Regardless, she had bigger things ahead of her.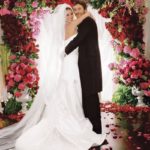 Britney Spears married backup dancer Kevin Federline in a surprise wedding in 2004. They wasted no time, and she was pregnant with her first son, Sean Preston, in 2005. A year later, she announced she was expecting her second son, Jayden.
The couple went through a very public breakup just two months after he was born. Their divorce was finalized in July 2007. Yet, who could forget when photos of her wedding day were published on the cover of every tabloid magazine? She went for a surprisingly traditional bridal look.
Advertisements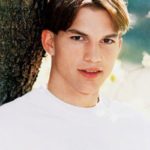 Advertisements
Ashton Kutcher has always been devilishly handsome, which we can see from his senior yearbook photo. He attended Clear Creek Amana High School, located in Homestead, Iowa. The actor graduated in 1996 and gave up his education to become a model.
He moved to Hollywood, California, and quit modeling when he landed his first big role as Kelso in That 70s Show. Eventually, he found his way onto the big screen starring in films like The Guardian and No Strings Attached. He's now considered an A-list actor and we expect to see much more of him in the future.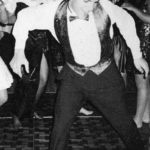 Are any of us surprised to see this prom pic of Ashton Kutcher being the life of the party? This photo of him tearing up the dance floor was taken his senior year in 1996. We can only assume that he was the most popular boy in school.
He already had a captive audience, by the looks of all the swooning girls in the background. We couldn't track down a pic of him with his date, but there's no way that he went to a school dance alone. Check out his slicked-back hair and that huge grin.
Alstom Kutcher met his first wife, Demi Moore, at a dinner with mutual friends. Their 15-year age gap didn't stop them from getting married in 2005 and seemed to be going strong until 2013. He's since moved on with That 7os Show costar, Mila Kunis.
Yet, looking back at his wedding photo with Moore, we can't get over his white suit and Fedora. We're not sure what look he was going for, but it has a gangsta vibe to it. Either way, they looked to be in love on their wedding day. Moore claims to still be friends with him, despite their nasty split.
Advertisements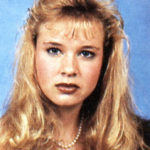 Advertisements
Renée Zellweger was a fresh-faced teenager in her yearbook photo. She grew up in Katy, Texas, and graduated from Katy High School in 1987. The actress had an active social life as a student. She was a cheerleader and served as vice president of her class.
One thing is for certain, Zellweger stood out from the rest of her peers. From her shiny blonde hair to those piercing blue eyes, she was an all-American girl. Her first big role would come when she played opposite Tom Cruise in the 1996 blockbuster movie Jerry Maguire.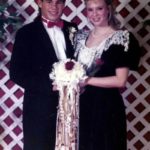 This epic 80s school dance pic of Renée Zellweger could not be passed up. She hit so many elements of fashion from that decade. From her teased-up bangs to the giant lace collar on her dress, she was totally in style. Check out those enormous shoulder pads on her dress.
It's a trend in Texas for girls to carry or wear huge mums to homecoming and prom, so it's no surprise that Zellweger had once dripped with ribbons. She was the epitome of a popular girl in the late 80s in the Lone Star state. Her date was pretty cute too!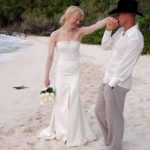 When it comes to the affairs of the heart, Renée Zellweger married country singer Kenny Chesney. The pair met at NBC's Concert of Hope telethon in 2005. They wed a few months later. They annulled their marriage after 4 months, listing "fraud" as the reason for their split.
Chesney told Playboy, "In order for us to get an annulment, the legal papers could claim either physical abuse, which wasn't true, or three or four other things that also weren't true," he said. "The best thing we could put in there was a fraud. So I said, 'All right, do it. Whatever.'"
Advertisements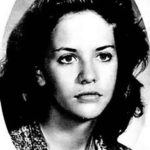 Advertisements
Meg Ryan went to Bethel High School, located in Bethel, Connecticut. She graduated with the class of 1979 and was busy with extracurricular activities when she was a student. From the National Honor Society to the senior play, Ryan was very involved in her school.
You may not know it from this somber-looking yearbook photo, but the actress would grow up to be the "Rom-Com Queen". She starred in films like When Harry Met Sally and Sleepless in Seattle. Unfortunately, she quit acting, telling The New York Times, that she felt "isolated" in the acting industry.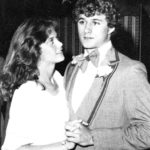 This sweet prom photo shows the softer side of Meg Ryan, the way she gazed at her date. The couple was snapped dancing together, and it's pretty sweet to see. We have to talk about her amazing feathered haircut, which was so stylish in the 70s.
She was named homecoming queen and we can see why. Her natural beauty really shines through in this photograph. It's fun to see what such a huge celebrity looked like before she made it big in Hollywood. By the looks of it, Ryan was an ordinary teenager with extraordinary talent.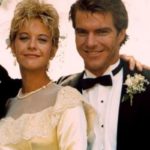 Meg Ryan met Dennis Quaid on the set of the movie Innerspace. The two of them hit it off and started dating while they filmed their second movie together, D.O.A. They married on Valentine's Day in 1991 and had a son together named Jack.
They seemed like Hollywood's golden couple until their very public divorce in 2001. Looking back at a happier time, Ryan was the picture of a 90s bride. From her sky-high bangs to the sheer neckline of her wedding gown, she was on-trend.
Advertisements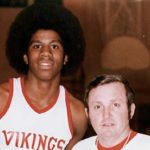 Advertisements
Magic Johnson attended Everett High School in Lansing, Michigan. He was an amazing basketball player who was All-Metro, All-State, and All-American. The athlete even led his team to the state championship for the first time in the school's history. That's something to be proud of!
He graduated in 1977, and by the looks of this high school photo, he was already taller than most people in his class. It's no wonder that he was nicknamed "Magic" by his peers during his sophomore year. The moniker stuck with him and he still goes by "Magic" all these years later.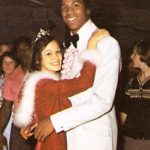 Before Magic Johnson earned his nickname, he was known as Earvin Johnson. Not only was he a standout player on the varsity football team, but he was a member of the homecoming court. So, it's clear that he was popular in high school and already destined for greatness.
This photo of him dancing with his date at his senior prom is too cute for words. It must have been a holiday party from the Christmas vibe of his date's dress. Also, check out the ruffles on his tuxedo shirt, so 70s! Their height difference is adorable as well.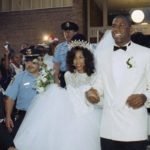 Magic Johnson met his wife, Cookie, when they were both freshmen at Michigan State. They married in 1991 and have two children together, Elisa and E.J. He wrote the sweetest anniversary tribute to his wife on Instagram.
"Cookie, our 30-year marriage has been the best time of my life," he wrote. "Ever since the day I laid eyes on you in 1978, I knew you were the one for me. I thank God every day for you and for bringing you into my life! You've made me a better man, person, husband, father, and businessman."
Advertisements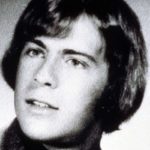 Advertisements
Bruce Willis attended Penns Grove High School, in Carneys Point, New Jersey, and graduated in 1973. He participated in numerous clubs like the drama club, as well as being president of the student council. The actor was also a member of the PGHS TV Crew, proving that he was born to be on the screen.
He looks so distinguished in his senior yearbook portrait. You can tell that he must have been popular with the ladies when he was a high school student, and check out that full head of hair. It's a far cry from the bald look he's sported over the years.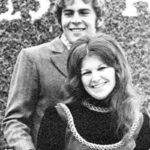 Long before he became an A-lister, Bruce Willis attended his school dance and was even voted homecoming royalty his senior year. Here we have a photo of him standing behind his date, who looked pretty smitten at the time. Would you love to chat with her about that night?
Willis looked sharp in a striped suit, and her dress was so 70s, with the rope detail around the neckline and collar. Neither of them looks too dressed up, so we're guessing this photo might have been snapped on the football field to celebrate the homecoming court.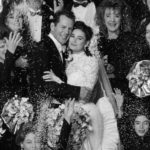 Bruce Willis and Demi Moore were a Hollywood power couple that married in 1987. They have three daughters, Rumer, Scout, and Tallulah. Unfortunately, their relationship fell apart, and they divorced in 2000 after 13 years of marriage. Yet, we always have this wedding photo to remember happier times.
It looks like it was a huge celebration full of family and friends. We can't get over the ruffles on her gown. Despite the fact that they're no longer married, Willis and Moore remain close friends and co-parents. He wed Emma Heming in 2009 and they share two girls, Evelyn and Mabel.
Advertisements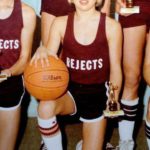 Advertisements
Celebrities aren't immune to being exposed as goofy-looking kids in school photos. Brad Pitt is arguably one of the most handsome actors in the world, so it's cute to see a picture of him as a 14-year-old in 1979. He was a member of the Cherokee Rejects in Springfield, Missouri. Pitt's childhood teammate told the Daily Mail about the photo.
"We were the Cherokee Rejects. We didn't make the final cut for the eighth-grade basketball team, so the five of us just decided to be the Cherokee Rejects," he added. We even got a trophy, but sadly, I can't remember what it was for."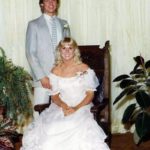 Brad Pitt may be a huge A-list actor now, but he looked like an ordinary teenager when he posed with his high school sweetheart, Tonya Westphalen. The couple took a few moments to snap pics before going to the prom and thank God for that because this photo is amazing.
From his feathered hair to her lacy white dress, it's clear that this snap was taken in the 1980s. Even the furnishings in the home look like it came from that era. Pitt was popular in high school, just as we all suspected. He was even voted "Best-Dressed Male" at his 1982 graduation.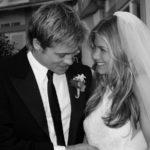 Brad Pitt married Jennifer Aniston in 2000. His love life made tabloid headlines when he famously left her for Angelina Jolie. The scandalous couple met on the set of Mr. and Mrs. Smith when sparks flew between them. He divorced Aniston in 2005.
Pitt and Jolie were together for 10 years before getting married in 2014. They share 6 children, Maddox, Pax, Shiloh, Zahara, Vivienne, and Knox. Pitt and Jolie split up in 2016, citing irreconcilable differences after an incident between Pitt and Maddox on a private plane.
Advertisements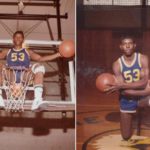 Advertisements
Terry Crews has always been a beast. The actor was very active in sports at Flint Academy High School, located in Flint, Michigan. He played basketball, football, and, discus/shot-put when he was a teenager in 1986.
He posted a series of high school pics on Facebook, along with the caption, "I AM #ForeverFlint! I do it for the ones left behind. I do it for the ones who feel forgotten. I do it to let them know it CAN BE DONE! Give a child a chance, and watch them dance to the imagination of their own dream. Watch #AGT tonight, trust me."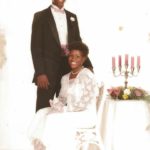 The actor loves posting nostalgic pics on social media. Terry Crews shared his prom photo on Twitter, writing: "#TBT Me and my date at my prom, Flint Academy 1986! (I finally grew into my hands and feet!) #PromSeason." This throwback photograph is so cringy.
He was so popular in high school that he was voted "Most likely to succeed" by his peers. It looks like he was into working out even when he was a teen. Also, check out his pink bow tie and cumberbund. Terry has never had a problem showing his sensitive side.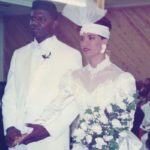 Terry Crews met his wife Rebecca King when they both attended Michigan University. They tied the knot in 1989, and despite rumors of his infidelity and addictions, they're still married to this day. They share five children, Isiah, Naomi, Wynfrey, Azriel, and Tera.
In true Crews form, he posted a series of throwback wedding pics from their big day on Facebook, along with the caption, "32 years ago today I married my best friend. The kindest, most beautiful woman I had ever seen. I love her more and more each day. We grew up together and there is no me without you. I love you @therealrebeccakingcrews #FOREVER #happyanniversary."
Advertisements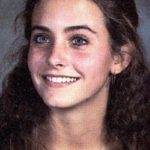 Advertisements
This photo confirms everything we suspected about Courteney Cox. She's been beautiful her entire life. This yearbook photo from Mountain Brook High School in Mountain Brook Alabama proves that she was a natural beauty as a teenager. It looks like she's not wearing a stitch of makeup in that pic.
She graduated with the class of 1982 and was super active in school activities and sports. Cox was a cheerleader, tennis player, and swimmer. This senior portrait gives us a glimpse of her youthful spirit when she was a senior. We're loving her curly hair!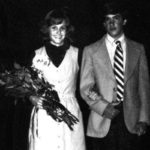 The actress took to Instagram to share a side-by-side picture of her at her prom and a photo of her daughter, Coco, before her school formal. Cox's dress was much simpler as Coco looked much more mature in a bright red sarin gown.
She wrote the caption "Our first formals! I'm not saying times have changed, but someone is a little more 'formal' than someone else. Obviously, it was a little chillier in Alabama. #simplicitypatterns." We're guessing that Cox's mom made her prom dress back in the day.
Courteney Cox met David Arquette on the set of the movie Scream. They played love interests, but sparks didn't fly for both of them at first. Arquette told People that it was love at first sight for him, but not so much for Cox. "For me it was, but not for her. I had to trick her," he said.
They married in 1998 and have one daughter together, Coco. Despite seeming like the perfect quirky Hollywood couple, they called it quits and divorced in 2010. The duo has maintained a close friendship and co-parented their daughter together over the years.
Advertisements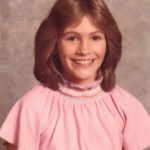 Advertisements
Julia Roberts grew up in Smyrna, Georgia, and attended Griffin Middle School when she was eleven. She looked pretty in pink in this yearbook photo. The actress moved on to Campbell High School and graduated in 1985. Yet, we love seeing her as a pre-teen in her school pic.
It looks like she's always had that million-dollar smile that she's known for. She wouldn't be a small-town girl forever and eventually got her big break when she was cast in the movie Mystic Pizza. Hollywood took notice, and she became the superstar she is today.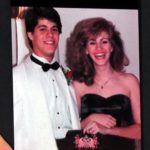 Fans caught a glimpse of Julia Roberts' prom photo when she was a guest on Jimmy Kimmel Live! The host surprised Roberts when he presented a pic of her and her date before the school dance. "You look exactly the same! How is that possible?" Kimmel exclaimed. "It really is remarkable!"
Roberts took a moment to defend her huge 80s hairstyle in the photo. "There's a hair shadow that's making my hair appear much larger than it actually was," she said. "Do you see that there's a shadow?" Kimmell responded with a joke, "That shadow is called the '80s. I had it, too. It was lurking over me."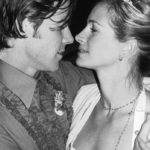 Julia Roberts met Danny Moder when he was a cameraman for the movie The Mexican, which starred Roberts and Brad Pitt. They were both in other relationships at the time, but eventually found their way back to each other. The couple wed in 2002.
These two have beaten the odds and are still married, which is a rarity in Hollywood. They share three children, Henry and twins Hazel and Phinnaeus. Roberts told Gwyneth Paltrow on her Goop podcast about Moder, "I'm more interested in what he has to say or his point of view than anybody," she said.
Advertisements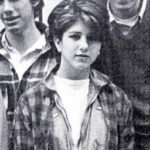 Advertisements
We all know Jennifer Aniston from her time playing Rachel Green on the popular show Friends. Yet, there was a time before she was famous. The actress attended LaGuardia High School of Music & Art and Performing Arts in New York City.
She graduated with the class of 1987 and was a bit of a tomboy from what we can see in this yearbook photo. After graduation, she moved to Hollywood to break into acting. Less than 10 years later, she was cast as Rachel Green, and she quickly became a household name.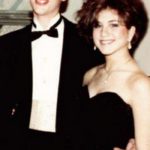 Jennifer Aniston may be larger than life now, but she was just a freshman when she went to prom with a Junior named Clemens Wust and posed for this pic. It's funny to see her as a teenager, but she had yet to really come into herself at the time.
How adorable was she in that black strapless gown and matching necklace and earring set? Of course, this was long before the signature "Rachel" haircut, and her hairstyle was surprisingly short at the time. It's refreshing to see Aniston before she became a superstar.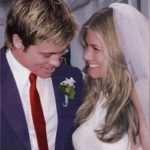 By now, we all know the heartbreaking love story between Jennifer Aniston and Brad Pitt. They married in 2000 and were married for five years before Pitt left her for Angelina Jolie. Their 2005 divorce became a tabloid cover story more than once. They have maintained a friendship over the years.
She met Justin Theroux on the set of the movie Tropic Thunder in 2007. They worked together many years later on the film Wanderlust, in 2011, and started dating. The couple tied the knot in 2015 and were married for two years before splitting in 2017. They remain close friends, despite their divorce.
Advertisements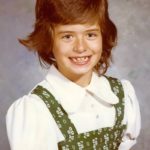 Advertisements
This school photo of Debra Messing should give us all comfort that celebrities were just like us once upon a time. From her wild hair to her crooked teeth, she looked like an ordinary girl from Rhode Island. The truth is, she had stars in her eyes at a young age.
She revealed to The Gentlewoman that her parents often took her to Broadway shows, which inspired her to become an actress. "I remember levitating off my seat, amazed that there were these people, arm's length away, singing and dancing. It's always been magic to me," she said.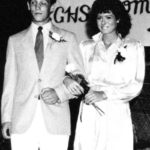 Debra Messing attended her senior prom at East Greenwich High School in East Greenwich, Rhode Island. She graduated in 1986 and was so popular that she was voted "Outstanding Senior" by her class. It's no surprise that she was a member of the drama club and starred in several school productions.
Does it get more 80s than her prom picture? The hair alone is a dead giveaway that she went to school during that era. She passed on wearing a frilly prom dress and wore a satin collared gown instead. This is one of the more casual dresses we've seen celebrities wear to a school dance.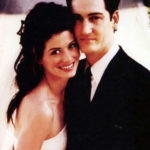 After high school, Debra Messing went to college and then to graduate school at New York University. She met actor and screenwriter Daniel Zelman on their first day of school in 1990. They married in September 2000 and have a son, Roman. Sadly, they broke things off in 2016 after 16 years of marriage.
Messing told Ladies Home Journal, "I am at peace with the journey we've had. I feel like the 20 years we had together has been a huge success," she revealed at the time. "Despite the fact that everything is changing, I think everyone is thriving."
Advertisements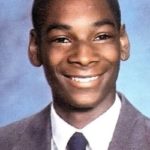 Advertisements
Snoop Dog is hardly recognizable in this senior portrait. Calvin Cordozar Broadus Jr. attended Long Beach Polytechnic High School in California and graduated in 1989. He was known as "Snoopy" by his family and friends.
He went to school with Cameron Diaz, who revealed on Lopez Tonight, "We went to high school together. He was a year older than me and, you know, I remember him there," she added. "There were a lot of kids in our school, there's like 3,500 kids, but I remember him, he was very tall and skinny, wore lots of ponytails on his head."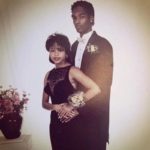 Snoop Dogg met Shante Taylor, now Broadus, when they were just teenagers and they became high school sweethearts. The couple dated all through high school and happen to have one of the most endearing relationships in hip-hop history. It's hard to believe that they're still together after all these years. How cute is that?
He posted a throwback prom pic on Instagram of the two of them from back in the day as an anniversary tribute. "19. Years today @bosslady_ent Happy anniversary been a1 from day 1 💝💕🌹🌟🌟🙏🏾 thanks for my kids 💫💝💕🕊🕊," he wrote. They give us total relationship goals!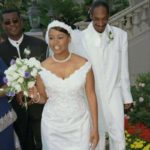 The couple made it official and got hitched in 1997 at the Ritz-Carlton Hotel in Marina Del Rey, California. They've been going strong ever since and share three children, Cordell, Cordé, and Cori. The duo also has three grandchildren.
We love how excited he looks in his wedding pic. You can really feel the love between these two. Snoop Dogg told GQ about his wife, "That's my backbone, that's my heart and my soul, that's the one that I love the most, that I trust the most." It doesn't get much more romantic than that, folks.
Advertisements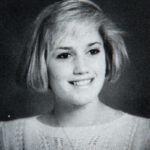 Advertisements
Before Gwen Stefani became the face of the band No Doubt, she was an awkward teenager who went to Loara High School in Anaheim, California. The singer graduated in 1987 and was well known by her peers. She was on the swim team and was a talented artist.
Looking at her senior portrait, Stefani already had a look that was all her own. From her side-swiped bangs to her frosted lipstick, she was a California girl, for sure. Her natural beauty stands out in this photo and we can see why she would one day become a pop star.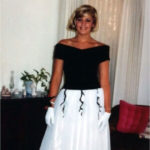 When it came to her prom look, Gwen Stefani styled her own dress. She followed the lead of several celebrities and shared a pic on Instagram of her posing before the dance in a black and white gown that had serious Old Hollywood vibes.
She wrote the caption, "A special TBT for all you about to go to prom… this is the dress me & my mom made when I was 17, inspired by Grace Kelly's dress in the movie Rear Window." We love that she was designing clothes even back then. She would later start her own clothing, L.A.M.B.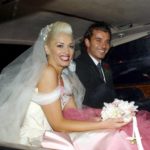 Gwen Stefani and Gavin Rossdale were grunge royalty when they started dating in 1995. They dated for several years before getting married in 2002. The couple has three sons, Kingson, Apollo, and Zuma. Sadly, after having some problems, they split up in 2015.
Despite their sad ending, we absolutely adore Stefani's wedding gown from their wedding day. The dress was custom dip-dyed and hand-painted, designed by John Galliano for Christian Dior. Swoon! Stefani has since moved on with country singer Blake Shelton, who she married in 2021.
Advertisements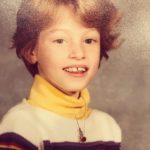 Advertisements
We love it when a beautiful celeb reveals that they were once a snaggle-toothed kid, like many of us. Elizabeth Banks posted this epic school photo on her webpage, along with the caption, "#tbt 2nd grade I feel so lucky that I mostly loved school and making friendship pins that I wore on a necklace because that felt like style to me," she added.
"This haircut was inspired by Dorothy Hamill because female athletes were and are superheroes to us girls (fund them, #paythem) my boys are this age now and it's the best. #buckteeth show me your #schoolphotos!"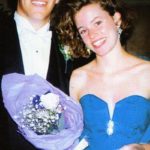 Elizabeth Banks went to her prom at Pittsfield High School in Pittsfield, Massachusetts. She was in the senior class of 1992 and she was voted part of the "class couple" along with her high school sweetheart.
Banks is one of those actresses who seems to have always been gorgeous, even in her awkward teenage years. With her curly hair and bright smile, it's no wonder that she went on to star as Effie Trinket in The Hunger Games. She also happens to be one of the funniest ladies in Hollywood. It's so cute to see her in her younger years.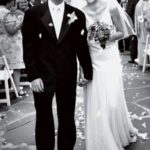 Elizabeth banks met her husband, Max Handelman, on their first day of college at the University of Pennsylvania. They married in 2003 and are still married today. The couple has two children, Felix and Magnus. They've been together almost 30 years and show no signs of splitting any time soon.
So what's their secret? Banks revealed to Porter magazine, "I think there are people that go into marriage thinking: 'If it doesn't work, I'll get divorced.' That's not me," she said. "You're going to have bad moments. You've committed to something. Do you value it or don't you?"
Advertisements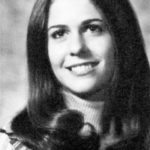 Advertisements
Rita Wilson attended Hollywood High School, located in Hollywood, California. She was in the class of 1974. Wilson loves to post nostalgic pics to social media and even shared a photo of her report card from high school on Instagram (she made all A's and B's, of course).
One look at this yearbook photo and it's obvious that Wilson sported some serious 70s style back in her day. From the ribbed turtleneck to the plaid blazer, she even looks smart in the photograph. We love her straight hair parted in the middle, with a little flip at the ends.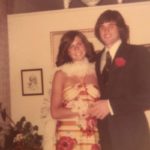 Take a look at this groovy photo of Rita Wilson posing before a school dance. We love her maxi dress and feather boa combo. The actress took to Instagram to encourage her followers to register to vote by posting a throwback prom pic. By the way, that's not Tom Hanks!
She wrote the caption: Prom is unforgettable 🕺 but so is voting in your first election! Join @MTV to help your classmates get registered to vote and they might just help you throw your school an unforgettable prom. ✨Sign up your school for the #PromChallenge at prom.mtv.com 🎉 There's just one thing wrong with this photo. That's not Tom Hanks!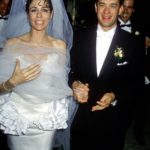 Tom Hanks and Rita Wilson were married in April 1988. They're still together to this day, which is quite a rarity in Hollywood. The couple shares two children, Chet and Truman Hanks, along with his children from a previous marriage, Colin and Elizabeth.
Taking a look back at their wedding photo is so much fun because it gives off such 80s vibes. Her mini-skirt wedding gown was all the rage at the time and we can't get over the ruffles on the hips. Most of all, it's refreshing to see how happy they both looked.
Advertisements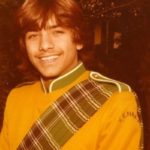 Advertisements
Take a look at this epic yearbook pic. Before John Stamos became Uncle Jesse on Full House, he was a 15-year-old boy who played in the marching band in high school. He posted a throwback pic on Twitter of him in a hideous yellow band jacket.
He wrote the caption: "I was a student at JFK high school where my marching band went to Ireland to compete on #StPatricksDay (42 years ago!) We were just a rag-tag group from Cypress CA, but we had heart and perseverance. We came home with a 1st place trophy and lifetime memories. Will never forget!"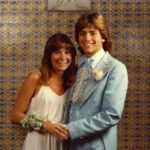 John Stamos posted this hilarious pic to Instagram of him posing with his date at a high school dance. He wrote: "Loved seeing and re-posting your grad pics. Now, grad dance time. Here's mine. More powder blue, more Sun-In. Let's see yours. Tag me!"
This photo was taken during his senior year at John F. Kennedy High School in La Palma, California, in 1981. We are loving the 80 styles. From his ruffled shirt and baby blue bowtie to her feathered hair and spaghetti strap dress, these two rocked the look from that era.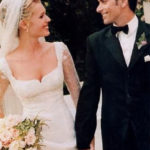 It was love at first sight for John Stamos when he saw Rebecca Romijn walk the runway at the 1994 Victoria's Secret fashion show. They tied the knot in 1998, but parted ways in 2004. He told People at the time, "We were together for 10 years—it was heartbreaking."
He met his second wife, Caitlyn McHugh, on the set of Law and Order: SVU in 2015. They didn't start dating until their paths crossed again when she was in the audience of a taping of Fuller House. They married in 2018 and share a son named Billy.
Advertisements