Hyper-Realistic Cakes That Are Really Impressive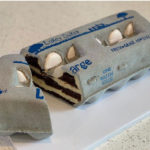 Advertisements
This egg carton cake was made by New Jersey cake artist Luke Vincentini, who creates optical illusion cakes. His inspiration for these desserts comes from everyday life, and he uses his phone to keep track of his ideas. "I have a page in the Notes app on my phone where I just pop ideas as I go through my day," he told Insider. "I could be driving and see something I like and go 'That looks cool,' and it becomes a cake."
According to Insider, the egg carton cake is Vincentini's favorite, despite it not receiving nearly as much attention on social media as his White Claw cake. And in case you were wondering, yes, White Claw, as in the hard seltzer.
Advertisements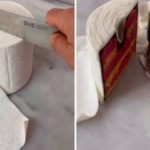 Advertisements
This toilet paper roll cake was made by Red Rose Cake, a bakery located in Istanbul. It sure looks like the real deal—at least until you cut into it. The funny thing is, they'd both eventually end up in the same place. Ok, maybe that was a bit too much. I apologize.
I don't know at what kind of event you'd serve a cake like this, but Hempies Paper seemed to love the idea. In fact, they commented on Red Rose Cake's Instagram post, stating that they wanted to have one of these cakes at their funding party.
FYI, Hempies Paper makes paper products, including toilet paper, that's made from hemp and is 100% tree free.
Advertisements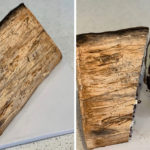 Advertisements
Most of us know about, and have likely eaten, the classic Christmas Yule Log Cake. And while you probably marveled at its similarity to an actual log, the log cake above has got to be the most realistic thing any of us has ever seen.
New Jersey cake artist Luke Vincentini's Instagram followers seem to think so. When he posted a video of this cake, which he baked himself, by the way, his followers left comments like, "The detail in this is amazing!," and "Crazy how realistic this is, wow!!," and "I thought it was real 😭," and "No way this is insane so real."
Advertisements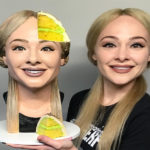 Advertisements
The Sideserf Selfie Cake is the creation of Austin-based cake artist Natalie Sideserf. She specializes in "hyper-realistic cakes."
"After I graduated from Ohio State with a fine art degree, a friend of mine asked me to make a sculpted cake. And since I was in art, I kind of gave it a shot and I realized how cool it was and how much opportunity there was to really push the idea of realism in cakes," Sideserf told Texas Standard. "One of my favorite cakes that I've made is actually a cake of myself. I call it a selfie cake. It was basically a self-portrait."
Advertisements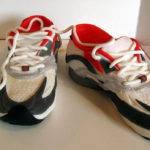 Advertisements
These edible sneakers were made by Scotland-based cake designer Lyndsey Lannie. I don't know the story behind them, but according to her website, her cakes are custom made per her customer's requirements. I'm assuming, then, that someone asked her to make these edible shoes.
They're pretty neat, but they look so real I definitely would not want to eat them! All I'd be able to think about is someone's smelly gym shoes. Perhaps she made edible Odor-Eaters to go inside of them?
Anyway, can you imagine how people would freak out if they were to walk into a room and see a pair of shoes on the table? Gross! But I bet they'd be absolutely amazed to find out it was a cake.
Advertisements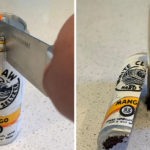 Advertisements
It took New Jersey baker Luke Vincentini about six hours total to make this White Claw cake. "I thought it would be smart to do because there are shortages of White Claw in the US," he told Insider back in 2019. "It's insane. I thought that it would get the usual response from my followers, but it ended up blowing up."
This cake is so realistic that Vincentini took the internet by storm when he posted a video of himself cutting into it. People couldn't believe their eyes, and everybody wanted one. Beware, though. There are some people online claiming they can bake one of these cakes, but what you'll end up with is a hot mess. One lady paid $100 for one for her boyfriend's birthday, and it looked nothing like Vincentini's White Claw cake. One commenter compared it to a candle.
Advertisements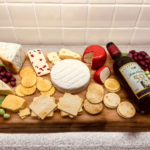 Advertisements
This unique treat was made by amateur baker Sarah Ball from Billericay in Essex, England. She made this cheeseboard cake for a friend's birthday party. It features a wooden board, several types of cheeses, crackers, grapes, and a wine bottle with a personalized label. According to an article published by the Daily Mail, the cake was so realistic, Ball's friends tried to grab items off of it.
"A friend asked me to make this cake for a birthday party," Ball told Daily Mail. "I planned it out and I had a sketch of what it was going to look like—she left the design up to me. I got great feedback on it."
Advertisements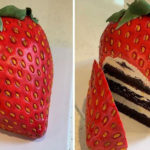 Advertisements
Strawberry lovers everywhere would go nuts if they walked into someone's kitchen and saw a huge strawberry just sitting there on the table waiting to be devoured. And it actually does look like a real strawberry. It's kinda like those huge vegetables that people grow and win prizes for.
But much to everyone's surprise, when it's cut into, there would be no fruit or juice inside at all—just cake and icing. What would really have made this treat even better is if the designer, Luke Vincentini, had made it a strawberry shortcake instead of making it into a chocolate cake.
Advertisements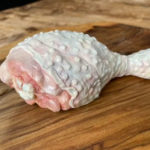 Advertisements
This culinary confection is the brainchild of London artist Tatum Parden. She shared a clip to TikTok showing the process involved in making her raw chicken cake.
"I'm making a raw chicken cake," she said in the video. "I don't think I'm going to find anyone stealing slices of this one. Sometimes my genius is almost frightening." And she was right! In fact, people were referring to the dessert as a "nightmare."
When asked about the inspiration behind the dessert, Parden told Newsweek that she "chose to do raw chicken because it's one of the few things that both doesn't look suspicious in the fridge but will also make you physically ill if you eat it. Two birds with one stone. Also, I'm a sculpture student and I thought it would be fun/good practice to sculpt."
Advertisements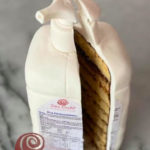 Advertisements
Hmm, I'm willing to bet that this cake was inspired by the coronavirus pandemic. It's from Red Rose Cake's "hygienic cake series." Included in the series is a bottle of hand soap, a tube of toothpaste with a toothbrush, and two bottles of household cleaner, including one that comes with sponges and gloves.
The inside of the hand sanitizer bottle appears to be an 8-layer yellow cake with chocolate frosting. Yum! It'd be the perfect cake to serve at a luncheon/party for a company that manufactures health & hygiene products. It'd probably also make a good gift for the germaphobe in your life.
Advertisements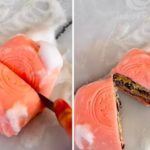 Advertisements
For many of you, I'm sure you wished this was the soap they used when your parents and/or teachers threatened to wash your mouth out with some! It's crazy how real this cake looks. I mean, how'd they get that foam on there? Perhaps it's just meringue. Or, it could be something a bit more complicated than that. Either way, it's totally awesome!
I would suggest, however, not showing this to your little ones. You don't want them thinking it's okay to eat soap—which many of us (regretfully) did when we were kids.
By the way, this is one of Red Rose Cake's sweet treats.
Advertisements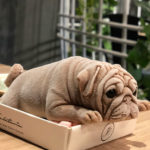 Advertisements
This cold treat is freaking people out, and the reason is quite obvious. It's so lifelike! No one in their right mind would want to eat an adorable little puppy. Still, it's quite a cute little dessert, and from what I hear, it's delicious.
These dogs come from The J.C.co Art Kitchen, a café in Taiwan. They have three dog breeds that come in different flavors. The Pug is chocolate-flavored, the Labrador is earl grey-flavored, and the Shar Pei has a peanut flavor. Each treat takes up to five hours to make. The café begins with molds that they fill with "a unique mixture that freezes and creates a hairy-looking texture," The Straits Times notes. The puppies are then stored at -22 degrees Celsius. Afterward, the finishing touches are applied.
Advertisements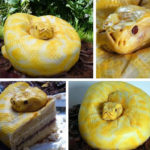 Advertisements
Francesca Pitcher from North Star Cakes in the UK made this cake for her daughter's birthday. She posted it on her Facebook page, and needless to say, it went viral.
All I can say is I hope her daughter wasn't a kid at the time. Can you imagine serving something like this at a child's birthday party? Not only would the kids be running scared, but their parents would be, too.
Although, I'm sure that if it was for her young daughter and not for an adult daughter, she had probably already told her friends what kind of cake she was having. And they were all probably thrilled about it, too—at least the ones who don't have a fear of snakes, anyway!
Advertisements
14

Chocolate And Banana Nuts and Bolts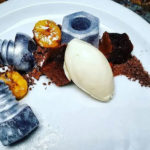 Advertisements
This chocolate and banana nuts and bolts dessert was created by self-described food illusionist Ben Churchill. It's made using chocolate, banana syrup, silver food color spray, crumbled chocolate, caramelized bananas, brownie pieces, and a scoop of vanilla ice cream.
To make the nuts and bolts, Churchill pours chocolate and banana syrup into molds, seals the entire thing with more chocolate, and allows it to set. Then, he removes the nuts and bolts from the mold and sprays them with silver.
And in case you were wondering how he got that scoop of ice cream into that shape, he used a special spoon called a Chef Spoon. It's 9.5 x 2.5 x 1.5 inches and comes to a point at one end.
Advertisements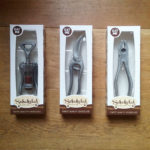 Advertisements
These chocolate pliers, pruning shears and corkscrew are made by Schokolat Scotland, an independently owned chocolate shop in Cumnock, Scotland. They are exactly like their metal counterparts—just without the metal.
According to Schokolat Scotland, these products make great gifts that are "perfect for all occasions." The corkscrew is an ideal gift for wine and chocolate lovers. The pruning shears are an ideal gift for gardeners. The pliers are an ideal gift for handymen and women.
Other gifts from Schokolat Scotland include golf clubs, horseshoes, fabric scissors, keys, handcuffs, paintbrushes, nuts and bolts, a pocket watch, steampunk goggles, and chess pieces.
Advertisements
16

Vintage Leather Bag Cake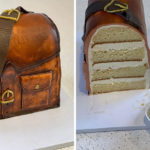 Advertisements
I don't know how he does it, but New Jersey cake artist Luke Vincentini is one talented guy. To be honest, you can't tell that this isn't even a real leather messenger bag. It looks nothing like a cake at all—at least not until you cut into it.
If I had to guess, I'd say the strap is made from chocolate. As for the rest of the bag, I can't tell you what it's made of. I researched but couldn't find any information about it. Either way, it's definitely awesome work!
FUN FACT
Leather is actually edible! It's made from the skins of various animals and largely contains 60-70% water and 30-35% protein. It just has to be boiled first for a few hours to soften it. Also, you can't eat it if it's been tanned—unless it's a vegetable-tanned leather, which is completely safe to consume.
Advertisements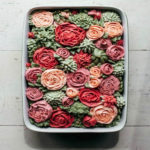 Advertisements
The word succulent is often used to describe food that is tender, juicy and tasty, but that's not why this dessert is called a succulent cake. The word "succulent" here refers to a type of plant.
Believe it or not, these cakes are actually quite popular. A quick search on Instagram using the hashtag #SucculentCake will turn up over 34,000 posts! There's even one that looks like a flower pot with a bunch of different plants (including a cactus) in it. There's also one that looks like a clump of flowers, grass, and soil. Needless to say, it looks pretty gross, but I'm sure it tastes amazing.
Advertisements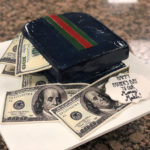 Advertisements
Talk about putting your money where your mouth is! This cake is the brainchild of New Jersey cake artist Luke Vincentini.
I'm not sure what it's made of, but it looks so lifelike. As someone pointed out on Reddit, the money is probably made of edible paper you can print on.
This isn't Vincentini's only money cake. He also made a "$10,000 cake," as he wrote on Instagram. It's also made up of $100 bills, plus three gold bars. The inside of the portion that's made from $100 bills is green and white, while the inside of the portion that's made from gold bars is tan and white.
Advertisements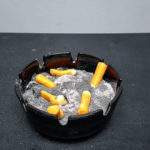 Advertisements
This ashtray is made with vanilla panna cotta, smoky lapsang gel, black meringue powder, silver luster dust, blitzed chocolate, silver chocolate, and modeling chocolate. The entire thing, except for the black bowl, is edible. It was made by Chef Ben Churchill, who is known for making desserts that look like random everyday objects. As such, he calls himself a food illusionist.
"I had never done pastry before and wanted to learn, so I just started teaching myself," Churchill told Mental Floss in an email. "I ventured into fruit-shaped desserts, but found them too limiting. I used inspiration from films, video games, the world around me, to start seeing what I could do with food."
He went on to say that he noticed that people loved controversial desserts, and that's what inspired him to make the ashtray. "I love challenging perceptions, questioning good taste," he said.
Advertisements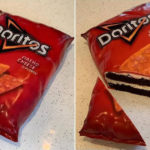 Advertisements
If you were in the mood for a good bag of cheese chips, you will be quickly disappointed. However, if you are the sweet type, this fake bag of chips will be perfect for you. We can say that the art of baking has no secret for the chef who made this culinary masterpiece.
Luke Vincentini is a master of culinary illusion. The 26-year-old New Jersey native is no stranger to working with everyday objects, and his work is getting a lot of attention. One thing is certain, everyone must hesitate before tasting their meal when they are invited for dinner at his house.
Advertisements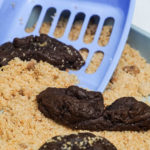 Advertisements
These treats were created by Nasty Cookie, a café based in Singapore. The brownies are shaped just like cat poop and are placed on a layer of crumble that looks like litter sand. The whole thing even comes with a plastic scooper, which I presume is not edible (yes, there is such a thing as edible plastic).
They were released last October, just in time for Halloween. They were available online and in-store from October 16, 2021 to October 31, 2021. I wonder if they're going to make this a yearly thing. Probably not, since most of the comments they received on social media were from people showing their disgust for these sweet treats. I can't say that I blame them.
Advertisements