Find Out All The Things You Can Do With Dish Soap—There's A Lot!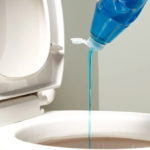 Everyone has a bottle of dish soap on hand in their homes. After all, how else do you get your kitchenware sparkling clean in time for the next use? But while dish soap is effective in washing all your dirty dishes, its uses extend far beyond the kitchen.
Take a look below at the best dish soap hacks you need to know about.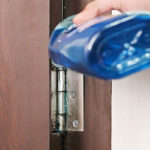 Advertisements
When dealing with a squeaky hinge in your home, you could easily spray a chemical lubricant onto the offending joint to take care of the problem. However, those lubricants are also filled with toxic ingredients that aren't necessarily safe for humans to breathe in.
Rather than reaching for a can of chemicals, reach for your dish soap. Rub a bit of soap on the squeaky hinge and listen to the annoying squeal disappear. The dish soap will clean the hinge and get rid of the squeak, all without the need for harsh chemicals. You can use it on doorknobs, door hinges, glass doors, window hinges, or anywhere else that might need a bit of help.
Advertisements
2

Remove Stains From Your Clothes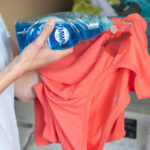 Advertisements
Stains happen, and potentially on a daily basis, but they don't have to be the end of the world. Rather than panicking over the stains that make their way onto your clothes, fix the problem with a little dish soap.
If you notice a stain on your clothing, such as food, oil, lipstick, ink marks, or anything else, dip a toothbrush in a bit of dish soap. Then rub the toothbrush over the stain until the mark fades. After that, put the clothing into the laundry as normal. When it emerges from the dryer, the stain should be completely gone.
Advertisements
3

Clean Your Tub & Bathroom Tiles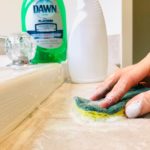 Advertisements
Dish soap definitely has more than only one use in the bathroom. For example, if you're dealing with grubby tiles full of gunk, dish soap provides a solution for that too.
When cleaning your tub and shower, fill a spray bottle to the halfway mark with white vinegar. Then, heat the vinegar up in the microwave. When it's hot, fill the rest of the bottle with dish soap. Mix the concoction around and spray it onto your dirty tub or shower tiles. Let the mixture sit for 5-10 minutes. By the time you rinse it off, your tiles should be good as new.
Advertisements
4

Remove Natural Oils From Your Nails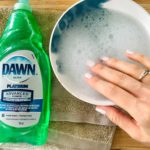 Advertisements
If you're giving yourself an at-home manicure, the goal is that the final result is as close to salon-worthy as possible. To achieve those fantastic nails you've always dreamed about, first soak your fingers in dish soap before starting your manicure.
Put a bit of dish soap into a bowl with some warm water. Then soak your nails for just 5-10 minutes. The dish soap will not only make your cuticles more malleable, but it will also remove the natural oils from your nails. Without those oils, the nail polish will stick better, leading to a long-lasting manicure.
Advertisements
Advertisements
Trying to see through foggy glass is frustrating, particularly when the fog sits somewhere important, like your glasses or your car mirrors. If you want to rid yourself of that pesky fog for good, turn to dish soap.
Take a small dollop of dish soap and dilute it with a bit of water. Then rub the mixture onto any glass surface, including eyeglasses, car mirrors, windows, and more. The dish soap will keep the surface from fogging up, ensuring a permanent clear view for you. You could even apply the dish soap to your shower door if you want to free it of fog!
Advertisements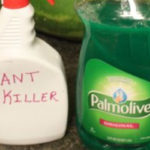 Advertisements
Ants always seem to find a way into our houses, no matter how hard you try to stop them. While calling pest control is certainly an option, you could also take care of the problem yourself with a little dish soap.
Mix dish soap with water, and spray it along your countertops to keep ants away. If you spot a line of ants moving through your home, take the same concoction and spray it right onto the pesky bugs. The dish soap will quickly take care of the ants, and it's much less toxic than other pest control options.
Advertisements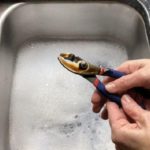 Advertisements
Just like dish soap removes grease from your kitchenware, it can also be useful in the great outdoors. If you're constantly outside working with your tools, then you know that keeping them clean is a top priority. Rather than complicating the process of washing your tools, simply use dish soap.
Dish soap works particularly well to remove grease from tools. If you're dealing with a mess after working on your car engine or some other dirty project, simply soak your tools in dish soap after you're done. The dish soap will remove grease, grime, dirt, oil, and pretty much anything else to get your tools looking good as new.
Advertisements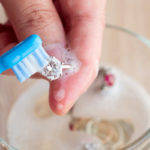 Advertisements
Your jewelry needs to be cleaned every now and then. As you wear it around town, it accumulates dust and grime that dulls its shine. But cleaning your jewelry is a nerve-wracking operation, as you don't want to damage your favorite accessories in the process.
For gentle jewelry cleaning, use dish soap. Put a tablespoon of dish soap into a bowl of club soda. Then put your jewelry into the bowl. Allow the jewelry to soak for a while before removing it from the bowl and scrubbing it gently with a toothbrush. The dish soap combined with the bubbles from the club soda will clear your jewelry of dirt and grime without damaging any of your favorite pieces.
Advertisements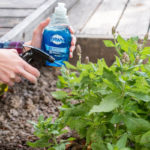 Advertisements
Dish soap may keep bugs away from your indoor plants, but it can also keep your outdoor garden looking beautiful and weed-free. To eliminate these annoying plants, put one teaspoon of dishwashing liquid into a spray bottle. Then, add a tablespoon of vinegar and a tablespoon of salt before spraying the concoction onto your weeds.
Within days, the weeds will die, leaving your garden totally nuisance-free. It's an easy way to take care of pesky plants without turning to toxic chemicals that could damage the rest of your greenery.
Advertisements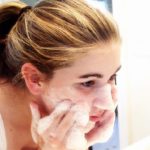 Advertisements
If you're cursed with an oily skin, finding the right product to wash your face may be a challenge. But instead of searching for expensive cleansers at the drugstore, simply use a little dish soap. It's way cheaper, and it works!
Combine a couple of drops of dish soap with a bit of warm water and rub it on your face. Then rinse until your skin feels soap-free. The dish soap will get rid of that extra oil sitting on your skin, making your face smooth and shine-free.
Advertisements
11

Make Your Own Carpet Cleaner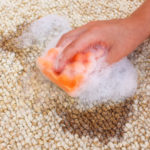 Advertisements
While dish soap removes stains from your clothes, it can also get nasty marks out of your carpet. Rather than forking over a wad of cash for expensive carpet cleaners, make your own carpet cleaner with a bit of dish soap.
In a spray bottle, put two ounces of hydrogen peroxide. Then add one ounce of dish soap to the mixture. Stir the concoction and spray it onto the problem area on your carpet. Scrub the stain with a rag. After using a little elbow grease, spray plain water on the stain. Then, scrub a little more to remove the dish soap and any remnants of the stain. In the end, your carpet will be perfect and stain-free.
Advertisements
12

Remove Ice From Sidewalks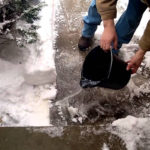 Advertisements
The winter months pose a particular risk to pedestrians in certain parts of the country. As the temperature drops, ice collects on the sidewalk, waiting for an unsuspecting passerby to slip and take and tumble. While salt can help to de-ice the walkways around your home, it can also damage the underlying concrete and pavement.
Rather than reaching for your salt, use a little dish soap to de-ice your sidewalks in the winter. Simply combine a teaspoon of dish soap, a teaspoon of rubbing alcohol, and half a gallon of hot water. Then pour the mixture over your walkways. In seconds, the sidewalk should be free of slippery ice, without forcing you to ruin your walkway with salt.
Advertisements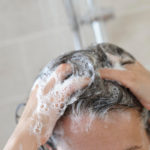 Advertisements
In general, dish soap isn't the best choice for a shampoo. But in certain situations, dish soap might be just what you need to keep your hair clean and fresh. If you're dealing with particularly messy locks, use dish soap as a shampoo.
This is particularly effective for little ones, who always manage to get the grossest stuff in their hair. Vaseline, baby oil, Silly Putty—dish soap will remove them all. Plus, if your hair is ultra-greasy, it's a good idea to wash your locks with dish soap every few weeks to rejuvenate your scalp and remove all that excess oil.
Advertisements
14

Kill Fleas As a Pet Shampoo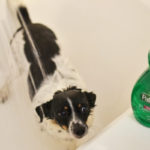 Advertisements
Dish soap doesn't only keep unwanted bugs away from your plants, or ants away from the inside of you home. It can also keep your pets insect-free. If your dog or cat is dealing with a case of fleas, wash them with dish soap.
The soap will kill the bugs on contact, leaving your pet itch-free. Plus, dish soap is much cheaper than other brands of flea-killing shampoos. If you want to make sure the bugs never come back, use dish soap as your regular pet shampoo.
Advertisements
15

Remove Oil Stains From Your Driveway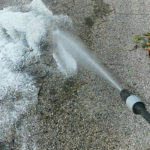 Advertisements
After you park your car in the same spot for a few years, you're bound to have oil stains in your driveway. While you might think you just have to live with the mess, that's not the truth. Rid yourself of those oil stains forever with a little dish soap.
Take a bottle of dish soap and squirt a large amount onto the oil stain. Then scrub the stain with a large bristle brush. If it doesn't come out right away, you may have to apply more soap. After scrubbing for a while, you'll see that the stain will start to pull out of the asphalt. When that happens, rinse your driveway with a hose to wash away the oil. Repeat the same process a few more times until the stain completely disappears.
Advertisements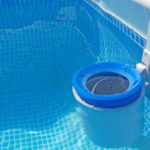 Advertisements
If you're lucky enough to have a pool in your backyard, cleaning it may be the bane of your existence. It's hard to remove all the dirt and grime from the water, but it's necessary. Thankfully, the task is made much easier with dish soap.
When cleaning your pool, first squirt a bit of dish soap into the center of the water. The soap will force oils, lotions, dirt, and other grime to the sides of the pool, allowing you to quickly skim all that yucky stuff off the top. If you're in need of a quick, easy cleanup, dish soap provides the perfect solution.
Advertisements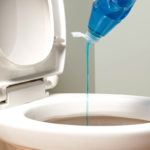 Advertisements
Clogged toilets are the worst! But with just a little dish soap, you can solve the problem of your backed-up lavatory. Rather than going at your porcelain throne with a plunger, simply pour half a cup of dish soap into the toilet.
Allow the dish soap to sit in the toilet for roughly 15-20 minutes. Then use a hot bucket of water to flush the refuse down the drain. Thanks to the dish soap, your pipes should be free from all the yucky debris that first caused the clog.
Advertisements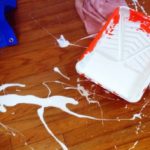 Advertisements
If you're taking on the big task of painting your own home, you have to be prepared for a few mishaps. After all, you're not a professional, which means paint may end up in places you don't want it. Rather than panicking, just pull out your trusty dish soap.
A little dish soap can remove any stray paint splatters. Simply rub it on the offending area and the paint will disappear. The same trick also works if your kids can't quite stick to their canvas. In fact, dish soap is so effective in removing paint that it even clears colors from hardwood floors.
Advertisements
19

Replace Your Dishwasher Soap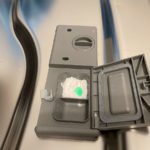 Advertisements
Most people now own a dishwasher. After all, it's much more convenient than spending long minutes washing everything yourself. However, you have to make sure you don't run out of soap to put in it. If that ever happens to you, though, fear not! Your good old liquid dish soap can still come in handy.
In fact, you can use regular dish soap in your dishwasher, you just have to know how. If you don't have any dishwasher soap, simply fill the soap slot with baking soda and add three drops of liquid dish soap. Then run your cycle as usual and you'll see that your dishes will be just as clean!
Advertisements
20

Take Care Of Your Garbage Disposal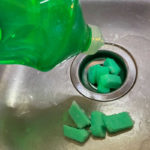 Advertisements
When you have a garbage disposal in your sink, it is very common to call a plumber when it comes time to clean it. However, calling a plumber for such a task is expensive. It is much more economical to clean your garbage disposal and drain yourself, especially when you already have the key ingredients at home!
All it takes is dish soap and ice cubes. If you have a few cubes of frozen dish soap, that's even better! First, remove the rubber seal and clean it by soaking it in hot water with dish soap. Then, place several ice cubes in your sink and pour dish soap over them. Next, put on your stopper, then turn on your garbage disposal. Not only will this process clean your garbage disposal, but it will also sharpen its blades! It is recommended to repeat this about 3 times a year.
Advertisements
21

Clean Your Hairbrushes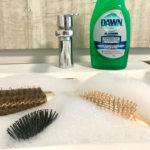 Advertisements
Just like oil accumulates in your hair, the same oils find their way to your hairbrushes. However, washing your hairbrushes is often not your first priority. If you leave them for too long, the oil grows thicker and thicker. Every time you brush your tresses, you're just reinserting all that unwanted oil into your hair.
If you want to keep your locks looking oil-free, you need to wash your brushes with a bit of dish soap. Simply fill your sink with hot water and add a few squirts of dish soap. Allow your brushes to soak for a while before lifting them from the water and washing them off. The oil will be gone, ensuring that your hair stays clean next time you brush.
Advertisements
22

Clean and De-Fog Eyeglasses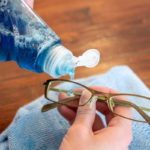 Advertisements
Eyeglasses are an essential element of every outfit for those not naturally blessed with perfect eyesight. But as you go through your day, your eyeglasses tend to accumulate dirt and smudges that fog up your vision. While cleaning them with a soft cloth is the preferred method, sometimes a little piece of fabric isn't enough to fully clear up your lenses.
If your glasses could use a deep cleaning, use a little dish soap. Simply put a drop of dish soap on the outside and inside of each lens and gently wash it with your fingers. When you're done, dry the glasses with your trusty soft cloth. Your glasses will be smudge and fog-free, promising perfect vision.
Advertisements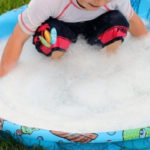 Advertisements
Sometimes the best way to enjoy a little fun in the sun is to grab a kiddie pool for your yard. However, these small plastic tubs tend to get pretty gross after just one use. No one wants to sit in a pool of dirty water, so cleaning your kiddie pool is essential to keeping it ready for every sunny day.
If you want to effectively clean your kiddie pool, just use a little dish soap. Unlike harsher cleaner, dish soap will remove the grime and gunk from your pool while still being gentle on the plastic. More potent cleaners filled will chemicals will dry out the plastic, causing cracks and rips.
Advertisements
24

Kill Fleas On Carpet and Furniture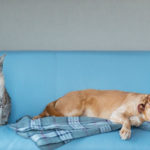 Advertisements
If your pet recently had fleas, there's a strong possibility that the little critters made their way into your carpet and furniture. Your dog won't stay flea-free for long if the pests are still alive and well in your house! While dish soap can kill fleas on a dog's body, they can also ensure the rest of your home is flea-free.
Fill a large spray bottle with a tablespoon of dish soap and water. Then, spray the mixture onto your carpet and furniture and allow it to sit for 15 minutes. When the 15 minutes are up, vacuum the carpet and wipe down the upholstery with a damp cloth. All fleas should be dead and gone by the end of the process.
Advertisements
25

Create The Most Effective Home Cleaner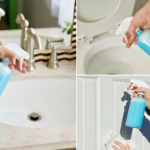 Advertisements
Whether it's soap residue on your glass shower doors or hard water marks in your sinks, it's extremely difficult to find a product that will allow you to remove them easily and efficiently. Fortunately, One Good Thing By Jillee has what you need!
All you need to make your cleaning easier is white vinegar and dish soap. To start, depending on the amount of cleaning product you want, heat one or two cups of vinegar in the microwave. Once it's hot, pour it into a spray bottle and then add the same amount of dish soap. Mix well, then spray the product on the surfaces you want to clean. Let it sit for 30 to 60 minutes, then scrub and rinse. You'll see, your surfaces have never been cleaner!
Advertisements
26

Make Your Glass Stove Top Sparkle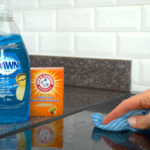 Advertisements
Much like grills, stovetops always manage to get a little messy. Even if you're a careful cook, bits of food always manage to slop over the side of your pan, adhering to your glass stovetop. For a quick and effective clean of your stovetop, use a little dish soap.
When you're done cooking, allow your stovetop to cool completely before applying a few squirts of dish soap. Then, using your favorite brush or sponge, rub away the food particles and other grime. When you're done, wipe up the dish soap with a wet rag and allow it to dry. Trust us, this method ensures that your stovetop will sparkle.
Advertisements
27

Clean Your Baking Tray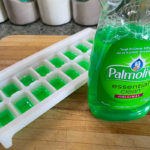 Advertisements
Cooking is great, but when it comes time to do the dishes, we often regret having to fight with our dirty baking trays that are impossible to wash. Fortunately, there is a foolproof and ultra-efficient way to get your baking trays clean again.
All it takes is dish soap. Yes, as banal as that. However, instead of using it mixed with water and scrubbing with a sponge, freeze your dish soap in an ice cube tray, then rub your baking tray directly with your soap cube. You'll see, the result will leave you speechless!
Advertisements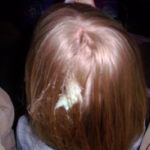 Advertisements
Everyone experiences a minor hair fiasco now and then. But the most frustrating thing that could possibly happen to your gorgeous locks might be getting a wad of gum stuck in them. The sticky gum adheres itself to your strands, becoming more and more entangled the more you mess with it. Best-case scenario, you'll spend hours trying to pick the gum out of your hair. Worst case, you'll have to head to the salon for a cut.
Thankfully, gum can be cleaned from your tresses with a little dish soap. If you find gum trapped in your hair, grab some dish soap and gently work it into the affected area. The dish soap will break down the sticky substance, forcing it off your strands. You won't need an unplanned haircut if you have a little dish soap!
Advertisements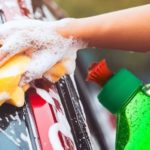 Advertisements
We've all heard it before: never wash your car with dish soap or you'll ruin the paint! But is it a reality or a myth? Well, it's not totally true. If you don't have car wash soap on hand, your dish soap will do the job just fine.
It is true that dish soap can remove any protective coating from your car over time, but unless you have a very old car or you leave the dish soap on for a long time before rinsing it off, there is no risk. In fact, it's better to wash your car with dish soap than to leave bird droppings on it for days, for example. Just be sure to dilute the soap in the water and then rinse your car thoroughly when you're done washing it!
Advertisements
30

Clean Your Outdoor Furniture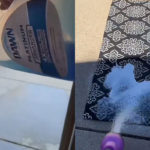 Advertisements
Cleaning carpets or outdoor furniture can be a daunting task when you don't have the right tools to do it. However, there is no need to break your head from now on since we have the ideal solution for you.
The next time you have a carpet or patio furniture to wash, don't waste your time scrubbing for hours. Just take it to your yard, pour some dish soap in your hose, and spray your items! The pressure of the water from your hose's nozzle added to the soap will wash your items thoroughly.
Advertisements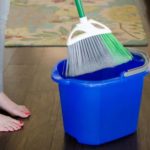 Advertisements
The house is cleaned regularly. After all, nobody wants a dirty home! But what about cleaning your cleaning supplies? How often do you wash them? Do you wash them at all? Most people tend to forget this, but your cleaning supplies need to be cleaned from time to time, including your brooms.
To easily deep clean a broom and remove all the dirt, dust and germs that have accumulated over time, simply pour a few drops of dish soap into a bucket of hot water and let your broom soak for an hour. Then rinse it and let it dry completely before putting it away.
Advertisements
32

De-Grease Your Range Hood Filter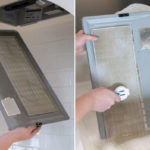 Advertisements
The purpose of your range hood filter is to collect grease, so it inevitably becomes very dirty. That's why it's essential to clean it well at least twice a year. Fortunately, thanks to your dish soap, the task will not be difficult at all!
All you have to do is remove your range hood filter and soak it for at least 30 minutes in boiling water with dish soap and baking soda. Then, simply scrub the filter with a dish brush, rinse it well, let it dry, and put it back in!
Advertisements
33

Save You A Trip To The Garage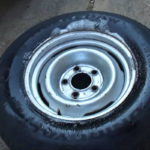 Advertisements
Having a puncture is very unpleasant, whether it is on your car or your bicycle. Moreover, it is very difficult, sometimes even impossible, to find the hole! However, instead of heading to the nearest garage as soon as you notice the puncture, use this trick to make your search for the unwanted hole much easier.
All you have to do is mix a few drops of dish soap with a little water and brush the mixture on your tire. You'll find the puncture where your mixture will form little bubbles! All you have to do is repair the puncture or change your tire.
Advertisements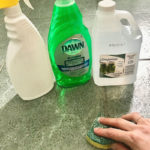 Advertisements
Dish soap is the perfect solution for removing all kinds of stains, even in the grout between your tiles. When it comes to cleaning your floor, cleaning the grout is perhaps the most frustrating part. If your grout is white, it sometimes feels like those stubborn stains will never come out. Thankfully, dish soap provides a solution.
Next time you plan to clean your grout, start by warming up a cup of vinegar or hydrogen peroxide in the microwave and pouring it into a spray bottle. Then add a cup of dish soap and shake the bottle to combine the mixture. Once that's done, spray the solution onto your tile and allow it to sit for at least ten minutes. Scrub the grout with a brush and rinse with water to watch all the grime disappear.
Advertisements
35

Create Your Own Laundry Detergent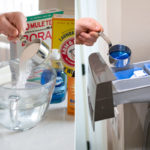 Advertisements
While it's easy enough to pick up laundry detergent from the store, making your own mix is just as simple. In fact, all you need is a little dish soap. So if you run out of laundry detergent, don't let that stop you from doing your laundry!
In a large container, mix together a third of a cup washing soda, a quarter cup Borax washing booster, two tablespoons of dish soap, and a gallon of hot water. The resulting mixture is the perfect homemade laundry detergent. The added dish soap will effectively cut through grease and grime, leaving your clothes stain-free.
Advertisements
36

Keep Fruit Trees Aphid-Free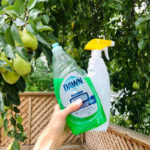 Advertisements
Much like keeping your indoor plants healthy, dish soap can also help to keep your outdoor trees aphid-free. Although they're tiny bugs, aphids have the ability to ruin your fruit trees, causing them to shrivel up and become sickly. Even worse, aphids are so small that it's difficult to control them without poisoning your entire garden.
Thankfully, dish soap provides a simple solution. Find a fragrance-free dish soap and mix one tablespoon with one quart of water. After mixing the solution thoroughly in a spray bottle, spray it over your plants. The dish soap will get rid of the aphids without harming your precious fruit trees. Spray the plants again about once a week to ensure the aphids stay away for good.
Advertisements
37

Make a Simple DIY Grill Cleaner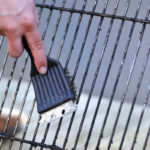 Advertisements
Cleaning your grill is an essential element of an effective barbecue. Of course, that's easier said than done. As you're cooking, the grate tends to fill up with grease and food particles that don't easily wipe off when your BBQ is done. However, a simple mix of dish soap and other household products provides an effective cleaning solution that will make cleaning your grill that much easier.
When it comes time to clean your grill, mix half a cup of dish soap with one and a half cups of baking soda and a quarter cup of vinegar. Mix the solution thoroughly until it forms a paste. Then, pour the paste over the grill, using an old paintbrush to ensure it covers all areas of the grate. Allow the mixture to sit for at least eight hours, then scrub it with a grill brush. The odd mixture will remove those stubborn pieces of grime from your grate, leaving it fresh and clean for the next barbecue.
Advertisements
38

Ward Off Insects From Your Houseplants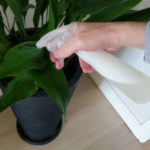 Advertisements
Having plants indoors adds the perfect dose of greenery to your living space. Unfortunately, it also adds a few new items to your list of worries when it comes to taking care of your house. Beyond keeping your shrubs alive, you also have to think about various insects that may invade your home after sensing your plants.
To ward off any unwanted bugs, fill a spray bottle with water and a bit of dish soap. Then mist the mixture over your plants. The dish soap will keep aphids, mites, and other bugs away, but it's perfectly safe for your greenery and won't result in a room full of dead plants. 
Advertisements
39

Make Your Own Ice Pack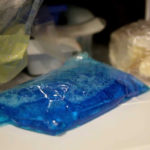 Advertisements
You could certainly buy a set of ice packs from the supermarket and store them in your freezer for a rainy day. But you can also save yourself the money and the trip to the store by making your own ice pack at home.
Simply fill a plastic bag full of dish soap and seal it, doing your best to remove all the air. Then put the bag in the freezer and allow the dish soap to harden. Once it's frozen, the baggy of dish soap acts as the perfect DIY ice pack. You can re-freeze it multiple times and even shape the pack to whatever form works best for you at any particular moment.
Advertisements